Here's a plant based recipe that really fires on all cylinders. Velvety eggplant and meaty seitan are flash fried with garlic and tomato in a savory, peppery sauce. It's one of the easiest vegan Asian recipes you can make in your kitchen at home – and only takes 35 minutes from start to finish!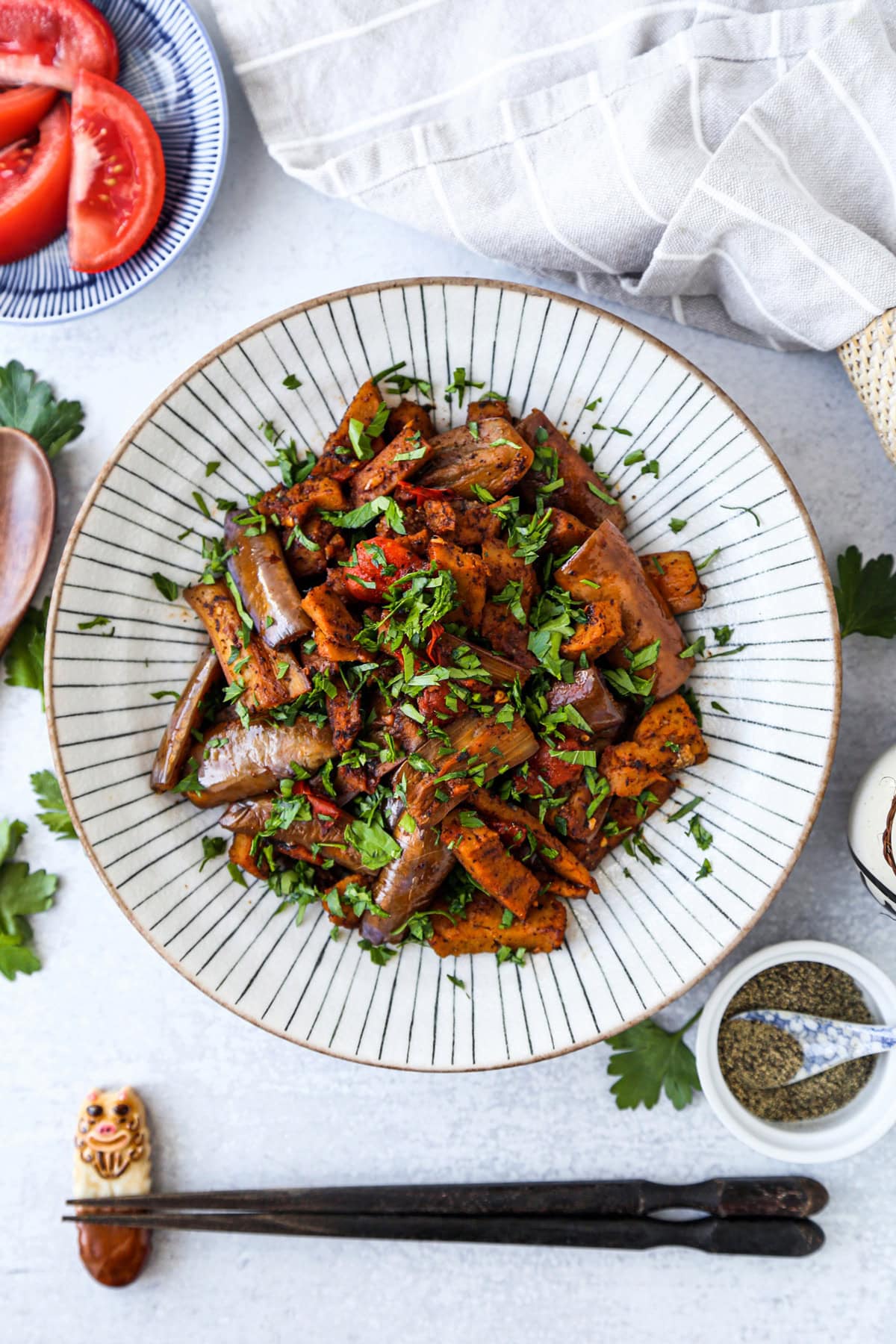 This stir fried eggplant is one of the easiest Asian vegan recipes
I love making plant based recipes that don't feel like a compromise – or like they're missing something. And that satisfaction goes double when that recipe is praised by meat lovers.
Well, this stir fried eggplant and seitan with garlic and tomatoes really delivers on both fronts!
Because not only does this savory Japanese influenced stir fry have velvety eggplant covered in a savory, tart and peppery sauce – when I delivered some leftovers to a neighbor that prefers steak over all else, they said the seitan reminded them of bo luc lac (or Vietnamese shaking beef). That's high praise indeed!
And I think you'll love it too!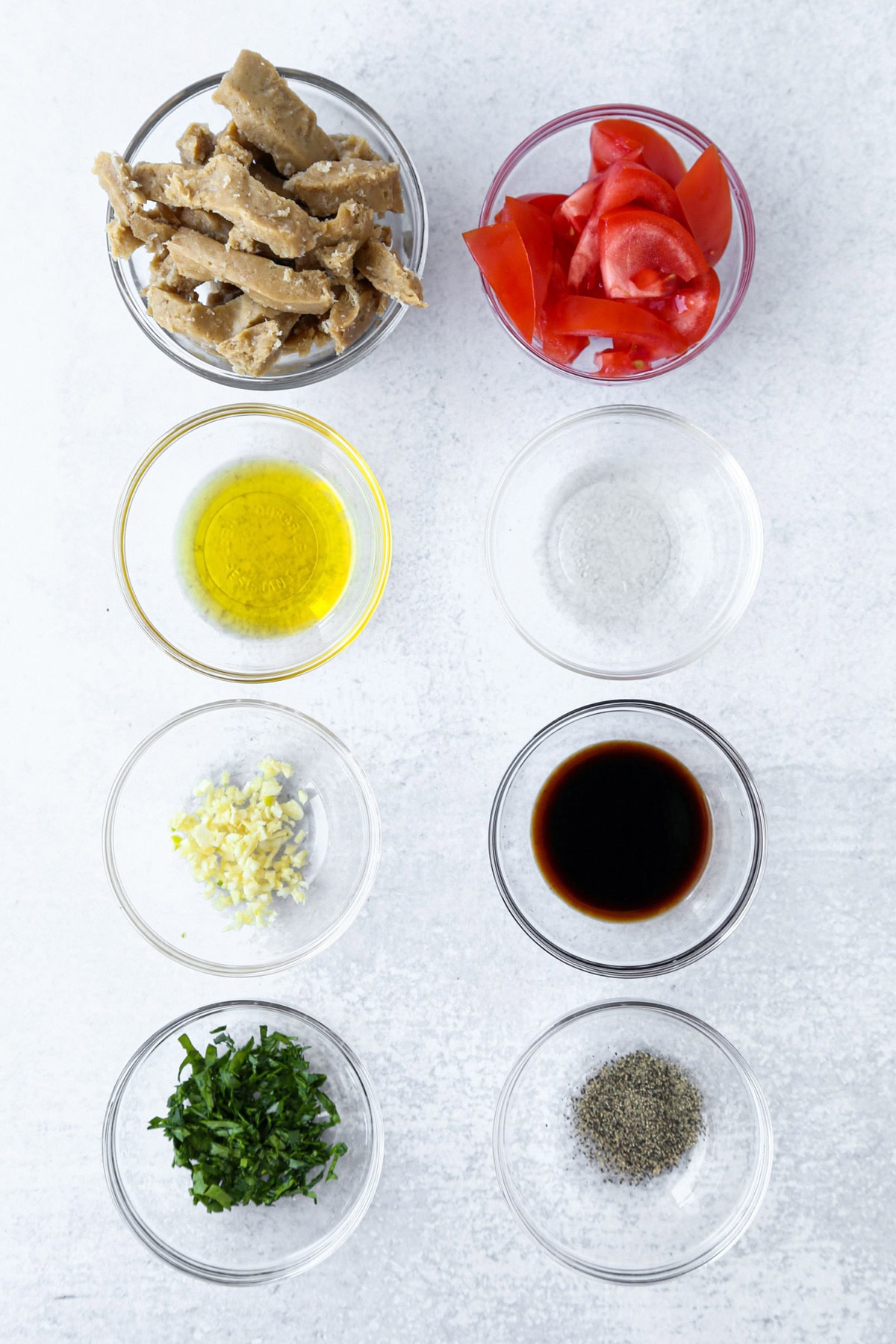 Ingredients for stir fried eggplant and seitan
Scroll all the way down for the full recipe.
Japanese Eggplant: These are the long, skinny and virtually seedless eggplant varieties. You can also use Chinese eggplant for this stir fry recipe.
Seitan: This wheat-based meat-alternative is my favorite protein to use in this Japanese eggplant recipe. In a second we'll talk more in depth about seitan – and about other options you might consider using.
Minced Garlic: You'll want a fair amount of garlic for this stir fried eggplant. Two garlic cloves, finely minced, should have you sitting pretty.
Tomato: Chopped tomatoes bring a garden fresh sweetness to the party. And while it virtually disappears from sight once stir fried with the other ingredients, if you left it out you'd miss it!
Ground Black Pepper: This is the unsung hero of the dish. The woody, almost floral flavor of good ground black pepper is the lynchpin of the flavor palate.
Rice Vinegar: Tart and mildly sweet, rice vinegar is the perfect alternative to using more assertive vinegars that can overpower a dish. It's pretty easy to find rice vinegar at the store these days – or you can grab rice vinegar here on Amazon.
Soy Sauce: Two tablespoons of soy sauce introduces a wonderful savory umami to this stir fry. Watching your salt intake? Use low sodium soy sauce instead.
Flat Leaf Parsley and Toasted Sesame Oil: These are your final touches – and can be added just before serving. The parsley in particular provides a fresh, verdant counterbalance to an otherwise savory dish.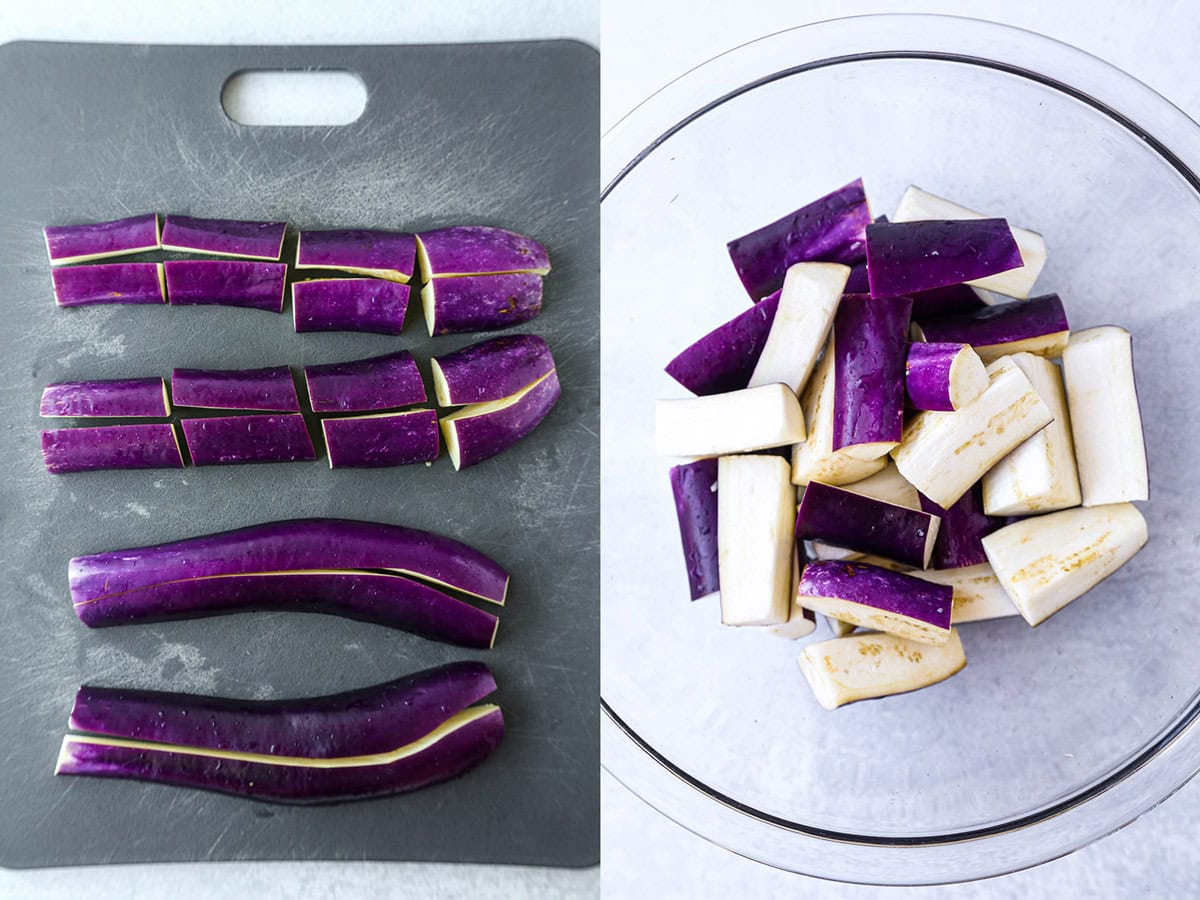 How to prepare eggplant for this stir fry
For this stir fried eggplant recipe, you'll definitely want to do a little prep work on your Japanese eggplant before tossing it into the wok. But it's easy!
First, slice the eggplant in half lengthwise – and then slice those halves in half again. You're basically quartering it lengthwise.
Next slice each long strip into equal quarters crosswise.
Put the eggplant in a bowl and add 2 tablespoons of water and 1/4 teaspoon salt. Toss the eggplant pieces well and let it sit for about 10 minutes.
Finally, drain the eggplant and set it aside. I actually like to pat the eggplant pieces dry so there's no excess moisture that might pop when I put it in the hot pan later.
This salting process is done for a couple of reasons. First, it draws out some of the eggplant's excess moisture. But it also removes a bit of the natural bitterness.
I also find that salted, drained and dried eggplant doesn't turn brown as quickly – as the exposure of its inner flesh to air can cause a completely harmless oxidation (kind of like a sliced apple).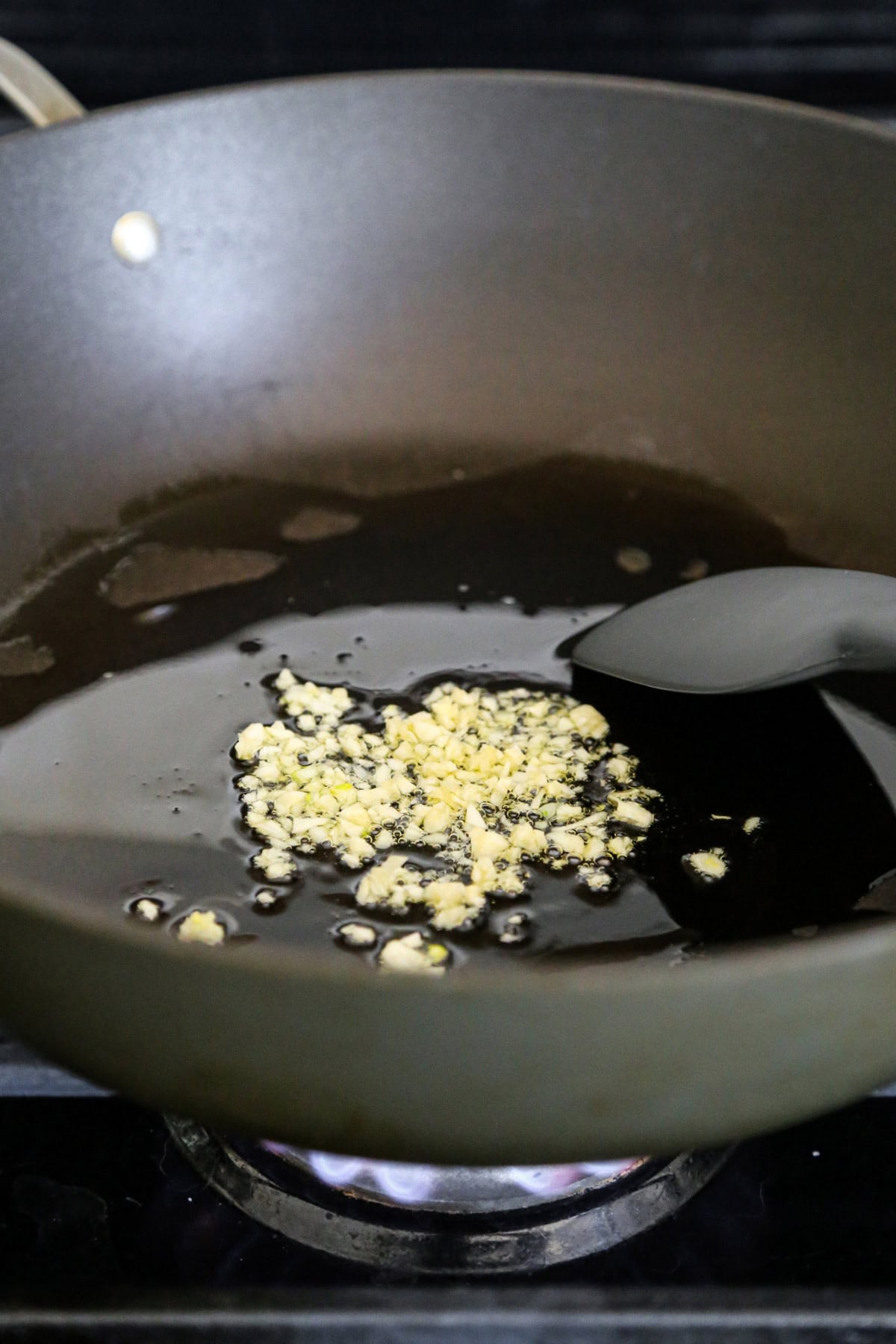 What is seitan?
Seitan is comprised of vital wheat gluten and water – and is often used as a meat substitute. This wheat-meat is completely vegan and has a mild, savory flavor similar to boiled chicken.
The texture is the real draw though. I personally find it to be pleasantly chewy without being tough – and perfectly soft without being gummy. In a word, it's meaty.
The best part is that it is a perfect vehicle for whatever you decide to make it taste like. Not quite the blank slate that tofu is, it manages to up the ante in savory dishes and soaks in flavors very well.
These days you can find seitan sold in most grocery stores. Or, if you're feeling ambitious, you can easily make it yourself at home. Check out my post on how to make seitan with this easy step-by-step guide.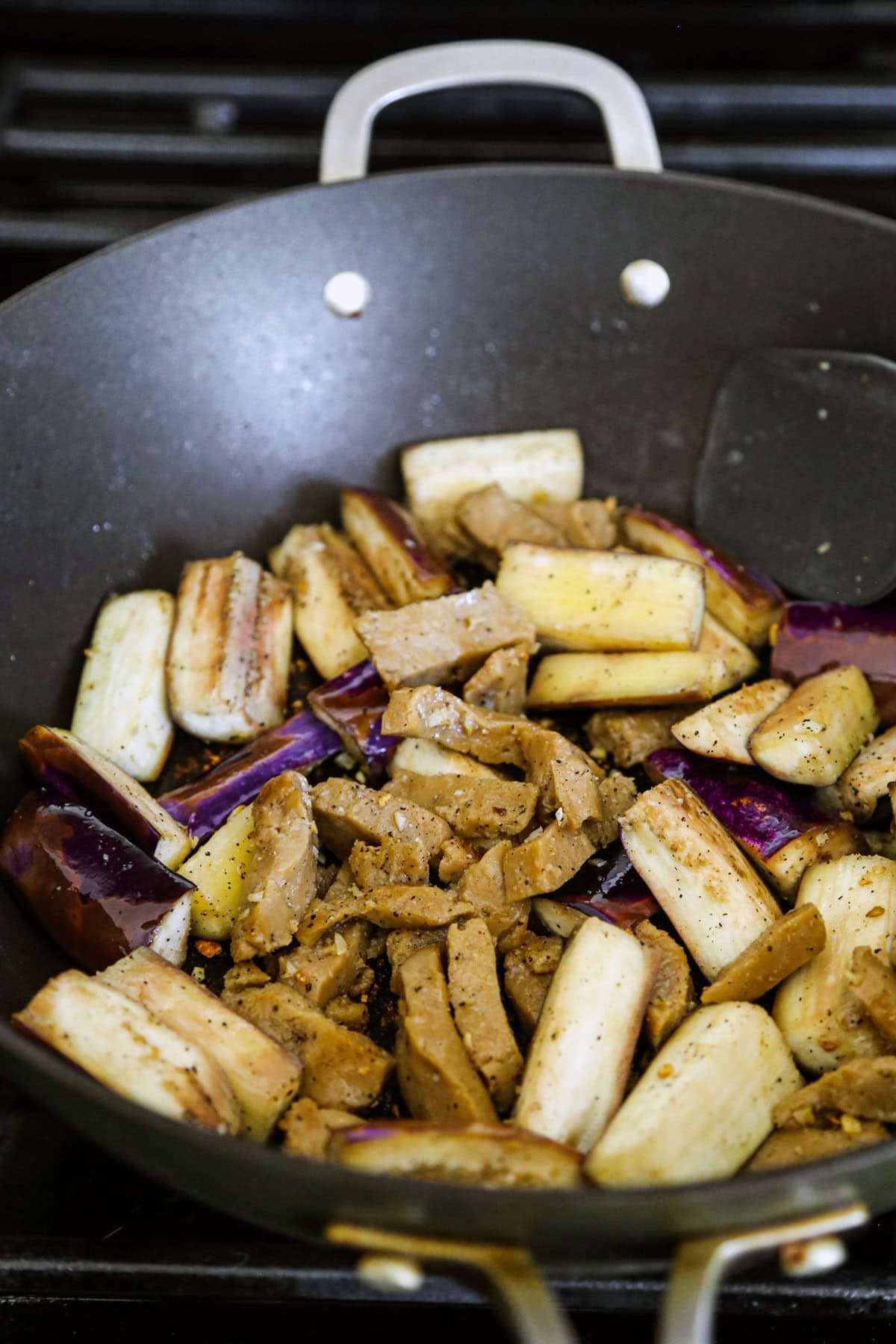 Seitan alternatives
Not a fan of seitan? No problem!
Tempeh is another easy-to-find meat substitute. It is made from fermented soybeans that have been formed into blocks, and is high in protein.
Smoked firm tofu would be another great option for this stir fried eggplant with garlic and tomatoes recipe. However you wouldn't want to use soft or silken tofu – as it would disintegrate when stir frying in the skillet.
Just keep in mind that, even if you're not using wheat based seitan in this stir fried eggplant recipe, that doesn't immediately make it gluten free. There is also wheat in soy sauce.
So for a gluten free stir fry, you'd want to substitute the seitan for a wheat-free protein – and use tamari or liquid aminos instead of the soy sauce.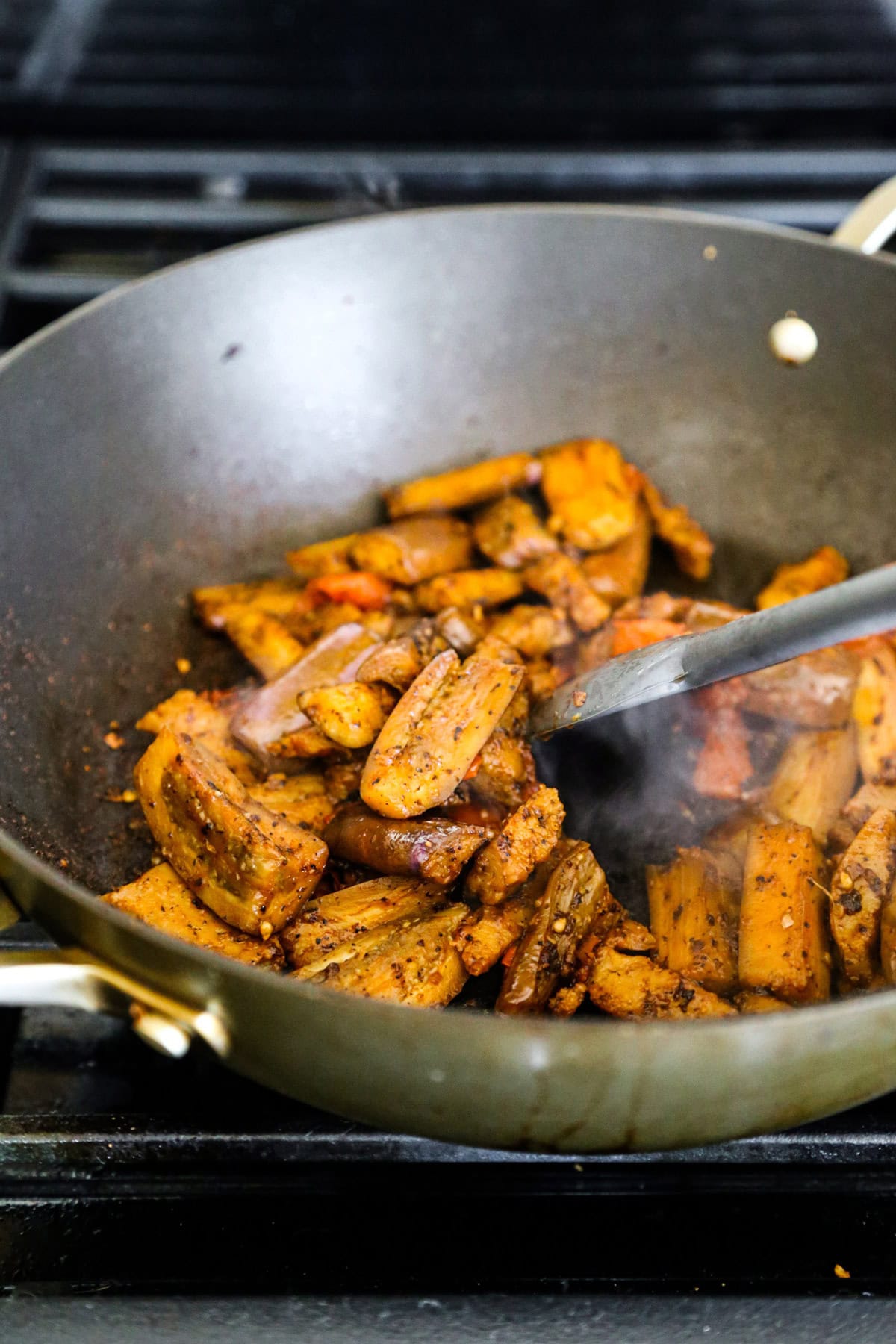 How to make eggplant stir fry
Gather all your cooking tools and ingredients.
Prepare the Japanese eggplant according to the method listed above. As a refresher, slice in half lengthwise, then quarter lengthwise. Finally quarter the long slices crosswise.
In a small bowl, mix the eggplant pieces with 2 tablespoons of water and 1/4 teaspoon of salt. Let that mixture rest for 10 minutes. Then drain, pat the eggplant pieces dry and set them aside.
Heat one-and-a-half tablespoons of extra virgin olive oil in a large pan or wok over medium heat. Add your minced garlic to the pan and cook for 30 seconds.
Then add the sliced eggplant, seitan (or tempeh) and black pepper and cook until the eggplant is tender, but still slightly crunchy – about 6-8 minutes.
Finally, add in the tomatoes, soy sauce and rice vinegar and cook for about 2 more minutes – until the eggplant is tender.
Turn off the heat and stir in a bit of sesame oil and salt to taste.
Garnish with finely chopped flat leaf parsley just before serving.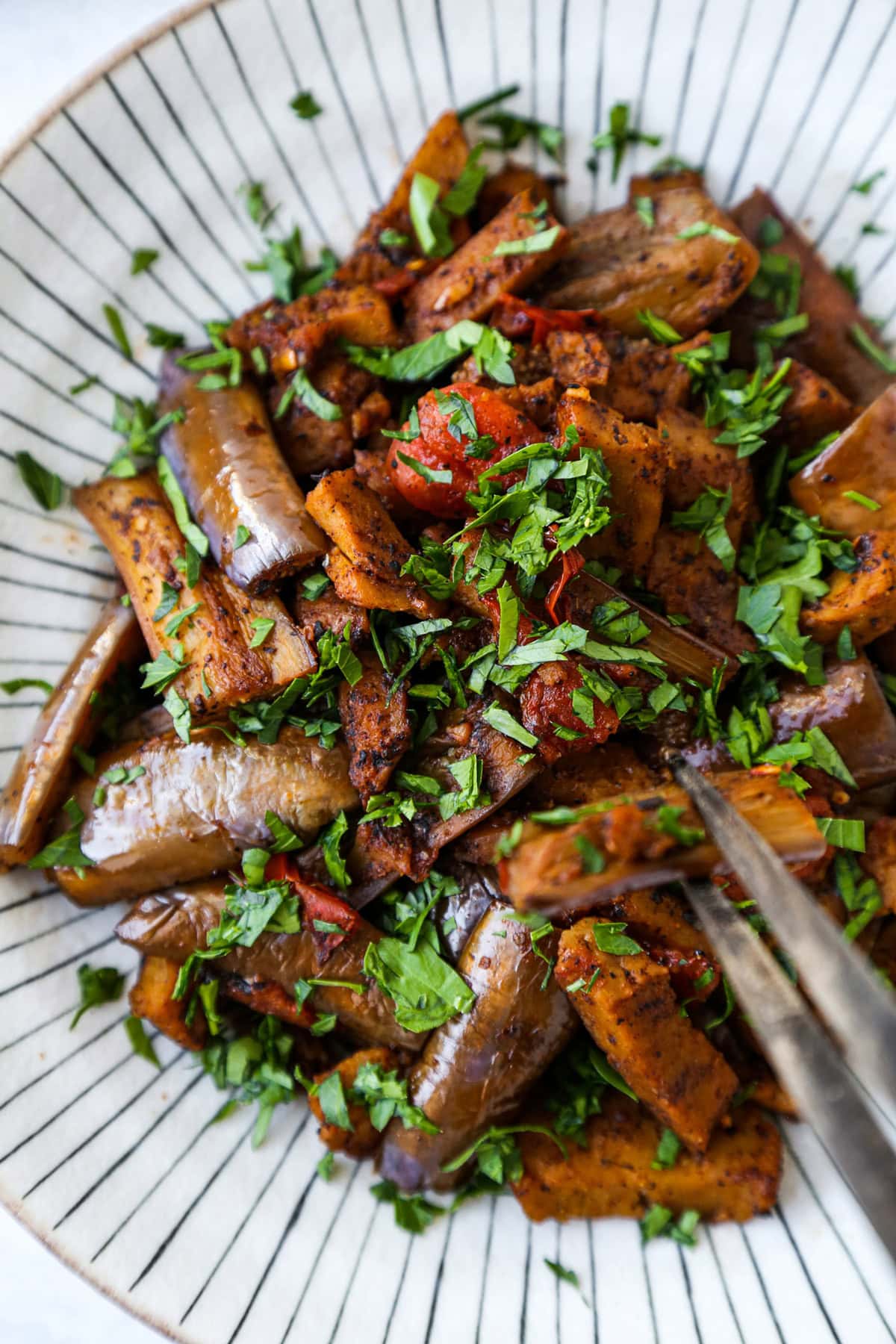 Storing Options
FRIDGE: transfer the stir fry to an airtight storage container and refrigerate for up to 2 days. Reheat in the microwave for 1 to 2 minutes.
FREEZER: Unfortunately, this stir fry cannot be frozen due to the texture of the eggplant becoming moussy and unpleasant.
What to serve with stir fried eggplant
My favorite accompaniment to any Asian stir fry is a bowl of perfectly steamed Japanese rice. For a step-by-step tutorial on how to make Japanese rice on the stovetop or in a rice cooker, check out my post here.
And on the same track, you could whip up an easy Japanese fried rice to serve on the side.
Or, if noodles are more your thing, you could enjoy this stir fry alongside a cooling zaru soba – or a buttery yaki udon fresh out of the skillet.
What about you? Are you more into noodles or rice when eating stir fry? Let me know your favorites in the comments section below!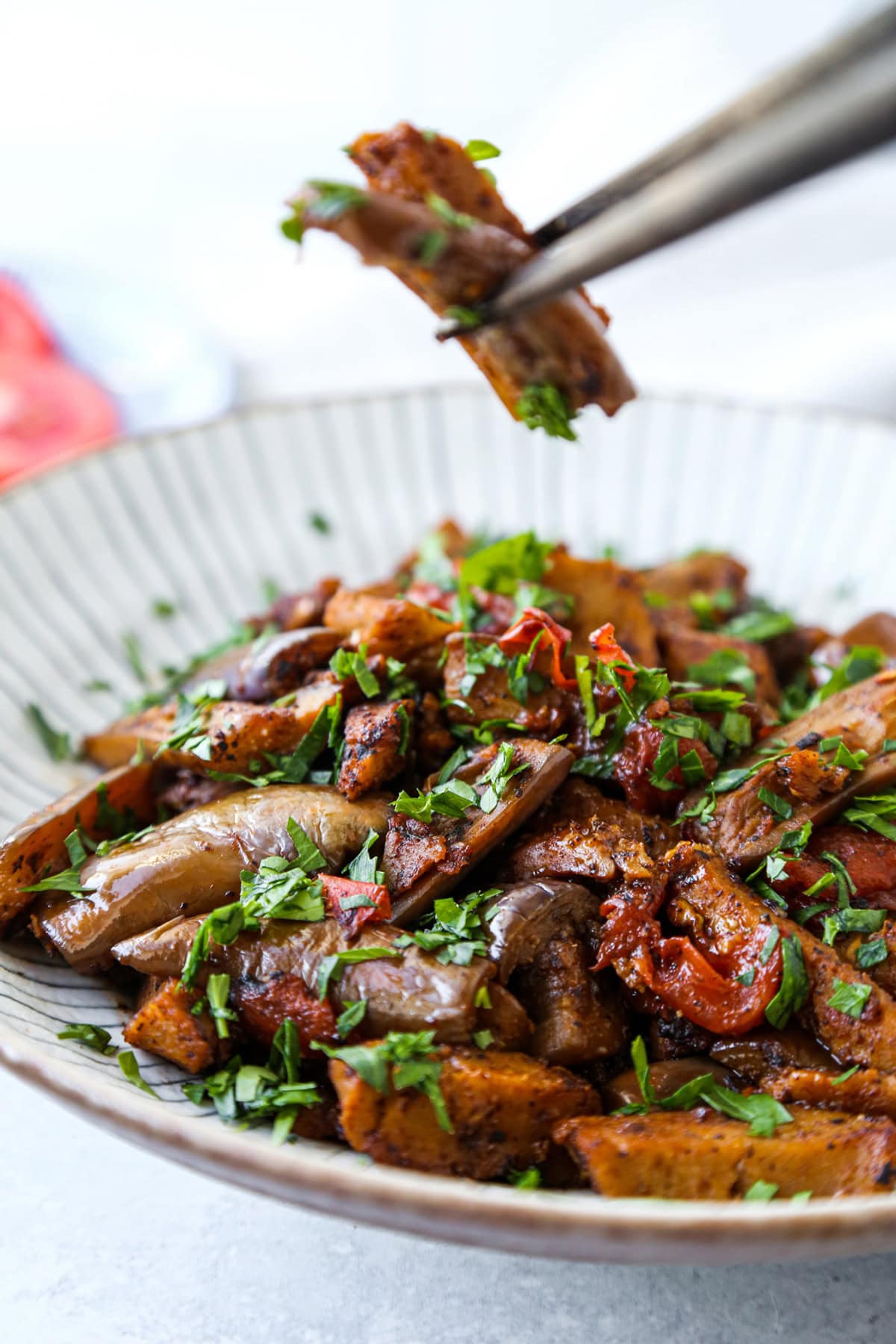 Other delicious and easy eggplant recipes
Hey fans of eggplant… I'm of the mind that you can never have too many Asian eggplant recipes in your back pocket!
Here are a few reader favorites:
Did you like this stir fried eggplant and seitan with garlic and tomato recipe? Are there changes you made that you would like to share? Share your tips and recommendations in the comments section below!
Print
Stir fried eggplant and seitan with garlic and tomato
Tender eggplant and meaty seitan are flash fried with garlic and tomato in a savory, peppery sauce. 
Author: Caroline Phelps
Prep Time:

15 minutes

Cook Time:

20 minutes

Total Time:

35 minutes

Yield:

2

1

x
Category:

Main

Method:

Stir frying

Cuisine:

Japanese

Diet:

Vegan
2

Japanese eggplant (about

300g

)

150g

seitan (tempeh is also fine), thinly sliced into bite size pieces

1 1/2 tablespoon

extra virgin olive oil

2

garlic cloves, minced

1/2 teaspoon

ground black pepper

100g

tomato, chopped

1 tablespoon

rice vinegar

2 tablespoons

soy sauce

1 tablespoon

flat leaf parsley, finely chopped

Drizzle of toasted sesame oil (optional)

Salt, to taste
Instructions
Slice the Japanese eggplant in half lengthwise, and in half again. Then slice each strip into quarters. 

Transfer the eggplant to a bowl and add 2 tablespoons of water and ¼ teaspoon of salt. Toss and leave for 10 minutes. 

Drain the eggplant and set aside.

Heat the olive oil in a large pan over medium heat, add the garlic, and cook for 30 seconds. 

Add the eggplant, seitan (or tempeh), and black pepper and cook for 6 to 8 minutes, until the eggplant is tender but still yielding a slight crunch.

Add the tomatoes, soy sauce, rice vinegar, and cook for 2 more minutes, or until the eggplant is tender. 

Turn the heat off, season with salt and sesame oil (if needed), and transfer the stir fry to a plate. Top with parsley and serve with rice.
Notes
Refrigerate the leftovers in an airtight storage container for up to 2 days.
Nutrition
Serving Size:

1 plate

Calories:

386

Sugar:

0.9g

Sodium:

456.8mg

Fat:

12g

Saturated Fat:

1.7g

Unsaturated Fat:

1.1g

Trans Fat:

0g

Carbohydrates:

13.8g

Fiber:

0.2g

Protein:

57.7g

Cholesterol:

0mg
Recipe Card powered by