Who knew seitan was this easy to make at home! With a little kneading, a pot of boiling water and some seasonings, you can make your own tasty seitan in just over an hour!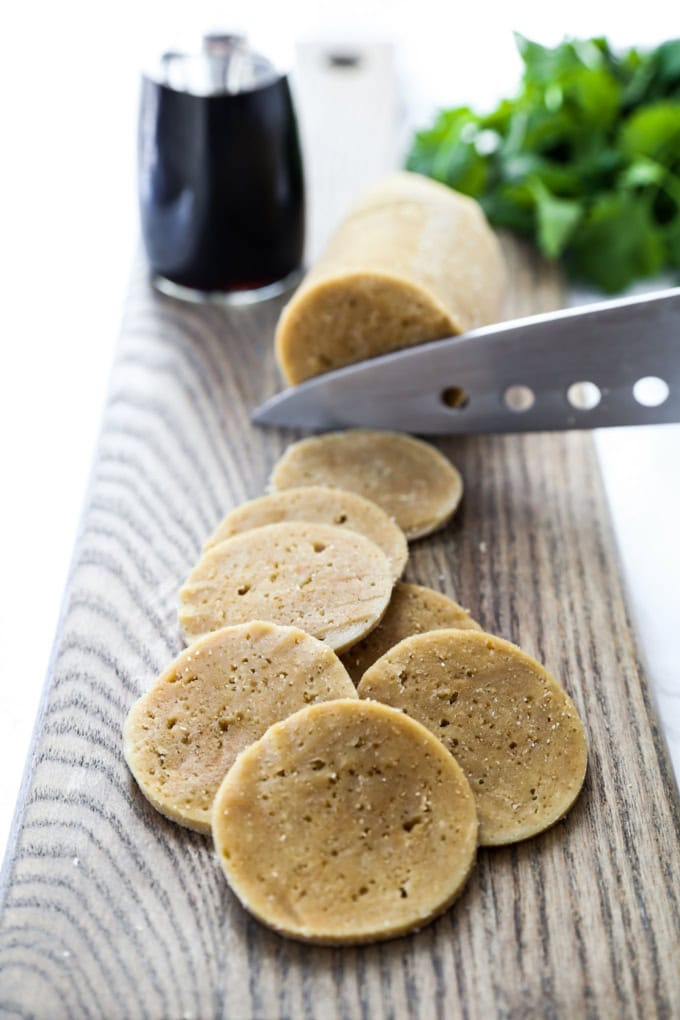 Seitan is a food ingredient I have come to rely on ever since I gave up meat two and half years ago. It's texturally and visually similar to meat, is high in protein, and works really well with stir fries and sandwiches.
The fun part about making your own seitan is you can flavor it however you like – nutritional yeast to make it taste like chicken, liquid smoke for pork, or worcestershire sauce for beef, are just a few examples of what you can do with it.
My recipe is quite basic and typical of the flavors found on my blog – I'm using a mix of soy sauce, mirin, and miso paste. To call is a Japanese seitan recipe would be a stretch since the flavors are quite mild. But what I like about it is that it's a great based to build flavor upon and pairs well with just about anything.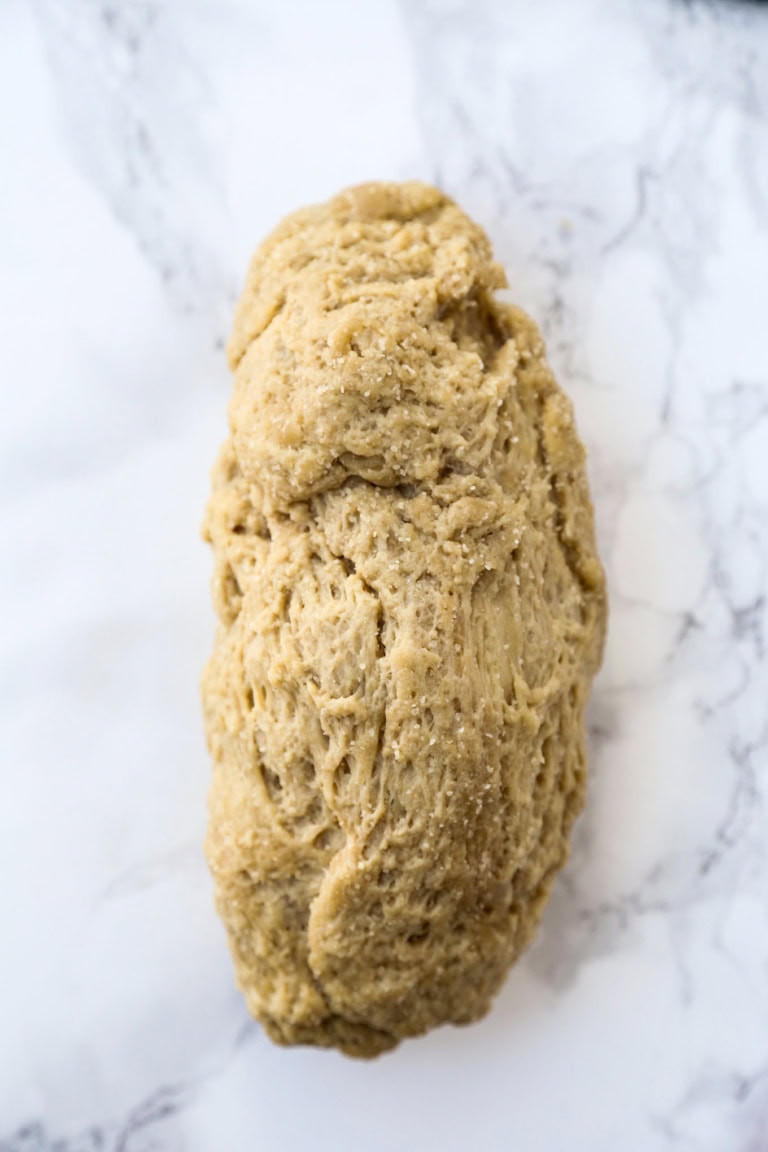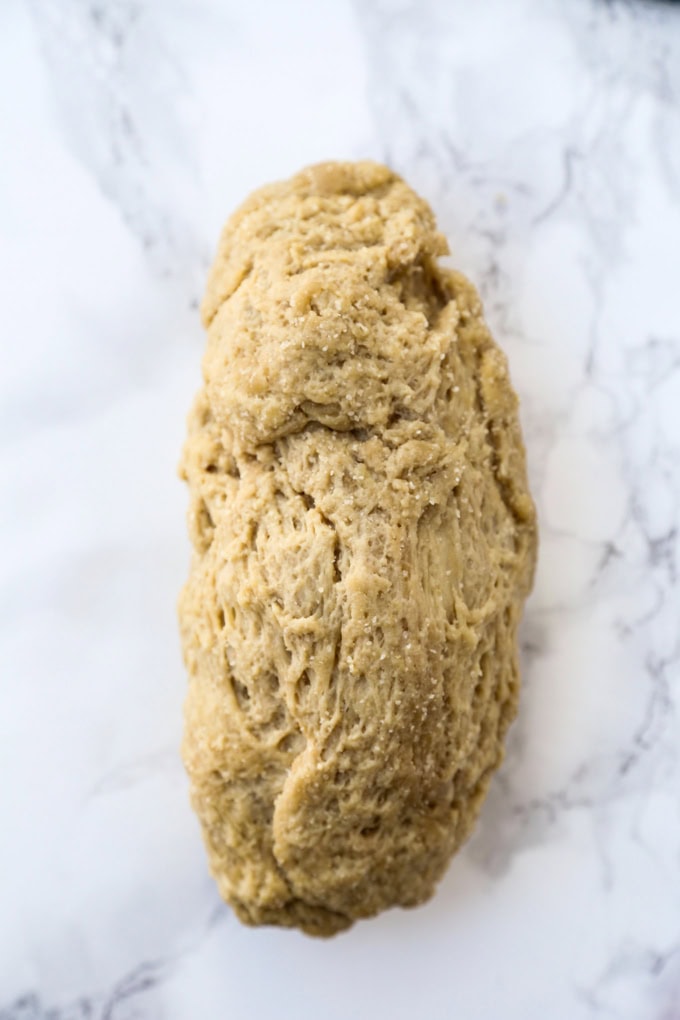 What is Seitan?
Seitan (not satan 😈) is a food ingredient made of vital wheat gluten that's used as a vegan meat substitute. It has been used for centuries in both Japan and China where it was created by vegetarian Buddhist monks.
It's made by mixing vital wheat gluten and water and kneading the mixture until a dough is formed. Since plain seitan doesn't have much flavor, a variety of sauces and spices are often used to season it.
What is Vital Wheat Gluten?
Vital wheat gluten is wheat flour that's been hydrated to activate the gluten (the main protein in wheat) and processed to get rid of everything but the gluten. It's then dried and ground into a flour/powder.
How do you pronounce seitan?
Say-tan.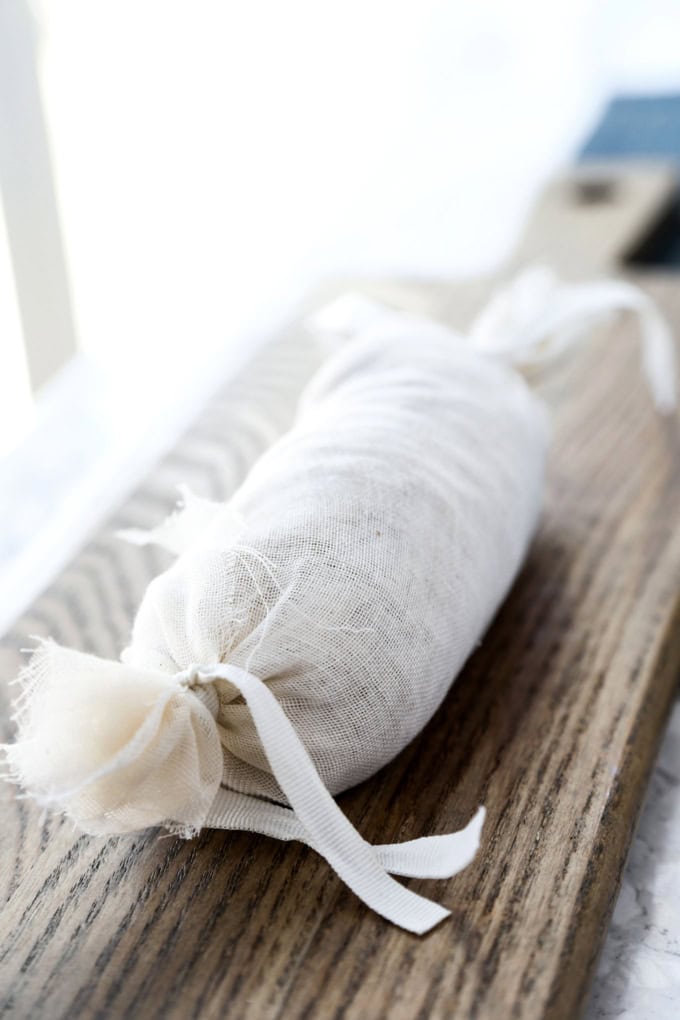 Basic Seitan Ingredients
Vital wheat gluten: This is what gives bread and other baked goods their elasticity. I'm using 1 cup for this recipe.
Chickpea flour: Using a little chickpea flour softens the seitan and makes it less dense. 1/4 cup is all you need for every cup of vital wheat gluten used.
Water: 1 cup of water at room temperature. You can use a little less (2-3 tablespoons less) if you prefer a tougher texture.
Seasonings: As you learn to cook with seitan you will come up with your own flavor combinations. I personally love the taste of miso paste and soy sauce as they add a layer of umami and savoriness. For my next attempt, I'm thinking of trying a combo of liquid smoke and sliced green olive with pimento to make it look and taste like a terrine. Stay tuned!
Some popular seasonings for seitan
Onion powder, garlic powder, paprika, chili powder, nutritional yeast, liquid smoke, worcestershire sauce, dried herbs, tomato paste, soy sauce, miso paste, fennel seeds, dried coriander, thyme, ketchup, mustard.
Broth substitutes
While my simple broth is made with dried kelp and water, you can add more flavor to yours by using vegetable stock and some of the seasonings listed above. This will result in a more flavorful seitan loaf.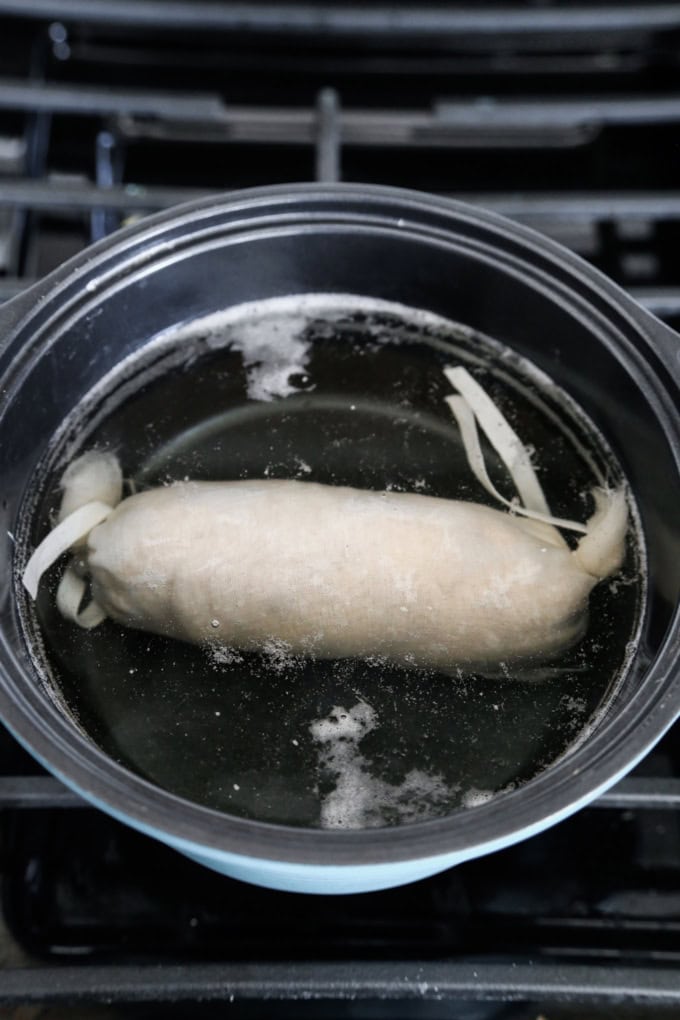 How to Make Seitan
Mix the vital wheat gluten flour and chickpea flour. Add them to a large mixing bowl and stir with a spoon.
Add water and all other wet ingredients. Stir well until a dough is formed.
Knead the dough. Place the dough on a flat surface and knead continuously for 2 minutes. Let it rest for 5 minutes.
Make the broth. Combine the water and dried kelp in a medium size pot and bring to a boil. Remove the dried kelp.
Prep the seitan. Shape the seitan into a small loaf or saucisson and wrap a cheesecloth around it. Tie the ends and place the seitan in the boiling water. Lower the heat to a simmer (barely bubbling) and boil for 1 hour.
Slice the seitan. After it's been resting for 10 minutes, cut the strings off and take it out of the cheese cloth. Slice the seitan and serve as a luncheon meat, or add it to your favorite stir fry!
Alternatives
If you don't happen to have a cheesecloth in your kitchen, it's no big deal, you can still make this recipe. The only differences will be in how your seitan is shaped and the cooking time. Using your hands, break up the seitan into bite size piece and simmer it for 15-20 minutes.
Please note that it may take more or less time to cook depending on the size of your pieces. I suggest doing a taste test by cutting up a piece to see if it's cooked or not.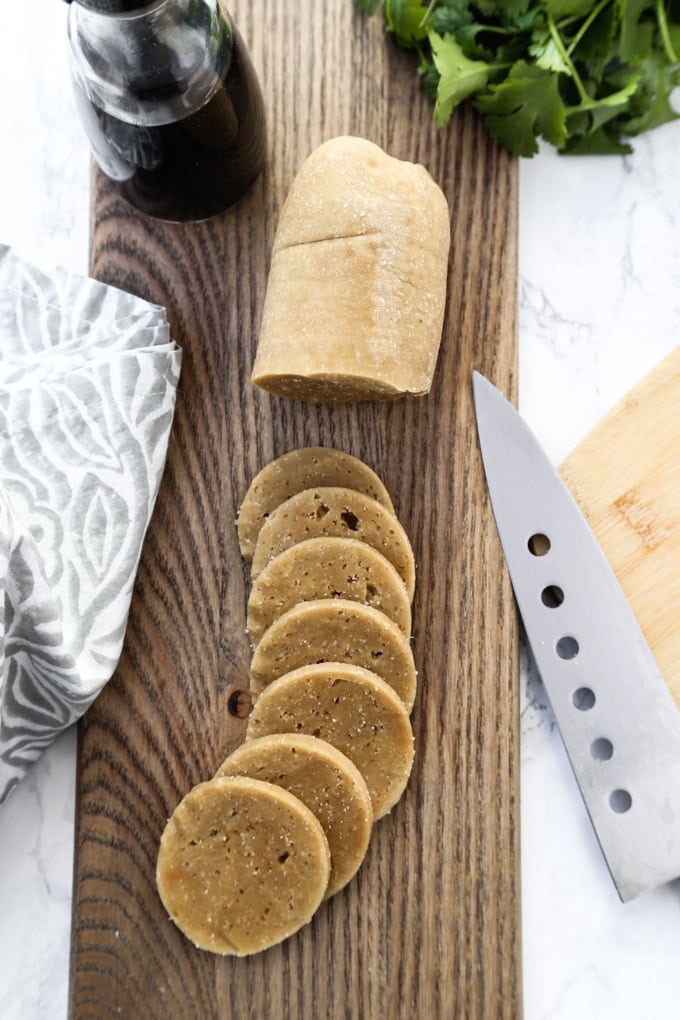 How Long Does Homemade Seitan Last?
Homemade seitan lasts for 8-10 days in the fridge, stored in an airtight storage container or bag.
Can I Freeze Seitan?
Yes! It will keep for up to 6 months.
When freezing it's always best to:
Separate the seitan into portion sizes so you don't have to thaw more than you need.
Wait until the seitan is at room temperature before freezing.
Use airtight storage containers or bags to freeze each portion.
When thawing seitan:
Leave it in the fridge for a couple of hours or place the seitan in its bag or container (don't take it out) in a bowl of cool water.
What Can You Make with Seitan
Seitan is basically a replacement for any type of meat (including chicken). Therefore you can substitute seitan for any dish containing meat.
One my favorite uses is in banh mi. I love the combination of doughy bread, chewy seitan, creamy vegan mayo, spicy sriracha sauce, and fragrant cilantro. I'm always looking forward to having this for lunch!
Another great use is in stir fries. You can slice it however you like and stir fry it with veggies and a simple sauce.
Some of my favorite stir fries:
Lastly, seitan can be used for deep-fried or baked dishes. For example, swapping chicken for seitan in this baked general Tso recipe works beautifully!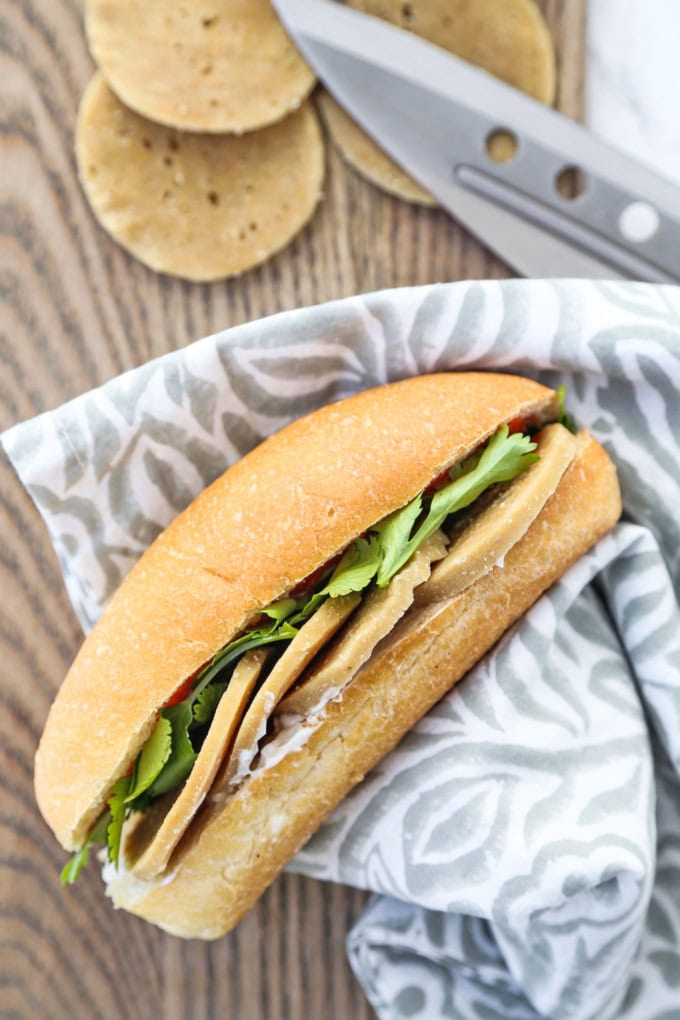 Did you like this Easy Seitan Recipe? Are there changes you made that you would like to share? Share your tips and recommendations in the comments section below!
Print
Easy Seitan Recipe
Author: Caroline Phelps
Prep Time:

15 minutes

Cook Time:

1 hour

Total Time:

75 minutes

Yield:

1

small loaf

1

x
Category:

Vegan

Method:

Boiling

Cuisine:

Chinese
Simmering liquid:
5 cups

water

1

piece 4"x4" dried kelp
Instructions
In a large bowl, add the vital wheat gluten and chickpea flour.

In a small bowl, whisk the soy sauce, mirin and miso. Keep whisking until the miso paste has completely dissolved. Add to the dry mixture along with water.

Mix well using a spoon, until a dough forms. Place the dough on a firm work surface and knead it for 2 minutes.

Let the dough rest for 5 minutes.

Shape the dough like a thin bread loaf or saucisson, and firmly wrap a cheesecloth around it. Tie the ends with strings and set aside.

Bring the water and dried kelp to a boil. When the water is boiling, remove the dried kelp and add the seitan.

Lower the heat to a low simmer and cook for 1 hour, uncovered. Check often to make sure the water isn't boiling.

The water should be barely bubbling

. 

Take the loaf out of the pot and leave to cool for 10 minutes on a flat surface. 

Cut off the strings and take the seitan out of the cheesecloth. Slice into pieces and use as

 an alternative to meat in stir fries and sandwiches.
Notes
Homemade seitan will keep refrigerated for up to 10 days in an airtight container, or for up to 6 months in the freezer.
No cheesecloth? No big deal!
Skip the cheesecloth by using your hands and breaking it up into bite size pieces. Drop them in the pot of water and simmer for 15-20 minutes.
Note: It might take more or less time to cook depending on the size of your pieces. I suggest doing a taste test by cutting up a piece to see if it's cooked or not.
Nutrition
Serving Size:
Calories:

179

Sugar:

4.3 g

Sodium:

278 mg

Fat:

1.5 g

Saturated Fat:

0.1 g

Carbohydrates:

14.6 g

Fiber:

1.1 g

Protein:

26.3 g

Cholesterol:

0 mg
Keywords: Plant based meat, vegetarian, meat alternative
Recipe Card powered by