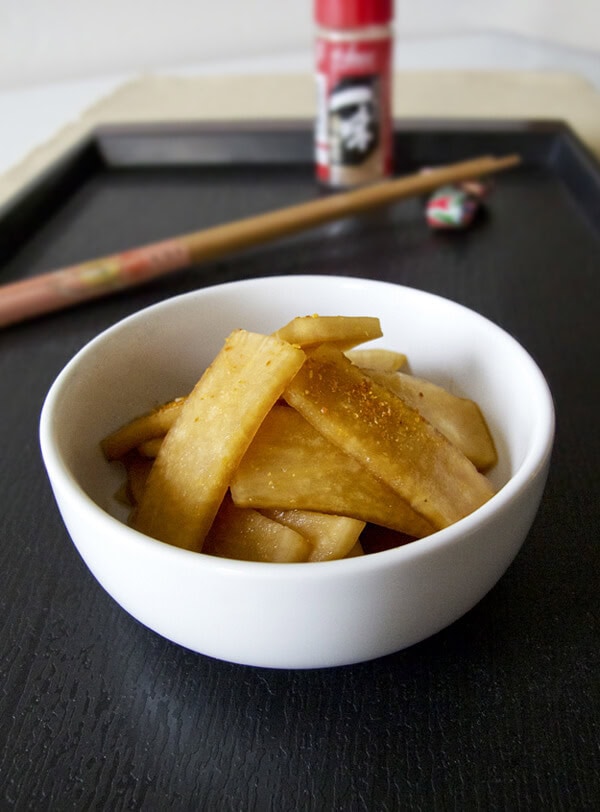 Pickled Daikon (Japanese Style)
You'd think with a name like Pickled Plum I'd have a lot more pickles recipes! As a matter of fact, I do have big plans for pickling this year and will eventually have a category solely devoted to pickles. So patience my friends, I'm on a mission to marinade plenty of veggies in the upcoming months and will post as many as I can! Starting today, with another very easy and simple pickles recipe: pickled daikon, Japanese style.
The hardest part about making pickled daikon is having to wait a couple of days before being able to have a taste. But the wait is well worth it; you'll be amazed at how much flavor and spiciness one single clove of raw garlic can bring to this condiment.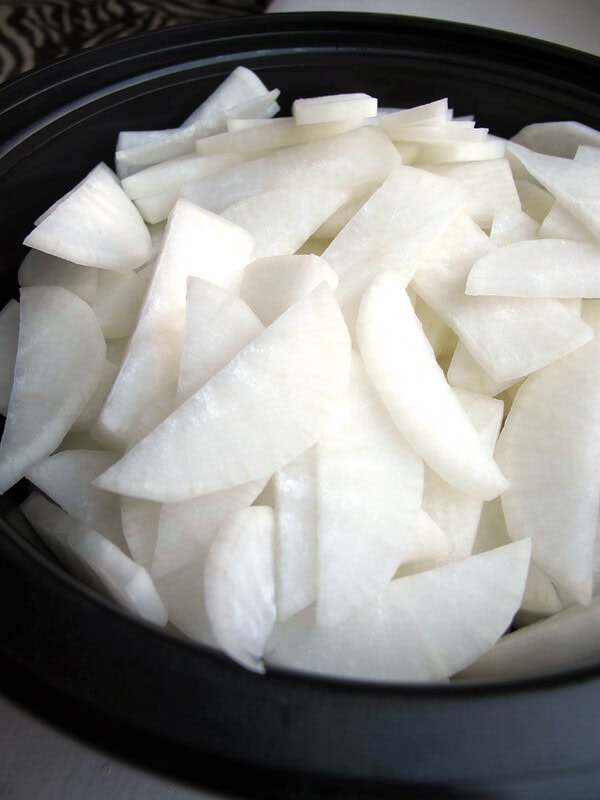 Whenever I make pickles, I know they'll go quickly because my husband Ben is a pickle addict. Asking him to wait at least two days before being able to dump a huge amount of pickled daikon on virgin white rice, is like asking a Walter White fan who's got the last episode of Breaking Bad to wait a few days before watching it. Agony! Because of that, I can tell you these pickled daikon slices can also be eaten 3 hours after they've been marinating. However, the flavor won't be nearly as good so if you can wait a little longer, do so.
When it's ready, take the night off (unless you enjoy smelling like a big bulb of garlic), pour yourself a glass of cold sake and take a bite. Holy molly, garlicky but oh so yummy!! Spicy garlic meets savory in these umami filled nibbles, with a touch of sweetness and a juicy crunch. The taste lingers in your mouth and though quite strong, it's also very satisfying.
These pickled daikon are divine on their own but also really delicious with rice, together with egg drop soup or chopped and added to this tofu with mushroom sauce.
If for some crazy reason you end up with leftovers, pickled daikon will keep in the fridge for a couple of weeks.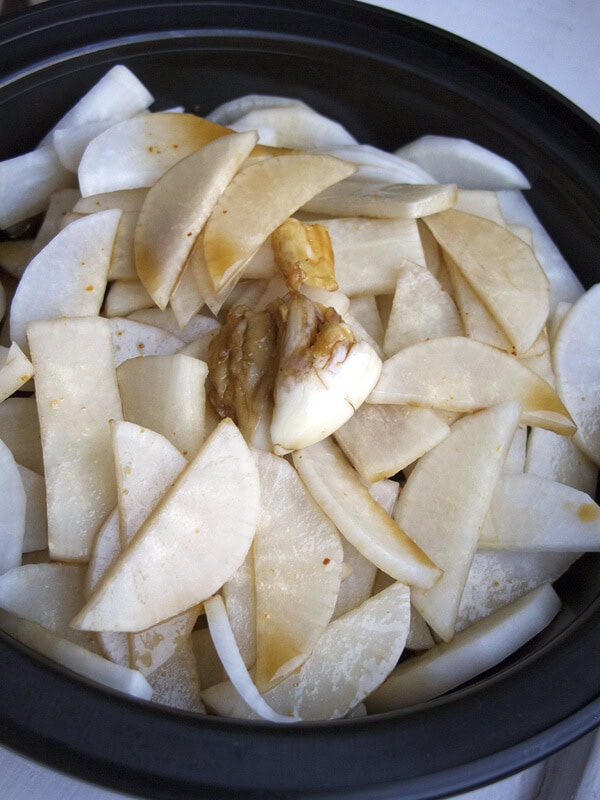 Print
Daikon Pickles
The easiest pickle recipe! Spicy, salty daikon pickles that are the perfect condiment for rice, and meats and even curries!
Prep Time:

10 minutes

Total Time:

10 minutes

Category:

Condiment

Cuisine:

Japanese
2 cups

daikon (peeled and chopped bite size)
For the marinade:
3 tablespoons

soy sauce

1 tablespoon

light soy sauce

1 cup

water

2 tablespoons

rice vinegar

1 tablespoon

mirin

1

clove garlic (crushed)

1/2 teaspoon

ichimi optional (red pepper flakes)
Instructions
In a bowl, mix all the ingredients for the marinade and stir.
Put the daikon in a large tupperware container and pour the marinade over.
Mix well, cover and refrigerate for at least 2 days (up to a week).
Notes
These pickles will keep in the fridge for a few weeks.
Drain the marinade when you are happy with the taste.
Recipe Card powered by