You can achieve crunchy, pickled perfection at home in an hour. No need to simmer a complex brine on the stovetop or wait for fermentation for days. For this Japanese pickled cabbage recipe, you only need two ingredients total. Perfect as a side dish or with a bowl of white rice!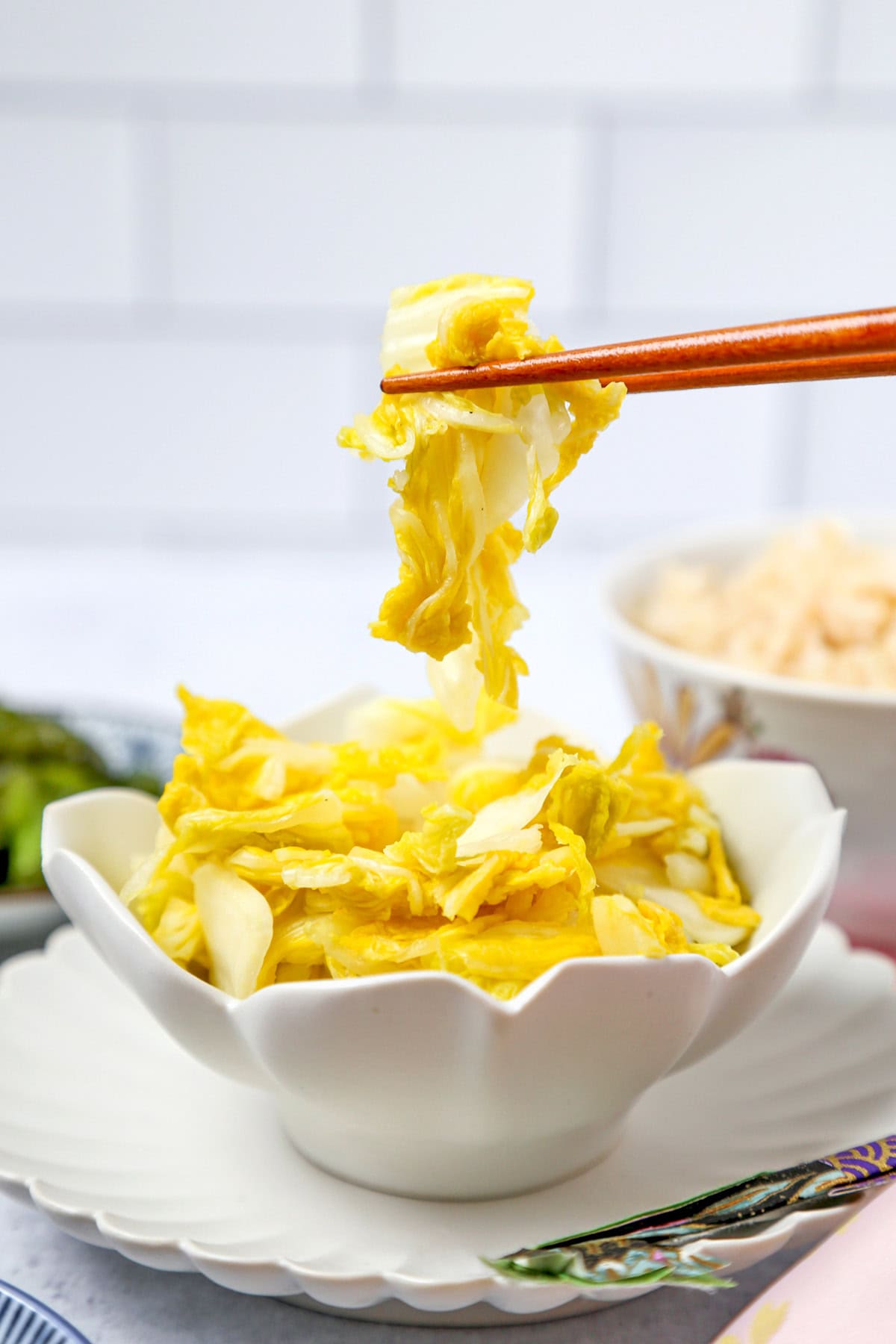 A Quick Pickled Cabbage Recipe
This is a simple take on one of my mom's pickle recipes. And while many Japanese pickles call for things like soy sauce, sake, miso, konbu and ginger, this pickled cabbage recipe only requires two ingredients – and five minutes of prep time total.
Japanese pickles are called tsukemono (literal translation: 'pickled thing'). And unlike most Western pickle recipes, Japanese pickles don't utilize a vinegar brine. Instead, you'll rely on salt and a container to apply downward pressure during the pickling process.
Although I am usually a traditionalist when it comes to eating my mom's pickled cabbage (i.e. a side dish of fluffy Japanese rice, a dish of soy sauce – and some strips of toasted nori), these pickles work on almost everything you'd like to add a savory crunch to.
They're delicious on sandwiches, burgers, wraps and rice bowls. And I even used this pickled cabbage on shrimp tacos once. Verdict: yum.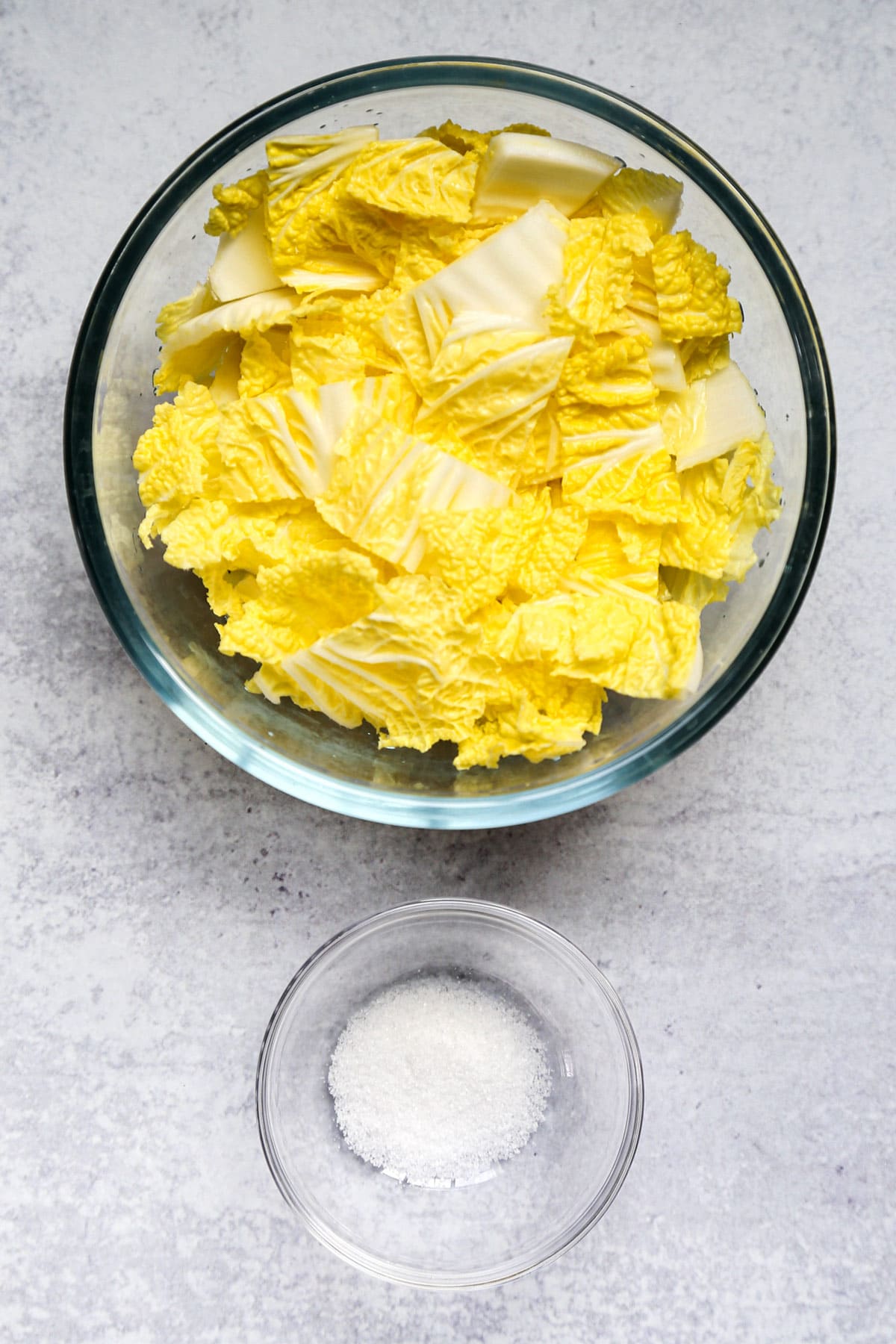 Ingredients for Pickled Cabbage
Scroll all the way down for the full recipe.
Napa Cabbage: This Chinese cabbage (called hakusai in Japan) has an oblong shape with veined leaves that are delicately textured at the tips – and smoother, thicker and crunchier closer to the stalk. It's this multifaceted texture that makes napa cabbage the perfect vegetable to use in this quick pickle. I prefer it to red cabbage or regular cabbage, although both are decent substitutes.
Salt: I'm using just a teaspoon of coarse sea salt for this pickled napa cabbage. The salt not only imparts a savory flavor to the cabbage, it lightly preserves it – and quickly kills off the bacteria that causes food to spoil. While you could also use kosher salt, stay away from iodized salt. Iodized salt typically causes pickles to turn prematurely dark.
And that's it. Every time I whip up this quick pickle salted cabbage, I'm a little shocked that so few ingredients (and such little time) yields a delicious, flavor forward result.
In fact, the last time I was making this pickled cabbage, Ben was in the kitchen asking if he could grab me the pepper, a couple bay leaves, garlic or random spices that I might need. Although I could see why he might think I'd need these things, I was like, "nope. "
Consider Your Pickling Container
I'm firmly of the use-what-you've-got-handy mindset when it comes to doing most things in the kitchen. And although I reach for my pickle maker when I make pickled cabbage, you don't absolutely need one. You can use a sealable food storage bag.
You see, when making a quick pickle, it's best to eliminate as much air as possible to speed along the the napa cabbage's reaction to the salt.
A pickle maker has a plastic plate you can screw down so the salted cabbage leaves are bunched tightly together.
You can easily create a similar effect using a reusable food storage bag. Simply pack the salted leaves together, roll out the air and seal it up.
However, the need to eliminate the excess air (and packing the leaves together) is why I wouldn't recommend using something like a glass jar. Jars are great when pickling veggies in a liquid brine – but not ideal for this quick salted pickled cabbage recipe.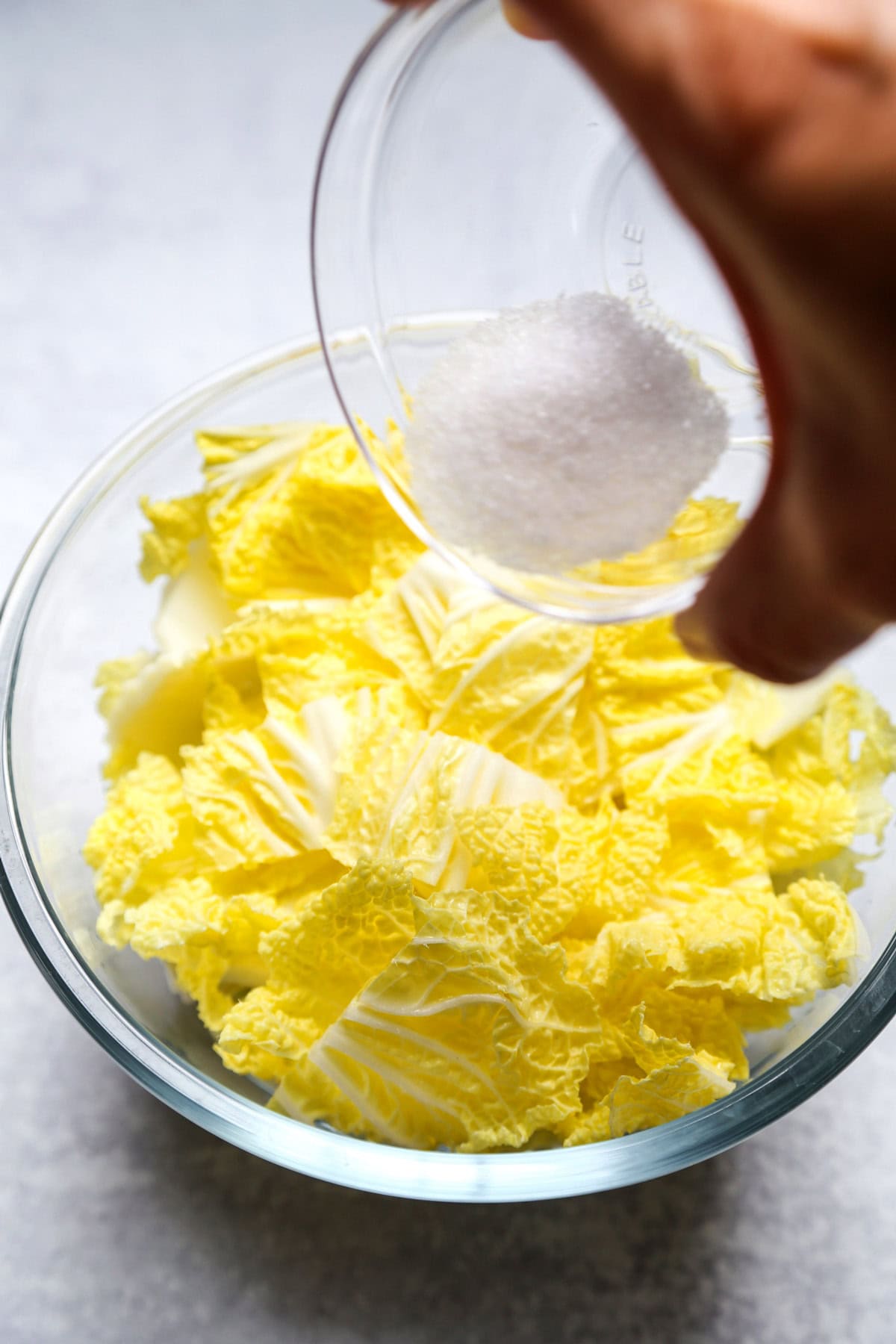 How to Make Pickled Cabbage
First, gather all of your cooking tools and ingredients.
Then place your rinsed and chopped cabbage into a large bowl and sprinkle the sea salt on top.
Next, toss and massage the leaves so they are all evenly covered with salt.
If you have a pickle maker: transfer the salted cabbage to a pickle maker. Close the lid and twist until the leaves are packed together tightly. Refrigerate and pickle for 1 to 3 hours
If you don't have a pickle maker, a plastic food storage bag will do. Place the salted cabbage leaves into a plastic bag and remove as much air as you can. Seal the bag and place in the fridge for 1 to 3 hours.
Drain any excess pickling liquid that naturally accumulates and serve. Note: if you find the cabbage pickles too salty, just place the leaves in a strainer and rinse with a little water. Drain well again and serve.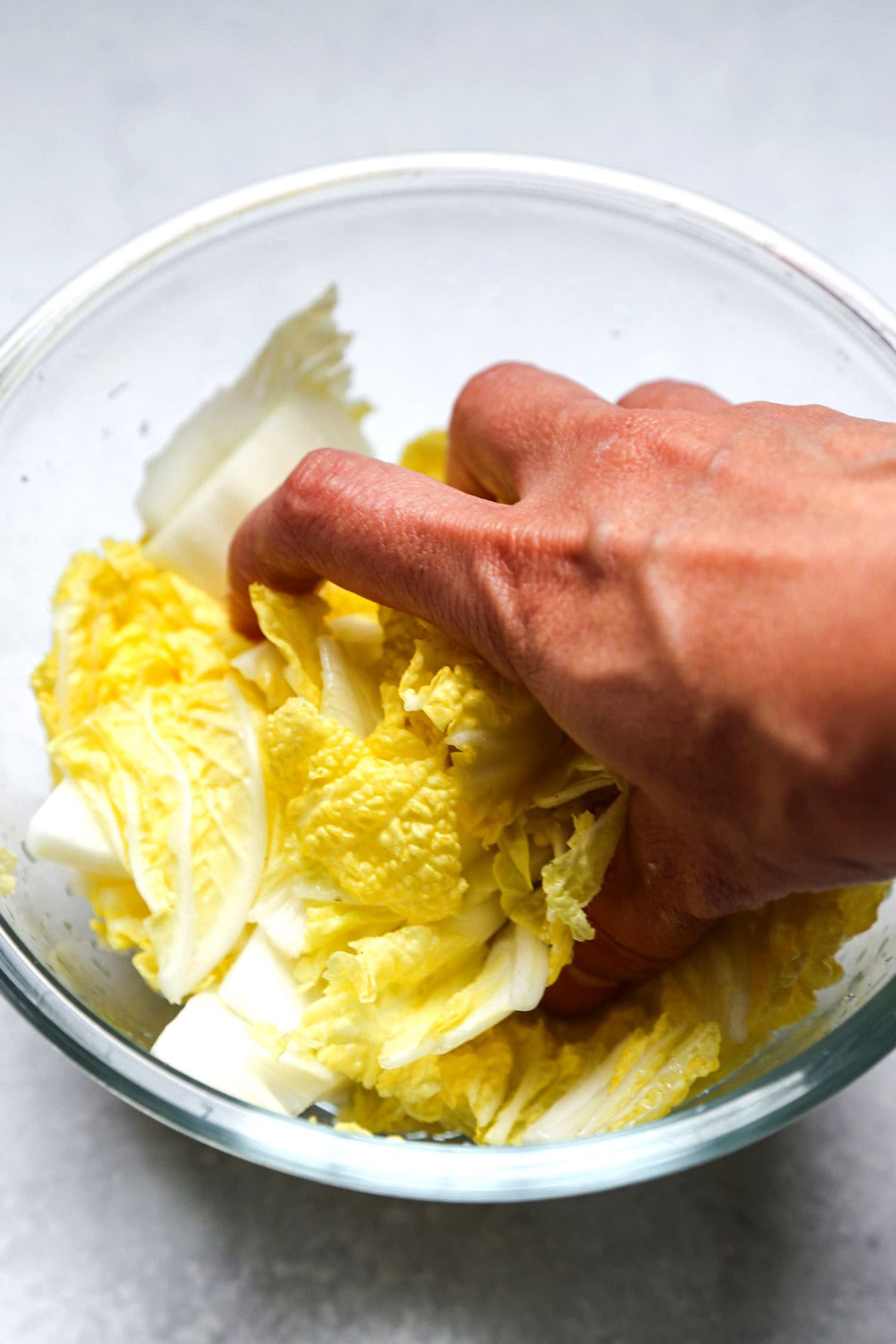 How Long Does Pickled Cabbage Last?
Pickles are generally considered a preserved food. However, this pickled cabbage won't last forever like a jar of sauerkraut might. Even so, it does have a decent shelf-life.
You can place these pickles in a sealable jar or airtight storage container in the refrigerator for up to 10 days.
That said, they never last long at my place. We eat them pretty fast!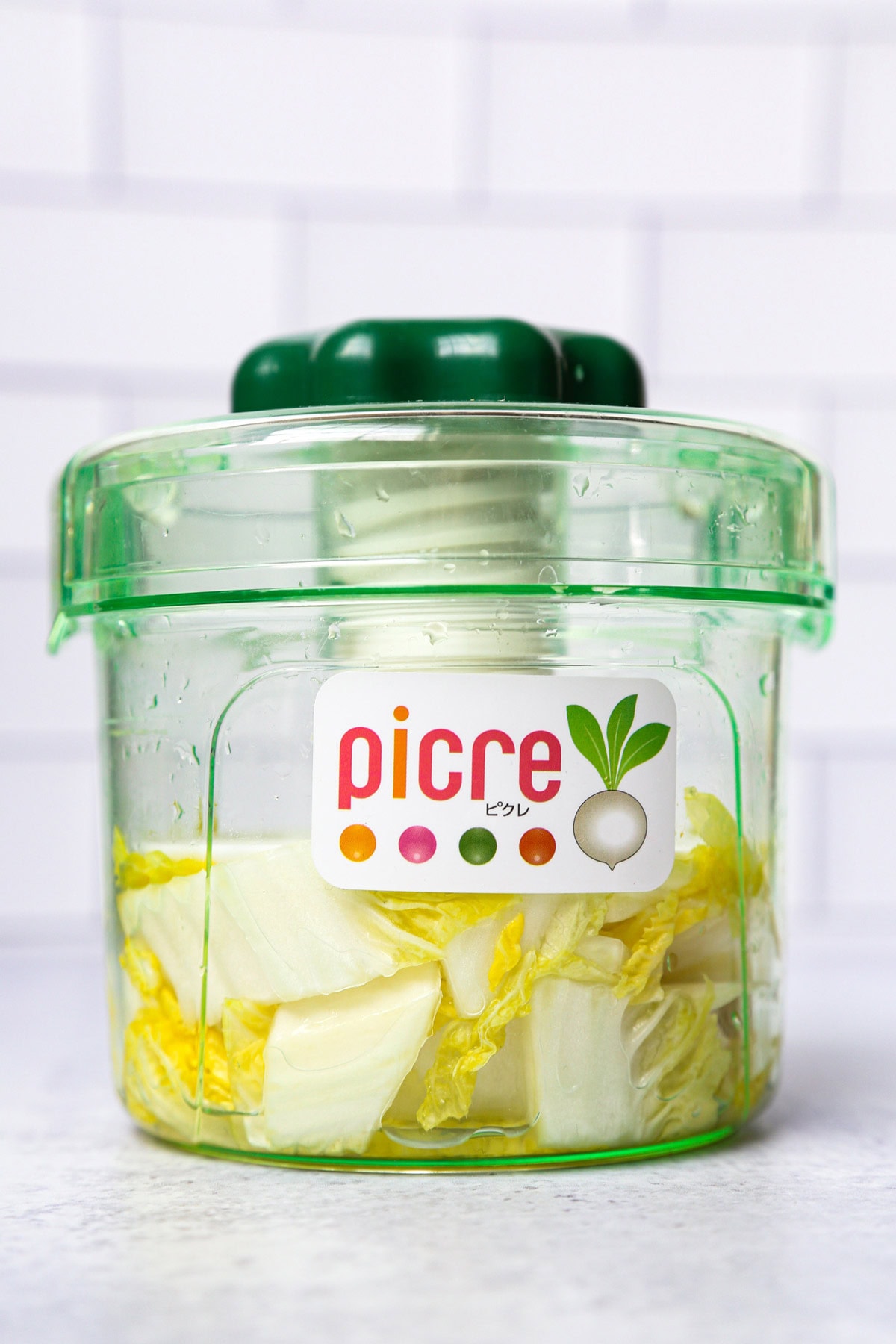 What to Serve With Salted Pickled Cabbage
As I mentioned, I'm a big fan of eating Japanese tsukemono with a side of white rice.
But this pickled cabbage would be the perfect palate cleansing side dish for any number of Japanese recipes. Here are a few reader favorites:
What about you? What's your favorite way to eat pickles? Let me know about your favorite combos in the comments!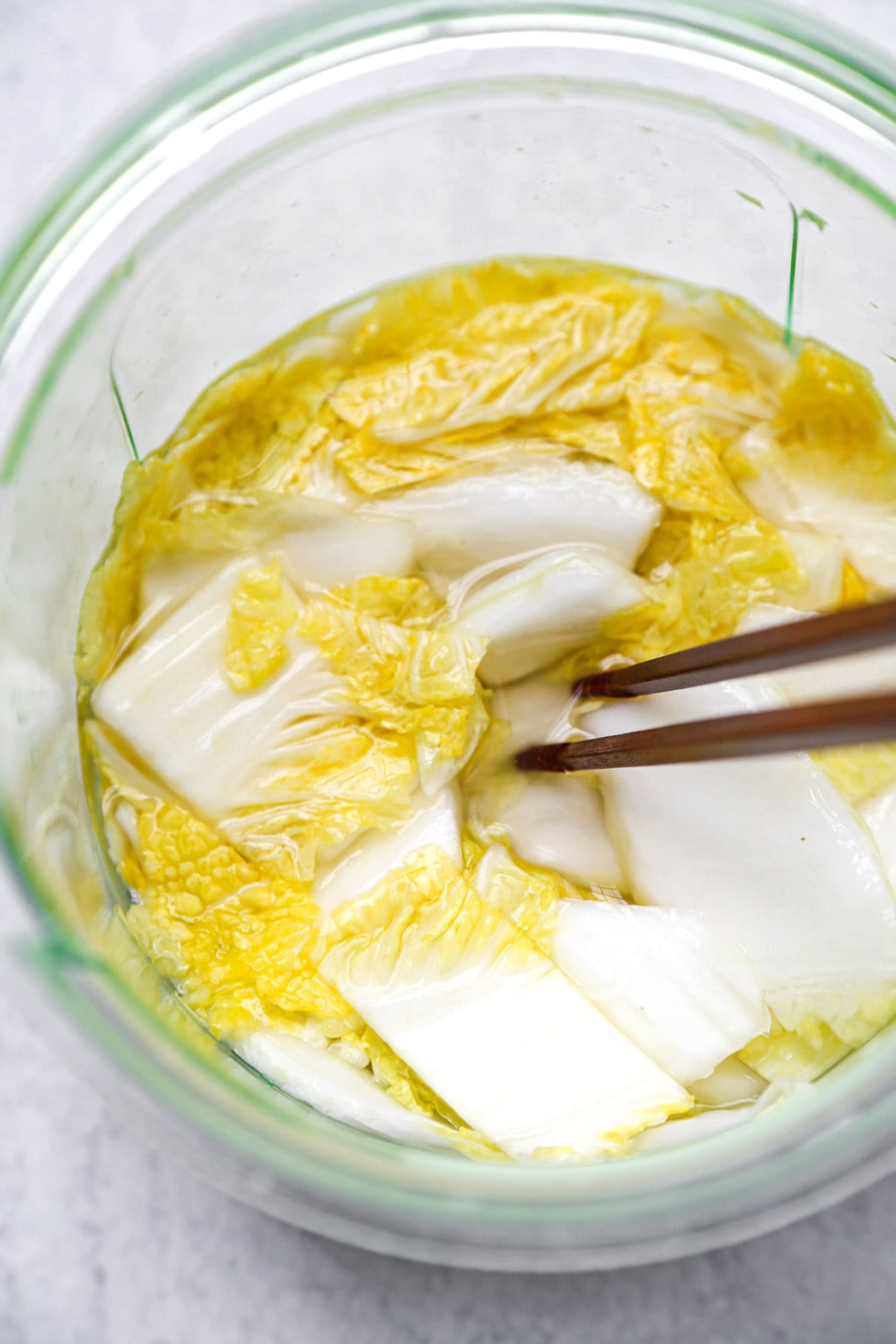 The chrysanthemum rim plate and four petal bowl used in the images, are from Musubi Kiln.
Musubi Kiln is an online store specializing in high quality handmade Japanese tableware and dinnerware. Each product is made by Japanese craftsmen using traditional techniques that have been passed down from generation to generation.
Received 10% off your purchase when using the code CAROLINE at checkout.
Other Delicious and Easy Pickle Recipes
Did you like this salted pickled cabbage recipe? Are there changes you made that you would like to share? Share your tips and recommendations in the comments section below!
Print
Salted Pickled Cabbage
This simple and addictive pickled cabbage recipe only requires 5 minutes of prep. And they're ready to eat in an hour!
Author: Caroline Phelps
Prep Time:

5 minutes

Cook Time:

1 hours passive time

Total Time:

1 hour 5 minutes

Yield: about

1 cup

1

x
Category:

Pickles

Method:

pickling

Cuisine:

Japanese

Diet:

Low Calorie
200

g

napa cabbage leaves, chopped bite size

1 teaspoon

coarse sea salt
Instructions
Place the chopped cabbage in a bowl and sprinkle salt on top.
Massage the leaves while tossing them so they are evenly covered with salt.
Transfer the cabbage and salt to a pickle maker, and close the lid, twisting until the leaves are tightly together. Refrigerate and pickled for 1 to 3 hours.
If you do not have a pickle maker, place the cabbage and salt in a plastic bag, remove as much air from the bag as you can, and seal. Refrigerate and pickle for 1 to 3 hours.
Drain the excess water and serve. If you find the cabbage too salty, place the leaves in a strainer and rinse with a little water. Drain well and serve.
Notes
Storing pickled cabbage: Put the pickles in a jar or airtight storage container and refrigerate for up to 10 days.
Nutrition
Serving Size:

About 1/2 cup

Calories:

10

Sugar:

0g

Sodium:

1102mg

Fat:

0g

Saturated Fat:

0g

Unsaturated Fat:

0g

Trans Fat:

0g

Carbohydrates:

1.7g

Fiber:

0g

Protein:

0.8g

Cholesterol:

0mg
Keywords: otsumami, side dish
Recipe Card powered by