Let's make soup! This 3-ingredient healthy weight-loss Cabbage Soup With Kombu Dashi is flavor packed and ready in 25 mins. Great for when you need a little detox!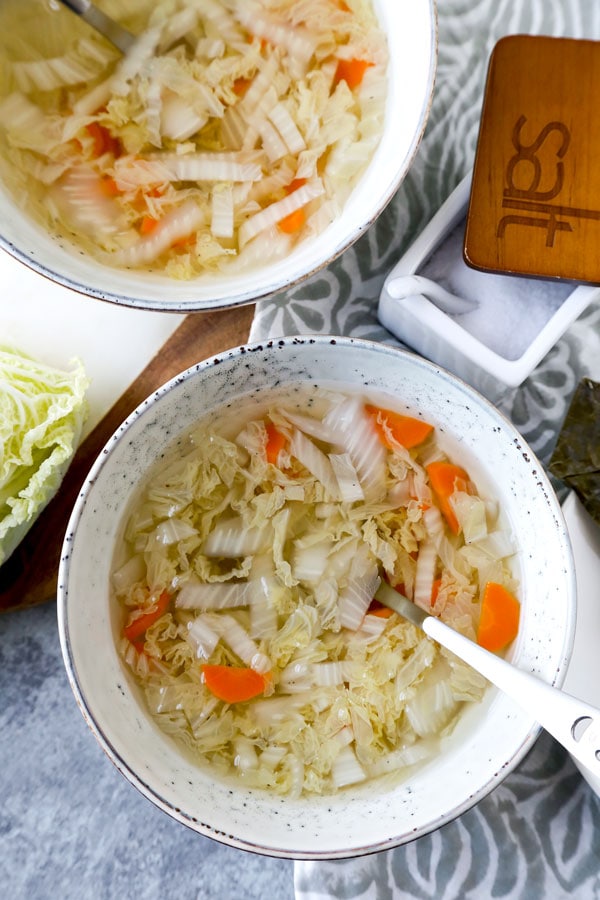 Cabbage Soup With Kombu Dashi
I don't much care for the taste of vegetable broth.
Now, let me clarify that statement…
While I love the rich flavors created by long simmering vegetables on the stovetop, I'm not a huge fan of the veggie broth sold in containers at the grocery store.
When it comes to those mass produced stocks, I much prefer the flavor of chicken stock.
Therefore, when I started experimenting with different versions of what would end up being this cabbage soup recipe, I thought it would be cool to create a vegan broth that had the heartiness and depth of flavor of a chicken broth.
Oh, and it would have to be easy to make too!
Well, I think I succeeded in my quest. And while it doesn't taste like chicken, this cabbage soup with kombu dashi is vegan and has a soulful and deep flavor that hits the spot when you need the comforting warmth of soup!
An easy, healthy homemade soup
This cabbage loaded kombu dashi soup hits a trifecta of sorts for me.
You see, aside from the outsized umami flavor in this cabbage soup, there are two other serious benefits to whipping up a big pot of it on the stovetop.
Hey, I obviously love any recipe that hits the easy + healthy + delicious trifecta.
However, even Ben – who could live on bowl noodles if he had to – has been requesting this cabbage soup on the regular.
In fact, I've been keeping a big pot of soup in the refrigerator to fulfill the many soup cravings we've had at our place lately. We eat is so much these days that it never lasts very long. Heck, I sometimes feel like I'm on the cabbage soup diet, ha!
And if you really live by the mantra that soup is just plain good for you, check out this green detox soup and this simple detox crockpot vegetable soup. These delicious soup ideas are just good for what ails ya!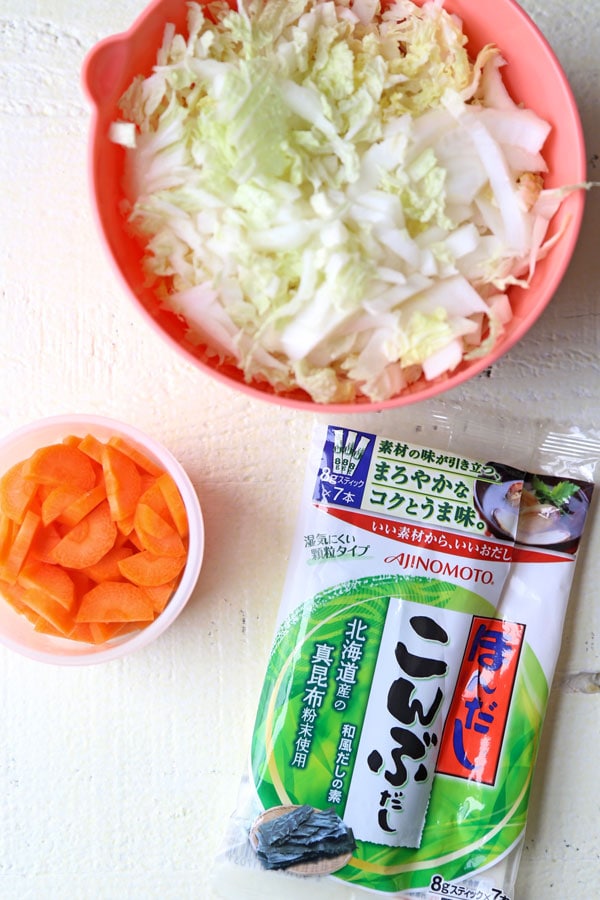 What is kombu?
Kombu (昆布) is an edible kelp that is typically sold in dried sheets – although it is also used in fresh preparations like seaweed salad.
Much of what we eat in the West is cultivated in Hokkaido in northern Japan.
Now, dried kombu contains a ton of glutamic acid. This scientific sounding phrase is what produces the illusive flavor the Japanese refer to as the fifth-taste. Btw… a more common word for that flavor is umami. That's the savory, almost meaty taste found in certain meats, tomatoes, mushrooms and things like Parmesan cheese.
So using kombu stock as a base for our cabbage soup broth really lends a serious hit of flavor.
Is kombu seaweed healthy?
Well, it sure seems that way!
Kombu is said to help combat anemia, improve thyroid function and even aid in digestion.
There's nothing wrong with any of that, right?!
And chances are you've probably tried kombu even if you didn't know it…
What is dashi?
Have you ever had miso soup at a Japanese restaurant?
Well, aside from miso paste, one of the main flavoring agents in that iconic soup is dashi.
In its purest form, dashi is essentially a sea stock… A broth with the flavor properties of the sea. And it provides the backbone of flavor to many Japanese recipes like soba, oden and, of course, miso soup.
The best thing: dashi is super easy to make from scratch at home! Check out this post on how to make dashi from scratch.
However, traditional dashi has one ingredient that I didn't want to use in this healthy soup.
You see, my goal was to make a vegan soup that tasted like it wasn't, well… vegan 🙂
And traditional dashi contains dried bonito flakes (katsuobushi).
Hey – while I love those smoky and delicious fish flakes, I decided to stick with my plan to make a yummy weight loss soup that kept it 100% plant based.
Thank goodness for kombu dashi!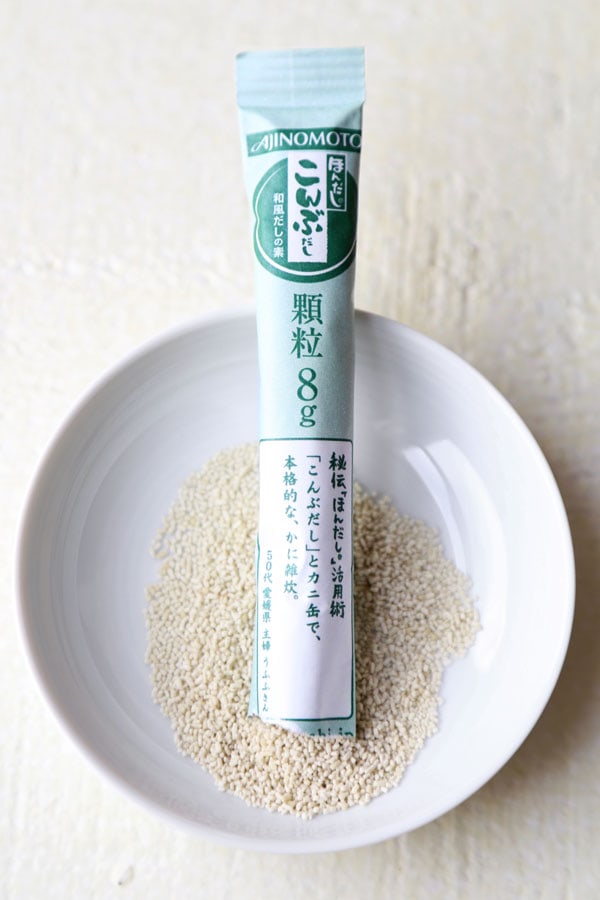 What is kombu dashi?
Kombu dashi is just dashi – but made without the katsuobushi (fish flakes).
Seriously, it's stock made from soaking or simmering kombu seaweed in water. And that's it!
Now if it sounds too easy to possibly be any good, don't worry. Kombu dashi has a ton of flavor. It also manages to deliver the saline flavor of the ocean much like traditional dashi.
But the best part: kombu dashi is vegan!
Now, I'm using powdered kombu dashi in this easy cabbage soup. This instant soup powder is typically pretty easy to find at most Asian grocery stores.
Or you can grab powdered kombu dashi on Amazon.
Using the instant soup base will definitely keep the cooking time down on this already super easy cabbage soup with kombu dashi.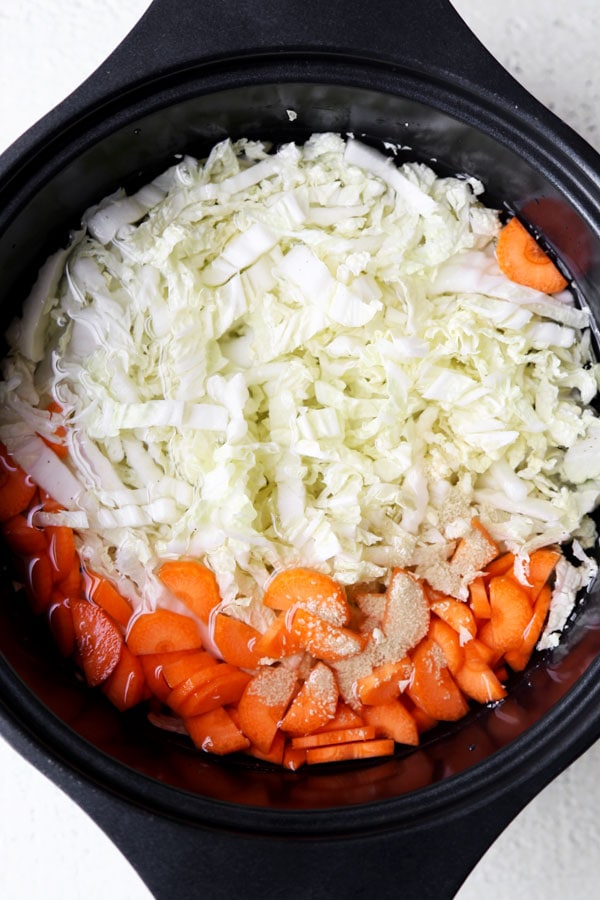 How to make cabbage soup
To make this cabbage soup with kombu dashi at home, just grab your soup pot and get it on the stovetop!
Over medium-high heat, mix 8 ounces of shredded napa cabbage and a chopped medium sized carrot with 1200 milliliters (about 5 cups) of kombu dashi.
Bring that mixture to a boil – and then lower heat to simmer for about 20 minutes or so. Taste it and add salt and pepper if you are so inclined.
When the vegetables are tender, you're ready to serve it up.
I like to add a little dash of ichimi togarashi (Japanese red pepper flakes) to my bowl just before digging in – but that's totally optional.
Yep. It's that easy.
It's so easy in fact, that you might have a hard time believing the deep, soulful flavor of the broth came from a couple of humble vegetables and a vegan soup base.
This easy cabbage soup is as addictively delicious as it is healthy!
Is cabbage good for you?
It's easy to assume that most veggies are healthy. Well, cabbage doesn't let you down in that department!
You see, aside from being a fantastic source of fiber, cabbage is just brimming with one of the best antioxidants there is: vitamin C. Eating vitamin C rich foods helps the body fight off pesky free radicals and assists your body in the production of collagen (that's the stuff that keeps us looking young!).
Low in calories, cabbage is also a great source of folate and vitamins K and B6.
Cabbage is a brassica vegetable – which places it in the same family as kale, broccoli and brussels sprouts. And it's SO EASY to introduce to your diet.
Seriously, aside from it being a mainstay in pretty much every grocery store ever, it's one of the cheapest sources of antioxidants in the produce aisle.
Get your veggie fix with this easy cabbage soup with kombu dashi!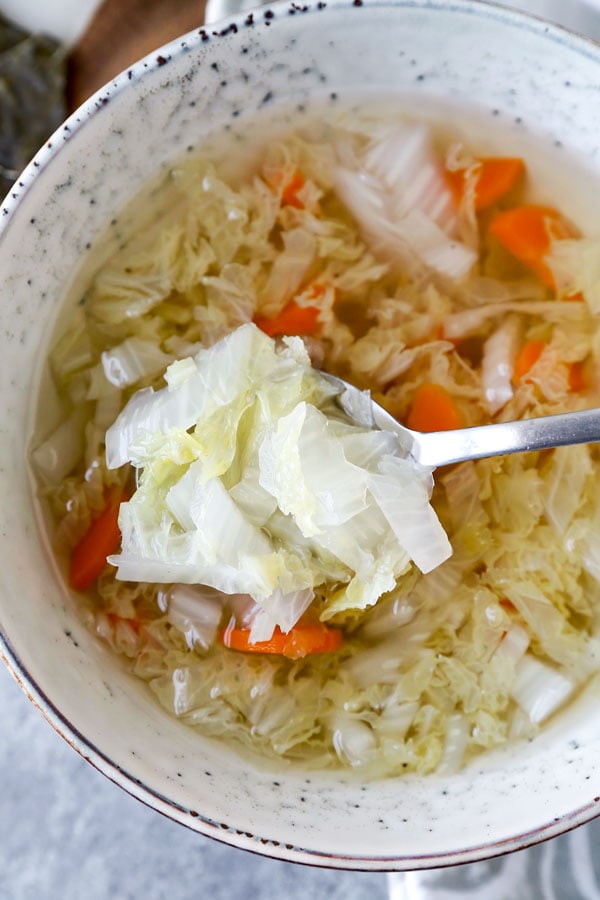 How long is cabbage soup good for in the fridge?
Like I mentioned above, I have been keeping a pot of this kombu dashi cabbage soup in the fridge for those late night snack cravings (and the hot soup emergencies winter can sometimes bring).
And while you can store this delicious vegan cabbage soup in the fridge for up to 3 days, it never makes it past the second day in our house before I have to whip up a new batch.
Since it's so easy to make – and so healthy to consume – that isn't a bad thing at all! 🙂
What's your favorite healthy weight loss soup? Do you keep a batch in the fridge? Tell me about your favorites in the comments section.
Happy cooking!
Other delicious and easy soup recipes:
Plus:
And: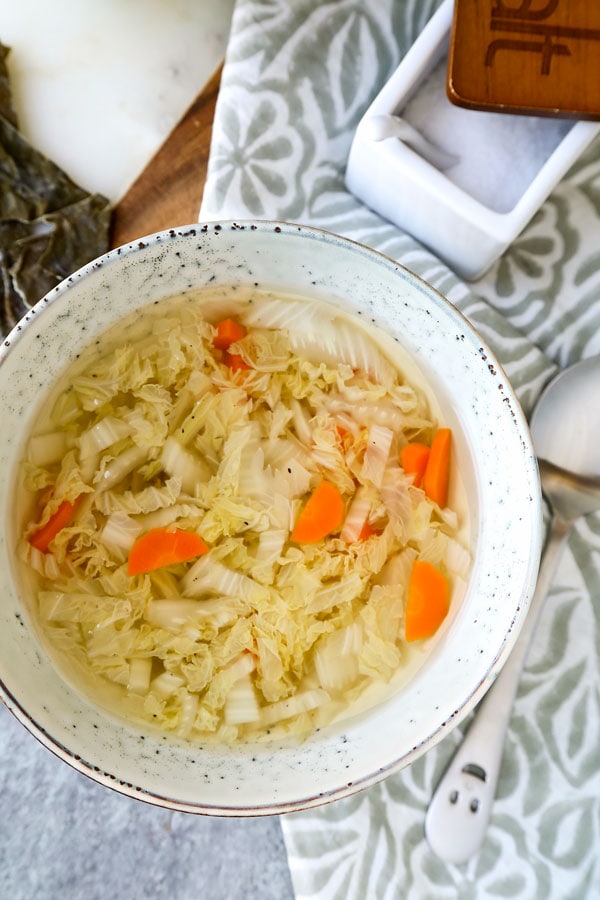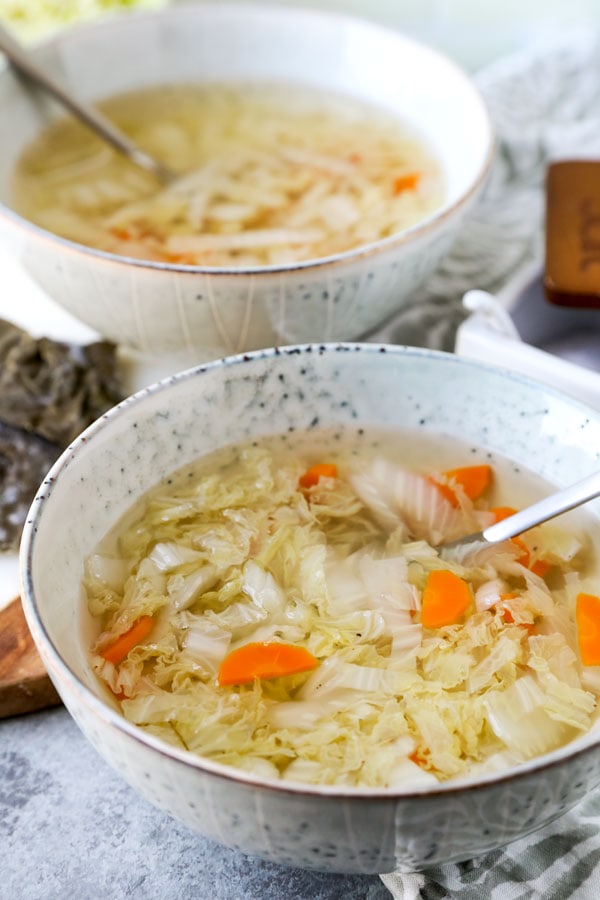 Did you like this Cabbage Soup With Kombu Dashi Recipe? Are there changes you made that you would like to share? Share your tips and recommendations in the comments section below!
Print
Cabbage Soup With Kombu Dashi
A healthy cabbage soup, flavored with vegan kombu dashi, that is great for weight loss!
Author: Caroline Phelps
Prep Time:

5 minutes

Cook Time:

20 minutes

Total Time:

25 minutes

Yield:

2

-4

1

x
Category:

Soup

Method:

Simmered

Cuisine:

American / Japanese
1200

ml (about

5 cups

) kombu dashi (1 full stick of kombu powder mixed with 1200 ml water) – Do not use freshly made kombu dashi as it will taste completely different. Homemade kombu dashi is quite plain compared to granulated kombu dashi.

1

medium carrot, peeled and finely chopped

8 oz

(about

4 cups

) Shredded Napa cabbage
Ichimi togarashi (optional)

Salt and pepper to taste
Instructions
In a medium sized pot over medium-high heat, add kombu dashi, carrot and cabbage and bring to a boil.

Lower heat to medium low, cover and simmer for 20 minutes, or until vegetables and tender.

Season with salt and pepper if needed.

Sprinkle a little ichimi on top and serve.
Notes
Leftovers of this cabbage soup with kombu dashi will keep in the fridge for up to 3 days.
Nutrition
Serving Size:
Calories:

22

Sugar:

1.5 g

Sodium:

30.3 mg

Fat:

0.2 g

Saturated Fat:

0 g

Carbohydrates:

4.7 g

Fiber:

0.9 g

Protein:

1.1 g

Cholesterol:

0 mg
Keywords: vegan, vegetarian, healthy, recipe, appetizer, detox, weight loss, diet
Recipe Card powered by