Detoxing isn't just for the summer! Including cleansing dishes into your diet can be beneficial for weight management and overall health. Add this quick and easy green detox soup for a boost of vitamins that will keep your tummy slim and skin aglow!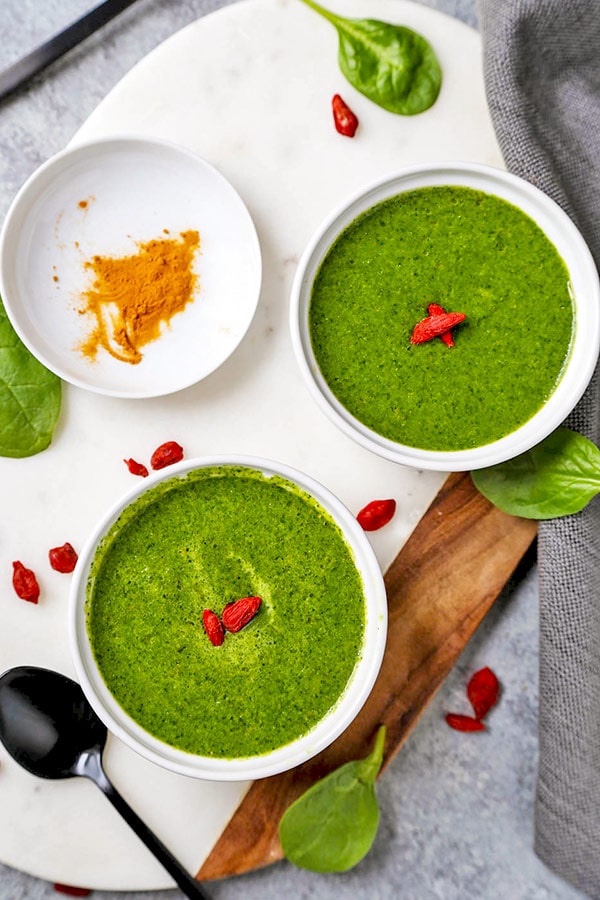 Green Detox Soup (Vegan, Gluten Free)
Cooler temperatures.
Comfort food.
Schedule gets flooded with holiday parties, cocktails with friends and family dinners.
'Tis the season to eat all that we want and be merry!
Calories pile on. Clothes suddenly fit too snug. Sad face.
Sounds familiar?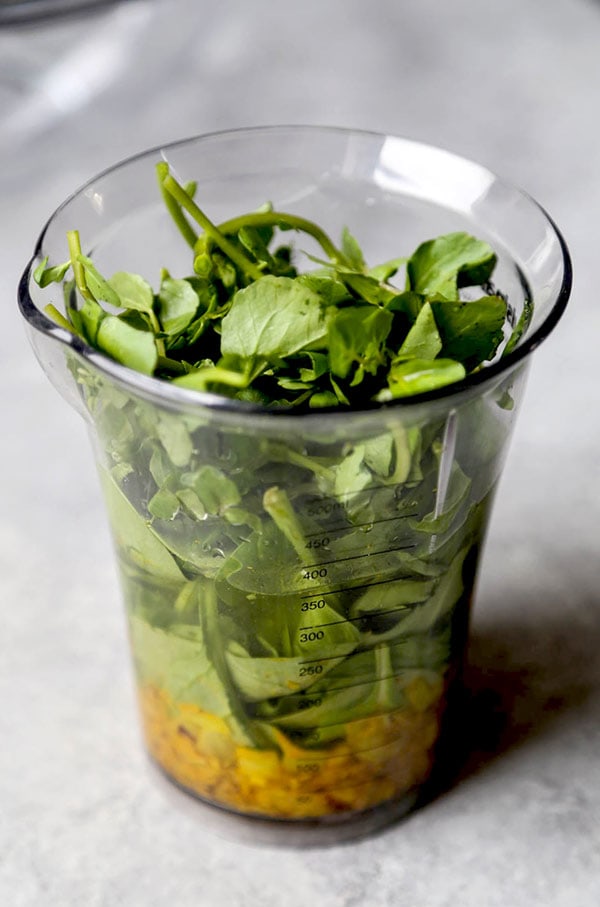 We've all been there and every year we tell ourselves that next year is going to be different, for real.
But then you see your mom's homemade apple pie on the dinner table, looking so pretty next to the gravy boat and creamy mashed potatoes. Your intentions of only eating healthy foods quickly dissipate and you find yourself heading to the buffet for a second serving of everything.
Mission failed. You tell yourself you will deal with the weight gain later.
Sigh.
Soup Cleansing Between Heavy Meals To Keep  My weight in check
Here's the thing – I think it's totally okay to indulge. After all, it's the holiday season!
For many of us, it's the only time of the year when we get to relax and enjoy being around the ones we love.
For me, it's that time when I sleep in and snack on naughty foods all day long. I relax my diet and eat pecan pie with vanilla ice cream on top and one too many servings of tourtière. Sometimes I double up on gravy to the point where my mashed potatoes dissolve into it. It's a very classy affair that shall never be documented on film.
But here is where I do things a little differently – instead of going from one heavy meal to another, day after day, I do 35% naughty and 65% nice.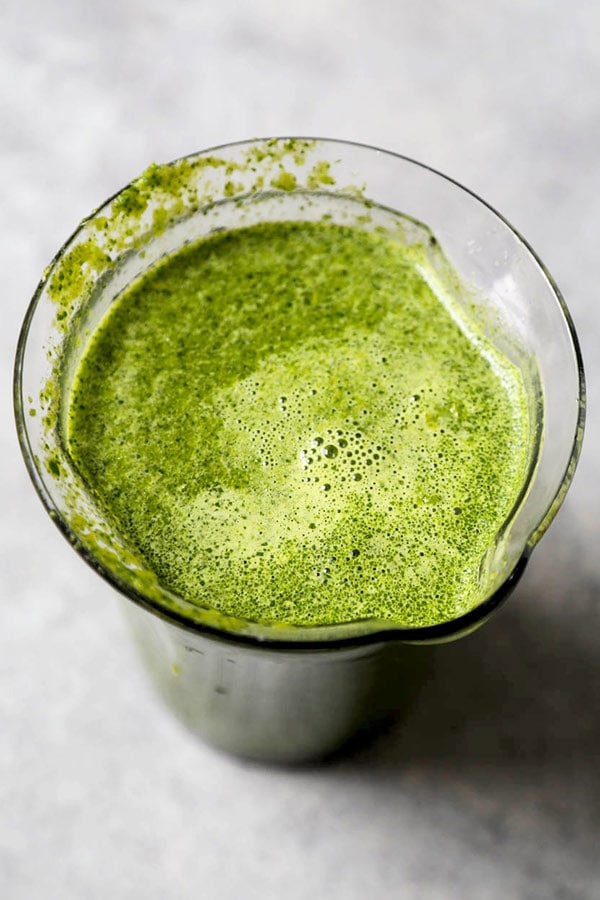 It's possible to have your cake and eat it too!
An easy way to prevent weight gain during the holiday season is to allow one naughty day followed by three nice days (35% naughty to 65% nice).
The good thing about this system is that I don't ever feel like I am missing out on gooey or hearty holiday foods. I don't have to torture myself by denying my brain and stomach of what they really want to eat!
It means I can eat whatever I want at the dinner table as long as I follow it up with a three day diet that's low in calories and fat. Making a pot of green detox soup like this one takes no time and helps me stay slim.
Not only is it very low in calories and fat, it's also packed with vitamins and nutrients. Nutrients to help my body process heavy foods better and give me a boost of energy so I can go on that much needed walk!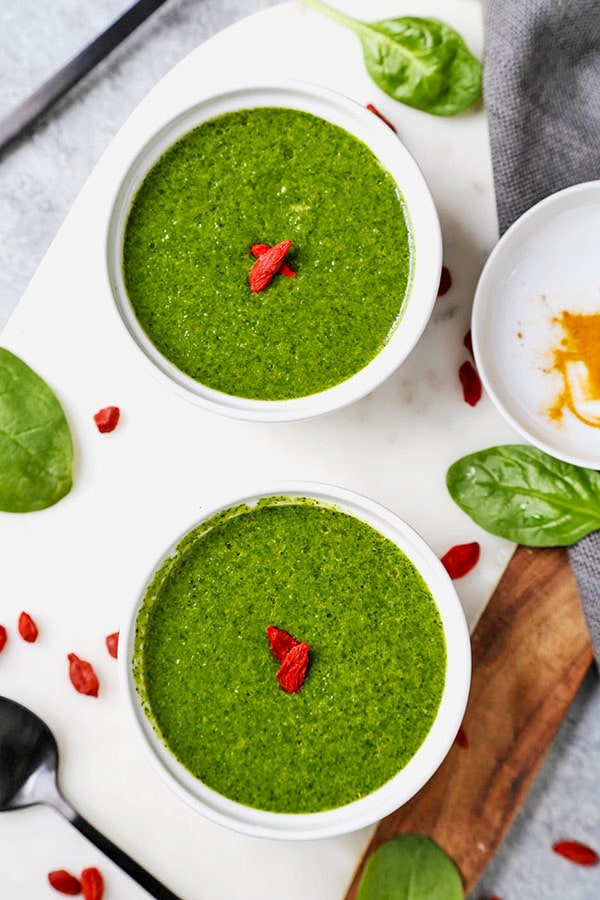 I will make myself a bowl of green detox soup and eat it with a side salad or cucumber sandwich. It's plenty filling for lunch and can be eaten as a late night snack too.
I also drink lots of tea.
Green tea, mint tea (when I don't want caffeine) and jasmine tea. Tea contains zero calories and curbs my appetite when I feel like snacking. Or if I'm really craving a snack, I'll have tea with 10 cashew nuts and a handful of goji berries. That works like a charm!
As for dinner, I'll have something more substantial like yakisoba but made with spaghetti squash, a detox cleanse salad or a simple Thai curry.
Having a fridge full of cleansing foods is essential to a successful holiday diet!
So make sure you always keep chopped veggies, leafy greens such as arugula and baby spinach, canned beans, boiled eggs and marinated tofu for salads. As for snacks, grab some goji berries, honeycrisp apples, low fat popcorn and nuts.
For quick homemade cleansing recipes you've got this delicious green detox soup that will keep refrigerated for up to 3-4 days.
Here are other quick and easy healthy recipes that will come in handy when you get hungry for a proper meal: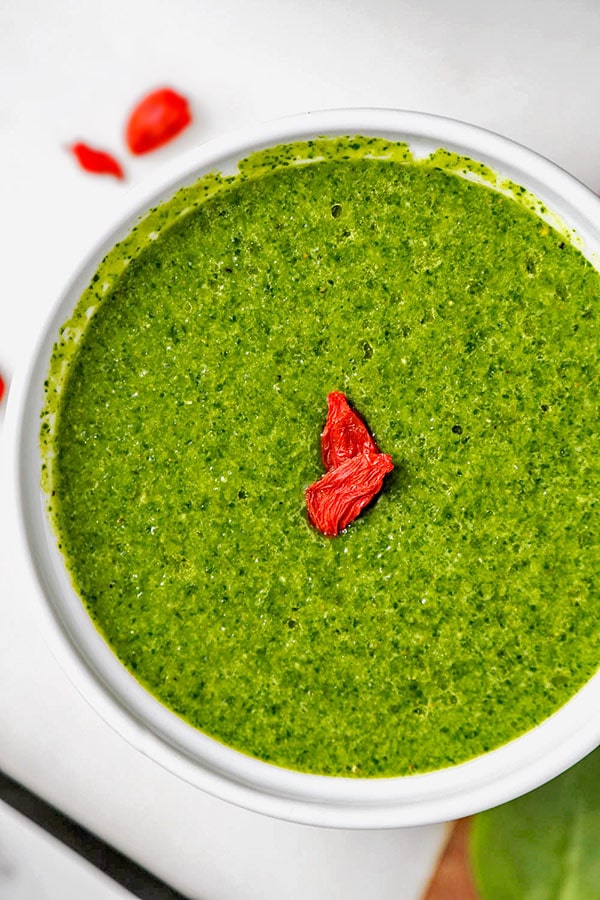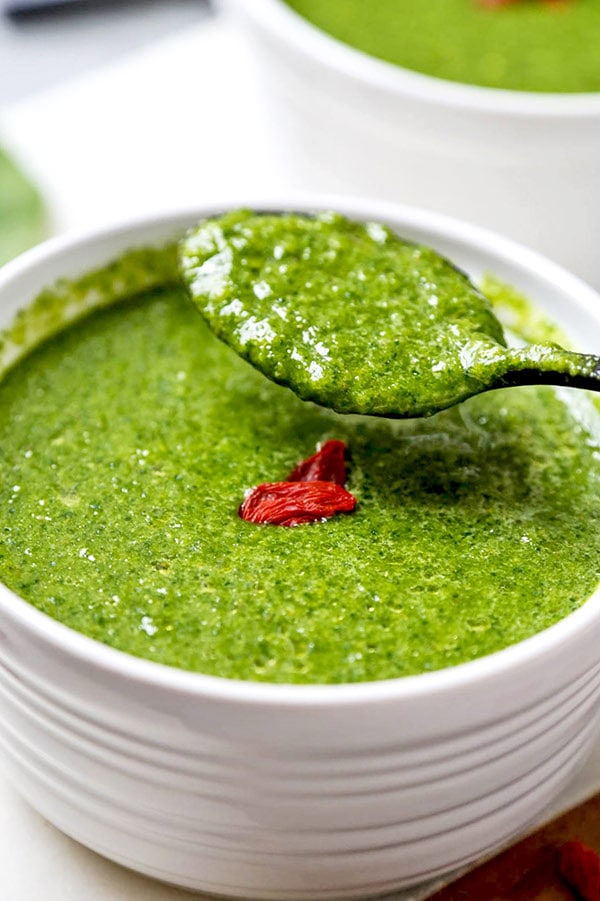 Did you like this Green Detox Soup Recipe? Are there changes you made that you would like to share? Share your tips and recommendations in the comments section below!
Print
Green Detox Soup (Vegan, Gluten Free)
This detox soup is packed with watercress and flavored with ginger and a touch of turmeric. Ready in less than 15 minutes!
Author: Caroline Phelps
Prep Time:

7 minutes

Cook Time:

6 minutes

Total Time:

13 minutes

Yield:

2

people

1

x
Category:

Vegan

Method:

Blending

Cuisine:

American
1 tablespoon

extra virgin olive oil (+ extra for drizzling)

1/2

small onion (peeled and chopped)

1 tablespoon

garlic (minced)

1 tablespoon

ginger (peeled and minced)

1/2 teaspoon

turmeric powder

1 teaspoon

cumin powder

400

ml water

2 cups

baby spinach

1 cup

watercress (chopped)

10

goji berries (optional)
salt and pepper (to taste)
lemon wedges (to serve)
Instructions
In a medium size pot over medium high heat, add 1 tablespoon olive oil and onions. Sauté for 2-3 minutes, until translucent.
Add garlic, ginger, turmeric and cumin and stir. Sauté for 3 minutes. Turn the heat off.
Add water, spinach and watercress to the pot and using a hand mixer, blend until smooth. Alternatively, you can transfer all the ingredients to a food processor or blender and blend until smooth.
Divide soup among two bowls and top with goji berries. Season with salt and pepper and serve with lemon wedges.
Notes
This green detox soup will keep refrigerated for up to 3-4 days.
Nutrition
Serving Size:
Calories:

107

Sugar:

3.2 g

Sodium:

43.3 mg

Fat:

7.5 g

Saturated Fat:

1.1 g

Carbohydrates:

9.6 g

Fiber:

2.2 g

Protein:

2.6 g

Cholesterol:

0 mg
Keywords: Healthy, low fat, low calories, vegetarian, plant based, meatless, gluten-free
Recipe Card powered by