You won't miss the meat in this healthy and comforting Vegetarian Split Pea Soup Recipe. So easy to make, the only three steps to follow are shop, chop and simmer!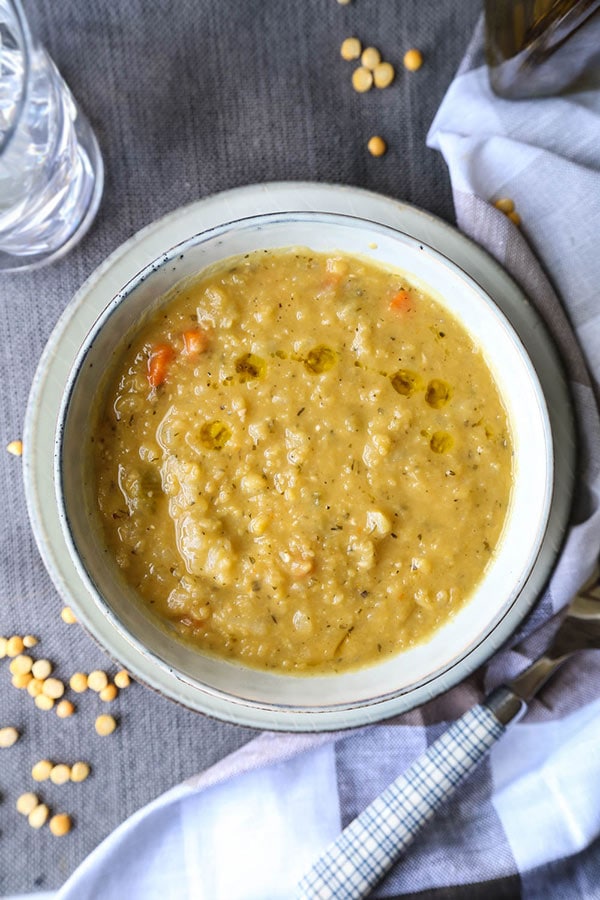 Vegetarian Split Pea Soup
Hey guys!
I'm Ben – Caroline's husband, and the taste-tester-in-chief in the Pickled Plum Kitchen. I love trying out Caroline's delicious recipes. And sometimes – when they're easy enough – I try my hand at making them myself.
Caroline made this delicious vegetarian split pea soup recipe last week at home. It definitely ticks the easy box.
So here we go!
What are split peas?
Split peas are a type of field pea specifically grown for drying.
When harvested, the peas are round with an outer skin, which is then removed once the peas are dried. This process makes the peas sweeter and less starchy. The pea is then split by hand or by machine at the natural split line, which was originally done to shorten the cooking time.
There are two types of split peas – green and yellow split peas. Yellow split peas are milder and slightly sweeter than green split peas, but on a genetic level there isn't much of a difference between the two.
Both are high in protein and dietary fibre, and are also low in fat.
How To Cook Dry Split Peas
As someone who is isn't particularly confident in the kitchen whenever I'm working with new ingredients, I have to say that working with dry split peas was a breeze!
Unlike kidney or garbanzo beans, which require hours of soaking before they can be cooked, split peas are much easier to deal with. They do not need to be soaked and can be scooped up and added to soups and stews right away.
Food Flashback 
When Caroline first set her version of this vegetarian split pea soup on the table last week, I got major déjà vu.
You see, when I stayed home from school as a kid, I was all about soup for lunch. Whether I was actually under the weather – or, more likely, faking it – a can of soup was definitely making an appearance as I flipped the channels on the couch.
My favorite was pea soup with ham. Dang, that smoky dark green stuff was absolute magic.
Turns out it was the same for Caroline!
No joke – she grew up in Quebec and devoured can after can of split pea soup with ham. Before we knew it, our delicious dinner was done, but we were busy telling each other ridiculous stories from our childhoods. Many of which are waaaay too embarrassing to repeat here.
Pretty cool that food has the ability to provoke total-recall of some of the amazing weirdness of life!
Is vegetarian split pea soup as good as split pea soup with ham?
Since we've been focusing on eating a more plant based diet these past couple of years, we've been trying to figure out how to make our favorite foods without most of the the meat.
When Caroline first made this meatless split pea soup she was concerned that it would loose its comforting flavors. But it turns out that it didn't make that much of a difference. All the traditional flavors of a split pea soup are there, minus the chewy ham bites, which I was never a fan of anyway.
So to answer the question – Absolutely. Vegetarian split pea soup is just as good, if not better than the real thing as far as I'm concerned.
Turns out, in the case of this split pea soup, that the herbs, peas, vegetables and stock really do all the hard work in the flavor department and totally create a hearty depth on their own.
Is this split pea soup vegan?
Yes it is!
The reason why it was originally called vegetarian split pea soup was because Caroline had used butter in this recipe to cook the vegetables. But since we've been dramatically cutting down on dairy, I swapped butter for extra virgin oil and thus, made this soup completely vegan!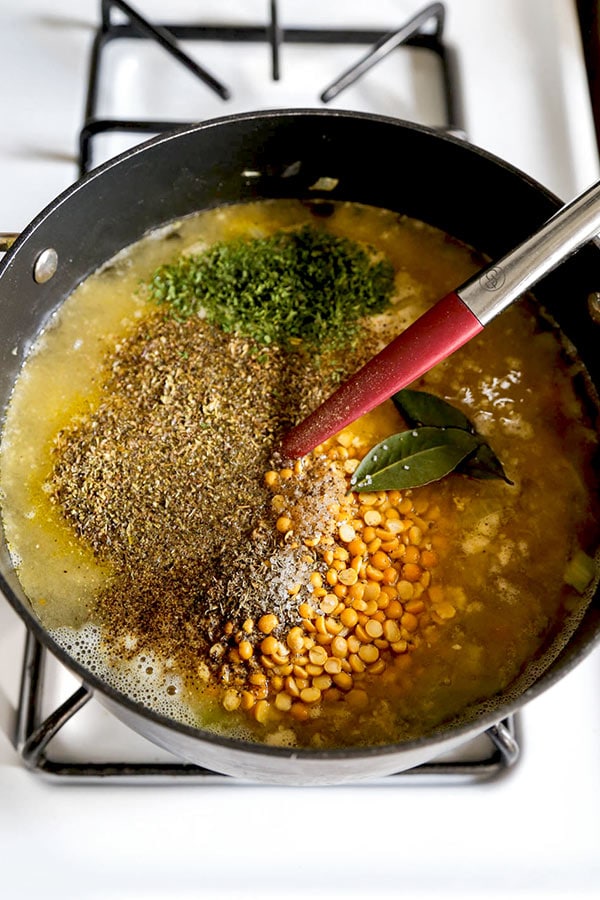 How To Cook Split Pea Soup On The Stove
The first step, which happens to always be the most time consuming one in most recipes, is to cut the vegetables.
Dice your onions, carrots and celery and put them in a large pot, along with the olive oil. Fry the vegetables for a few minutes and add all of the remaining ingredients.
Turn the heat to high and bring the liquid to a boil. When the stock is boiling, lower the heat to low (simmering bubbles), cover the pot with a lid, and let the soup simmer for about 90 minutes. Check on the soup intermittently to make sure there's enough liquid for the split peas to absorb.
If the soup looks dry, add more water, about 1/2 cup at a time. It should be fine though.
When the split peas are tender, your soup is ready to eat! Remember to remove the bay leaves, season well with salt and pepper and add water to thin out the consistency. I use about 1 cup of water when the soup is done and will add about another 1/2 cup the next day since the peas continue to expand.
How To Make Split Pea Soup In A Slow Cooker
Another option is to cook this split pea soup slow and low while you're at work. Dinner can be waiting for you when you walk through the door. There's nothing like a hearty and comforting soup on a cold winter evening to welcome you home!
To make a slow cooker or crock pot split pea soup, simply add all the ingredients to the pot, cover and cook on low for 6-8 hours, or on high for 4-5 hours, until the peas are tender.
Just like for the stove top version, add about 1 cup to 1 1/2 cups of water to get the desired consistency once the cooking is done.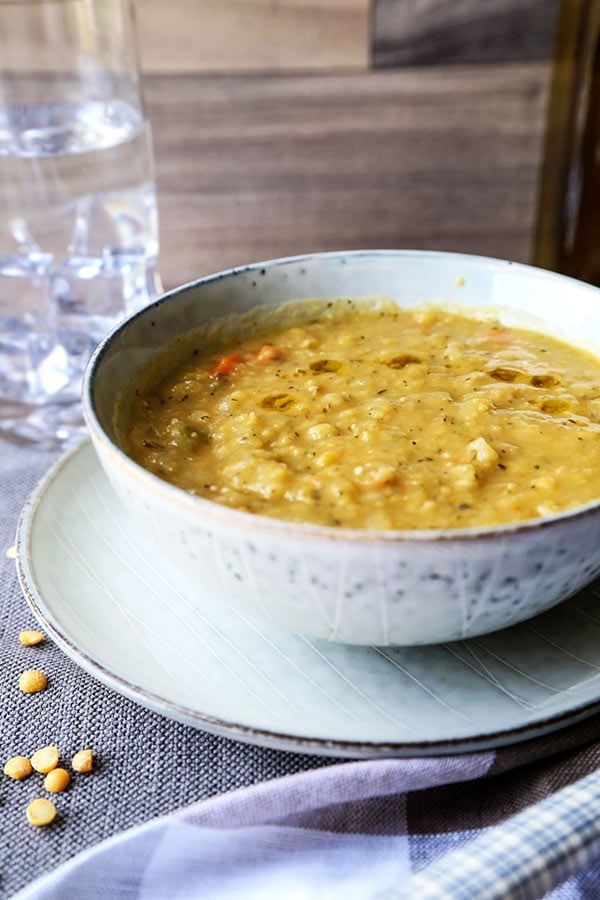 Easy and delicious. And Easy.
When it's my turn to make dinner, I want it to be delicious and SIMPLE.
I also want to make sure to do justice to Caroline's awesome recipes when I make them and serve them to her.
Will this thick, savory vegetarian split pea soup be a hit when she walks through the door from her long day on set?
I sure hope so. I followed her instructions to the letter.
But I also have a confession: I've been dipping my spoon in the soup pot pretty much the entire time I've been in the kitchen.
I think she's gonna like it. The flavor is THERE!
How about you guys? Is there a recipe you make that reminds you of being a kid? We'd love to hear about it in the comments!
Other simple and delicious plant-based soup recipes: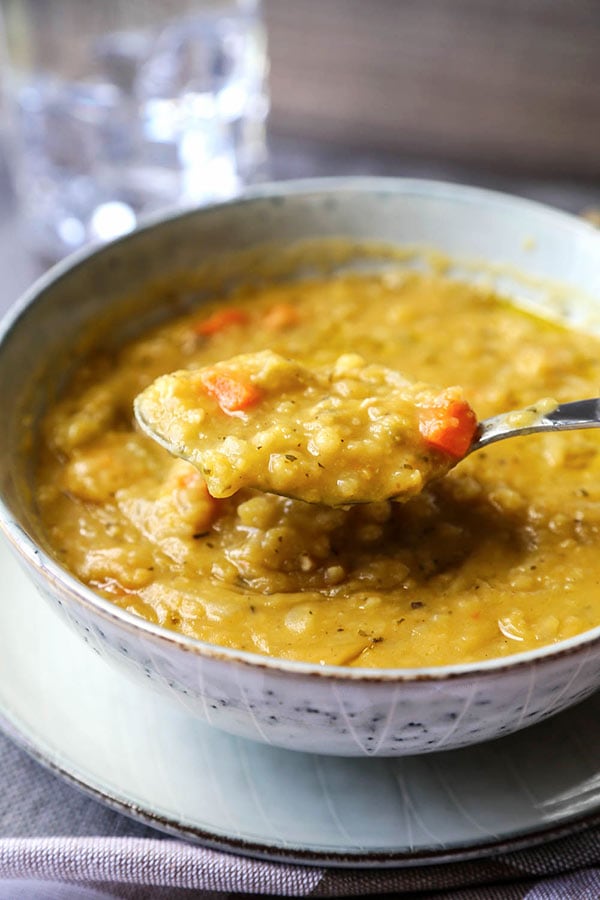 Did you like this Vegetarian Split Pea Soup Recipe? Are there changes you made that you would like to share? Share your tips and recommendations in the comments section below!
Print
Vegetarian Split Pea Soup
A split pea soup that's healthy, meat-free and gluten-free!
Author: Caroline Phelps
Prep Time:

10 minutes

Cook Time:

90 minutes

Total Time:

1 hour 40 minutes

Yield:

6

people

1

x
Category:

Soups

Method:

Stove top

Cuisine:

American
2 tablespoons

extra virgin olive oil

2

medium onions (diced)

2

carrots (diced)

3

celery stalks (diced)

6 cups

vegetable stock or water

2 cups

yellow split peas

1 teaspoon

dried parsley

1/2 teaspoon

dried thyme

2 teaspoons

dried oregano

2

bay leaves
salt and pepper (to taste)
Instructions
In a large pot over medium high heat, add olive oil and onions. Cook for 4-5 minutes, until onions are translucent and becoming soft.
Add carrots and celery and cook for 2 minutes.
Add all the remaining ingredients, and bring to a boil. Lower heat, cover and simmer for 1½ hours, stirring every 25 minutes or so, until peas are tender.
Stir and adjust the consistency by adding ½ cup water at a time, until desired consistency is reached. I usually add between 1 cup to 1 1/2 cups.
Pull bay leaves out, season well with salt and pepper and serve.
Slow Cooker Directions
Put all the ingredients in the slow cooker, stir well and slow cook on low for 6-8 hours.
Notes
This yellow split pea soup will keep refrigerated for up to 4-5 days.
Nutrition
Serving Size:

1 bowl

Calories:

307

Sugar:

9.9 g

Sodium:

582 mg

Fat:

5.5 g

Saturated Fat:

0.8 g

Carbohydrates:

50.5 g

Fiber:

18.1 g

Protein:

16.3 g

Cholesterol:

0 mg
Keywords: recipe, appetizer, vegan, plant based, meatless, gluten-free
Recipe Card powered by