Japanese sweet potatoes are a popular snack that can be found in conbini (convenience stores) and street vendors all across Japan. It's the perfect vegan food to nibble to give you a boost of energy and keep you full until dinnertime.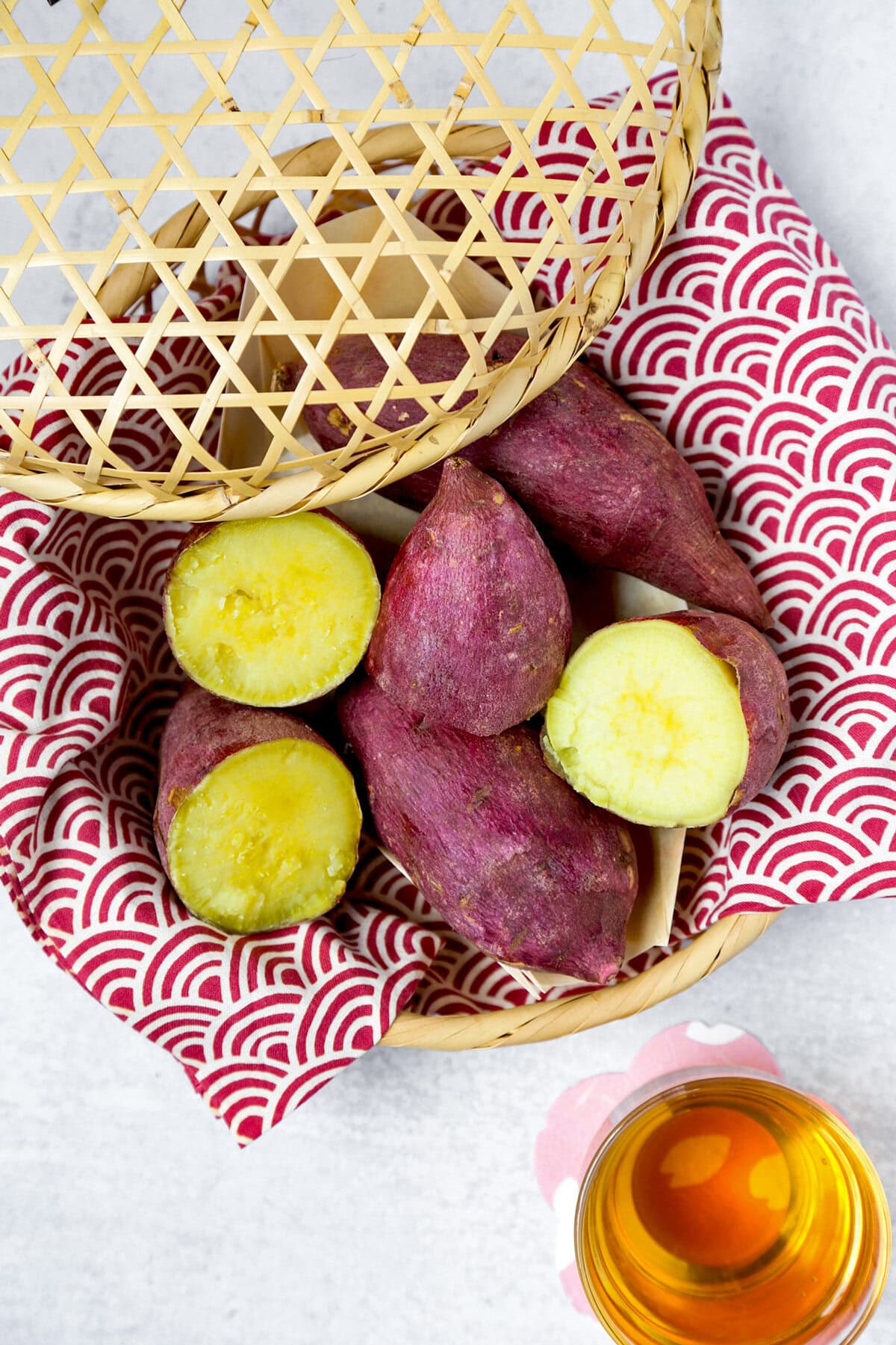 What are Japanese Sweet Potatoes?
Japanese sweet potatoes, also called Japanese yams, or satsumaimo, are small to medium size potatoes with a pinkish purple exterior and a light yellow interior. These potatoes are extremely popular in Japan and are most often eaten as a snack or as a side dish, bare, without any added seasoning. Or they are used in traditional Japanese desserts as a filling, and you wouldn't believe how creative Japanese pastry chefs can get with this tuber! The skin is easy to peel once the potatoes are roasted, and the flesh has a dense and starchy texture.
What is the Difference Between Orange Sweet Potato and Japanese Sweet Potato?
Japanese sweet potatoes taste much sweeter than orange sweet potatoes, which is why they are often used in desserts. The texture, once cooked, is more dense and chewy, like a pound cake, whereas orange sweet potatoes are more watery and tender, like a pumpkin. All sweet potatoes are loaded with nutrients and minerals and are high in dietary fiber and potassium. They are also great for the skin and promote gut health.
Okinawa Purple Sweet Potatoes
Okinawa purple sweet potatoes, or purple yams, are also sweet but not as sweet as satsuma-imo. I would say they are somewhere in between orange sweet potatoes and satsumaimo in terms of flavor and texture. They are stunning in color – a deep dark purple – and are also loaded with nutrients. They are harder to find but I have seen them in Japanese grocery stores and sometimes at Whole Foods.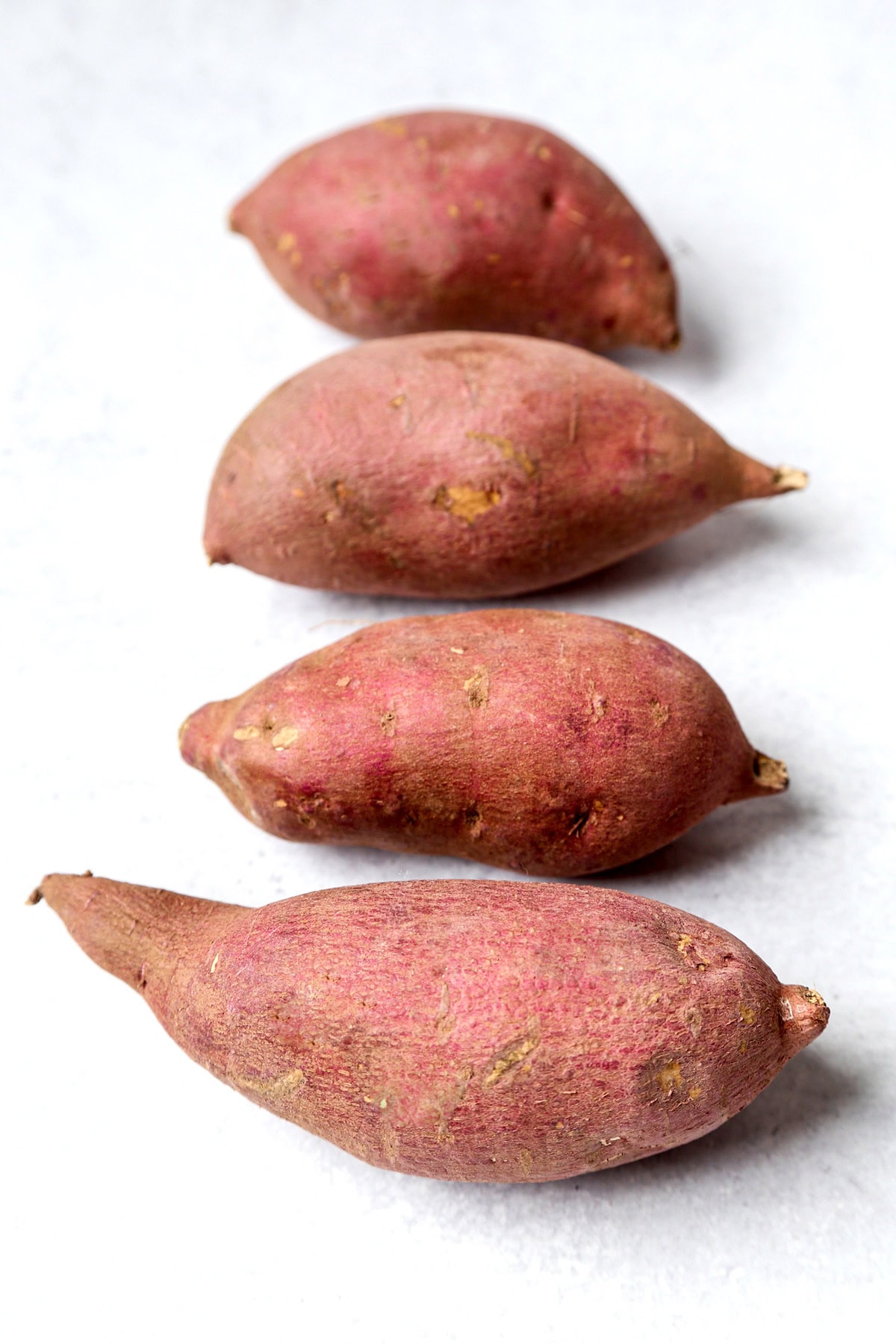 Where to Buy Japanese Sweet Potatoes (Satsumaimo)
Japanese sweet potatoes are fairly easy to find. They are sold in Asian grocery stores, Japanese supermarket, and I have also seen them at Whole Foods – although I'm not sure if they sell them nationwide.
What You Will Need to Make This Recipe
Japanese sweet potatoes
Aluminium foil
Baking sheet
Oven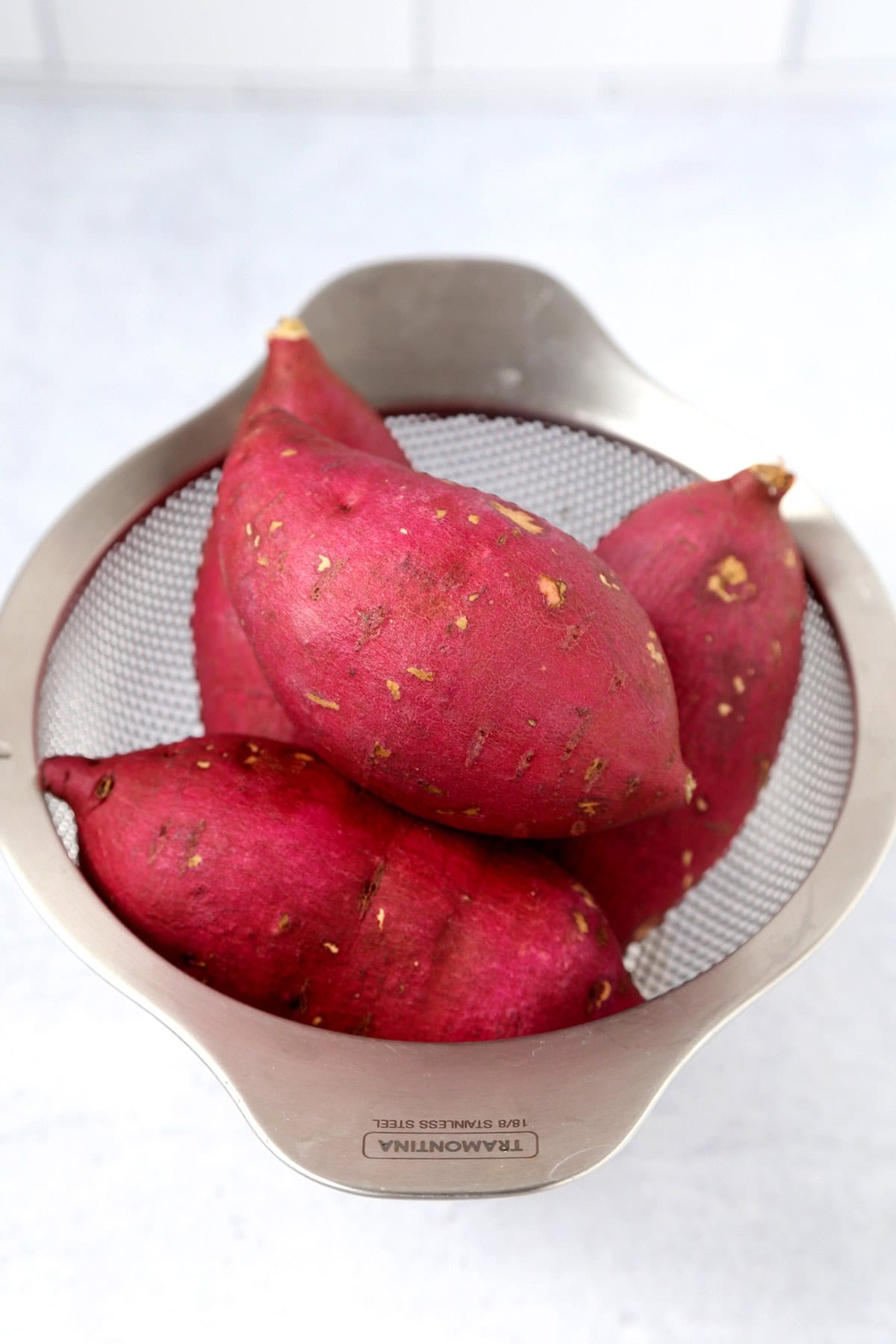 How to Bake Japanese Sweet Potatoes (Yaki Imo)
Preheat the oven to 350ºF.
Start by washing the sweet potatoes. Rinse them under cold water and scrub them with the abrasive side of a sponge or with a vegetable scrub brush. This is to remove the dirt so the potatoes are a beautiful pinkish purple color.
Poke a few holes in each potato. You just need three or four holes and they don't have to be deep.
Wrap each sweet potato in foil and place them on a baking sheet.
Bake in the oven for about 70 minutes.
Take the potatoes out of the oven and test the doneness by inserting a knife or a skewer through one of them. If it slides in easily, the potatoes are done. Otherwise, put them back in the oven for an additional 10 minutes.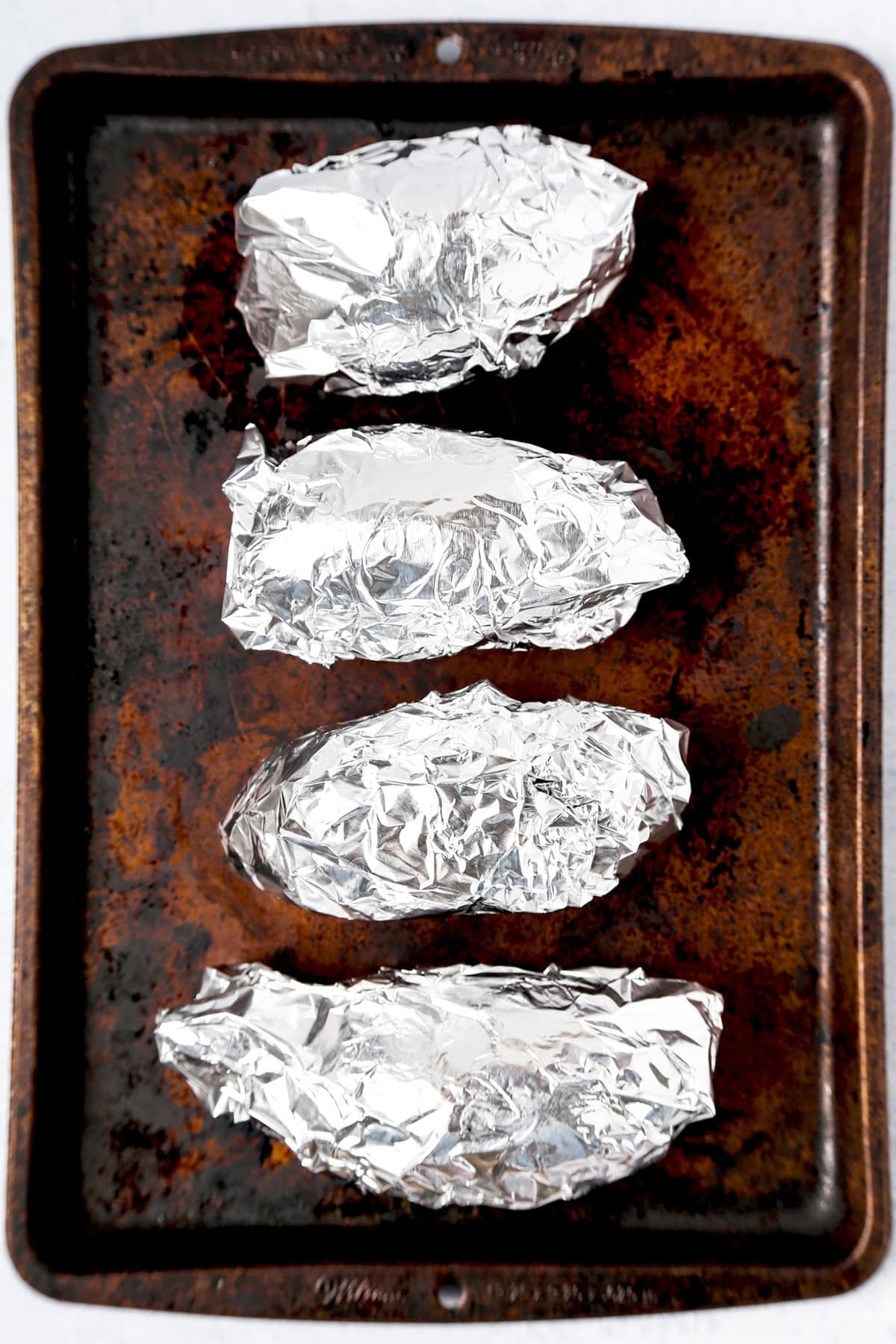 How to Eat Japanese Sweet Potatoes
As I previously mentioned, baked Japanese sweet potatoes (yaki imo) are delicious on their own, with no added seasoning. Simply peel the skin – it should come off easily – and enjoy them hot or cold (Japanese people like to eat them warm).
Otherwise, you can sprinkle a little cinnamon over them or pure maple syrup to add a floral element. You can also slice them up and pan fry them with a little oil, soy sauce, and sugar until they caramelized, and toss them with some sesame seeds. Making candied sweet potatoes is a classic Japanese cooking method.
If you find them too sweet, try dipping them in a little ponzu or teriyaki sauce. Or you can melt some cheese on top and sprinkle a little dry oregano and salt for a gratin-like flavor.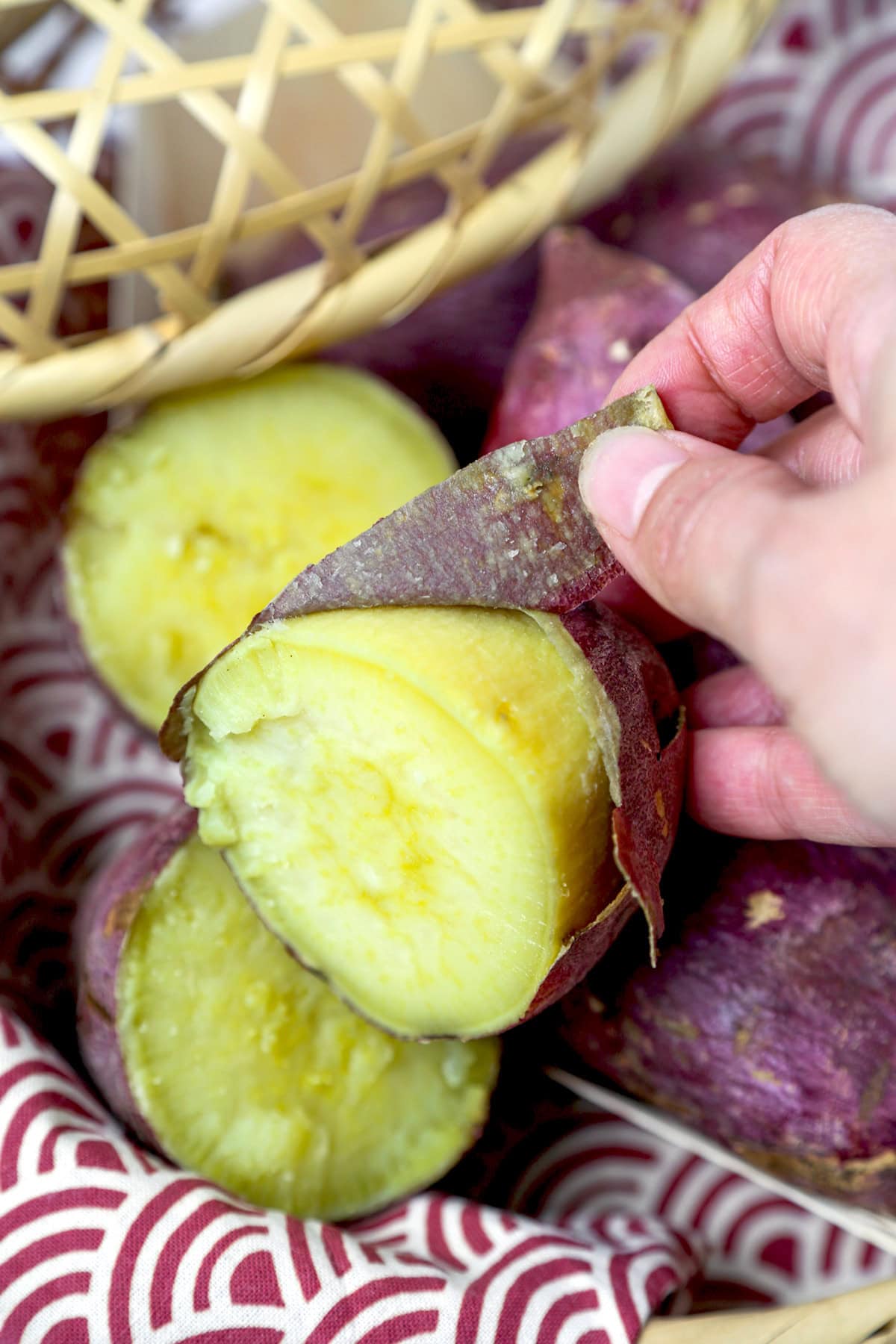 How to Store Japanese Sweet Potatoes
Once the potatoes are cooked they will last 3 to 5 days in the fridge. You can keep them in a storage container or ziploc bag.
Leaving them at room temperature for more than 2 hours is not recommended as bacteria can quickly start to grow.
Can I freeze Japanese Sweet Potatoes?
Yes you can!
Leave the potatoes in foil and cool them for 1 hour at room temperature. Place them in a storage bag, still wrapped in foil, and seal the bag.
Freeze for up to 3 months.
When it's time to use them, take however many you need out of the freezer and unwrap them. Place them on a cooking sheet and bake in the oven at 350ºF for about 25 to 30 minutes. Or you can rewrap them in new foil to preserve more moisture and bake for the same amount of time.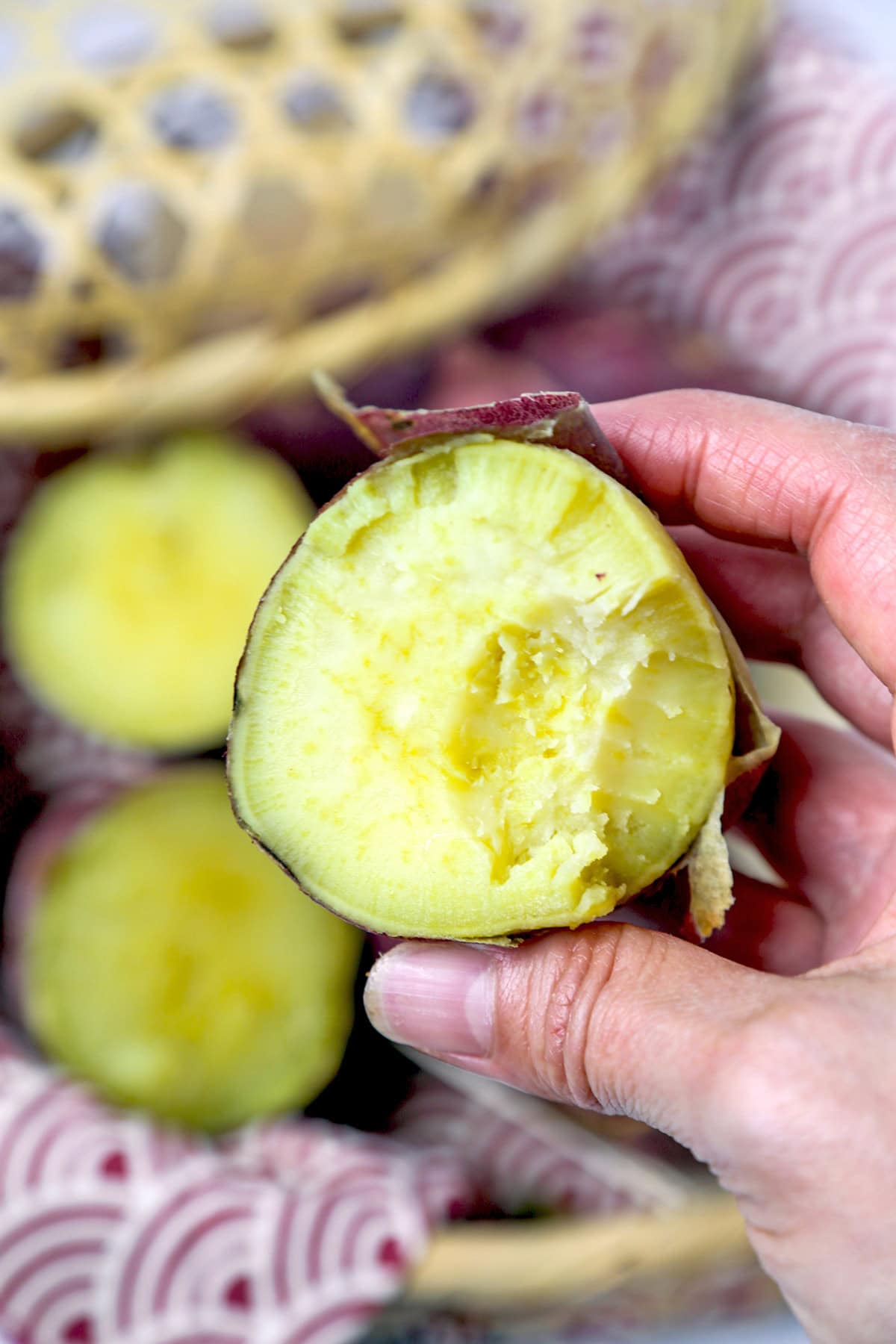 Other Delicious Japanese Snacks
I crave Japanese snacks daily – it's just a fact. My pantry is filled with ready to eat mochi, senbei (Japanese rice crackers), potato chips, mini chocolates, and candies from every color of the rainbow. I also alway have a few different types of Japanese ices and ice creams in my freezer. I prefer them to American brands because they are less sweet and smaller in size.
But I also love to make my own Japanese snacks as some of them are very easy to make.
Here are some Japanese snacks I love making at home:
Tableware – Musubi Kiln
The bamboo basket used in the images, which you can find here, is from Musubi Kiln.

Musubi Kiln is an online store specializing in high quality handmade Japanese tableware and dinnerware. Each product is made by Japanese craftsmen using traditional techniques that have been passed down from generation to generation.Receive 10% off your purchase when using the code CAROLINE at checkout.
Did you like this Japanese sweet potato recipe? Are there changes you made that you would like to share? Share your tips and recommendations in the comments section below!
Print
Japanese Sweet Potatoes (Yaki Imo)
Japanese sweet potatoes make the perfect vegan snack to nibble on mid afternoon to give you energy and keep you full until dinnertime.
Author: Caroline Phelps
Prep Time:

5 minutes

Cook Time:

1 hour 10 minutes

Total Time:

1 hour 15 minutes

Yield:

4

sweet potatoes

1

x
Category:

Side

Method:

Baking

Cuisine:

Japanese

Diet:

Vegan
4

Japanese sweet potatoes
Aluminium foil
Instructions
Preheat the oven to 350ºF.
Scrub each potato under water to remove dirt and pat dry with a towel.
Poke a few holes in each potato.
Wrap one sweet potato in aluminium foil and repeat the same for the remaining 3 potatoes.
Place the potatoes on a cooking tray and bake in the oven for 1 hour 10 minutes, or until the potatoes can easily be pierce with a knife or a skewer.
Nutrition
Serving Size:

1 sweet potato

Calories:

112

Sugar:

5g

Sodium:

72mg

Fat:

0.1g

Saturated Fat:

0g

Unsaturated Fat:

0g

Trans Fat:

0g

Carbohydrates:

26g

Fiber:

3.9g

Protein:

2g

Cholesterol:

0mg
Keywords: yaki imo, satsumaimo
Recipe Card powered by