Let's make ochazuke! This yummy Japanese rice recipe is proof that a bit of rice, green tea and a few toppings can go a long way! Hot and ready in 17 minutes!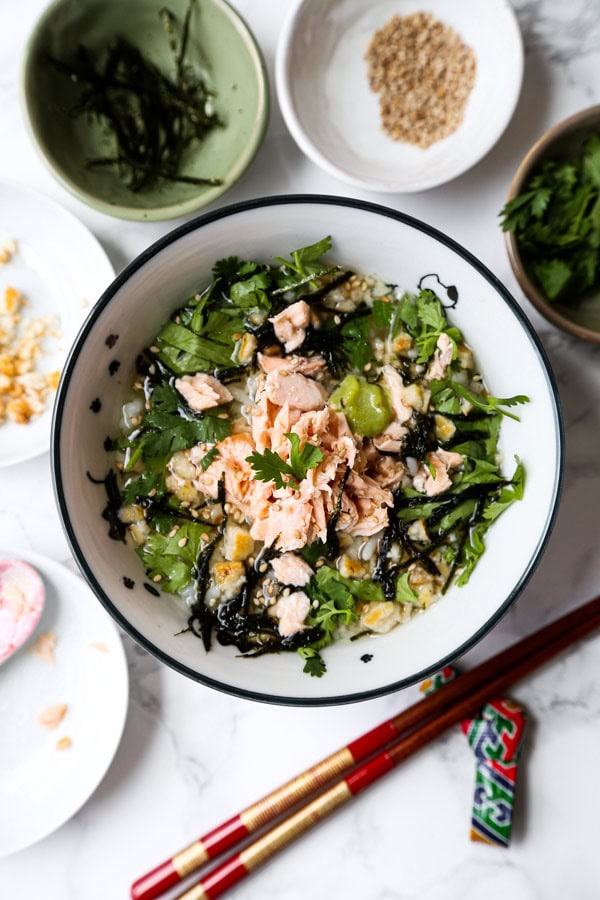 When I was a little kid, I called it green tea rice. Then, when I got older, ochazuke became my favorite late-night snack to devour when I returned home after a long night of tending bar. 
It's pretty rare that a bowl of rice loaded with toppings can be both satisfyingly filling AND light enough to eat right before bed. But that's exactly what ochazuke is.
Now, as far as I'm concerned, my mom's ochazuke will always be the high water mark, teaching me that simple food can still be transcendental and delicious. Her cooking in general – and her Japanese recipes in particular – prove this lesson to me again and again.
So let's take a closer look at the magic that can happen with a bowl of Japanese rice, green tea and a few toppings!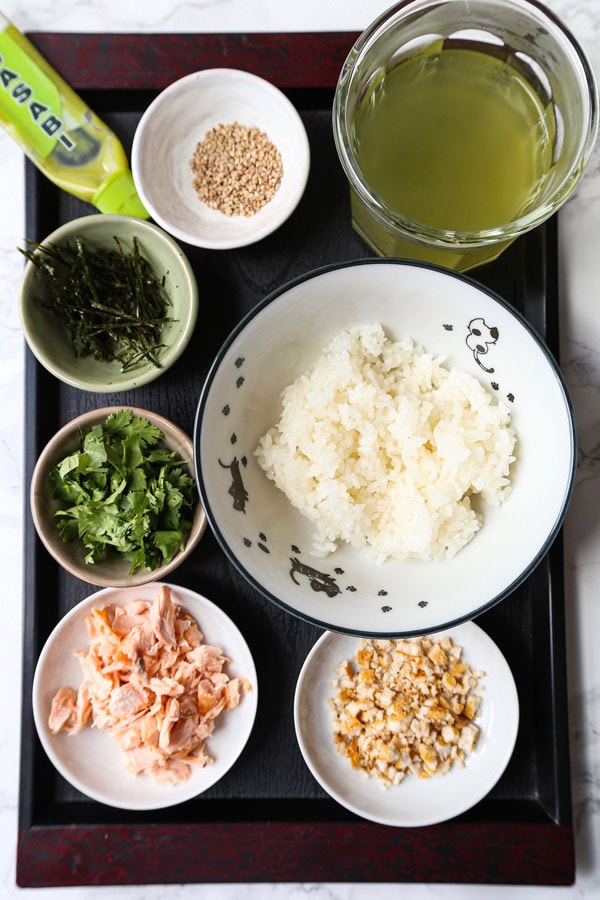 What is ochazuke? 
Ochazuke (お茶漬け) is a simple and iconic Japanese dish consisting of cooked Japanese rice and savory toppings, covered in hot green tea. Those toppings can be anything from pickles (tsukemono) to salmon to Japanese pickled plums (umeboshi).
Eaten as a simple, no-frills meal in Japan, it's a great way to use leftover rice and fish in an all-in-one-bowl preparation.
Fun fact: Ocha is the Japanese word for green tea. Zuke means something along the lines of submerged. Now, you may hear this dish referred to as chazuke as well. The O at the beginning is an honorific – given to items of importance in Japanese culture (like water, tea and sake).
Green tea has been used in ochazuke since the Edo period – but as you'll see, it's not the only hot liquid you can utilize in this simple Japanese rice recipe.
How to Pronounce Ochazuke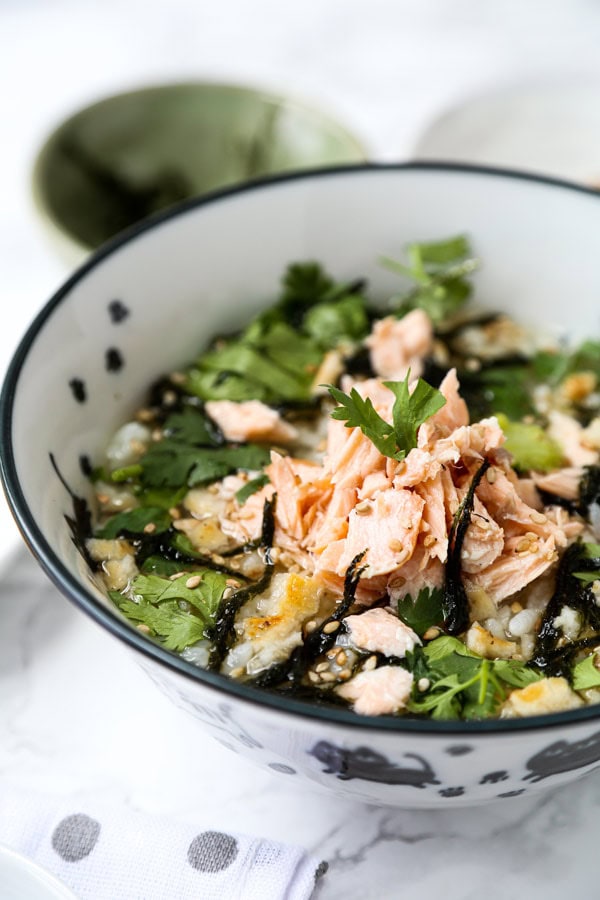 Ingredients for Ochazuke
Japanese Rice: About 3/4 of a cup of cooked Japanese short grain rice is all you'll need for a decent sized portion. I use Tamanishiki. Grab it at your local Asian grocery store, or

pick it up on Amazon

.
Green Tea: You can use whatever ocha you've got handy. Don't get too hung up on the type. Sencha, genmaicha and even hōjicha are good choices. Or, as an alternative to tea, you can use dashi instead (more on that in a sec).
Salmon Fillet or Umeboshi: Flaked salmon lends a wonderfully savory flavor to your ochazuke. And umeboshi is a pucker-worthy sour Japanese pickled plum – which I OBVIOUSLY have a true love for 🙂 Even though both are amazing, due to their strong flavors, I'd definitely only use one at a time. Using both in the same bowl might result in an ochazuke that is just a bit too… extra.
Shredded Nori: Japanese seaweed introduces a slightly toasted and marine essence to the dish.
Bubu Arare: Formed into tiny pellets, arare are actually toasted and seasoned rice crackers commonly added to ochazuke to impart a crunchy texture. Alternatively, just crushing up a Japanese rice cracker snack (osenbei) should do the trick.
Sesame Seeds: For a subtle nutty undertone. 
Mitsuba, Shungiku or Cilantro: A little green garden freshness goes a long way to round out the flavor profile of a good ochazuke.
Wasabi: While this is optional, a bit of wasabi really rounds the dish out with a bit of a spicy bite.
Soy Sauce: A little splash will up the savory aspect of the dish without going full on salty. I definitely like my chazuke on the umami side of things.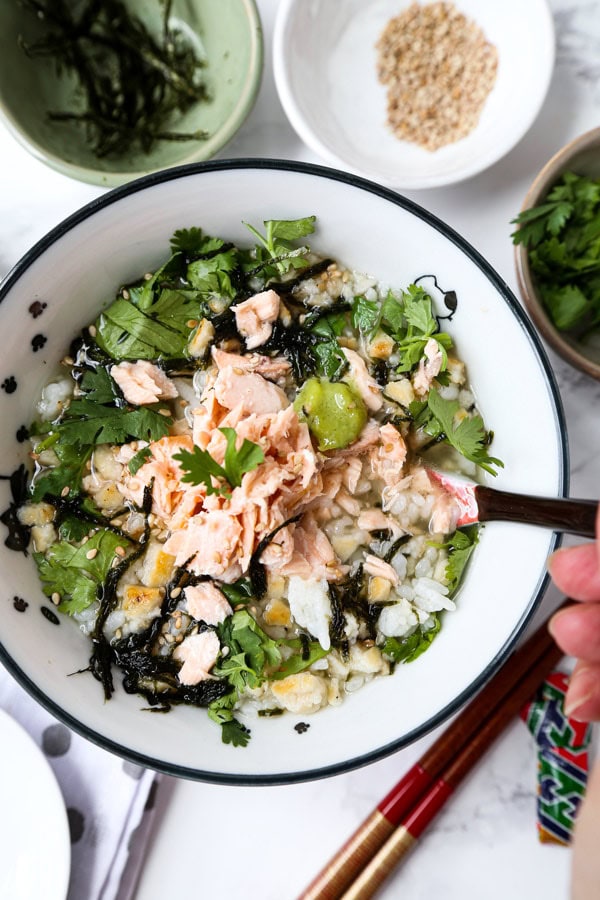 How to make ochazuke 
Sprinkle both sides of a small salmon filet with salt and place on a cooking tray covered with parchment paper.

Turn the oven to broil and move the oven rack to the highest position. Broil the salmon for 10-12 minutes, until cooked through. Use a fork or chopsticks to break the salmon into small flakes.

Place about 3/4 cup cooked rice in a bowl and then pour enough green tea to cover 3/4 of the rice.

Add flaked salmon or umeboshi – along with nori (seaweed), crushed rice cracker, sesame seeds, wasabi, soy sauce and chopped greens (like mitsuba or cilantro) – and serve immediately. 
This is a great recipe to use leftover salmon fillet in as well. If your salmon is already cooked, this ochazuke recipe will be ready in 5 minutes!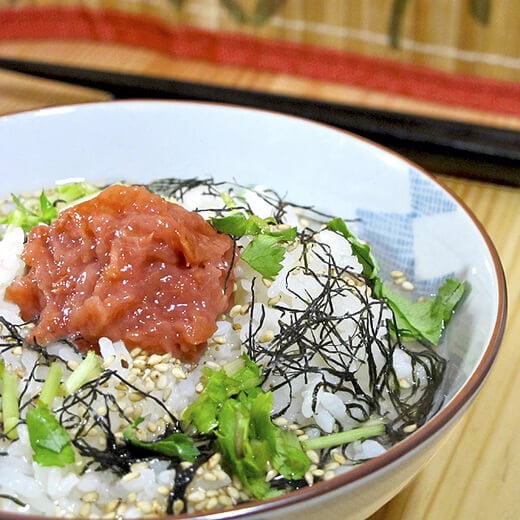 Ochazuke variations
One of the things I like most about ochazuke is that there are no hard and fast rules regarding ingredients. No Japanese rice crackers on hand? Leave 'em out. Prefer spicy pollock roe (mentaiko) over flaked salmon? Go for it!
Even the green tea is optional. One of my favorite preparations at izakayas (informal bar/restaurants you'll find throughout Japan) calls for the use of dashi instead of green tea. Dashi is a savory sea stock that lays the bedrock of umami in so many Japanese recipes. And in this ochazuke recipe, dashi ratchets up the savory notes to another level.
How to make Dashi 
Now you can buy powdered dashi stock that you simply mix with hot water (similar to bouillon).
Or you can steep kombu (dried kelp) and katsuobushi (shaved bonito flakes) in water until a magical, umami sea stock is created.
Want to make it at home? I've got you! Follow these easy step-by-step instructions to make homemade dashi.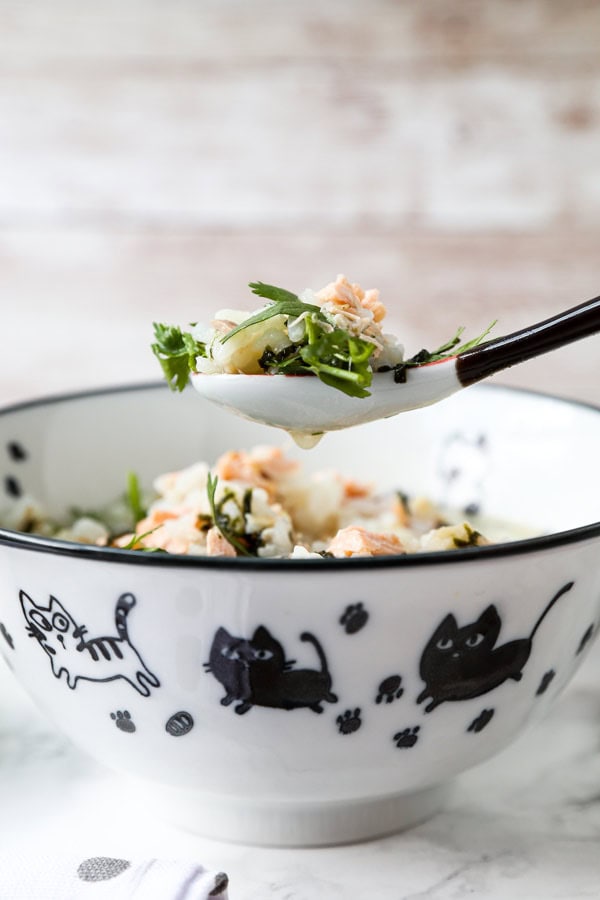 What to serve with Ochazuke
Ochazuke is one of those rare dishes that can be the substantial final course of a meal of otherwise small plates at an izakaya – or a stand alone easy late night snack. And if you're doing the midnight snack thing, salmon or ume ochazuke is definitely a healthier choice than (admittedly delicious) bowl noodles.
The subtle savory, clean flavors won't go head to head or clash with other elements of your dinner. So why not make a meal out of it!? Here are some of my favorite izakaya staple dishes to go along with your ochazuke:
Plus:
Happy cooking, friends!
Did you like this Ochazuke Recipe? Are there changes you made that you would like to share? Share your tips and recommendations in the comments section below!
Print
Ochazuke – お茶漬け
Ochazuke is an iconic Japanese rice and green tea recipe. Make it at home in a flash!
Author: Caroline Phelps
Prep Time:

5 minutes

Cook Time:

12 minutes

Total Time:

17 minutes

Yield:

1

person

1

x
Category:

Rice

Cuisine:

Japanese
3/4 cup

cooked, warm Japanese rice

1 cup

hot green tea 

1/4

pound salmon fillet, or

1

Japanese pickled plum (umeboshi)

2 teaspoons

shredded nori seaweed

1 teaspoon

bubu arare (baked rice cracker balls) or crumbled Japanese rice crackers

1/4 teaspoon

sesame seeds

2 tablespoons

shungiku, mitsuba, or cilantro, chopped
wasabi (optional)
Soy sauce (optional)
Instructions
Sprinkle salt on both sides of the salmon filet and transfer to a cooking tray covered with parchment paper.

Turn the oven to broil and move the oven rack to the highest position. Broil the salmon for 10-12 minutes, until cooked through. Use a fork or chopsticks to break the salmon into small flakes.

Put the rice in a bowl and pour enough green tea to cover 3/4 of the rice.

Add all the toppings and serve immediately. 
Notes
For dashi based ochazuke, use 1 cup of dashi instead of green tea and stir in a dash of soy sauce and mirin (about 1/2 teaspoon each), and a sprinkle of salt. 
Nutrition
Serving Size:
Calories:

323

Sugar:

0.1 g

Sodium:

46.3 mg

Fat:

4.8 g

Saturated Fat:

1 g

Carbohydrates:

47.8 g

Fiber:

0.7 g

Protein:

20.9 g

Cholesterol:

41.9 mg
Keywords: recipe, porridge, rice soup, side dish, after meal
Recipe Card powered by