Japanese cheesecake is a popular dessert that's light and fluffy and less sweet than the American version. Learn how to make it with this quick tutorial – only 9 ingredients needed!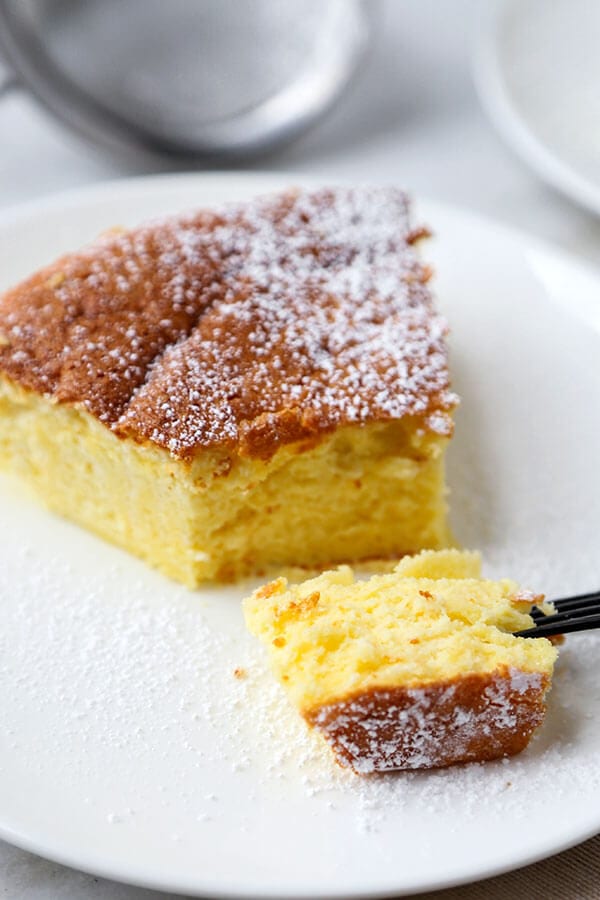 Japanese cheesecake is the only type of cheesecake I like.
While most cheesecakes are dense and cloyingly sweet, what makes the Japanese version so irresistible is its cotton soft and airy texture, and subtle sweetness. When I lived in Tokyo, Japanese cheesecake was one of my favorite desserts. I would order it in tea shops, buy it from Cozy Corner (pastry chain), and add it to my grocery basket at Seven Eleven and Family Mart.
Back then, it was only available in Japan, but luckily that's no longer the case. Nowadays you can find Japanese cheesecake pretty much in every big city around the globe.
And if you happen to live somewhere outside those big cities, I have an easy recipe you can make at home with just 9 ingredients. What you will end up with is a jiggly, fluffy cheesecake your entire family will love.
What is Japanese Cheesecake?
Japanese cheesecake, also called soufflé cheesecake, or cotton cheesecake, is a Japanese dessert that was popularized in the 90s after a bakery in Hakata, Fukuoka, called Uncle Tetsu's Cheesecake, used it as their signature dish. The cake became so popular that a branch opened in Taiwan in 2011.
Since then it's become a favorite among dessert fanatics, with over 70  Uncle Tetsu shops opened across Asia, New Zealand, Australia, the United States, and Canada.
The recipe for Japanese cheesecake is quite different than the North American one – it contains less sugar and cream cheese and the eggs are whipped to create a light, airy and jiggly texture. The cheesecake is baked in the oven using the bain-marie method (water bath) and doesn't come with a graham cracker crust. The texture is closer to a soufflé/sponge cake.
Ingredients for Japanese Cheesecake
Cream cheese: Get a plain cream cheese and leave it on your kitchen counter until it reaches room temperature.
Butter: The butter should also be at room temperature, and unsalted.
Milk: I'm using 2% milk but feel free to use whole or fat-free milk, even unsweetened oat milk.
Sugar: Granulated white sugar is best for this recipe but you can also use light brown sugar.
Flour: Good old all-purpose flour will do for this recipe. I don't recommend using whole wheat flour simply because the texture of the cheesecake won't be as smooth and fluffy.
Eggs: 4 large eggs with the yolk and egg white separated. Using cage-free eggs will make your cheesecake taste even better!
Lemon juice: Only a tablespoon is needed. Freshly squeezed lemon juice is best.
Vanilla extract: 1 teaspoon to add a hint of vanilla and give the cheesecake a sweet and floral aroma.
Cream of tartar: 1/4 teaspoon to help the eggs foam quickly and to stabilize the structure of the peaks.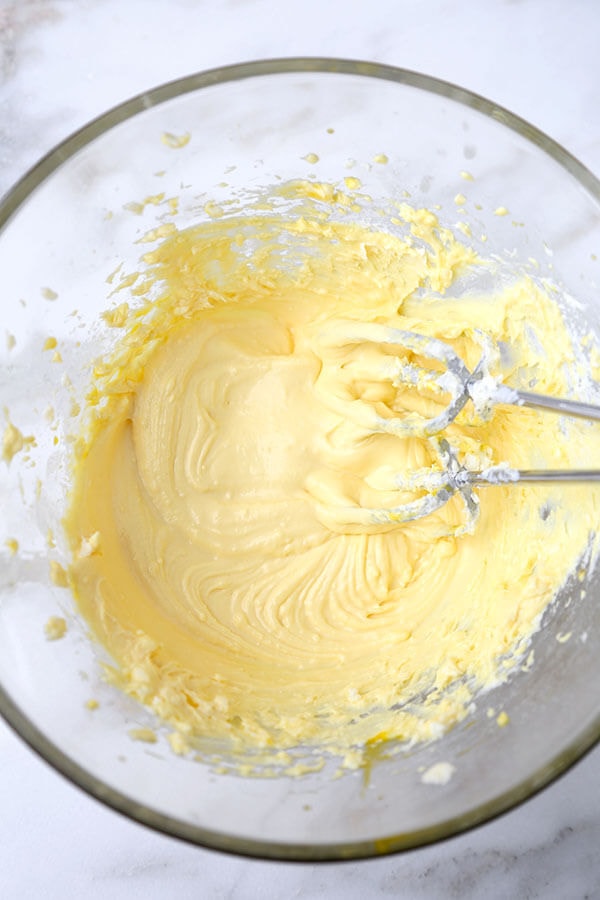 How To Make A Japanese Cheesecake
Preheat the oven to 325ºF.
Mix the cream cheese and butter. You can use an electric mixer or stand mixer. Slowly add  1/4 cup sugar, flour, egg yolk, lemon juice and vanilla extract, and beat until the mixture is smooth.
Beat the eggs until peaks form. Use a separate bowl to beat the eggs and add the cream of tartar and the remaining sugar.
Fold the egg mixture with the cream cheese and butter. Do this gently so as not to pop the airy bubbles! Fold a few times but there's no need to over mix.
Bake in the oven.  Bake the cheesecake for about 1 hour and 10 minutes, until the top turns golden brown.
Turn the oven off but don't take the cheesecake out. Leave it in the oven until it reaches room temperature. This step is important! It's the difference between having a puffed up fluffy cake versus one that collapses in the center.
Refrigerate it. Cover the cake and put it in the fridge for at least 1 hour before eating.
The cheesecake can be served right out of the fridge or with powdered sugar on top for extra sweetness.
Gluten-Free Soufflé Cheesecake
Simply switch all-purpose flour for gluten free flour and you're good to go. I don't recommend using rice flour as the texture may end up being really gooey.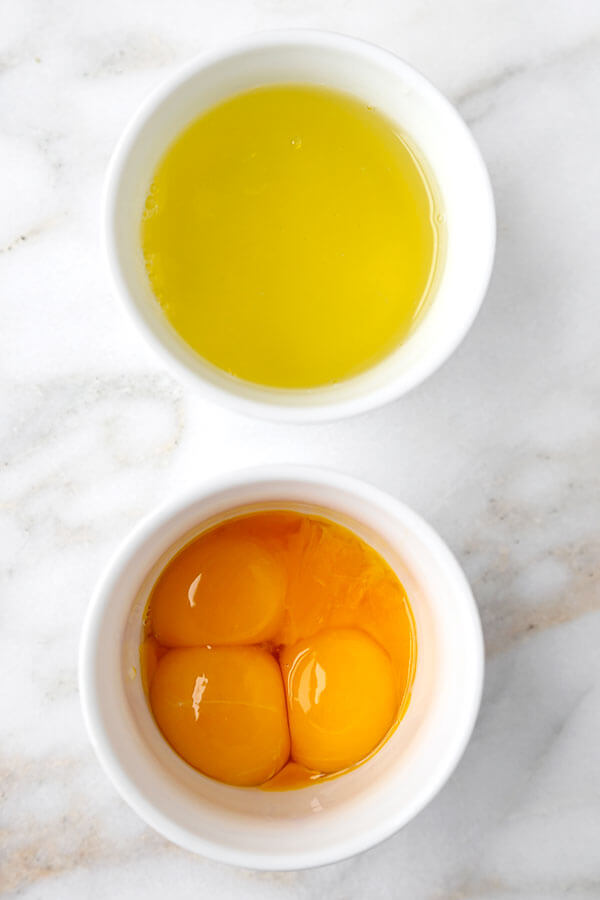 How Long Does Cheesecake Last?
About 5-7 days in the refrigerator.
Make sure that it's kept in an air tight container or properly covered with foil or plastic wrap to retain its moisture.
Can Japanese Cheesecake Be Frozen?
Yes!
Put it in an air tight container or freezer bag. This way it will stay fresh for up to 2-3 months. Let it thaw in the fridge before serving.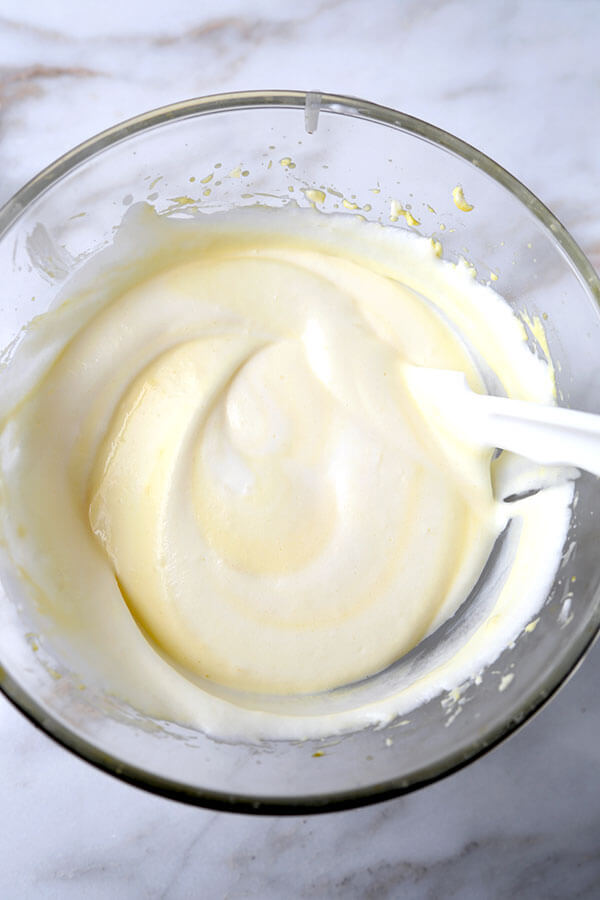 Japanese Desserts
Japan never ceases to amaze me.
I love the culture, the traditions, the nature, and of course, my family. But the most exciting part of visiting Japan remains the food scene – and I don't just mean ramen and sushi. I'm talking about bakeries, pasta bars, traditional washoku restaurants, street food, convenience store bentos, and my favorite – Japanese desserts.
The selection of mouth watering cakes, sweets, ices, and candies, is never ending. I miss Japan every day but am glad I don't live there otherwise I would have lost all of my teeth! I have a hard time controlling myself around Japanese desserts, especially when I have to walk through the basement of a department store, where shop after shop after shop of colorful jellies and mochis, petit fours, creamy custard cups, chocolate this, and matcha that, are displayed behind glass counters.
It's my kind of sweet treat – not too powerful, just right. And that's what's so appealing to me about their desserts – it's never too sweet or too much. It's just the right serving size and is also more complex in flavor than just being sugary sweet.
If you would like to try your hands at other Japanese desserts, here are some of my favorites: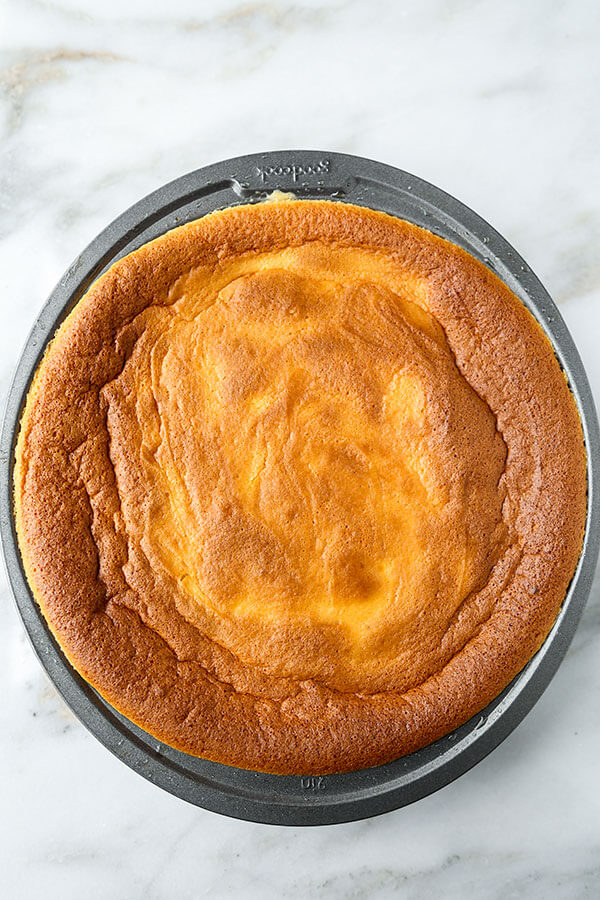 A Popular Japanese Dessert For The Whole Family
Japanese cheesecake is one of those Japanese desserts everyone loves. Whether you are serving it to a group of adults or bringing it to a kids party, I can promise you there won't be any leftovers!
While most people associate mochi and red bean paste sweets with Japanese desserts, Japanese cheesecake should also be included in that list. It's not as traditional as dorayaki (pancakes sandwiched together with red bean paste in the center) but very much a part of Japanese baking.
More easy Japanese recipes to try at home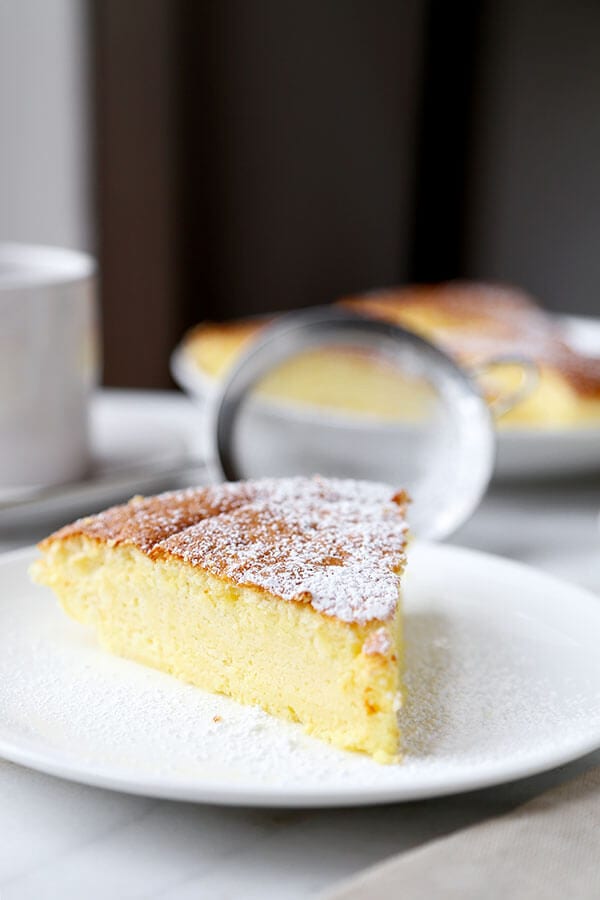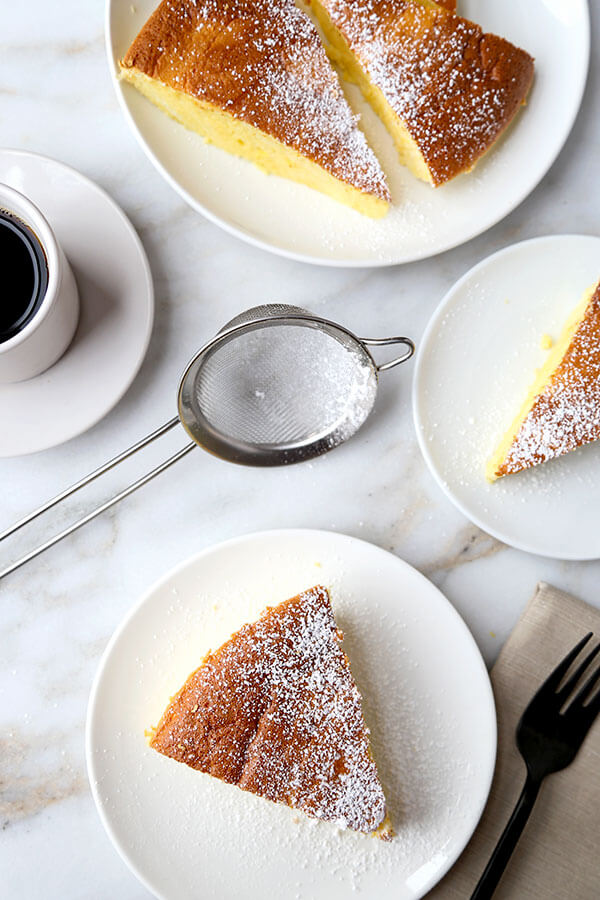 Did you like this Japanese Cheesecake Recipe? Are there changes you made that you would like to share? Share your tips and recommendations in the comments section below!
---
Print
Fluffy Japanese Cheesecake Recipe
This is an easy and delicious recipe for souffle Japanese cheesecake. It's light and airy and has just the right amount of sweetness!
Author: Caroline Phelps
Prep Time:

10 minutes

Cook Time:

70 minutes

Total Time:

80 minutes

Yield:

10

slices

1

x
Category:

Desserts

Cuisine:

Japanese
8 ounces

pack cream cheese (at room temperature, I use Philadelphia)

4 tablespoons

unsalted butter (at room temperature)

1/4 cup

2% milk

1/2 cup

granulated sugar

5 tablespoons

all-purpose flour (sifted)

4

large eggs (separated)

1 tablespoon

fresh lemon juice

1 teaspoon

vanilla extract

1/4 teaspoon

cream of tartar
Instructions
Preheat oven to 325ºF.
Line a cake pan (8 or 9 inches round) with parchment paper, or lightly spray with oil.
Put cream cheese and butter in a bowl and beat until soft, using an electric mixer.
One by one, add the milk, 1/4 cup sugar, flour, egg yolk, lemon juice and vanilla extract. Mix thoroughly and set aside. Wash the heads of the electric mixer.
In a separate bowl, add egg whites and cream of tartar and mix with electric mixer. Slowly add the remaining 1/4 cup sugar and mix until peaks form.
Gently fold in egg white mixture into the cream cheese mixture. Do this slowly and do not over mix.
Pour mixture in the cake pan and place it on top of a square or rectangular baking pan or tray about 2 to 3 inches deep. Pour enough water into the square pan until half full.
Bake in the oven for about 1 hour and 10 minutes, or until the top of the cake is golden brown.
Turn the heat off and leave it in the oven until it reaches room temperature.
Refrigerate for at least an hour before serving.
Notes
This Japanese cheesecake recipe will keep refrigerated for up to 5-7 days.
Nutrition
Serving Size:

1 slice

Calories:

207

Sugar:

11.3 g

Sodium:

103.5 mg

Fat:

14.5 g

Saturated Fat:

8.2 g

Carbohydrates:

14.9 g

Fiber:

0.1 g

Protein:

4.6 g

Cholesterol:

110.1 mg
Recipe Card powered by