This is an easy and delicious recipe for traditional fluffy Japanese cheesecake. It's cotton soft and airy and has just the right amount of sweetness!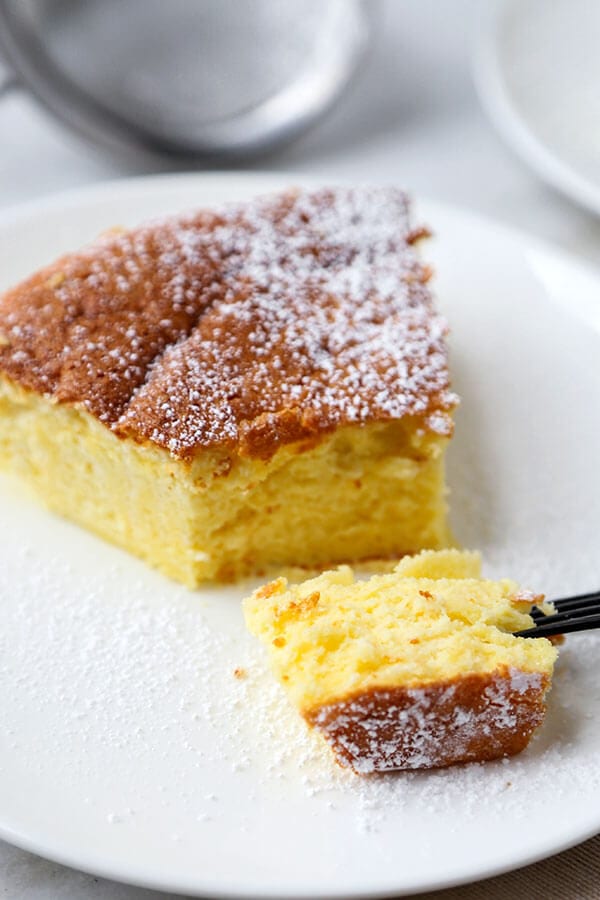 Fluffy Japanese Cheesecake –
ベイクドチーズケーキ
I have to make a confession to make – I don't like cheesecake.
I am one of those weird people who finds cheesecake too dense and cloyingly sweet. I'm more of a choux cream/ mille crêpe kind of girl, preferring light and airy desserts that aren't too filling. But to say that I dislike all cheesecakes would be wrong since there is one type I'm crazy about:
Japanese cheesecake!
So perfect for someone who enjoys desserts very much but doesn't like crazy sweet stuff.
What Does Japanese Cheesecake Taste Like?
The flavors are pretty much the same except that it's less sweet and dense.
On a scale of 1 to 10, American cheesecakes are a 9 as far as sweetness goes while Japanese cheesecakes are a 5.
It's also very light and ariy, almost like a mousse or a sponge cake.
Is This Fluffy Japanese Cheesecake Gluten Free?
No since there is 5 tablespoons of flour in this recipe. However you can try substituting all-purpose flour for gluten free flour. I have never tried it but have a hunch it would work just as well. Rice flour may also be another option although it may change the texture of the cheesecake.
Is Fluffy Japanese Cheesecake Healthy?
To call it healthy would be a little ridiculous since Japanese cheesecake contains cheesecake and is still considered a cake!
But if you ask me if my Japanese cheesecake is healthier than a traditional American cheesecake, I can answer with a resounding yes. And the reasons why are because I am using:
Cheesecake          Japanese                American
---
Graham crackers               Zero                                    1 1/2 cup
---
Granulated sugar            1/2 cup                                 1 1/4 cup
---
Butter                                1/4 cup                                    1/3 cup
---
Sour cream                          Zero                                         1 cup
---
Milk 2%                              1/4 cup                                      Zero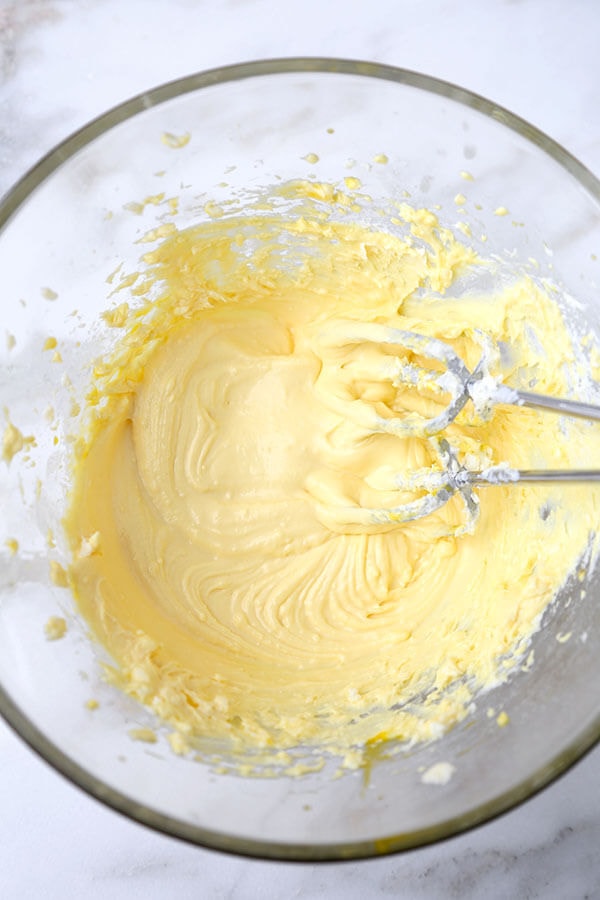 Japanese Women And Their Love For Cakes
Cake shops abound in Japan.
You can easily find one or two near a subway station or a major intersection. No special occasion is needed to enjoy a slice of cake, they are the equivalent of donuts in America.
The first time I had a slice of Japanese cheesecake was in Tokyo back in the 90s. I was buying a box full of dainty cakes from Cozy Corner – a famous Japanese cake shop chain – and decided to try their signature cheesecake.
I know what you're thinking: How can Japanese people stay so skinny if they eat a lot of cake? Well, this is my own theory but I think it's because the serving sizes are much smaller. A slice is about a third the size of what you get here in America. Also, I've seen many Japanese women swap lunch for cakes. Instead of ordering lunch and dessert, they order 2-3 cake slices and have that as their meal along with a cup of tea.
Not very healthy but I guess it's okay if you do this once in a while, which I'm guessing they are by looking at the size of their tiny waists!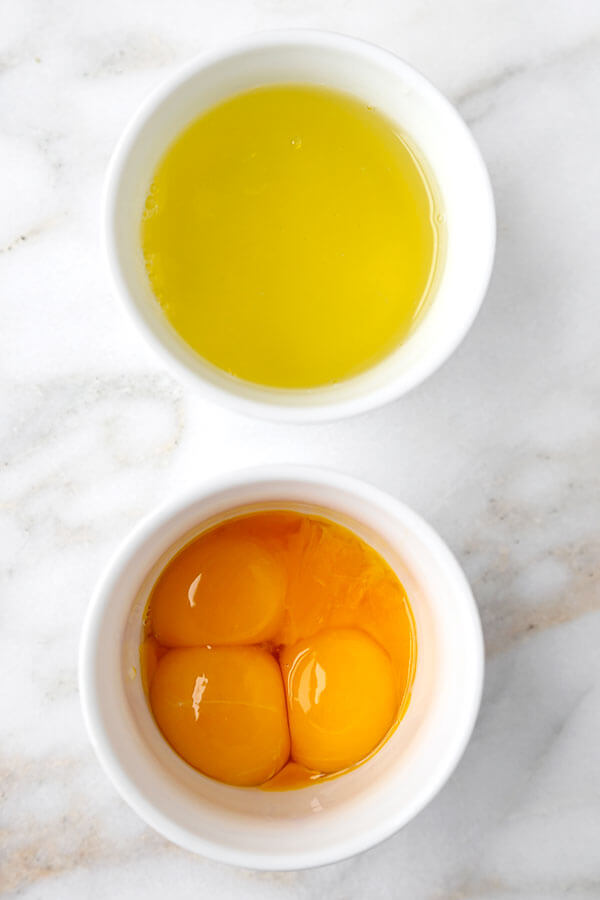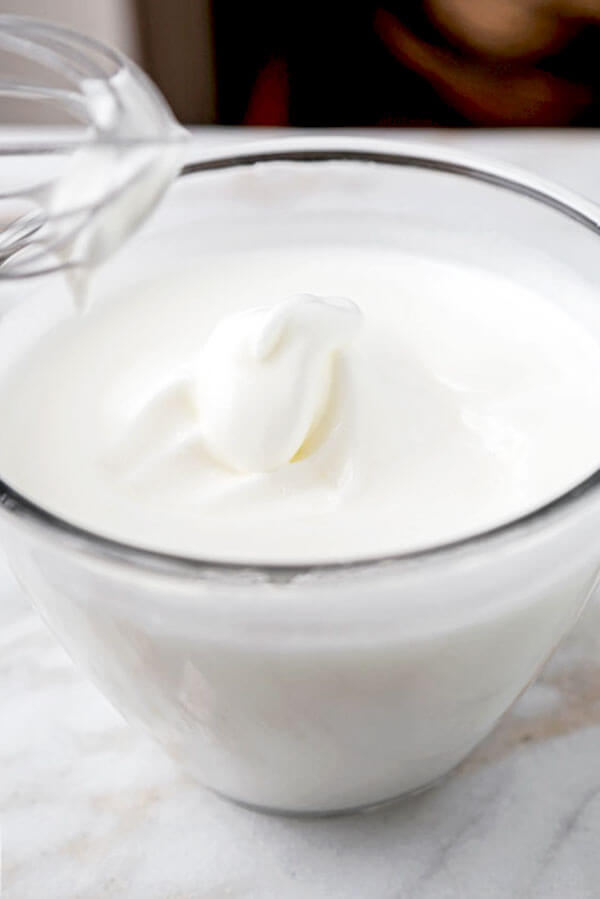 How To Make A Japanese Cheesecake Light and Fluffy
Making a Japanese cheesecake is very easy!
You only need 9 ingredients and about 15 minutes to prep.
The secret to making this cheesecake fluffy is in the egg white and sugar mixture. The egg whites are beaten until stiff enough to make soft peaks and then briefly folded into the cream cheese mixture. This makes the cheesecake super fluffy and airy! It then has to bake in the oven for 1 hour and 10 minutes and left to rest until the oven reaches room temperature.
Japanese cheesecakes collapse when they are taken out of the oven as soon as the baking process is done. So it's important to follow the last step and let it rest until the oven reaches room temperature.
Some cheesecakes are so airy that they are called soufflé cheesecakes or cotton soft cheesecakes! I wouldn't go as far as to say that my recipe is close to being like a soufflé but it's definitely very cottony and fluffy!
You can serve it bare or dusted with confectionary sugar and topped fresh strawberries (amazing!) or pomegranate seeds. I'm sure it also pairs really well with chocolate or caramel syrup, walnuts or a citrus fruit like an orange (although I have never tried it).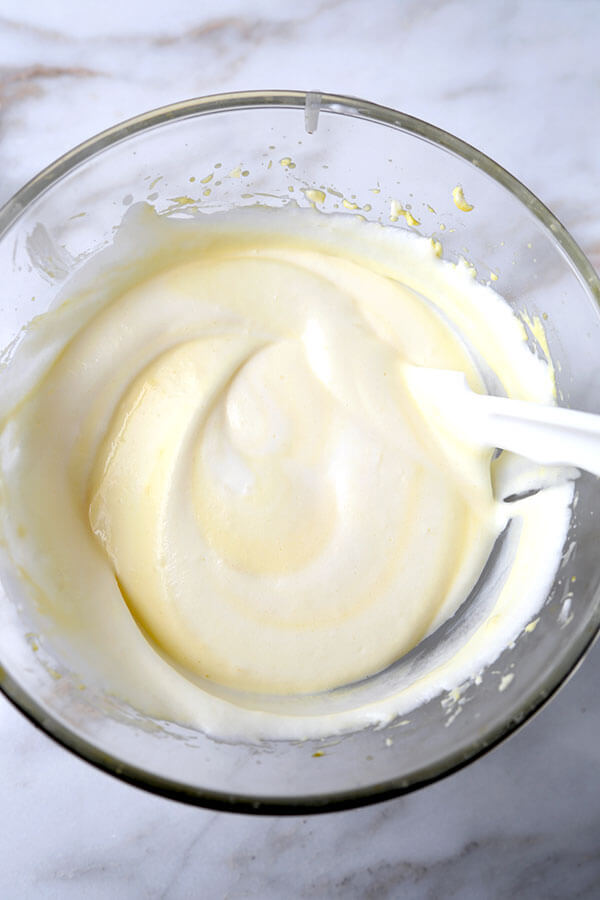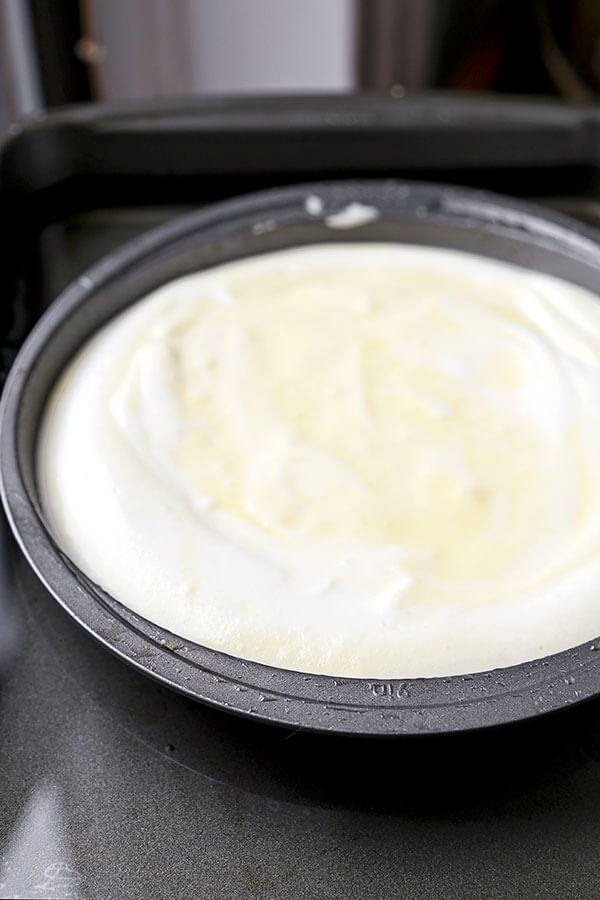 How Long Does Cheesecake Lasts?
About 5-7 days in the refrigerator.
Make sure that it's kept in an air tight container or properly covered with foil or plastic wrap to retain its moisture.
Can Japanese Cheesecake Be Frozen?
Yes!
Put it in an air tight container or freezer bag. This way it will stay fresh for up to 2-3 months. Let it thaw in the fridge before serving.
A Popular Japanese Dessert For The Whole Family
Japanese cheesecake is one of those Japanese desserts everyone loves. Whether you are serving it to a group of adults or bringing it to a kids party, I can promise you there won't be any leftovers!
While most people associate mochi and red bean paste sweets with Japanese desserts, Japanese cheesecake should also be included in that list. It's not as traditional as dorayaki (pancakes sandwiched together with red bean paste in the center) but very much a part of Japanese baking.
Other light and easy Japanese recipes: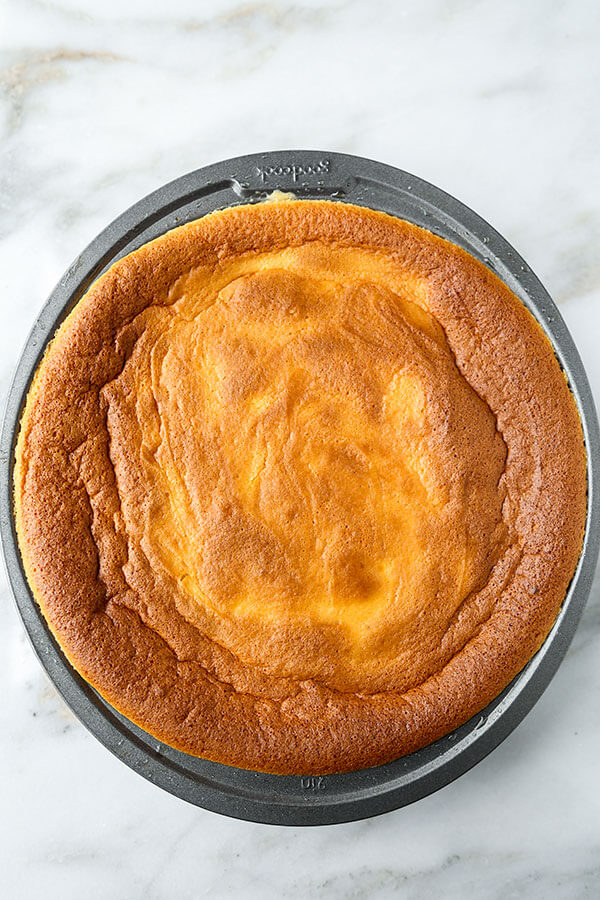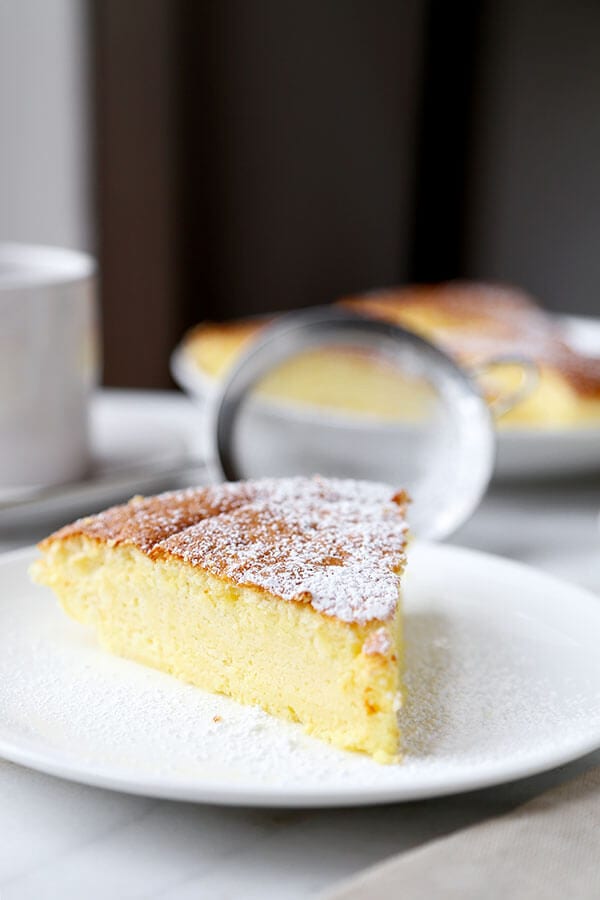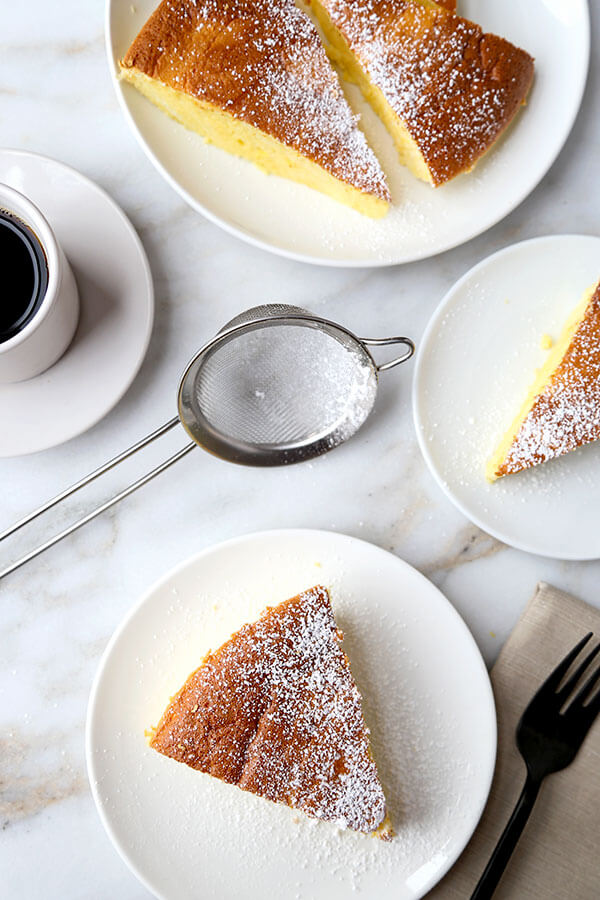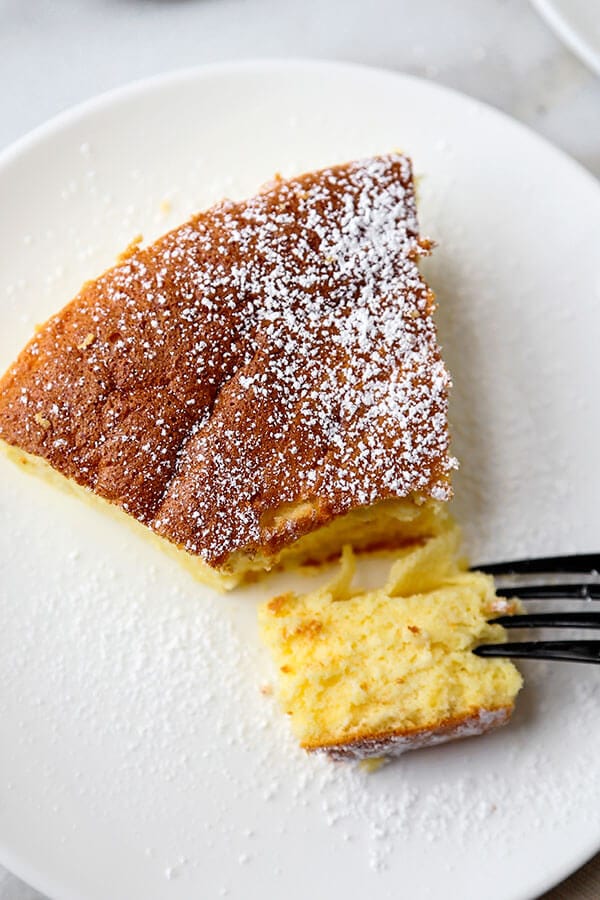 Did you like this Japanese Cheesecake Recipe? Are there changes you made that you would like to share? Share your tips and recommendations in the comments section below!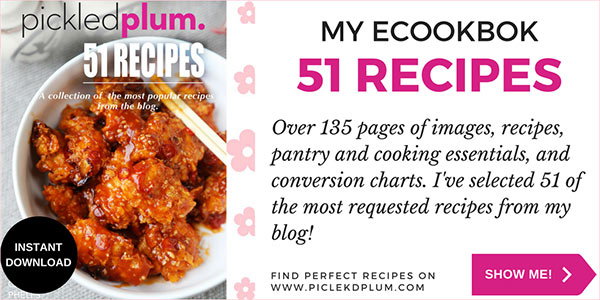 These recipes constantly make "best dish" lists on sites such as Country Living, Self, Shape, Bon Appetit, The Cooking Channel, Men's Fitness and Woman's Day. They are favorites among my readers, friends and family!
51 of the best appetizers, sides, stir fries, main, noodles & rice, desserts & drinks from the blog.
Simple and easy dishes made healthier, with calories and fat content provided. Tried and tested by my readers and loved by everyone!
---
Print
Fluffy Japanese Cheesecake Recipe
This is an easy and delicious recipe for traditional Japanese cheesecake. It's light and airy and has just the right amount of sweetness!
Author: Caroline Phelps
Prep Time:

10 minutes

Cook Time:

70 minutes

Total Time:

80 minutes

Yield:

10

slices

1

x
Category:

Desserts

Cuisine:

Japanese
Scale
Ingredients
8 ounce

s pack cream cheese (at room temperature, I use Philadelphia)

4 tablespoon

s unsalted butter (at room temperature)

1/4 cup

2% milk

1/2 cup

granulated sugar

5 tablespoon

s all-purpose flour (sifted)

4

large eggs (separated)

1 tablespoon

fresh lemon juice

1 teaspoon

vanilla extract

1/4 teaspoon

cream of tartar
Instructions
Preheat oven to 325ºF.
Line a cake pan (8 or 9 inches round) with parchment paper, or lightly spray with oil.
Put cream cheese and butter in a bowl and beat until soft, using an electric mixer.
One by one, mix thoroughly milk, 1/4 cup sugar, flour, egg yolk, lemon juice and vanilla extract. Set aside and wash the heads of the electric mixer.
In a separate bowl, add egg whites and cream of tartar and mix with electric mixer. Slowly add the remaining 1/4 cup sugar and mix until peaks form.
Gently fold in egg white mixture into the cream cheese mixture. Do this slowly and do not over mix.
Pour mixture in the cake pan and place it on top of a square or rectangular baking pan or tray about 2 to 3 inches deep. Pour enough water into the square pan until half full.
Bake in the oven for about 1 hour and 10 minutes, or until the top of the cake is golden brown.
Turn the heat off and leave it in the oven until it reaches room temperature.
Refrigerate for at least an hour before serving.
Notes
This Japanese cheesecake recipe will keep refrigerated for up to 5-7 days.
Recipe Card powered by