Did you know it only takes 6 ingredients to make creamy matcha ice cream at home? No need for special equipment either as this is a No Churn ice cream recipe! The result is restaurant quality green tea ice cream your entire family will love!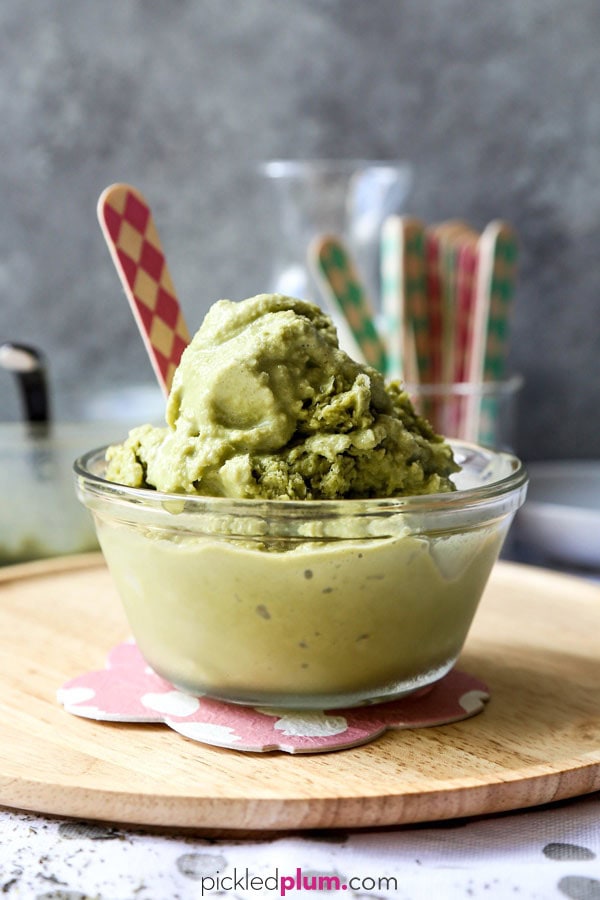 Matcha Ice Cream – 抹茶アイスクリーム レシピ
My sweet mother likes to mail me care packages filled with Japanese goods on a monthly basis.
It doesn't matter that I keep telling her we have access to plenty of Japanese ingredients here in NYC. Mom, save your money on postage and go watch a couple of movies instead.
Nope, it makes no difference because that's her way of letting me know she cares and is thinking about me.
And I have to give it to her – my mother packs the best boxes. Her boxes are always filled with foods I love and use in my cooking. Stuff like bonito flakes, nori, powdered stock, dried squid, pickles, crazy flavors of ramen only sold in Japan, rice crackers, green tea and matcha powder.
But lately it's gotten to the point where my pantry is so full of matcha powder that I don't know where to put it. I'll have a cup once or twice a day but it's not enough to drain the supply of it when a new shipment shows up at my doorsteps every 30 days.
My mother seems to go deaf every time I say "mom please, no more green tea, I have SO MUCH of it! Give me time to go through it before you mail me some more." I know she's not listening when I hear "うん" (pronounced un which means yes, casually) at the end of the line.
Oh boy, I guess I'll stuff the next pound under the bed.
Or I could use it in my cooking…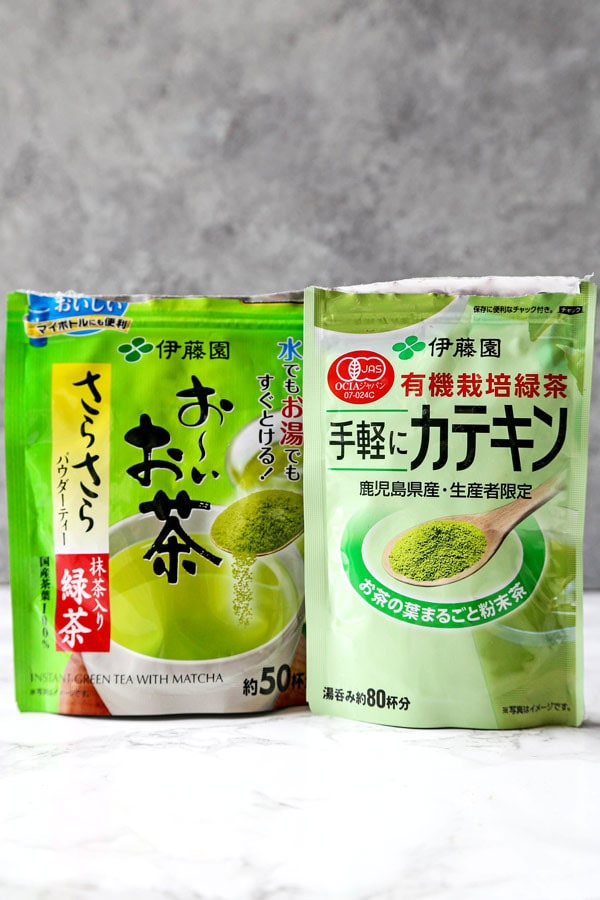 So guess what you will start seeing more of on the blog?
That's right – recipes with matcha in them! You are going to help me get rid of my stash and I promise it's all going to be tasty and easy!
The first matcha recipe I'm introducing you to which you know very well is the famous matcha ice cream.
And it's SO SO SO GOOD.
Like, restaurant quality good!
No special tools needed either – this is a NO CHURN matcha ice cream recipe.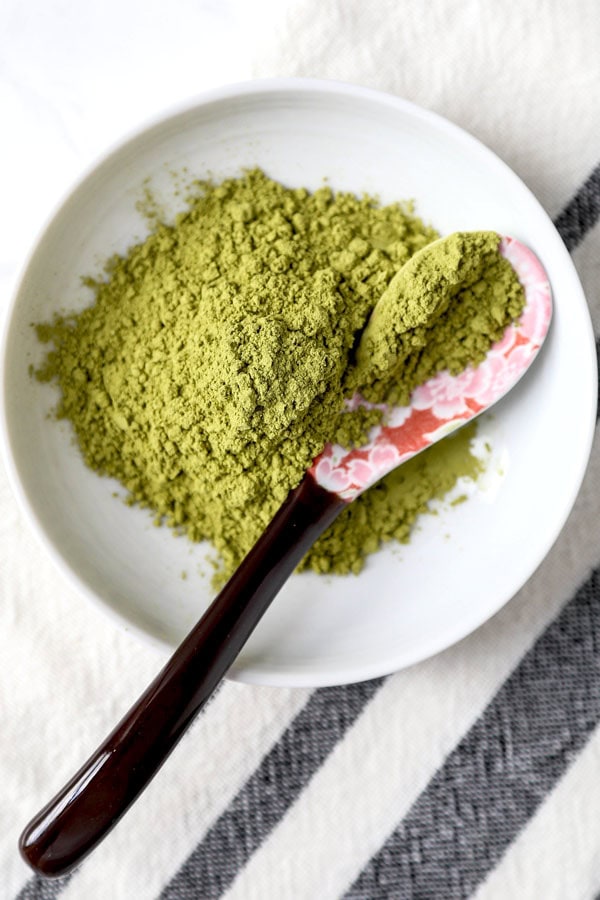 And though I usually try not to use too much dairy in my recipes, this one is all about dairy. I thought about making a vegan matcha ice cream but the fact of the matter is ice cream simply is better with dairy.
Plus, I grew up on traditional green tea ice cream so that's the one I want to share with you.
Is it better than Häagen-Dazs green tea ice cream?
I would say it's on par with it except that it's not as creamy because I'm using 2% milk instead of whole milk. However, you can totally use whole milk if you want to add creaminess to it, it works perfectly well for this recipe!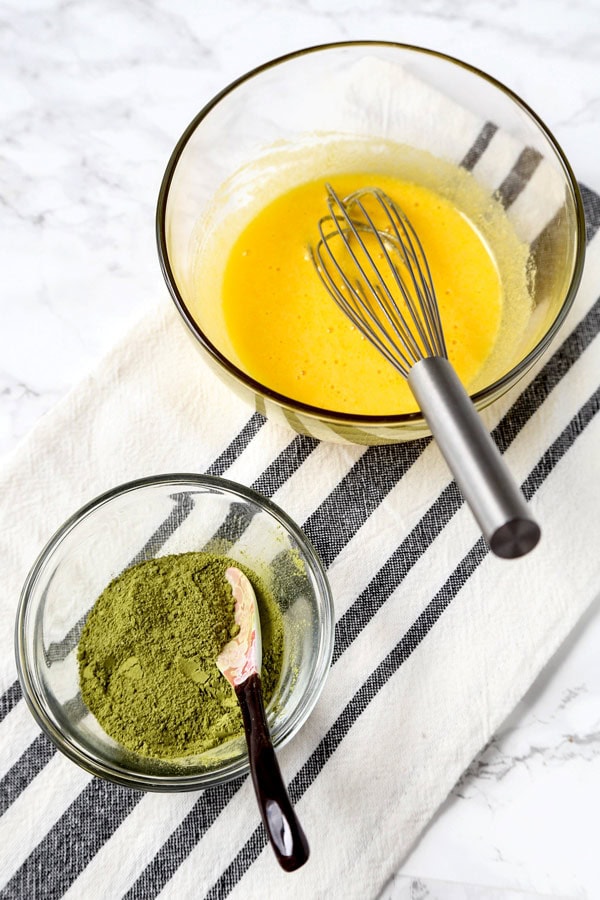 But before I get started I'm going to answer the one question many of you may be thinking about right now:
What is the difference between matcha and green tea?
Matcha is basically green tea leaves that have been pulverized.
Both matcha and green tea come from the same plant called Camellia Sinensis. The only difference is that green tea comes in the form of dried leaves, either sold loose or in tea bags. Matcha on the other hand is ground into a fine powder and thus, is more potent with nutrients (better for you) because you are ingesting the entire leaves.
Which brand makes the best matcha / green tea powder?
I've tasted many different brands and my personal favorite is Oi-Ocha (お-い お茶) by Ito-En.
The taste is milder, almost sweet even though it contains zero sugar (true matcha powder is made with 100% green tea leaves). There is no bitterness and it dissolves in the water entirely. It's more expensive than some other brands but that's the one I always go for.
Luckily, it's sold in most Japanese supermarkets across the US and on Amazon too.
There is another brand of matcha powder that I like also made by Ito-En called Easily Catechin (手軽にカテキン). This powder is much more potent and bitter and doesn't entirely dissolve. It tastes much closer to steeped green tea which is why I've chosen to use this one for this recipe, in order to inject as much green tea flavor as possible.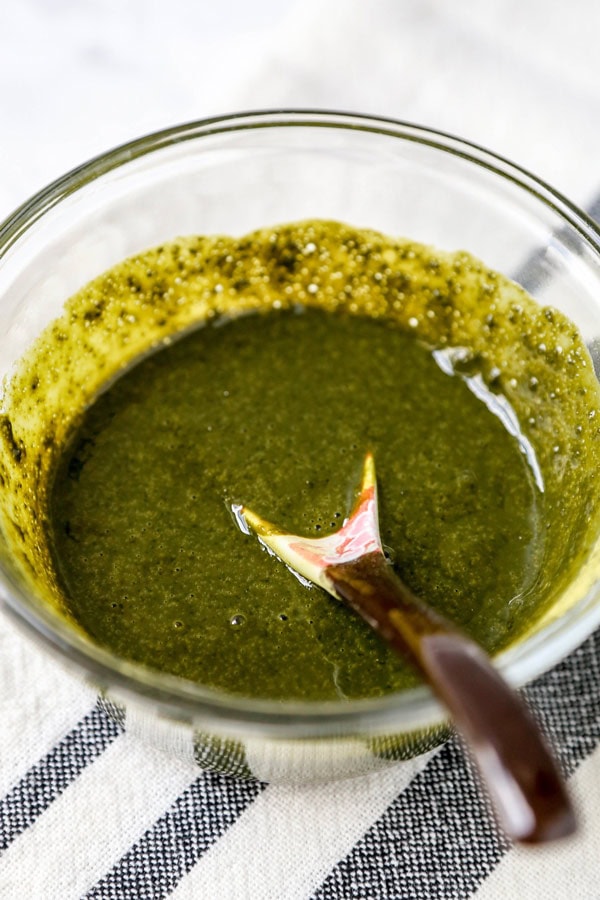 How To Make Matcha  Ice Cream
Now that I've explained the difference between matcha and green tea, it's time to make some ice cream!
The steps are super easy to follow and shouldn't take more than 30 minutes to make.
Use a small bowl to mix the matcha powder with a little sugar and a pinch of salt.
Use another bowl to whisk the egg yolks and the remaining sugar.
Warm up the milk in a pot and add a couple of tablespoons to the matcha powder, to create a paste.
Add the matcha paste to the warm milk, stir well and refrigerate it until it cools down to room temperature.
Briefly whip the heavy cream and add it to the green tea milk. Stir well and transfer the mixture in an airtight storage container.
Put it in the freezer and stir the mixture a few times while the ice cream sets. This will help the texture stay creamy.
Enjoy with your family!
I told you it was easy to make!
And you won't believe how delicious it is, Ben and I finished the entire container in 2 days.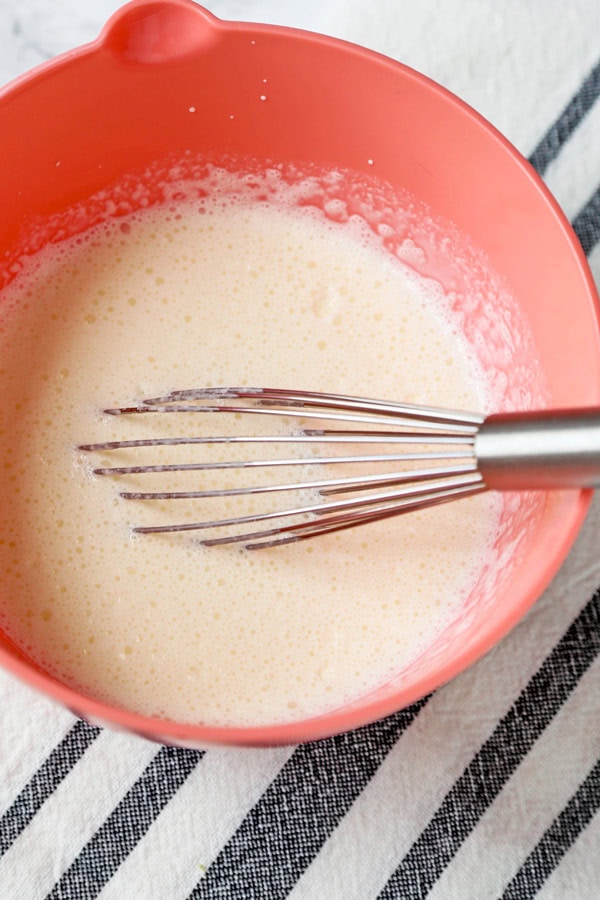 I'm not very good making desserts in general but this is one I'm actually proud of because it tastes just like the real thing.
The flavor of the green tea is very much there but without the bitterness. It's like a frozen green tea latte but stronger. The ice cream has a nice sweetness that's not over the top, just perfect to have on its own or with a cookie on the side.
How To Store Homemade Ice Cream
The first thing you want to do is check your freezer temperature. The ideal temperature for ice cream should be at 0 ºF or lower.
Store your ice cream in a shallow, air tight storage container to prevent ice crystals from forming. Then place it in the back of the freezer (never in the freezer door!) so it's not exposed to changes in temperature whenever you open and close the door. This can cause the texture to become grainy and sticky.
How Long Does Homemade Ice Cream Keep?
The answer to this question is debatable.
I've read on some sites that it can only keep for a few days before the texture crystalizes. But I've also come across comments from home cooks who say they had no problem keeping their ice cream in the freezer for up to a month.
I guess it depends on what storage container you use and what type of freezer you have. We have a pretty small freezer and because of that have trouble keeping ice cream fresh for a long time (every time we open the door it causes a change in temperature through the entire freezer). So for us I would say no more than 2 weeks before the texture starts to become unpleasant.
But that's something we don't really have to worry about since it takes us only 2 days to go through an entire container of matcha ice cream!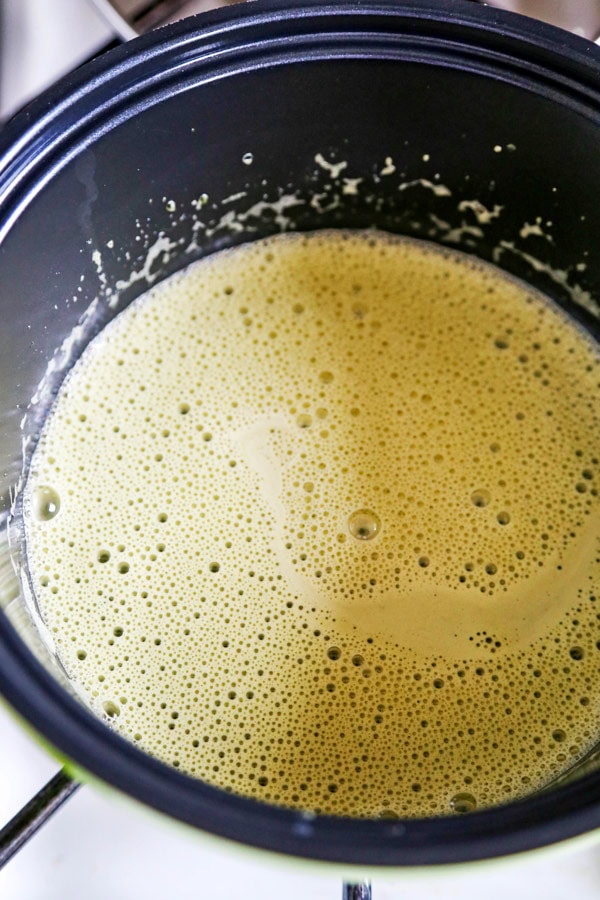 So next time you have a craving for matcha ice cream, instead of asking yourself "where can I buy green tea ice cream?", just make it from scratch at home.
I promise you'll never go back to store bought again!
Other delicious summertime snacks: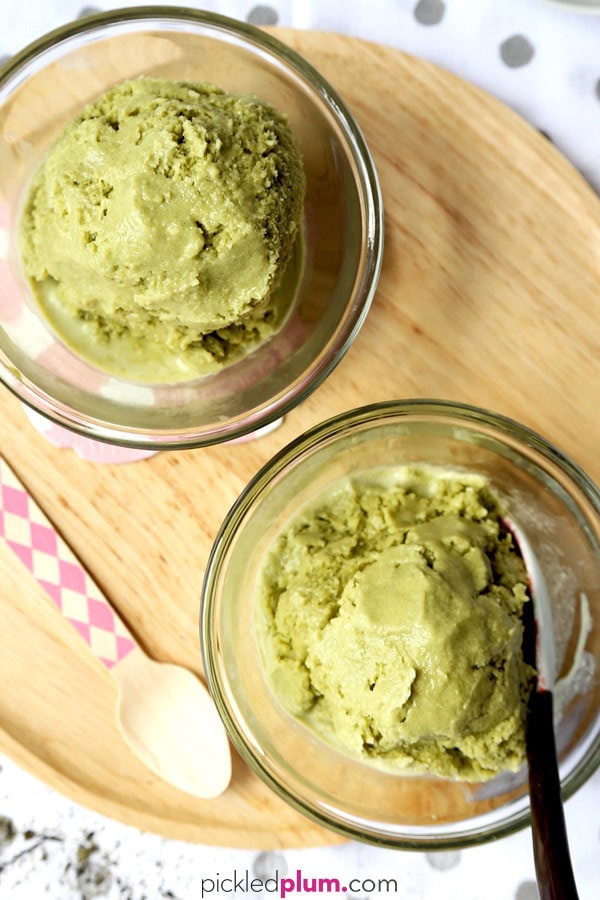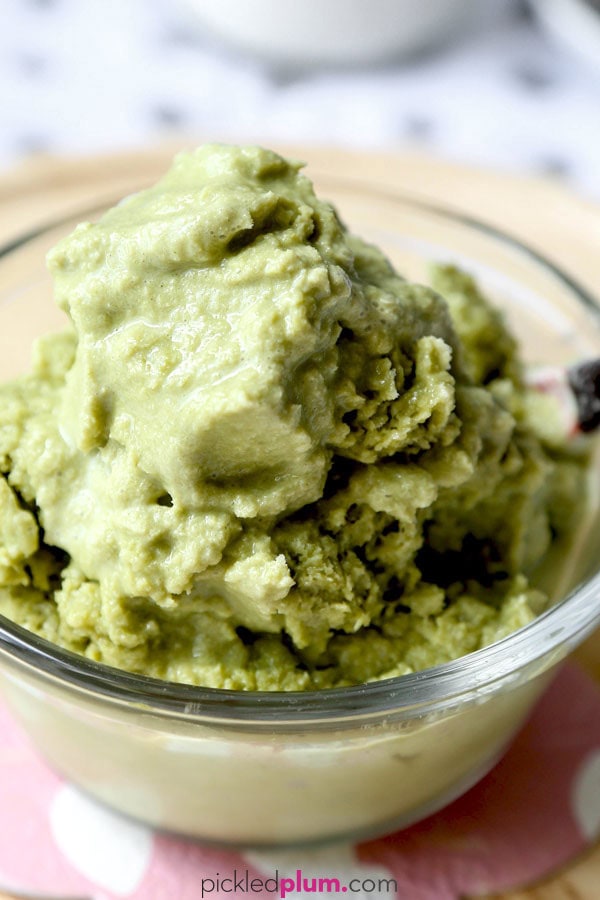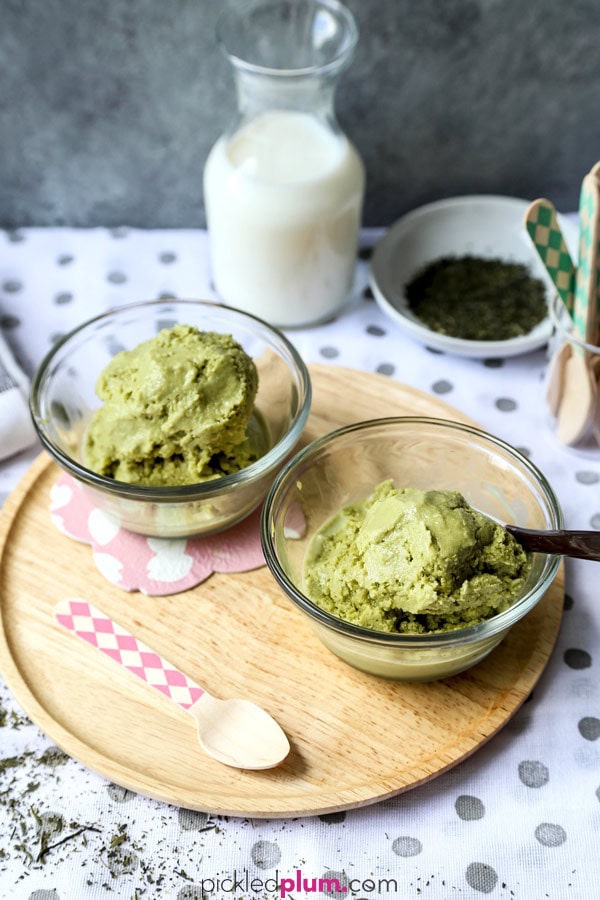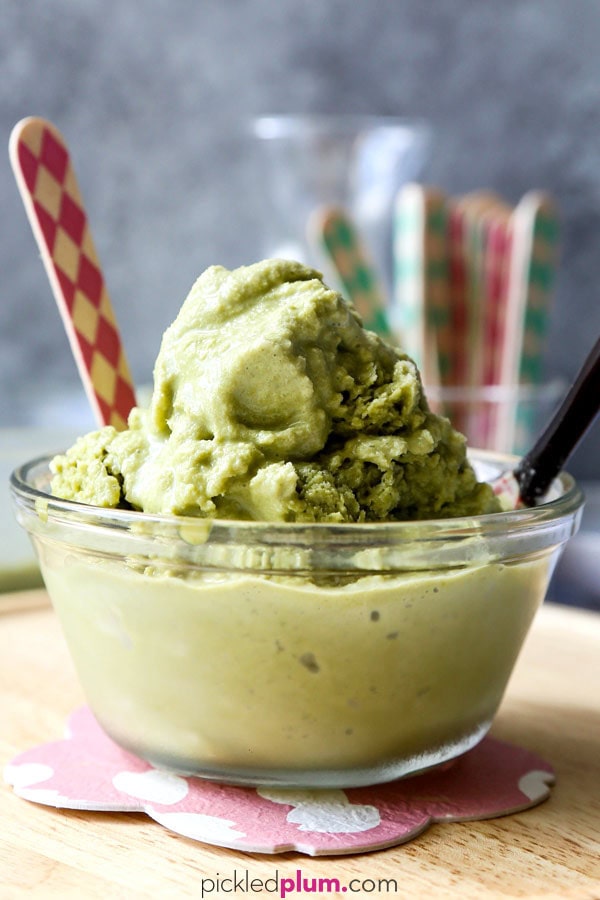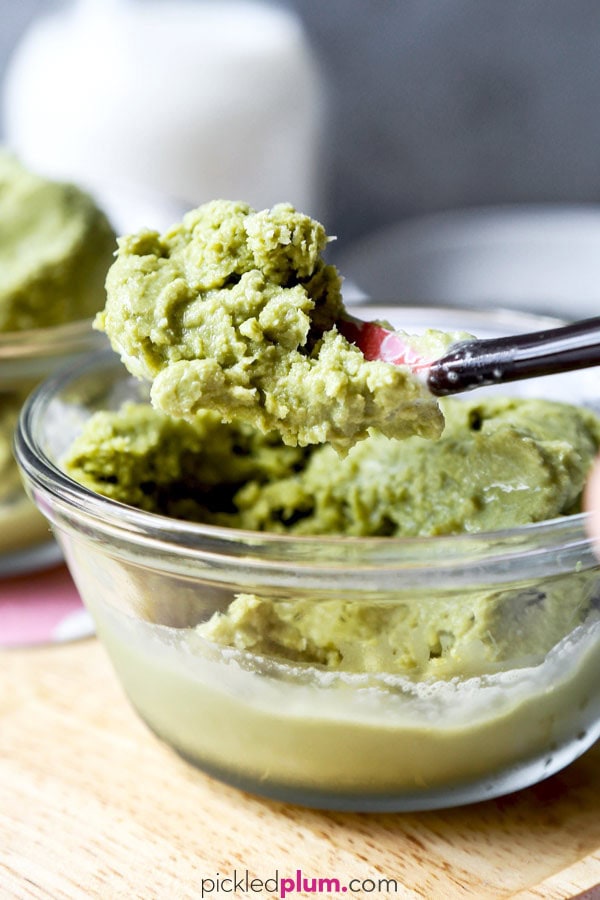 Did you like this Matcha Ice Cream Recipe – 抹茶アイスクリーム レシピ? Are there changes you made that you would like to share? Share your tips and recommendations in the comments section below!
Print
Matcha Ice Cream – 抹茶アイスクリーム レシピ
Homemade, no churn matcha ice cream.
Author: Caroline Phelps
Prep Time:

15 minutes

Total Time:

15 minutes

Yield:

4

people

1

x
Category:

Dessert

Method:

Freezing

Cuisine:

Japanese
2 tablespoons

matcha powder

1/2 cup

granulated sugar
pinch kosher salt

2

egg yolks

1 cup

2% milk (or whole milk)

1 cup

heavy cream
Instructions
Mix matcha powder with 2 tablespoons sugar and a pinch of kosher salt in a bowl and set aside.
In another bowl, whisk egg yolks and remaining sugar. Set aside.
Add milk to a small pot over low heat and heat until it gets warm, making sure it doesn't boil. You want the milk to be warm, not hot since you will be adding eggs shortly.
Add a couple of spoons of warm milk to the green tea and sugar mixture and stir until you get a paste. Add the paste to the pot of warm milk and stir.
Slowly whisk in the egg and sugar mixture and stir well. Turn the heat off and refrigerate until the mixture is cold.
Lightly whip the heavy cream for about 1 minute and add it to the green tea milk mixture. Stir well, cover with an airtight lid and put in the freezer.
Check on the ice cream a few times while it's freezing and remove the ice crystals sitting at the top when you see them. Stir the mixture a few times as well to help the texture become as smooth and creamy as possible.
Leave ice cream on the counter for a few minutes (to soften the ice cream) before serving.
Nutrition
Serving Size:
Calories:

567

Sugar:

29.8 g

Sodium:

49.3 mg

Fat:

30.9 g

Saturated Fat:

15.3 g

Carbohydrates:

29.9 g

Fiber:

0 g

Protein:

11.1 g

Cholesterol:

201.9 mg
Keywords: recipe, snack, ice cream, green tea, no churn
Recipe Card powered by