Celebrate the arrival of the new year with a simple, delicious Japanese ozoni ((お雑煮 ) soup! This is a Kanto style ozoni with a clear kombu and dashi broth. The flavors are delicate, comforting and pair perfectly with the sweetness and chewiness of mochi. This is one of my all time favorite osechi ryori (traditional food)!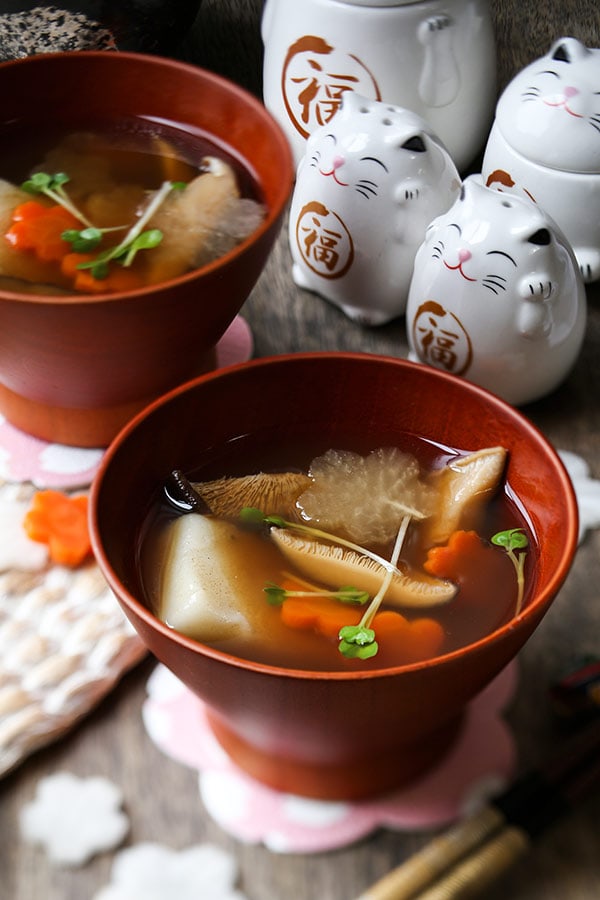 Ozoni – Japanese New Year's Mochi Soup
(お雑煮 )
I'm obsessed with mochi.
I must have eaten enough mochi in my lifetime to fill Fort Knox.
It's been an ongoing thing since I was a little girl. My mother used to boil mochi and sprinkle kinako (soy bean flour) and sugar on top as a dessert. She would make two at a time but I always came back for more.
My face lit up every time mom made mochi, which would have been every day had it been up to me. Move forward decades later and I still react the same way about mochi. There's something addictive about those sticky, chewy rice cakes. I can never get enough of that texture.
We often equate mochi with dessert (mochi ice cream) but it's also wonderful in savory dishes. Have you ever tried grilled mochi brushed with soy sauce and wrapped in nori? Amazing.
It's also delicious in soups such as ozoni.
Every January 1st, mochi makes its appearance in the traditional ozoni soup all over Japan. Think of ozoni as healthy comfort food for the soul. It's a Japanese tradition my mother introduced to our home in Canada and one I have brought to Brooklyn. The only difference between my mother's ozoni and mine is that mine is all mochi and no meat!
But before we get into the recipe, let's talk about what the heck ozoni is and why it's served on New Year's Day.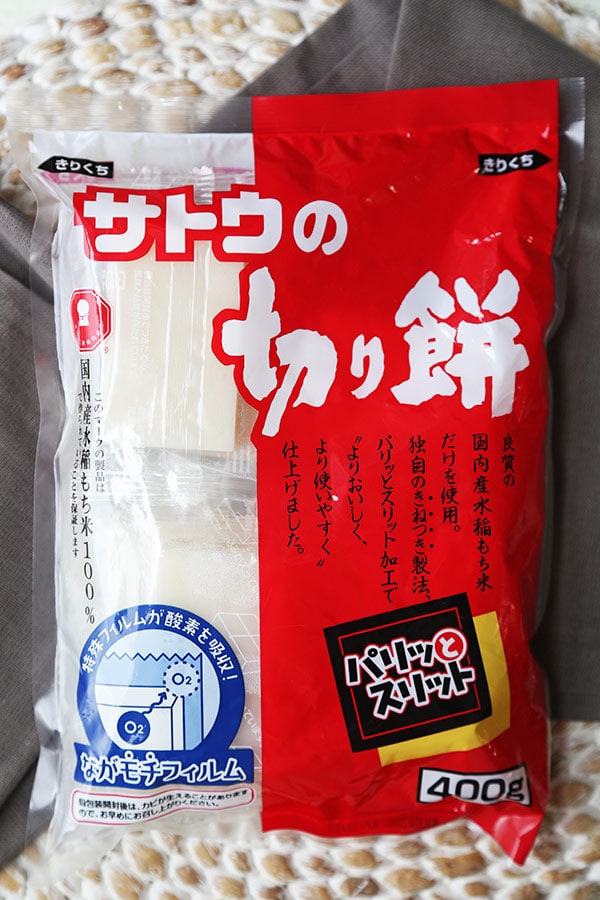 Ozoni History And Symbolism
Ozoni, which loosely means "mixed(雑) boil (煮)" is a traditional Japanese soup made with miscellaneous ingredients such as vegetables, seafood, meats and rice cakes. There are two main different types of ozoni – Kanto style and Kansai style. Kanto style is a clear broth made of dashi served in the Kanto region of eastern Japan (Tokyo). Kansai style is a white miso based broth served in the Kansai region of western Japan (Kyushu, Fukuoka).
Eating ozoni on New Year's Day (oshogatsu) became a tradition during the muromachi period (1336–1573), but the dish itself goes back even further. Samurai families served ozoni as a side dish or a snack to pair with alcohol during banquets for the samurai warriors. Since it was believed to bring good luck, it became a tradition to serve it on the first day of the new year.
The dish is offered to the gods on New Year's Eve so that people can pray for health, prosperity and happiness (living a good life). Each ingredient added to the soup has a special meaning:
Mochi represents longevity because of its stretchy texture.
Local produce such as carrots, daikon and spinach represent a bountiful harvest.
Chicken meat represents success.
Fish roe represents fertility.
Lotus roots (renkon) represent the wheel of life.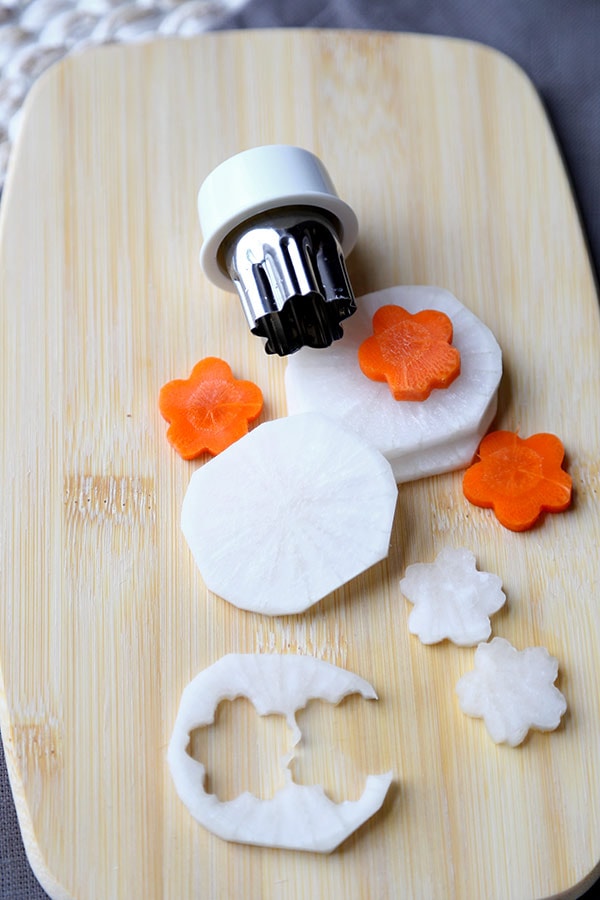 What Is Mochi?
Mochi is simply a rice cake. It's short grain Japanese rice that has been pounded until it turns into a paste and molded into the desired shape. Picture a giant pestle and mortar with cooked Japanese rice in it.
Now pound it for a few minutes and voilà!
That's how it's done and the process is called mochitsuki.
Is mochi vegan?
Yes. Plain mochi is made of 100% pure Japanese rice.
How To Make Ozoni
As far as recipes go, every household has their own version.
Some are simple while others are colorful and hearty. Mine is on the simpler side since I prefer ozoni to be light. I'm going with a clear broth made of dashi and kombu and adding shiitake mushrooms, flower shaped daikon and carrots, radish sprouts and mochi. No chicken or seafood for me since I want the flavor of mochi to stay as pure as possible.
I'm weird when it comes to the taste of Japanese rice – I like it so much that I don't like to cover it up with too many different flavors. A virgin white bowl of rice is all I need to be happy.
I'll also chew on a piece of mochi until it disintegrates just so I can extract as much "mochi fragrance" as I can. The same goes for a cold cup of sake – I'll pick the thickest nigori sake I can find and swirl it in my mouth until I can fully taste its delectable fermented sweetness.
My tastebuds are very Japanese.
In fact, they are more Japanese than most of my Japanese relatives! I'm the only one in the family who enjoys natto, mozuku, chicken bones and taco wasa. I guess it's a good thing I became a food blogger 🙂
Anyway, to get back to how to make ozoni, the steps are very easy!
The first thing to do is to soak the dried shiitake mushrooms in water for about an hour. Then squeeze out the excess water, set aside or chop them. I chop mine because I find that it's easier to eat them that way.
Second thing is to make the broth which only takes 10 minutes. I'm using a piece of kombu, some dashi, soy sauce and sake. I recommend sprinkling a little salt as it helps to balance the umami with the savory. Add shiitake mushrooms, carrots and daikon and simmer for about 10 minutes.
Last thing is to remove the carrot and daikon (you never want to overcook veggies) and add the mochi and shiitake mushrooms. Simmer for 2-3 minutes until the mochi has soften and serve with a few mitsuba leaves or radish sprouts.
You might have some extra broth left if you're lucky!
Pour it in a plastic or glass container and store it in the fridge for up to 2 weeks.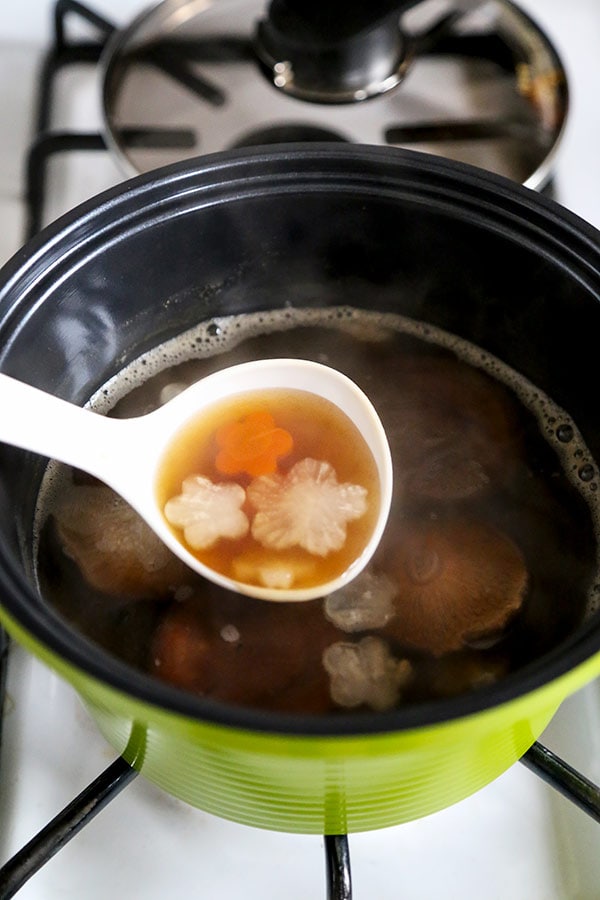 Starting The New Year On The Right Foot
So tell me, what are you new year's resolutions?
Eat more healthy?
Lose weight?
Quit smoking?
Drink less?
Find a job you love?
Save some money?
Be more active?
Whatever your resolutions are, I wish you the best and lots of success in all your endeavors! Remember that it's okay to make mistakes (eat one too many cupcakes) as long as you stay motivated. What matters the most is to stay focused so you reach your long term goals. Slipping is part of the process so don't be afraid to fall on your butt. Embrace it and use that to fuel your desire to succeed even more!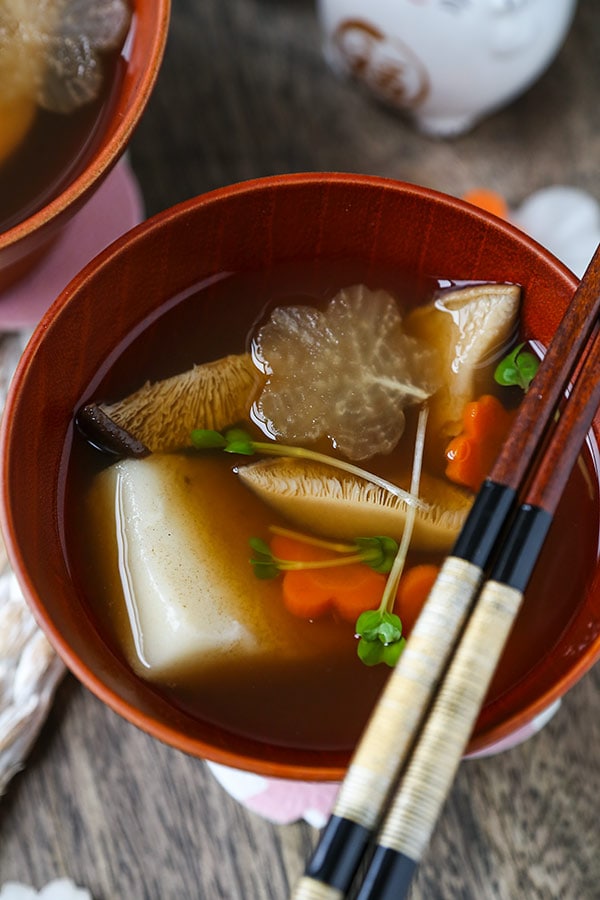 My Own Resolutions
As for me, I only have three resolutions I would like to see happening. I find that the more I have, the less I achieve so I only stick with the ones that I consider priorities.
Work more efficiently (ask for help when I feel overwhelmed).
Plan our next move (ideally, we would like to move to a new city or country within the next 2 years).
Spend more time outside. Double up on walks, treat my physical health with the same amount of importance as I do my blog.
There's one more goal I have but this one is more about sticking to something I have been doing for a few months already. I would like to keep on meditating, daily, since it's the only thing that truly brings me peace of mind.
And with that, I wish you a Happy Year 2018!
Other clean and healthy New Year's Recipes: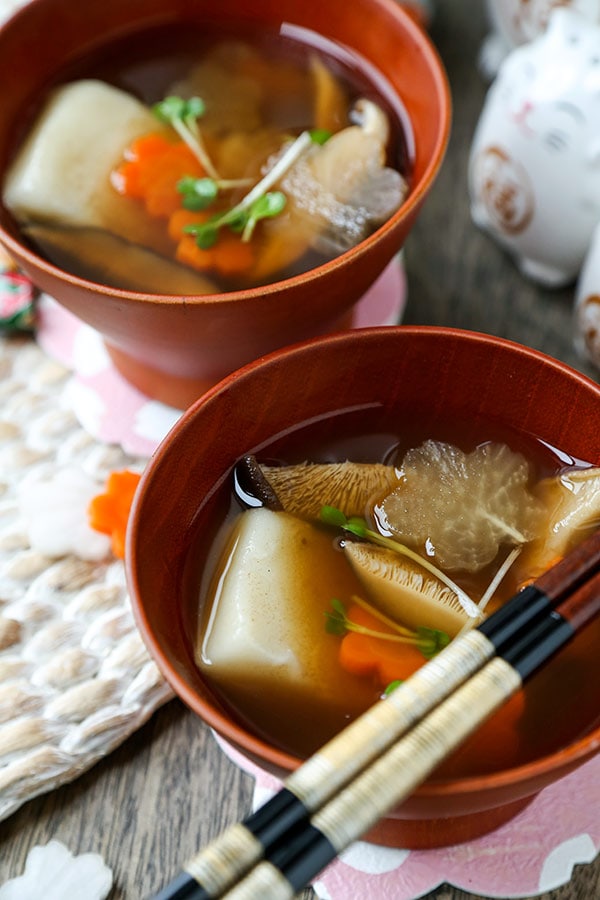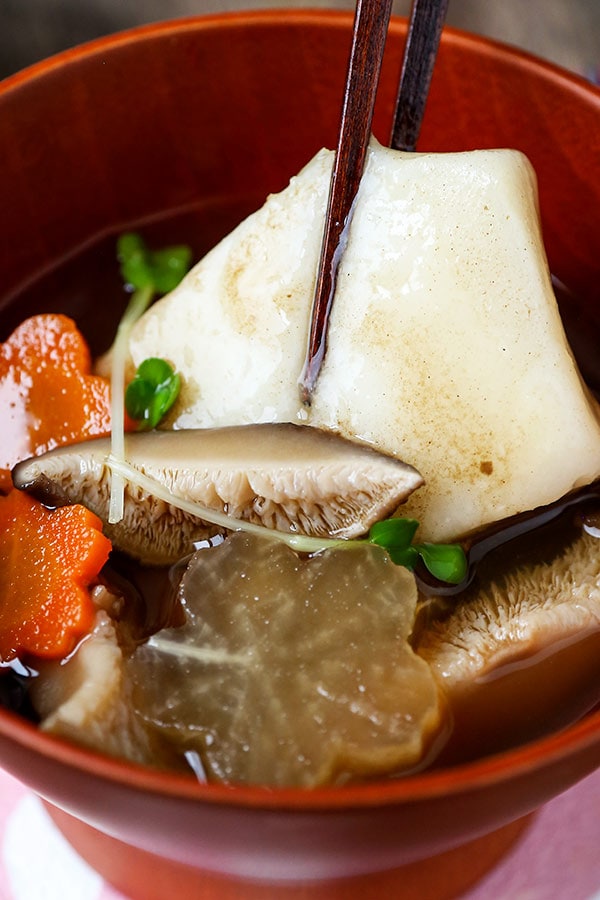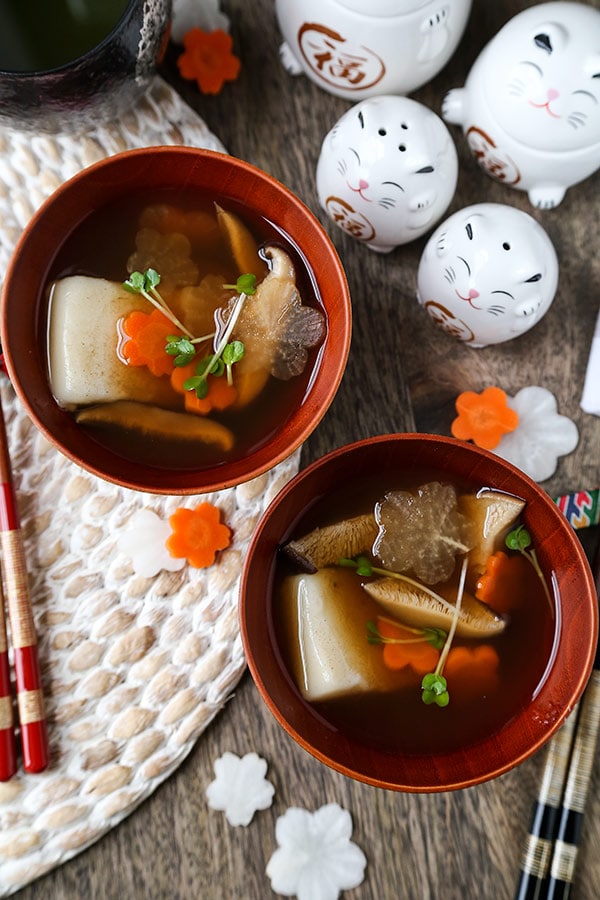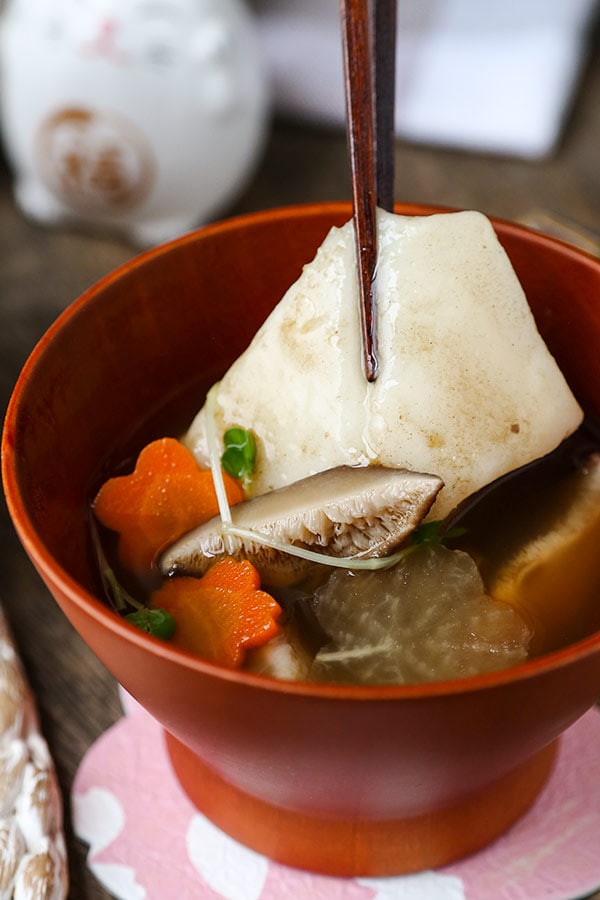 Did you like this Ozoni (お雑煮), Japanese New Year Mochi Soup Recipe? Are there changes you made that you would like to share? Share your tips and recommendations in the comment section below!
Print
Ozoni (Japanese New Year's Mochi Soup)
Celebrate the new year with this Japanese Ozoni Recipe! Enjoy the delicate flavors of a kombu based broth with rice mochi and vegetables.
Author: Caroline Phelp
Prep Time:

10 minutes

Cook Time:

12 minutes

Total Time:

22 minutes

Yield:

4

1

x
Category:

Soup

Method:

Boiling

Cuisine:

Japanese
1/4 cup

daikon (cut into flowers or sticks)

1/4 cup

carrots (cut into flowers or sticks)

3

dried shiitake mushrooms

4

mochi rice cakes
a few stalks mitsuba or radish sprouts (optional)
For the broth
4 cups

dashi broth

1

3×3 inch size kombu

2 tablespoons

soy sauce

1 tablespoon

sake
pinch of salt (I add about 1/4 teaspoon kosher salt)
Instructions
Put dried shiitake mushrooms in 1 cup water and let sit for 1 hour. Squeeze excess water out of shiitake mushrooms and set aside. Keep the mushroom water for future recipes – it's delicious in soups and stews!
Thinly slice shiitake mushrooms. This step is optional but it makes eating the soup easier.
Put all the ingredients for the broth in a pot, along with sliced mushrooms, daikon and carrots and bring to a boil. Lower the heat, cover and simmer for 8-10 minutes, until daikon is tender.
Remove carrots and daikon from the broth and set aside.
Add mochi to the pot and continue cooking on low for 2-3 minutes, until mochi is tender.
Divide the soup and mochi evenly among 4 bowls, top with carrots, daikon, mitsuba or radish sprouts and serve immediately.
Notes
Sprinkle a little ichimi to add heat.
Keywords: recipe, appetizer, new year, rice cakes, vegetarian, vegan, plant based, meatless
Recipe Card powered by