Looking to lower your intake of meat but aren't too familiar with cooking plant based dishes? Don't worry, there are plenty of easy and delicious options to choose from. Here are 20 of my favorite vegetarian recipes. They are so tasty and satisfying, I promise you won't be missing the meat!
If you're looking to cut back on meat but aren't familiar cooking without it, you might wonder about how flavorful or filling vegetarian food can be. Don't worry – it's perfectly normal to feel this way if you are out of your comfort zone. The truth is that meatless meals can be just as delicious as your favorite hearty beef stew or hamburger. You just have to get familiar with new ingredients and seasonings. So what is the best way to ease into a diet that is lower in animal protein?
Why not start with meatless mondays? Many choose meatless monday to make breakfast, lunch, and dinner 100% meat-free, to start. Or, you can make one meal per day that doesn't use any meat, which should be pretty easy since there are so many delicious vegetarian options out there these days.
Or you can refer to this list of 20 of my personal favorite vegetarian meals to try at home.
Tips and tricks for making delicious vegetarian meals
Mushrooms and lentils make great substitutes for ground meats. Chopped and cooked mushrooms are loaded with great texture and umami flavor (umami is the savory flavor meats like beef and roast chicken have in spades). Legumes like lentils can be used to round out the texture of a dish like chili or bolognese sauce.
Roast your veggies. It may seem rather simple, but roasting a cauliflower head until it's caramelized on the outside is delicious and hearty. Same idea with these pan sauteed carrot steaks. Veggies can go a long way even when using the simplest of cooking methods.
Use meat substitutes… sometimes. Craving a burger, but doing the whole #MeatlessMonday thing? Pick up some plant based burger patties (Beyond Burger makes the best patties. They are so good in fact you won't be able to tell the difference between real vs fake meat!) and grill them up with all the fixings. We live in a golden age of meat-like products that appeal to vegetarians, vegans and omnivores alike. But, hey… not all the time! Like all processed foods, it's best to consume these in moderation 🙂
Keep it in-season. Yummy vegetarian recipes and fresh produce go hand in hand 😊 When shopping at the grocery store, you're likely to get better peas in the springtime. And pomegranates are typically freshest in the fall and winter. But aside from getting the best produce if you shop in season, you're also going to save a few bucks in the process.
20 Vegetarian Recipes
Now that you're equipped with some helpful vegetarian knowledge, without further ado, here are 20 vegetarian recipes for easy weeknight dinners.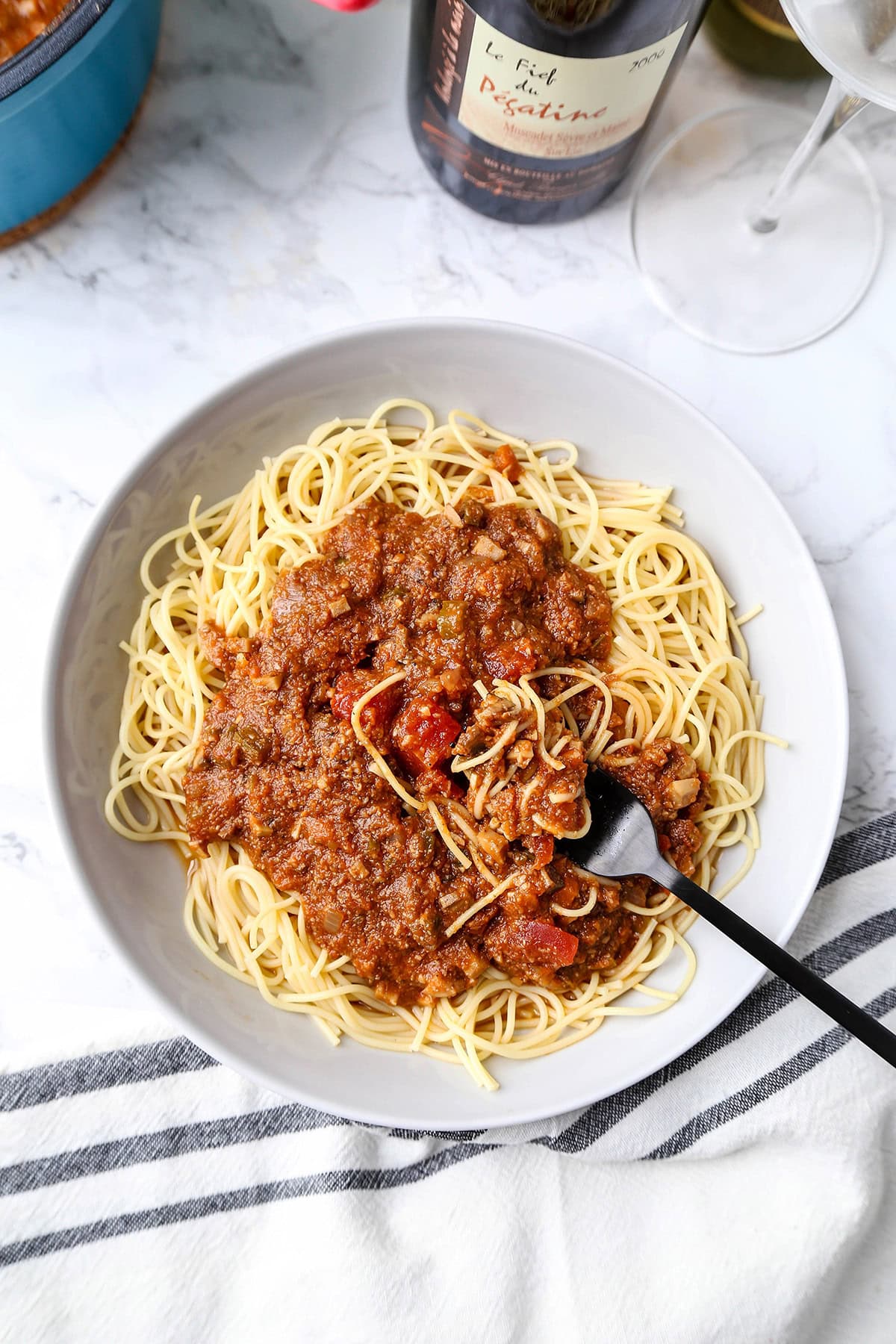 Vegan Spaghetti Bolognese
This is one of my favorite plant based recipes because it showcases just how effective mushrooms can be when used in place of ground meat. Even in the most iconic of pasta recipes, chopped mushrooms do the heavy lifting in this hearty tomato sauce. And I have a simple secret for nailing the perfect texture of a meat sauce. Sound impossible? Read the post and find out what it is!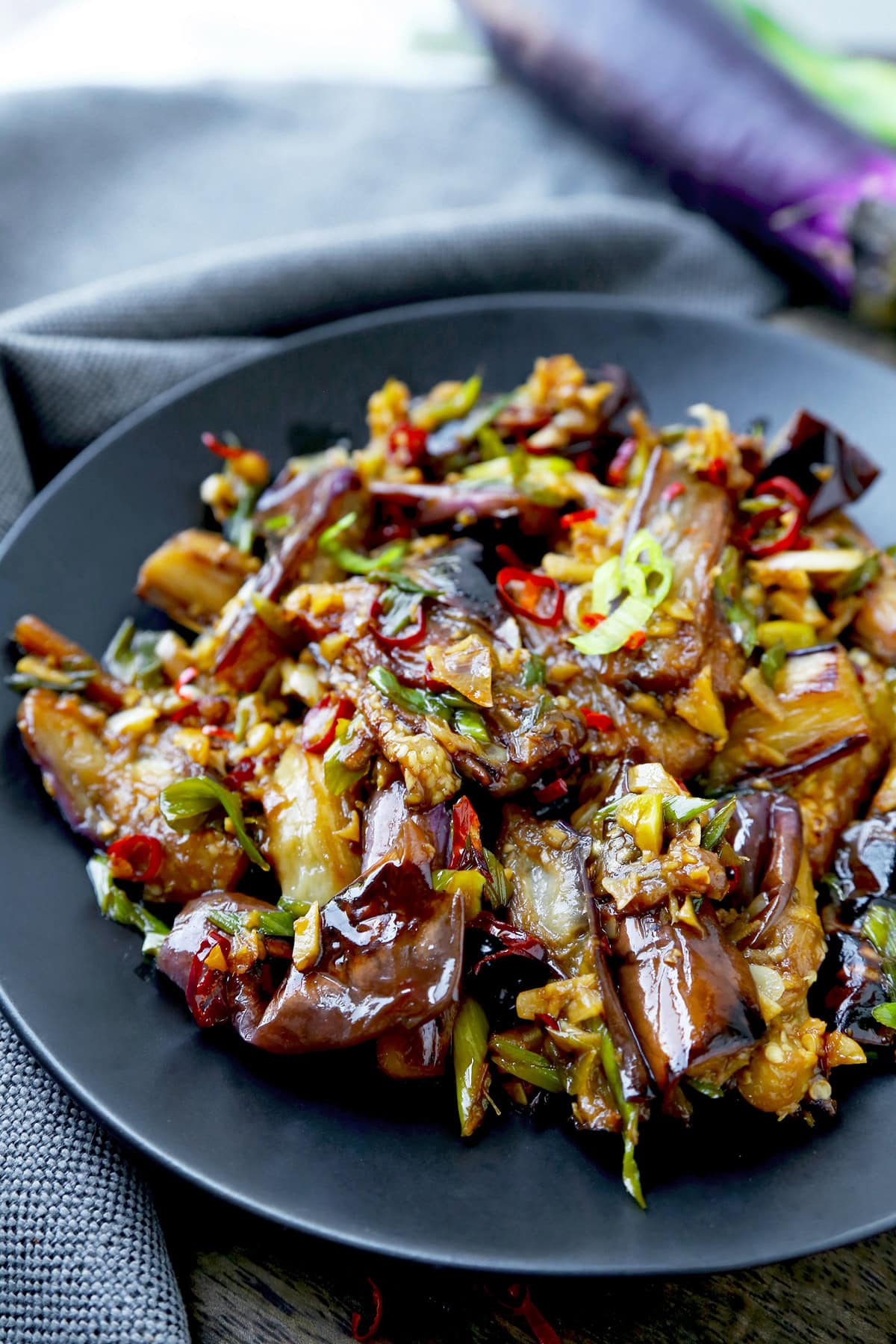 Chinese Eggplant with Garlic Sauce
Sweet, tangy, savory and a little spicy – with eggplant so tender it basically melts in your mouth. It's one of those easy meals I love making when I don't feel like spending too much time in the kitchen but still want big flavors on my plate. Serve with white rice and enjoy!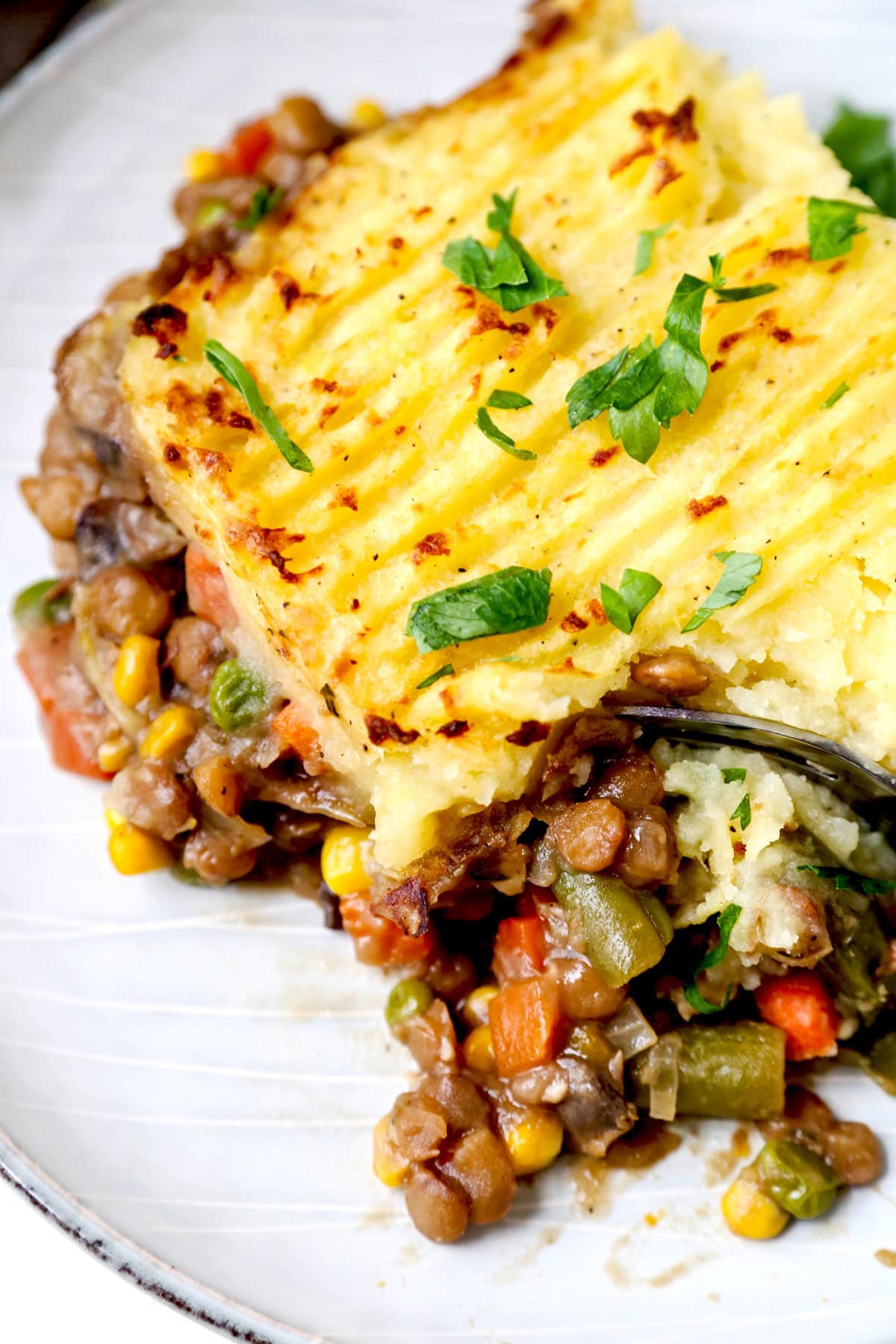 Vegan Shepherd's Pie
This vegan take on the classic shepherd's pie is so hearty that my mother refused to believe that it was 100% plant based until I made it a second time with her in the kitchen. Loaded with lentils, savory gravy and topped with pillowy mashed potatoes, this is a full flavored homage to the original.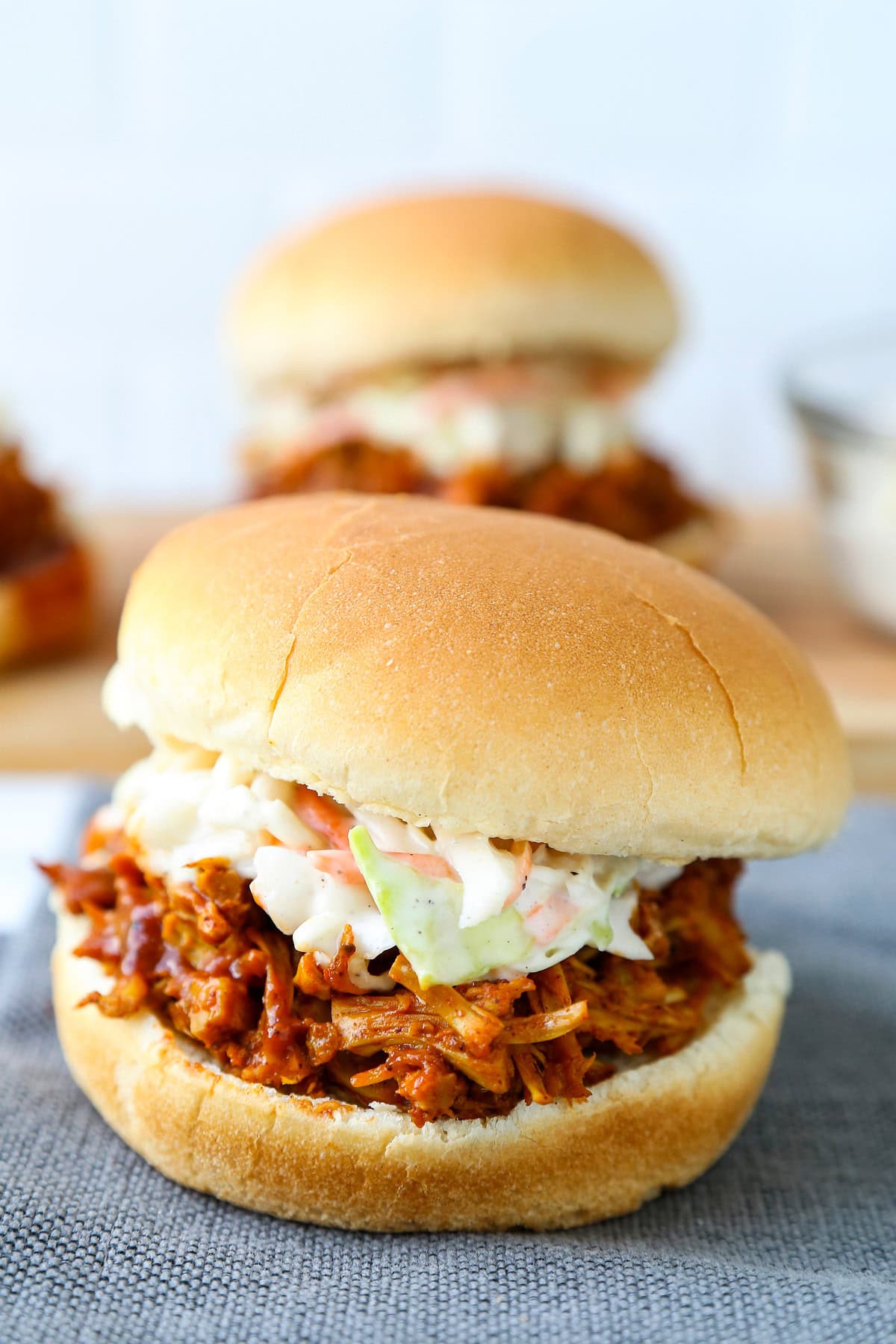 Vegan Barbecue "Pulled Pork" Sandwich
File this one under: you must try this to believe how good it actually is! Who would think young jackfruit smothered in BBQ sauce could ever taste like a pulled pork sandwich. This is a perfect example that meatless meals are anything but boring. Smokey, savory, sweet and tangy – this is one sandwich all meat eaters will also love.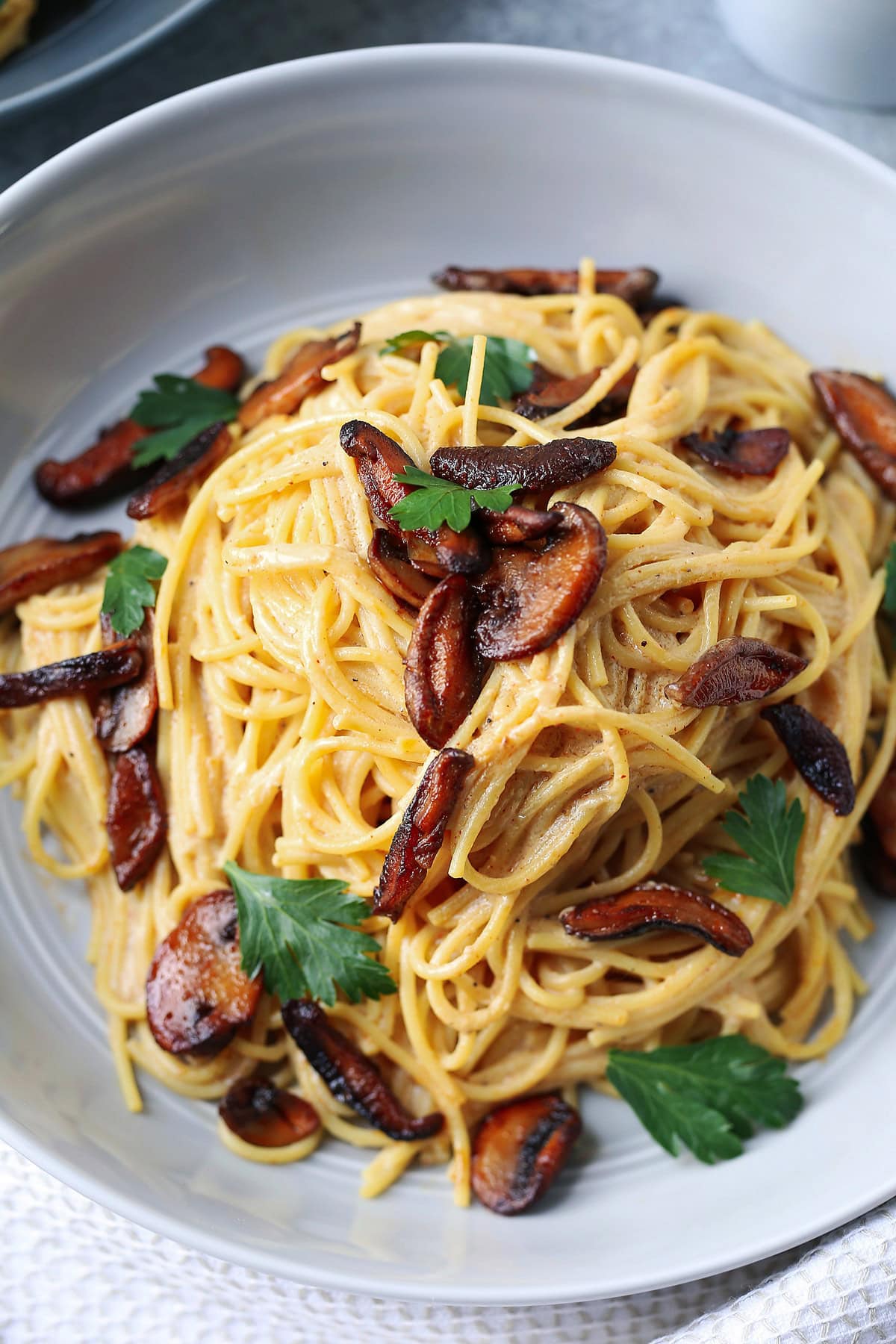 Creamy Vegan Carbonara
This sauce packs a punch and is oh so creamy! Caramelized mushrooms do a wonderful job standing in for the porky elements normally used in spaghetti carbonara. This is another recipe that is absolutely full of crafty tricks to approximate the taste and texture of an indulgent carbonara sauce. Oh, and be sure to set aside some of that pasta cooking water!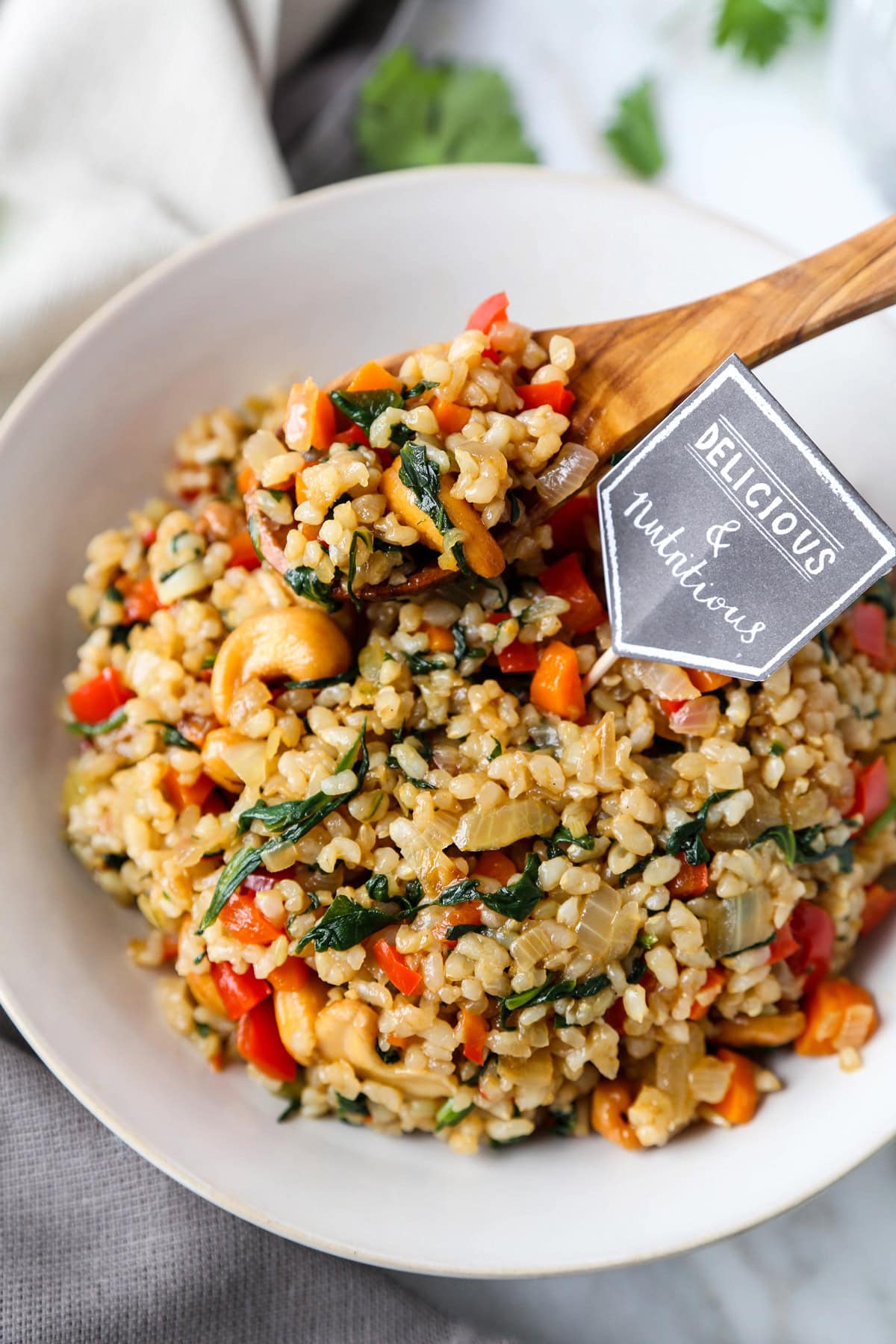 Easy Vegan Fried Rice
With all the flavors of an iconic vegetable fried rice, you'll have a tough time believing it's completely vegan. Seriously, vegetarians and omnivores alike will dig in with abandon! Use brown rice to make this dish nutty and wholesome.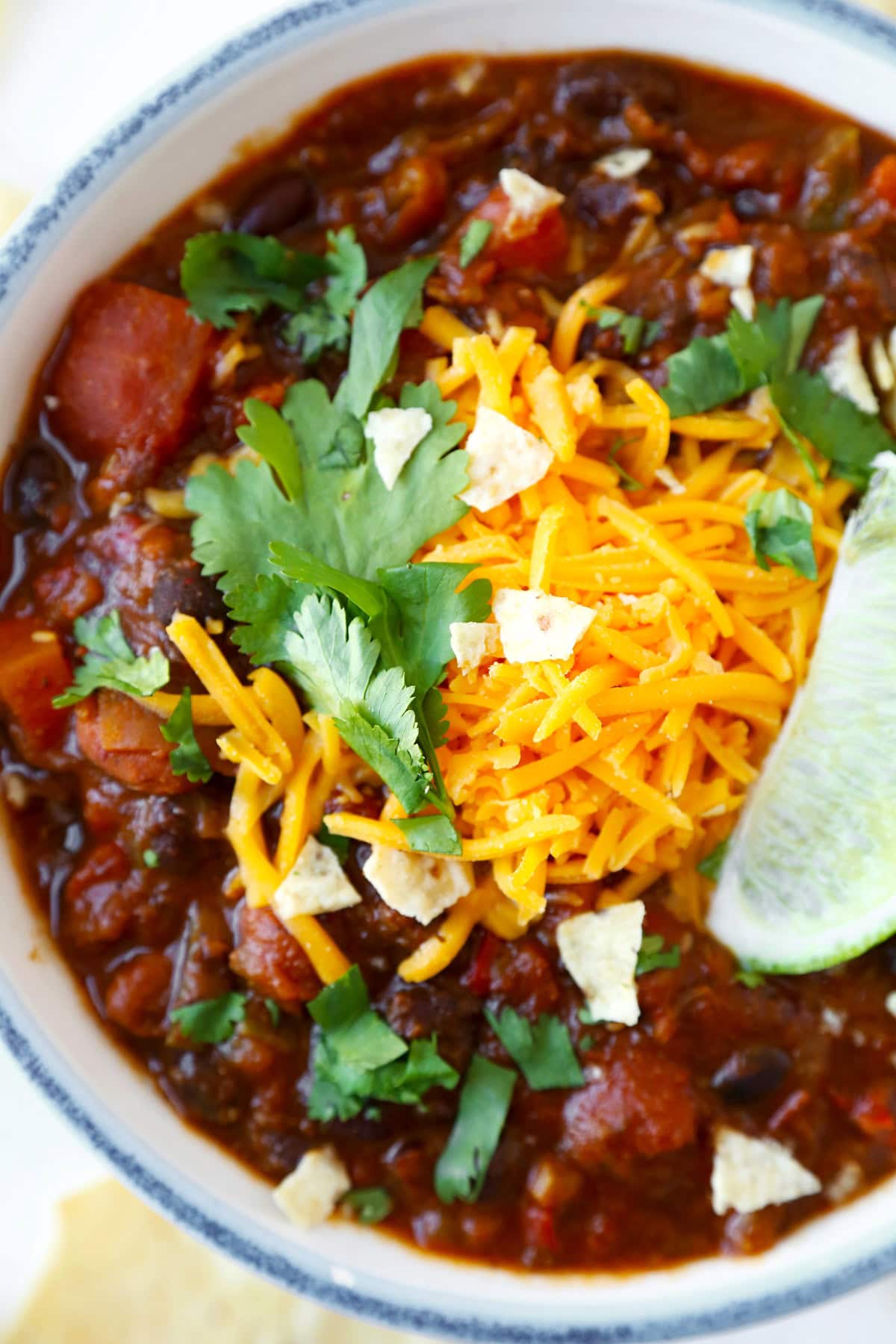 Vegetarian Chili
The bold flavors of a chili con carne are totally evident in this comforting plant based meal. Most of the spices you'll need are likely on your spice rack already. And if you're following a vegan diet, this is the perfect time to try out vegan shredded cheese. It makes a great chili topper! This is the perfect example of a vegetarian recipe tasting better than a meat based one.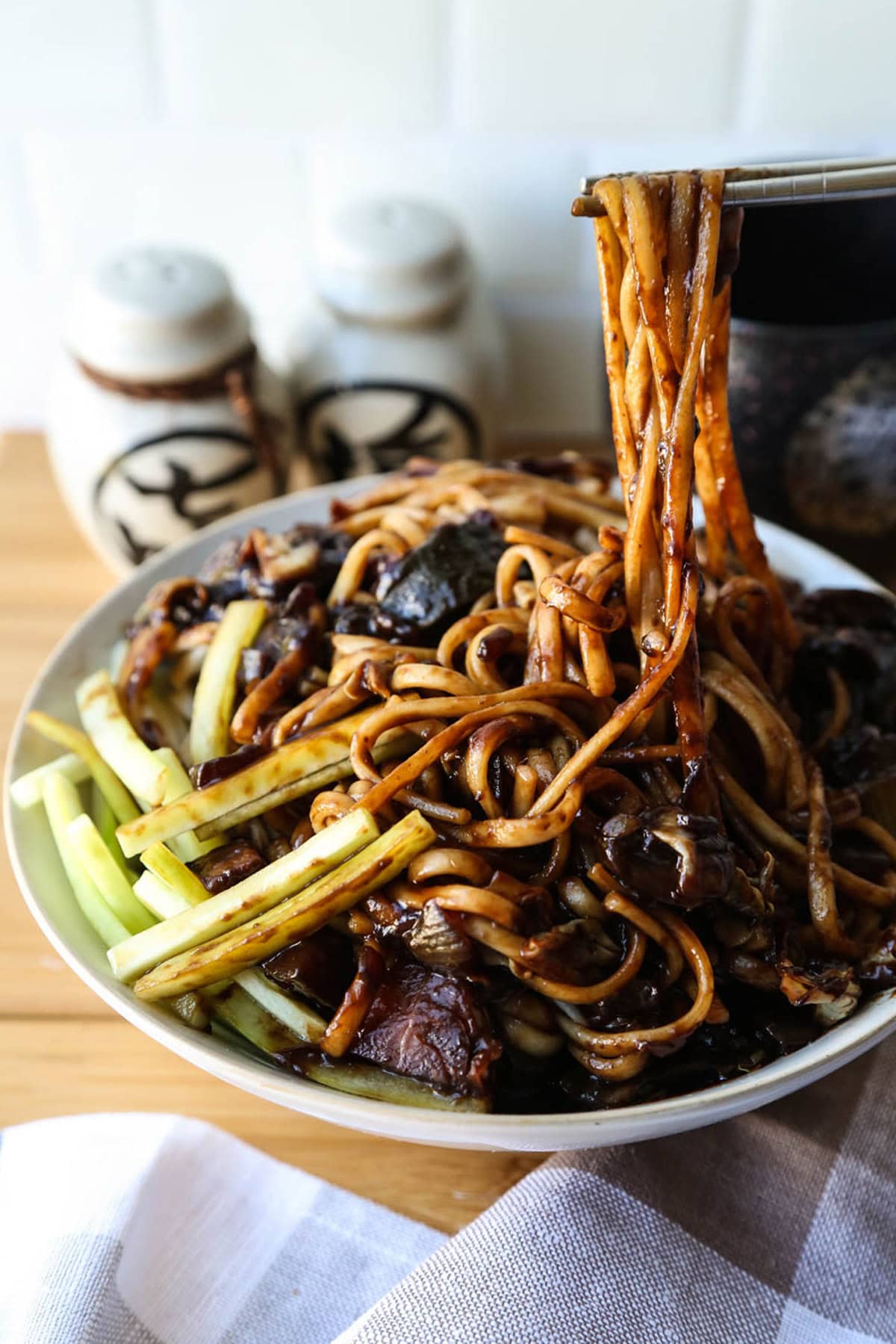 This traditional Korean noodle dish gets a ton of flavor from a savory fermented black bean paste. Instead of the usual pork, vegetables like cabbage, zucchini, mushrooms, and celery make it a plant based meal. A great introduction to Korean food and vegan eating!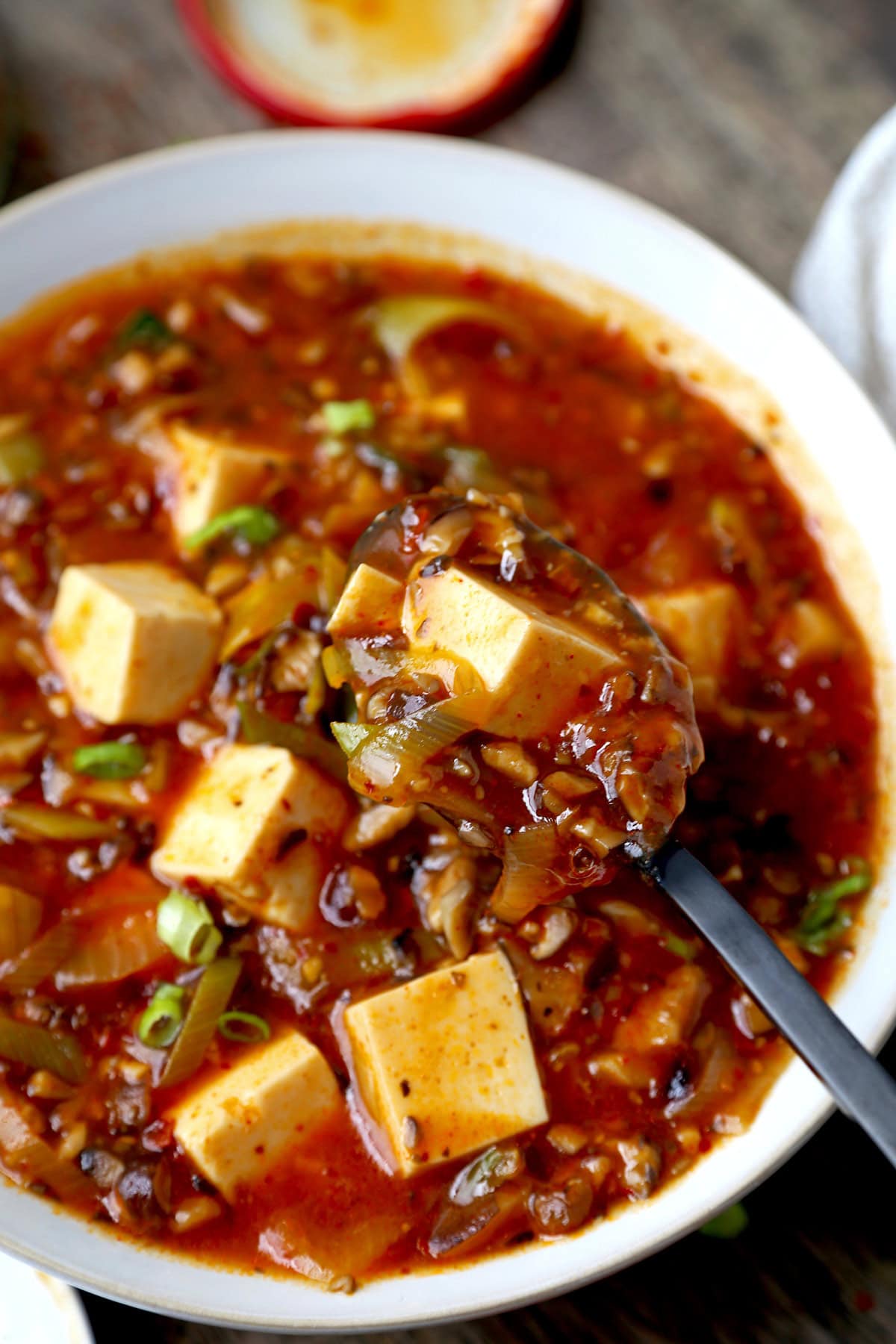 Of all the delicious vegetarian food out there, this mapo tofu is firmly in my top 3 favorite recipes of all time. Again, mushrooms step in for the usual ground pork you find in traditional mapo tofu recipes and add earthiness and umami to the dish.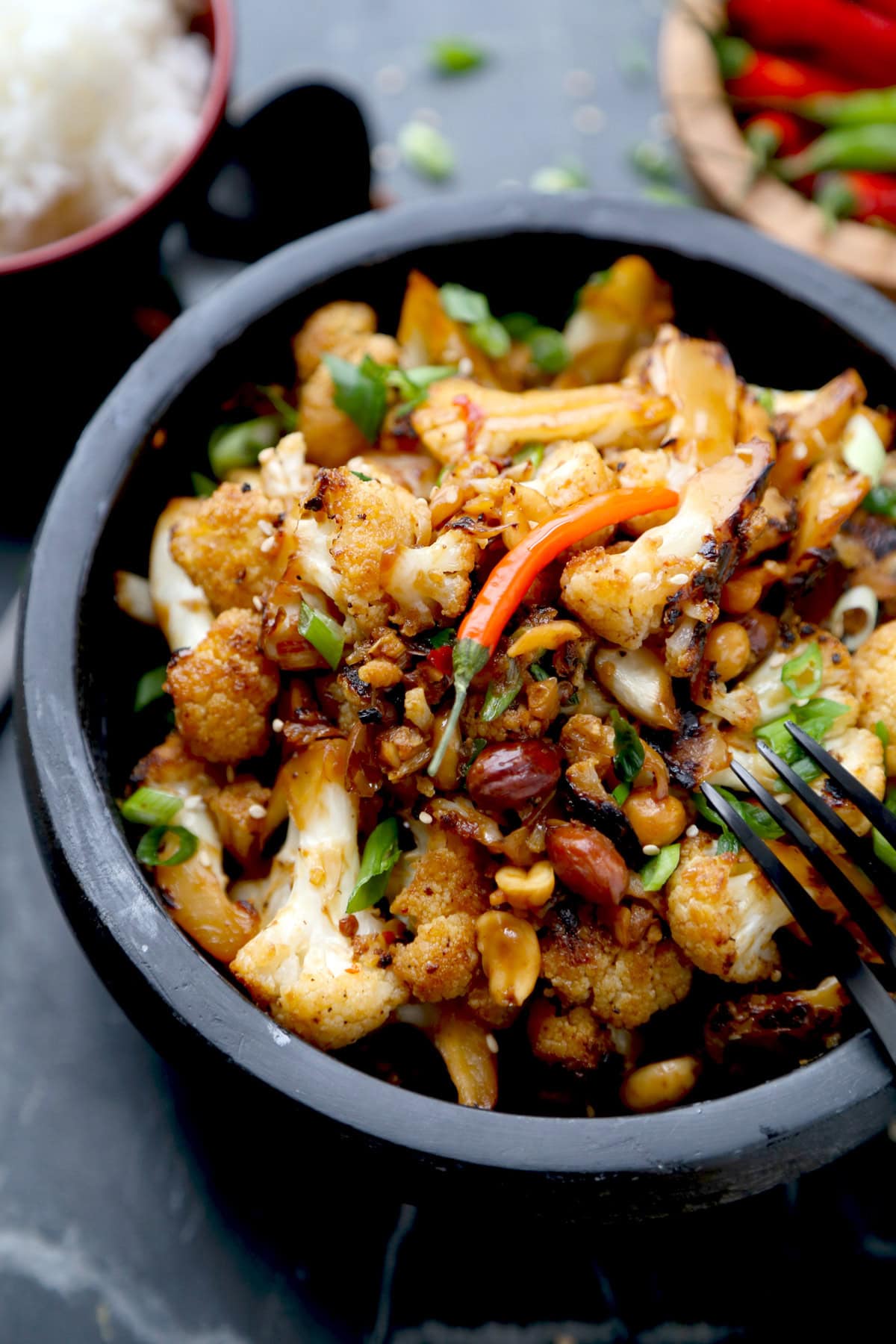 Kung Pao Cauliflower
Look at this colorful bowl of kung pao cauliflower! Just as the name would have you believe, this is a meat free nod to a classic kung pao chicken recipe. And in the spirit of delicious Chinese takeout, it's got all the flavors – it's spicy, smokey, nutty, and savory. It's simply delicious.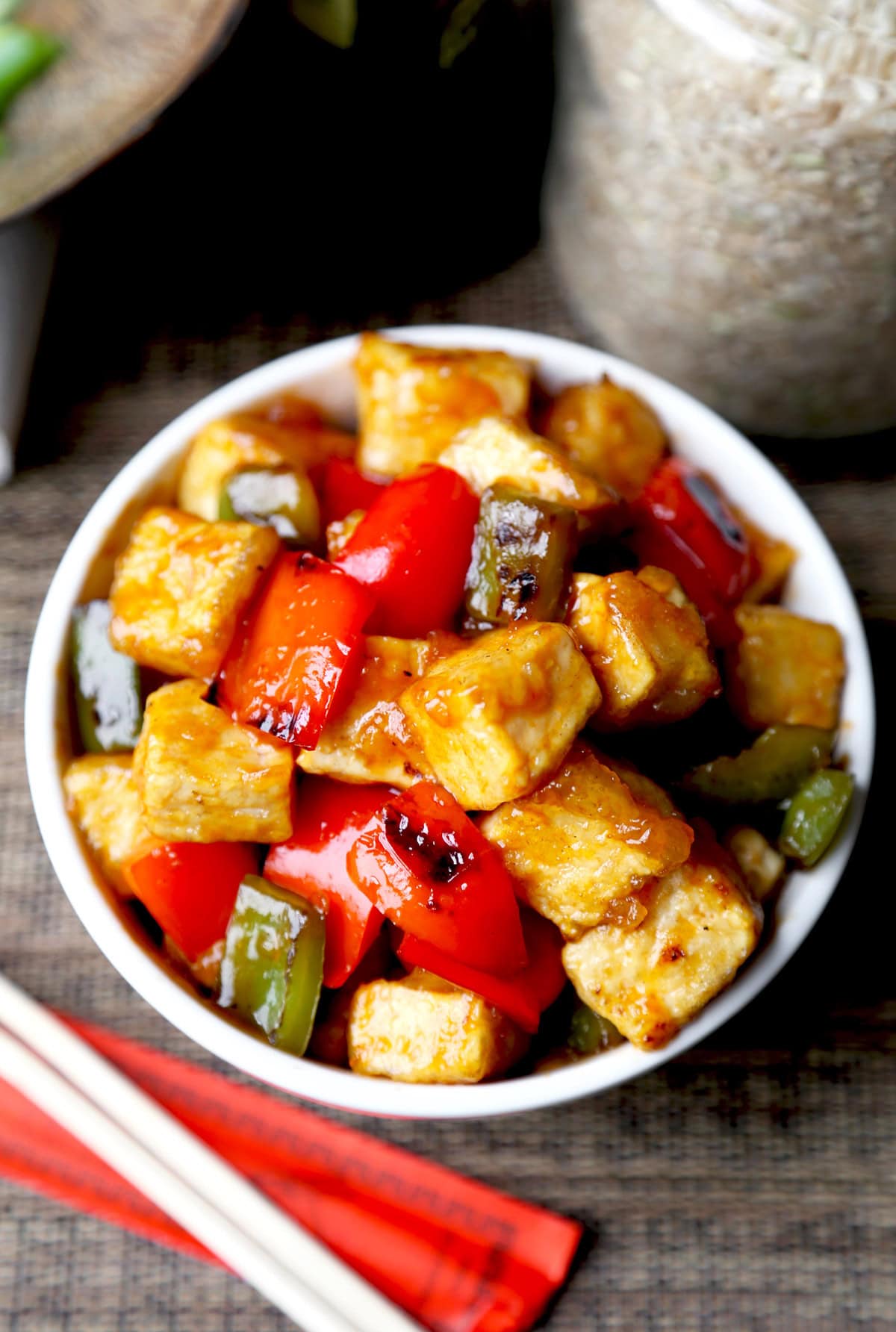 Sweet and Sour Tofu
It's pretty common for people to equate veganism or vegetarianism with tofu. And, unfortunately, tofu has a reputation for tasting very bland, which couldn't be further from the truth! Tofu is a wonderful protein that takes on flavor very well. And it can also be dusted with cornstarch and pan fried to crispy perfection, just like this sweet and sour tofu recipe.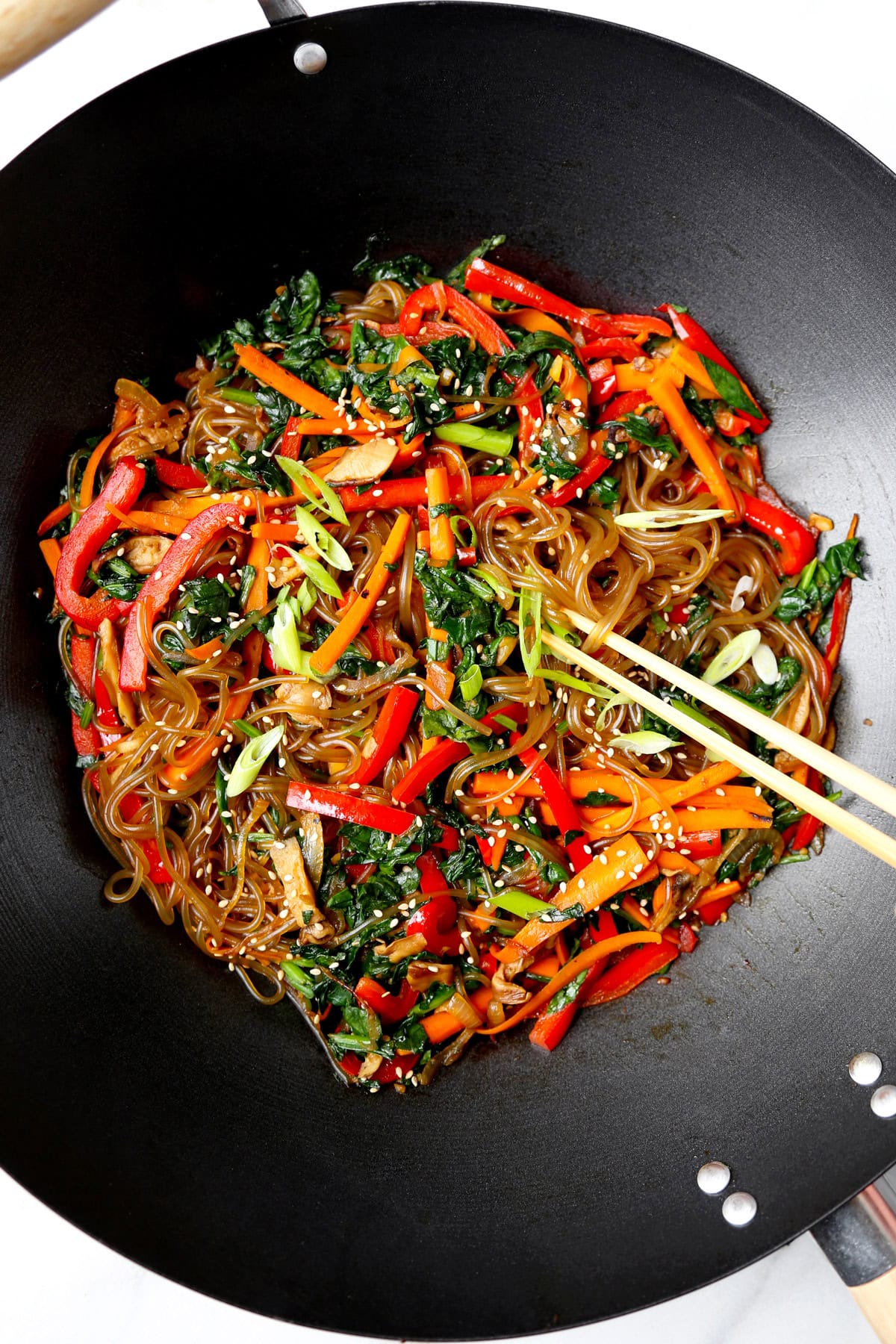 Japchae (Korean Glass Noodles)
I'm a huge fan of chewy glass noodles, especially the Korean type made from sweet potato starch. Japchae is a popular Korean noodle stir fry packed with vegetables and tossed in a simple nutty soy sauce, sprinkled with sesame seeds. It's one of those meals I could eat all day long because of its simplicity and delicate taste.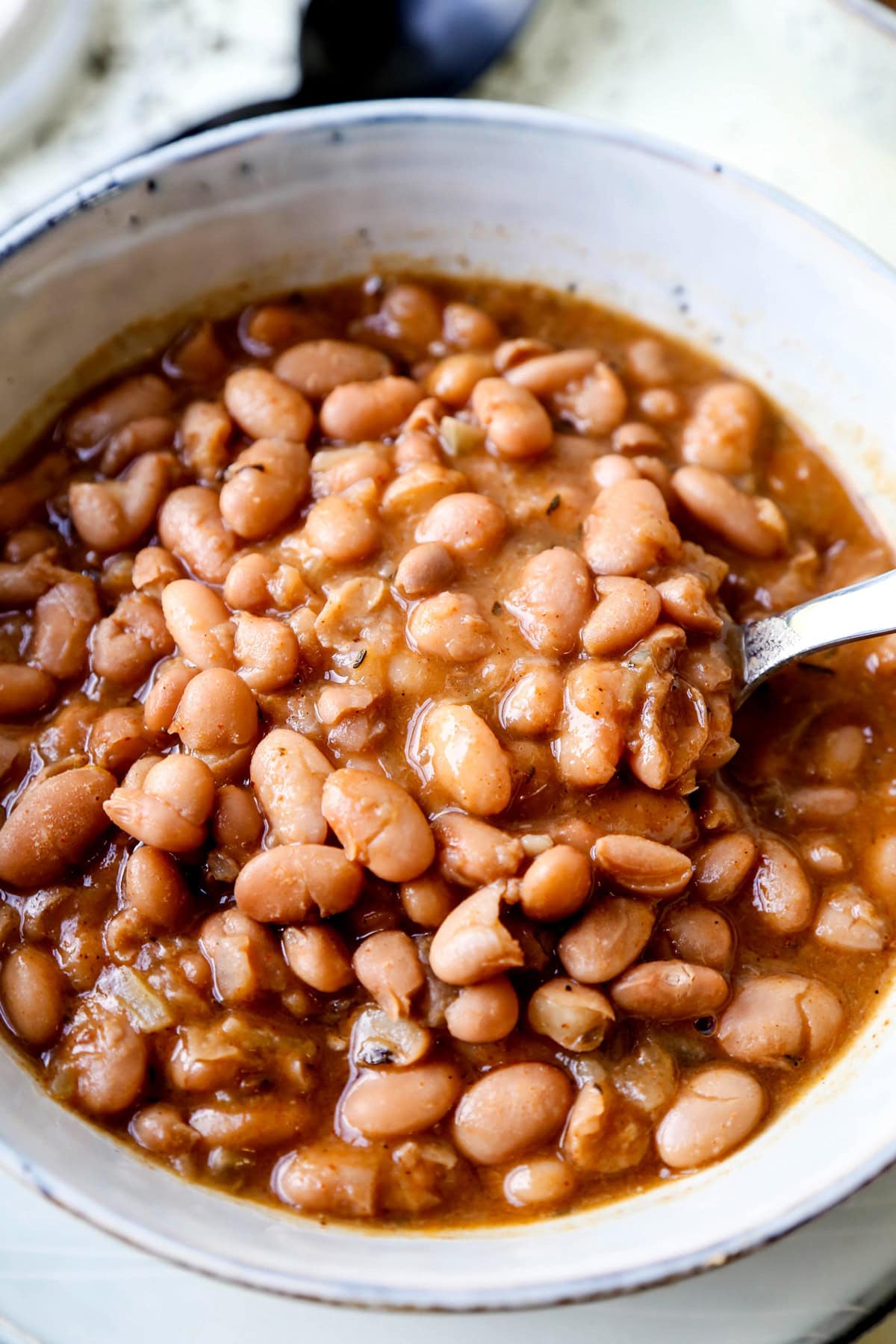 Slow Cooker Pinto Beans
This is a simple and delicious plant based slow cooker pinto beans recipe that's hearty and comforting. The flavors are quite subtle so I suggest doing a taste test once the beans are cooked and seasoning it to your own liking. If you love the natural taste of pinto beans, you will love this recipe.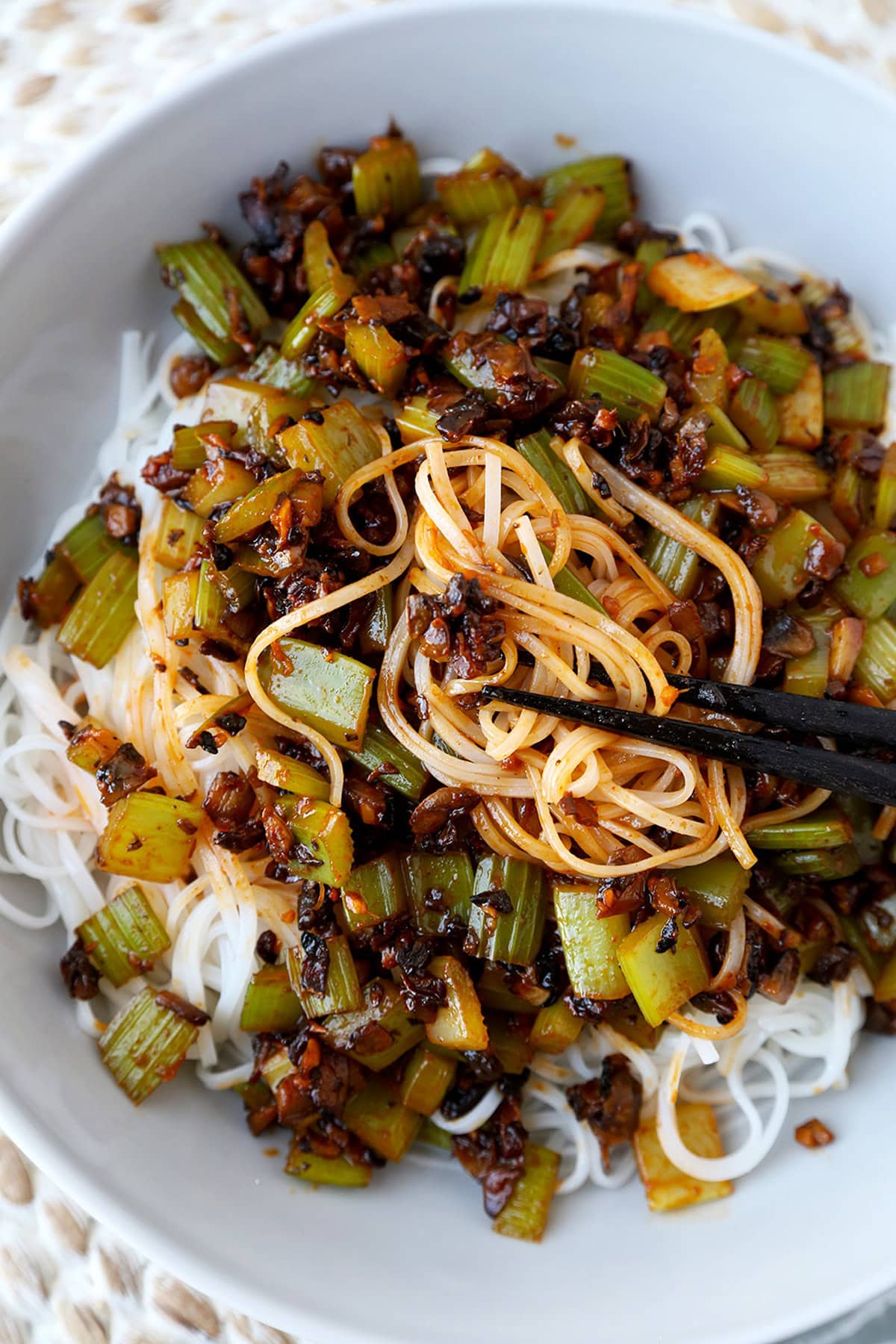 Spicy Vegan Sichuan Noodles
Smoky, spicy and with a punch of umami, these spicy vegan Sichuan noodles will keep you coming back for more. Plus, the entire recipe only requires 8 ingredients and is ready in 10 minutes!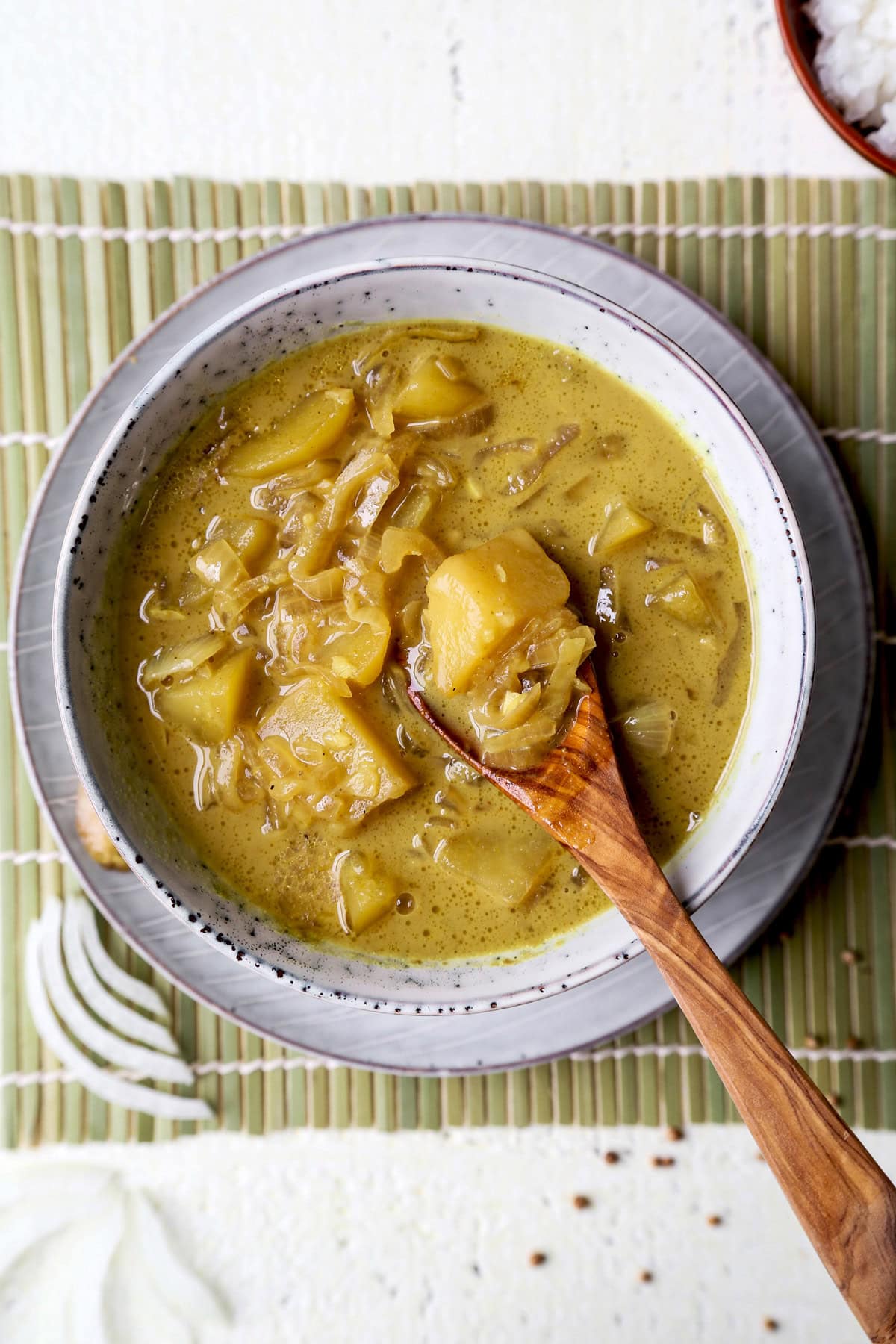 Sometimes II get an itch for Southeast Asian food that only a good Thai curry can scratch! This vegan potato curry is packed with warming spices and has the subtle sweetness of coconut milk coursing through it. Each spoonful is like a trip to Bangkok (no air miles needed)!
Thai Potato Curry
Southwestern Style Baked Tofu Steaks
Goodness abounds in this hearty bean curd recipe. I use cumin, paprika and chili powder (among others) in my Southwestern spice blend. And since these tofu steaks are baked instead of fried, they not only taste great – but are on the lighter side. Layer quinoa, corn, black beans and jalapenos underneath and make it into a delicious baked tofu bowl!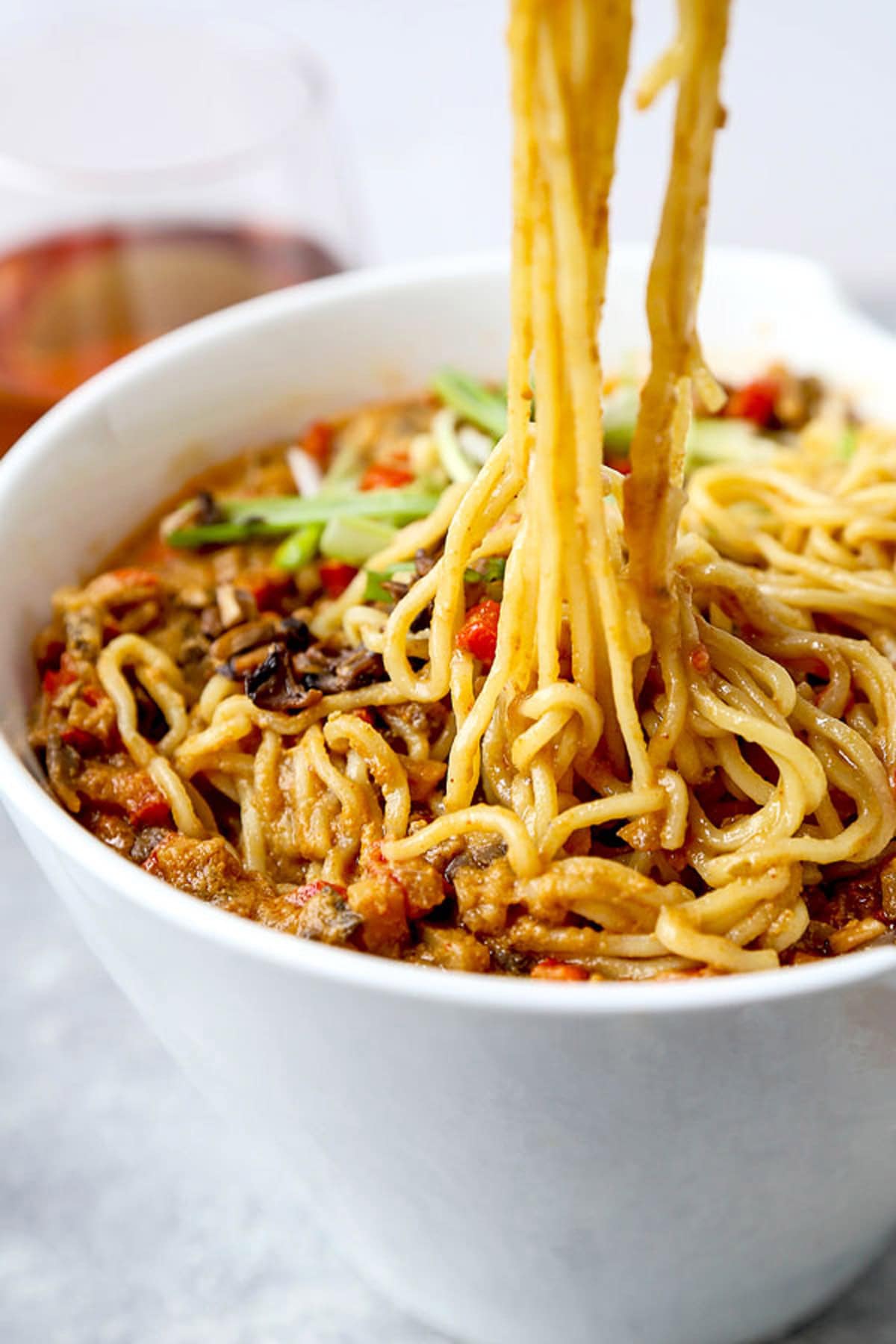 Vegan Tantanmen
While a traditional Japanese tantanmen calls for things like chicken broth and ground pork, making the transition to a vegan version is much easier than one would think. Mushrooms and red bell peppers are sauteed with gochujang to mimic the ground pork, while the broth is made of soy sauce, sesame oil, and other plant based ingredients.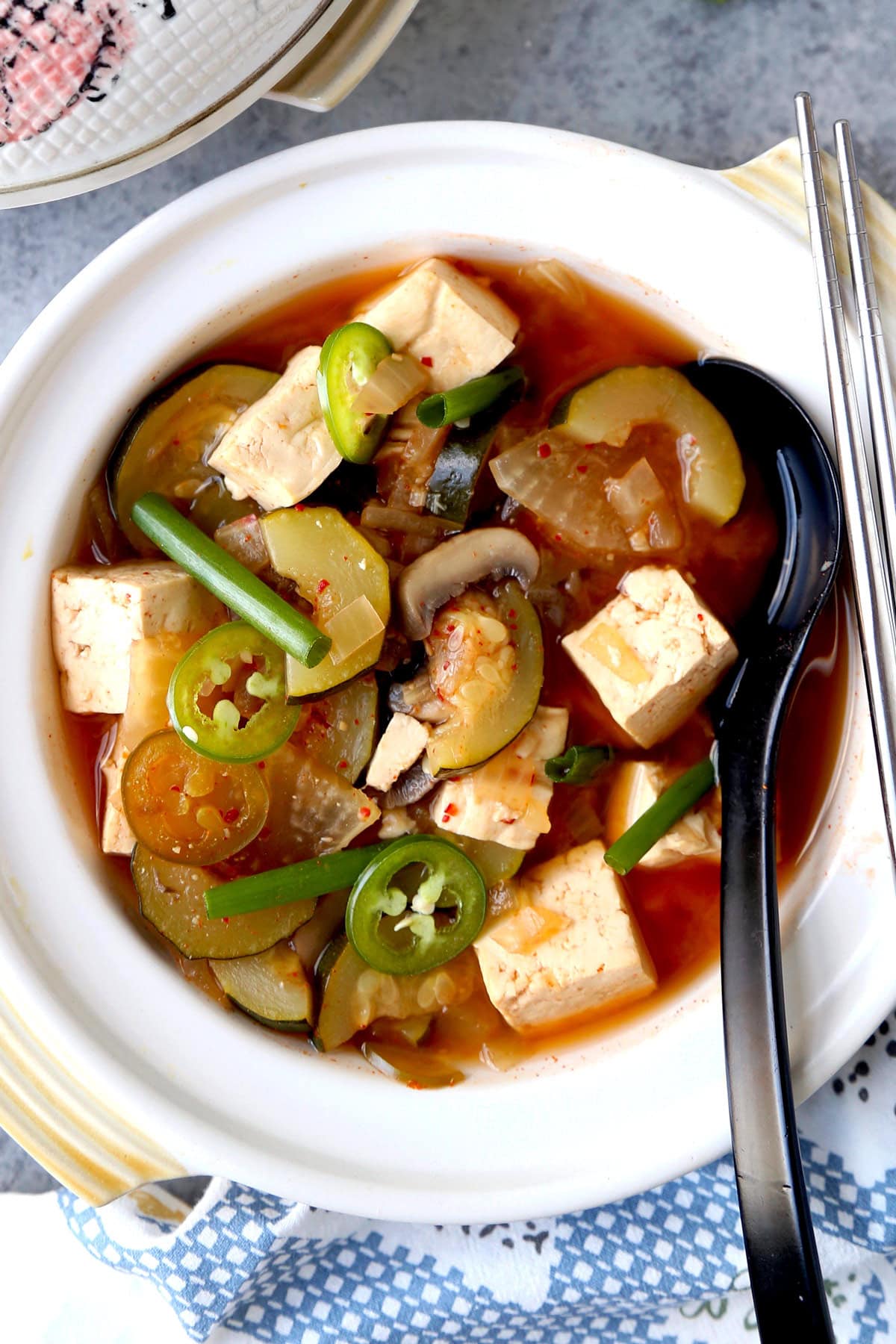 Doenjang Jjigae (Korean Soybean Paste Stew)
It's not too often that you get to dig into a rich stew a mere 25 minutes after you start cooking. Well, a sweet and savory soybean paste called doenjang (된장) does most of the heavy lifting in the flavor department. All you have to do to complete this Korean stew is chop a few vegetables and add tofu. It's both easy and delicious!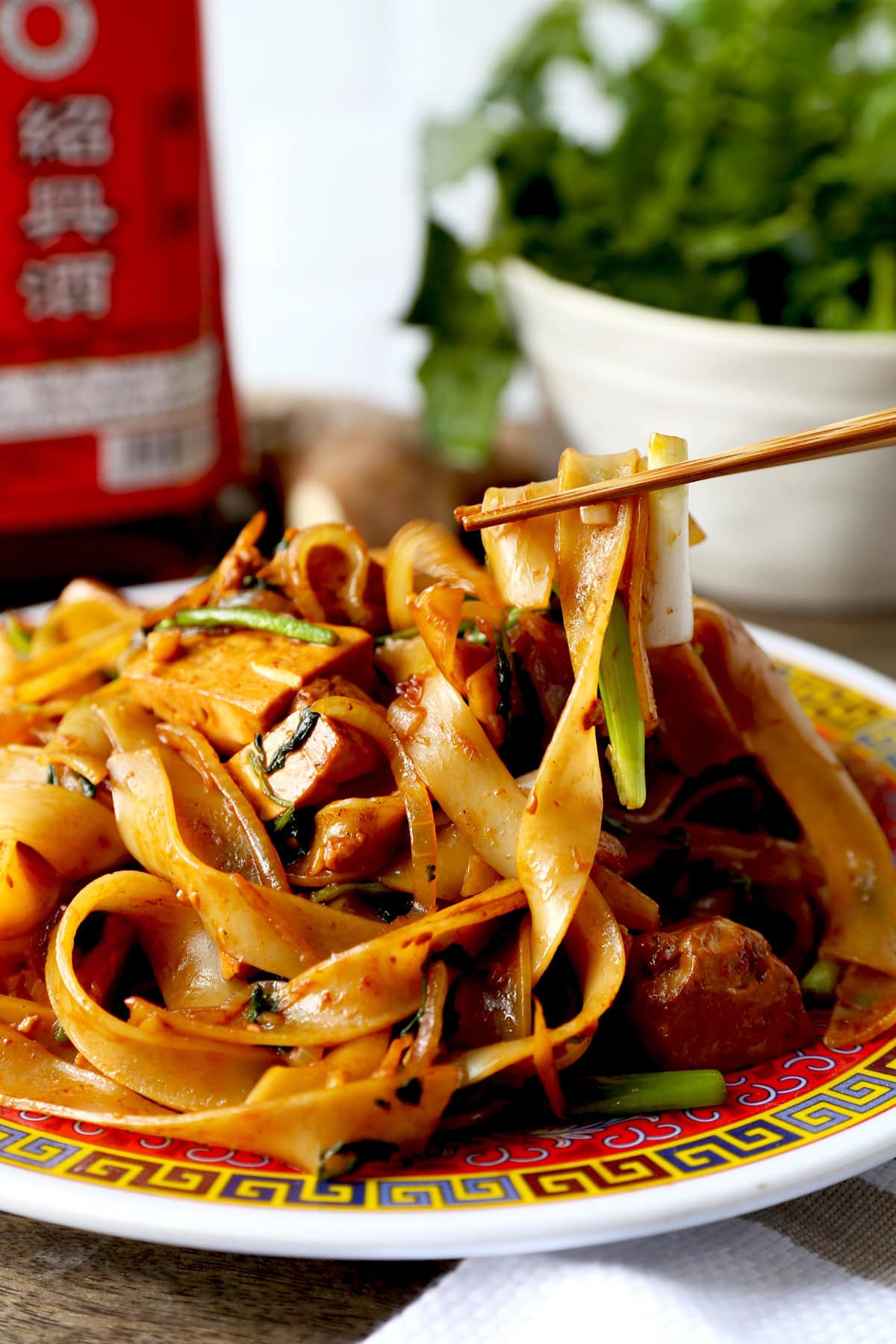 Tofu Chow Fun with Watercress
What's not to love about Cantonese pan fried noodles tossed in a savory and nutty soy sauce, and served with tofu cubes and slightly bitter watercress. For this recipe, the tofu takes a backseat and let the noodles shine – which is always a good thing if you like noodles as much as I do!
More Vegetarian Recipes You Might Like
Print
Spicy Vegan Sichuan Noodles
Classic Szechuan flavors needs no meat to be delicious, this dish proves it!
Author: Caroline Phelps
Prep Time:

10 minutes

Cook Time:

10 minutes

Total Time:

20 minutes

Yield:

2

1

x
Category:

Noodles

Method:

Stir frying

Cuisine:

Chinese

Diet:

Vegan
2

cups

celery (diced)

1 tablespoon

vegetable oil

6

ounces

rice noodles

5

ounces

button mushrooms (finely chopped)

2 tablespoons

ginger (peeled and finely chopped)

2 tablespoons

gochujang (Korean hot chili paste)

2 tablespoons

soy sauce

1 tablespoon

chinkiang or balsamic vinegar
Instructions
Bring a medium size pot of salted water to boil. Add celery and blanch for 3 minutes. Drain and set aside.
Bring another pot of water to boil and cook noodles according to directions on the package. Drain and set aside. TIP: tossing a few drops of sesame oil will prevent the noodles from sticking together.
In a large pan over medium high heat, add mushrooms and ginger and cook until mushrooms are golden brown (about 5-6 minutes). Add gochujang and stir well until mushrooms are evenly coated. Add celery and toss until coated.
Add soy sauce and chinkiang vinegar, stir and turn the heat off.
Divide noodles evenly among bowls and serve topped with spicy mushrooms and celery.
Notes
These Spicy Szechuan Rice Noodles will keep refrigerated for up to 2 days.
Nutrition
Serving Size:

1 bowl

Calories:

424

Sugar:

10.9g

Sodium:

1088.1mg

Fat:

4.4g

Saturated Fat:

1.4g

Unsaturated Fat:

1.1g

Trans Fat:

0g

Carbohydrates:

86.4g

Fiber:

3.7g

Protein:

9.2g

Cholesterol:

3.5mg
Recipe Card powered by