My favorite cauliflower recipe of all time! With only 3 ingredients needed and 5 minutes of prepping, little effort is required to make this whole roasted cauliflower dish – and it always gets the seal of approval!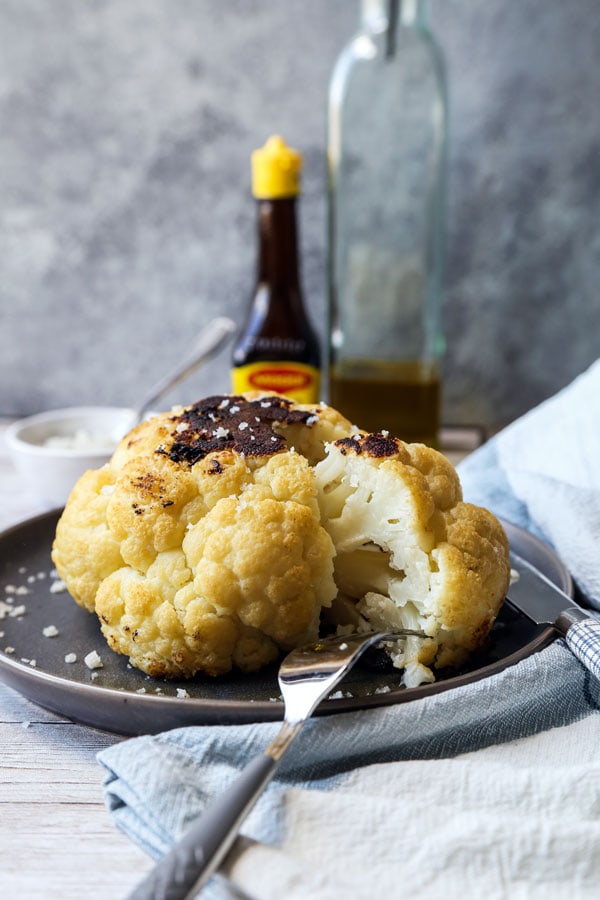 "What's for dinner tonight?" is one of those questions that pops into my head every day around 4pm.
On the weekends I like to spend a couple of hours in the kitchen to cook a yummy, elaborate meal. I find cooking therapeutic when my schedule is clear.
Weekdays are a different story though.
I finish working around 6:30-7:00 so when dinner time rolls around, I want to spend as little time as possible in the kitchen. An easy way to do that is by drizzling veggies with a little olive and roasting them in the oven. Quick, easy and delicious!
Especially when it's a whole roasted cauliflower head!
This is one dish I never get tired of eating. I make it almost every week, sometimes twice in a week!
Tender, charred pieces of cauliflower roasted in olive oil and seasoned with a little salt and Maggi seasoning. It really doesn't get any easier than that and it's incredibly delicious!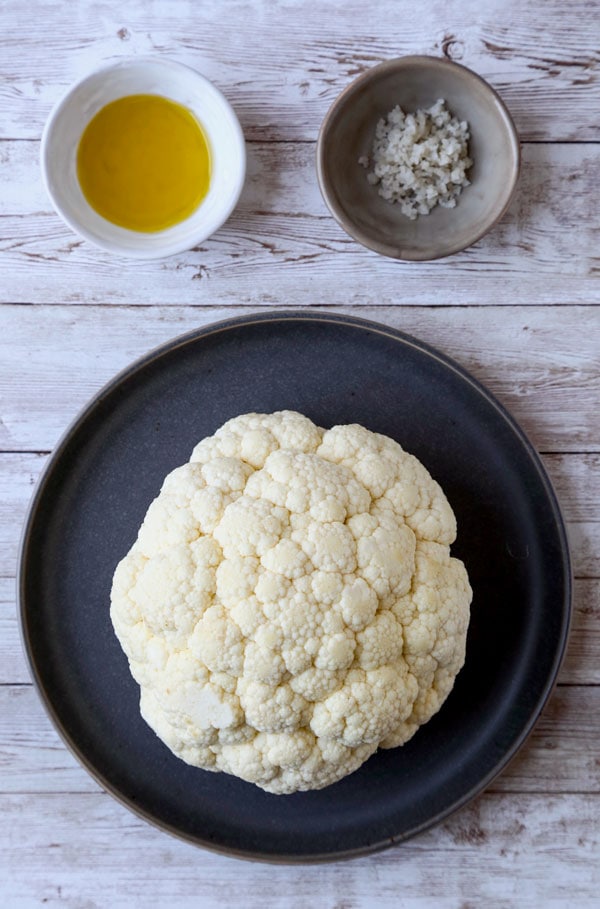 How To Roast Cauliflower
The key to having tender and moist cauliflower is to cover it with a lid or foil during the roasting process. This holds the moisture in and prevents the cauliflower from drying. I once made the mistake of roasting it uncovered and the result was a rubbery cauliflower head that was still weirdly crunchy. Never again!
For this recipe you will need:
1 cauliflower head
Good quality extra virgin olive oil
Fine grain rock salt or regular salt
Maggi seasoning (optional)
Steps To Roasting Cauliflower
Preheat the oven to 425ºF.
Cut off part of the stem so it's even with the rest of the head.
Place the cauliflower in a Dutch oven, oven safe pot or baking dish and drizzle olive oil over it.
Massage the oil across the surface of the cauliflower and sprinkle salt over it.
Cover with a lid or foil and roast for 30 minutes.
Flip the cauliflower over and roast for an additional 15 minutes, uncovered.
That's it! This is one yummy vegan cauliflower bake recipe that can be served as a main or a side.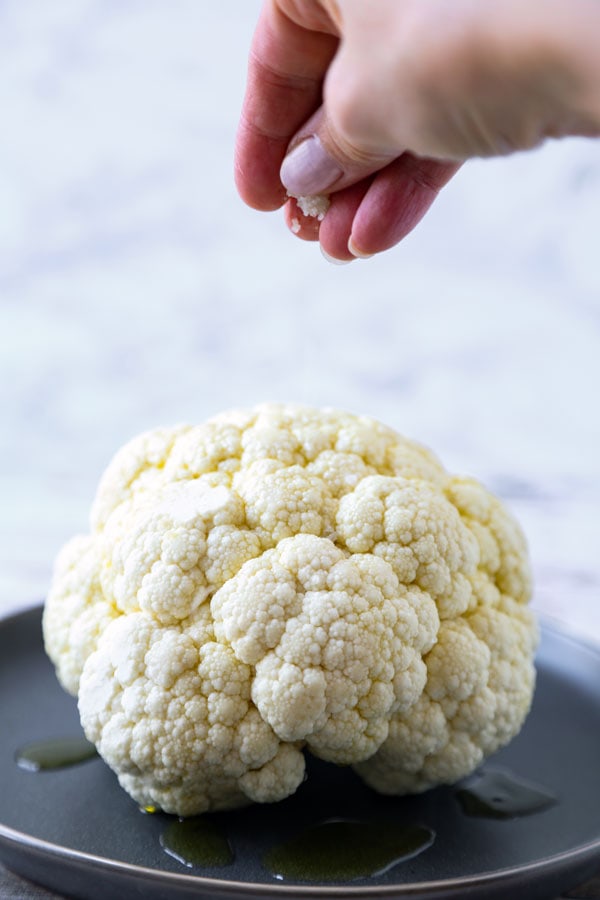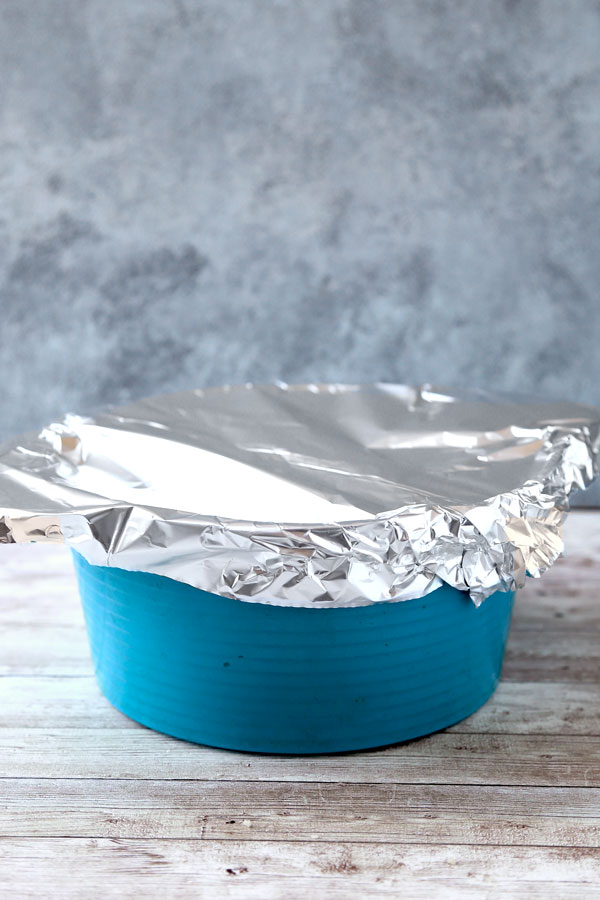 Carbs in Cauliflower
Cauliflower is a great low carb substitution for rice, potato and noodle based dishes because it's low in starch. It's also gluten-free which makes it a good choice for those suffering from gluten allergies or celiac disease. One cup of raw or cooked cauliflower roughly contains 5 grams of carbohydrates, compared to 45 grams for a cup of rice.
For a whole cauliflower head:
A small cauliflower head (3-4 inches) contains about 9 grams of carbohydrates.
A medium cauliflower head (5-6 inches) contains about 16 grams of carbohydrates.
A large cauliflower head (7-8 inches) contains about 21 grams of carbohydrates.
How Many Calories in Roasted Cauliflower?
A small cauliflower head (3-4 inches) is about 66 calories.
A medium cauliflower head (5-6 inches) is about 146 calories.
A large cauliflower head (7-8 inches) is about 220 calories.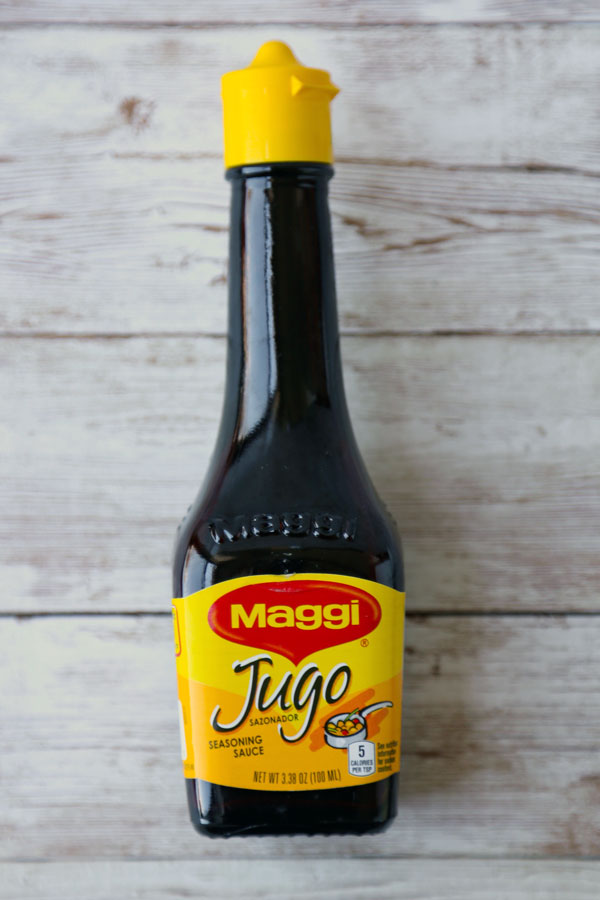 What is Maggi Seasoning?
Maggi seasoning is a concentrated dark brown sauce that's used as a flavor enhancer. Think of it as next-level soy sauce for umami lovers.
It's a condiment that was created in Switzerland in 1863 by a man named Julius Maggi. Maggi was asked by the Swiss government to come up with ways to make cooking easier for women who were busy working outside the home. He came up with soup mixes which led to the invention of the bouillon cube and consequently, Maggi seasoning.
Maggi liquid seasoning is now used all over the world and comes in 9 different formulas, each one tasting slightly different from the other. I'm using the Mexican Maggi which is thicker and more soy sauce like than the Polish and Chinese formulas.
Some people call Maggi "soy sauce on crack" because it's that good guys. Seriously, go get yourself a bottle!
It's frequently used in Chinese cooking to crank up the umami level and in other cuisines (Polish, German, African) to enhance soups and stews.
I use it to flavor roasted veggies. I put it on carrots, broccoli, bell pepper, onions, asparagus and cauliflower.
Where to Buy Maggi Seasoning
You may be able to find Maggi sauce at your local grocery store since it's widely available. If not, try an ethnic or Asian supermarket, or get it on Amazon. Looking for different formulas is a fun adventure – I get the Mexican one here in Brooklyn but have to go to Chinatown in Manhattan to get the Chinese version.
What to Serve with Roasted Cauliflower
As I previously mentioned, you can serve roasted cauliflower steaks as a main or a side. If you are serving it as a main, I suggest going full vegan or vegetarian with your dinner. That's what we do and it feels so satisfying!
Vegan sides to pair with roasted cauliflower:
If you would like to serve it as a side, choose a protein that's not too heavy like chicken or fish, or pair it with a sandwich or quiche.
What to Do with Leftover Roasted Cauliflower
An easy way to repurpose leftover roasted cauliflower is to make a soup. Boil carrots, celery and onions in vegetable broth and when they are tender, add your leftover cauliflower. Blend until smooth and you have a tasty, fiber packed soup!
You can also chop it and pan fry it with spices such as cumin, turmeric, and chili powder and eat it over quinoa or make some sort of a vegetarian wrap.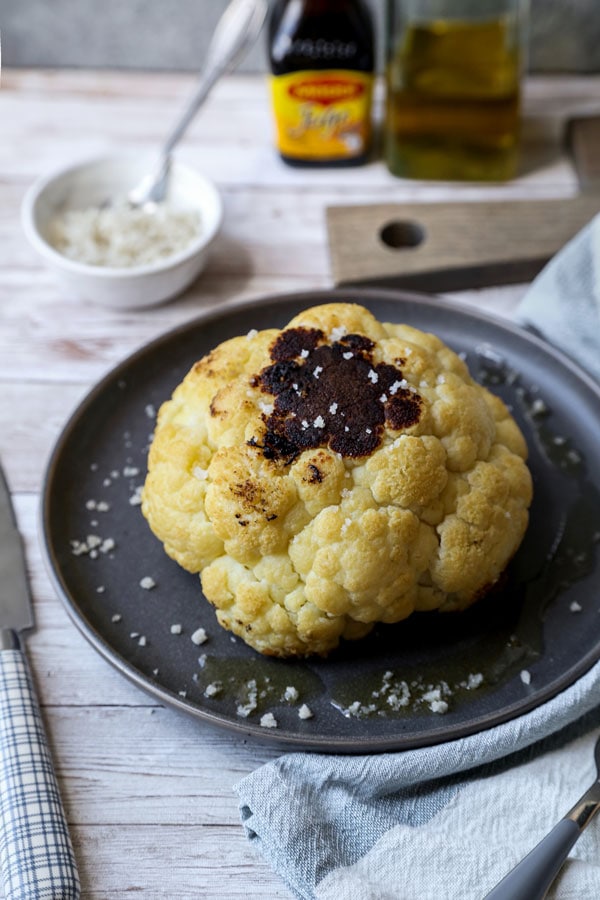 Here are two more ways to season whole roasted cauliflower so you never get bored of cooking with it!
Roasted Cauliflower Parmesan
Once your cauliflower is roasted, take it out of the oven and sprinkle 2-3 tablespoons of freshly grated parmesan cheese. Turn the oven to broil and place the cauliflower right under the flame until the cheese melts.
Top with fresh parsley and serve with lemon wedges.
Spicy Roasted Cauliflower
Brush the cauliflower head with sriracha sauce or chili crisp when there is 5 minutes left to final roasting process. Brush one more time once it's on a plate and sprinkle 1 teaspoon Korean chili flakes (gochugaru) on top.
YUM!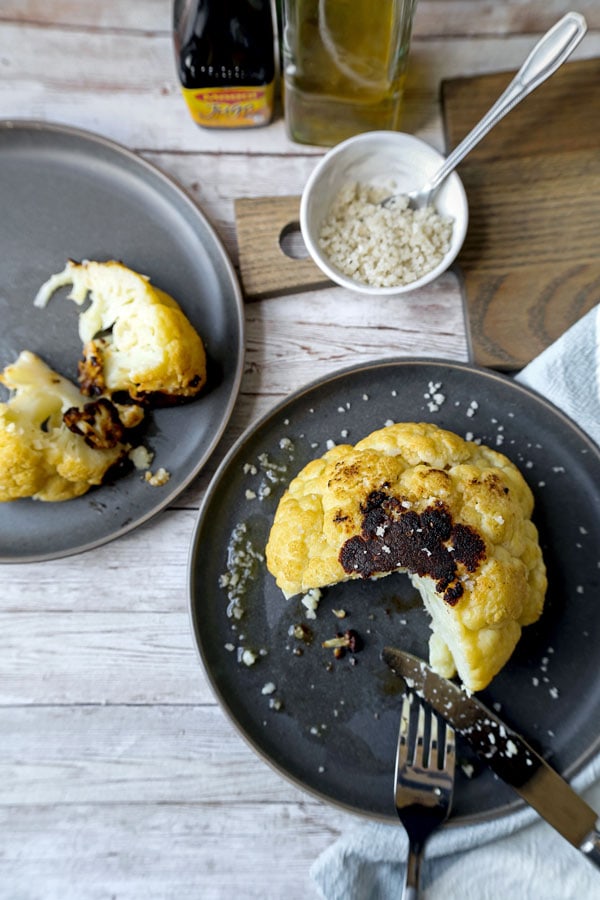 Did you like this Whole Roasted Cauliflower Head Recipe? Are there changes you made that you would like to share? Share your tips and recommendations in the comments section below!
Print
Whole Roasted Cauliflower Head
My favorite cauliflower recipe of all time! With only 3 ingredients needed and 5 minutes of prepping, little effort is required to make this dish – and it always gets the seal of approval!
Author: Caroline Phelps
Prep Time:

5 minutes

Cook Time:

45 minutes

Total Time:

50 minutes

Yield:

2

-4

1

x
Category:

Vegan

Method:

Roasting

Cuisine:

American
1

cauliflower head, leaves removed and stem cut off flush with the head.

1

–

2

tablespoon extra virgin olive oil

Fine grain rock salt or regular salt

Maggie seasoning sauce (optional)
Instructions
Preheat oven to 425ºF.

Place cauliflower in an oven safe pot, baking dish or Dutch oven.

Pour olive oil on the cauliflower and massage it to spread the olive oil across, evenly.

Sprinkle about 1/2 tablespoon salt and massage it across the cauliflower surface.

Cover with a lid or foil and roast for 30 minutes.

Remove the foil, flip the cauliflower over with a spatula and roast for an additional 15 minutes.

Serve with Maggi seasoning.
Notes
Roasted flower head is best eating fresh. You can refrigerate it for up to 2 days but the texture will get mushy. Don't microwave the leftovers, they are better heated in the oven for 15 minutes at 375ºF.
Nutrition
Serving Size:
Calories:

134

Sugar:

5.6 g

Sodium:

88.2 mg

Fat:

7.8 g

Saturated Fat:

1.4 g

Carbohydrates:

14.6 g

Fiber:

5.9 g

Protein:

5.6 g

Cholesterol:

0 mg
Keywords: recipe, vegan, vegetarian, gluten-free, side, appetizer
Recipe Card powered by