This Blackened Salmon Recipe has perfectly crispy skin – and is spicy, smoky, savory, sour and herby all at once. It's ready in 15 minutes from start to finish!
Sumac-Spiced Blackened Salmon
Hey everyone! It's Ben – Caroline's husband. I'm the guy that gets to eat all of the insanely delicious stuff Caroline whips up in the Pickled Plum test kitchen. Yep – I eat it ALL.
And, while I absolutely love Caroline's salmon recipes (especially this salmon en papillote), salmon is usually the first thing I find myself ignoring on restaurant menus when eating out. If you've ever slogged through a dry and overcooked salmon fillet for $26 that sounded great in the menu description but landed on the table like an arid apology, then you feel my pain!
I love salmon, but just hate that it seems to be an afterthought on so many restaurant menus.
So, when Caroline mentioned that she would be making a blackened salmon for dinner, my pulse sped up. I get kind of excited when I know I'm about to indulge in a perfectly cooked piece of fish, dusted with a mega-flavorful salmon rub.
Let's go!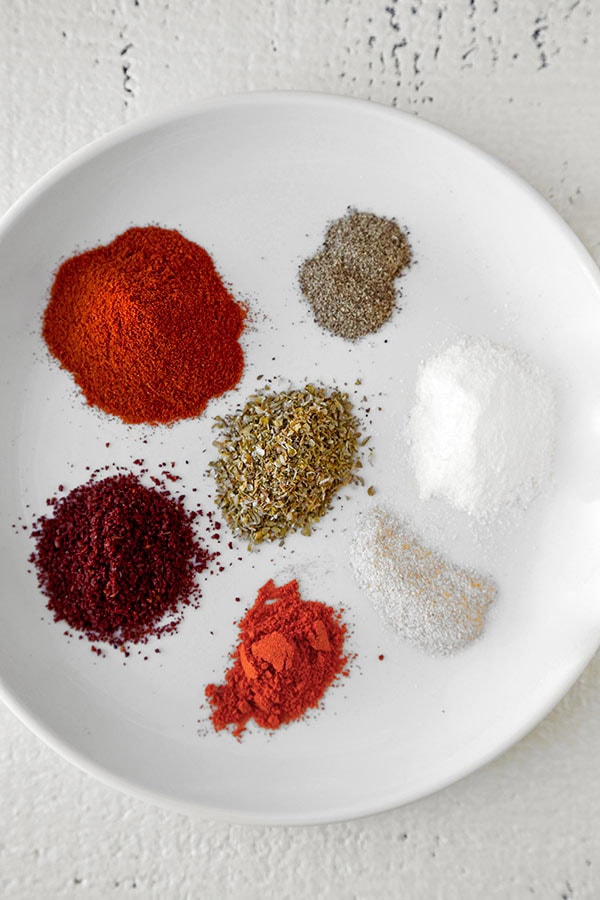 What makes it blackened?
Contrary to what I previously thought as a confused 8-year-old, 'blackened' doesn't mean you cook the fish until it turns to charcoal. The flavor profile of this blackened salmon recipe relies on a salmon seasoning spice mixture that you apply as a dry rub before cooking.
With Cajun roots, blackening seasoning isn't spicy in a melt-your-face-off kind of way. It's more of a slow, smoky burn, almost as if to say, "I'm just here to kick things up a few notches, friend."
Traditionally, you'd use a cast iron skillet to cook your salmon for the true 'blackened' experience – but in my (very untrained) opinion, any pan works. For me, it's way more about the bold and assertive taste of the spicy salmon rub than the make of the pan.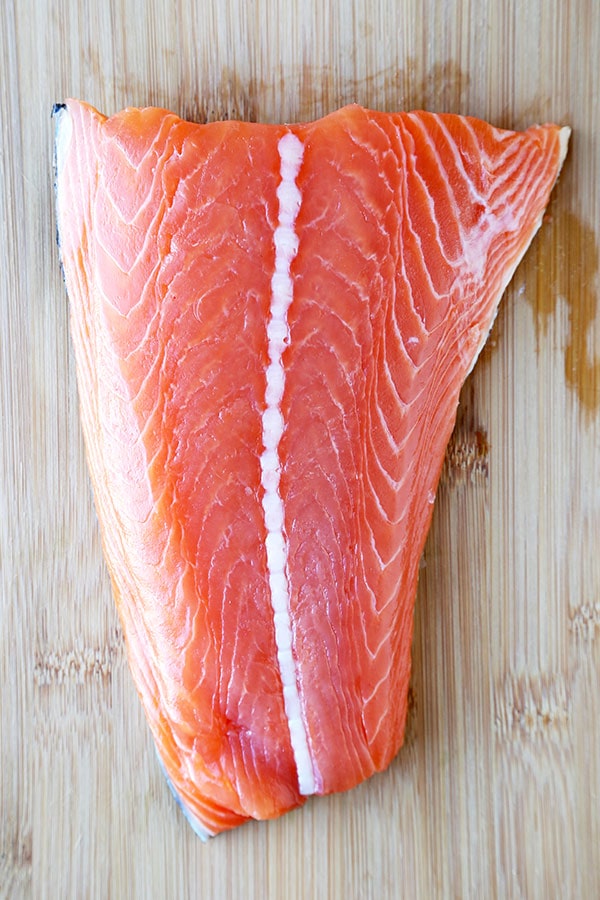 What's in the Spice Mix?
Black pepper and cayenne are the rhythm section of this spice rub. Cayenne pepper does the heavy lifting when it comes to the spicy notes this blackened salmon seasoning delivers. The black pepper is surprisingly present as well, the bass line to cayenne pepper's drum beat.
Sumac is one of the most interesting spices in this blackened salmon rub. This deep red Middle Eastern spice has a sour, almost lemony flavor – and just happens to be the secret weapon in this awesome oven baked za'atar fries recipe.
Paprika lends it's smoky notes to the mix.
And don't forget the salt! For me, salt elevates the other spices and helps each one stand on its own.
This salmon rub goes on your fish before cooking. And, bonus: you can make a bunch and store it so you've always got blackened spice mix ready to roll!
What's the best way to cook salmon?
This is the important part! While Caroline was preparing this blackened salmon recipe at our place, I was paying close attention to how she was treating the fish.
When it comes to cooking salmon, the method to getting crispy-skin-perfection is deceptively easy!
Once your pan is hot and the oil is shimmering, place the fillet, SKIN UP in your pan. Cook for a couple of minutes and then flip so the skin side is the last side you cook.
For this blackened salmon recipe (or almost any salmon filet recipe for that matter), cooking the skin last will make sure the skin is perfectly crispy when people dig in at the dinner table.
Also, when you plate your salmon filet, again plate it SKIN UP. That way, the salmon skin will stay crispy for longer. If it sits on your plate skin down, it has the tendency to get soft again.
It's pretty crazy how something so seemingly minor, like the order in which the salmon fillet sides get cooked, can have such outsized results when it comes to enjoying a meal!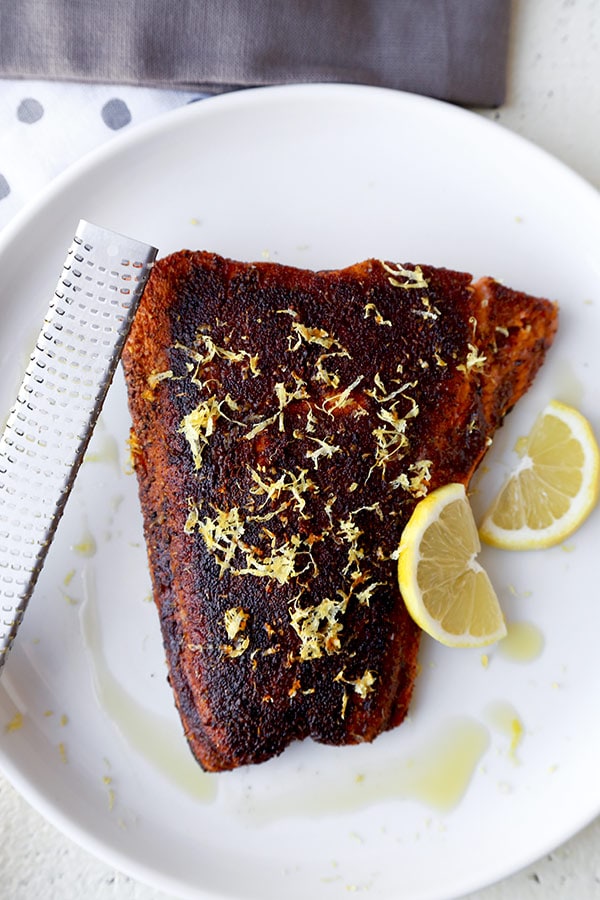 Is Blackened Salmon spicy?
The spice rub used in this blackened salmon recipe isn't spicy in the volcanic way Thai food can be spicy. But, like I mentioned before, it has a smoky burn to it.
One of the best parts is that you can easily adjust the spice level to make it perfect for you!
Spice junky? Me too. Just up the cayenne pepper and black pepper a bit. Heck, you could even add a little numbing Szechuan peppercorn to the mix if that's your thing.
A little shy when it comes to the spice game? It's all good! Just dial back the cayenne pepper in your salmon seasoning and you should be all set.
The spice rub in this blackened salmon is spicy, smoky, salty, sour and a bit herby. There's plenty of flavor left if you augment something. So just increase or decrease where you see fit to cater to your palette!
Versatility to the max
I'm a big fan of being able to use a composed protein in multiple ways. It really opens things up when it comes to figuring dinner out (a trait I'm notorious for lacking!).
We ate this delicious blackened salmon fillet on its own – with a side of farro risotto.
But this fish could have been used in any number of ways:
Can you say blackened salmon po boys? YUM! Or how about a healthy blackened salmon salad? And I am definitely all about trying blackened salmon with mango salsa.
It's inspiring for me to watch Caroline cook. And when a dish is so good that I start thinking about how I might incorporate it in different ways, it's a sure sign that food is the ultimate barrier-breaker.
Because if I can dream it up with my super limited kitchen skills – anyone can!
What about you guys? What's something you've eaten that's so good, you started dreaming up other recipes you could use it in? Tell us about it in the comments!
Other simple, delicious, flavor-forward salmon recipes: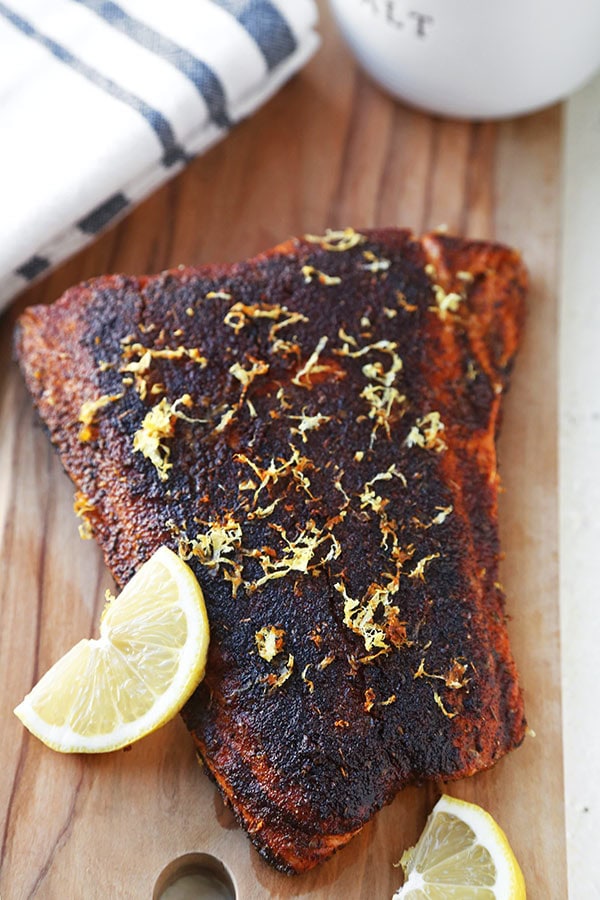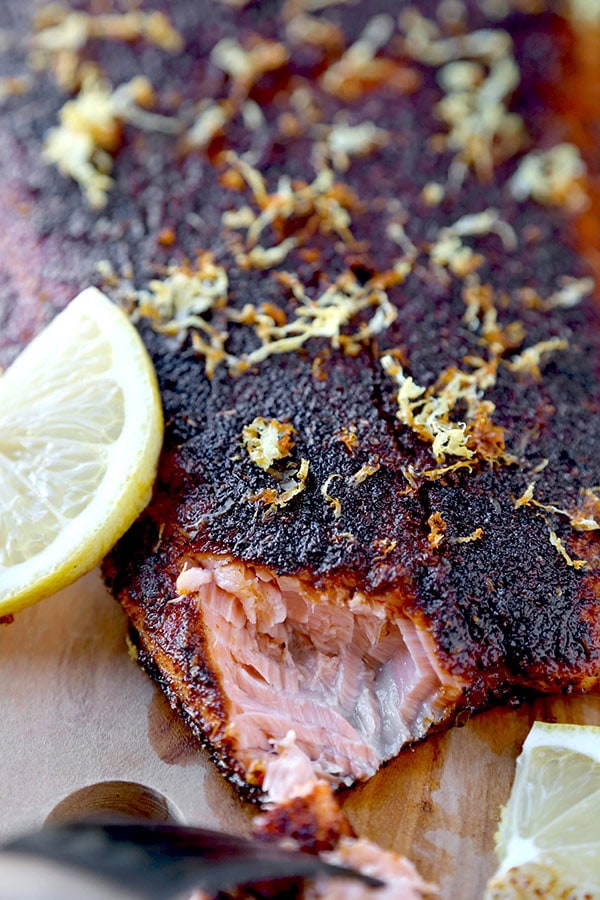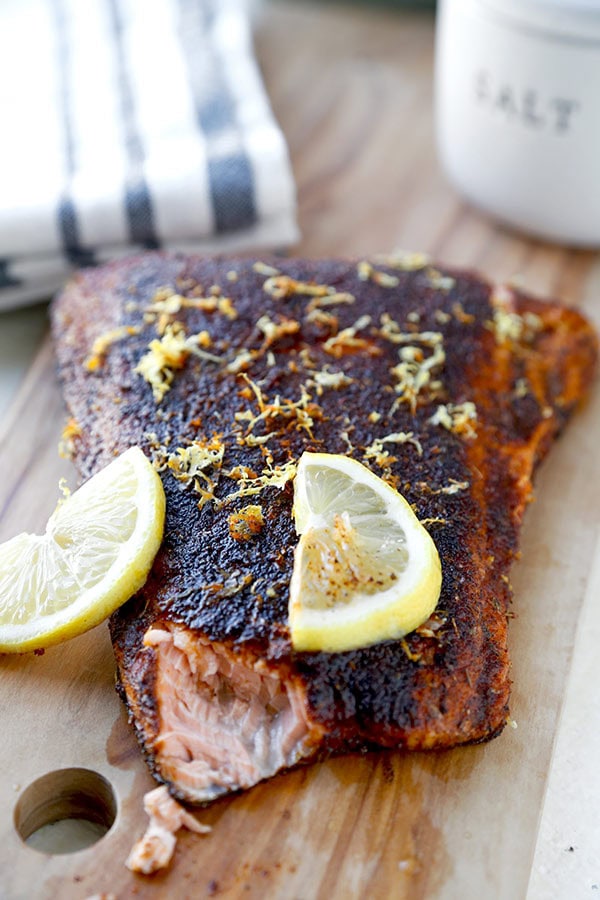 Did you like this Sumac-Spiced Blackened Salmon Recipe? Are there changes you made that you would like to share? Share your tips and recommendations in the comments section below!
Print
Sumac-Spiced Blackened Salmon
A moist and tender salmon fillet spiced to perfection.
Author: Caroline Phelps
Prep Time:

5 minutes

Cook Time:

7 minutes

Total Time:

12 minutes

Yield:

2

people

1

x
Category:

Fish and seafood

Method:

Pan frying

Cuisine:

Middle Eastern
For the seasoning
2 teaspoons

paprika

1 teaspoon

ground sumac

1/2 teaspoon

cayenne pepper

1/2 teaspoon

garlic powder

1/2 tablespoon

dried oregano

1 teaspoon

kosher salt

1/4 teaspoon

ground black pepper
Everything else
1

12 ounce salmon fillet (pin bones removed, skin on)

1

lemon (zested and sliced into wedges)

2 tablespoons

extra virgin olive oil
Instructions
Put all the ingredients for the seasoning in a bowl and stir.
Lay the salmon, skin down, on a plate or cutting board and brush a little olive oil on top.
Dip the skinless part (the part with the olive oil brushed on) into the blackened spice mix. Set aside.
In a large skillet over medium high heat, add olive oil. When the oil begins to smoke, turn the heat off and add salmon, flesh side down (the side with the spices). Turn the heat back on and cook for 2-3 minutes.
Flip the salmon and cook the other side for 3-4 minutes, until the skin is crispy.
Transfer to a plate, skin side up. The reason why the skin is up is to prevent it from getting soggy.
Top with lemon zest and serve with lemon wedges.
Nutrition
Serving Size:
Calories:

361

Sugar:

0.9 g

Sodium:

1298 mg

Fat:

22.5 g

Saturated Fat:

3.5 g

Carbohydrates:

4.5 g

Fiber:

1.5 g

Protein:

38.5 g

Cholesterol:

86.7 mg
Keywords: recipe, healthy, main
Recipe Card powered by