A breakfast that's so addictive I dream about it every night! Not only is this smoky avocado toast with miso recipe simple (5 ingredients) and quick (8 minutes total), it's also packed with flavors that punch way above their weight class!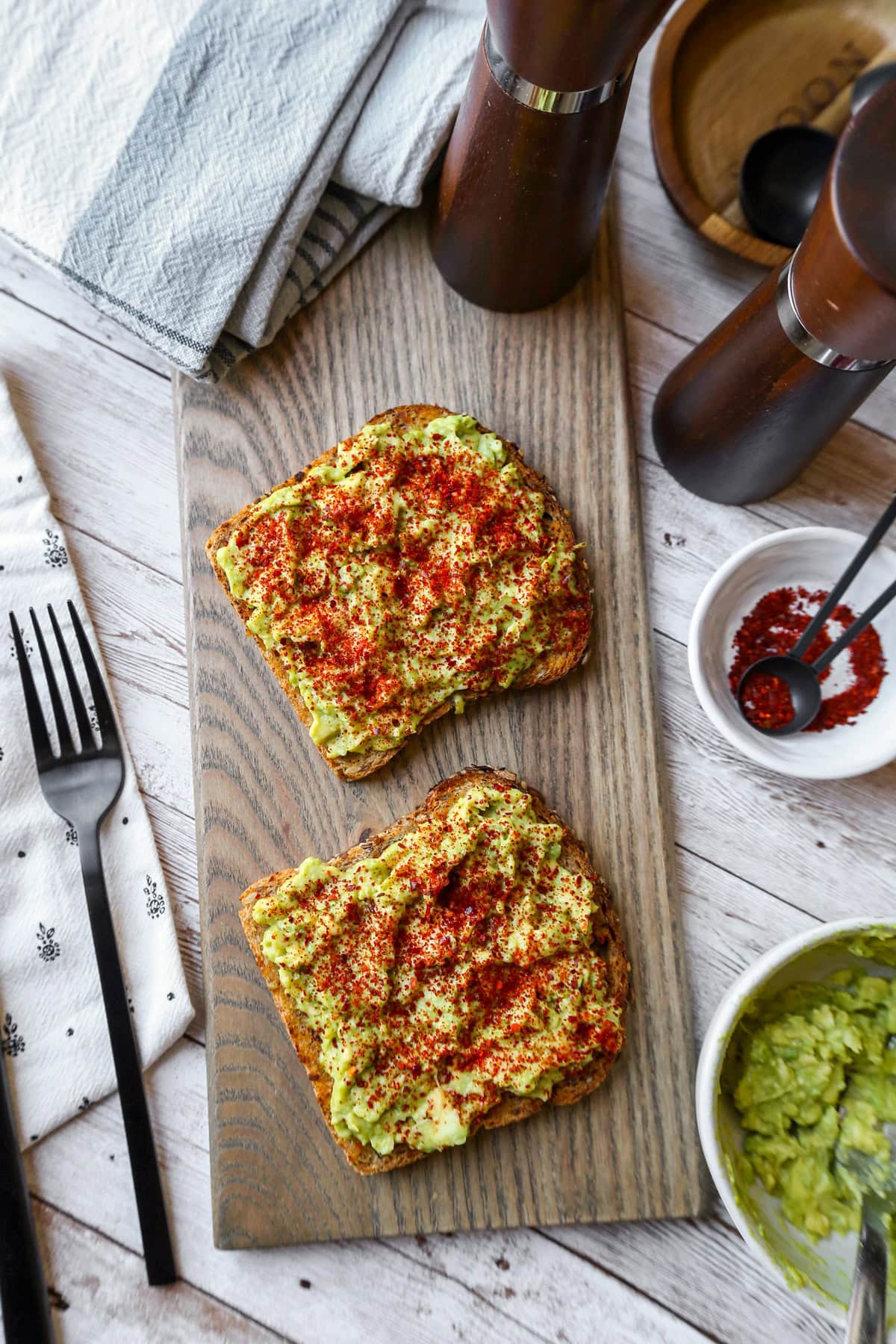 How To Make Avocado Toast
Ripe avocados
This is crucial to the success of this recipe. Look for Hass avocados and make sure you purchase ripe ones if you are planning on making this dish the day of. Otherwise you can leave them on your counter and wait a couple of days until they ripen.
How to tell if an avocado is ripe
Grab an avocado and give it a gentle squeeze. If it yields a bit, but still has a firm-ish texture, you have a good one. You can also check by removing the stem of the avocado. If it's easy to remove and the color inside is green, you are good to go.
I do both to make sure I get the best one available.
Red miso paste is best but you can use white miso if you prefer a sweeter taste
I tried both red and white miso paste and I can tell you that there is a significant difference in taste. If you would like to know more about miso – its origin, different types and health benefits – click here to read my post about it.
For this dish, red miso paste is king.
Red miso gives the dish a kick of umami, saltiness and earthiness that marries beautifully with the other flavors.
White miso paste on the other hand didn't marry as well with the smashed avocado and gochugaru and tasted quite mild by comparison.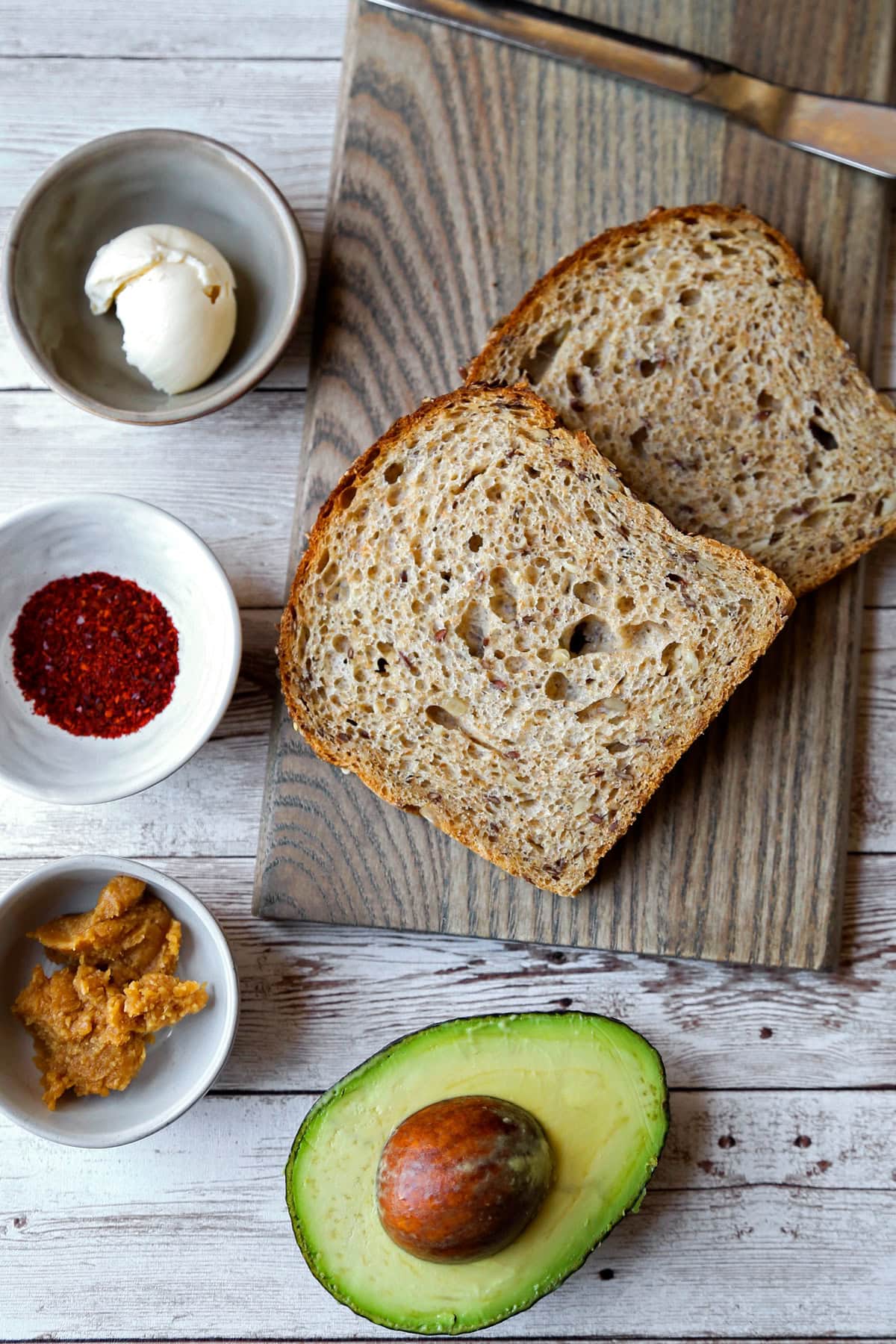 Gochugaru
Also known as Korean chili flakes, gochugaru is a staple ingredient in Korean cooking. It's often used in sauces and to make kimchi. The flakes are smoky and spicy, but not so spicy that you can't taste anything else. Perfect middle ground. You can find gochugaru in Asian supermarkets and you can also order it on Amazon.
Multigrain Bread
Let's use multigrain bread 🙂 Seriously. I love the texture of multigrain bread for this recipe because it holds up well against wet ingredients like miso paste and smashed avocado.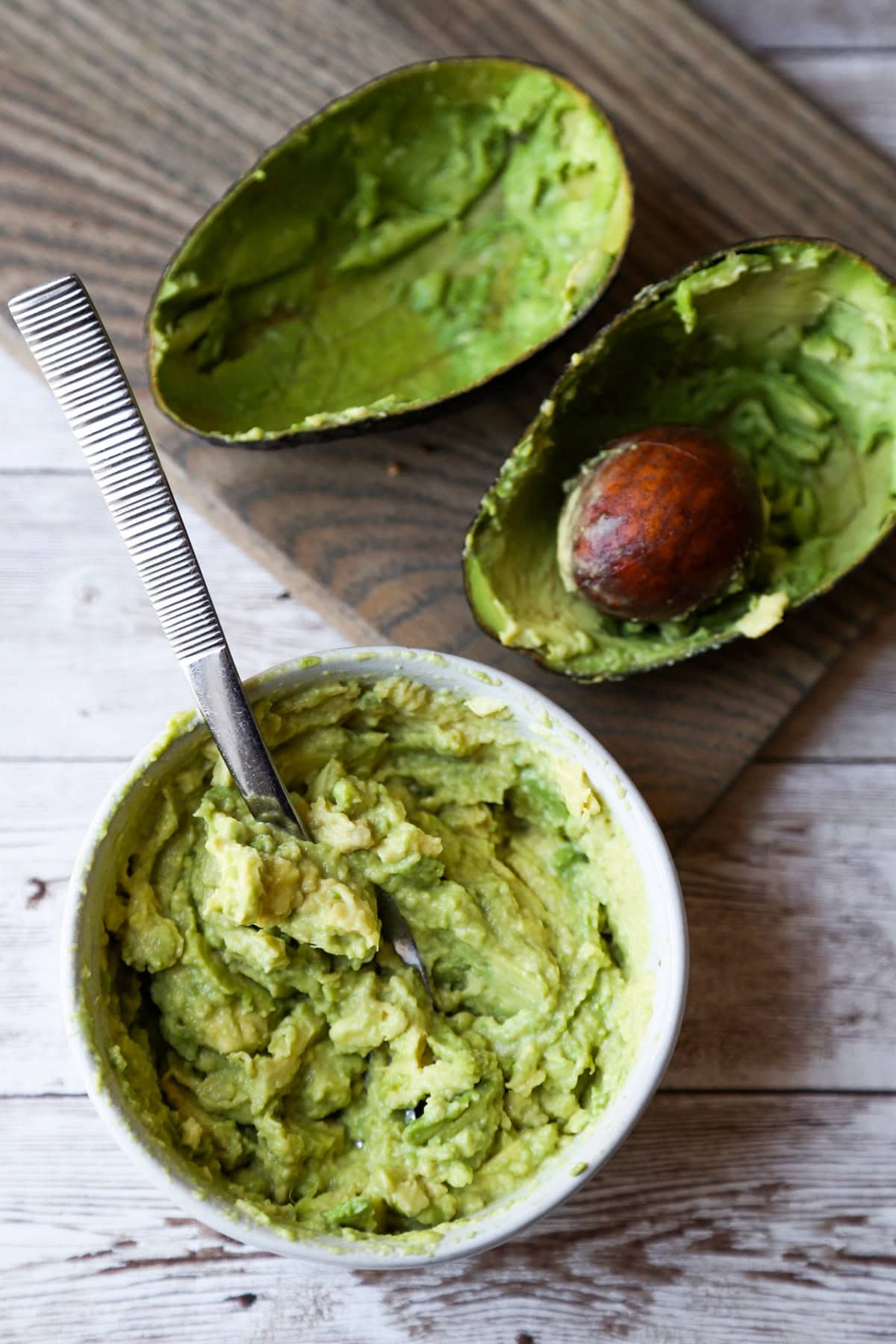 Avocado Toast Variations (Toppings)
While topping my miso avocado toast with smoky Korean chili flakes is by far my favorite flavor combination, sometimes I will jazz it up with different ingredients. Here are some of my favorite toppings that pair very nicely with the unique flavor of miso.
Avocado Toast with Egg
Delicious! Topping this dish with a runny egg is something I do when I want something a bit more substantial. The egg adds an extra layer of creaminess that gives the dish some serious heft and the impression that you are eating something naughty.
Avocado Toast with Sliced Tomatoes
Sweet and bright tomatoes lighten up the dish and give it a summery feel. Plus, the vibrant color contrast of green avocado spread against sliced red tomatoes makes it easy on the eyes – and hard to resist!
Avocado Toast with Sesame seeds
Want to add nuttiness to your avocado toast? Then sprinkle some sesame seeds on top! The combination of miso paste and sesame seeds gives the dish a distinct Japanese flair – as those two ingredients are often used together in Japanese cooking.
Avocado Toast with Alfalfa Sprouts
Give your avocado toast a classic French look by styling it with some alfalfa sprouts. The slight bitterness blends nicely with the flavors of the dish and the soft crunch adds a clean, garden fresh element.
Avocado Toast with Thai Chilis
This is not for the faint of heart! If you like spicy foods as much as I do then I recommend topping your avocado toast with a Thai chili or two. This will add a nice tingle to your lips and the heat will intensify with every bite you take. I would even recommend adding a few drops of fish sauce (go easy though since fish sauce is very salty) to make it even more Thai!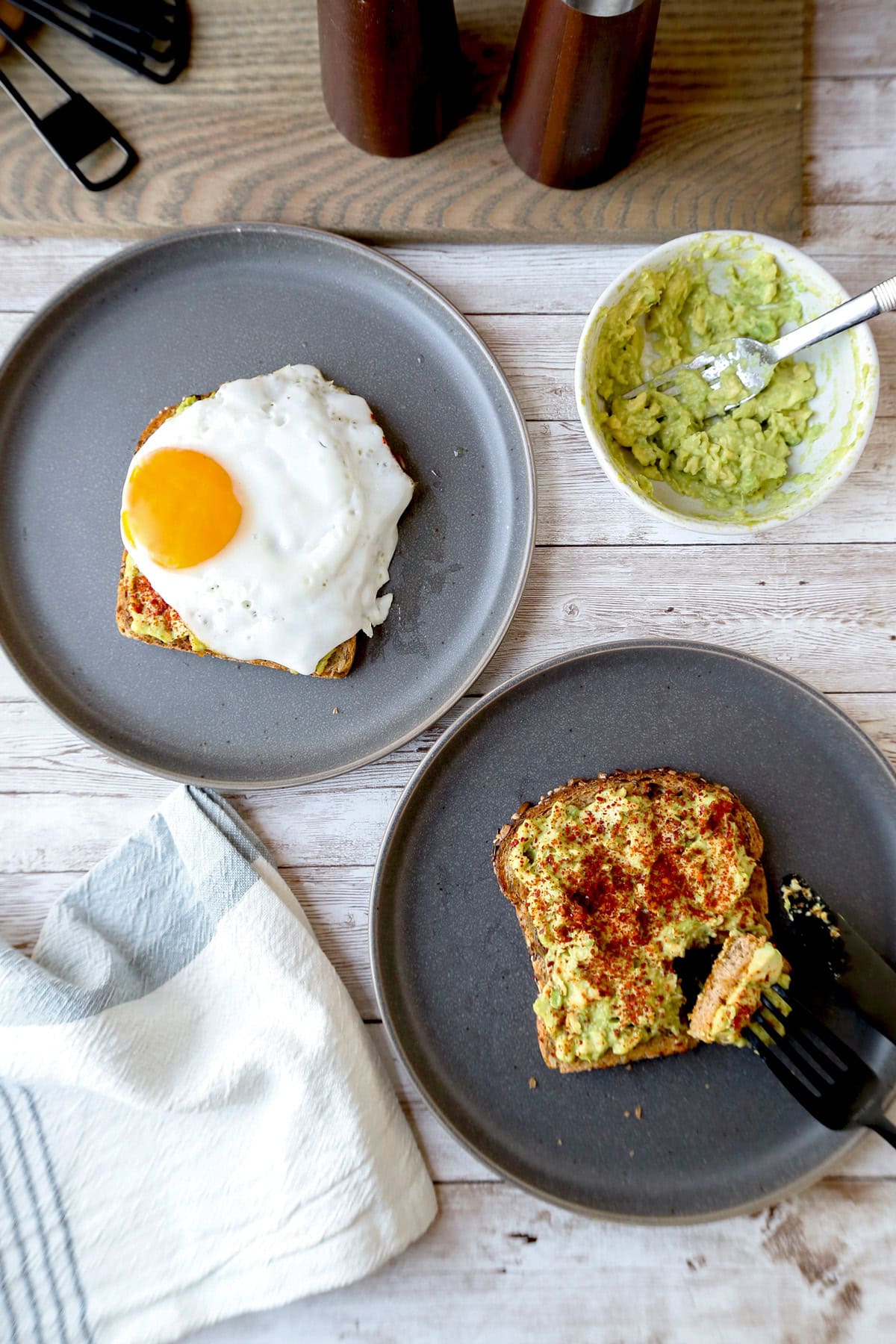 Simple and Delicious
This smoky avocado toast with miso recipe is exactly that – simple and delicious. It's one of those breakfast dishes that will make you look forward to getting up in the morning. Just like a great cup of coffee, it's a wonderful way to start the day!
Other yummy recipes using avocado: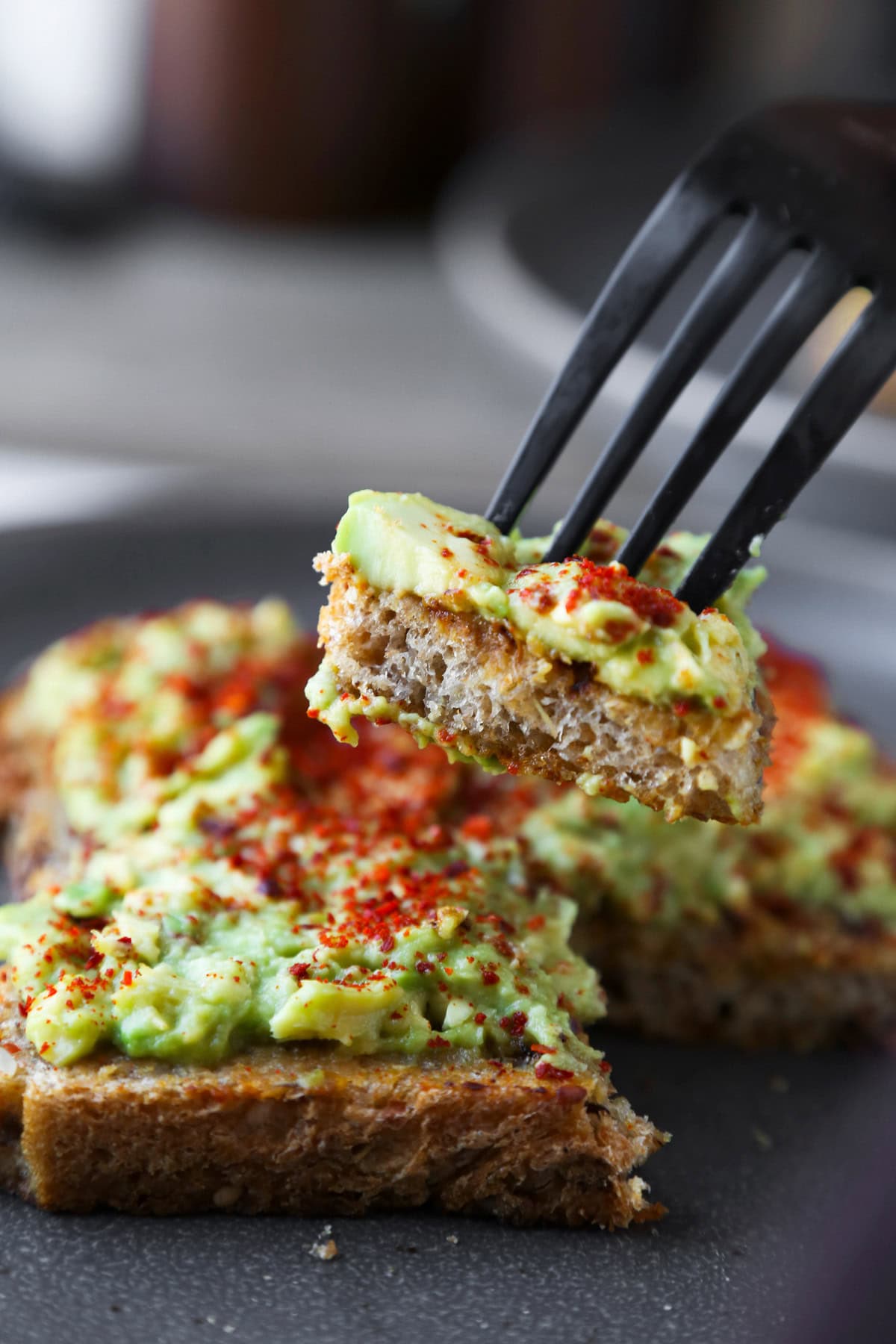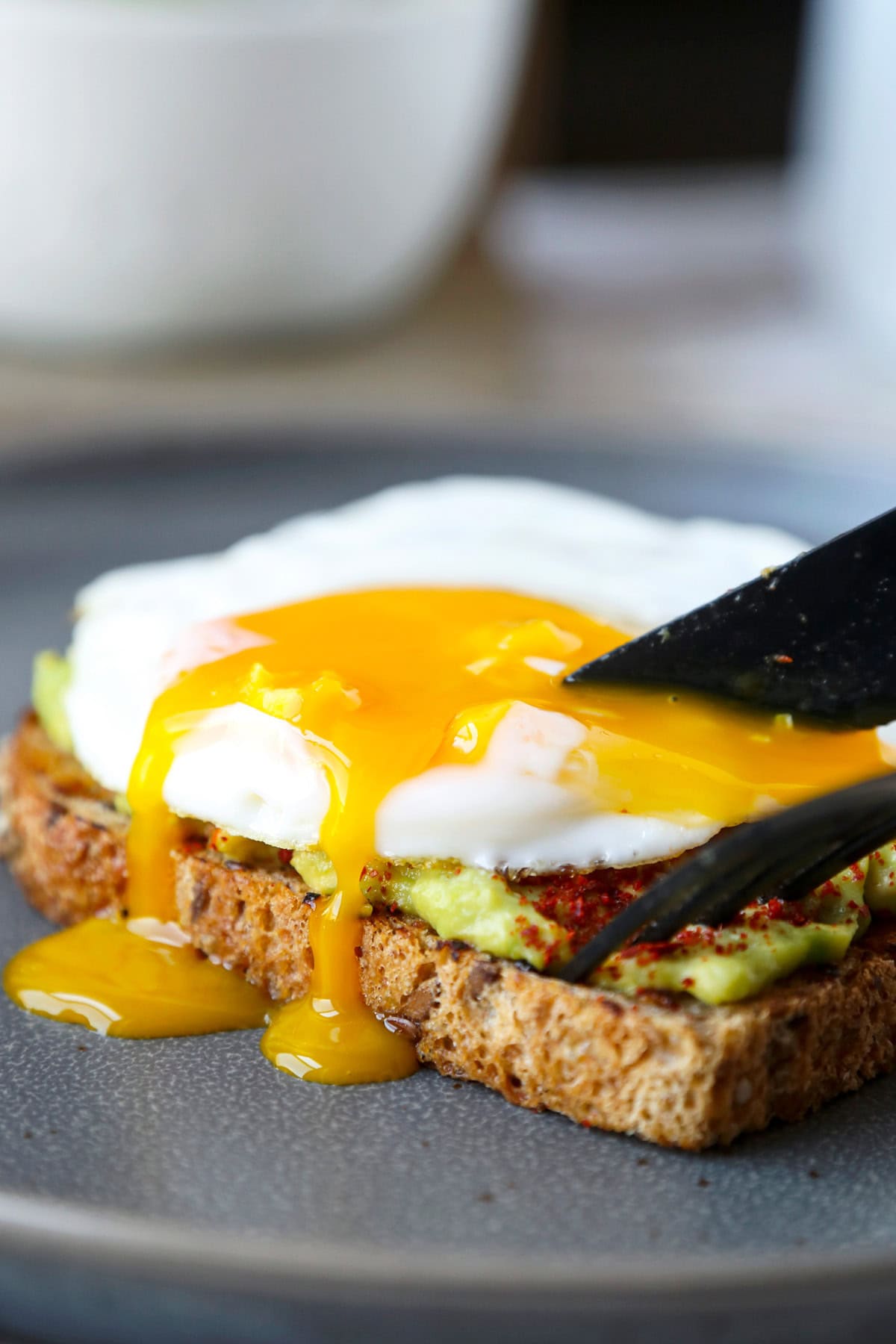 Did you like this avocado egg toast recipe? Are there changes you made that you would like to share? Share your tips and recommendations in the comments section below!
Print
Avocado Toast with Gochugaru and Miso
A breakfast that's so addictive I dream about it every night! Not only is this smoky avocado toast with miso recipe simple (5 ingredients) and quick (8 minutes total), it's also packed with flavors that punch way above their weight class! 
Author: Caroline Phelps
Prep Time:

5 minutes

Cook Time:

3 minutes

Total Time:

8 minutes

Yield:

2

1

x
Category:

Breakfast

Method:

Stove top

Cuisine:

Vegan
1

ripe avocado

2

slices multigrain bread or bread of your choice

2 teaspoons

awase, white or red miso paste

1 tablespoon

vegan butter

1 teaspoon

gochugaru (Korean chili flakes) optional but highly recommended!

2

eggs (optional)
Instructions
Peel the avocado and take out the pit. Mash in a bowl with a fork and set aside.

Toast the bread in a toaster until golden brown (I use the #3 on my dial).

Spread 1/2 tablespoon butter on one side of each slice and 1 teaspoon miso paste on the other side.

In a pan over medium high heat, place the bread slices, butter side, down. Toast for 1-2 minutes, until you get a nice crispy top, and flip the bread over. Toast for 1 minute and transfer to a plate.

Spread equal amounts of avocado on each slice and sprinkle gochugaru on top.

Season with a little salt if necessary – miso is quite salty on its own – and serve.

Optional – serve with an egg on top for a more substantial meal.
Notes
This recipe is adapted from Candice Kumai's miso avocado toast.
Nutrition
Serving Size:
Calories:

357

Sugar:

6.4 g

Sodium:

259.1 mg

Fat:

23.1 g

Saturated Fat:

5.4 g

Carbohydrates:

32 g

Fiber:

12.4 g

Protein:

9.8 g

Cholesterol:

0 mg
Keywords: recipe, vegetarian, brunch, lunch, open faced sandwich, tartine
Recipe Card powered by