No need to ferment these cucumbers before you can eat them! This is a 15 minute Cucumber Kimchi Recipe that's fizzy and pungent just like the real thing!
Cucumber Kimchi Recipe
In keeping with my promise to make more pickle recipes this year, I've come up with an easy and delicious Korean classic: cucumber kimchi. This cucumber kimchi recipe is much more pungent and spicy than its Japanese counterpart (e.g., pickled daikon) and because of that, contains higher levels of nutrients and vitamins. Kimchi is also known to be one of the top anti-aging foods and has been the latest beauty trend among Japanese women for the past few years. It's known to decelerate the cells aging process from 54% down to 25% – how amazing is that! Another quick health fact about kimchi: it's packed with good bacteria which protect against certain cancers and help with digestion by cleansing the digestive tracts. Looks like kimchi is more than just delicious, it could be called a wonder drug!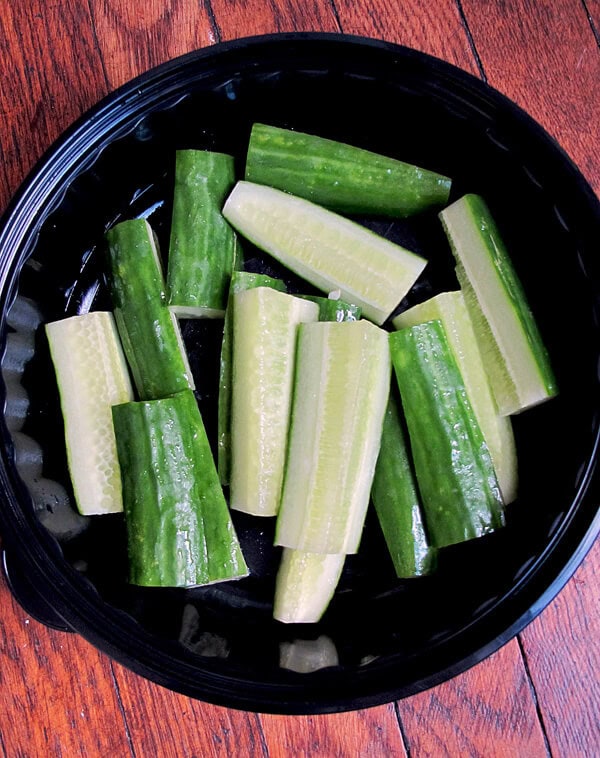 I first tried kimchi during my days living in Japan and my reaction was a mix of 'WTF!' confusion and wonder. Describing the taste is almost impossible since there's nothing else like it out there.
So

what is kimchi

and what does it taste like?
Kimchi, also spelled kimchee or gimchi, is a traditional fermented Korean side dish made of vegetables with a variety of seasonings. It is often described as spicy and sour (source: wikipedia)
To me kimchi is very garlicky, almost fizzy, fishy and spicy. You either love it or hate it, there won't be any mixed feelings about it! It's an acquired taste that can quickly become an addiction. My brother loves it so much that he used to keep a giant jar of it in our fridge when we were teenagers. It stunk up the kitchen like you wouldn't believe but thankfully, my mother and I also love kimchi so we were fine with it. If we knew back then it was this easy to make we would have laminated this cucumber kimchi recipe and permanently pinned it to our kitchen cork board!
This cucumber kimchi recipe is quick and doesn't need to sit for days before it's ready to eat. You can either make it right before serving it or a few hours earlier if you prefer the veggies to be softer and more pickled. Now, I'm no kimchi expert but this quick cucumber kimchi recipe does taste like the real thing and is truly delicious and addictive.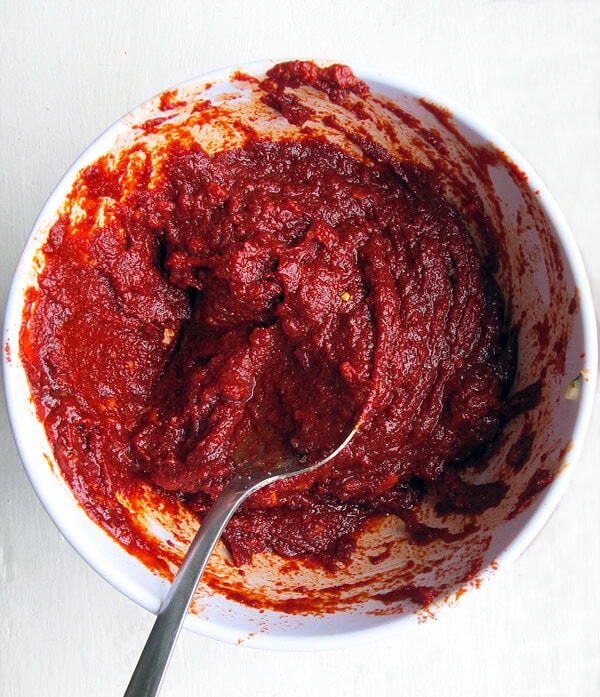 Once I got the hang of creating basic kimchi like flavors it was hard to stop myself from whipping up dish after dish of spicy red goodness (like this super simple and quick kimchi soup). The only downside were the red stains left by the hot pepper powder. Many of my white plastic tupperware (mostly kept from ordering Chinese) had to be thrown out. No biggie, I'm wiser now and use black instead of white.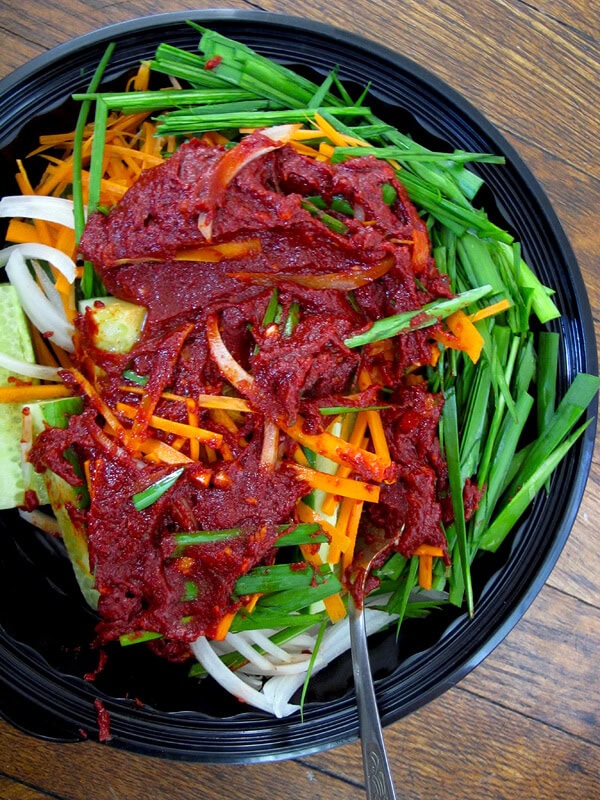 Serve this cucumber kimchi recipe with oven baked Korean chicken wings and a bowl of brown rice for a healthy and savory dinner.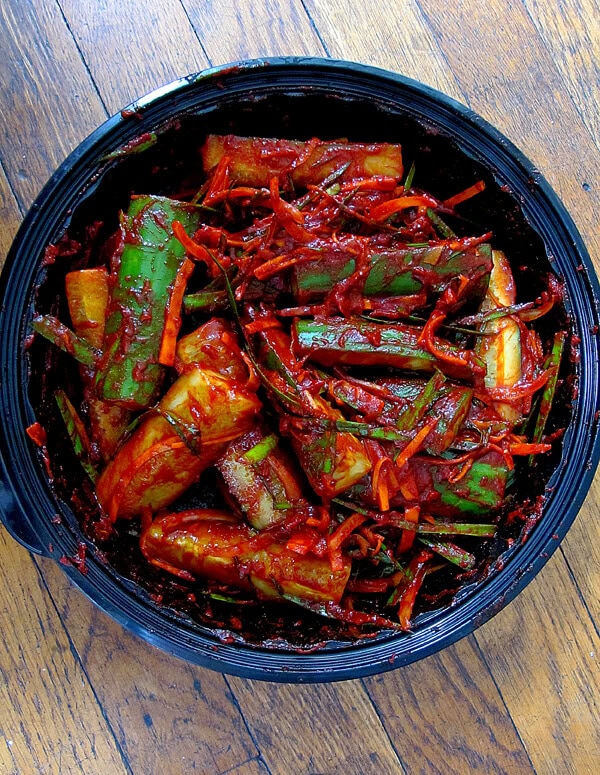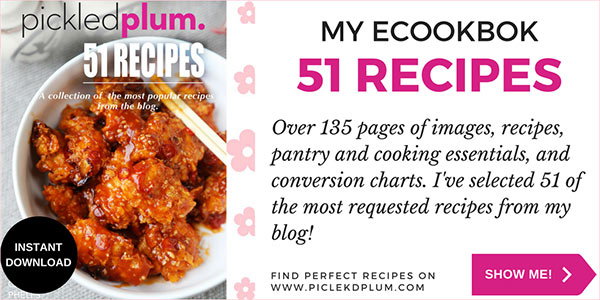 These recipes constantly make "best dish" lists on sites such as Country Living, Self, Shape, Bon Appetit, The Cooking Channel, Men's Fitness and Woman's Day. They are favorites among my readers, friends and family!
51 of the best appetizers, sides, stir fries, main, noodles & rice, desserts & drinks from the blog.
Simple and easy dishes made healthier, with calories and fat content provided. Tried and tested by my readers and loved by everyone!
---
Print
Cucumber Kimchi Recipe
No need to ferment these cucumbers before you can eat them! This is a 15 minute Cucumber Kimchi Recipe that's fizzy and pungent just like the real thing!
Prep Time:

15 minutes

Total Time:

15 minutes

Yield:

4

people

1

x
Category:

Side, Pickles

Cuisine:

Korean
Scale
Ingredients
1

English cucumber (cut into

four

pieces, then cut into quarters)

1

carrot (cut into thin strips)

1

small onion (cut into thin slices)

1 cup

chives (chopped into strips)
For the kimchi sauce:
3

cloves garlic

1/2 cup

hot pepper powder (gochugaru)

3 tablespoon

s fish sauce

1 tablespoon

sugar

1/4 cup

water

2 tablespoon

s rice vinegar

1 teaspoon

kosher salt

1 teaspoon

sesame oil

1 teaspoon

sesame seeds
Instructions
Put all the vegetables in a large tupperware container (black color is better to prevent staining)
In a mixing bowl, add all the ingredients for the sauce and mix well.
Pour the sauce over the vegetables and using your hands (covered with gloves) or a spoon, spread/mix evenly to coat the vegetables.
Serve immediately or leave for a few hours for softer texture and more infused flavors.
Recipe Card powered by