Loaded with warming spices and the rich sweetness of coconut milk, this Thai Potato Curry Recipe is a sure hit. Flavor packed and completely vegan, this is one Thai curry you'll definitely want to have seconds of. Ready in under 25 minutes from start to finish!
Thai Potato Curry (Vegan)
I spent quite a bit of my twenties in Asia.
Living and working in cities like Hong Kong, Singapore, Kuala Lumpur, Bangkok, Taipei and Tokyo put me at the front doorstep of all the foods I love.
If I said I was lucky to be able to eat pad kee mao one day, mee goreng the next – followed by mapo tofu, it would be quite the understatement. I had it so good!
And it was my time in Thailand that really introduced me to curry. Seriously, I was privileged to sample some of the best curries I would ever spoon over rice in Bangkok.
Whether it was a fiery green curry with shrimp and cuttlefish – or a rich red curry with fried tofu bits and lime leaves, piled high with fried shallots – I got my fill.
In fact, one of my all time favorite curry experiences was finding a roadside stall that specialized in kaeng som – or sour curry. When it comes to curry, I was spoiled for choice in Thailand .
So, the other day, while trying to conceptualize a delicious dinner for some visiting friends that would be fully plant based, my mind turned involuntarily to the warming and exciting flavors of curry.
This easy Thai potato curry is fully vegan, and delivers on the deep and complex flavors and aromas you'd expect from a curry that simmered all day. However, this delicious Thai curry won't take all day to prepare.
In fact, if you've got 25 minutes, you've totally got time to make these vegan curry potatoes. Sound good? Let's roll!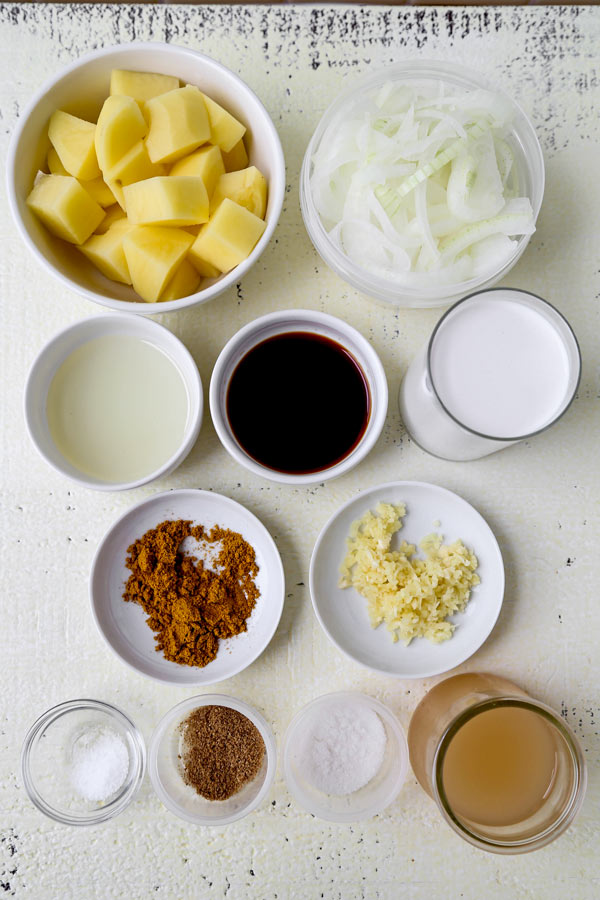 Three cheers for vegetarian curry!
While many of the curries I ate in Thailand contained meat, just as many were meat free. It blew my mind that, at times, vegetarian curries seemed to have even more flavor than their counterparts with meat.
And that's because most curries get the lion's share of their flavor from the spice mix, aromatics and liquid ingredients – not the protein.
Check out my fiery yellow curry with cauliflower recipe here to see what I'm talking about.
One of the most freeing things for a home chef is to have a few recipes in his/her back pocket that will be delicious no matter what you decide to prepare them with.
This simple Thai potato curry could actually be made with anything you have handy in your own pantry. Read on to see just how simple this plant based recipe is to make!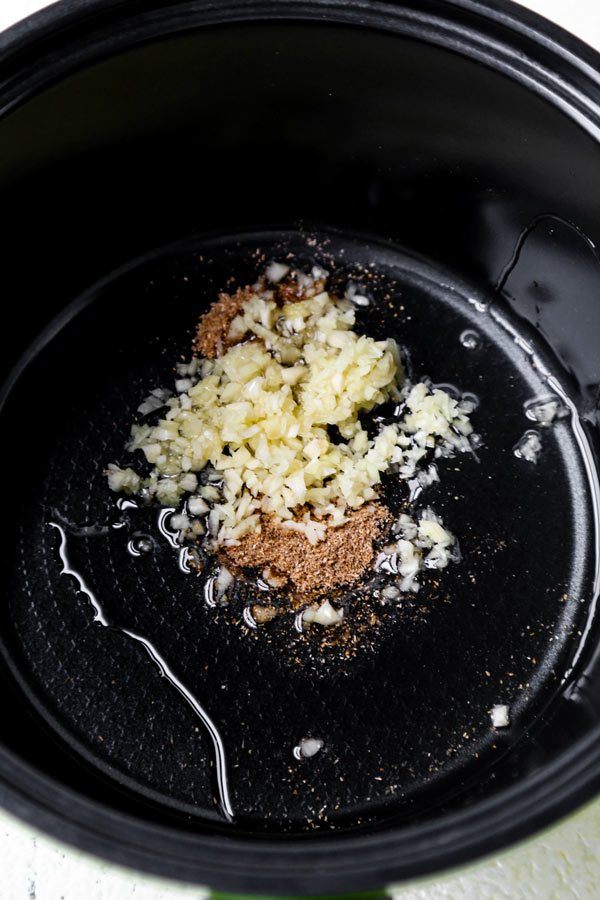 Potato Curry Ingredients
Now, this simple, vegan potato curry has an ingredients list that is super uncomplicated.
You've probably got most of the basics hanging out on your spice rack and in your pantry already. Since potatoes and onions form the bulk of the ingredients list for these simple curry potatoes, chances are you're already pretty much set!
Coconut milk is sold at just about every grocery store these days – but if you can't find it there, it's easy to pick up online. And, since we're not using Thai curry paste as a flavor agent, the heavy lifting falls to a basic curry powder.
If you're like me and prefer to shop on the couch in your PJ's, you can just grab the flavoring ingredients for this vegan curry recipe on Amazon:
Now, let's get to the fun part: cooking and eating!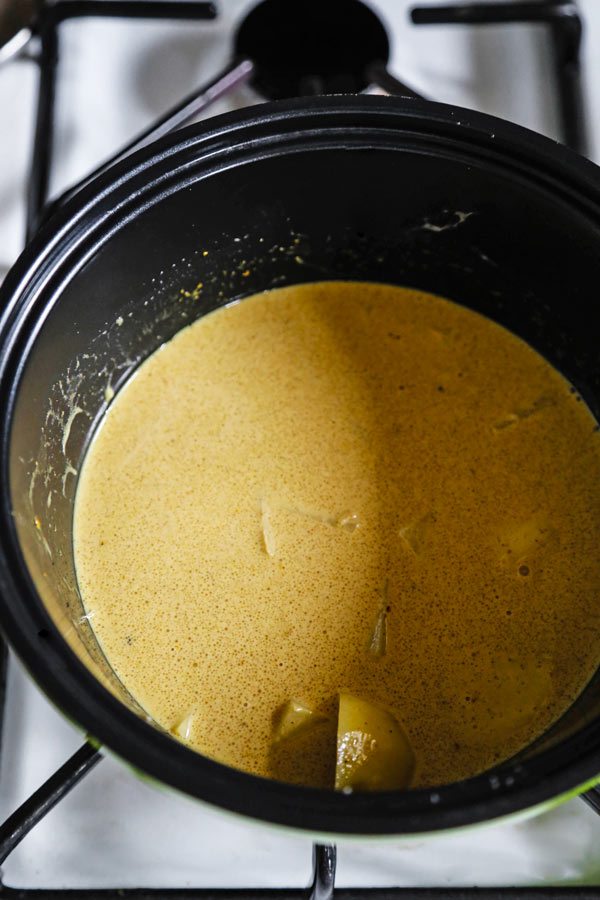 How to make potato curry
Even though the end result will taste like a complex curry, this simple potato curry is an absolute breeze to make. Most of the 25 minutes is standby time, as you wait for the potatoes to cook anyway. It's easy peasy!
First, get a pot going over medium-high heat and add your vegetable oil. Once hot, add your garlic, ginger and coriander powder and cook for about a minute. Keep stirring! Garlic can burn in the blink of an eye – so be sure to keep it moving around the pan 🙂
Next, add your coconut milk and stir so the semi-sweet, richness becomes infused by the fragrant garlic and ginger. YUM!
Then, add your peeled and cubed potatoes, soy sauce, sugar, salt and curry powder to the pan. Stir and bring this mixture to a boil.
Now, simply add your vegetable broth – and once that's boiling just add your thinly sliced onions. Cover and simmer that pot of Thai infused goodness for about 15-20 minutes.
Once your potatoes are cooked through, you're all set! It's the absolute perfect potato curry for rice.
Ladle it over jasmine rice and watch your hungry diners tear into it with abandon. It'll likely disappear in less time than it took to make – but, hey, that's a good thing!
If you do happen to have leftovers, this vegan Thai potato curry recipe will last in the fridge for 2-3 days.
And, just like with chili and stews, there are people that say curry tastes better as leftovers the next day! What do you think? When it comes to curries and stews do you like them better the next day? Let me know in the comments!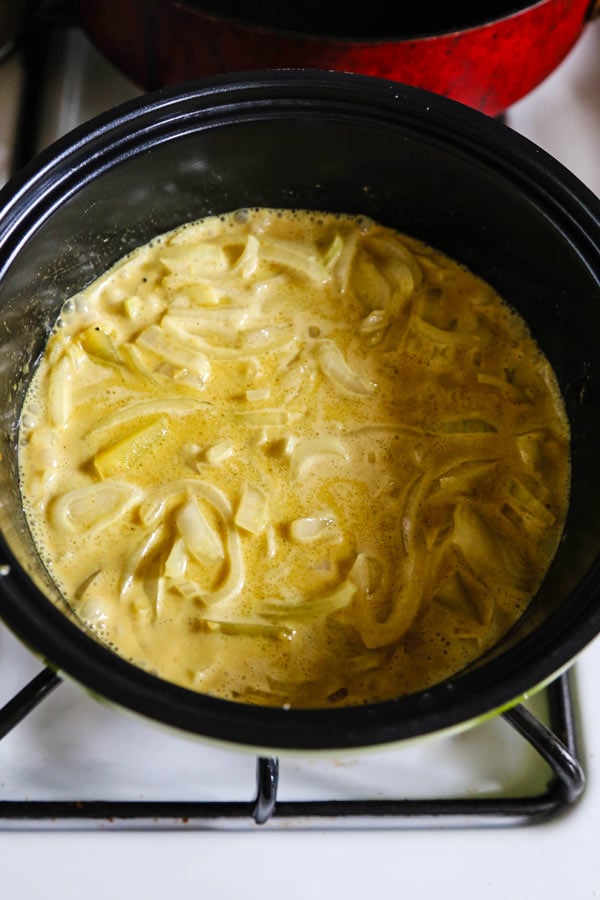 So, how does this vegan curry recipe taste?
Truth time: before I completed this curry, I had a moment of uncertainty.
You see, most Thai recipes get a fair amount of their savory flavor from fish sauce. It's a taste I truly love – so I wondered if omitting it to make this potato curry a truly vegetarian recipe was such a good idea.
Well, lemme tell ya, I shouldn't have worried!
The soy sauce and vegetable broth I used instead does a wonderful job of representing the savory side of this multifaceted and dexterous flavor profile.
The salty elements are tempered by a perfectly delicate sweetness from the coconut milk – and the bouquet of ginger, garlic and coriander powder bring a garden fresh element of verdant heat.
But, I'll say it again – the star of the day comes from one of the simplest, grocery-store-bought jars on my spice rack: curry powder.
The warming, savory and earthy balance in this vegan potato recipe can be attributed to that lovely little spice mix.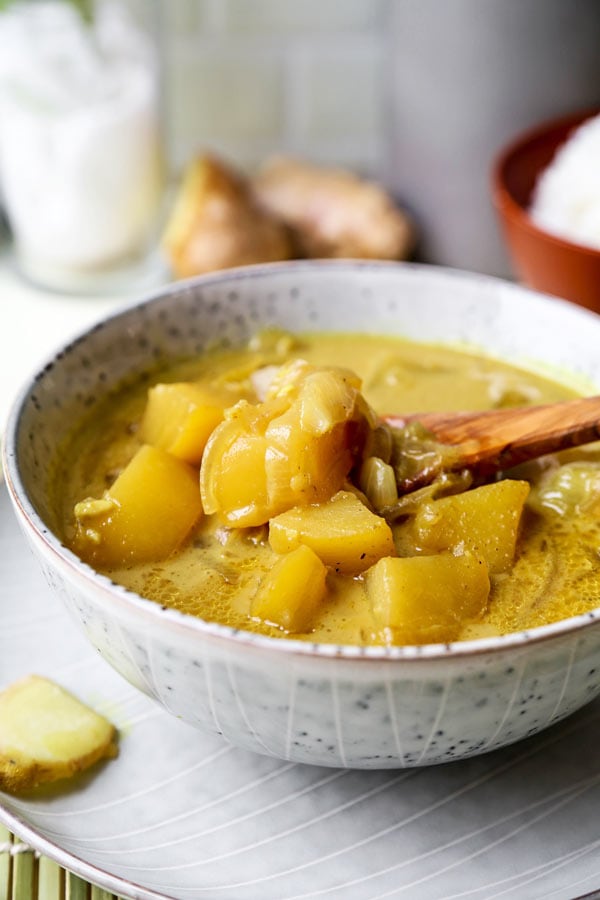 What is curry powder?
It's a pretty common thing for Thai and Indian families to have a closely guarded family secret for blending all sorts of spices together to make the perfect curry. And, after a mind-blowingly delicious dinner, if you asked for the recipe, you might be met with stony silence. Or more likely, the subject would be politely changed 🙂
Now, while there are obviously amazing hand mixed, artisanal curry blends you can track down, today I'm talking about simple store bought curry powder for busy home chefs like you and me.
And an oversimplification of a very complex thing is that most store bought curry mixes have a blend of warming spices like turmeric, cumin, coriander, cayenne, cloves, black pepper and powdered ginger, etc.
The resulting flavors of those spices together is a complex mélange of savory, sweet and earthy – with warm (but not truly spicy) notes.
And, while these spices together produce some of the flavors we've come to love in Southeast Asian and Indian dishes, the truth is that curry powder was not invented in a place like Thailand.
Curry powder is a Western invention – likely British.
So – yes, the taste of this potato curry recipe is Thai because of the spice blends in use. However, that store bought jar of curry powder you picked up at the corner market has its origins much closer to home.
But, hey – this potato curry also had Ben running into the kitchen for a second helping, singing, "show me the curry," over and over.
So, regardless of provenance, it was a hit!
Other simple, delicious Thai curry recipes: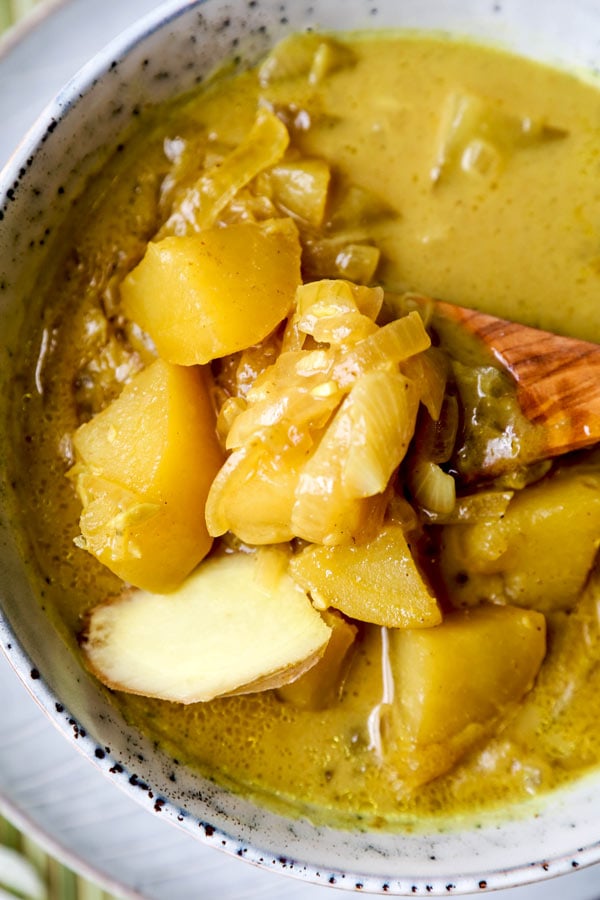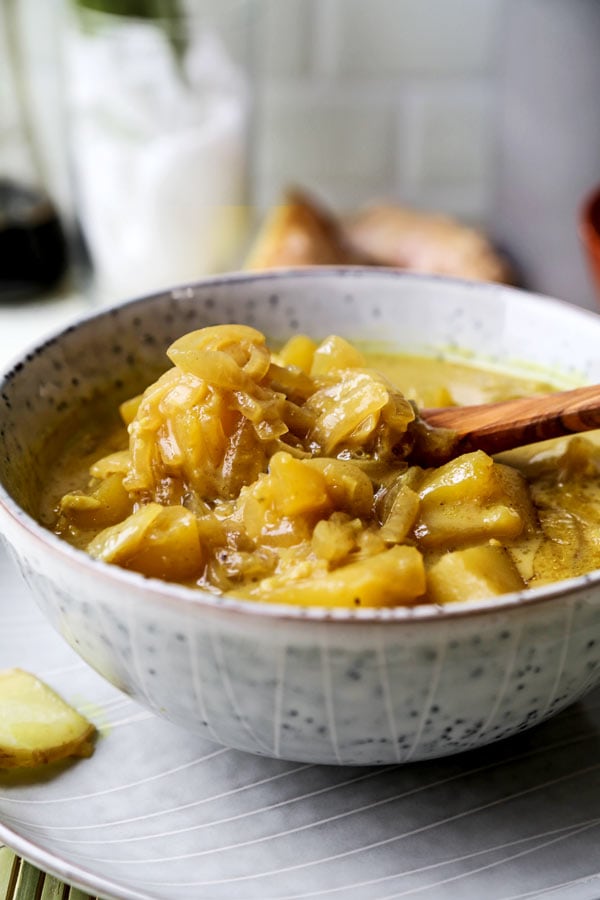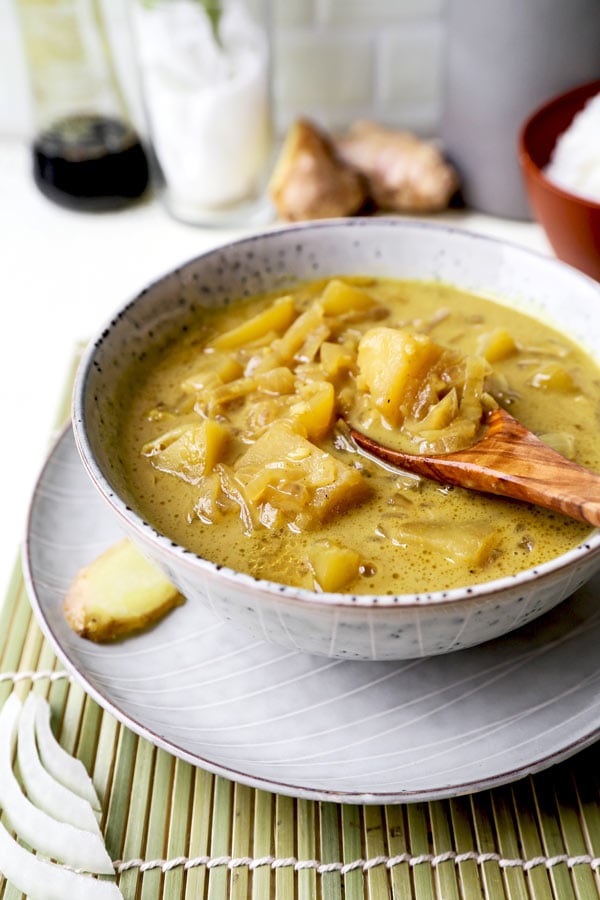 Did you like this Thai Potato Curry Recipe? Are there changes you made that you would like to share? Share your tips and recommendations in the comments section below!
Print
Thai Potato Curry (Vegan)
This is an easy vegan Thai potato curry recipe.
Author: Caroline Phelps
Prep Time:

5 minutes

Cook Time:

20 minutes

Total Time:

25 minutes

Yield:

4

people

1

x
Category:

curries

Method:

stove top

Cuisine:

Thai
2 tablespoons

vegetable oil (or other neutral oil)

2

garlic cloves (minced)

1 tablespoon

ginger (peeled and finely chopped)

1/2 teaspoon

coriander powder

1 cup

organic coconut milk

8 ounces

potatoes (peeled and cut into 1-inch cubes)

2 tablespoons

soy sauce

1 teaspoon

sugar

1/2 teaspoon

kosher salt

1 tablespoon

curry powder

1/2 cup

vegetable broth

8 ounces

onions (thinly sliced)
Instructions
In a medium sized pot over medium-high heat, add oil, garlic, ginger and coriander powder.
Cook for 1 minute while stirring, until garlic becomes fragrant.
Add coconut milk and stir – then add potatoes, soy sauce, sugar, salt and curry powder. Stir and bring to a boil.
Add vegetable broth and bring back to a boil.
Add onions, stir, cover and simmer for 15-20 minutes, until potatoes are tender. Serve with rice.
Nutrition
Serving Size:
Calories:

221

Sugar:

4.4 g

Sodium:

856.4 mg

Fat:

15.9 g

Saturated Fat:

11.9 g

Carbohydrates:

19 g

Fiber:

3.3 g

Protein:

3.7 g

Cholesterol:

3.5 mg
Keywords: recipe, thai food, curry, vegan, plant based, vegetarian, meatless,
Recipe Card powered by