This 5-minute salmon seasoning is the perfect way to give your fish a boost of flavor! Made with smoked paprika, garlic powder, and a mix of other spices, this salmon seasoning will take your fish from boring to delicious in no time. So next time you're feeling like your salmon needs a little something extra, give this seasoning a try!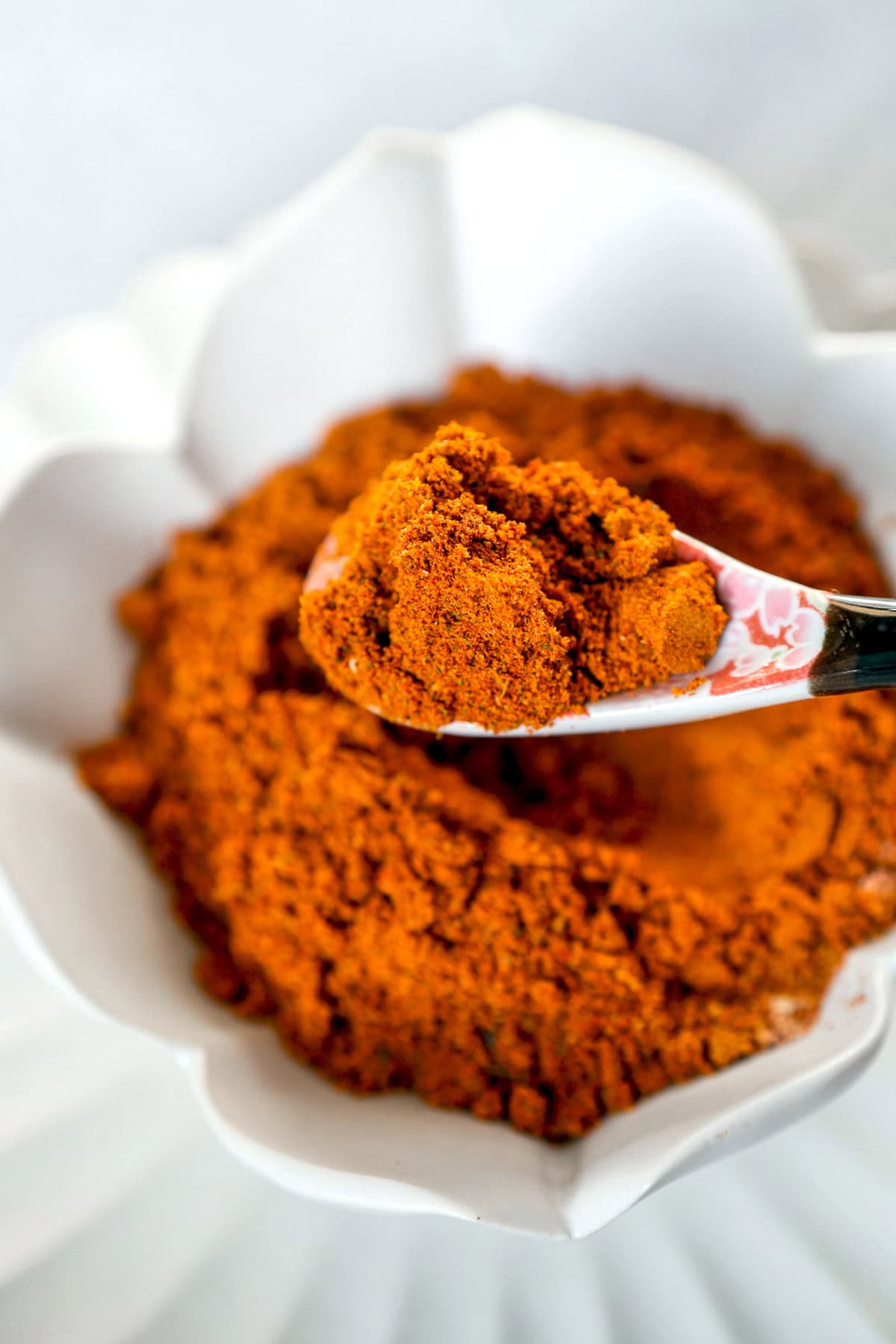 If you're looking for an easy way to flavor your salmon, this is the recipe for you. This quick and easy salmon seasoning is a blend of spices that gives the fish a delicious smoky flavor and a touch of heat. It can also be used with other seafood, tofu, or chicken.
What Are Some Other Fish Options?
If you don't have salmon or are not a fan of salmon, you can use this seasoning on other firm fish such as tuna, arctic char, cod, or snapper.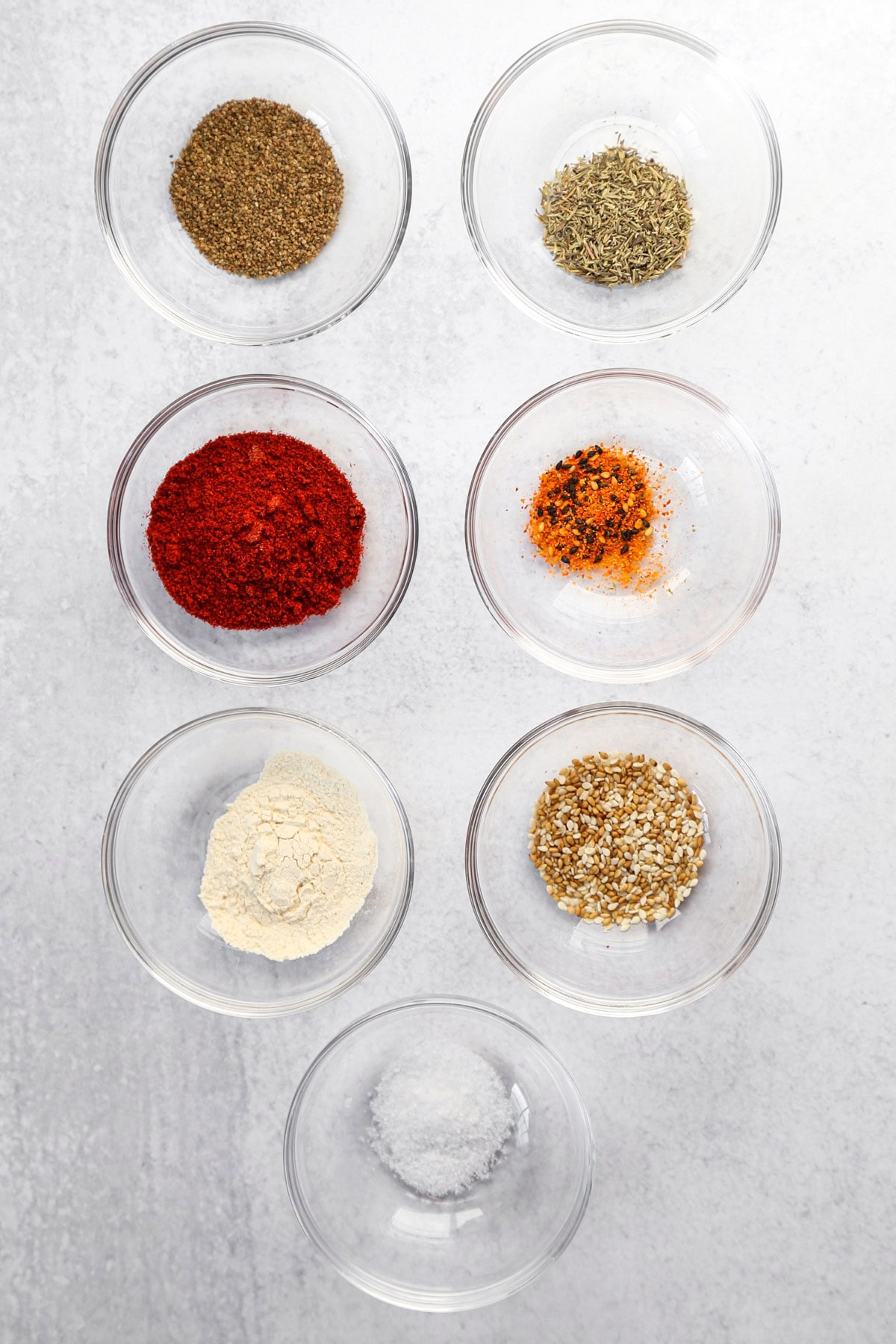 Salmon Seasoning Ingredients
Smoked paprika: Smoked paprika has a lovely smoky flavor with a little heat and sweetness. If you do not have smoked paprika you can use regular paprika or even cumin, for a mild curry taste.
Garlic powder: Garlic powder has a roasted garlic flavor that's sweeter and milder than actual garlic cloves, which is why it's such a popular spice and one that most chefs love.
Celery seed: Earthy and slightly bitter, celery seeds are more potent than celery stalks. I'm only using half a teaspoon because the flavor is very powerful and can quickly be overwhelming.
Ichimi togarashi: Ichimi togarashi is a mix of coarsely ground chili peppers that add a little heat and color to the seasoning. It's often used as a seasoning for noodle dishes and yakitori in Japan.
Kosher salt: A little salt to add saltiness and give balance to this spice mix.
Dried thyme: Floral and peppery, dried thyme has an earthy flavor that's hard to resist! It also pairs beautifully with smoked paprika and gives the seasoning a rustic aroma.
Sesame seeds: Sesame seeds are nutty and even more flavorful once they are ground. You can use black or white sesame seeds.
Substitutions
If you don't have ichimi togarashi, you can use chili pepper flakes. Gochugaru or cayenne pepper (a little goes a long way with cayenne pepper!) can also be used if you like food that's very hot and smoky. Use fresh thyme instead of dried thyme to give the seasoning a fresher taste and aroma. If you are going to use fresh thyme, double the measurement, from one teaspoon to two teaspoons.
You can also add different herbs and spices to the seasoning to make it more complex. Some good options include dill, lemon zest, onion powder, ground ginger, black pepper, dried oregano, and dried parsley.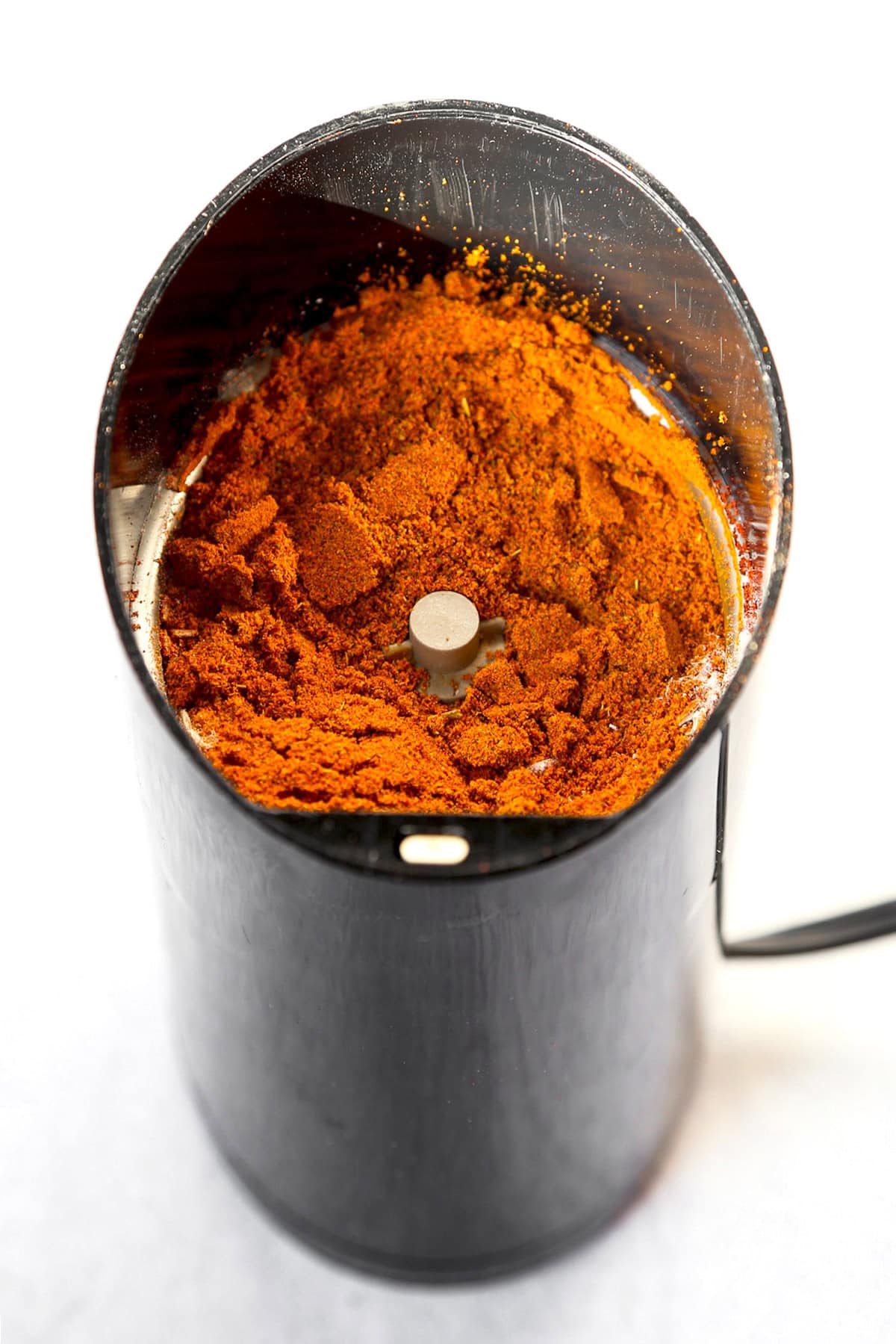 How To Make Salmon Seasoning
Scroll all the way down to the recipe card for the full recipe.
Put all the ingredients in a spice grinder and pulse a few times.
Transfer the seasoning to an airtight container or use it right away..
How Long Does Salmon Seasoning Last?
Salmon seasoning will last for up to 4 months in an airtight jar. Store it in a cool, dark place.
How To Season Salmon
There is no set amount of seasoning to use per pound of salmon so feel free to add the desired amount to taste. Also, here are couple of tip to help your fillets cook to perfection:
Brush the salmon fillets with a little olive oil or melted butter on both sides to prevent the fish from sticking to foil or parchment paper. It also helps the seasoning to stick to the flesh and spread evenly across the surface.
Add the seasoning to the fillets no more than 30 minutes before baking, broiling, or grilling. Since the seasoning contains salt, leaving it on for too long can break down the texture of the fish.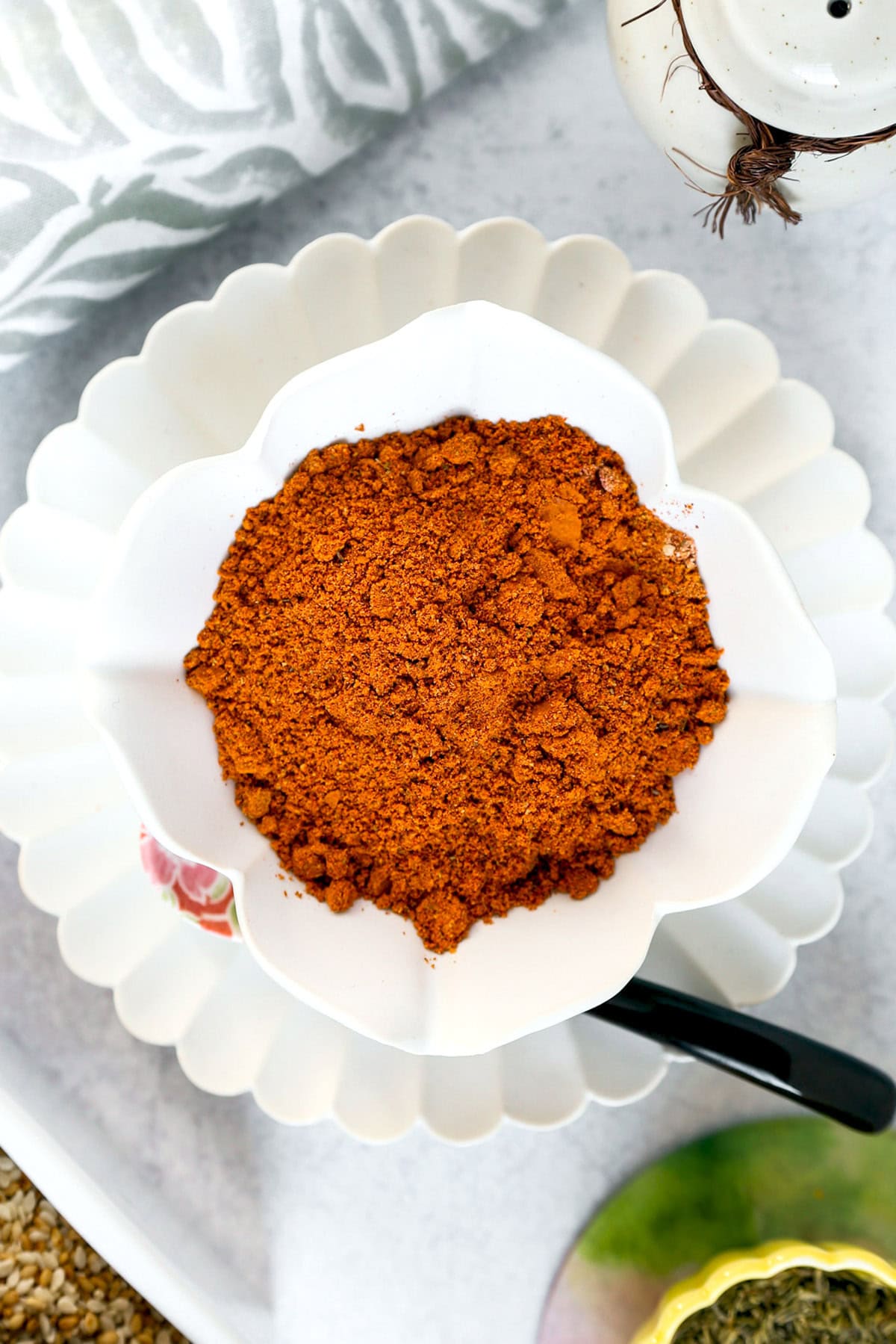 How To Cook Salmon
My favorite way to cook salmon for this recipe is to bake it in the oven. Keep in mind that the thickness of your fillets will dictate how long they will need to cook. According to The Kitchn, "for every half-inch of salmon, roast 4 to 6 minutes — 4 minutes will give you salmon that is still a touch rare, 6 minutes will thoroughly cook it."
Preheat oven to 400F.
Place salmon filets on a baking sheet lined with parchment paper, making sure that the skin side is facing down.
Sprinkle the homemade salmon seasoning evenly over the top of each filet.
Bake for 12-14 minutes, or until the salmon is cooked through.
Enjoy!
How Many Calories Are In Salmon?
A 4-ounce serving of salmon has about 200 calories and is a great source of protein and omega-3.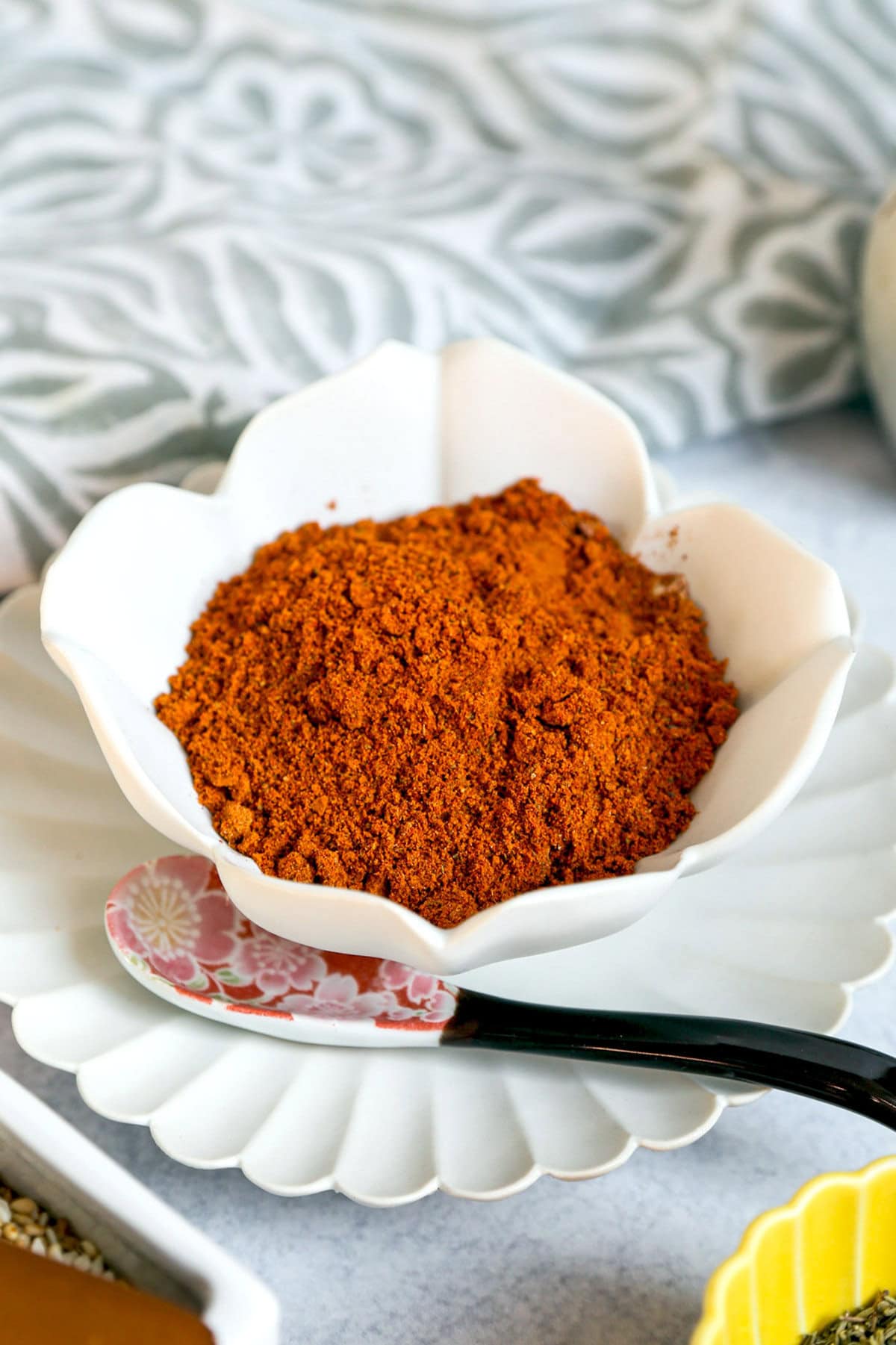 What To Serve With Salmon
When salmon comes to mind, we usually see it served with the classic combination of steamed vegetables and rice. And while there is nothing wrong with that, I prefer to make my salmon dinners more full flavored.
For example, instead of white rice I will make a Japanese fried rice, and instead of steamed vegetables I will stir fry some veggies with garlic sauce. This makes dinner a little more exciting and different since I regularly switch up side dishes.
Here are other delicious side options to pair with salmon: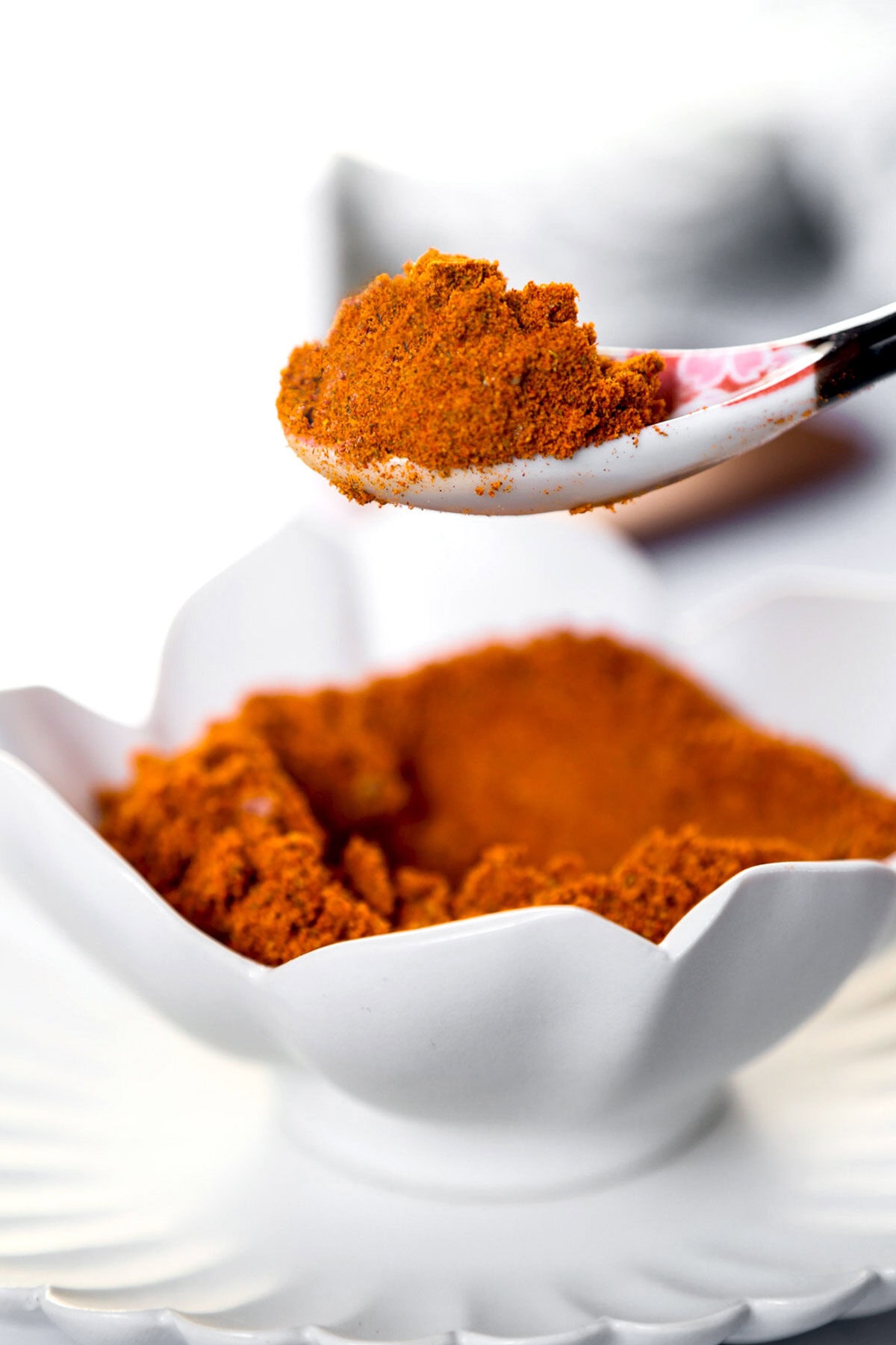 Did you like this salmon seasoning recipe? Are there changes you made that you would like to share? Share your tips and recommendations in the comments section below!
Print
Salmon Seasoning
Made with smoked paprika, garlic powder, and other spices, this salmon seasoning will take your fish from boring to delicious in no time!
Author: Caroline Phelps
Prep Time:

5 minutes

Cook Time:

0 minutes

Total Time:

5 minutes

Yield: about

4 1/2 tablespoons

1

x
Category:

Seasoning

Method:

Grinder

Cuisine:

American

Diet:

Gluten Free
2 tablespoons

smoked paprika or paprika

1 tablespoon

garlic powder

1/2 teaspoon

celery seed

1/2 teaspoon

ichimi togarashi

1/2 teaspoon

kosher salt

1 teaspoon

dried thyme

1 teaspoon

sesame seeds
Instructions
Put all the ingredients in a spice grinder and grind until smooth.
Transfer the seasoning to an airtight jar and store somewhere dark and cool for up to 4 months.
To season salmon: rub the fish with olive oil and sprinkle some seasoning on top, or on both sides if you are using skinless fillets.
Bake in the oven at 400ºF for 12 to 15 minutes.
Or broil it for 10 to 12 minutes.
Or grill it until desired doneness.
I don't recommend pan frying salmon with this type of seasoning since the seasoning burns quickly.
Notes
Store this salmon seasoning in an airtight container or jar and keep it in a cool, dark place, for up to 4 months.
Nutrition
Serving Size:

1 teaspoon

Calories:

8

Sugar:

0.1g

Sodium:

54.7mg

Fat:

0.3g

Saturated Fat:

0g

Unsaturated Fat:

0g

Trans Fat:

0g

Carbohydrates:

1.3g

Fiber:

0.5g

Protein:

0.4g

Cholesterol:

0mg
Recipe Card powered by
Other Salmon Recipes You Might Like