Miso salmon is so delicious! The mixture of miso paste, sake and mirin tenderizes the meat to a point where it almost melts in your mouth. It's one of my favorite salmon preparations!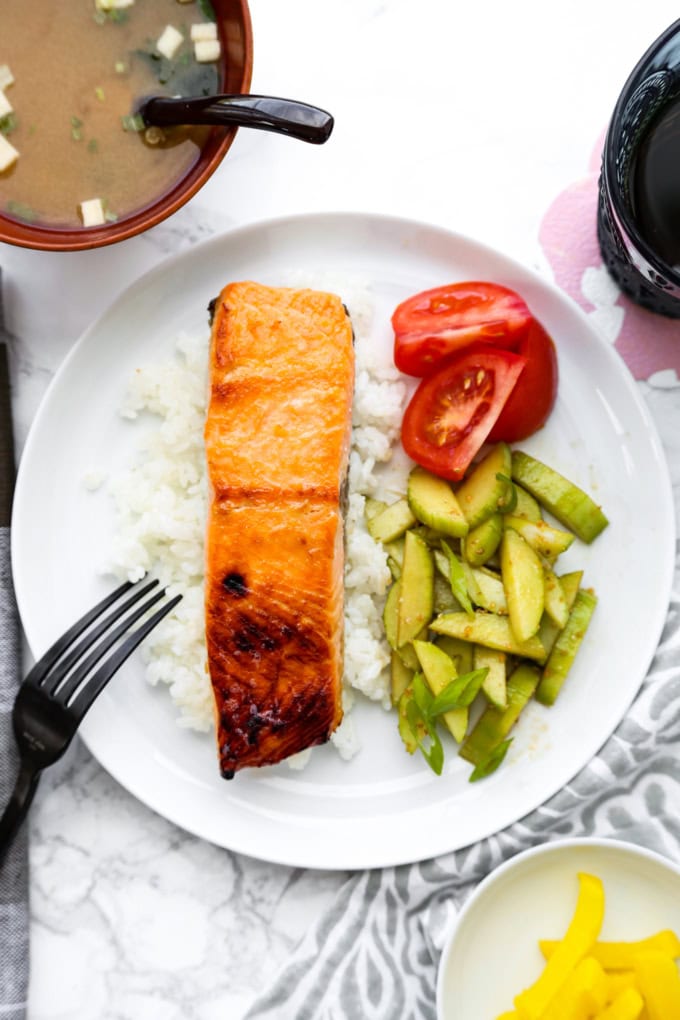 If you are looking for an easy and tasty salmon recipe to make for dinner tonight, look no further – this is the one you should be making!
Making miso salmon only requires 5 ingredients and there is very little prepping involved.
But the result will blow your mind – the flavors are mild yet sophisticated and the texture unbelievably moist and tender. It's one of my favorite salmon preparations when I'm on the go but still want a tasty homemade meal.
Your Family Doesn't Like Salmon But You Do? Give This Recipe A Try
If there is one thing I've learned about salmon haters is that they haven't tasted good salmon before.
My husband Ben was one of them. He had spent most of his life eating boring pan fried salmon with lemon wedges on the side (usually a sign that the fish didn't get much love). Plus, the notion that salmon could be melt-in-your-mouth tender was completely foreign to him since it was always served well done or overcooked.
The best salmon is usually served just short of being well done so that the fat glistens and the meat retains all of its moisture.
Japanese cuisine has perfected the art of making stunning salmon dishes that never cease to amaze me. Miso glazed salmon is one of them – it's so delicious that it can convert a salmon hater into a salmon lover. I know that to be true because it happened to Ben. He fell in love with this dish so hard that he now requests it!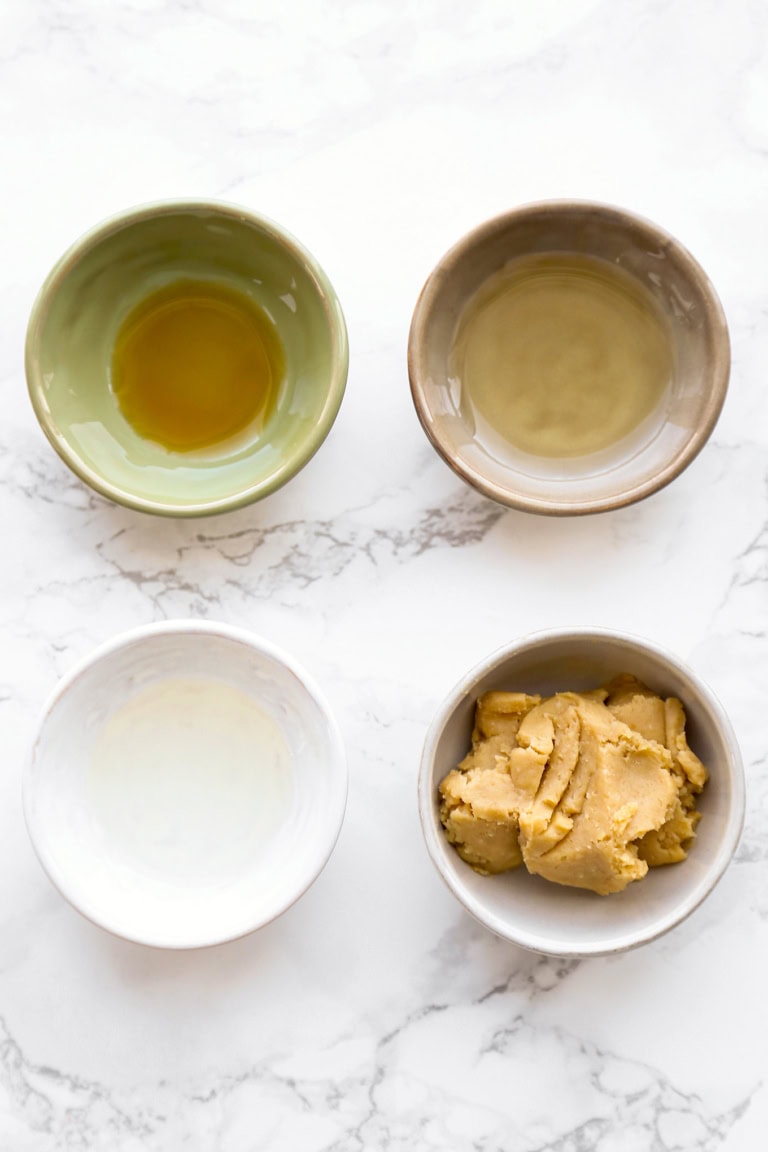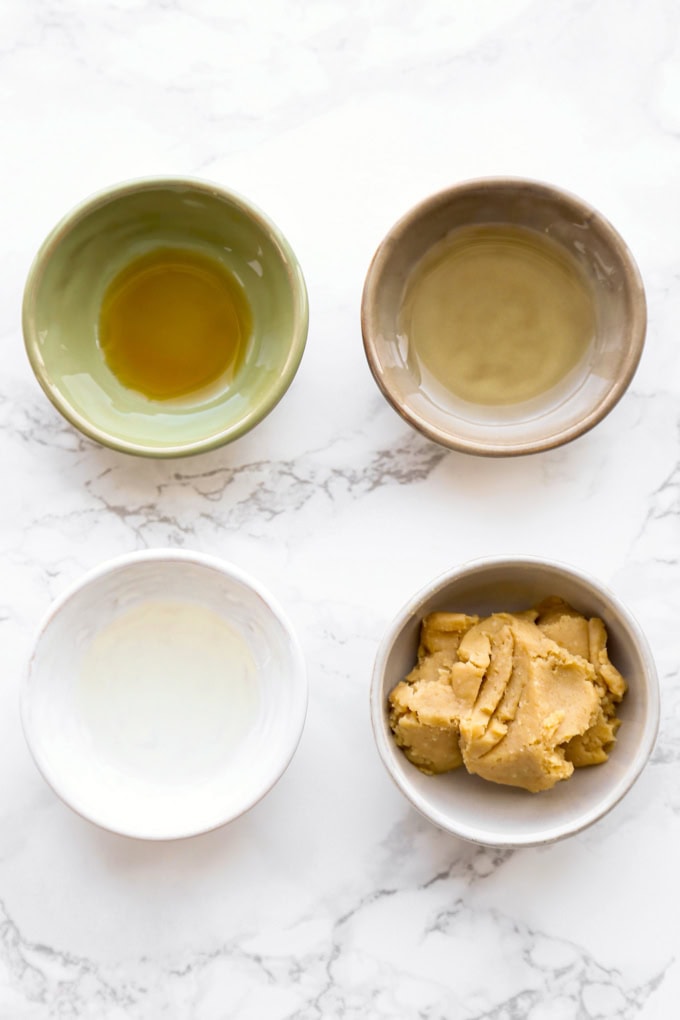 Ingredients for Miso Salmon
Salmon: Sustainably farmed frozen salmon fillets from Whole Foods are my favorites when I don't buy fresh ones. I always stick to 4 ounce fillets because it's about the right serving size for my weight. Feel free to use smaller or bigger fillets for this recipe.
Miso Paste: White miso is the preferred type for this recipe because it's not as salty as the red type. 3 tablespoons will do. Miso paste will infused umami into the flesh while tenderizing the flesh.
Sake: Just one tablespoon is needed here. Sake helps to mask fish odor and adds a splash of umami.
Mirin: 2 tablespoons to add a little sweetest and a nice glaze to the fillets.
Sesame Oil: Half a teaspoon for a touch of nuttiness. Miso paste and sesame oil pair beautifully together!
Miso Paste Substitute
While there aren't any real substitute for miso paste, there is one ingredient that works really well with this recipe. The flavors won't exactly be the same but you can still enjoy a delicious piece of salmon for dinner. And that ingredient is -> soy sauce.
Soy sauce has plenty of umami and also acts as a meat tenderizer – both qualities that can be found in miso paste. So if you ever run out of miso paste but are craving miso salmon, use soy sauce instead and enjoy!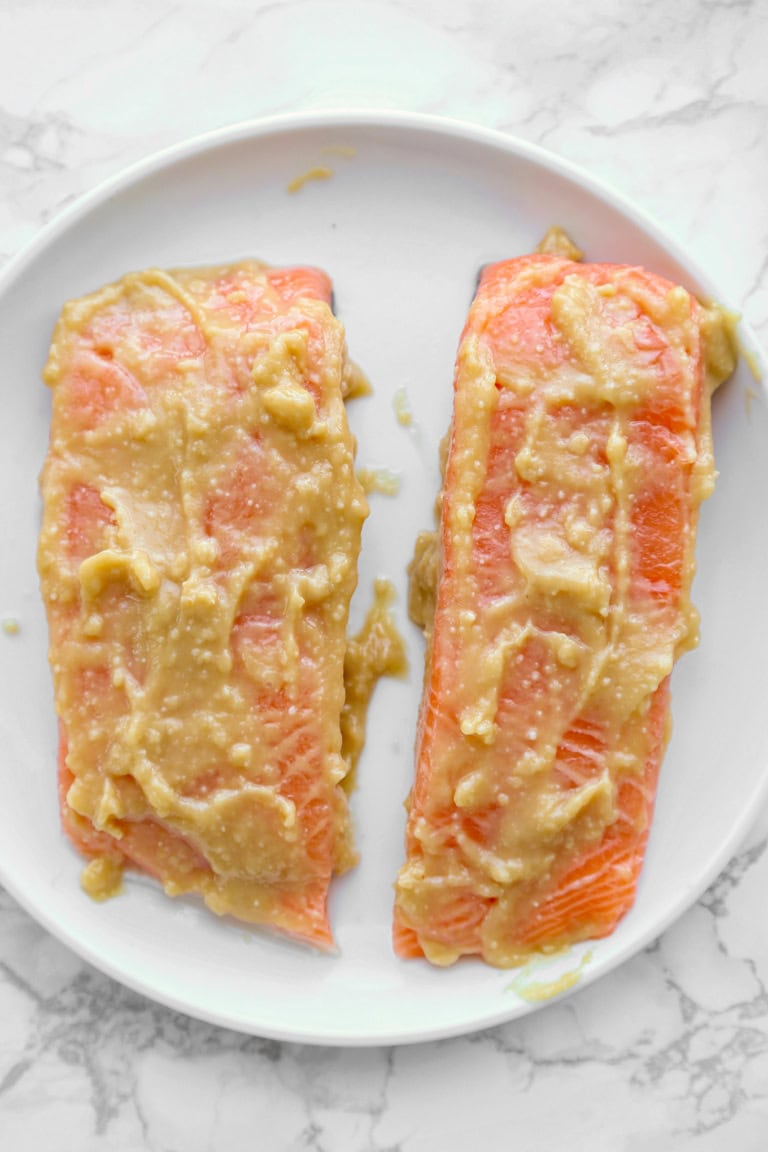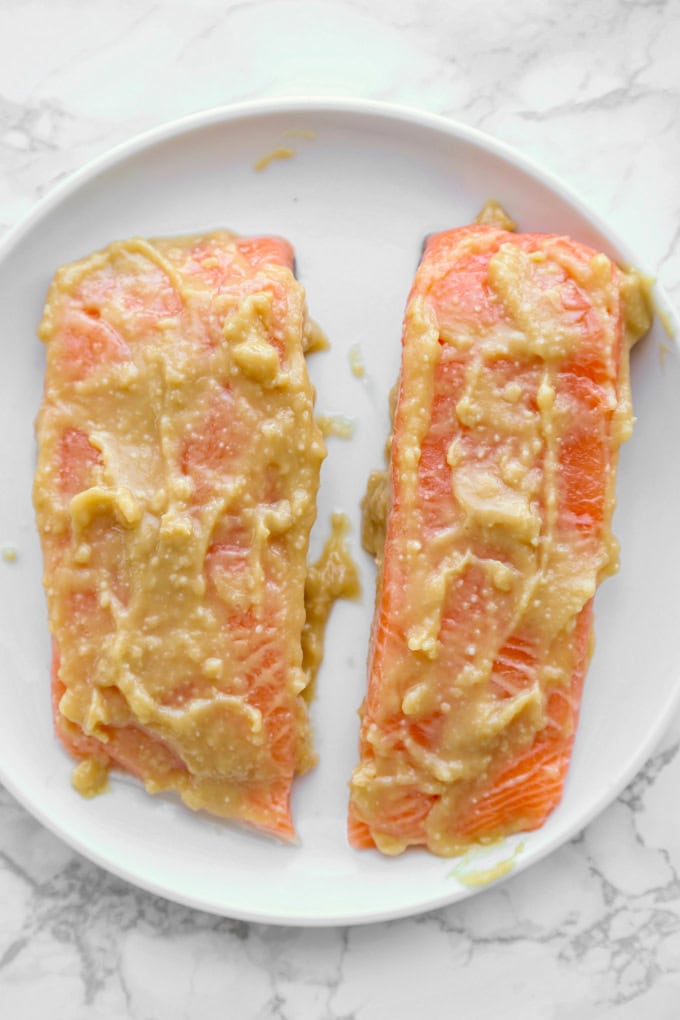 How to Make Miso Salmon
Make the marinade by combining the miso paste, sake, mirin, and sesame oil. Miso paste is quite thick and can be hard to mix with a spoon so I recommend using a whisk to blend all the ingredients.
Brush the salmon fillets with the miso marinade, making sure all sides are coated. Refrigerate for 30 to 60 minutes.
Cover a cooking tray with parchment paper and place the salmon fillets on top. Wipe off some of the miso marinade (lumps that you see sitting on top of the fish) with a paper towel or spoon. This will prevent the miso sauce from burning since miso has a tendency to burn quickly.
Place the cooking tray on the second highest rack – you don't want the fish to be too close to the flame – and broil for 8-10 minutes. Keep an eye on the fish the entire time in case the miso marinade starts to burn. If it starts to turn dark brown after only a couple of minutes, move the cooking tray lower, further away from the flame.
Serve immediately. There's nothing as delicious as a fat melting piece of salmon over rice, so yummy!
How Long To Marinate Salmon
For this particular recipe I recommend marinating the fish for about 45 minutes to get the perfect balance of flavor.
When it comes to miso marinated salmon, it's best not to over marinate it as it may come out too salty. Up to an hour is fine, even 90 minutes if you like it super flavorful. But try not to go over that as it might ruin the texture and infuse it with too much umami and salt.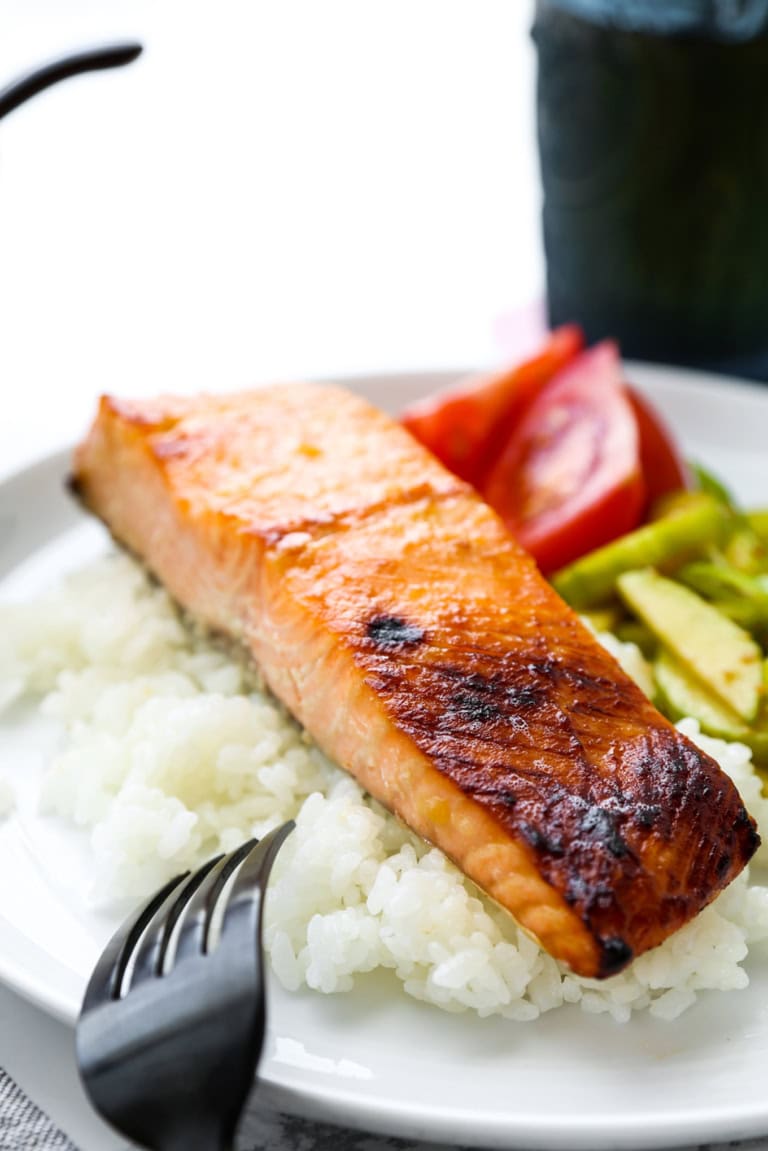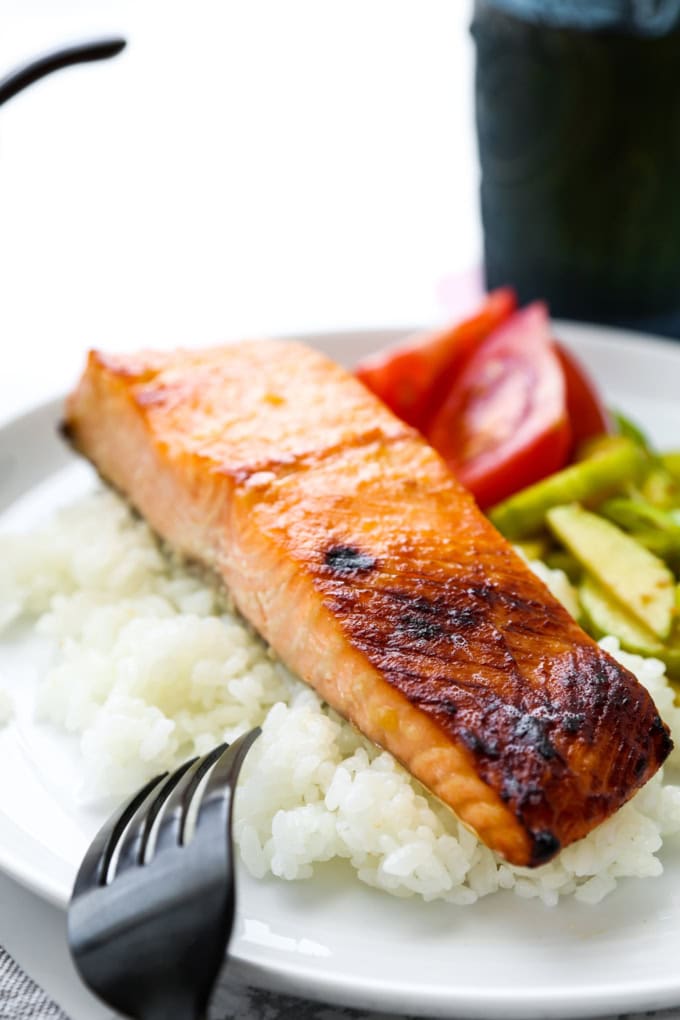 What to Serve with Miso Salmon (Salmon Side Dishes)
For a complete and nutritious meal, serve miso salmon with grains and vegetables or as part of a traditional Japanese dinner consisting of several small dishes and a bowl of short grain Japanese rice.
Some of my favorite miso salmon meal combinations are:
Did you like this Miso Salmon Recipe? Are there changes you made that you would like to share? Share your tips and recommendations in the comments section below!
Print
Miso Salmon
The mixture of miso paste, sake and mirin tenderizes the meat to a point where it almost melts in your mouth. You won't believe how delicious it is!
Author: Caroline Phelps
Prep Time:

5 minutes

Cook Time:

10 minutes

Total Time:

45 minutes

Yield:

2

fillets

1

x
Category:

Fish

Method:

Broiling

Cuisine:

Japanese

Diet:

Gluten Free
Two

4

–

6

oz salmon fillets
For the marinade:
3 tablespoons

miso paste

1 tablespoon

sake

2 tablespoons

mirin

1/2 teaspoon

toasted sesame oil
Instructions
Put all the ingredients for the marinade in a bowl and mix well, until the miso paste has dissolved.

Add salmon fillets to the bowl, and coat well on both sides. Turn the fillets so the skin side is up and refrigerate for 30 to 60 minutes, maximum. If you leave the salmon for longer than that, the texture might get a little mushy and the flavor, too salty.

Cover a cooking tray with parchment paper and place the salmon fillets, skin side down (wipe off some of the marinade from the fillets – mainly the lumps – before placing them down to prevent the miso sauce from burning).

Turn on the broiler and move the grill to the second highest rack, about 6 inches away or more from the flame. The reason you don't want to place the tray any closer is because miso and mirin burn easily.

Place the cooking tray on the grill and broil for 8-10 minutes, until salmon is cooked through. Keep an eye on the salmon to make sure the marinade isn't burning.

 

If you notice the marinade getting darker too quickly, move the salmon to a lower rack.

Serve with rice and vegetables.
Nutrition
Serving Size:

1 salmon fillet

Calories:

302

Sugar:

6.5g

Sodium:

201.1mg

Fat:

9.3g

Saturated Fat:

1.3g

Unsaturated Fat:

2.1g

Trans Fat:

0g

Carbohydrates:

14.5g

Fiber:

1.4g

Protein:

34.7g

Cholesterol:

72.4mg
Recipe Card powered by