I'm not afraid to say it – This is THE BEST Asian salmon salad I've ever had! There's nothing boring about this wholesome, filling and refreshing meal. The flavors are perfectly balanced – sweet, salty, nutty, refreshing, amazing. I feel re-energized just thinking about it!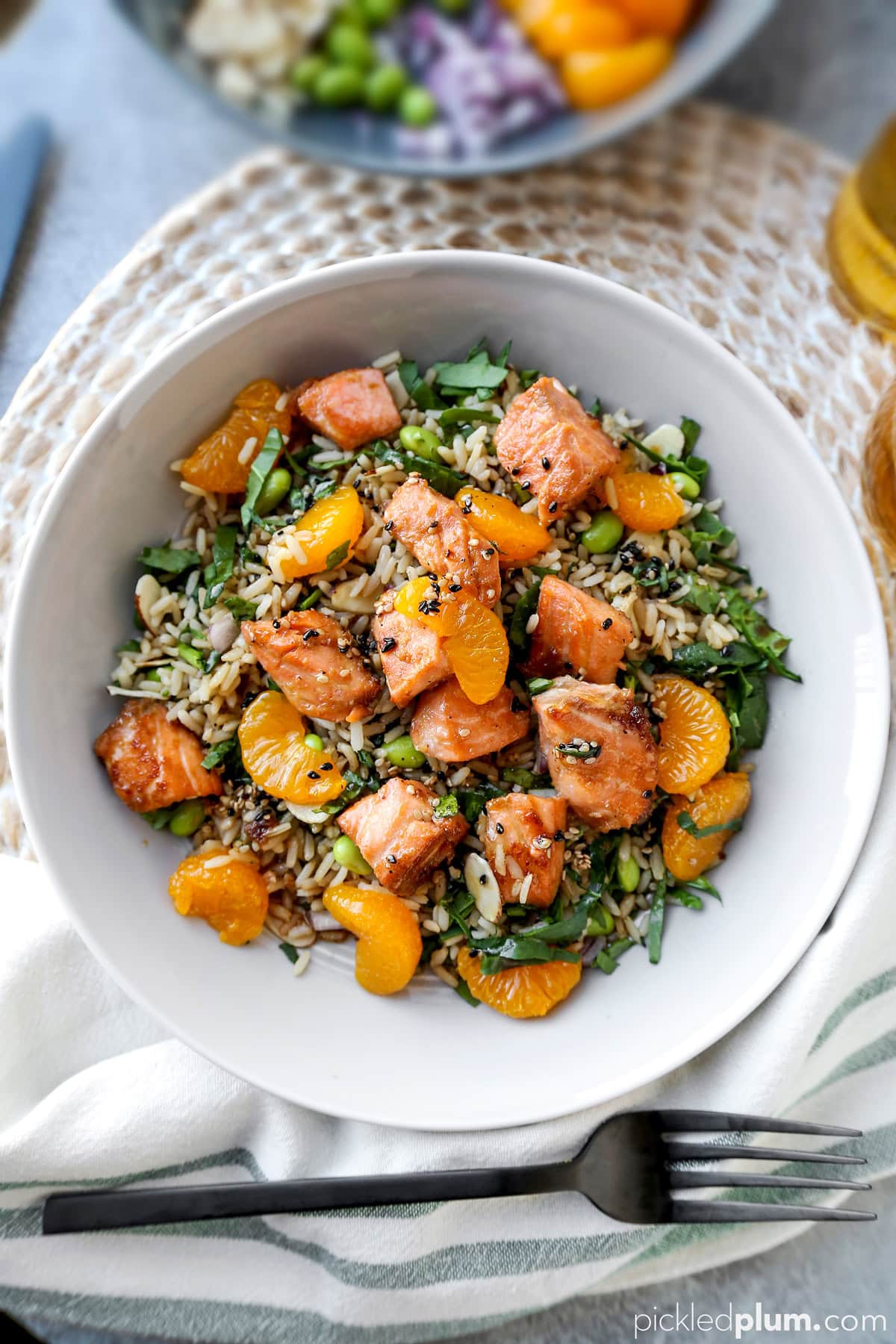 Warm Asian Salmon Salad
As far as wholesome salad recipes go, this may just be at the top of my list.
The combination of moist and tender salmon, sweet mandarin oranges, nutty shaved almonds, and buttery edamame, made the perfect symphony of flavors. Paired with a ginger soy dressing that needed no added seasoning, it's perfection on a plate!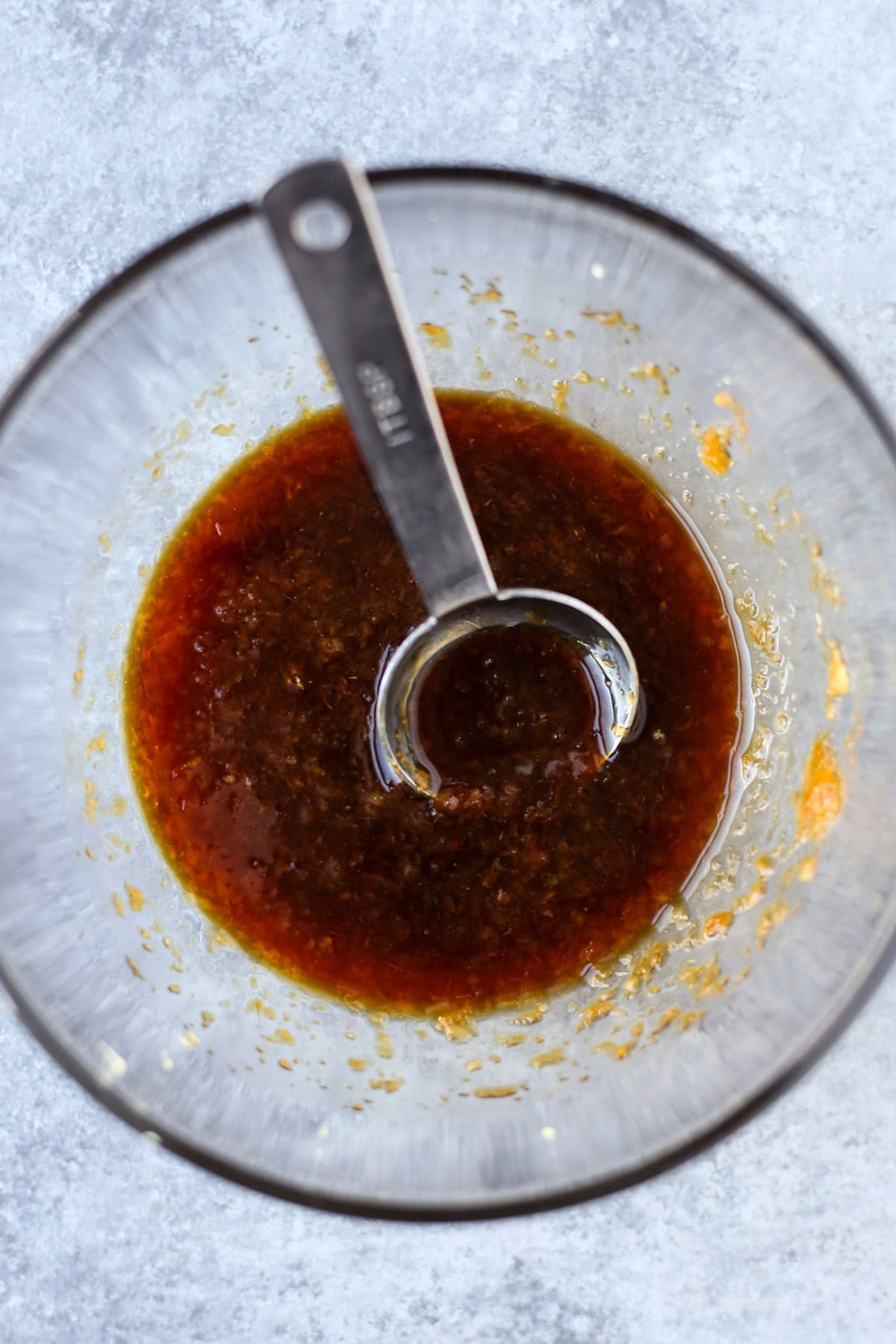 Warm Asian Salmon Salad Ingredients
Salmon Fillet: I'm using boneless, skinless salmon but feel free to use any type of salmon for this recipe. For the best salmon – trust me when I say that it's worth spending a little extra on good fish – look for wild caught salmon from either the US or Canada.
Oil: Use a neutral oil such as vegetable, grapeseed, or organic canola oil.
Rice: You can use any type of rice for this recipe, except short grain or medium grain Japanese rice, because it's too sticky. My favorite is brown rice or whole grain rice.
Almonds: While almonds offer a nutty flavor, they also add a slight crunch to your dish that's both satisfying and delicious. You can use shaved or chopped almonds.
Onion: Red onions add some color to the salad and tend to be a little spicier than the white or yellow kind.
Edamame: I love the buttery, sweet, and nutty taste of edamame beans! And I also love that they are a power food packed with vitamins and nutrients.
Spinach: You can use regular or baby spinach but I personally prefer baby spinach because the leaves tend to be more tender.
Mandarin oranges: Canned mandarin oranges are sort of the go-to citrus when it comes to adding fruit to an Asian salad. But feel free to use fresh mandarin oranges if you happen to have some.
Salmon Marinade Ingredients
Garlic: One small clove is enough to add a sweet and pungent element to the dressing. Make sure it's properly minced – the finer the chop, the better – so the flavor is properly spread throughout the marinade.
Ginger: The ginger should also be finely chopped to infuse the right amount of spiciness.
Honey: I like to add a little honey for sweetness and hint of floral. You can use pure maple syrup as well.
Soy sauce: Use a Japanese soy sauce such as Kikkoman or Yamasa. The reason being that Japanese soy sauces are milder and have more depth of flavor than other types.
Oyster sauce: The only oyster I use is made by Lee Kum Kee. This is the only I find that actually tastes pungent. Other oyster sauces are too sweet and lack depth of flavor.
Homemade Salad Dressing Ingredients
Sesame oil: There's nothing quite like sesame oil to add that element of nuttiness that Asian food is well known for. And when it comes to salad, toasted sesame oil is the way to go as it has an even more intense flavor. However, it shouldn't be used for cooking as it has a lower smoke point than regular sesame oil.
Sesame seeds: I use a mix of both black and white sesame seeds for esthetic purpose only. They actually taste the same.
Rice vinegar: I use plain rice vinegar or kurozu, which is a Japanese amber vinegar that can be found in Japanese supermarkets. Kurozu is milder, less acidic, with a hint of sweetness, and has become my favorite vinegar to use in salads.
Sugar: A little sugar helps to balance the salty, umami, and savoriness of the dressing.
Soy sauce: Again, I recommend using a Japanese soy sauce for the same reasons stated above.
Salt and pepper: I always do a taste test before adding salt and pepper to any dishes, which is why I never put specific measurements for them.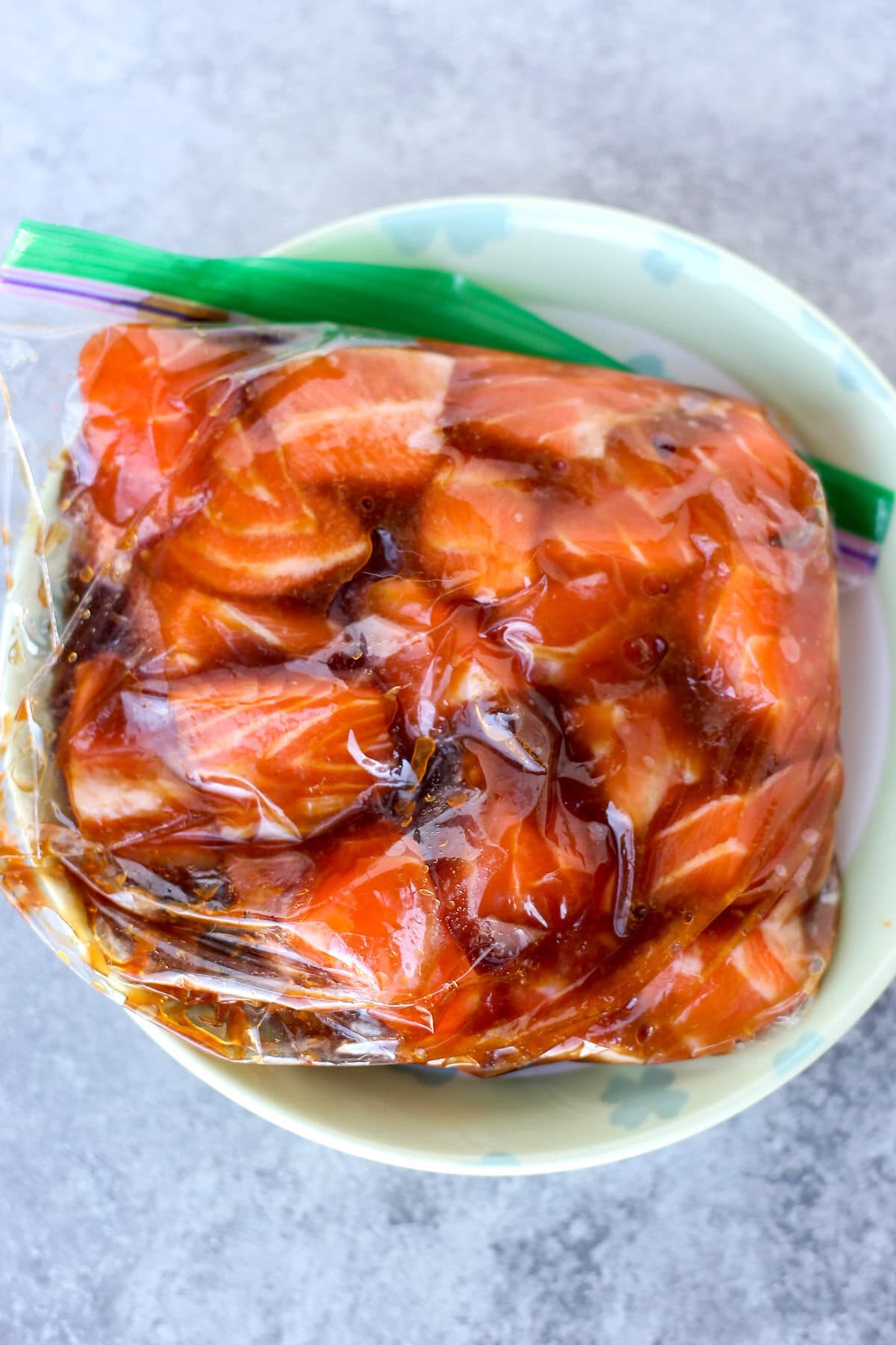 How to Make This Warm Asian Salmon Salad
Gather all of your ingredients and cooking tools.
Begin by making the salad dressing by mixing all of the ingredients in a bowl. Set it aside.
Cut the salmon into bite size cubes and place them in a storage container or bag. Pour marinade into the container or bag (if using a bag, let the air out and seal it). Gently massage the marinade on the bite-size pieces of salmon to coat them evenly and refrigerate for at least 30 minutes. The longer you marinate the salmon, the more flavorful and tender it will become.
In a pan over medium heat, add the vegetable oil and when the oil is hot, fry the salmon. Pan fry for 4-5 minutes, until the salmon is cooked through. Transfer to a plate and set aside.
In a large bowl, add the cooked rice, almonds, red onions, edamame and spinach. Toss and divide among two shallow bowls.
Place salmon fillets, mandarin oranges, and 1 to 2 tablespoons of the salad dressing. Serve.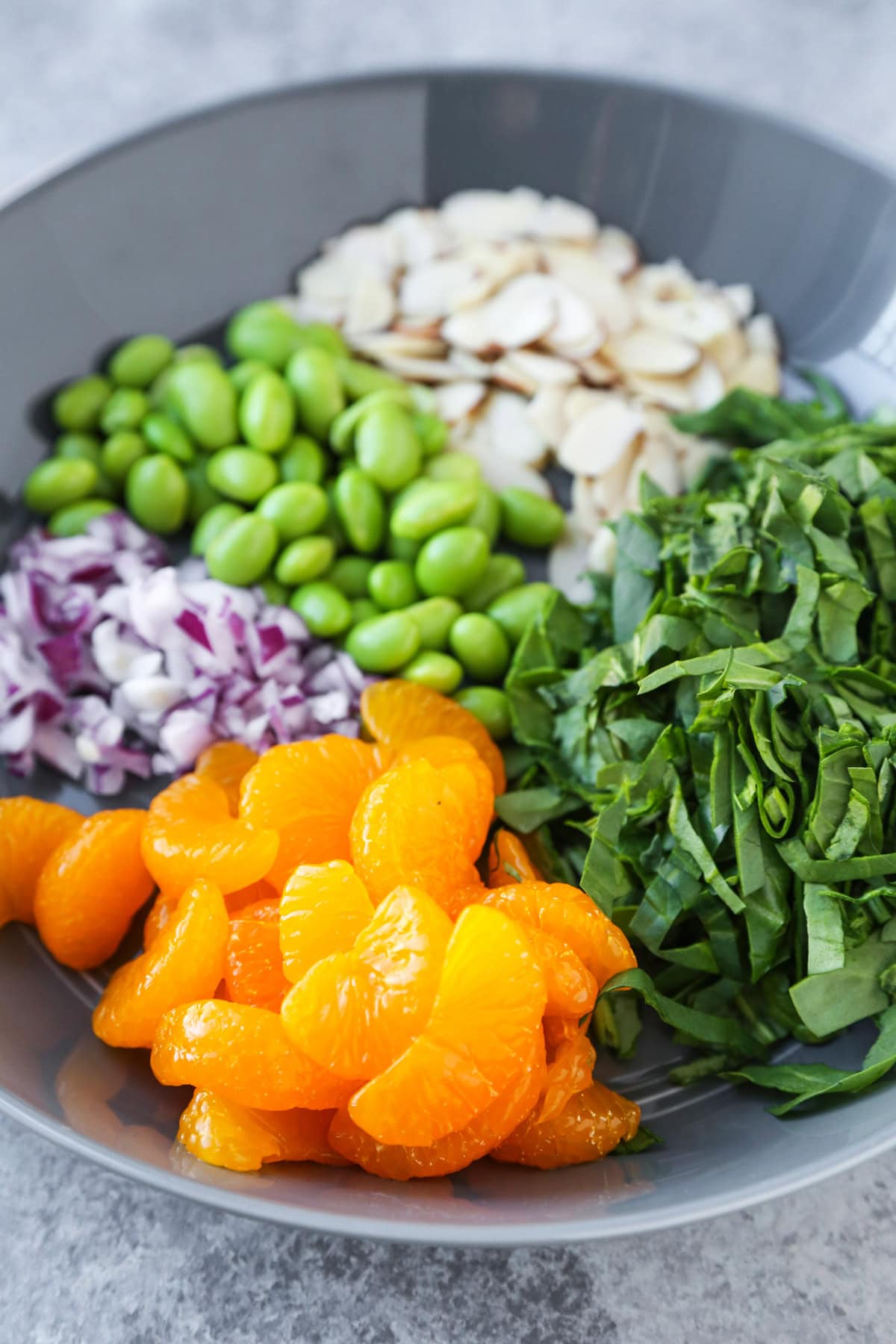 Ingredient Variations
As mentioned above, sometimes not every ingredient in a dish is going to call your name. It's normal for us to be drawn to certain flavor profiles more than others. Here are a handful of ingredients that other warm asian salmon salad recipes also use, should you want to swap one ingredient for another:
Green onions
Olive oil
Fish sauce
Lime juice
Sesame ginger dressing
English cucumber
Red cabbage
Can I use canned salmon?
Yes, if:
You like canned salmon and don't mind foregoing the flavors of a yummy garlic and ginger soy marinade.
You are in a time crunch or are exhausted and just want to eat something healthy, quickly.
No, if:
You want the full flavored dish in all its glory, and the melt-in-your-mouth texture of the salmon.
You have time to marinade your salmon before going to work.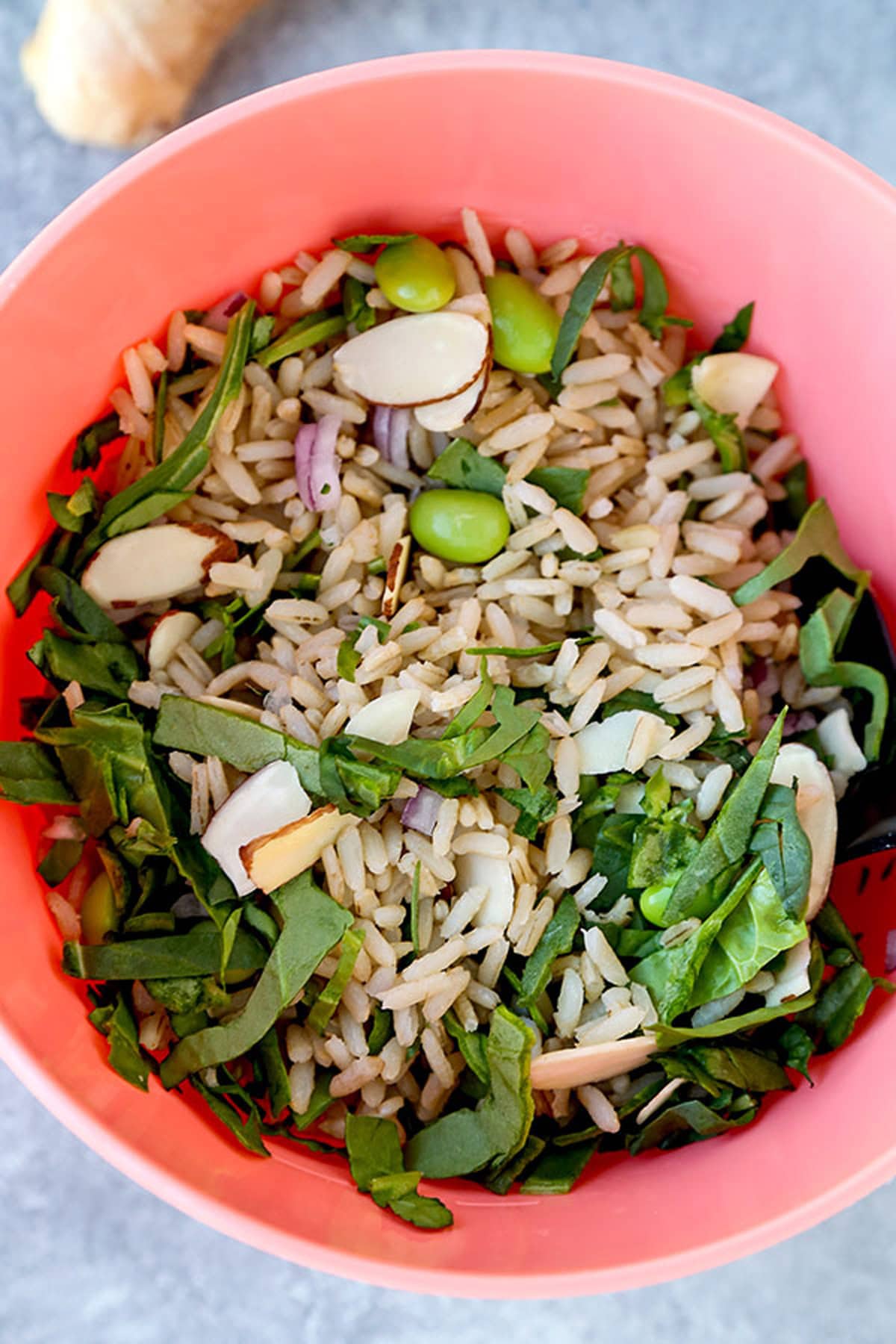 Prepping Ahead of Time
You can prep most of this recipe ahead of time. Here's how:
Make the salad dressing. It will keep refrigerated for up to two weeks.
Make the salmon marinade the night before but do not marinate the salmon until the next day (before going to work is okay).
Make the rice salad a day or two ahead (without the dressing and mandarin oranges added).
Cooking with Salmon
There are many different ways to cook salmon but the result should always be the same; a piece that's flaky, tender and moist.
Here are three ways you can cook this marinated salmon for best results.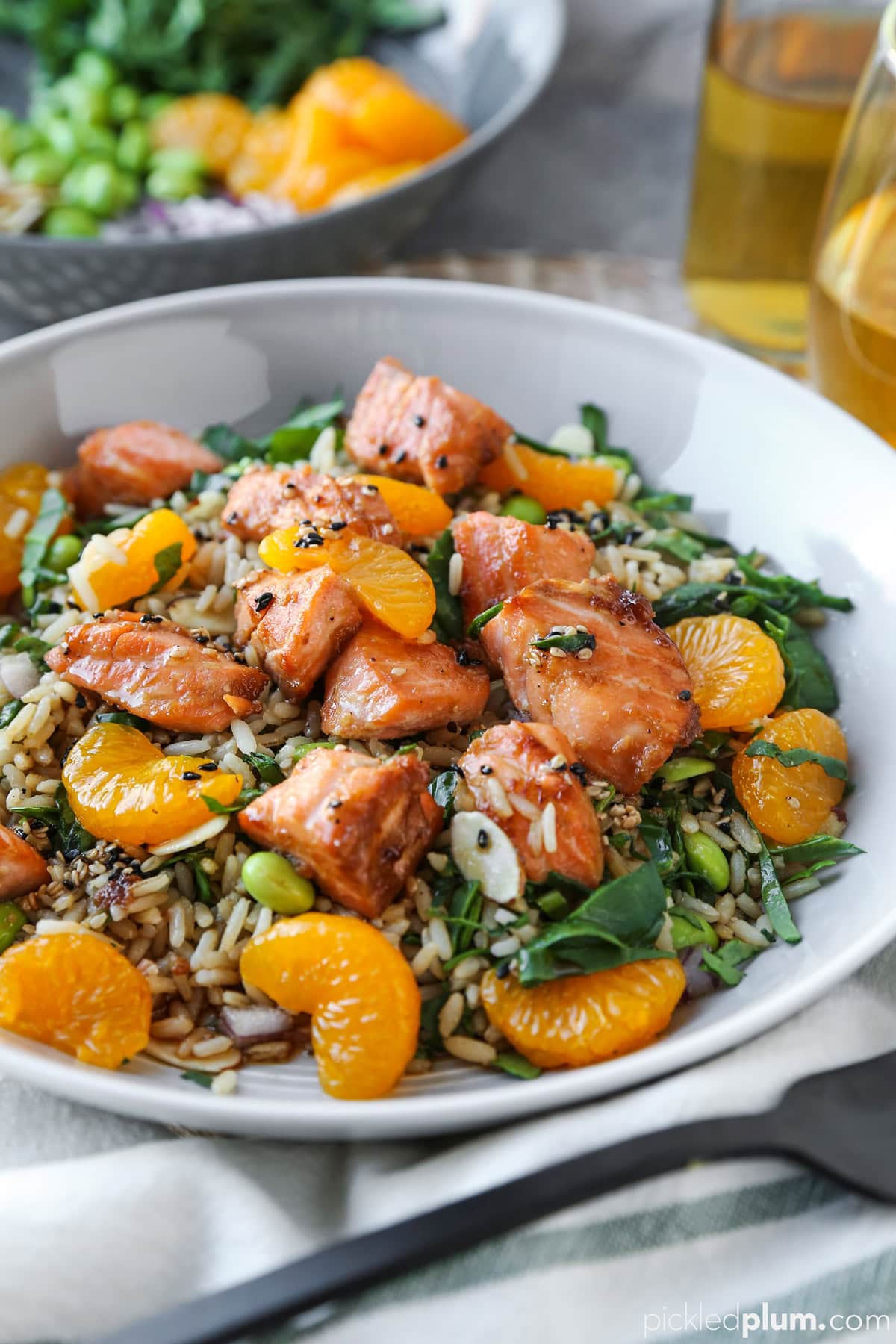 Pan Fry
Although all three methods mentioned are easy to follow, this one is the quickest. All you need is a pan and a little oil. When the oil is hot, add the salmon pieces and pan fry for 4-5 minutes.
I recommend taking the salmon out of the pan 1 minute short of fully cooked since the residual heat will keep the pieces cooking for longer. This way you'll end up with perfectly moist and tender pieces.
Grill
I so wish I could grill! Unfortunately, I live on the third floor of a brownstone in Brooklyn so right now I can only dream about it.
But to those of you who have a grill, I envy you! This means you can infuse an extra layer of smoky goodness to your fish. Sexy.
Instead of chopping the salmon fillet into bite size pieces, leave it whole and marinate it that way. It will be easier to handle.
Now heat your grill to medium high. Here's a quick way to test the temperature of your grill; place a hand about an inch above the cooking grate. If you can keep it there for 3-4 seconds, it means the temperature is medium high.
Lay the salmon fillet over a piece of aluminum foil and pierce holes (one for every inch) throughout. Transfer to the grill, cover and leave for 10-15 minutes. Test the doneness – it may need longer if it's thicker than 1 inch.
The same goes here – pull the salmon off the grill a minute or so before it's fully cooked. Let it sit for a couple of minutes before serving.
Roast
Preheat the oven to 400ºF. Place salmon on a parchment paper-lined baking sheet. Roast for 12-15 minutes.
Alternatively you can broil the salmon by placing it right under the broiler, top rack, about 3 inches away. You will need to keep an eye on the fish at all times since it could quickly burn! Check your fish after 3 minutes. If it needs longer, leave it for an extra 1-2 minutes.
Other salmon recipes you might like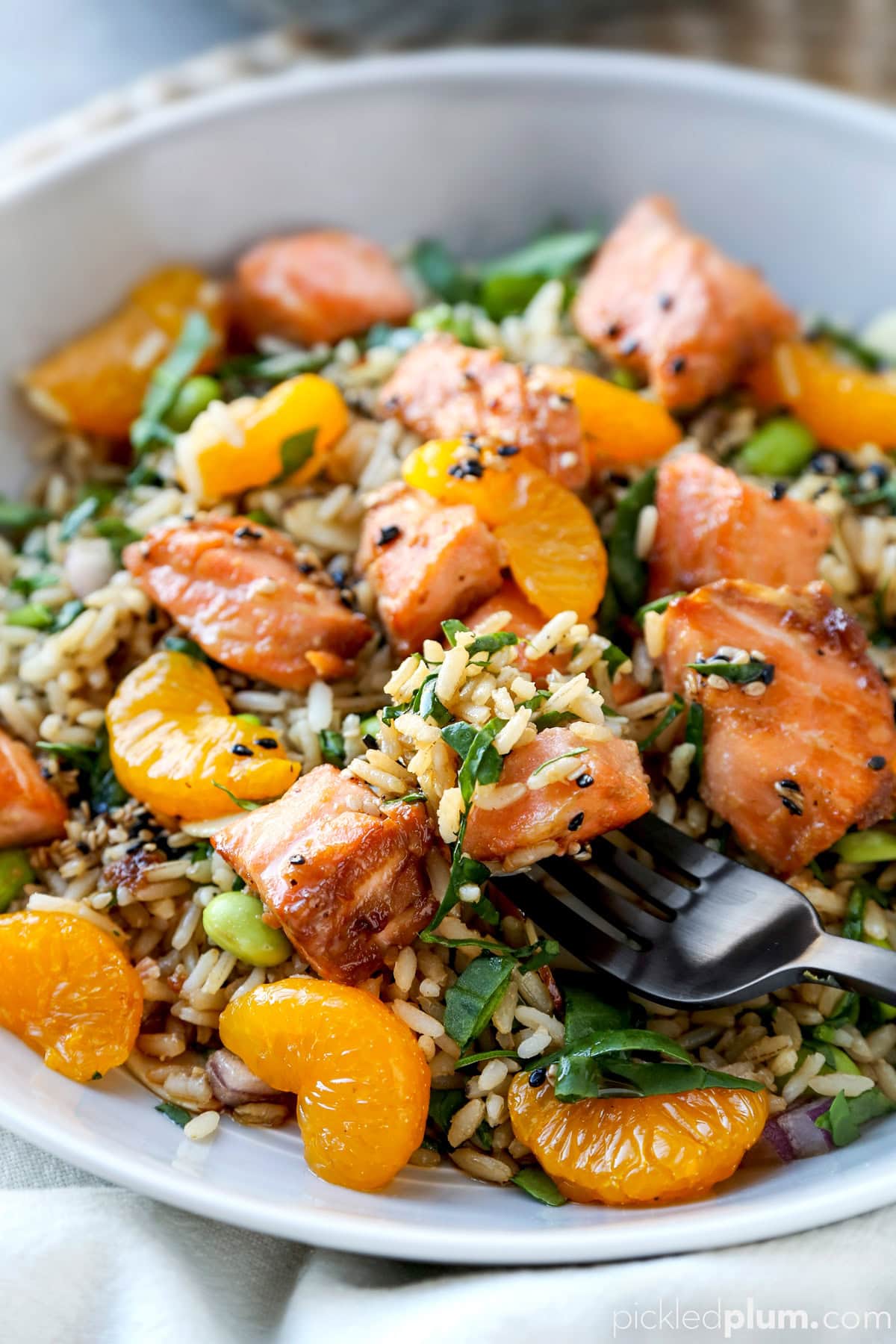 Did you like this warm Asian salmon salad? Are there changes you made that you would like to share? Share your tips and recommendations in the comments section below!
Print
Warm Asian Salmon Salad
This is a bright and refreshing warm salmon salad dressing in an Asian dressing that's both sweet and tangy.
Author: Caroline Phelps
Prep Time:

15 minutes

Cook Time:

5 minutes

Total Time:

50 minutes

Yield:

2

people

1

x
Category:

Salad

Method:

Pan frying

Cuisine:

Asian
1/2

pound

boneless skinless salmon fillet

1 tablespoon

vegetable oil

1 1/2

cup

cooked whole grain rice, brown rice or long grain rice

1/4

cup

shaved almonds

3 tablespoons

red onion (finely chopped)

1/3

cup

shelled edamame

1/2

heaping

cup

baby spinach (shredded)

1/2

cup

canned mandarin oranges (drained)
Salmon marinade:
1

clove garlic (grated)

1 tablespoon

freshly grated ginger

1 teaspoon

honey

2 tablespoons

soy sauce

1 tablespoon

oyster sauce
Salad dressing:
2 tablespoons

toasted sesame oil

1 tablespoon

sesame seeds (I use a mix a black and white sesame seeds)

1 1/2 tablespoons

rice vinegar

1 teaspoon

granulated sugar

3 tablespoons

soy sauce
salt and pepper (to taste)
Instructions
Whisk all the ingredients for the salad dressing and set aside.
In a bowl, whisk all the ingredients for the salmon marinade and set aside.
Cut salmon into bite size cubes and add to a sealable sandwich bag or shallow bowl. Pour marinade into the bag, let the air out and seal. Gently massage the marinade on the salmon cubes to coat them evenly. Refrigerate for at least 30 minutes.
In a pan over medium heat, add vegetable oil and when the oil is hot, add salmon cubes. Pan fry for 4-5 minutes, until salmon is cooked through. Transfer to a plate and set aside.
In a large bowl, add rice, almonds, red onions, edamame and spinach. Toss and divide among two shallow bowls.
Top with salmon, mandarin oranges and 1-2 tablespoons of salad dressing. Serve.
Notes
You can make the dressing ahead of time and keep it refrigerated up to 2 weeks.
You can also make the rice salad (without the dressing, salmon or mandarin included) 1 or 2 days before serving, stored it in the fridge.
Nutrition
Serving Size:
Calories:

635

Sugar:

14.9 g

Sodium:

1470.4 mg

Fat:

32.2 g

Saturated Fat:

4.9 g

Carbohydrates:

51.5 g

Fiber:

6.6 g

Protein:

39.8 g

Cholesterol:

61.4 mg
Keywords: recipe, rice salad, fish, seafood, healthy
Recipe Card powered by