This is an easy and colorful taro milk tea recipe for boba tea lovers. Creamy, sweet, and with chewy tapioca pearls, this extremely popular Asian drink can be made at home in just 25 minutes.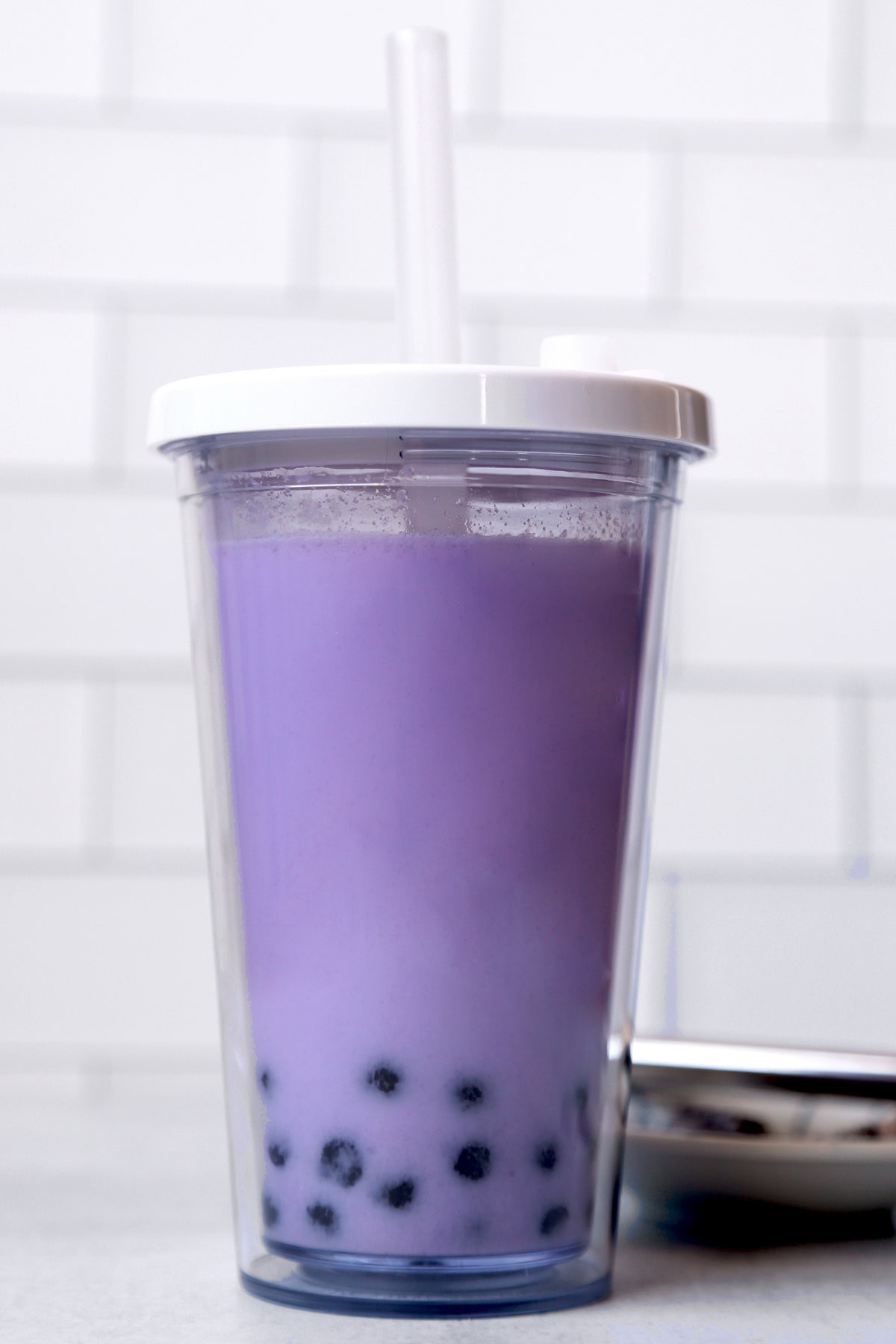 Every time I move to a new place, I make sure to find my local boba shop. There's something so relaxing about taking a break from work and popping in somewhere for a sweet tea concoction filled with chewy boba pearls.
The other day I got a craving for a creamy taro milk tea. But instead of heading to the tea shop, I decided to make it myself at home. Not only was the process super easy (no blender necessary), I was able to make it exactly how I like it.
Added bonus: making your own milk tea at home is way cheaper then going to the shop.
What is Taro Milk Tea?
Taro milk tea (香芋奶茶) is a sweetened drink made with brewed tea, taro root powder, milk and tapioca pearls (aka: boba). It typically has a vibrant purple color.
The taro isn't just window dressing though. It serves as both a flavoring agent and thickener. Most milk teas are sweetened with sugar – and can run the gamut from subtle and nutty, to super sweet and fruity.
Taro milk tea is just one version of boba tea (or bubble tea). While Taiwan is the point of origin for bubble tea, you'll find it worldwide – from Southeast Asia to India to Hawaii to that shop just down the street from your house.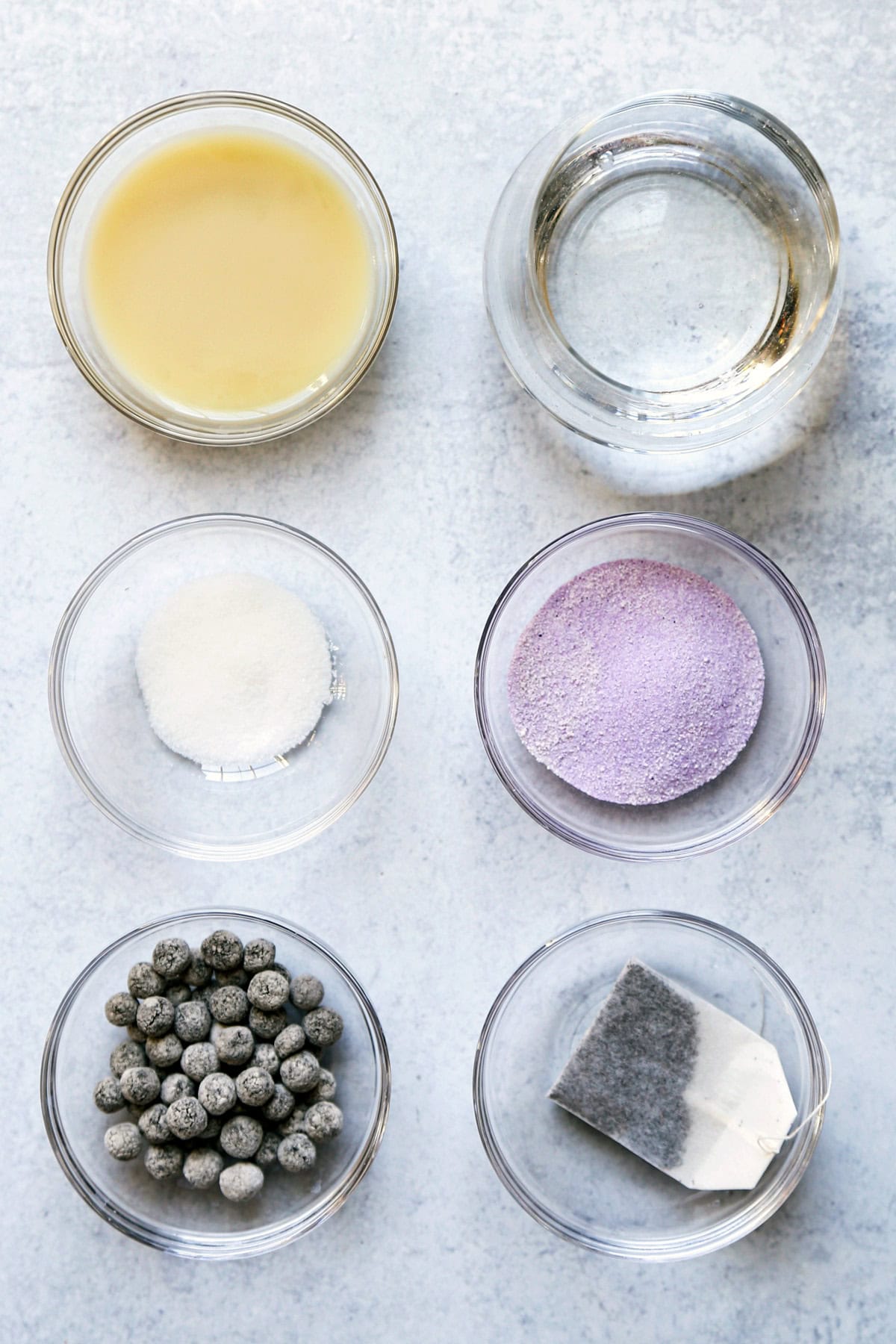 Taro Milk Tea Ingredients
Scroll all the way down for the full recipe.
Hot Water: Although this is a cold drink, we'll need the water to be boiling hot so it dissolves and blends both the sugar and taro powder – and steeps the tea to your preferred strength.
Tea: You can use whichever tea you like best. I usually use green tea (or jasmine green tea) – or black tea like English breakfast or darjeeling. Jasmine tea is also a popular choice. If you are going to use something like loose green tea leaves, be sure to pick up loose tea leaf filter bags.
Sugar: I'm using 1/2 tbsp of granulated sugar. If you like your bubble tea sweeter (or less sweet), you know what to do.
Taro Powder: You'll use this to thicken and flavor the milk tea. Taro powder is typically slightly sweet and nutty. Many brands have added sweeteners and flavors like vanilla – and it's not uncommon to also see ube in the ingredients list. Ube adds sweetness and vibrant color. These days it's fairly easy to track down at Asian grocery stores. We'll talk more about taro in a second.
Tapioca Pearls: These are the translucent, chewy balls you'll find in bubble tea. Also known as boba, these spheres are made from tapioca starch from the cassava root. Grab tapioca pearls here on Amazon.
Milk or Oatmilk: You can use dairy milk (from skim to whole milk). Or, if you're making a vegan milk tea, just use a non dairy milk alternative. In my opinion, oatmilk is the best choice for creaminess – but you could use unsweetened almond milk or light coconut milk. Some boba shops use condensed milk, but I find it far too sweet for my personal taste. Your mileage may vary.
What is Taro?
Taro (colocasia esculenta) is a starchy corm with a mild nutty flavor. This root vegetable has an edible interior that is predominantly white, with flecks of lavender color throughout.
Most mass produced powdered taro used in milk tea has a vibrant purple hue from the addition of ube (purple sweet potato). It makes a striking drink!
However, while taro might look similar to a purple sweet potato at first glance, they are actually different things. That said, you can roast, fry, mash and bake taro much as you would a potato.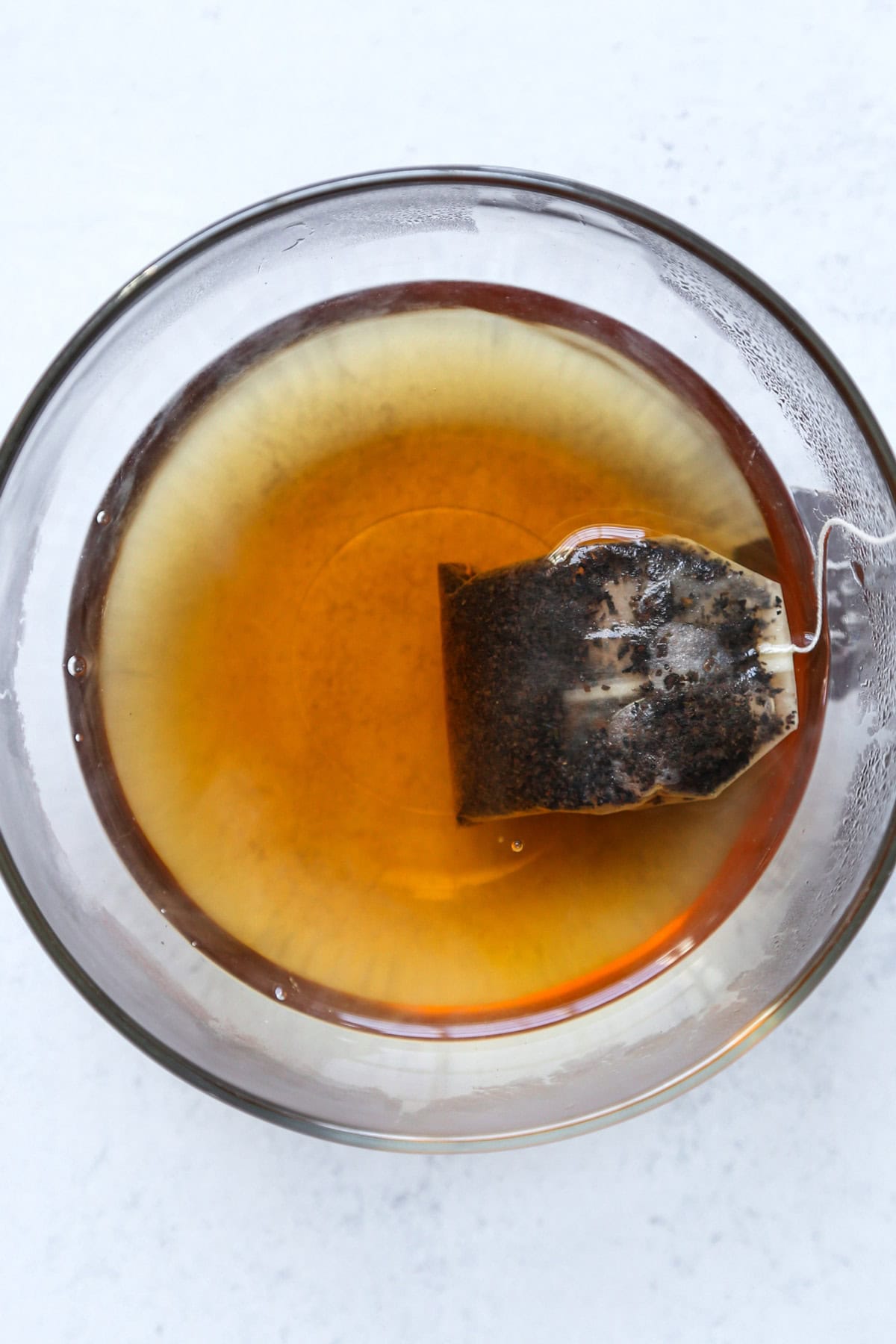 How to Make Taro Milk Tea
Gather all of your cooking tools and ingredients.
Measure out 1 cup of boiling hot water and add your preferred tea bag. Add the sugar and taro powder and stir until completely dissolved and incorporated.
Place your tea in the refrigerator for 2-3 hours until ice cold. Then place in a serving cup.
In the meantime, bring a small pot of water to a rolling boil and add your tapioca pearls. They will float to the surface after a few seconds in the water. At that point, lower the heat to a simmer and cook the boba for 15 to 20 minutes. Your tapioca pearls are done when they are soft and chewy.
Drain the cooked tapioca pearls, then rinse them under cold water until they no longer contain heat. Drain well again and add them to your cold taro tea.
Finally, pour the cold milk in, blend with a spoon and serve. If you're using a boba cup, cover with a lid, grab your huge bubble tea straws and enjoy cold!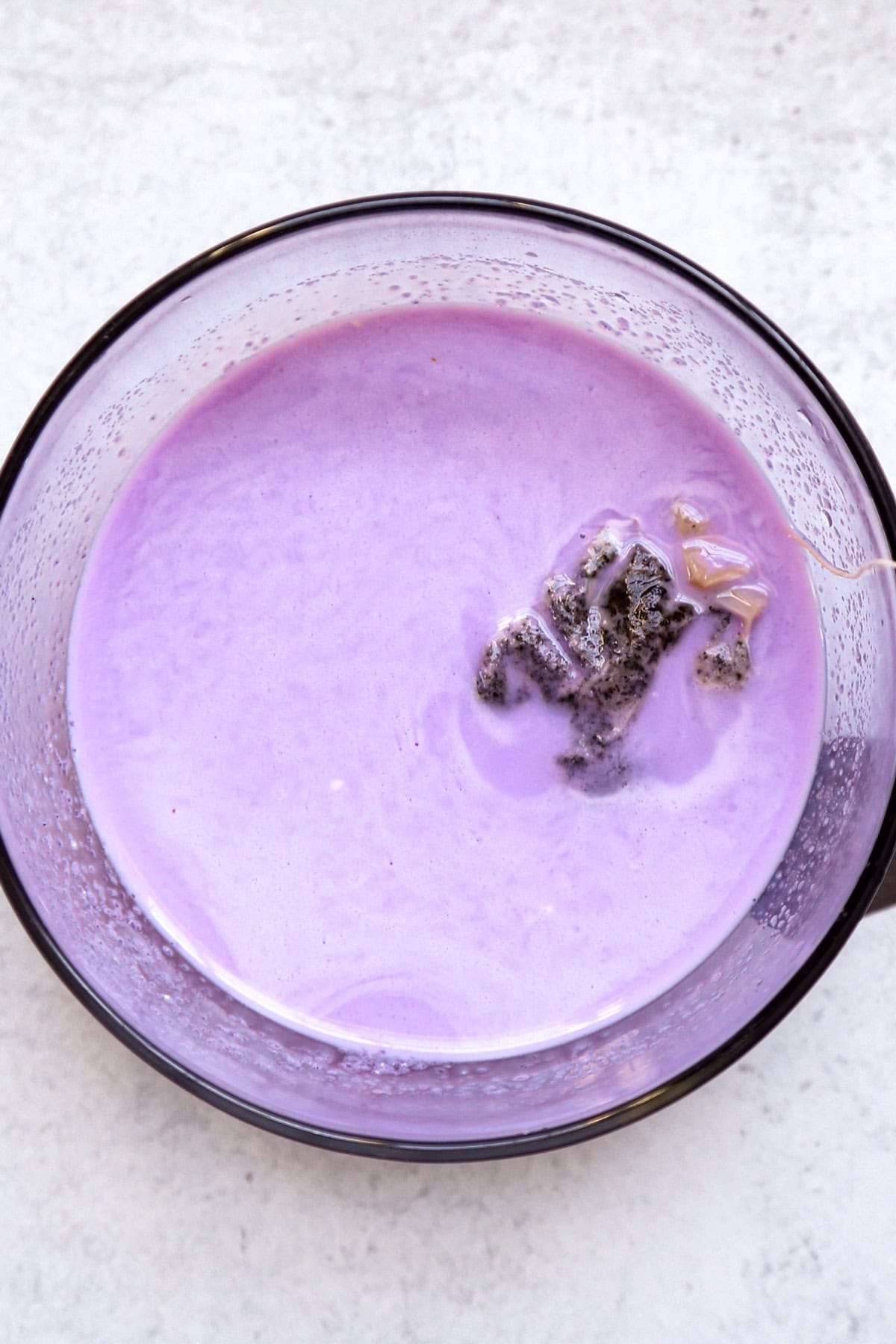 Taro Milk Tea Taste
There is a mellow sweetness that permeates and compliments the more sharp tasting notes from whichever tea you decide to use.
The texture is both creamy from the milk (or non-dairy milk alternative) – and thick from the powdered taro root. Taro is a natural thickener. However it will not be gloppy. There is a pleasing overall smoothness to this taro bubble tea.
And, if you use them, the boba pearls introduce a chewy element that makes this milk tea just plain fun to drink.
How to Make Boba
While you can use quick cooking tapioca pearls from the grocery store for this recipe, you can also make your own boba at home with just three ingredients.
If you'd like to try your hand at making homemade boba, follow the easy step-by-step instructions in this post on making tapioca pearls.
Alternatives to Boba
Boba not your thing? Luckily there some great options if you like your taro milk tea with a bit of texture and added flavor.
Coconut Jelly: Also known as nata de coco, this is essentially a translucent jelly made of fermented coconut water. Sweet and delicious.
Rainbow Jelly: This is another sweetened jelly, although (as the name would have you believe) with more colors at play. This sugary drink addition is made with a combination of coconut meat and konjac (konnyaku).
Popping Boba Pearls: These are fruit juice filled bubbles that pop in your mouth when chewed, releasing their intense fruity flavor. Although called boba, the popping variation is actually a mixture of liquid ingredients mixed with sodium alginate – which are then run through run through a calcium chloride solution. It's science!
Your Favorite Fruit: Use fruit like chopped lychee or macerated strawberries.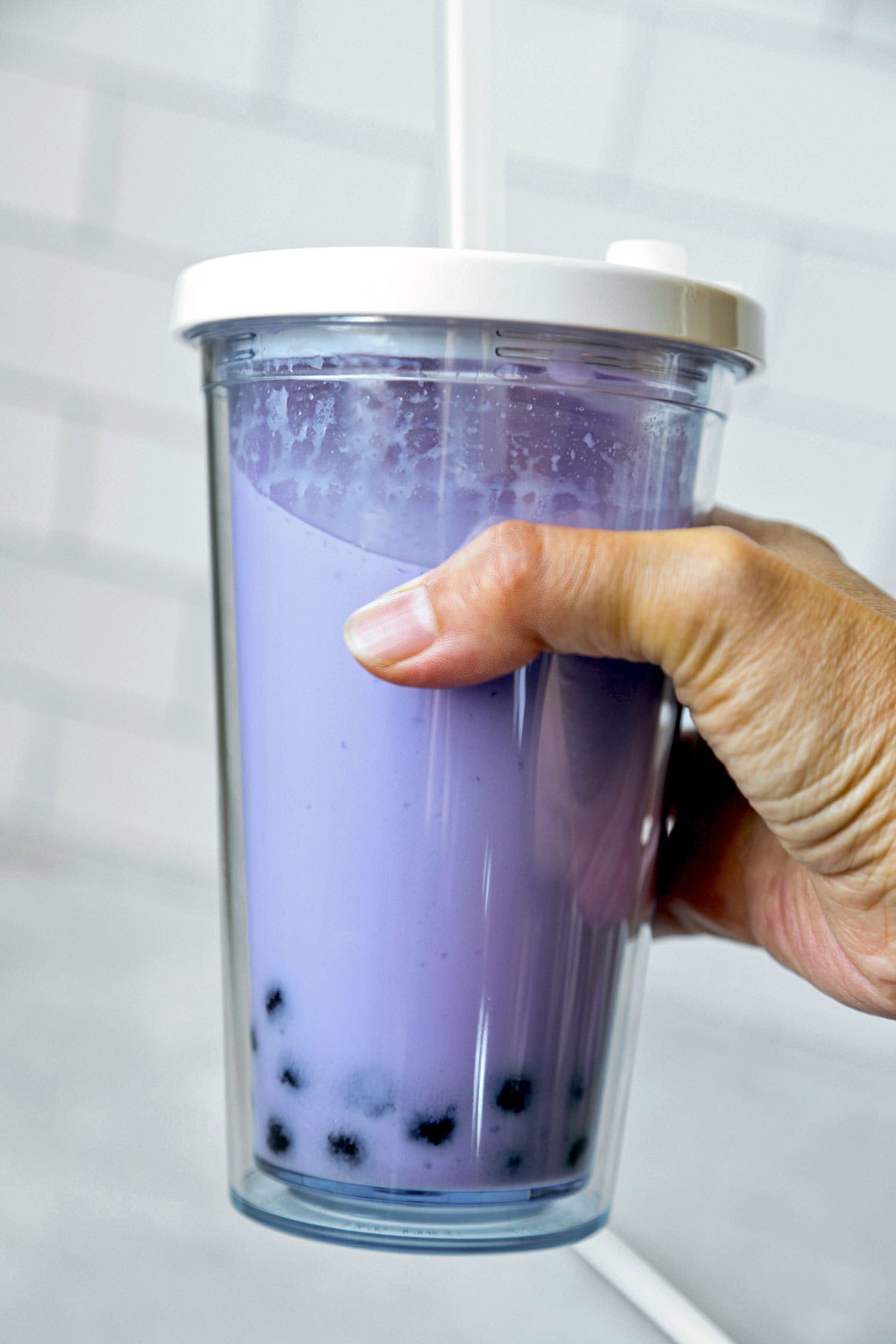 Did you like this taro milk tea recipe? Are there changes you made that you would like to share? Share your tips and recommendations in the comments section below!
Print
Taro Milk Tea
This is an easy and colorful taro milk tea recipe for boba tea lovers. Creamy, sweet, and chewy, this extremely popular Asian drink can be made at home in just 25 minutes.
Author: Caroline Phelps
Prep Time:

5 minutes

Cook Time:

20 minutes

Total Time:

25 minutes

Yield:

1

boba drink

1

x
Category:

Drinks

Method:

N/A

Cuisine:

Chinese

Diet:

Low Salt
1

cup

boiling hot water

1

green tea or black tea bag

1/2 tablespoon

sugar

2 1/2 tablespoons

taro powder

1/4

cup

quick cooking tapioca pearls

1/4

cup

milk or unsweetened oat milk
Instructions
Add the tea bag and sugar to the hot water and stir until the sugar has dissolved. Add the taro powder to the tea and stir until it has fully dissolved.
Refrigerate for 2 to 3 hours until the tea is cold.
Transfer the taro tea to a serving cup and set aside.
Bring a small pot of water to boil and add the tapioca pearls. When they float to the surface after a few seconds, lower the heat to a simmer and cook the pearls for 15 to 20 minutes, until they are soft and chewy.
Drain the tapioca pearl and rinse them under cold water until they are cold. Drain well and add them to the taro tea.
Add the milk and cover the cup with a lid if you are using a boba cup. Serve cold.
Notes
If you are not a big fan of tapioca pearls, swap them for coconut jelly, rainbow jelly, or popping boba pearls.
Nutrition
Serving Size:

1 drink

Calories:

264

Sugar:

17.6g

Sodium:

70.6mg

Fat:

0.9g

Saturated Fat:

0g

Unsaturated Fat:

0g

Trans Fat:

0g

Carbohydrates:

48.4g

Fiber:

0.3g

Protein:

2.1g

Cholesterol:

5.4mg
Recipe Card powered by