Make the best Iced Matcha Latte at home! 3 ingredients and 5 minutes is all it takes to make the perfect green tea latte! Plus instructions on how to make plain matcha iced tea!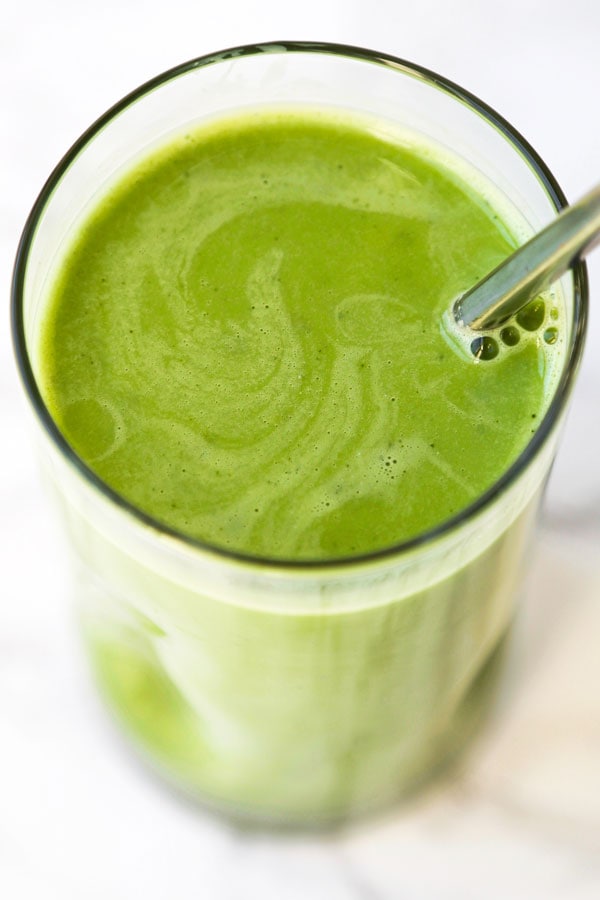 I absolutely love going to my neighborhood coffee shop for a creamy iced matcha latte. Aside from being a yummy sweet treat to indulge in – it also gives me an opportunity to unwind, destress and smell the roses for a bit.
Then when I started making matcha lattes and matcha iced tea at home, I was shocked by how a mixing few simple ingredients together could result drinks that taste exactly like the ones I enjoy from the cafe – for a fraction of the price. Let's hear it for homemade!
So let's take a closer look at matcha – and, in the process, make a delicious iced matcha latte AND a cold, refreshing matcha iced tea!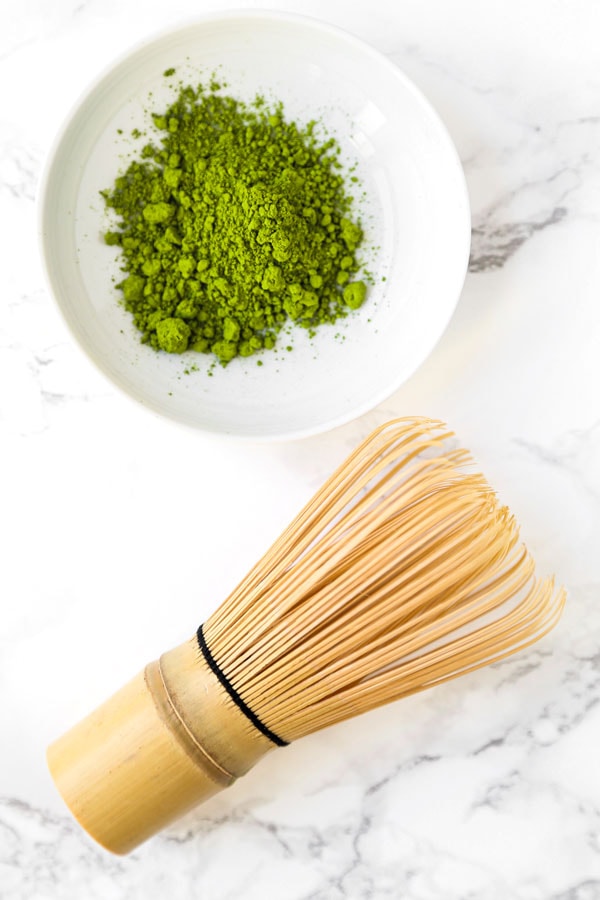 What is matcha? 
Matcha (抹茶) is a fine powder made of destemmed, shade grown green tea leaves. What sets matcha powder apart from other traditional green teas is that it is normally comprised of only the best quality tea leaves. Those leaves are ground into a texture similar to talcum powder which can then be put directly into hot water. Inversely, the green tea leaves that have been rolled and dried without being ground, are called sencha tea.
What is ceremonial grade matcha?
Now, as with most things, there are differing qualities – or grades – when it comes to matcha tea.
Ceremonial Grade: The best (and most expensive) of the three grades. It is said that the tea leaves in ceremonial grade matcha are stone ground. The powder is a bright, vibrant green and has the most complex flavor palate. My favorite brand is Matcha Bloom, which uses gyokuro leaves farmed in Japan, which require more care and attention than the commonly-used Tencha leaves. Use the code CAROC98 to get 10% off your first purchase at Matcha Bloom! 
Premium Grade: This grade comprises much of what you might drink at a coffee shop or purchase at a tea shop – and usually has a refined, somewhat grassy flavor to it. A good premium matcha can taste almost as good as ceremonial matcha.
Culinary / Ingredient Grade: As it sounds, this matcha is great for cooking. However, it can be a little too bitter when drinking. Use this green tea in recipes like this matcha roll cake – or this matcha and dark chocolate bread pudding and you'll be in great shape! This is sometimes also referred to as Cafe Grade matcha. Bonus: it's usually the cheapest of the matcha grades.
That's all well and good. But which one should I buy?
When I buy matcha or other forms of green tea, I always go with tea that was made in Japan. If you can find it, sticking with ceremonial and premium grades give you the most options when drinking and cooking. I always buy ceremonial grade tea when I can.
What is a matcha latte? 
A matcha latte is a mixture of matcha tea with milk. You can use either traditional dairy – or non dairy options like almond milk or soy milk. I've added just a bit of granulated sugar to this iced matcha latte recipe for a subtle underlying sweetness – but you can make yours without if you prefer.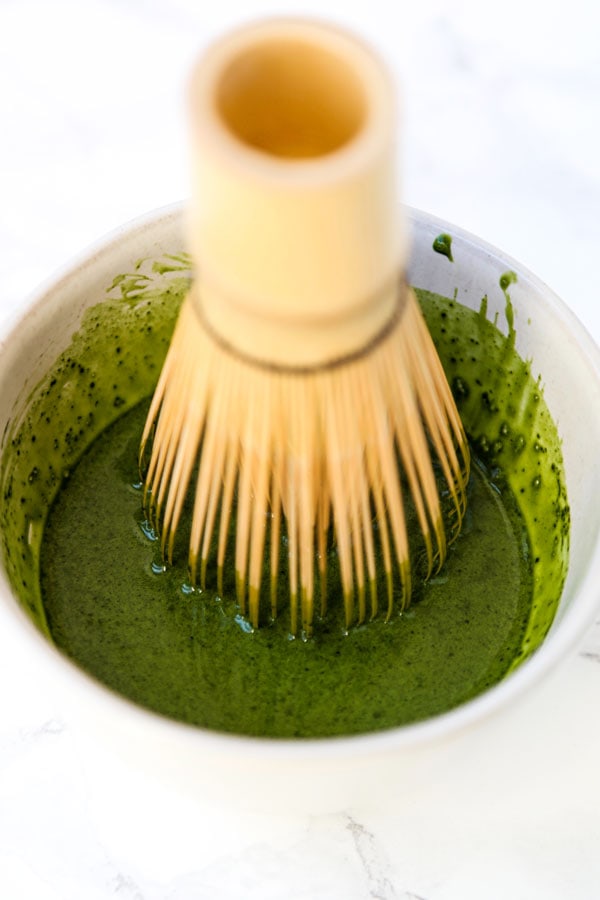 What does matcha taste like?
On its own, matcha delivers flavors with full bodied charm. There's an almost grassy, astringent element to matcha, coupled with a lingering sweet aftertaste. Some matcha even presents nutty, roasted elements in the flavor profile. And some of the best matcha tea is even said to have a hint of underlying umami. Fascinating, right?!
In this latte, the astringency is tamed by the creamy elements of the almond milk. And the trademark grassy flavor is complimented by the sweetness the sugar delivers. When you pour it over ice… POW! Perfection 🙂
Iced Matcha Latte Ingredients 
As you can see, as far as lattes go, this is a pretty simple ingredients list. You don't have to be a trained barista to make a delicious matcha latte. Save a few bucks and try making one at home!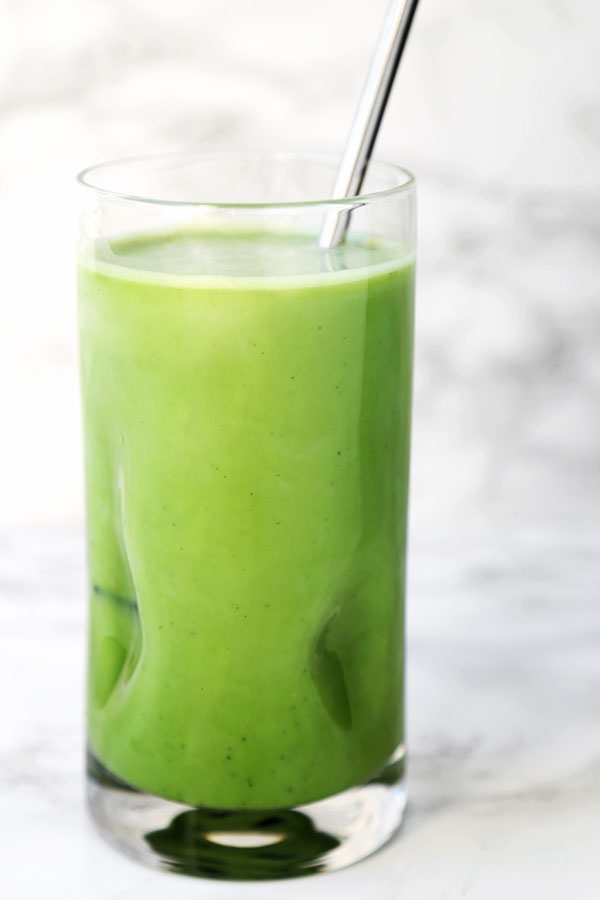 How to make matcha
If you're just making a mug of plain matcha tea, simply whisk about a teaspoon of ceremonial or premium grade Japanese matcha into a cup of hot water. And that's it. Enjoy! If you drink a ton of matcha, a matcha whisk can be a great too to add to your arsenal.
How to make matcha latte
Mix your matcha powder and sugar in a bowl with a little bit of your milk and whisk until both powders dissolve. This step will generate a decent bit of froth.

Pour into a glass and stir in the rest of your milk.

Add ice cubes and enjoy!


How to make iced green tea 
Another easy option for iced tea deliciousness is to enjoy matcha iced tea on its own, without any additions at all. Iced green tea is SO refreshing and cleansing.
Now, for a deep dive on 3 easy cold brewing methods, check out this post. But here are the broad strokes for making plain matcha iced tea.
I go through phases where I prefer plain iced green tea – and then suddenly I start to crave matcha lattes. But there's no wrong way to drink this wonderfully magic powdered tea leaf!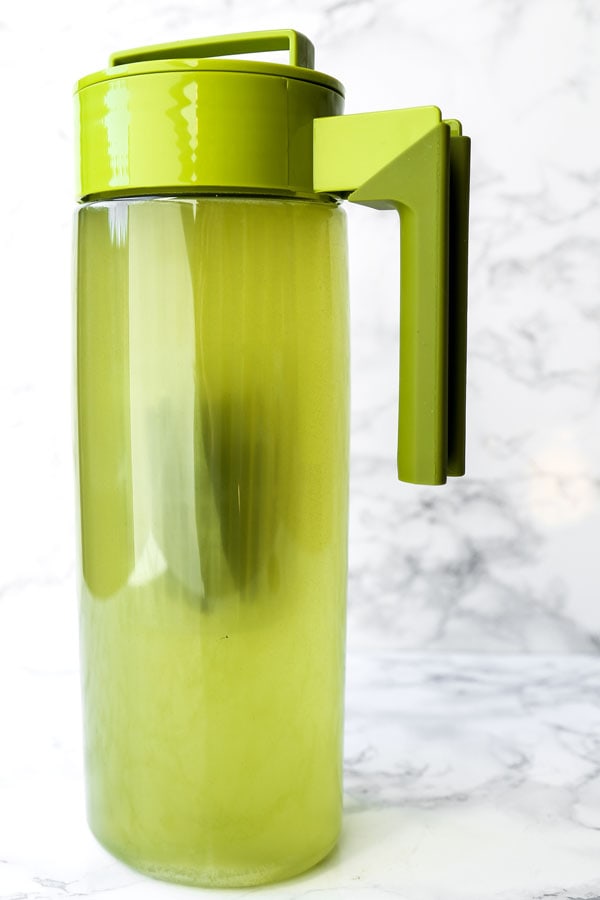 What to serve with a green tea latte or matcha iced tea
Obviously these iced green tea drinks would go with sweet treats that stay on the lighter side of the spectrum – like this stretchy Hawaiian butter mochi, or this smooth Japanese style pumpkin pudding. And you KNOW this matcha ice cream is right in the pocket from a flavor perspective.
However, I love how the mild sweetness from the matcha tea latte compliments more savory dishes. Here are some of my favorite Japanese recipes to pair with your Japanese iced tea: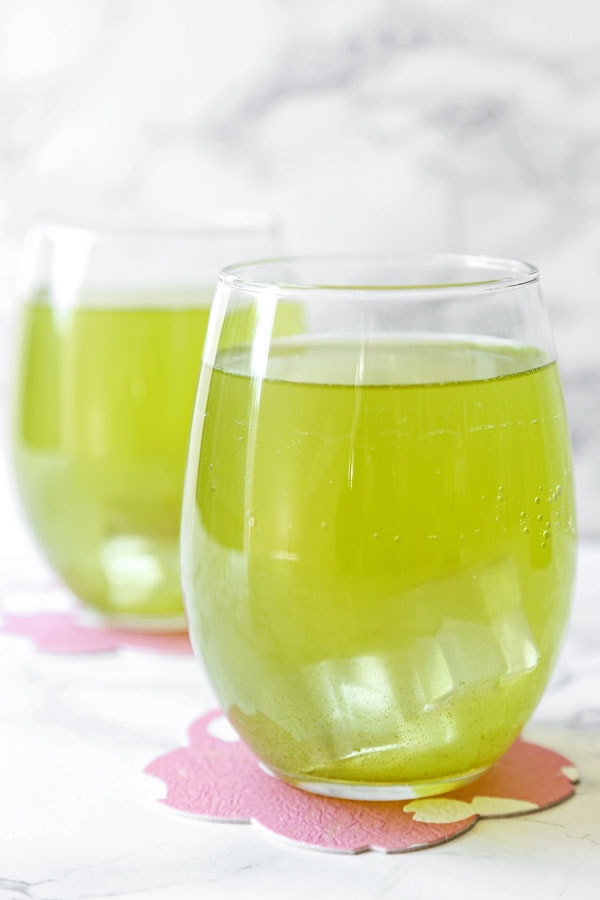 Did you like this Iced Matcha Latte Recipe? Are there changes you made that you would like to share? Share your tips and recommendations in the comments section below!
Print
Iced Matcha Latte + Matcha Iced Tea
Make this creamy Iced Matcha Latte at home with just 3 ingredients! Plus, instructions on how to make unsweetened matcha iced tea.
Author: Caroline Phelps
Prep Time:

5 minutes

Total Time:

5 minutes

Yield:

1

matcha latte

1

x
Category:

Drink

Method:

Whisked

Cuisine:

Japanese
For Iced matcha latte:
For unsweetened matcha iced tea: 
1 teaspoon

ceremonial grade matcha green tea powder

1 cup

water
OR
Instructions
For Iced matcha latte:
In a bowl, mix matcha powder and sugar with a little bit of your milk until they both dissolve. If you drink a lot of matcha like I do, think about investing in a matcha whisk, it dissolves the powder much more easily and makes the drink frothy.

Pour into a glass and stir in milk.

Add ice cubes and enjoy!
For unsweetened matcha iced tea:
Mix matcha powder with hot water. Then refrigerate until cold.
OR
Put tea bags and water in a pitcher, refrigerate and steep for at least 2 hours.
Notes
Consume your matcha latte immediately. You can keep plain matcha iced tea (without milk or sugar) in the fridge for up to 3 days.
Nutrition
Serving Size:

1 cup matcha latte

Calories:

77

Sugar:

8.4 g

Sodium:

186.1 mg

Fat:

2.9 g

Saturated Fat:

0 g

Trans Fat:
Carbohydrates:

9.9 g

Fiber:

1 g

Protein:

1.5 g

Cholesterol:

0 mg
Keywords: matcha, green tea, drink, iced tea, homemade, Japanese tea
Recipe Card powered by