Royal milk tea is a popular drink served in restaurants and sold in supermarkets, convenience stores, and vending machines all across Japan. Its sweet and full bodied taste makes it the perfect beverage to enjoy on a cold day out, or at home with your favorite afternoon snack.
I discovered royal milk tea when I lived in Tokyo many years ago.
Being a big fan of Japanese vending machines, I would often try 2 or 3 different drinks a day, just for fun.
There would be the usual suspects – water, Coke, Sprite, ginger ale – followed by an entire row or two of iced and hot coffees. After that would be colorful drinks such a grape juice with actual peeled grapes in it (so good!), Bikkle, which is a Japanese yogurt drink, CC Lemon (lemon soda), melon flavored drinks, and lots more.
Finally, the row of iced and hot teas where royal milk tea held a permanent spot, and where I first encountered its sweet and comforting taste.
Royal milk tea is very easy to make – only 3 ingredients are needed. And if you happen to have a beautiful teacup sitting in your cupboard, this is when you should take it out because it does make the whole tea time experience much more fun and special.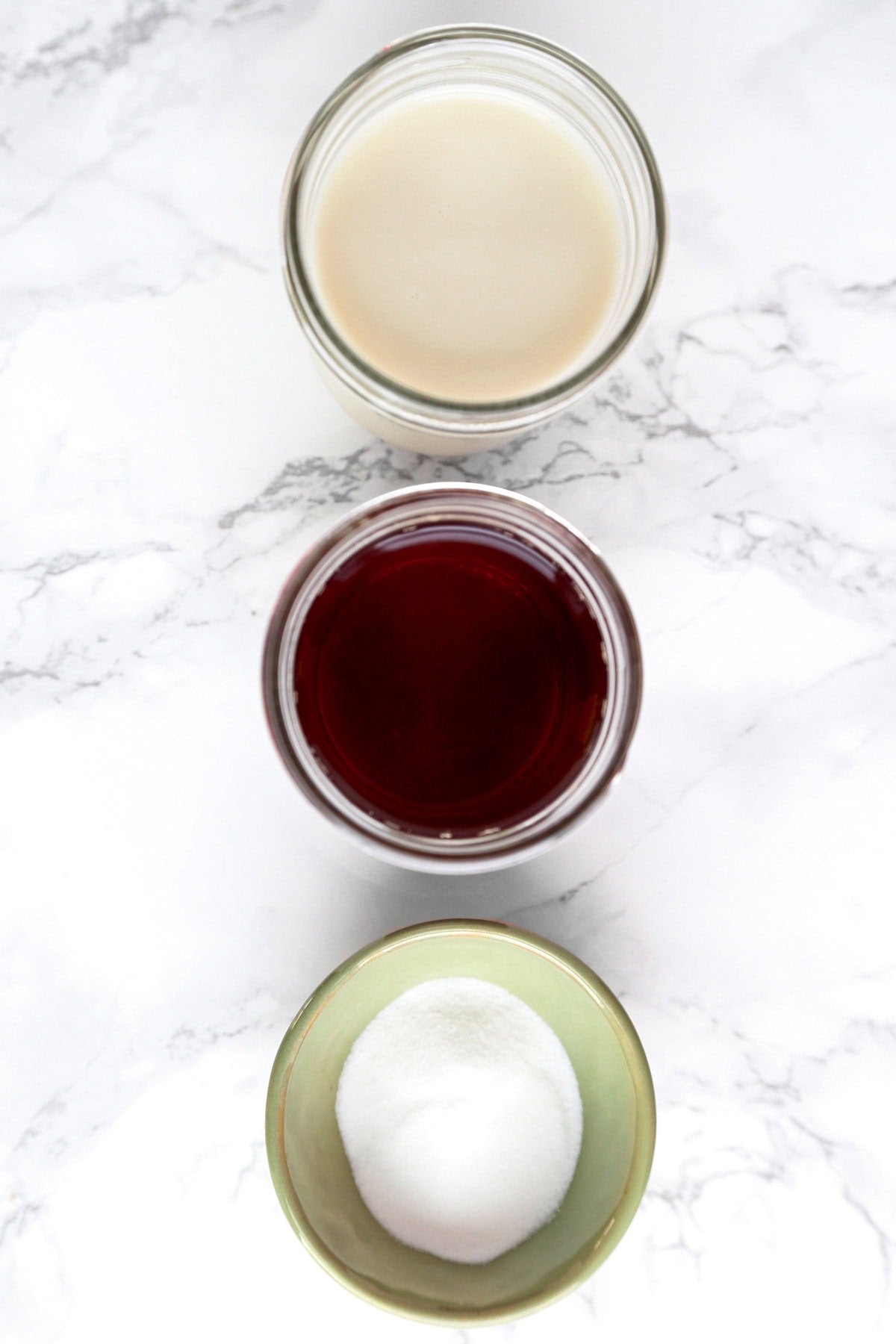 What is Royal Milk Tea?
Royal milk tea (ロイヤルミルクティー) is a popular Japanese beverage consisting of black tea, such as Assam, mixed with milk and sugar. The difference between regular milk tea and royal milk tea is that the ratio of milk to water is higher in royal milk tea, which results in a creamier texture.
The brewing technique is also different:
For regular milk tea, the milk and sugar are added once the tea has been brewed.
For royal milk tea, all the ingredients are boiled together. If you order royal milk tea in a tea shop or upscale restaurant in Japan, the tea leaves may also be of higher quality.
Hokkaido milk tea is made the same way with the only exception being that the milk used in the tea is from the Hokkaido region.
Best Tea for Milk Tea
When making milk tea, make sure to use a tea that's strong enough to handle the addition of milk and sugar. Using something light bodied like Darjeeling may not be the best choice since it has delicate sweet and fruity flavors, which may get lost when mixed with milk and sugar. That's why tea experts recommend you enjoy darjeeling tea on its own.
Here are three full bodied black teas you can use to make milk tea:
Assam: Assam tea is a full bodied Indian tea with a smoky, malty, earthy taste. It's often served as a breakfast tea for its strong taste. The color is a rich copper when brewed.
Ceylon: Ceylon tea hails from the hills of Sri Lanka (formerly known as Ceylon). The tea leaves have a strong, sharp, and spicy flavor, and color the water a dark reddish brown when brewed.
English Breakfast: English Breakfast is a mixture of black teas, most often made with a blend of Assam, Ceylon, and Kenyan tea leaves. More expensive grades of English Breakfast teas may also contain Keemun black tea from China.The flavor is robust and rich, and the color, a dark reddish brown.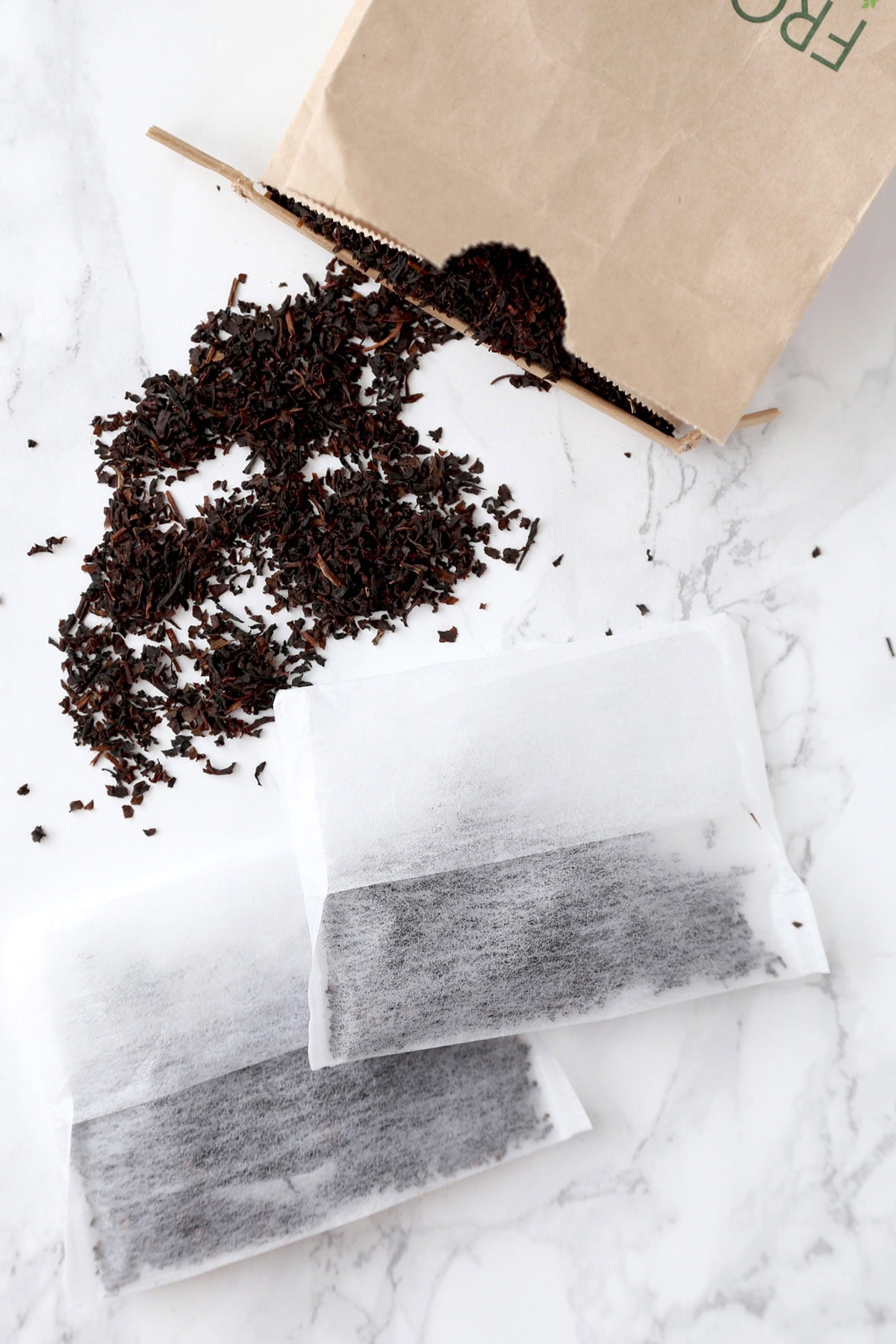 Ingredients for Royal Milk Tea
Black tea: The best type of tea to use for milk tea is a strong, full bodied black tea such as Assam, Ceylon, or English Breakfast. You can use regular tea bags or buy loose tea leaves and make your own teabags with disposable teabags. I personally prefer to use loose tea because it gives me the freedom to choose higher standard tea leaves and flavors that may not be available in teabag format.
Milk: I either use 2% milk or unsweetened oat milk (if I want to cut down on dairy). I find that oat milk is the closest in flavor to regular milk. If you like your tea more creamy, use whole milk or mix regular milk with a little cream.
Sugar: You can use granulated sugar, brown sugar, turbinado sugar, or palm sugar.
Kitchen Tools Needed
How to Make Royal Milk Tea
Gather all of your kitchen tools and ingredients for this recipe.
Place a small pot over medium high heat and add the water and milk. Bring the liquid to a boil and turn the heat down to a simmer, with the liquid barely bubbling.
Stir in the sugar.
Add the teabags and close with a lid.
Simmer for 3 to 5 minutes (the longer you leave the teabags in, the stronger the taste).
Turn the heat off, remove the teabags and serve the tea in your favorite teacups.
You can make royal milk tea ahead of time and keep it in a jug (must be refrigerated) or tumbler to drink later.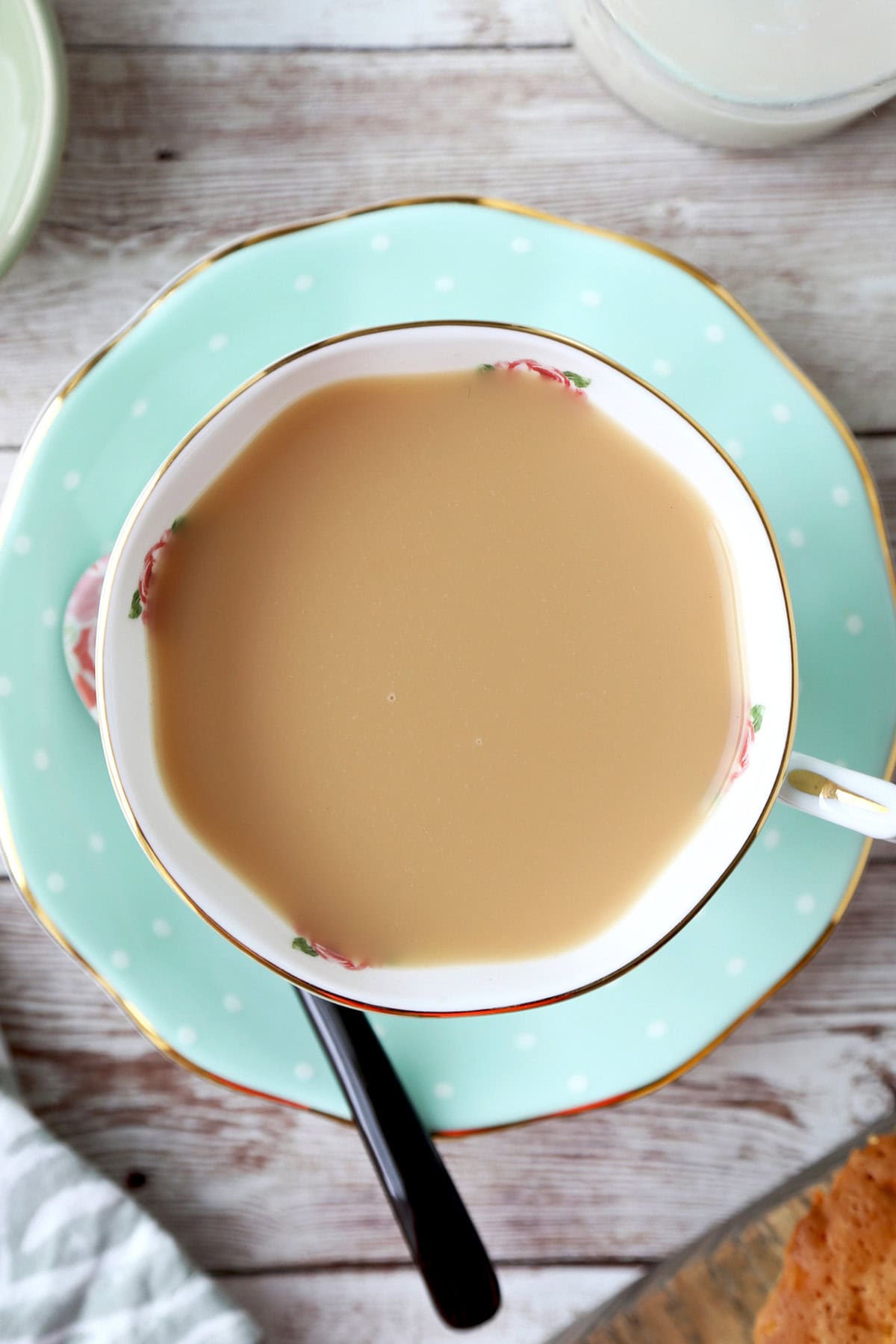 How to Make it Iced
Royal milk tea can be enjoyed hot or cold. To make iced royal milk tea, simply transfer the tea to a jug or a large glass and refrigerate it until it's cold. Serve with or without ice cubes.
In fact, the recipe itself is very close to boba tea (bubble tea) so if you decided to chill it, try adding tapioca pearl or jelly boba to it for a fantastic mid-afternoon drink/snack!
What to Serve with Tea
If like me, you enjoy a good ol' cuppa tea in the middle of the afternoon, serving it with a little snack on the side is always a good idea. Here are some of my favorite homemade snacks that pair well with tea: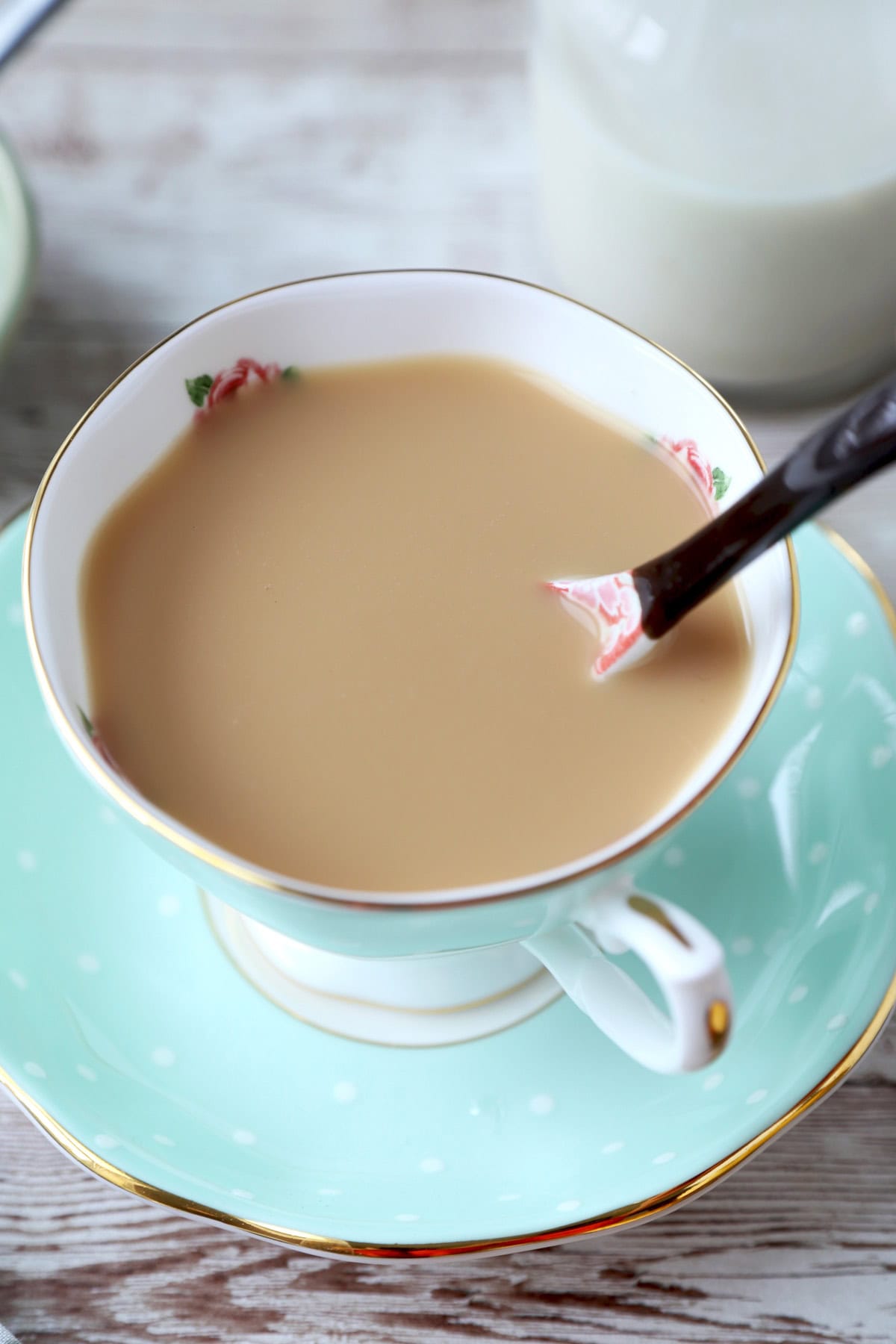 Did you like this Royal Milk Tea Recipe? Are there changes you made that you would like to share? Share your tips and recommendations in the comments section below!
Print
Royal Milk Tea Recipe – ロイヤルミルクティー
The sweet and full bodied taste of royal milk tea makes it the perfect beverage to enjoy on a cold day at home with your favorite afternoon snack. 
Author: Caroline Phelps
Prep Time:

3 minutes

Cook Time:

3 minutes

Total Time:

6 minutes

Yield:

2

1

x
Category:

Drinks

Method:

Steeping

Cuisine:

Japanese

Diet:

Gluten Free
2

black teabags (such as Assam, Ceylon, or English Breakfast). If you are using a teapot, use 2 tablespoons of loose dark tea leaves such as Assam, Ceylon, or English Breakfast.

1 1/2 cup

water

1 1/2 cup

milk (use 2% or whole milk for a creamier texture), or unsweetened oat milk

2 teaspoons

sugar, or more if you prefer sweeter
Instructions
Bring the water and milk to a boil and lower the heat to a simmer, with the water barely bubbling.

Add the sugar and stir.

Add the teabags, cover the pot with a lid and steep for 3 minutes, up to 5 minutes for a stronger tea.

Divide the tea among 2 teacups and serve.
Notes
For leftovers, or to drink later: Refrigerate in a jug or cup. Reheat or drink cold.
Nutrition
Serving Size:

1 drink

Calories:

111

Sugar:

13.5g

Sodium:

101mg

Fat:

3.7g

Saturated Fat:

2.3g

Unsaturated Fat:

0.1g

Trans Fat:

0g

Carbohydrates:

13.8g

Fiber:

0g

Protein:

6.1g

Cholesterol:

14.8mg
Keywords: Hot beverage, afternoon tea
Recipe Card powered by