Sweet and chewy, hotteok is a popular street food that's enjoyed all over South Korea. It reminds me of a cinnamon bun minus the glaze – it's absolutely delicious!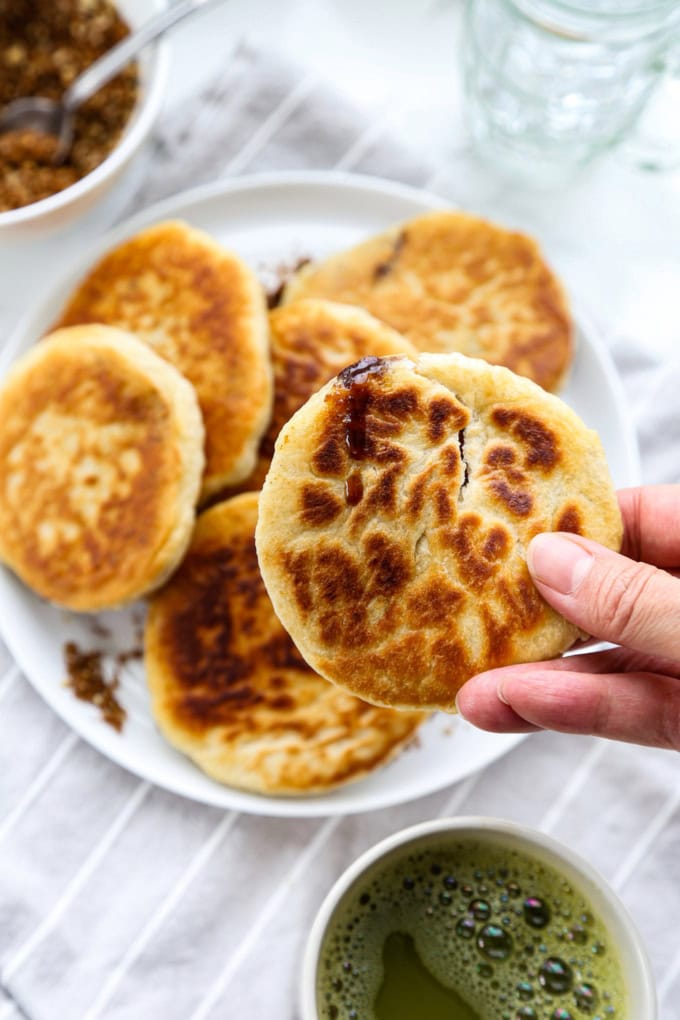 I have an obsession with Korean movies and tv dramas.
If you haven't seen Parasite yet, I urge you to rent it this weekend (or watch it for free on Hulu), it's so good! The reason why I like them so much is because they aren't afraid of dealing with difficult subject matters. They show life from a different perspective than what we are used to seeing here in America, plus, the plots are pretty twisted too!
And yes, okay, I'll admit that when it comes to romantic tv dramas, it's more about the fluff, pretty clothes, and amazing food shots that I can't stop watching them 😉.
Whenever I see characters eating something on screen, I want to know right away what it is. They always seem to get so much enjoyment out of it that it's hard not to get hungry!
One famous dessert that comes up often is hotteok – Korean sweet pancakes. If there's a romantic outdoor scene happening, chances are the couple will be sharing a hotteok. And what better way than to have your own homemade hotteok to munch on while the lovey-dovey montage on tv unfolds, so you don't end up drooling all over yourself!
Today I'm going to show you how to make it – it's really easy. Let's cook!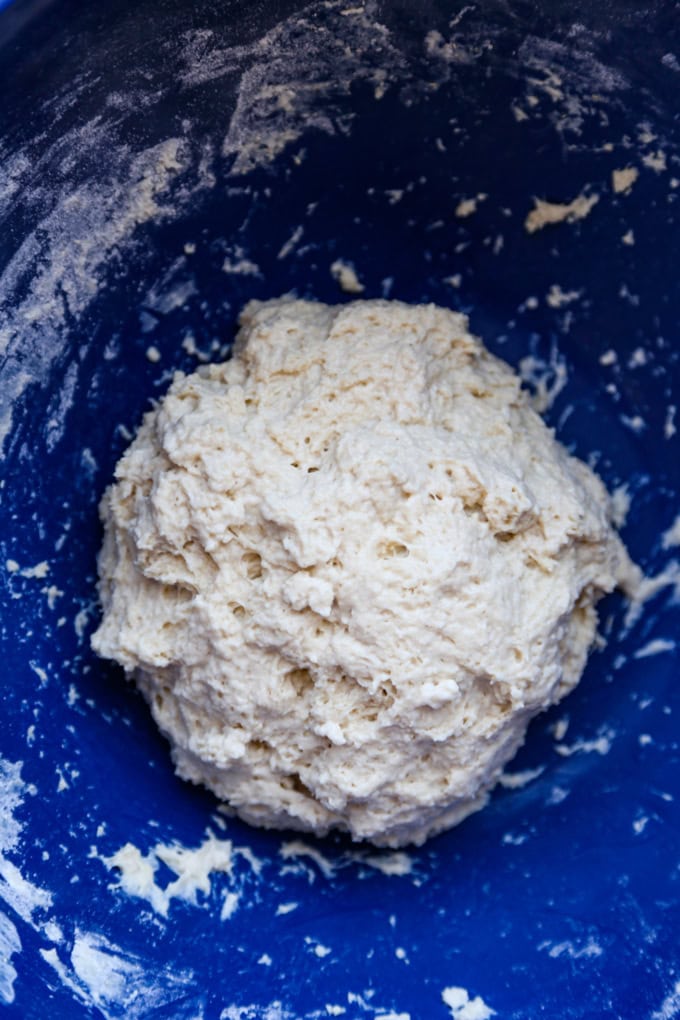 What is Hotteok?
Hotteok, hoddeok or dodduk, is a flour pancake filled with sugar, cinnamon, and peanuts. The filled dough is then flattened on a griddle with a spatula-like round tool to create a small pancake that can be eaten with your hands.
It's a popular Korean street food that's mainly served in the winter time, although you can easily find them sold in stores year-round.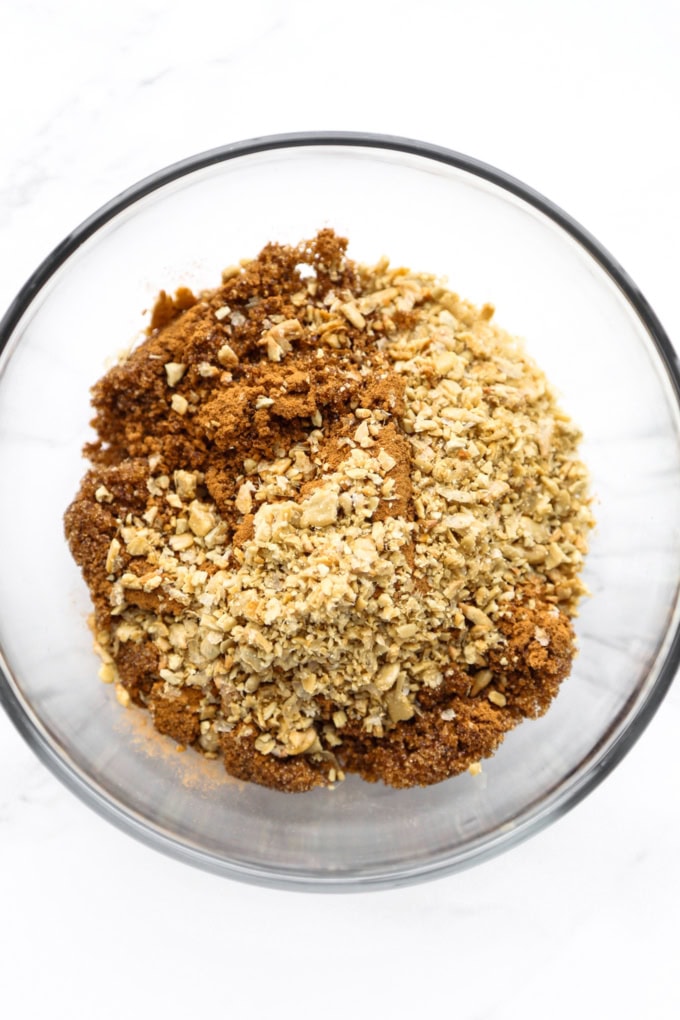 Ingredients for Hotteok
All-Purpose Flour: A cup and a half to make the dough. If you don't have all-purpose flour you can use bread flour which will make the pastry slightly more springy.
Instant Dry Yeast: One and a half teaspoon to help the dough rise.
Sugar: One and a half teaspoon of granulated white sugar to lightly sweeten the pastry.
Salt: Half a teaspoon of salt to balance the sweetness and saltiness of the pastry.
Milk: Since I tend to stay away from dairy products, I used oat milk for this recipe. But feel free to use regular milk or water.
Oil: Use a neutral oil such as grapeseed to coat your hands before assembling the hotteok. This will prevent the dough from sticking to your skin.
Filling: A mixture of dark brown sugar, cinnamon powder, and nuts.
Another option is to purchase hotteok mix if you don't feel like making it from scratch. The boxes come with the flour mixture and filling so all you have to do is add water.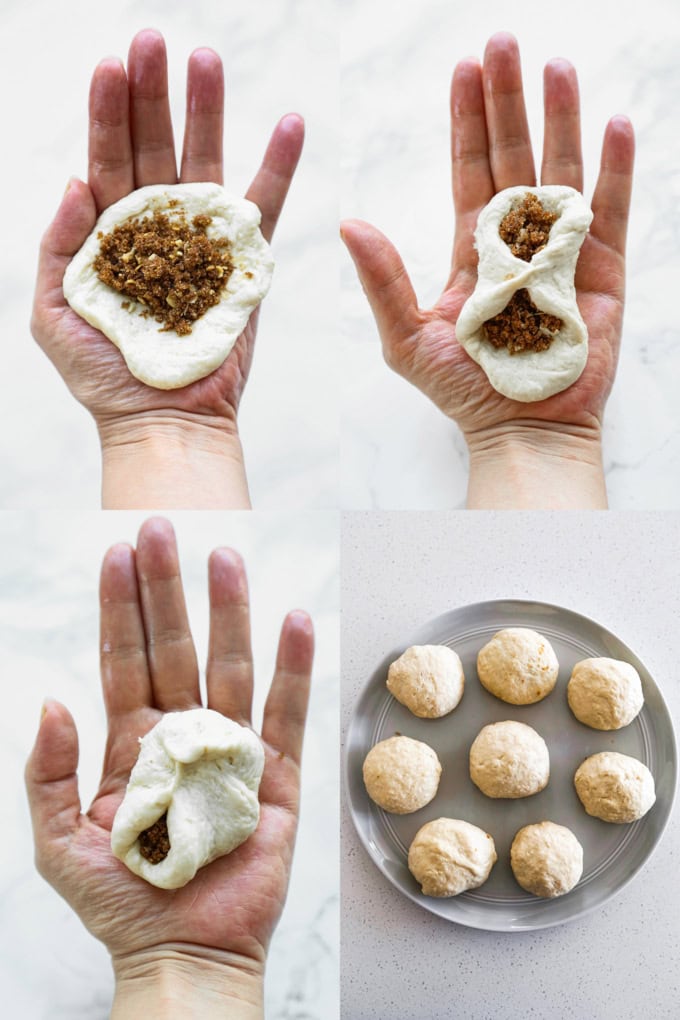 How to Make Hotteok
Sift the flour into a mixing bowl and stir in the salt, sugar, and instant yeast. Add the milk and oil and stir until the dough is uniform and sticky.
Shape the dough into a ball and cover the mixing bowl with plastic wrap or a towel. Let sit at room temperature for 1 hour or until it doubles in size.
Add the ingredients of the filling into a bowl and mix well. Set aside.
When the dough has doubled in size, punch it a few times to remove the gas bubbles (this part is a lot of fun!) Shape it into a ball and cover again for an additional 20 minutes.
Coat your hands with a little oil and divide the dough into 8 servings.
Grab one piece and flatten it in the palm of your hand. Add some filling to the center and close it by gathering the edges.
Fry the pancakes in a little bit of oil and cook each hotteok pancake until they are golden brown. Serve immediately.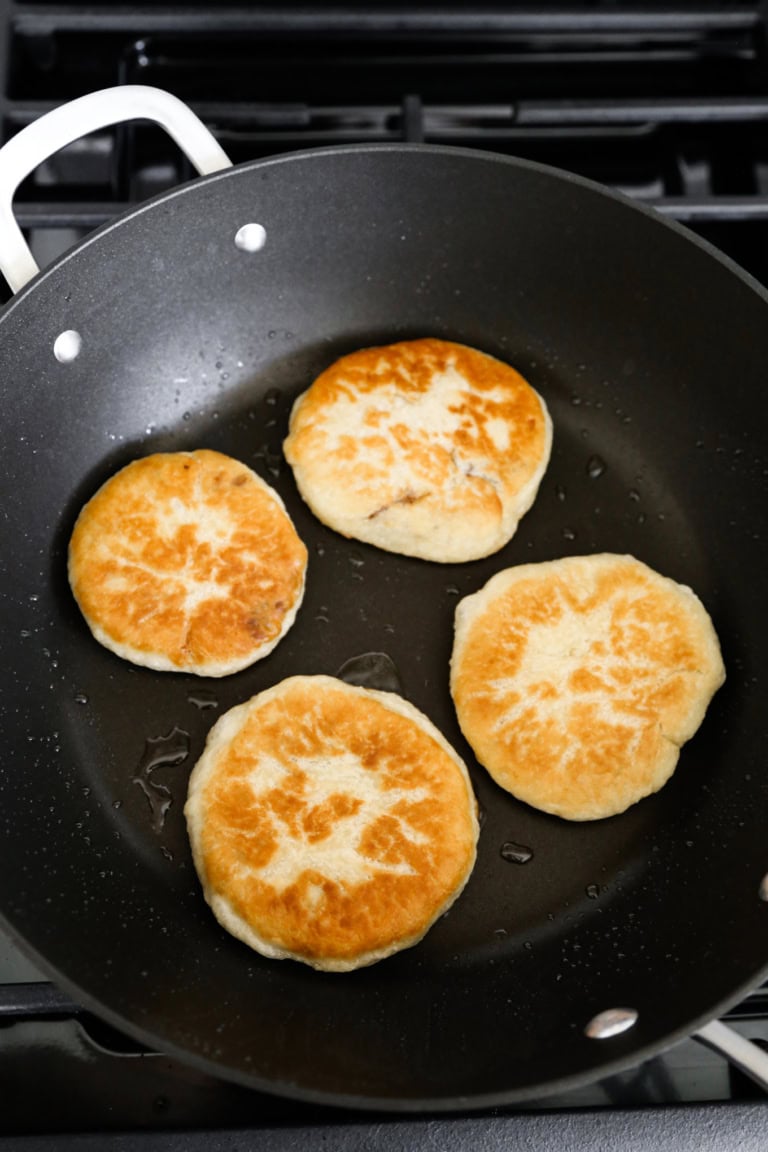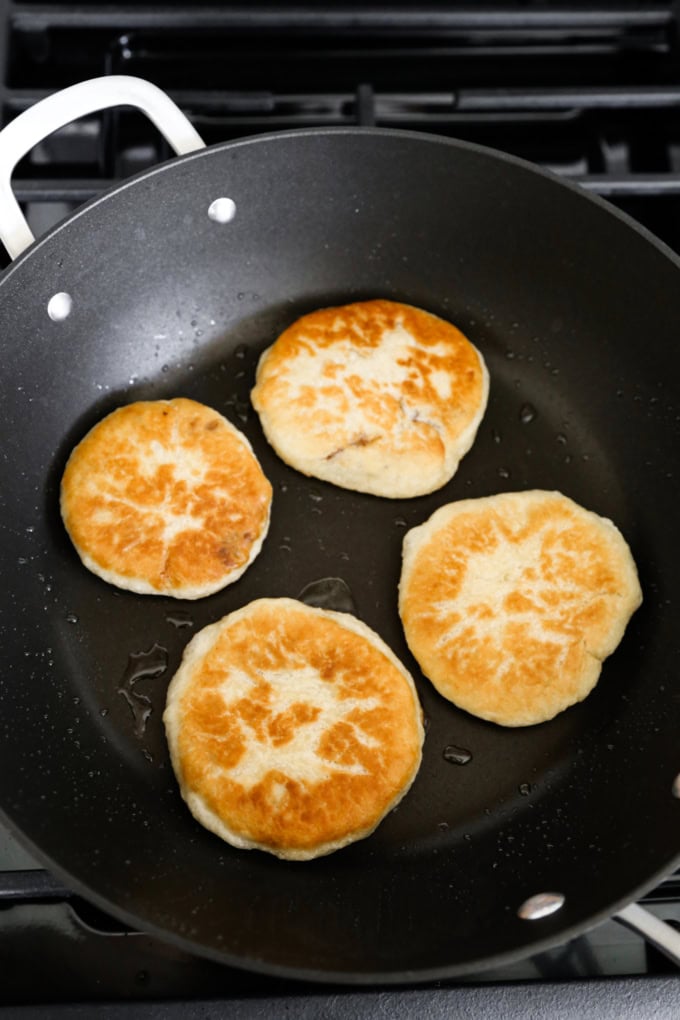 Variations of Hotteok
While hotteok only used to be filled with sweet ingredients, lately, savory versions have emerged and become just as popular.
I haven't dabbled into the savory hotteok frenzy yet but I can imagine how delicious they must be. You can't go wrong with pancakes filled with ingredients such as kimchi, cabbage, noodles, cheese, or bulgogi!
If you would like to try making a savory version, just swap the filling for one of the options above, or create your own! Just make sure to drain any type of liquid (such as the kimchi juice) so your pancakes don't get soggy.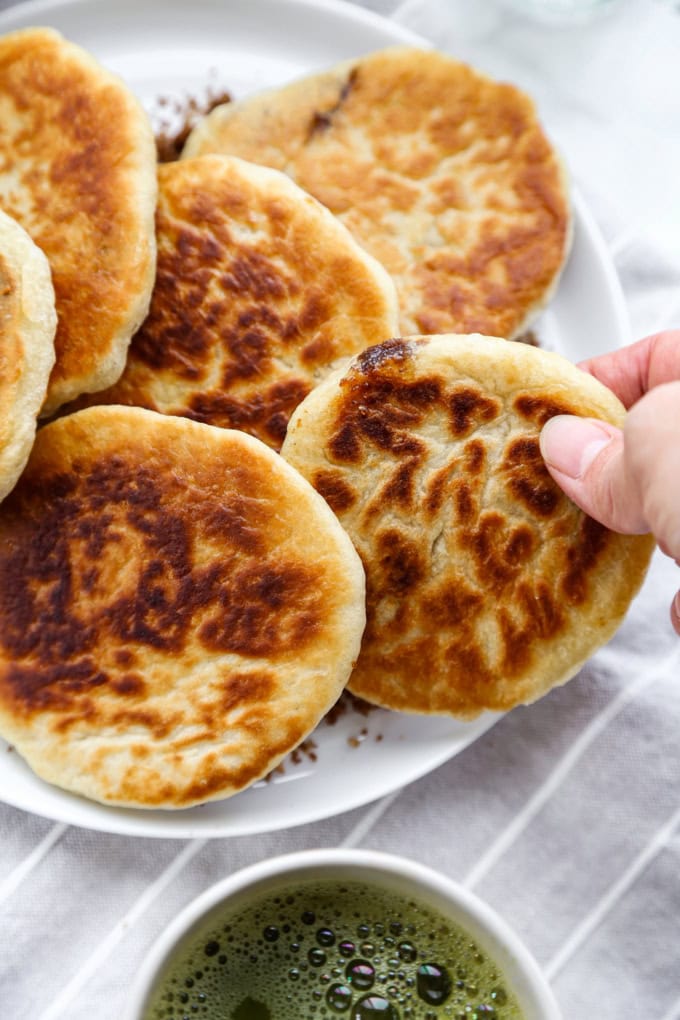 Korean Street Food
Just like Japan, Korea has a collection of delicious street foods one must try while on vacation there. Cities like Seoul are bustling with food stations that can be enjoyed late into the night after having a few drinks.
It's always fun to try popular dishes while joining a ritual that locals take part in on a regular basis. Food and nightlife is a huge part of Asian culture and one that deserves exploring. Personally, it brings me closer to their culture and opens my eyes to new flavors and ways of cooking.
Here are some of my favorite Korean street foods. The last recipe is Japanese but is similar enough to the Korean version that I felt comfortable including it: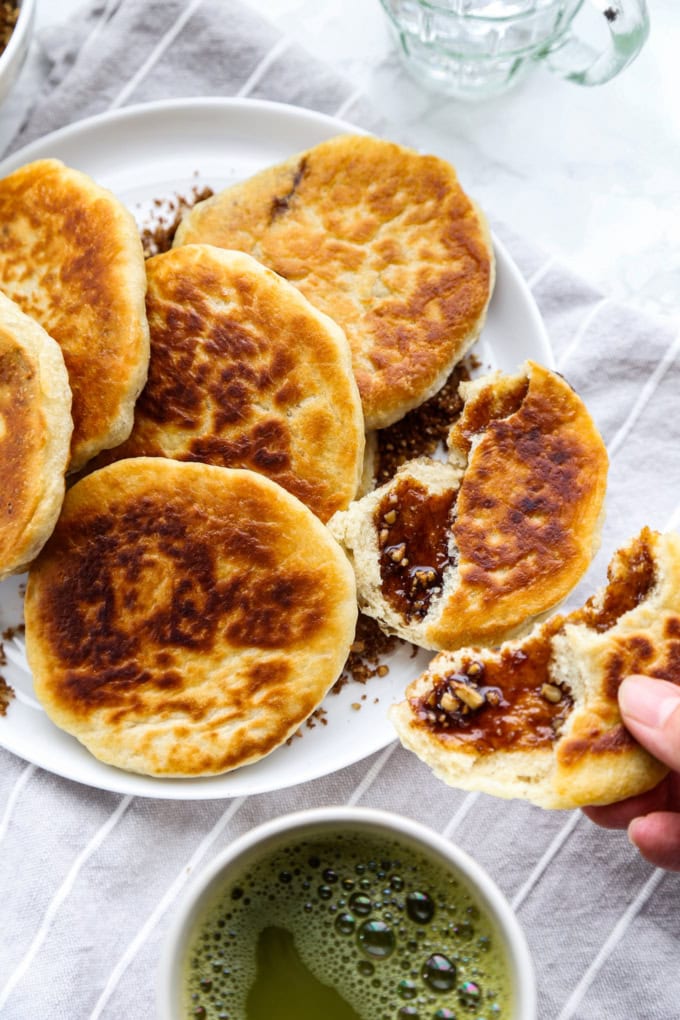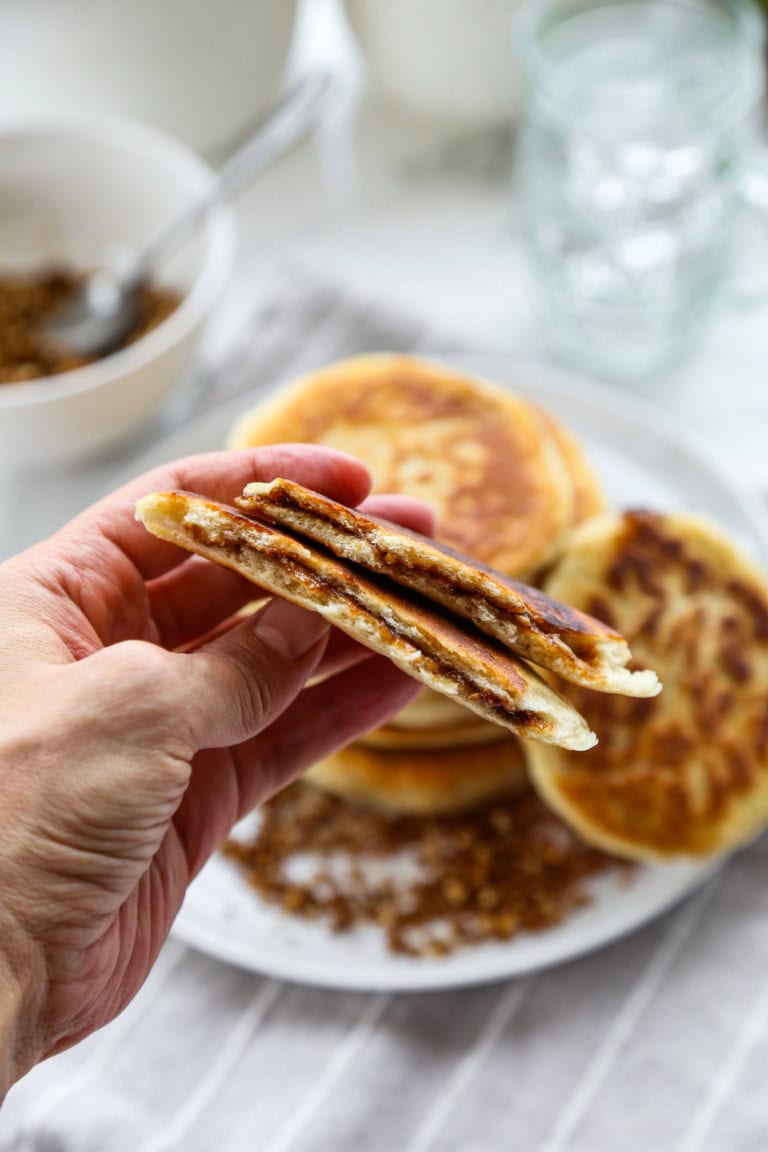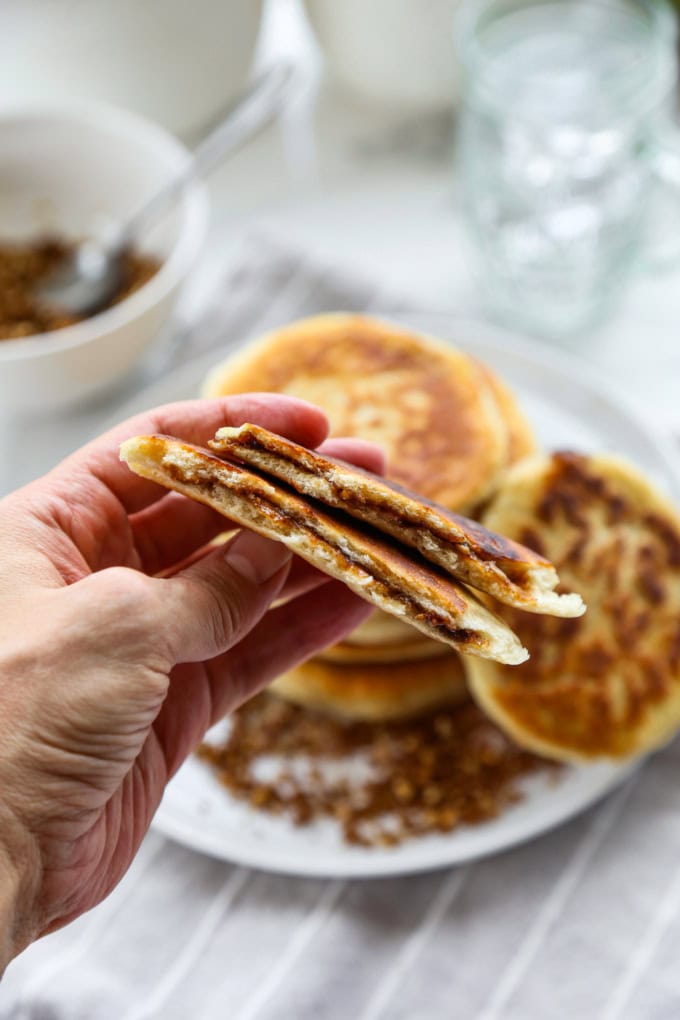 Did you like this Hotteok Recipe? Are there changes you made that you would like to share? Share your tips and recommendations in the comments section below!
Print
Hotteok (Korean Sweet Pancakes)
Sweet and chewy, hotteok is a popular street food that's enjoyed all over South Korea.
Author: Caroline Phelps
Prep Time:

10 minutes

Cook Time:

15 minutes

Total Time:

25 minutes

Yield:

8

pancakes

1

x
Category:

Desserts

Method:

pan frying

Cuisine:

Korean

Diet:

Vegan
Dry Ingredients:
1 1/2 cup

all-purpose flour

1 1/2 teaspoon

instant dry yeast

1 1/2 teaspoon

granulated sugar

1/2 teaspoon

salt
Wet Ingredients:
2/3 cup

warm oat milk, regular milk, or water

1 tablespoon

vegetable, peanut, or grapeseed oil
Filling:
5 tablespoons

dark brown sugar

1/4 teaspoon

cinnamon powder

2 tablespoons

crushed salted or unsalted sunflower seeds, walnuts, or peanuts
Instructions
Sift the flour into a large bowl and add salt, sugar, and yeast. Stir in oat milk and oil and mix well until a dough is formed.

Shape the dough into a ball, cover the bowl with a plastic wrap and let sit at room temperature for 1 hour, until the dough has doubled in size. You may need to do it for longer depending on the temperature of your room (mine is set to 74ºF / 23ºC).

Mix all the ingredients for the filling into a bowl and set aside.

Once the dough has doubled in size, punch it a few times to pop the gas bubbles. Reshape it into a ball, cover and let sit for an additional 20 minutes.

Coat your hands with a little flour or oil (to prevent the dough from sticking to your hands), and divide the dough into 8 equal-sized pieces.

Grab one piece of dough and flatten it out in you the palm of your hand. Grab about 1 tablespoon of the filling and place it in the center of the flattened dough.

Gather the edges of the dough and pinch to seal it. You should end up with a ball of dough with filling inside. Repeat this step until all the dough has been used.

Heat a large pan over medium heat and when the pan is hot, add about 2 tablespoons of vegetable oil, grapeseed oil, or other neutral oil.

When the oil is hot, add one dough ball and press it down using a spatula, until it's about half an inch thick. You can add as many pieces as you want to the pan (don't overcrowd the pan though), just make sure that there is enough space between each pancake so they don't stick together. Cook until the bottom is golden brown (about 1 minute) and flip it over. Cook for another minute or until the bottom is golden brown and the dough fully cooked.

Transfer the pancakes to a plate and repeat until all the pancakes are cooked. Serve immediately, these taste best when they are warm.
Notes
Keep the leftover hotteok in an airtight storage container at room temperature. They will keep for up to 4 days.
Freezing hotteok: Cool the pancakes down to room temperature, transfer them to a storage bag and freeze. To reheat, place hotteok in a toaster for a crispy texture. This is by far the best way to enjoy them! Or microwave them for 30-40 seconds on a plate.
Nutrition
Serving Size:

1 pancake

Calories:

148

Sugar:

7.5 g

Sodium:

163.7 mg

Fat:

3.4 g

Saturated Fat:

1.6 g

Carbohydrates:

26.3 g

Fiber:

1.1 g

Protein:

3.2 g

Cholesterol:

0 mg
Recipe Card powered by