Learn How To Make Bubble Tea at home (it's so EASY!) for a fraction of the cost of the boba milk tea shop! You'll be a bubble tea barista in no time!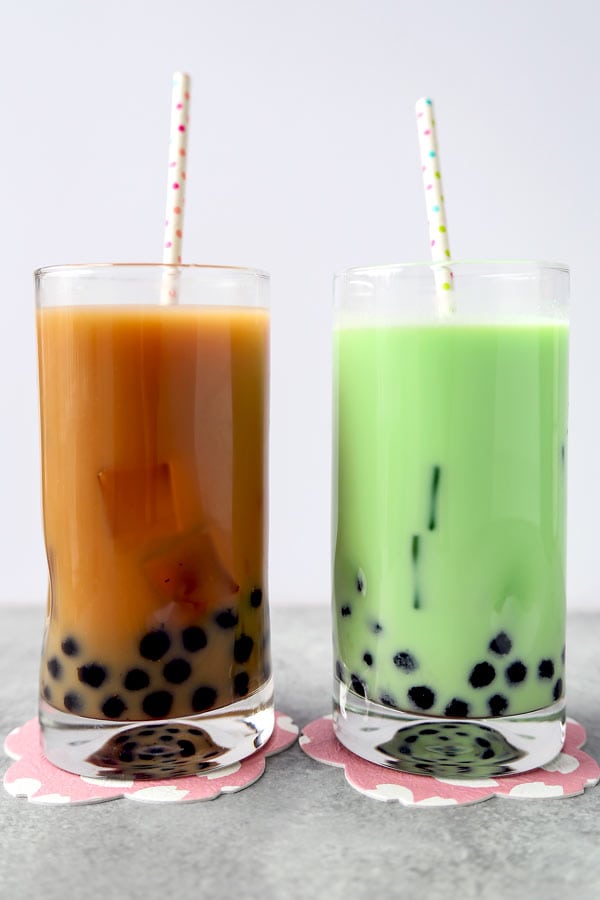 How to Make Bubble Tea
I love taking walks.
You see, to break up the workday, Ben and I go for a walk around mid-day. And it isn't all that uncommon for our path to take us past a bubble tea shop.
We're pretty lucky… Here in our neighborhood in Brooklyn, we're flanked by more than a few shops that sell boba tea.
And once or twice a week, I love to indulge in a fruity milk tea. It makes that walk just a little extra special.
Recently though, I started making my own bubble tea at home and taking it with me on my afternoon walks.
Not only can I tailor the flavor of the tea to my personal taste – but I save a TON of money in the process!
I think when you see how easy (and cheap) it is to make bubble tea at home, you'll make the switch as well!
Wanna learn how to make bubble tea? Well, let's go!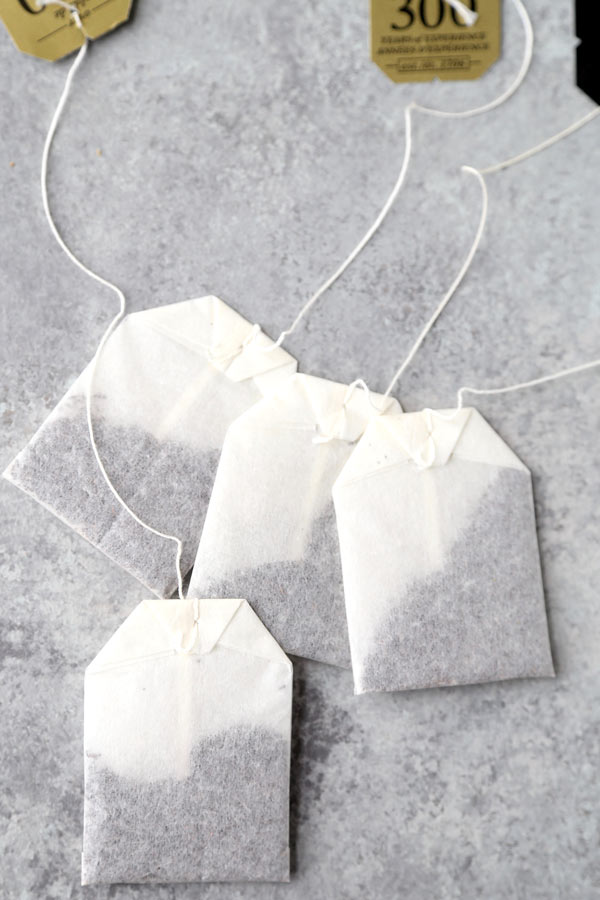 What is bubble tea?
Call it what you will… bubble tea, boba tea, pearl milk tea, 珍珠奶茶.
Despite its many names, most bubble tea is a sweet variation on a milky tea mixed with soft and chewy tapioca pearls.
Cow's milk, almond milk, soy milk and thick condensed milk are all popular choices.
Now depending on what you order, and where you order it from, the liquid tea itself may just be a simple English black tea with some sort of milk (dairy or non-dairy) added.
However, fruity milk teas – sometimes quite quite bright and neon colored – are also probably on the menu at your favorite bubble tea shop.
These fruity concoctions probably come from a powdered tea base that is artificially flavored – and usually pretty heavy on the sugar. That said, they're delicious!
My all time favorite powdered milk tea mixture is honeydew melon. But you're likely to find options ranging from lychee to passionfruit to mango and strawberry. And I think they're all pretty darn yummy!
Hey… what's with that oversized straw though?
What are the bubbles in bubble tea?
Well, the wide straw served with most boba milk teas has a larger than normal aperture so you can hoover up the bubbles from the bottom of the cup.
The bubbles in question are actually round tapioca pearls. And while, they are relatively tasteless on their own, they lend an awesome texture to the overall drink.
Think of tapioca pearls as almost flavor neutral gummy bears, formed into round dense balls. 
Now, some bubble tea recipes will call for you to soak the cooked tapioca pearls in simple syrup, honey or even maple syrup to impart some sweetness to them.
However, I find that the sweetness of the drink itself is usually enough for my taste – and that the added sugars from sweetening the tapioca pearls can easily cross the entire drink into cloying territory.
But to each their own!
Do you prefer sweetened tapioca pearls in your pearl tea? Drop me a comment and tell me what you use as a sweetener!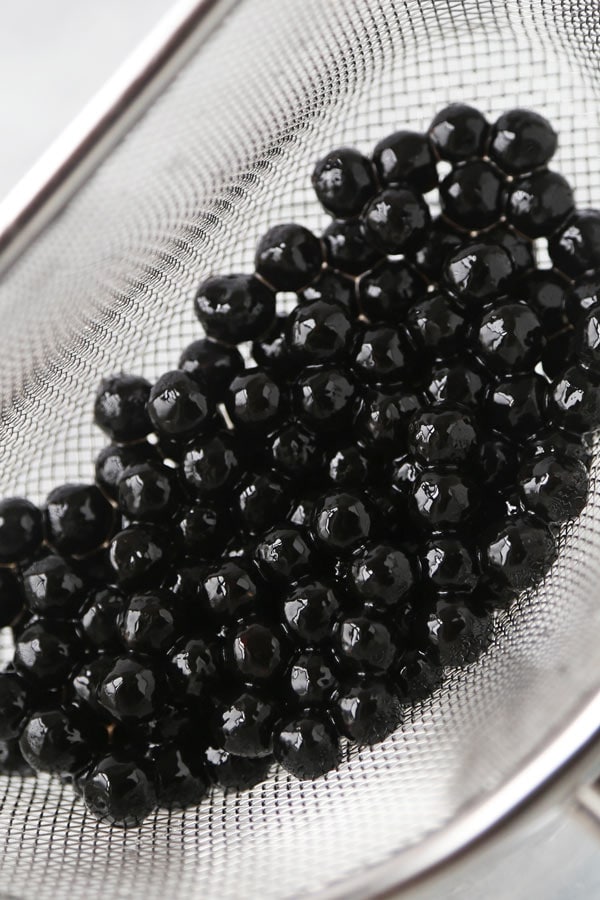 What is tapioca?
Tapioca is a starch which is extracted from cassava.
Also called yuca, cassava root is a starchy carbohydrate – and when it is dried, that powdered extract is called tapioca.
After a manufacturing process where the tapioca is turned into a wet dough, gelatinized and dried – we get tapioca pearls.
[optin-monster-shortcode id="uz8ic0nty7tcayoxggl9″]
So, what is boba?
Boba (波霸)  also refers to the tapioca pearls. It's just another name.
You see, bubble tea was first concocted in Taiwan in the 1980s – and then proceeded to blaze a trail into the hearts (and stomachs) of people worldwide.
Since the Chinese word for tapioca pearls is pronounced boba, as the popularity spread to an international audience, the pronunciation morphed as it moved. Bubble tea becoming a popular moniker for boba tea as it moved around the globe and was anglicized by its new international drinkers.
But you can totally use either word to describe pearl milk tea.
These days, you hear bubble tea and boba tea used interchangeably.
Bubble tea ingredients
If you're like me, you probably have an entire shelf full of tea just waiting to be used in a fun project like this one.
What you might not have are tapioca pearls. They're super easy to track down in most Asian groceries, or you can just order them on Amazon:

How to make bubble tea
While I love heading to a bubble tea shop in my neighborhood for a quick afternoon pick-me-up, making it at home is super easy!
In fact, if you're using a pre-made powdered mix, most of your work is pretty much done before it even began.
When using the powdered milk tea mix…
Simply prepare your tapioca pearls (more on that in a sec), mix the bubble tea powder with water, add a few ice cubes and you're good to go! Sip away at that lovely neon drink 🙂
Now, if you're making homemade bubble tea from scratch, there are a few more steps to follow. But don't worry – they're all super easy!

When making homemade bubble tea…
Start by steeping 2-3 tea bags in a cup of boiling-hot water. Since the tea will be diluted by whatever you're using for the milky element, you want the tea to be strong. Let it steep for 15 minutes or so before removing the bag.
Next, make your tapioca pearls and whip up a simple syrup. There's in-depth info on executing both tasks in the following sections. So, read on!
Now, simply assemble your pearl milk tea.
Mix ¼ cup tapioca pearls with your steeped tea, 2-3 tablespoons of soy or almond milk, a couple tablespoons of your simple syrup and some ice cubes.
Mix it up and drink it up!
I promise, you're just going to LOVE that you achieved authentic bubble tea shop flavor in your own kitchen so quickly and easily!
Btw… kids love bubble tea, so this might be the perfect kitchen project to include them in (as long as you handle the boiling water, hehe).
Have fun!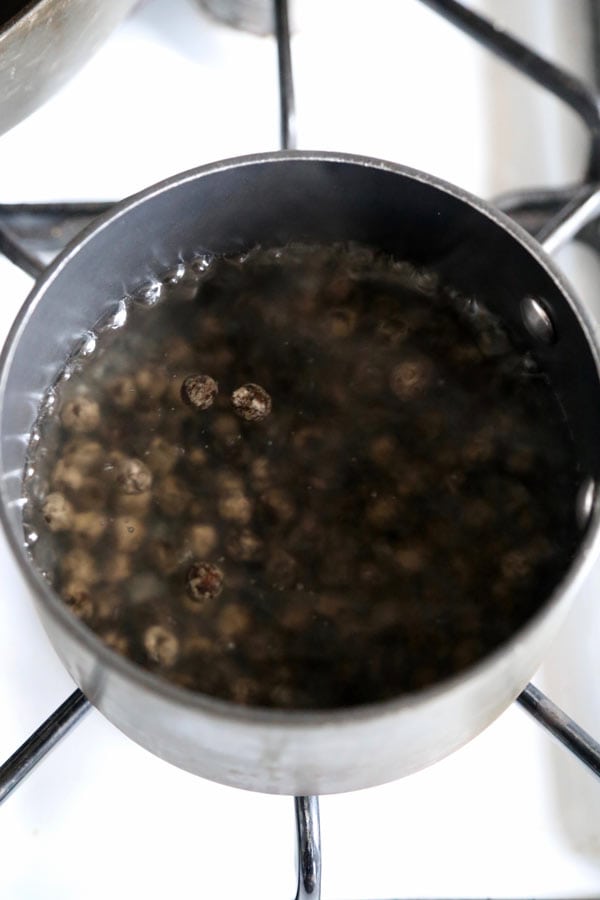 How to cook tapioca pearls
The first rule of thumb when preparing an ingredient like this is to simply follow the instructions on the package.
Different manufacturers of boba (tapioca pearls) will have different cooking times for their product.
There are quick-cook pearls that tend to require just a couple of minutes in boiling water and a quick soak in cold water afterwards.
And there are regular tapioca pearls that will likely take longer to cook.
The second rule of thumb when cooking tapioca pearls is that they typically float to the top of the cooking liquid when they are ready. So whether they require 2 minutes or 2 hours to cook, keep an eye on them and taste-test them when they start to float.
The third rule is that, once cooked, you should rinse or soak them in cold water to stop the cooking process. Also, if you're making your iced drink right away, you don't want hot boba pearls warming up the overall temperature of your drink.
So the TL;DR version of cooking tapioca pearls is:
Read and follow the instructions on the package (note whether you have quick cooking boba or regular boba).

Keep an eye on them. When they start to float, they're almost done. Taste them and pull when you're satisfied.

Rinse them in cold water once they are finished cooking. That way you won't heat your cold drink up with hot tapioca pearls.
What is simple syrup?
Simple syrup is one of those cooking tricks that is so easy in both theory and execution that it almost isn't even a real technique at all.
Seriously, if you can boil water, you can make simple syrup.
Just mix equal parts boiling water and sugar. That's it. Stir it until the sugar dissolves and you're good to go. Cool it and use as a delicious sweetener.
Simple syrup is a wonderful way to sweeten iced drinks without ending up with a gritty layer of undissolved sugar crystals at the bottom of the glass.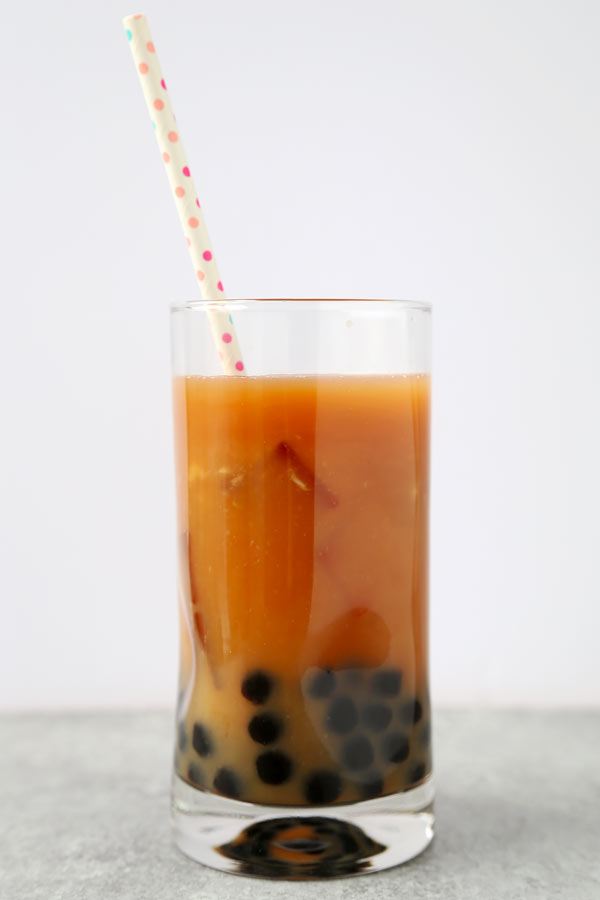 Is bubble tea healthy?
It's pretty common to think of tea as healthy. I know I usually do.
However, bubble tea is usually loaded with a fair amount of sugar which isn't all that healthy. And the levels of sweetness can drastically rise if you're using a bubble tea powder mix – or a sweetened milk like condensed milk.
Now, while there are ways to mitigate the calories from sugar, such as using stevia or honey, I'd say that trying too hard to make a healthy bubble tea is kind of missing the point.
Bubble tea is a sweet indulgence – a treat that you can sip and savor on occasion.
Much like a dessert or the periodic soda, it's meant to be more of a quenching extravagance than anything consumed on the regular.
So really savor and enjoy your bubble tea when you drink it!
That sweet, tapioca pearl filled goodness is so simple to whip up at home, you may find yourself making fewer trips to your neighborhood bubble tea shop!
What about you? What's your favorite tea to use as a base in bubble tea? Is it Japanese green tea, English breakfast, Ceylon? Tell me about your favorite in the comments!
Happy cooking… and cheers, friends!
Other delicious and easy Asian recipes to nibble on while drinking your bubble tea:
Plus:
And: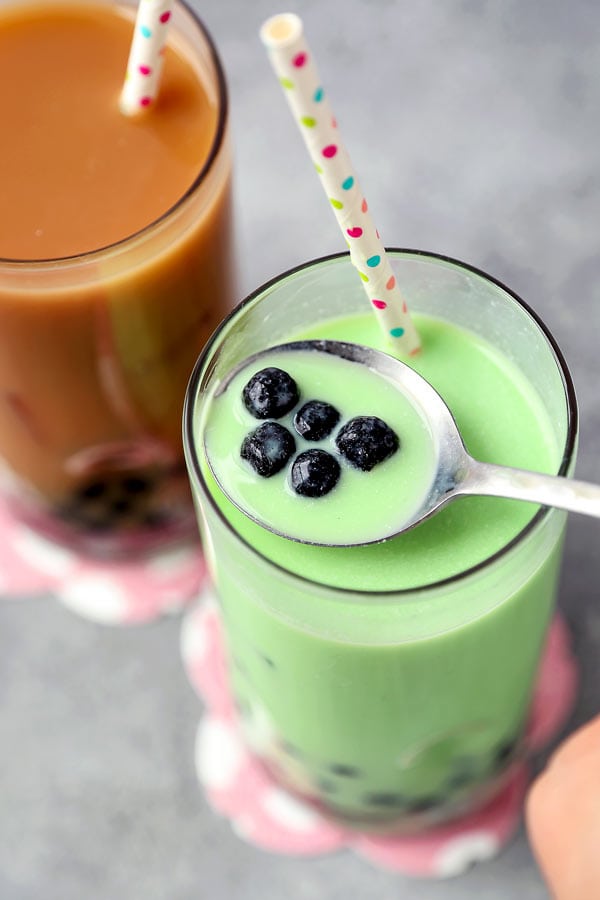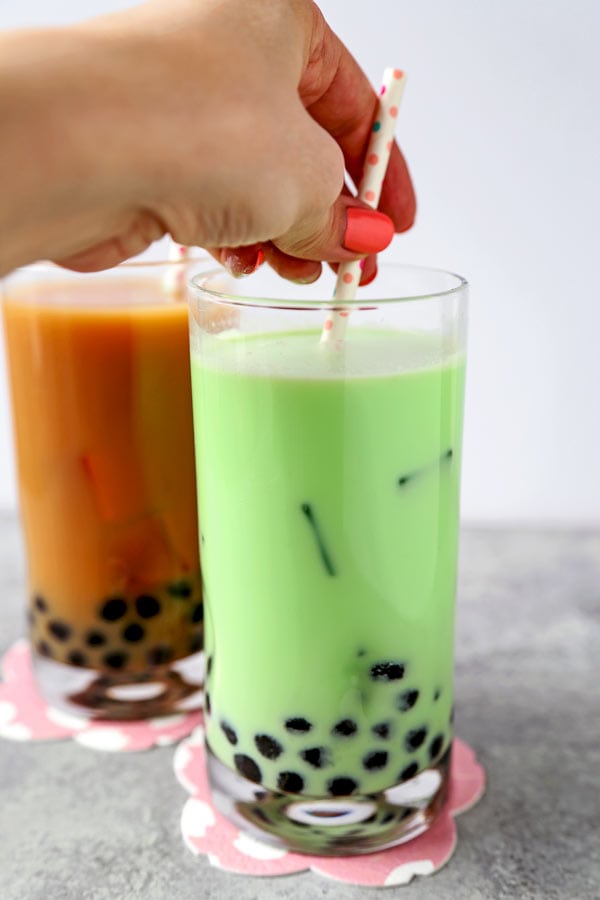 Did you like this How to Make Bubble Tea Tutorial? Are there changes you made that you would like to share? Share your tips and recommendations in the comments section below!
Print
How to Make Bubble Tea
Learn how to make bubble tea at home that is fruity and milky perfection – just like your favorite boba milk tea shop!
Author: Caroline Phelps
Prep Time:

5 minutes

Cook Time:

10 minutes

Total Time:

15 minutes

Yield:

1

drink

1

x
Category:

Drinks

Method:

Mixed

Cuisine:

Taiwanese
If you're making homemade bubble tea:
2

tea bags of your choice – such as black tea, lapsang souchong, Ceylon or green tea

1 cup

boiling water

¼ cup

tapioca pearls

2

–

3

tablespoons soy milk or unsweetened almond milk

2 tablespoons

– or more – simple syrup (recipe below), stevia or honey

Ice cubes
If you're using a bubble tea powder mix:
3 tablespoons

bubble tea powder mix (I'm using honeydew melon flavor)

1 cup

water

¼ cup

tapioca pearls

Ice cubes
Instructions
** For homemade bubble tea
To make the tea:
Steep 2 tea bags in 1 cup of boiling-hot water for about 15 minutes. Remove the tea bag and let cool to room temperature.
Tapioca Pearls:
For regular tapioca pearls
Bring 2 cups of water to boil and add the tapioca pearls. Stir and cook for 10-15 minutes, or until pearls float to the top. Drain and rinse the pearls under cold water. Transfer to a large glass (the one you will be drinking from) and set aside.
For quick 5-minute tapioca pearls
Bring 2 cups of water to boil and add the tapioca pearls. Stir and wait until the tapioca pearls float to the surface. Cover and cook on medium heat for 2 minutes. Drain and soak in cold water for 20 seconds. Transfer to a large glass (the one you will be drinking from) and set aside.
Simple Syrup:
Bring ½ cup water to a boil and turn the heat off. Add ½ cup granulated sugar and stir until the sugar has dissolved. Set aside to cool.
Putting the bubble tea together:
Add a few ice cubes to top of the tapioca pearls in your glass, and pour the tea over. Stir in the soy milk and 1-2 tablespoons of simple syrup (or more, depending on how sweet you like your bubble tea) and serve.
** For bubble tea powder mix 
Cook the tapioca pearls by following the steps above.

Mix 3 tablespoons bubble tea powder mix with water.

Add tapioca pearls to a tall glass along with a few ice cubes and pour in the tea mixture. Stir and serve.
Note: add more bubble tea powder mix if you prefer a sweeter taste.
Notes
Tapioca pearls are definitely the best on the day you first boil them. While you can refrigerate them for later use in a pinch, they will get super hard pretty fast.
Nutrition
Serving Size:

Homemade Bubble Tea (Not Powdered Mix)

Calories:

218

Sugar:

20 g

Sodium:

42.5 mg

Fat:

0.5 g

Saturated Fat:

0 g

Carbohydrates:

53.4 g

Fiber:

0.3 g

Protein:

0.4 g

Cholesterol:

0 mg
Keywords: recipe, bubble tea, boba tea, tapioca pearls, pearl milk tea, how to
Recipe Card powered by