Despite seeming complicated, the recipe for tapioca pearls is actually very simple. All you need are three ingredients and a good arm to knead and shape these little chewy balls. Tapioca pearls make a delicious topping for ice cream, snow ice, or can be enjoyed the classic Taiwanese way – in boba tea.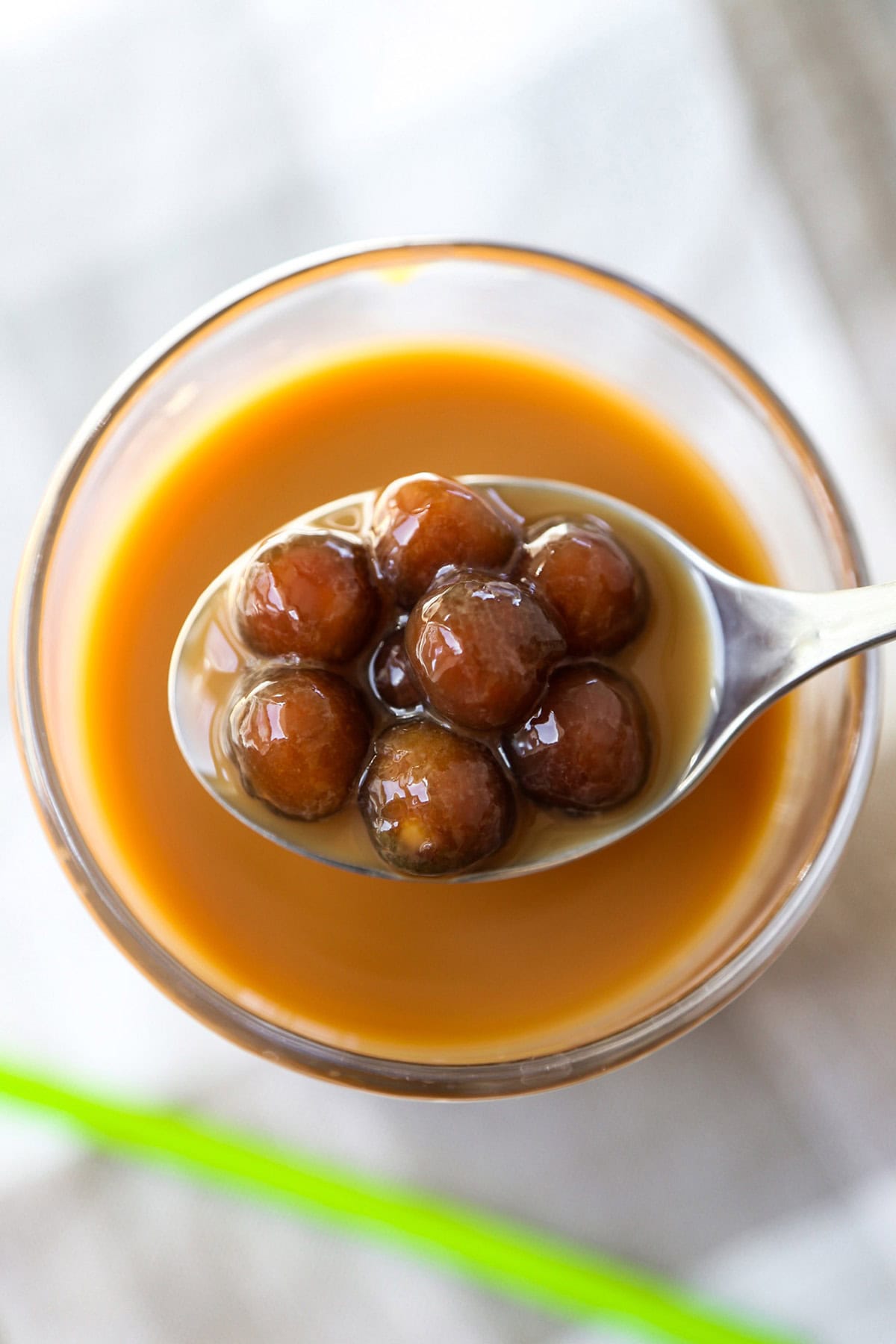 Summertime is all about staying hydrated and sipping on sweet drinks to keep us energized! And there is nothing more fun and delicious than sipping on milky iced tea while chewing on tapioca pearls.
What are Tapioca Pearls?
Tapioca pearls are clear chewy balls made from tapioca starch/flour (they are the same thing) that have been extracted from the cassava root, and mixed with water, and various other ingredients. They are a cheaper alternative to sago pearls, a popular ingredient in Southeast Asia, which are often added to puddings. The most popular way to use tapioca pearls is in boba tea (波霸), the Cantonese word boba being slang for "large breasts".
The Taiwanese version of boba tea became popular after a shop owner decided to make his tapioca pearls bigger than what the other shops offered (pearls that were small enough to fit into a regular straw). By giving it a controversial name like boba, it gained attention and popularity outside the country.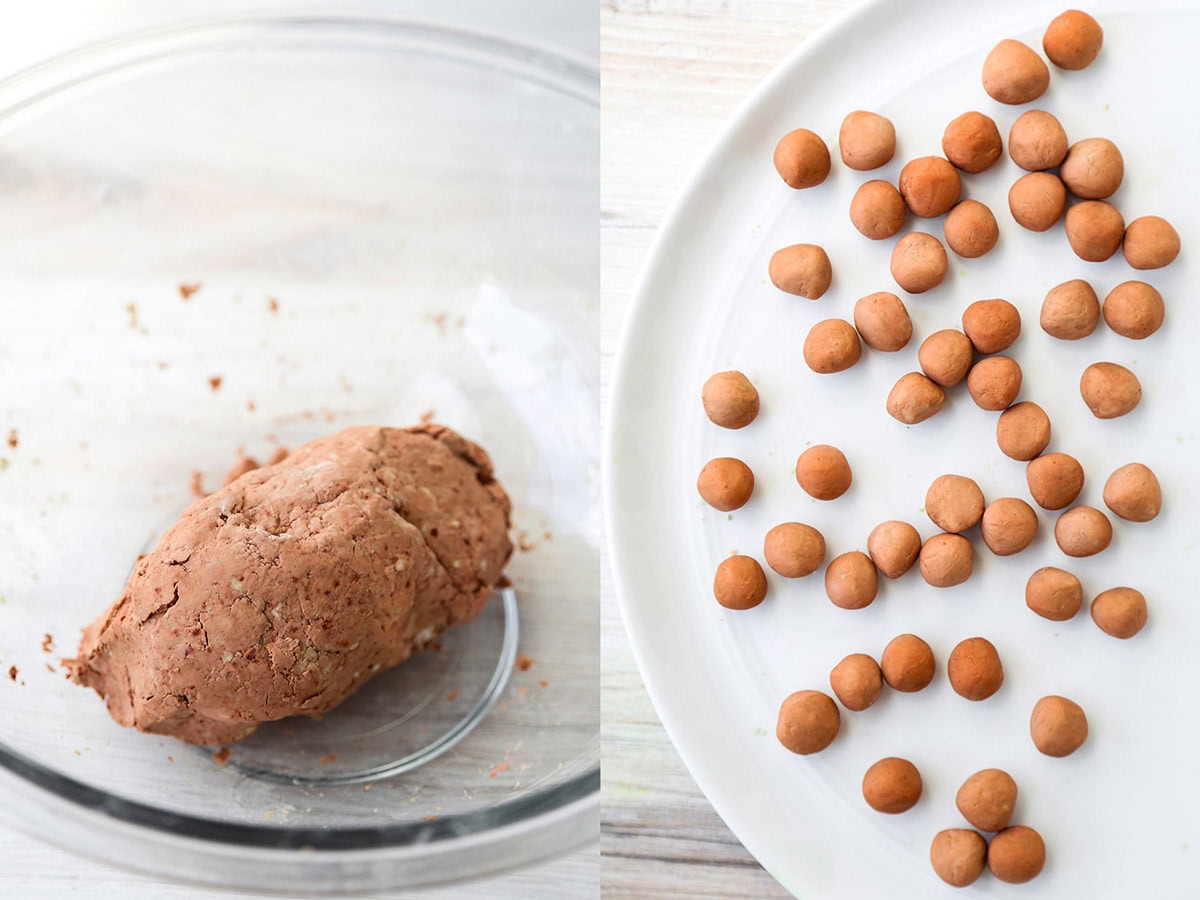 Varieties of Tapioca Pearls
There are many varieties of tapioca pearls available, which is why they look so different from one drink to another.
While black is the classic color, tapioca pearls can now be found in all the colors of the rainbow, or completely clear.
The texture may also vary based on additional ingredients added to the recipe, resulting in some pearls having a more jelly-like texture, while other have a more chewy, almost mochi-like texture.
There's also the latest craze, popping boba, which are pearls made with a mixture of fruit juice, calcium lactate, sugar, malic acid, fruit flavorings, and seaweed extract. They are slightly smaller in size than the regular boba pearls. Popping boba is quickly becoming a favorite because of the pearls fruity flavor, which are more enjoyable to chew on than the classic boba pearls that don't really have any taste.
Where to Buy Tapioca Pearls
If making tapioca pearls from scratch seems too tedious (they do take some time to make but the process isn't difficult at all), you can buy them at the store or online. Since boba tea has become so popular worldwide, finding tapioca pearls has never been easier!
Your local Chinese or Vietnamese grocery store should have them stocked in the dry goods section. But I haven't seen boba pearls sold at Japanese supermarkets, and I'm not sure about Korean grocery stores either. If you don't live near one you can order them on Amazon here.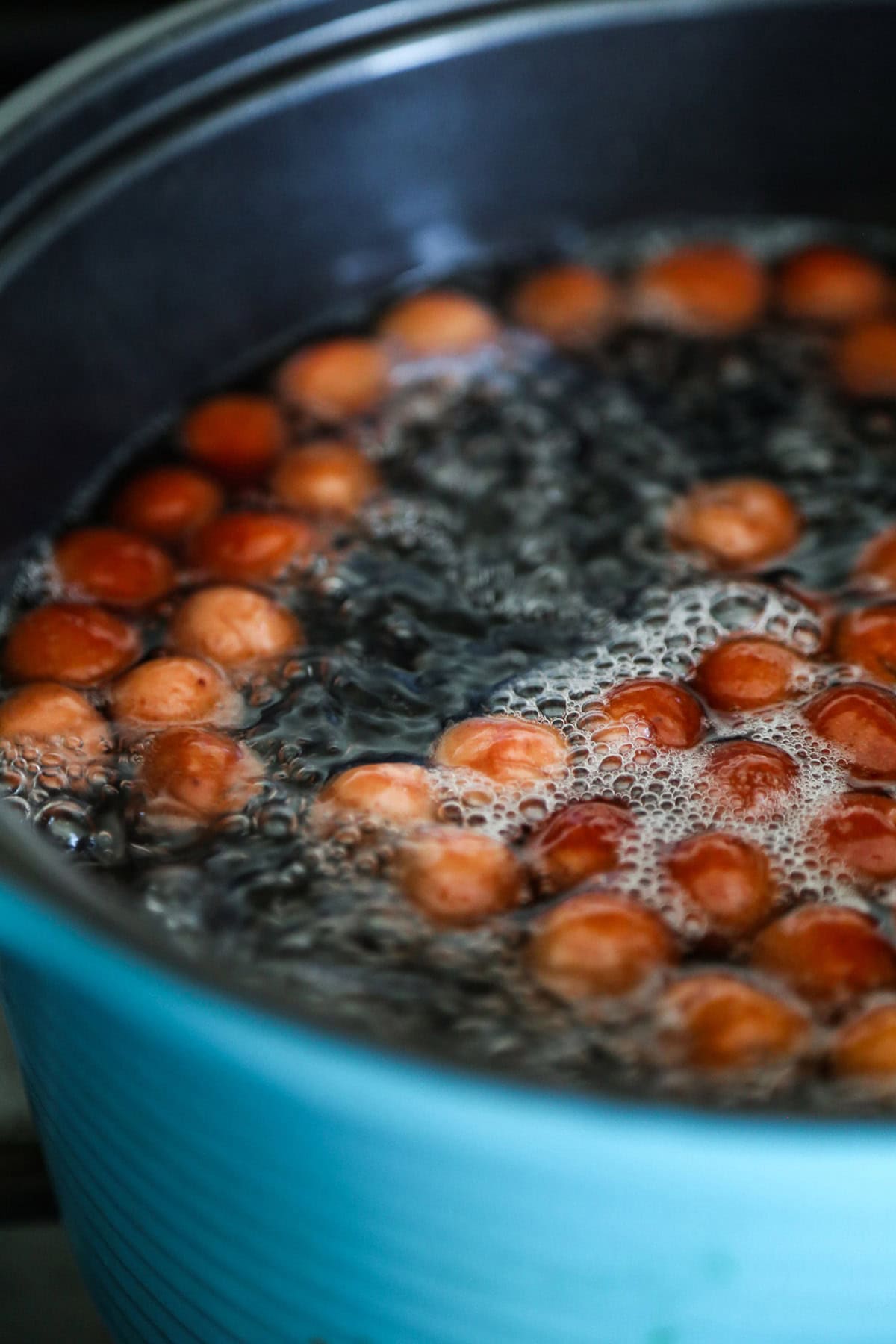 Ingredients for Tapioca Pearls
Tapioca flour/starch: Tapioca flour is much finer and lighter than regular flour so the dough will feel very different when you touch it! The starch is extracted from the cassava root which is peeled, washed and chopped. It's then shredded and washed until the mixture is mostly starch and water. From there it's dried until it becomes flour.
Water: A little water goes a long way to make this dough. Though it may look like seven tablespoons won't be enough to yield a moist dough, it's just the right amount.
Food coloring: If you have black food coloring, use it. If not, you will need to mix red, blue, and green food coloring to create something close to black (more like a dark brown).
Dark brown sugar: Dark brown sugar is mixed with boiling hot water to create a simple syrup for the pearls. This is to lightly sweeten them and keep them from sticking together.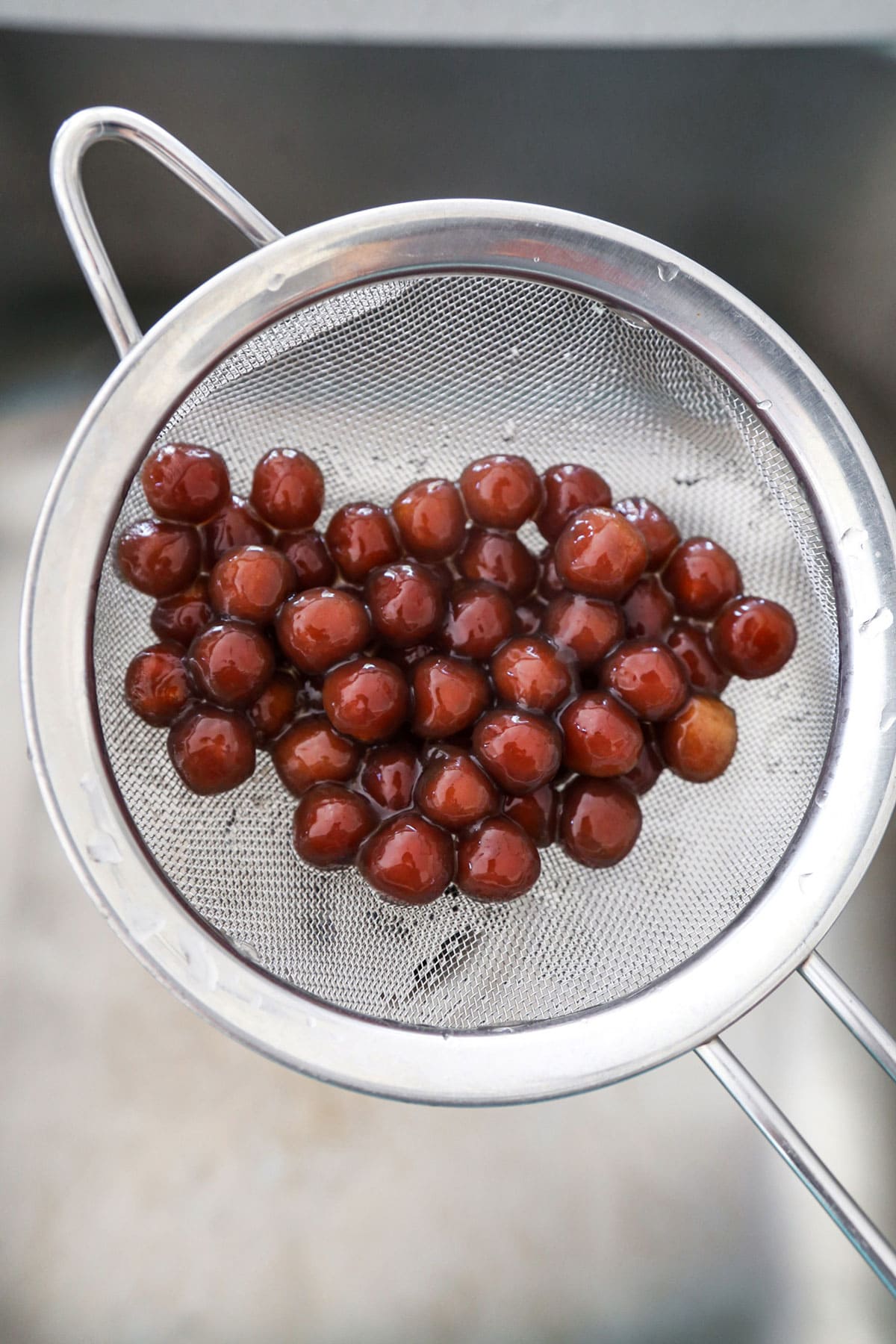 How to Make Tapioca Pearls
The full recipe can be found at the bottom of this post.
Gather all of your kitchen tools and ingredients.
Mix the food coloring and water together.
Pour the flour into a medium size bowl and using a fork, stir in the colored water.
Put the fork down and knead the mixture with one of your hands until you get a moist dough. It takes a few minutes for the flour to relax and absorb the water, so be patient!
Use a 1/8 teaspoon to scoop up a little dough and shape it into a ball. Place the ball on a plate and repeat until all the dough has been used. While you are doing this, cover the bowl with the dough with a towel to prevent it from drying.
Bring a medium size pot of water to boil.
Slowly and separately add the tapioca pearls (otherwise they will stick together) and stir with chopsticks or a fork.
Boil them for 15-20 minutes until they are tender and chewy. Turn the heat off and leave for 10 minutes.
Meanwhile, make your simple syrup by mixing the dark brown sugar and boiling water together. Keep stirring until the sugar has dissolved.
Drain the water and add the tapioca pearls to the sugar syrup. Enjoy with your favorite boba tea or use the pearls as a topping for shave ice or frozen yogurt!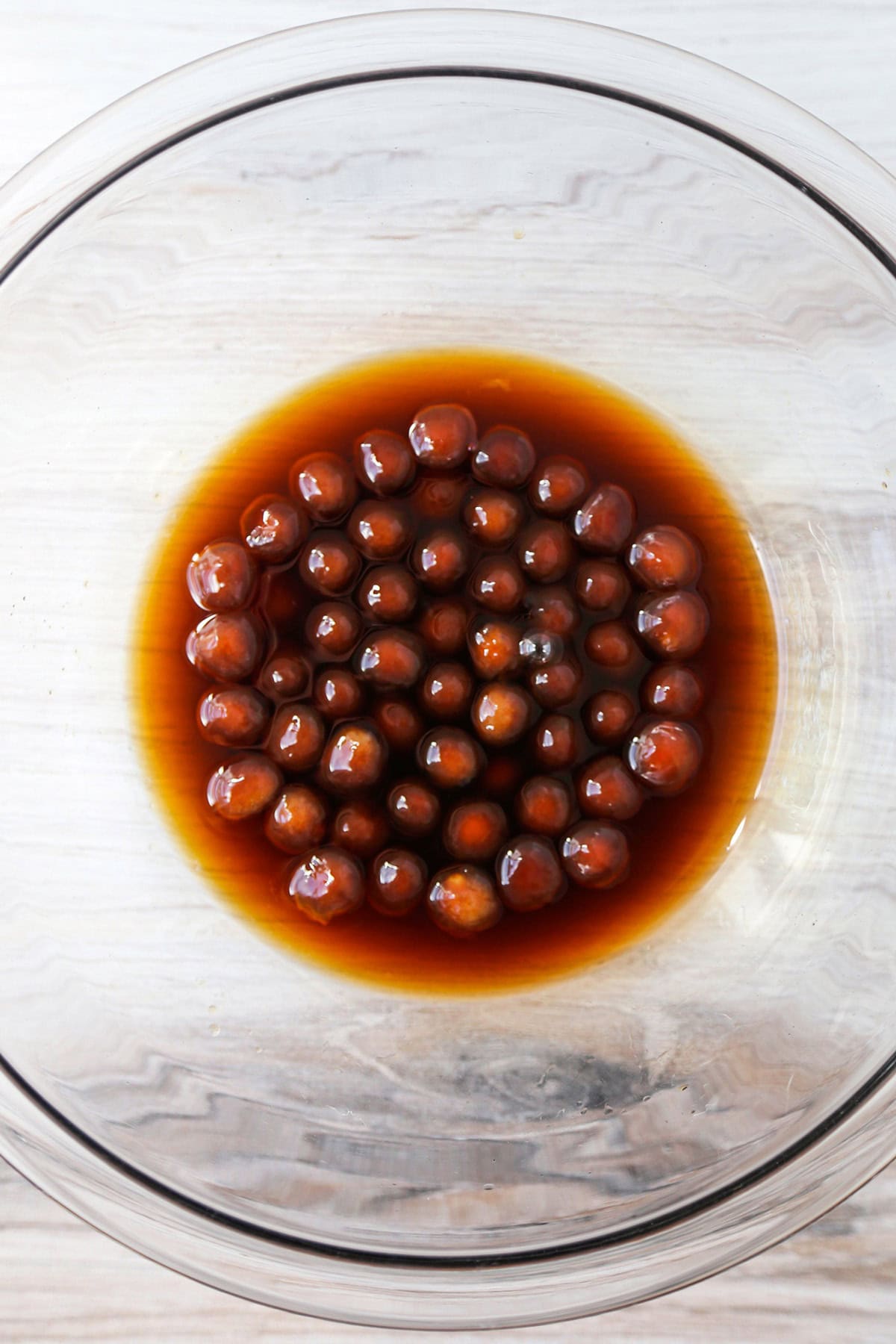 Boba Tea Flavors
There are so many flavors of boba tea to choose from that I find it practically impossible to settle on just one when I'm out buying a drink! But after many visits to the boba tea shop I've come to realize that certain combinations seem to be better than others.
What I mean by that is that certain tea flavors go better with certain pearls.
For example, a light floral tea or a fruity passion fruit tea pairs better with poppings pearls or grass jelly pearls, than classic boba pearls.
So which boba tea flavors are best for the pearls on this blog post?
Milk teas are by far the best! Flavors like classic milk tea, Thai milk tea, hojicha milk tea, or matcha milk tea all pair beautifully with these tapioca pearls. Or you can go fruity with a honeydew melon, mango, or strawberry milk boba. You can even try chocolate – yes, like a hot chocolate, but iced!
My favorites? Honeydew melon, hojicha milk tea and classic milk tea. I get my honeydew melon mix on Amazon here.
And you can read my post on how to make bubble tea in 10 minutes here, to learn more about this popular Tawainese beverage.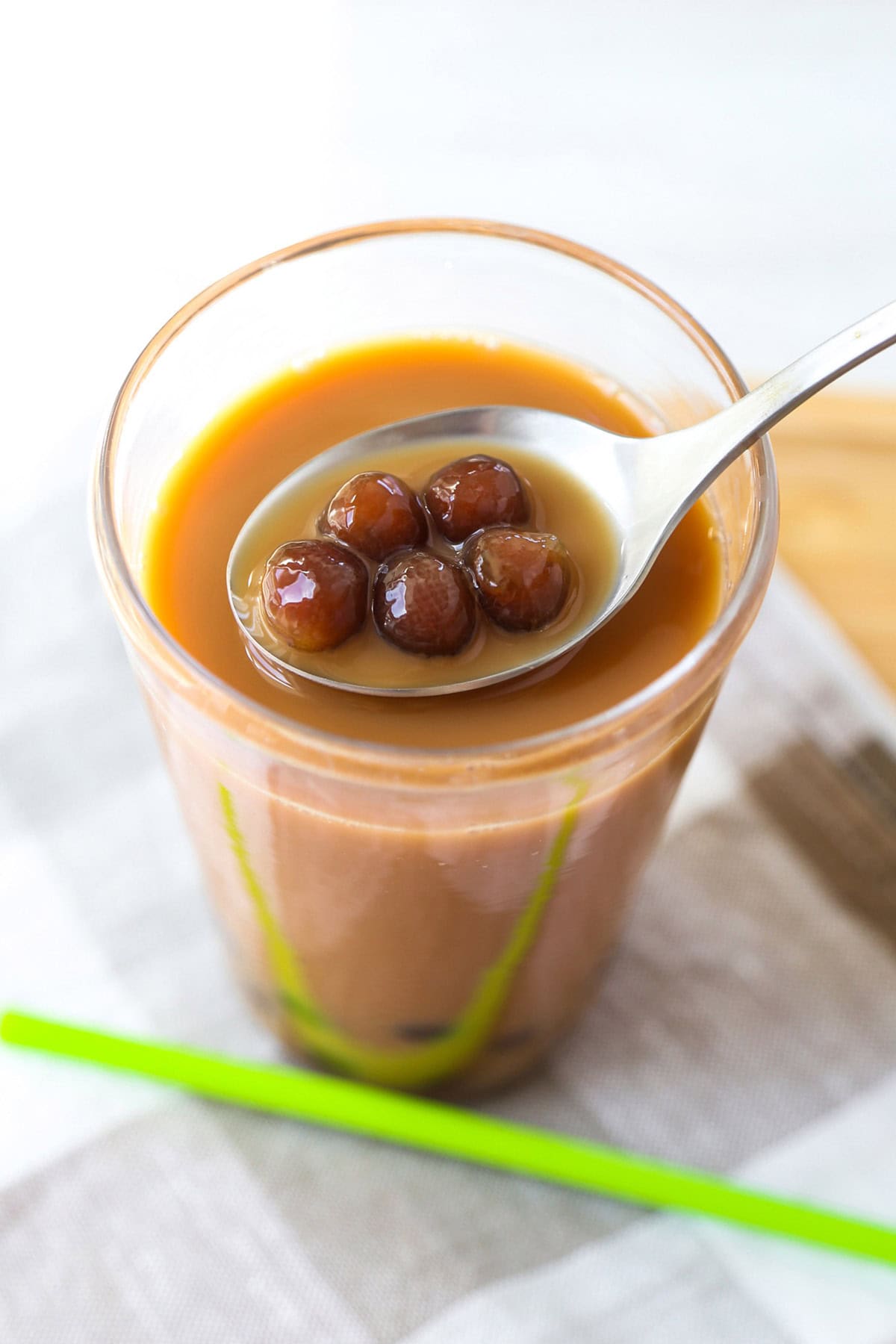 Did you like this Tapioca Pearls Recipe? Are there changes you made that you would like to share? Share your tips and recommendations in the comments section below!
Print
Tapioca Pearls
Tapioca pearls make a delicious topping for ice cream, snow ice, or can be enjoyed the classic Taiwanese way – in boba tea.
Author: Caroline Phelps
Prep Time:

30 minutes

Cook Time:

15 minutes

Total Time:

45 minutes

Yield:

4

servings

1

x
Category:

Dessert

Method:

Boiling

Cuisine:

Chinese

Diet:

Vegan
1 cup

tapioca flour

7 tablespoons

water

3 teaspoons

black food coloring, or mix 1/2 teaspoon blue, 1 1/2 teaspoon red, and 1 1/2 teaspoon green food coloring to make a dark brown color

1/4 cup

brown sugar

1/4 cup

boiling hot water
Instructions
Mix the water and food coloring in a small bowl.

Put the tapioca flour in a bowl and stir in the colored water with a fork. 

The mixture will feel very dry at first but don't worry – this is completely normal. Use one of your hands to knead and keep kneading until it becomes doughy, about 5 minutes. If the dough is still very crumbly, it's okay to add up to an additional tablespoon of water, and knead again.

Use a ⅛ teaspoon to scoop out a little dough and form a ball with it. Cover the bowl with a towel while you are doing this so the dough doesn't get too dry. Set aside on a plate and repeat until all the dough has been used. 

Or you can form the dough into a ball and equally slice it in 4 segments. 

Roll each dough segment on a flat surface to create a thin long stick. Try to make all four sticks about the same size.

Grab a knife and slice into small pieces about ½-inch thick. Roll each piece in the palm of your hand to create little balls. 

Bring a medium pot of water to boil and add the tapioca pearls separately so they don't stick together. Stir with chopsticks or a fork and boil for 15-20 minutes, until they are soft and chewy. Turn the heat off and let them rest for 10 minutes.

Meanwhile, mix the brown sugar and boiling water together, and keep stirring until the sugar has completely dissolve. Set aside. 

Drain the tapioca pearls and add them to the brown sugar syrup. You can leave them in the sugar syrup until you are ready to use them. 

Use the pearls for boba drinks, as a topping for ice cream, frozen yogurt, or shaved ice.
Notes
If you are saving the tapioca pearls for later, leave them in the sugar syrup and transfer to an airtight storage container. Refrigerate. They will keep for 7-10 days.
Nutrition
Serving Size:

About 1/4 cup

Calories:

20

Sugar:

3.1g

Sodium:

1.8mg

Fat:

0g

Saturated Fat:

0g

Unsaturated Fat:

0g

Trans Fat:

0g

Carbohydrates:

5.2g

Fiber:

0g

Protein:

0g

Cholesterol:

0mg
Keywords: bobba, bubble tea
Recipe Card powered by