Most store bought honey mustard dressings contain a minimum of 15 ingredients. But not this one. This homemade honey mustard dressing only needs 5! And not only is it fresh and low in fat, it's actually really good for you! Ready in 5 minutes from start to finish.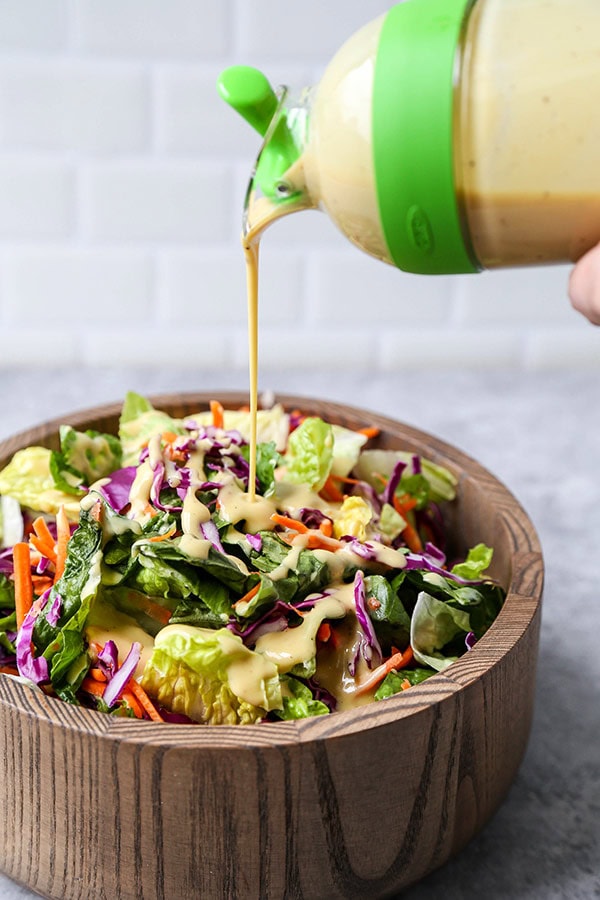 Homemade Honey Mustard Dressing (Lightened Up!)
I'm all about homemade salad dressings.
Not only are they a hundred times healthier than store bought, they also taste better.
WAY BETTER.
Initially it may feel a little strange to make your own salad dressings from scratch. Like the first time I made this honey mustard dressing I remember thinking "okay, how complicated is that going to be" and "how am I supposed to store this in the fridge without having it leak everywhere."
You're probably wondering if you should be making condiments from scratch ON TOP of all the cooking you are already doing, right?
Well, I'm here to tell you yes! And this is why:
5 minutes – that's how long it takes to make a homemade salad dressing.
In a salad dressing shaker is how you store it. You make it in the salad shaker, use as much as you need and put it in the fridge when you are done.
It's that simple.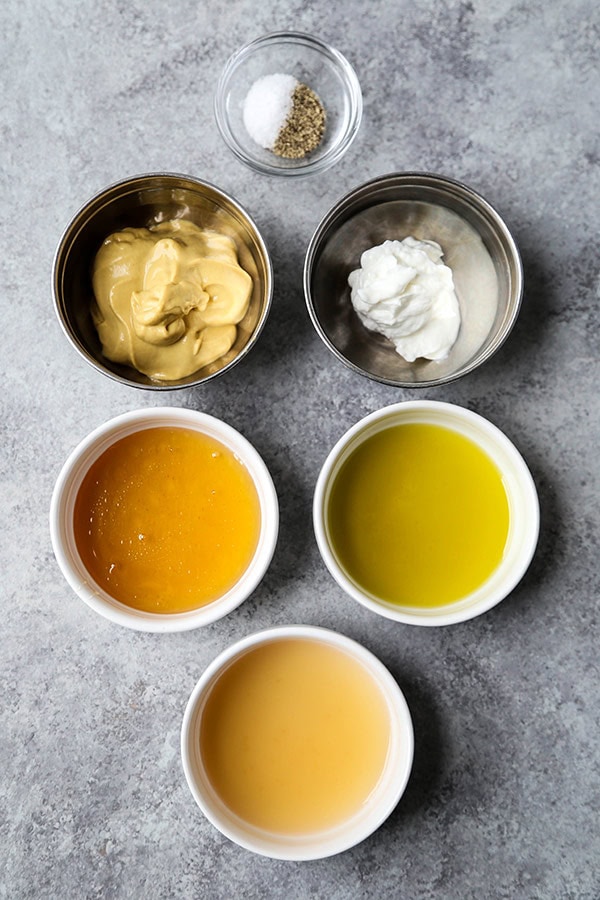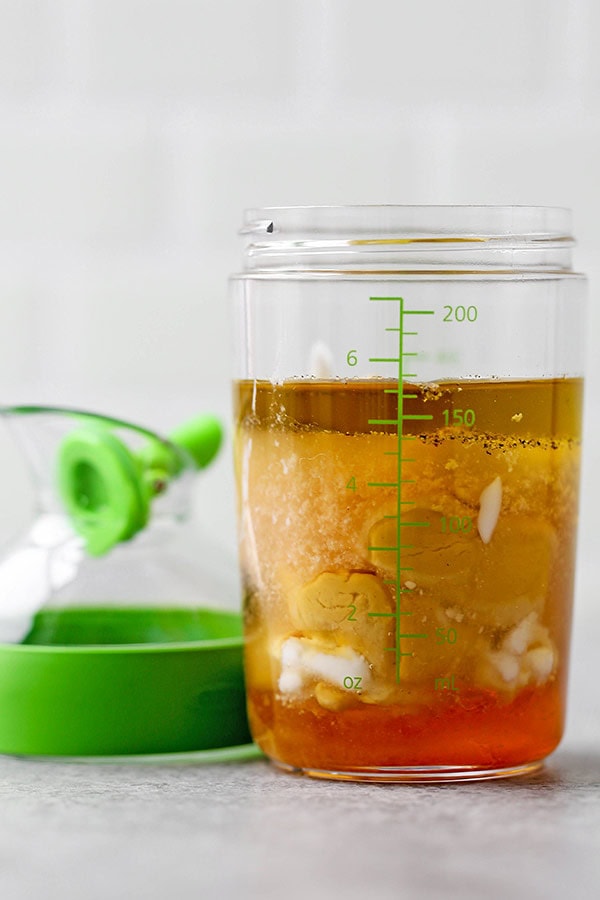 Finding A Good Salad Dressing Shaker
Another important component to making good homemade dressing is to have the right tools.
Sure, you don't NEED a salad dressing shaker because you can make it in a bowl or glass container with a lid.
But if you make dressings and vinaigrettes as often as I do you, you will appreciate having a proper shaker in your kitchen.
The reason being that it's mess-free and the spout is the best thing ever. It drizzles just the right amount of dressing on a salad and doesn't leak once you close it. No leaks even if you shake it vigorously! I don't know if all the brands are the same but my OXO Good Grips has been a lifesaver.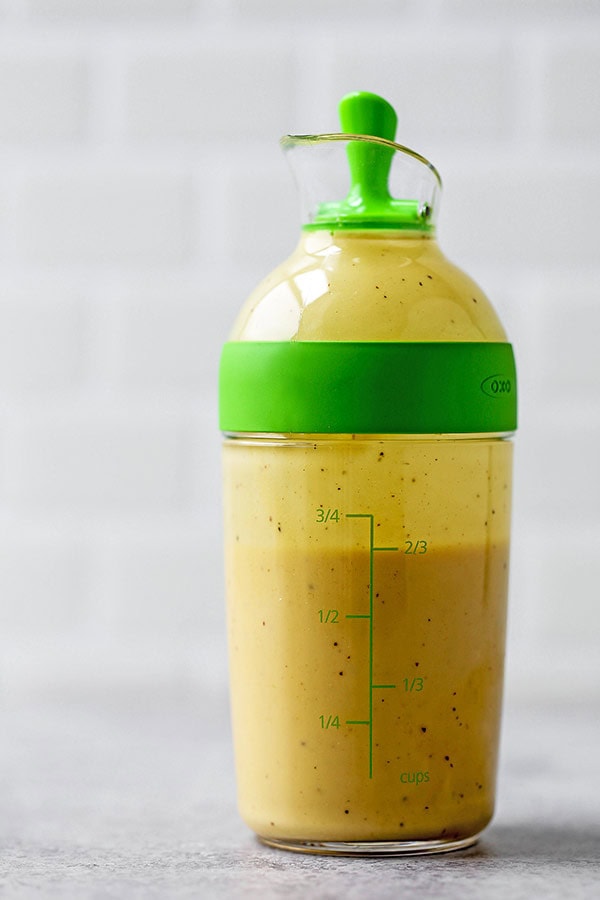 You simply cannot compare homemade salad dressings to store bought ones.
They are in different leagues on all levels!
I've been making my own for almost a decade now and couldn't tell you what aisle to find salad dressings at the supermarket. I think the last time I bought a bottle at the store it sat in my fridge for 3-4 years, half full. Not good.
Today I have a quick honey mustard dressing that you can whip up with just 5 ingredients. It goes well with most salads, especially those that come with crunchy greens like romaine lettuce, frisée, endives or kale. The dressing is sweet but not too sweet, tangy and the use of Greek yogurt contributes to the creaminess already brought on by the dijon mustard.
Bright and sunny flavors just like its color!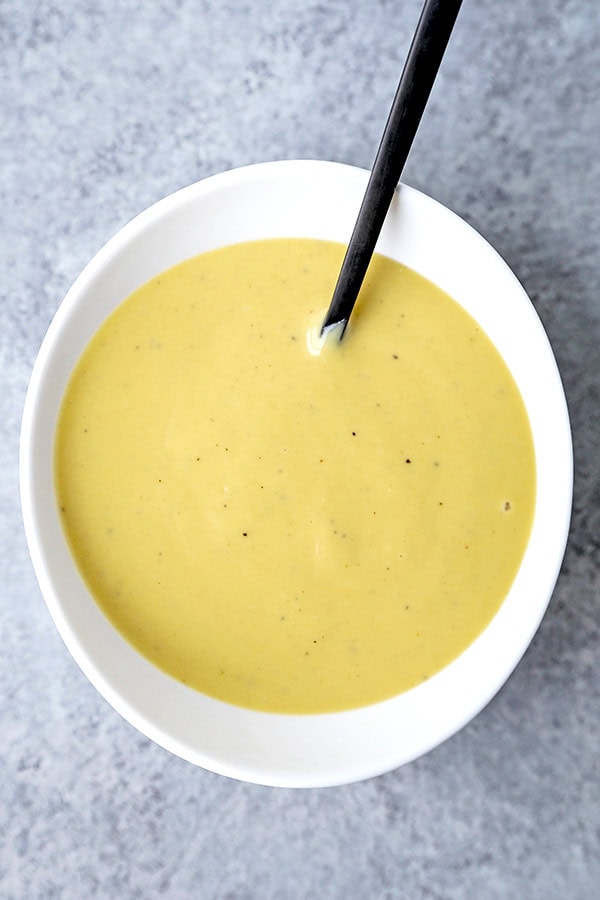 Is mustard healthy?
Mustard is indeed very healthy!
Mustard is a cruciferous vegetable from the Brassica family just like broccoli and cabbage. Their flower stalks, leaves and seeds can be eaten but only the seeds are used to make mustard. The seeds are crushed and mixed with water, lemon juice, vinegar, wine, salt or other liquids and spices to create a paste that's either sweet or spicy.
There are plenty of health benefits to reap from eating mustard. The seeds are very high in minerals such as calcium, magnesium, potassium and phosphorous which is essential to keeping teeth and bones strong. Mustard is also high in vitamins A, K and C and can help cure psoriasis. According to recent studies, these magical seeds were able to cure the inflammation and lesions associated with psoriasis. You can read more about it, here.
Calories in dijon mustard
There are only 4 calories in 1 teaspoon of dijon mustard, so you can go nuts with it on bread and crackers!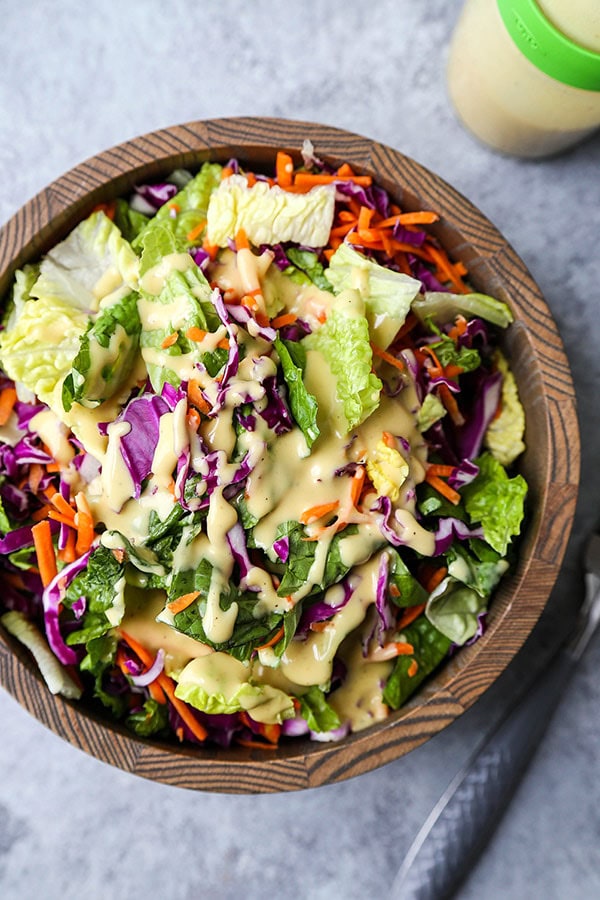 Other Really Healthy Ingredients
Aside from mustard, this salad dressing contains apple cider vinegar, Greek yogurt, honey and extra virgin olive oil. All really healthy ingredients!
Just to give you a quick idea of how packed with goodness this dressing is:
Apple cider vinegar can regulate blood sugar levels and aid in weight loss.
Honey is extremely high in antioxidants which help the body fight against free radicals. Our bodies naturally produce a greater number of free radicals than antioxidants, putting us at risk for infections and illnesses. If you don't nourish your body with antioxidants, the free radicals can roam and destroy without being challenged. This is why it's important to boost your body with antioxidants – so it can help balance the bad with the good.
Greek yogurt is high in probiotics, zinc, vitamins B6 and B12 and contains twice the protein content of regular yogurt.
High grade extra virgin olive oil is high in polyphenols (antioxidants) and may reduce the risk of heart diseases.
Better than a multivitamin don't you think? 🙂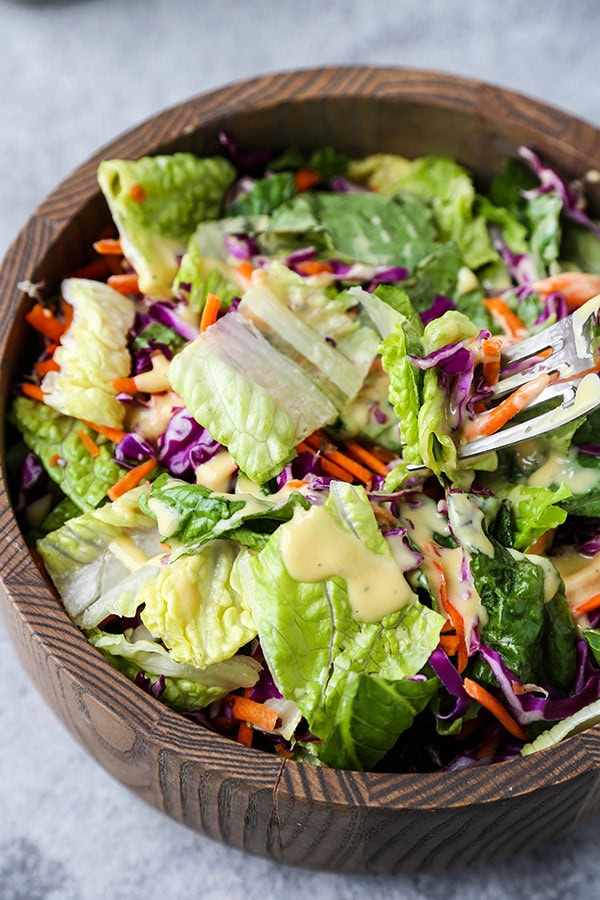 Substitute for Greek Yogurt
If you are not a big fan of Greek yogurt, substitute it for some mayonnaise.
Substitute for vegans
If you are vegan you can substitute with Vegenaise. I would stay away from dairy-free yogurt since they have a nutty sweetness that wouldn't pair well with this recipe.
This lightened up homemade honey mustard dressing will keep refrigerated for up to 2-3 weeks (check the expiry date on the yogurt).
Like salads? You might like these posts: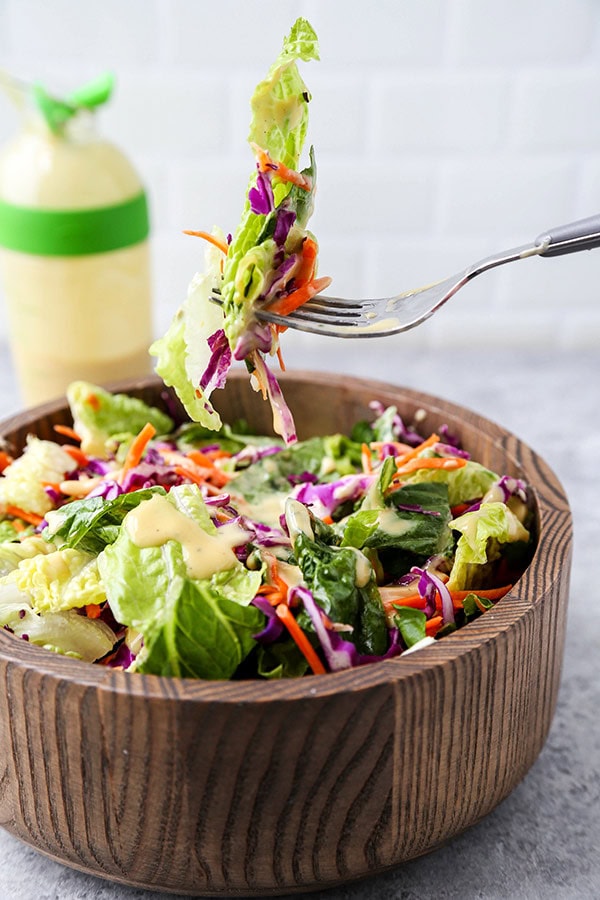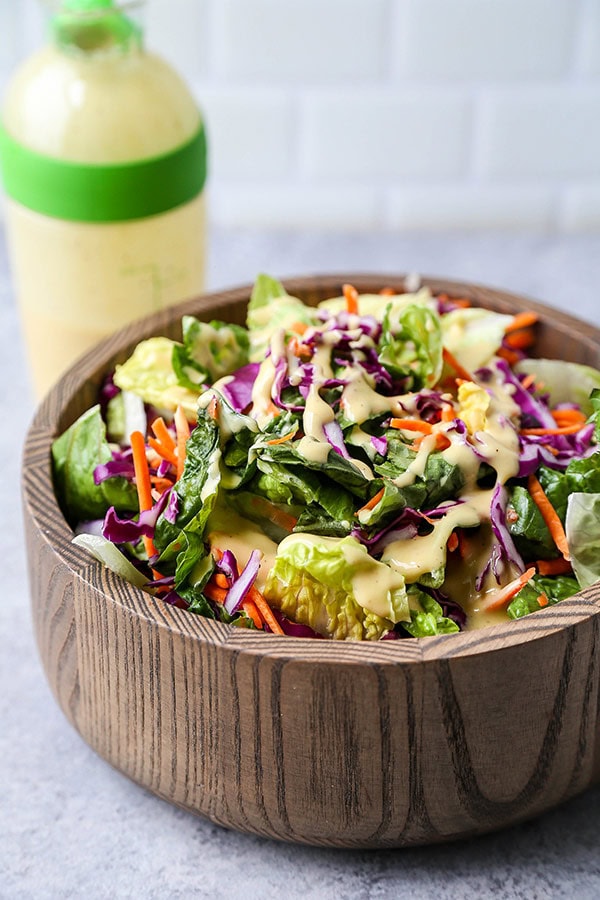 Did you like this Lightened Up Homemade Honey Mustard Dressing Recipe? Are there changes you made that you would like to share? Share your tips and recommendations in the comments section below!
Print
Homemade Honey Mustard Dressing (Healthy, Low-Fat)
This honey mustard dressing is sweet, tangy, healthy, and low in fat.
Author: Caroline Phelps
Prep Time:

5 minutes

Total Time:

5 minutes

Yield:

1 cup

1

x
Category:

Dressing

Cuisine:

American
3 tablespoons

creamy dijon mustard

4 tablespoons

honey

3 tablespoons

apple cider vinegar

1 tablespoon

plain yogurt, mayonnaise or Vegenaise

2 tablespoons

extra virgin olive oil

1/2 teaspoon

kosher salt

1/4 teaspoon

ground black pepper
Instructions
Put all the ingredient in a bowl and whisk until blended. Or put all the ingredients in a dressing bottle and shake until blended.
Notes
This honey mustard dressing will keep refrigerated for up to two to three weeks.
Nutrition
Serving Size:

2 tablespoons

Calories:

41

Sugar:

4.8 g

Sodium:

151 mg

Fat:

2.1 g

Saturated Fat:

0.5 g

Carbohydrates:

4.9 g

Fiber:

0 g

Protein:

0.4 g

Cholesterol:

1.4 mg
Keywords: recipe, vinaigrette, sauce, salad
Recipe Card powered by