Making this crockpot potato soup recipe is one of the easiest meals to make on a cold fall or winter day. Just add the ingredients to the crock pot and press start! What you will end up with is a comforting bowl of creamy potato soup filling enough to be served as a main, with your classic bread and butter combination, or as a starter or a side. Enjoy!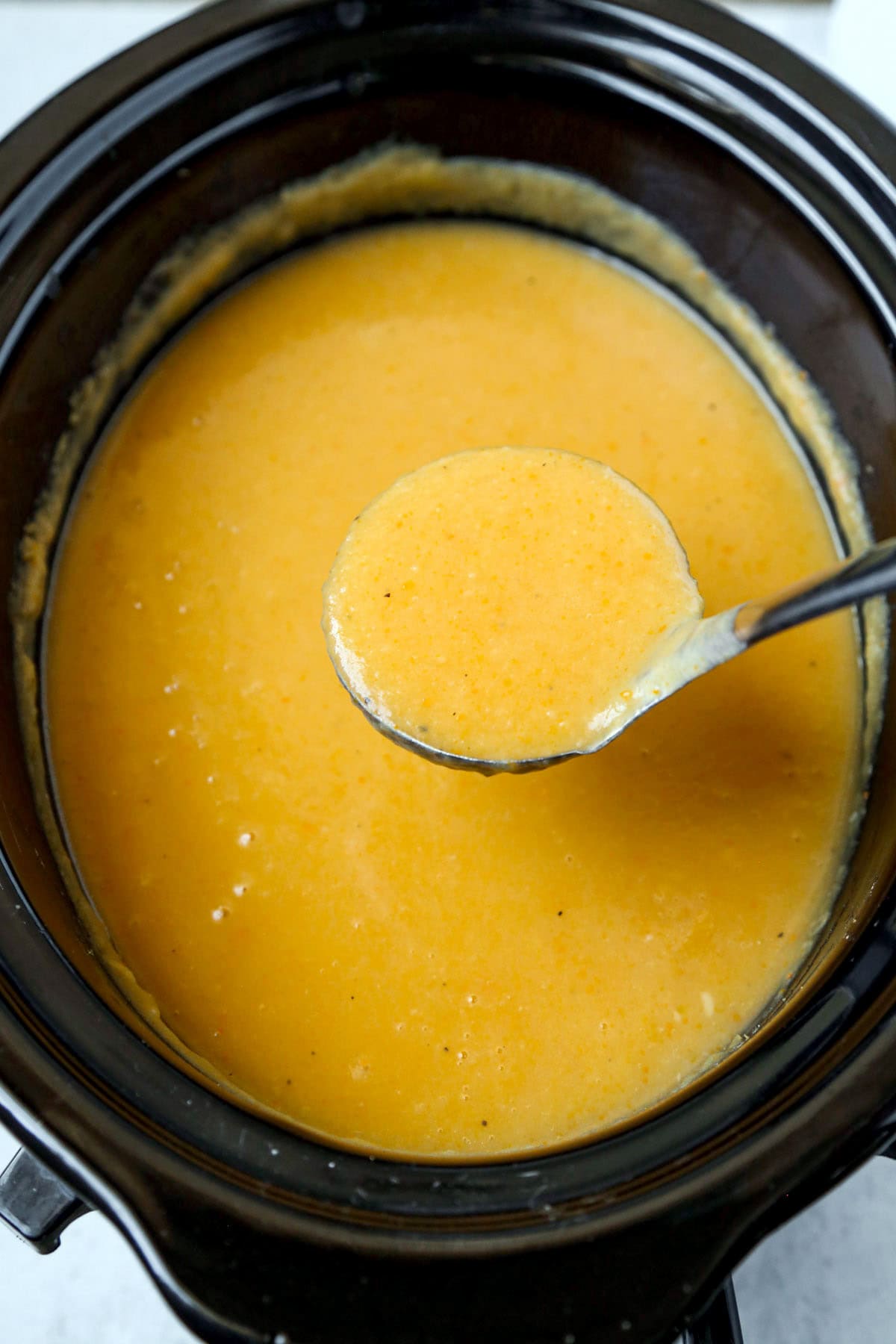 What Are The Best Potatoes To Use For Potato Soup?
The best type of potatoes to use for potato potages are ones that are high in starch and low in moisture. This combination allows the potatoes to absorb liquid quickly and break down easily. Russet potatoes and all-purpose potatoes are therefore the top choices for potato soups.
The Yukon Gold potato is medium starch but also another great option for making soups since it has a creamy texture and is more flavorful overall.
Can I Keep The Potato Skin On For Potato Soup?
This is my personal opinion but I would say no if you are using russet or all-purpose potatoes. Keeping the skin on will affect the texture and also give the soup a muddy color.
For other potatoes such as Yukon Gold, red potatoes, and white potatoes, the skin can be left on to give the soup a more rustic flair. But keep in mind that the texture may not be as creamy and smooth as a potato soup made with peeled potatoes.
Can I Use Frozen Potatoes Such As Hash Browns To Make Potato Soup?
Yes you can!
Swap the potatoes in this recipe with 2 pounds of frozen hash browns and cook on low for 5 to 6 hours.
Frozen diced potatoes can also be used but because I have never made it using them, I unfortunately cannot give you a correct cooking time. I'm assuming it would be a lot shorter since the potatoes would cook much faster due to their small cut.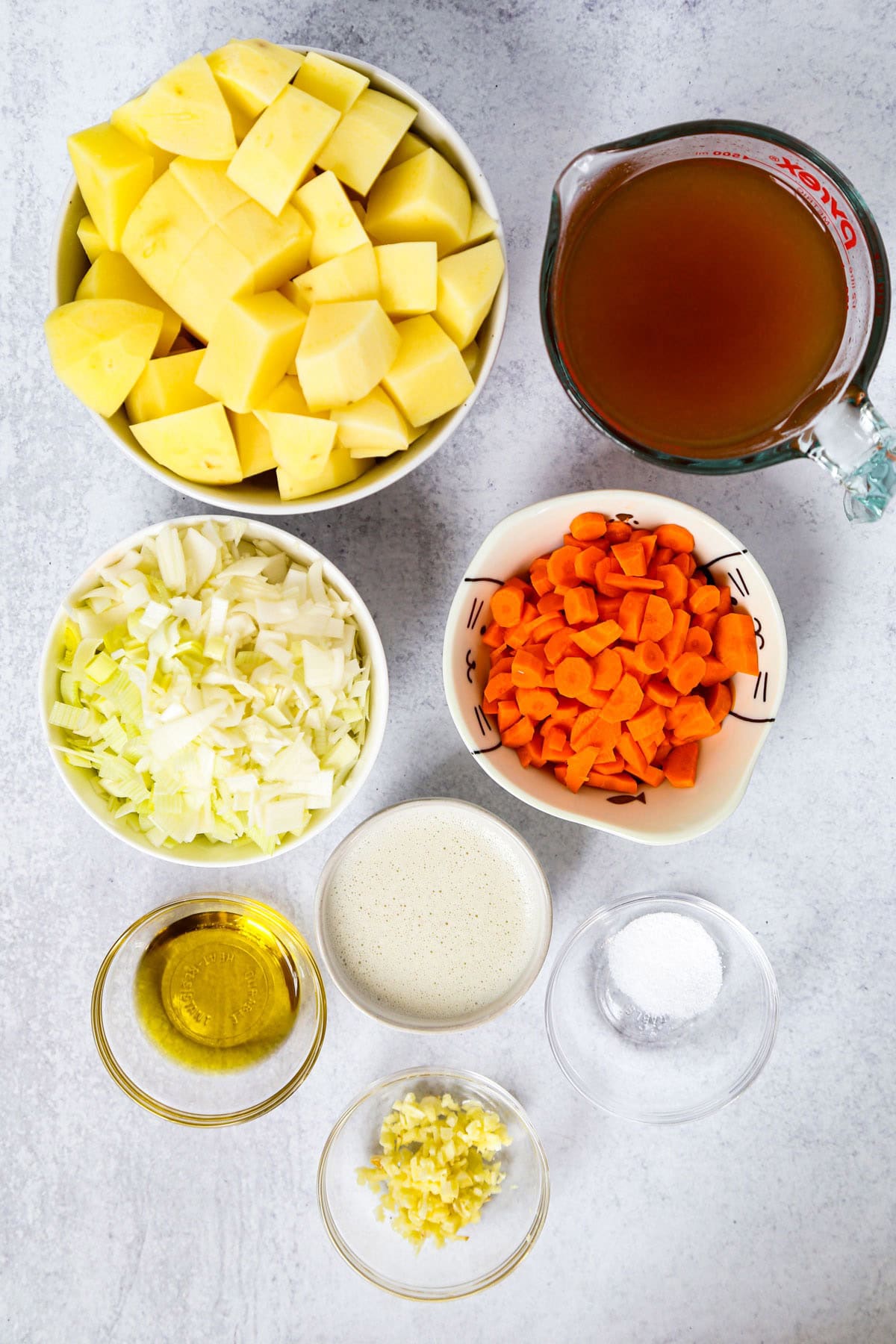 Crock Pot Potato Soup Ingredients
Scroll all the way down to the recipe card for the full recipe.
Olive oil: No need to use your best olive oil here since the flavor will barely be noticeable. If you don't have any or don't like the taste of olive oil, you may use vegetable oil, avocado oil, or grapeseed oil. They are all good options.
Garlic: Adding a few minced cloves infuses the soup with a sweet buttery flavor that gives the soup a comforting and rustic taste.
Leek: I prefer using leeks over onions, especially in soups, because of their mild and sweet taste. I grew up eating French food so leeks were always at the center of any hearty stew or soup recipes.
Carrot: Carrots add a lovely golden hue to the soup along with some earthiness and sweetness.
Potatoes: As mentioned above, russet potatoes and all-purpose potatoes are the ones I recommend using for this slow cooker potato soup. But feel free to use any type of potato you might already have in your pantry or simply love to eat (such as Yukon Gold potatoes or fingerling potatoes).
Broth: Use low sodium chicken broth or vegetable broth if you would like to make this soup vegan.
Salt: A pinch of salt is used to balance the sweetness of the carrots, leek, and garlic.
Heavy cream: Adding half a cup of heavy cream gives the soup a silky texture and some heartiness. For a vegan version, please use unsweetened oat milk.
Flavor Variations
Cheesy Potato Soup
To make a cheesy crock pot potato soup, add 1 to 2 cups of shredded mild cheddar cheese or sharp cheddar cheese once the soup is blended. Keep stirring until the cheese melts and blends into the soup. Add extra cheese if needed, until you reach the desired consistency and flavor.
Loaded Baked Potato Soup
Add 1 to 2 cups of shredded mild cheddar cheese or sharp cheddar cheese once the soup is blended, and stir until the cheese has completely melted. Serve the soup in bowls and top with crispy bacon, sour cream, and a sprinkle of green onions or chopped chives. You can't get better comfort food than a loaded baked potato soup on a cold and snowy day!
How To Make Crock Pot Potato Soup
Gather all of your kitchen tools and ingredients.
Chop all the vegetables and place them in the crock pot.
Add the remaining ingredients, except for the heavy cream.
Stir and put the lid on. Cook on low for 5 to 6 hours, or on high for 3 to 4 hours.
Use an immersion blender to blend the soup until it's smooth. If you don't have an immersion blender, transfer the soup to a blender and blend until smooth. You may need to do this in batches.
Stir in the heavy cream, season with salt and pepper if needed, and serve.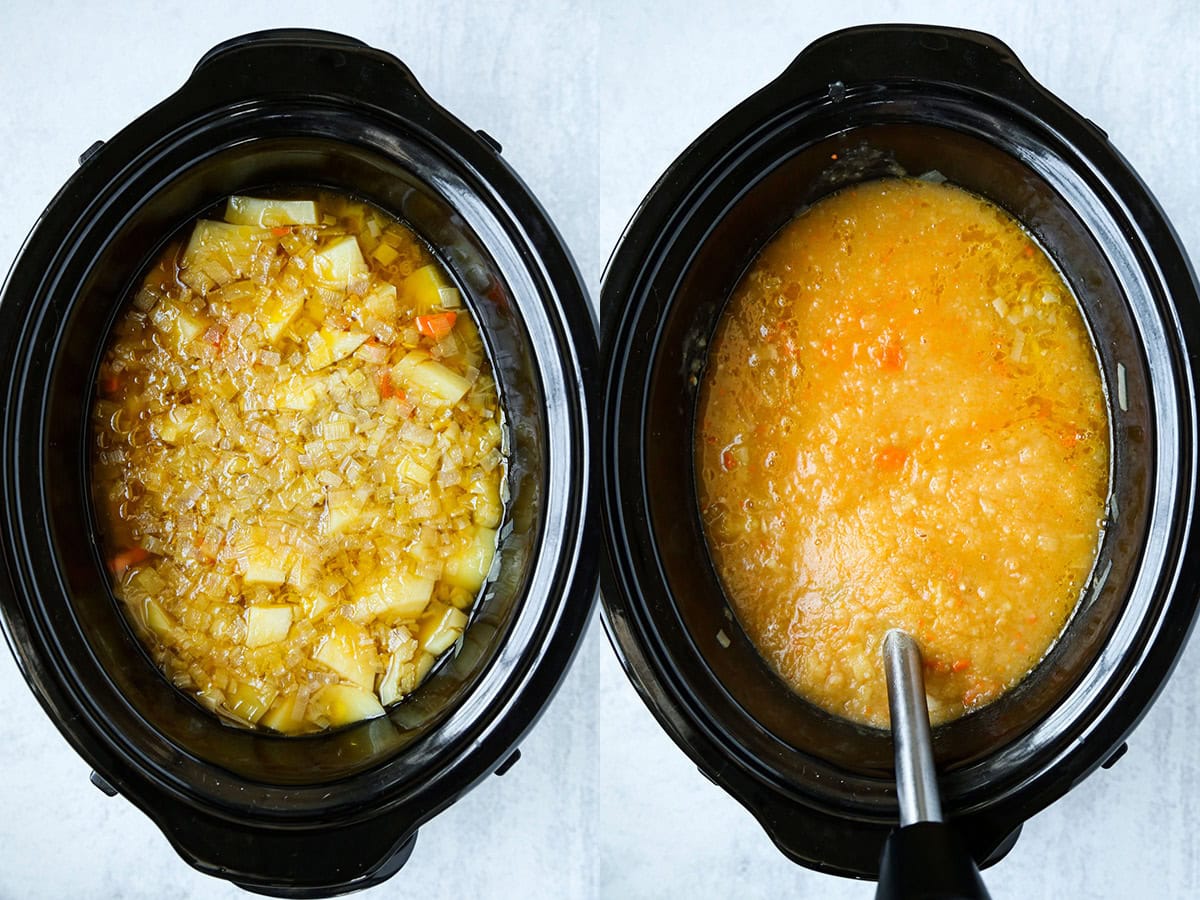 How To Thicken Potato Soup In A Slow Cooker?
To thicken a potato soup after it's cooked, add 1 tablespoon of flour, corn flour, or potato starch, to a small bowl and stir in 3 to 4 tablespoons of the cooked soup. Add the mixture to the crock pot and keep stirring until the soup thickens.
How To Prevent Potatoes From Becoming Gummy
Cooking potatoes for too long or over blending them are the most common reasons why many of us end up with a gluey, sticky stack of cooked potatoes. When it comes to mashed potatoes, it's always best to use a potato masher instead of a blender, since it's easy to overdo it. Mash just long enough so that the potatoes are fluffy.
Same goes for the texture of this soup – make sure not to over blend it as this will result in a soup that's more gooey than silky.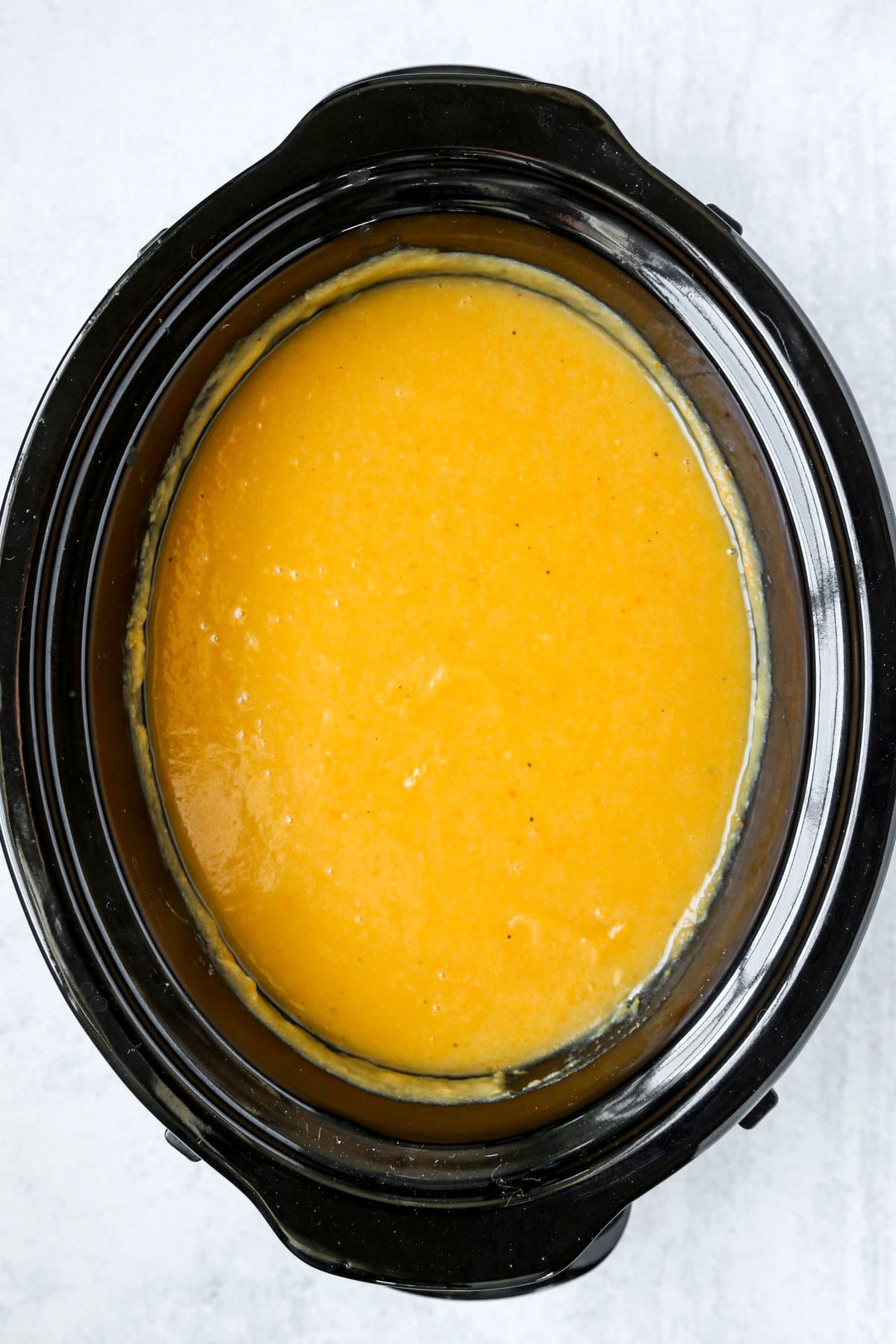 What To Serve With Potato Soup
This crock pot potato soup can be served as a main or a side dish.
As a main, simply serve it with a French baguette, multigrain bread, or any bread of your choice. I also like to offer a cheese and veggie plate on the side to complete the meal.
As a side dish or a starter, I would recommend serving this creamy potato soup with a salad or a sandwich. I would avoid pairing it with another hearty dish as it might be too filling or heavy.
Some of my favorite soups and sandwiches are:
Salads and Sandwiches You Might Like
How To Store Leftovers
To store the leftovers, transfer the soup to an airtight container and leave it in the refrigerator for up to 4 days. Even if you are planning to eat it the next day, do not leave the soup in the slow cooker since it contains dairy and bacteria might develop if it sits at room temperature.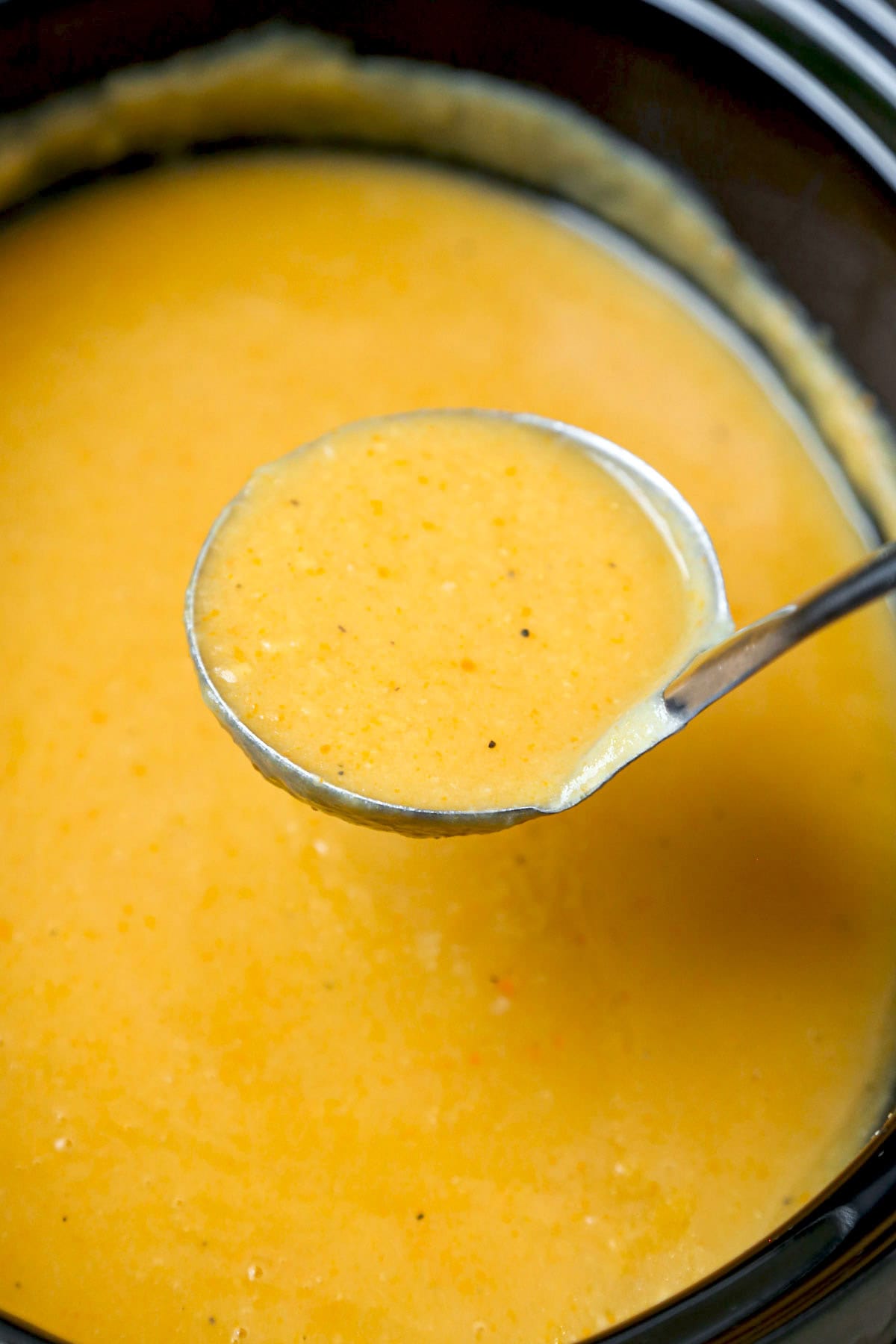 Did you try this crock pot potato soup recipe? Are there changes you made that you would like to share? Share your tips and recommendations in the comments section below!
Print
Crock Pot Potato Soup
This comforting crock pot potato soup recipe is guaranteed to keep you warm and satisfied during the colder fall and winter months. Sweet, creamy, and packed with goodness, it can be served as a main or a side dish.
Author: Caroline Phelps
Prep Time:

15 minutes

Cook Time:

5 hours

Total Time:

5 hours 15 minutes

Yield:

6

–

8

bowls

1

x
Category:

Crock Pot

Method:

Slow Cooking

Cuisine:

American

Diet:

Vegetarian
2 tablespoons

olive oil

4

garlic cloves, minced

1

leek, finely chopped, white part only

2

medium carrots, finely chopped

2 1/2

pounds

potatoes such as Yukon gold or russet potatoes, peeled and chopped into bite size pieces

4 1/2

cups

low sodium vegetable stock or chicken stock

1/2 teaspoon

kosher salt

1/2

cup

heavy cream or unsweetened oat milk for vegan option
Instructions
Place all the ingredients, except for the heavy cream, in the crockpot and close the lid.
Cook on high for 3 to 4 hours, or on low for 5 to 6 hours.
Blend the soup using an immersion blender until smooth. Alternatively, you can blend the soup in batches using a blender.
Serve.
Notes
To store leftovers, put the soup in an airtight container and refrigerate for up to 4 days. 
Nutrition
Serving Size:

1 bowl (serves 6)

Calories:

224

Sugar:

6.1g

Sodium:

575.6mg

Fat:

7.1g

Saturated Fat:

2.1g

Unsaturated Fat:

0.7g

Trans Fat:

0.1g

Carbohydrates:

37.6g

Fiber:

5.4g

Protein:

4.3g

Cholesterol:

7.1mg
Recipe Card powered by