This fiber-loaded farro salad recipe mixes rustic fall veggies with tart apple, spicy jalapeños, and umami-packed pecorino romano cheese. This delicious salad makes for a great side dish or main course!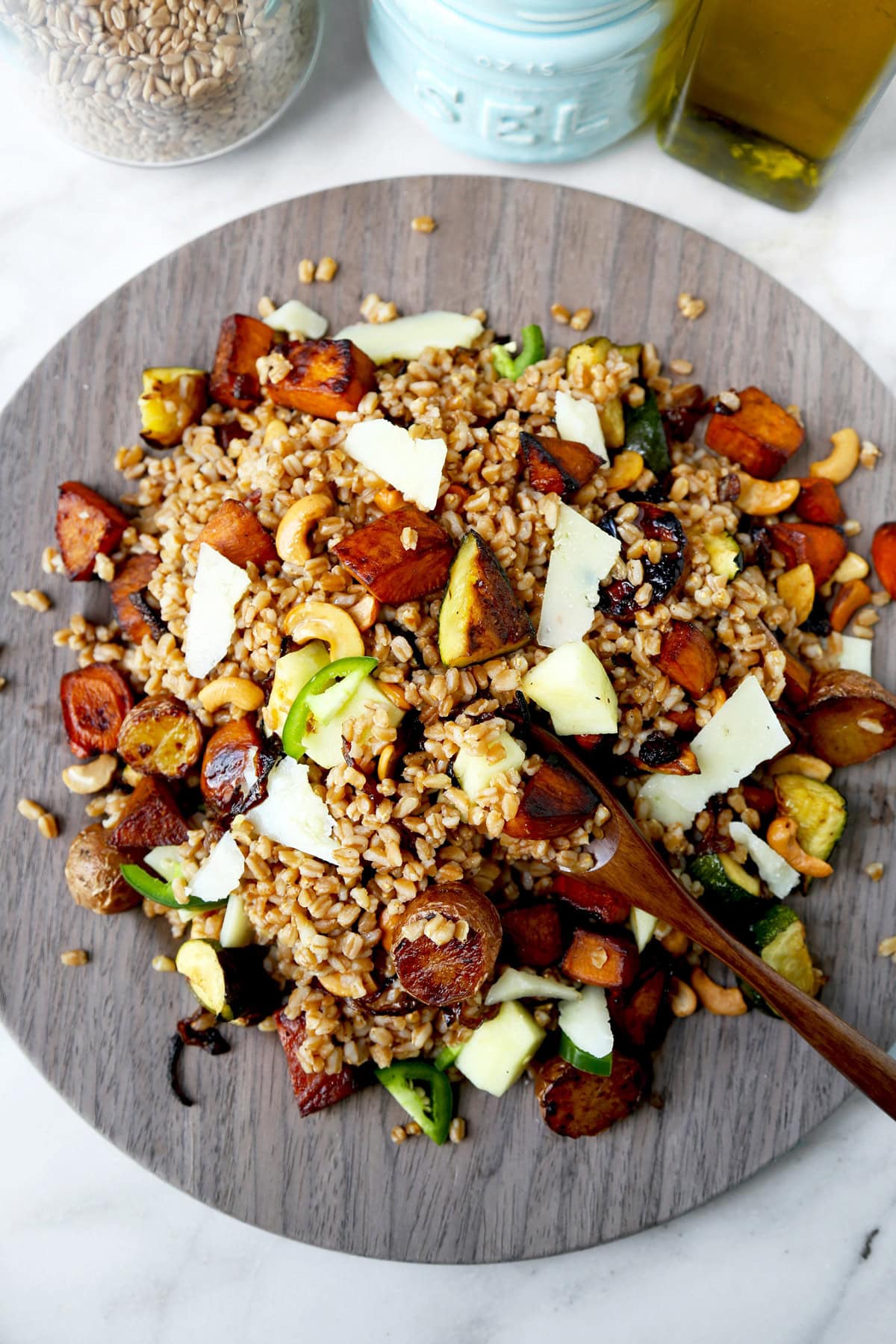 I'm always looking for a great recipe with the perfect bite. Whether it's trying to get just the right amounts of cockles, chili, garlic and pasta on the fork when eating spaghetti vongole – or hoping for the perfect ratio of rice to my bowl of Japanese curry, the perfect bite is always the goal.
Something glorious happens when the contrasting and complimentary flavors in a recipe work in harmony. So it stands to reason that, within a bite of food, just the right amount of those flavors and textures can send your enjoyment into overdrive!
My favorite part of this farro salad recipe is that there are a dozen different perfect bites to be had within one bowl of food. And the fact that it's low in sodium, packed with fiber and other nutritious ingredients, and tastes better with every bite I take, makes it a winning dish in my book.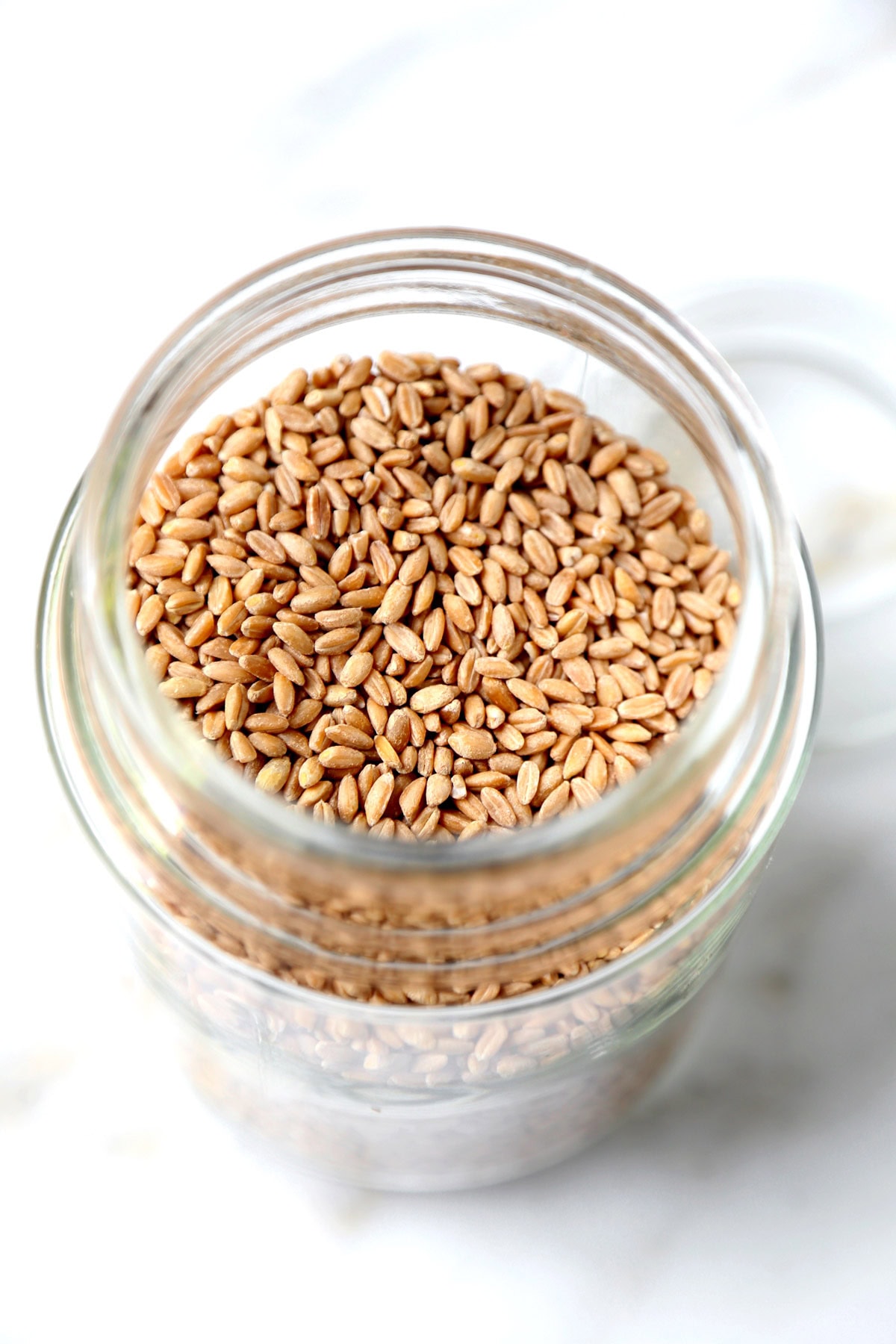 What Is Farro?
Farro is a type of wheat made of three wheat species. The ancient grains are sold dried and must be cooked in water to soften them. They can be eaten plain since they have a pleasant nutty taste, and are a great source of fiber. It is lower in calories and fat than quinoa—and absolutely bursting with fiber and protein. Cooking the kernels results in a soft, yet toothsome, grain that is used heavily in Italian cuisine.
Farro is very versatile as it can take on the flavor of a broth, it can be seasoned with spices, cooked with sauce, and served hot, or cold, like the salad you see here.
For this farro salad, I combined fingerling potatoes, sweet potatoes, carrots, and zucchini, to add plenty of color and impart sweetness and earthiness. The apple adds a tangy note while the jalapeño peppers give the salad a little heat.
Origins Of Farro
Farro is an ancient whole grain that is said to have been found in the tombs of Egyptian kings. It was brought to Ancient Rome around 44 BCE via the Fertile Crescent which is the boomerang-shaped region of the Middle East. It was the predominant grain used in Italian cooking until the collapse of the Roman Empire in 476. Its popularity was revived later when the French started adding it to their soups.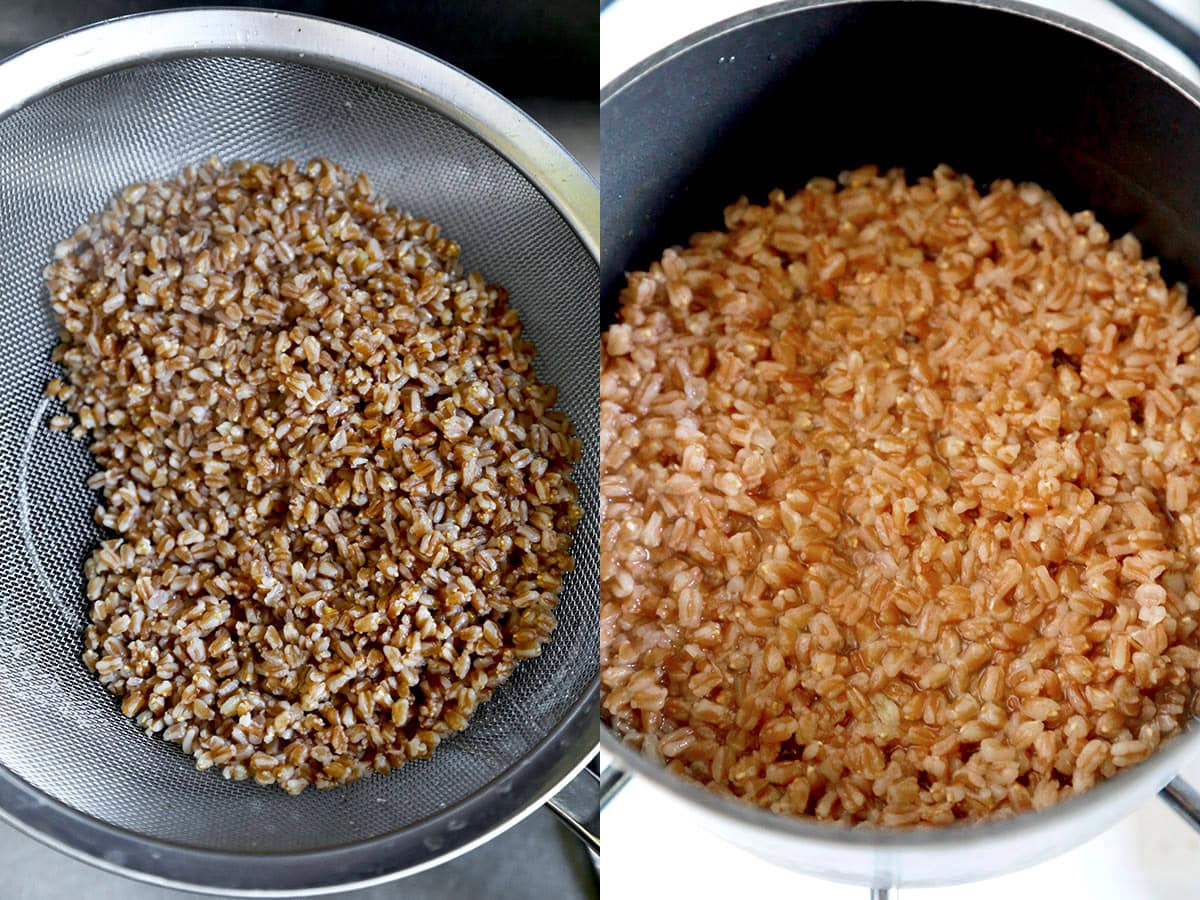 Ingredients For Farro Salad
Farro: Also called pearled farro, the grains have a mild nutty flavor and a chewy texture once they are cooked. You will need 1 cup of dried pearl farro for this recipe.
Vegetable broth: If you don't have vegetable broth you can use chicken broth or water with a pinch of salt.
Extra virgin olive oil: Some olive oil is needed to coat the vegetable so their outside texture get crispy in the oven.
Sweet potato: I love the sweet potato in this recipe so much! The caramelization that happens once the pieces are baked is so delicious. Each bite is like dessert!
Fingerling potatoes: More potatoes are used to make this salad filling, hearty, and comforting.
Vegetables: I've added a carrot, red onion, and a zucchini to add sweetness, a play on textures, and plenty of color.
Garlic: The garlic cloves are roasted until they are slightly charred and melt-in-your-mouth delicious.
Balsamic vinegar: The vegetables are tossed in 2 tablespoons of balsamic vinegar to add a fruity element. You can also use sherry vinegar or apple cider vinegar as an alternative.
Jalapeño peppers: Chopped jalapeno peppers add some heat and a refreshing crunch.
Granny Smith apple: The tangy taste of a Granny Smith apple is a must for this dish! It brings all the flavors together and gives this salad an incredibly refreshing taste.
Cashew nuts: Cashew nuts add an extra layer of nuttiness and make this dish extra nutritious. You can use chopped walnuts, pecans, or almonds as alternatives.
Pecorino Romano: Pecorino romano is similar to parmesan cheese but slightly saltier and with a grassy finish. It's also made from sheep's milk as opposed to cow's milk, which is what parmesan is made of. You can use parmesan if that's what you have in your fridge and I find that feta cheese is also delicious in this salad.
Ingredient Variations
One of the incredible things about Farro is all the different ways you can play with it and turn it into whatever you want it to be. You could eat it as is—or sprinkle a little black pepper, add a squeeze of fresh lemon juice, or a dollop of dijon mustard. You can mix in fresh herbs, like fresh basil or bay leaves. You can add in fresh spinach, peppery arugula, or any of your favorite leafy greens. Then combine it with sweet cherry tomatoes and fresh mozzarella cheese for another salad variation.
As you can see here, this ancient grain makes for a great salad. You may have heard of a mediterranean farro salad or greek farro salad before. You may have heard of a mediterranean farro salad or greek farro salad, often with a sprinkling of goat cheese, as these are popular uses of farro. Pairing it with any of your favorite fresh veggies is generally a safe bet. Some like to eat it as a side to stir fries too, instead of brown rice.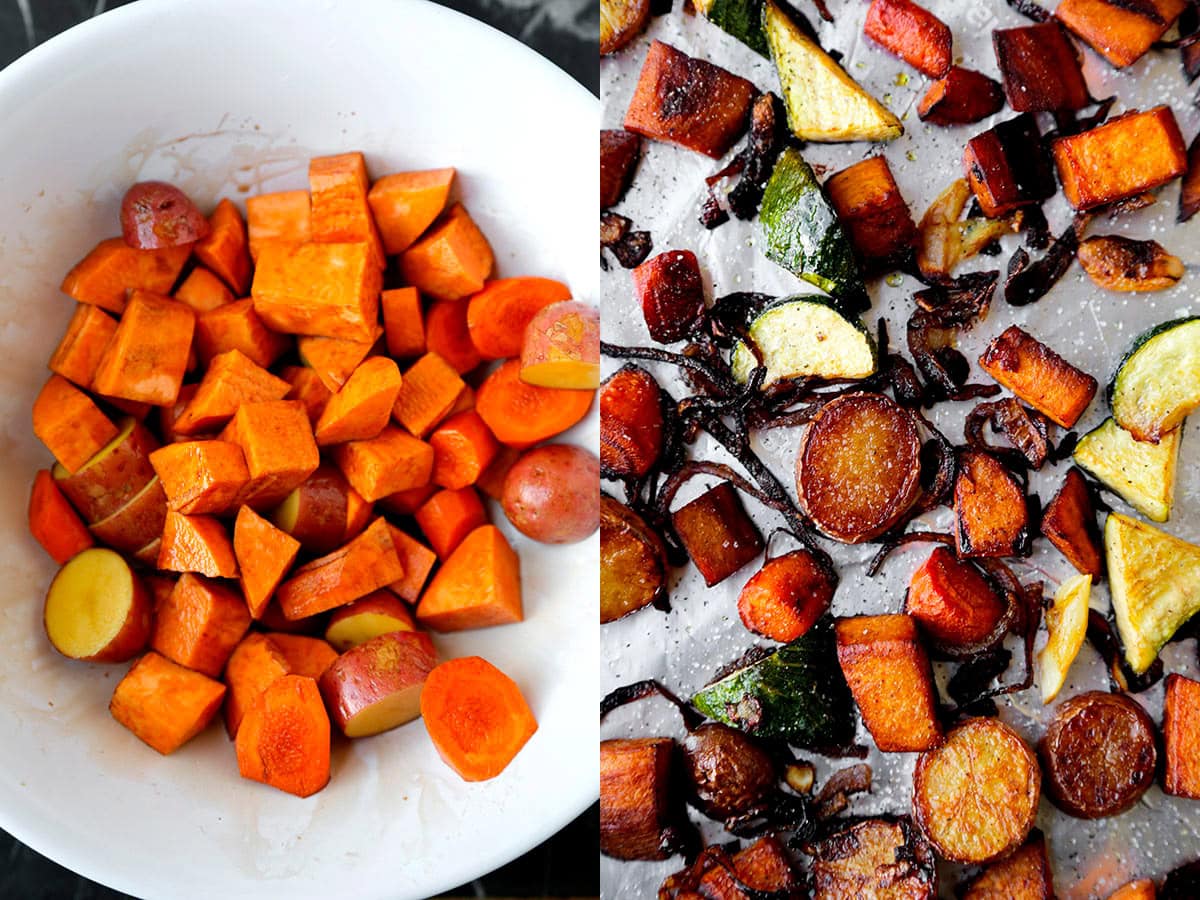 How To Make Farro Salad
Start by prepping your ingredients.
Gather all of your kitchen tools and ingredients.
Preheat your oven to 400°F or 205ºC.
Rinse the farro grains under water and drain well.
Add the farro and the stock to a small or medium saucepan and bring to a boil. Cover with a lid and lower the heat to low. Simmer for 30 minutes.
Turn the heat off and drain the excess liquid if there is any. Transfer the farro to a large bowl and set aside.
Line a medium size baking sheet with non-stick aluminum foil and set aside.
Add the olive oil to a large skillet over medium high heat and when the oil is hot, add the sweet potato, fingerling potatoes, carrot, and red onion. Cook for 5 minutes.
Add the garlic and zucchini and cook for an additional 3 minutes.
Add the balsamic vinegar and toss the vegetables to coat them evenly. Turn the heat off and lay the vegetables onto the baking sheet in one layer.
Roast the vegetables for 20 minutes.
Take the vegetables out of the oven and add them to the farro.
Add the remaining ingredients to the bowl and toss well. Season with salt and pepper and serve.
Is Farro Gluten-Free?
Farro is not gluten-free since it comes from three different types of wheat species which contain gluten. Therefore, it is best to avoid eating farro if you have celiac disease, a wheat allergy, or a gluten sensitivity.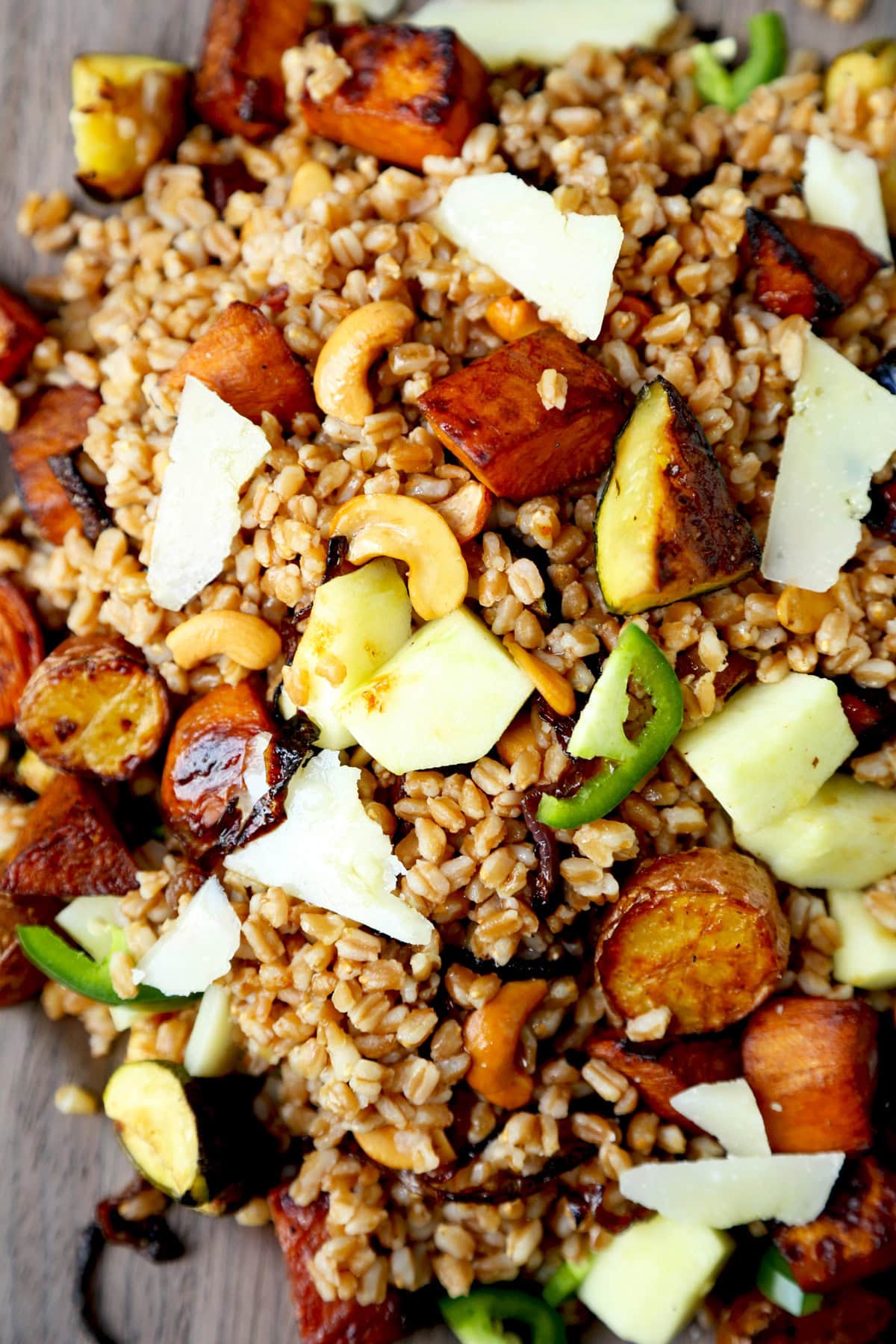 It was super fun to load up a spoon with different elements of this hearty farro salad and experiment with all of the flavor combination possibilities.
It's hard to find fault with a simple recipe that presents so many possibilities to construct the perfect bite of food. I think I'll have seconds!
Other Nutritious Salads You Might Like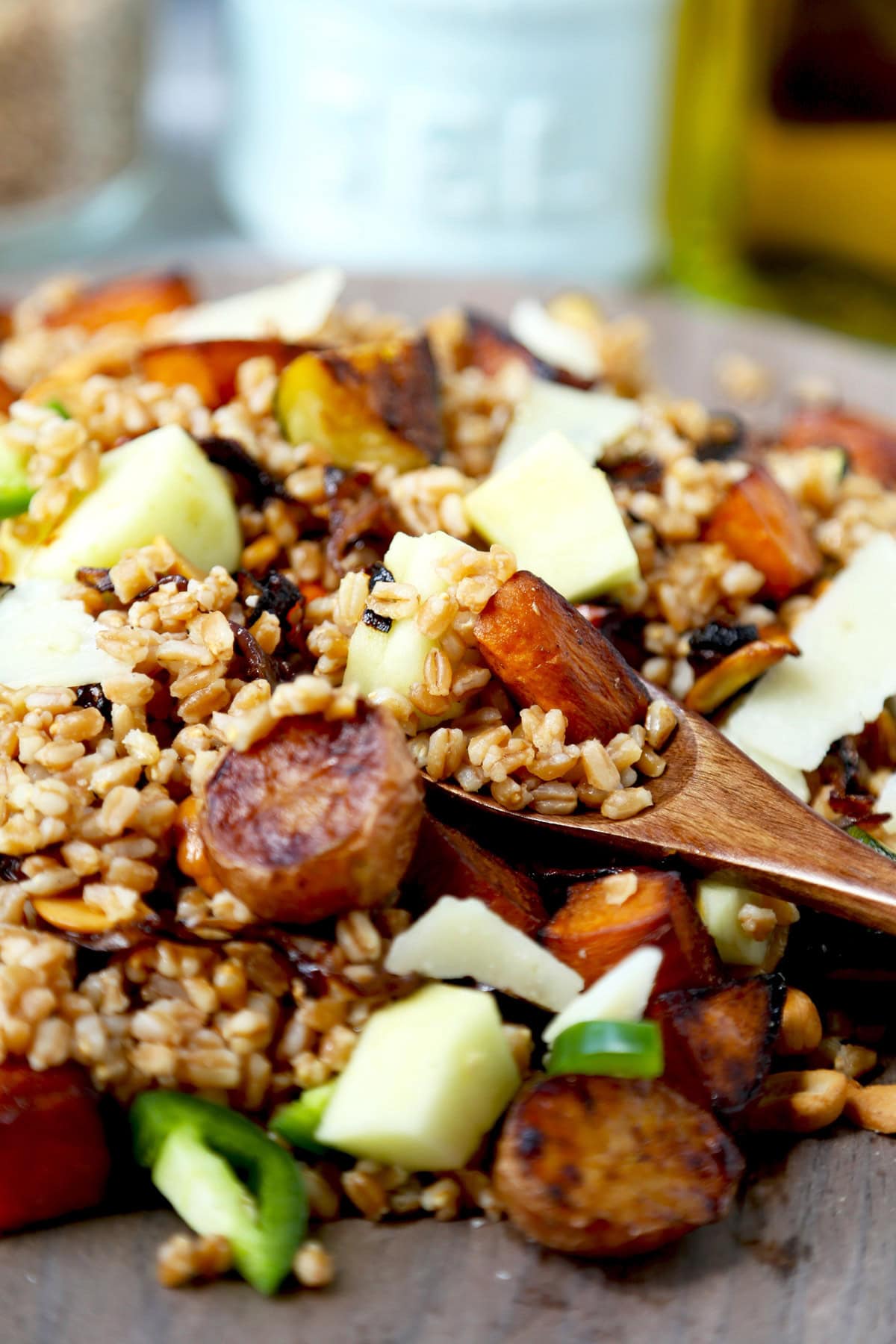 Did you like this farro salad recipe? Are there changes you made that you would like to share? Do you have other favorite grain salads you love to eat? Share your tips and recommendations in the comments section below!
Print
Hearty Farro Salad
This fiber-loaded Hearty Farro Salad Recipe mixes rustic fall veggies with tart apple, spicy jalapeños and umami-packed pecorino Romano cheese. Hearty and healthy!
Author: Caroline Phelps
Prep Time:

15 minutes

Cook Time:

30 minutes

Total Time:

45 minutes

Yield:

6

people

1

x
Category:

Salads

Cuisine:

American

Diet:

Vegetarian
1

cup

farro

3

cups

vegetable broth

2 tablespoons

extra virgin olive oil

1

sweet potato, peeled and chopped bite size

3

fingerling potatoes, chopped bite size

1

carrot, peeled and chopped bite size

1

red onion, peeled and chopped into half moons

3

cloves garlic, peeled and crushed

1

zucchini, chopped bite size

2 tablespoons

balsamic or sherry vinegar

2

jalapeño peppers, seeded and chopped

1

Granny Smith apple, peeled, cored and chopped bite size

1/4

cup

cashew nuts

1/4

cup

shaved pecorino Romano or feta cheese, optional (skip to make this recipe vegan)
salt and pepper, to taste
Instructions
Preheat oven to 400°F.
Rinse farro under water and add to a small pot with stock.
Bring to a boil, cover, lower heat and simmer for 30 minutes. Drain excess liquid, transfer to a large bowl and set aside.
Line a medium size baking sheet with non-stick aluminum foil and set aside.
In a large pan over medium high heat, add olive oil, sweet potato, fingerling potatoes, carrot and red onion and cook for 5 minutes.
Add garlic and zucchini and cook for 3 minutes.
Add balsamic vinegar and toss. Turn the heat off and transfer vegetables to the baking sheet.
Roast for 20 minutes and add to farro.
Add the remaining ingredients and toss well. Season with salt and pepper and serve.
Notes
Store the leftovers in an airtight storage container. This farro salad will keep in the refrigerator for up to 4 days.
Nutrition
Serving Size:

1 serving

Calories:

308

Sugar:

8.8g

Sodium:

160.4mg

Fat:

8.2g

Saturated Fat:

1.7g

Unsaturated Fat:

1g

Trans Fat:

0g

Carbohydrates:

46.9g

Fiber:

8.6g

Protein:

8.5g

Cholesterol:

2.4mg
Recipe Card powered by