This butternut squash soup has a slight pungency and a smokiness that's reminiscent of Southeast Asian curries. This comforting soup is also vegan-friendly and only requires a few simple ingredients!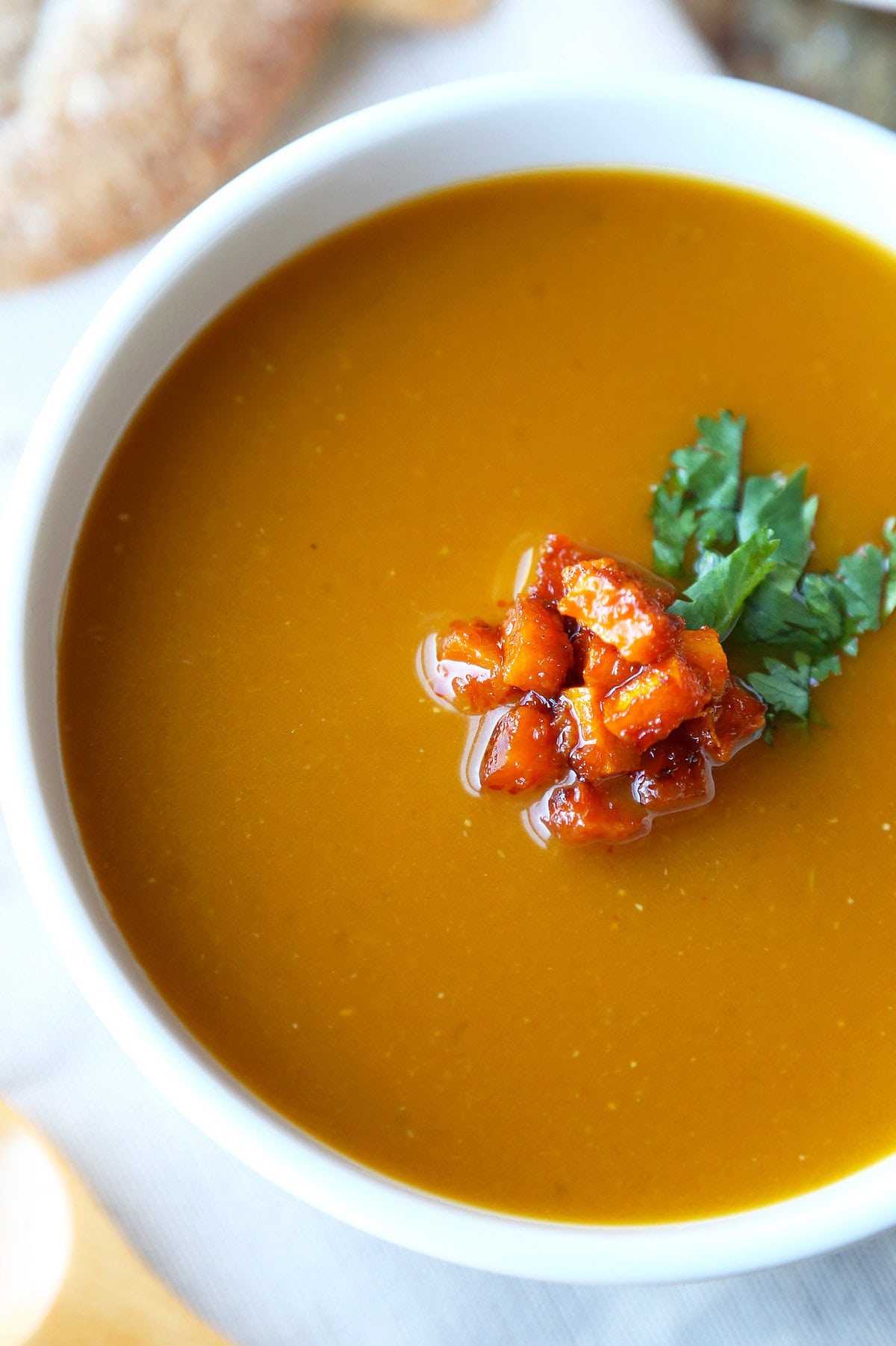 Soup's on! And this is a pretty delicious one too; a vegan butternut squash soup that's low in calories and fat, and high in flavor and satisfaction! Who needs butter and other dairy products to add creaminess to this soup when the main ingredient is already silky to begin with! And look at all the health benefits you get from sipping on this vegan butternut squash soup:
High in dietary fiber
High in magnesium
High in potassium
Very high in vitamin A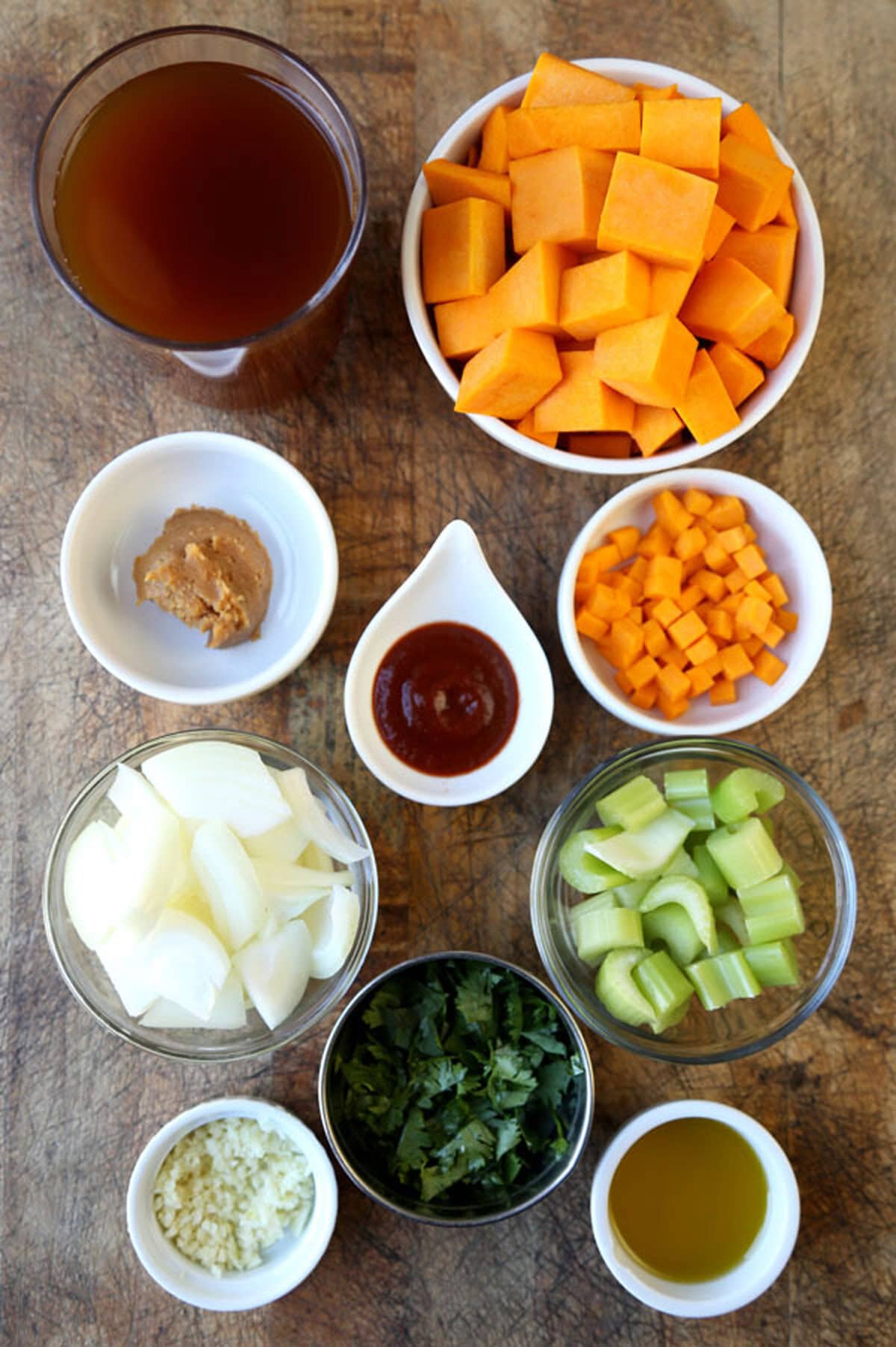 The main components of this butternut squash soup are very basic – I'm using butternut squash, extra virgin olive oil, onions, garlic, celery and vegetable broth. What makes this vegan butternut squash soup different is the addition of miso paste, fresh cilantro and little chunks of squash sauteed in sriracha sauce.
Every bite is satisfying because it holds so much flavor – you get sweet, savory, umami, a little heat, and a little pungency. And all that comes packaged in a beautiful and vibrant looking soup that seduces the eyes. Make extra servings to store in an airtight container and have plenty of leftover soup the next day. The amazing flavor of the soup makes it one of my favorite potage soups of all time!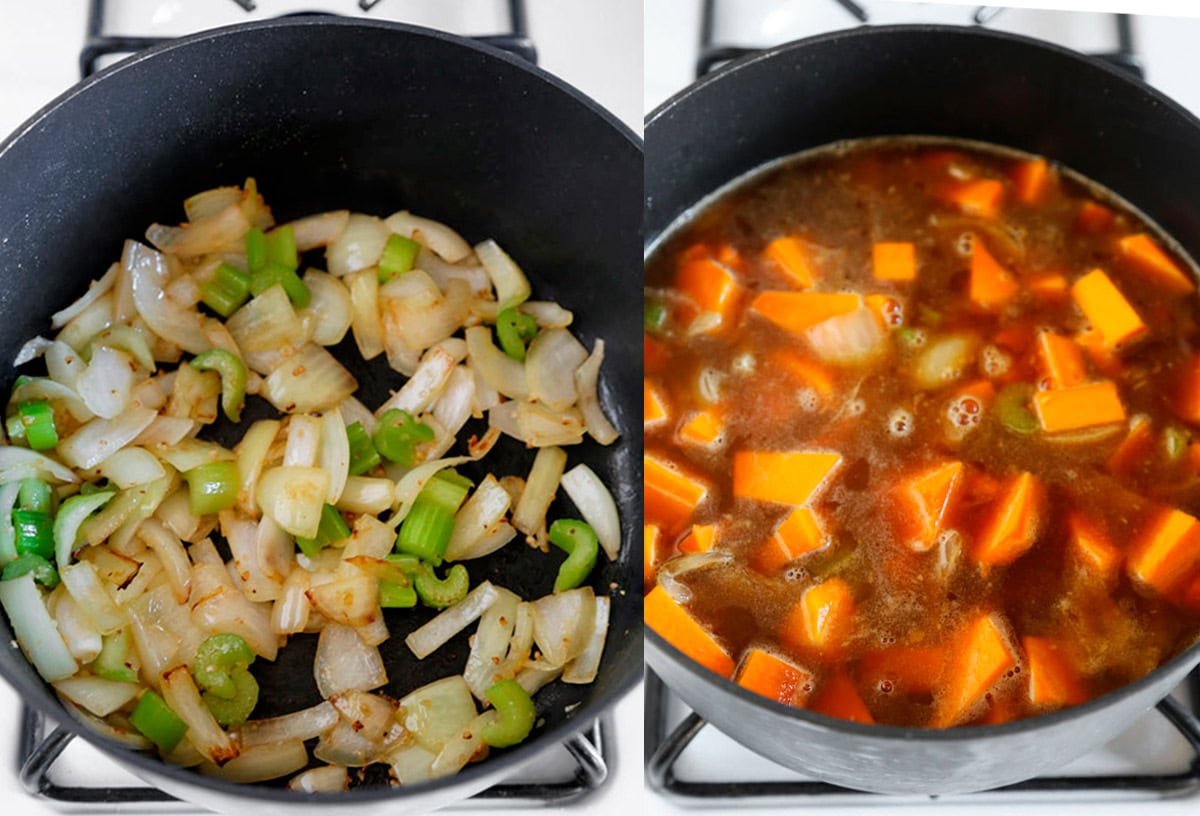 Ingredients for Vegan Butternut Squash Soup
Extra virgin olive oil: Olive oil has a subtle floral taste I really love pairing with this butternut squash soup. But feel free to use other oils such as grapeseed or vegetable oil.
Garlic: You will need two cloves of garlic, minced, to make this soup. The garlic adds a little sweetness and a lovely aroma.
Onion: One chopped onion to add some sweetness and a slight pungent element.
Celery: A couple of stalks to lighten up the soup and give it a refreshing taste.
Butternut squash: The main ingredient of this soup! Look for a heavy butternut squash that is uniformly beige. Use your knuckles to tap it and if the sound is hollow, it means you have a ripe and delicious butternut squash in your hands.
Vegetable stock: Vegetable stock or you can also use water and a little salt.
Miso paste: I recommend using either white or awase miso paste. Red miso paste tends to have a very salty and bitter taste and it simply won't marry as well as the other miso paste for this soup.
Sriracha sauce: The sriracha sauce is used to flavor the diced squash that will be used as a topping. It adds a hot, spicy, and peppery element.
Cilantro: Chopped cilantro is also used as a topping to lighten up this potage. However, if you don't like cilantro you can completely omit it.
Ingredient Variations
For the first time attempting this recipe, I highly encourage you to try this recipe as is. However, next time you're feeling like trying something new, there are always different ways to take that leap in the kitchen. Here are several popular ingredients that can be found in similar recipes:
Fresh ginger adds a little heat and a refreshing element.
Black pepper will kick up the heat and spice levels.
Pumpkin seeds as a topping adds a nice crunch.
Other fresh herbs such as fresh parsley or fresh sage add a French countryside flair to the soup.
To make the soup creamier you can add a little full fat coconut milk, or heavy cream, for non-vegans.
For non-vegans, swapping vegetable broth for chicken broth also works.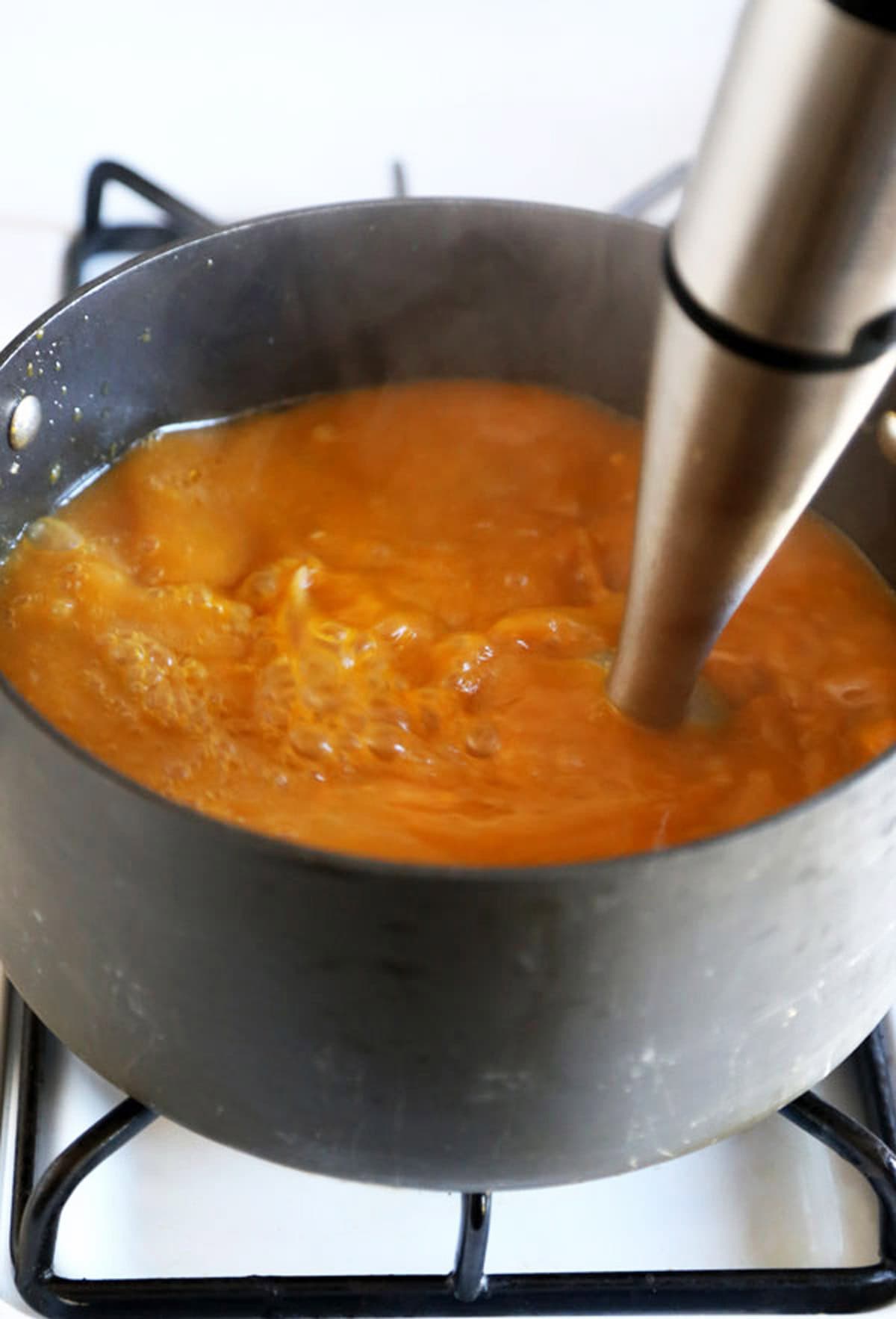 How to Make Butternut Squash Soup
Scroll all the way down to the recipe card for the full recipe.
Gather all of your kitchen tools and ingredients.
Peel the butternut squash and carefully (don't cut yourself!) slice it in half, lengthwise. Use a spoon to scrape off the seeds and chop the squash into bite size pieces.
Take four pieces of the chopped squash and dice them. Put them in a bowl and set aside.
In a large pot over medium high heat, add 1 tablespoon of olive oil along with the garlic, onion, and celery. Stir and cook for 4 to 5 minutes, until onions are translucent.
Stir in the butternut squash, veggie broth, and miso paste, and bring to a boil. Reduce the heat to low (bubbling simmer), cover with a lid, and cook for 20 to 30 minutes, or until the squash is tender.
Use a hand mixer to blend the soup until it's smooth, or transfer the soup to a blender and blend until smooth.
Follow the instruction in the recipe card to make the spicy glazed sriracha squash cubes.
Top with cilantro and cubed sriracha squash and serve.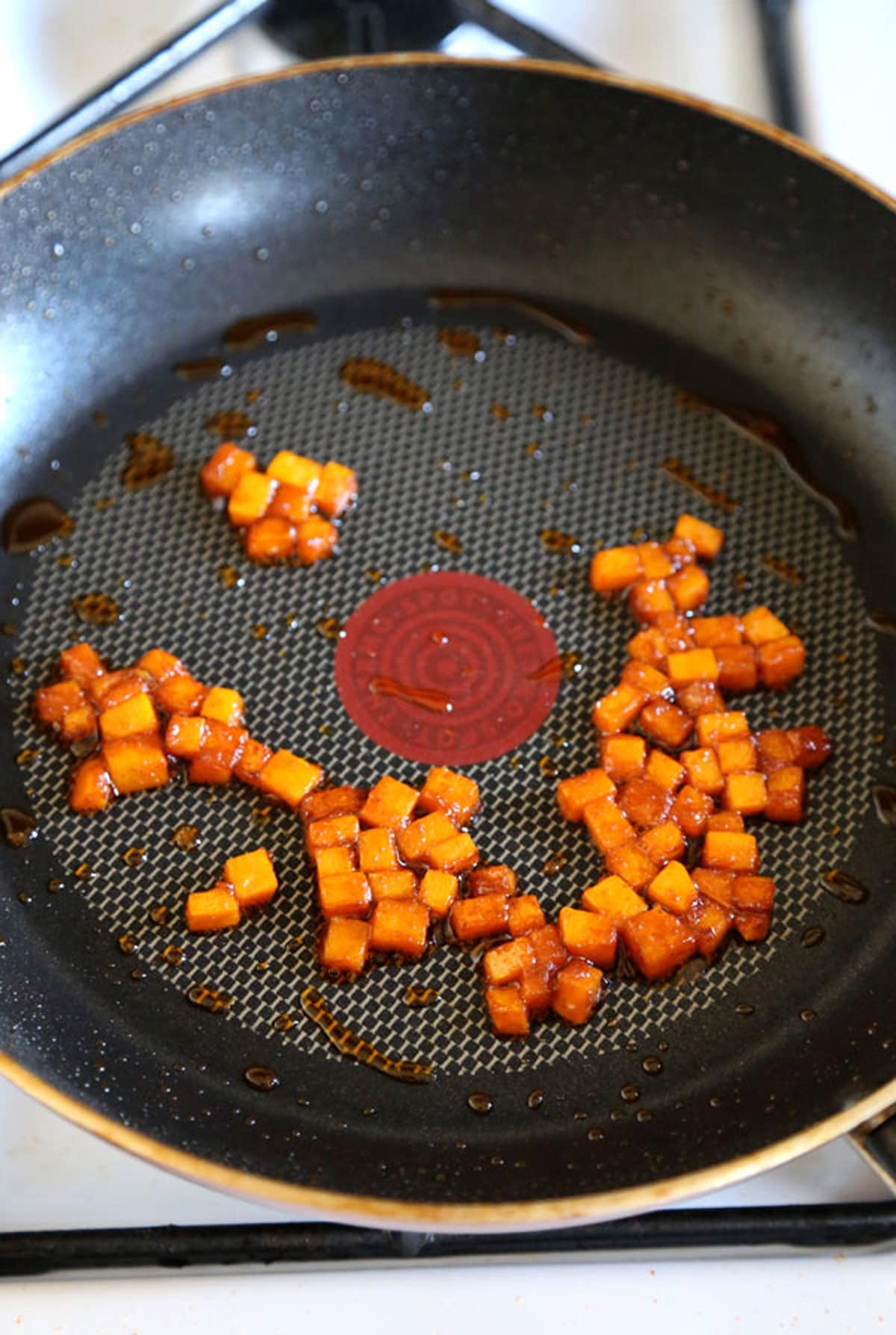 When is Squash in Season?
Squash, also called summer squash, might lead one to believe it can primarily be found in the summertime. However, it should be available all year around at your local grocery store. If you garden your own vegetables, they will be in their prime come summer time, hence its namesake.
As for when this soup should be eaten, you can really eat it any time of the year!
This is definitely one of my fall favorites because the weather is finally getting a little bit cooler. It's also a great idea to keep this soup in mind for when you're sick! The vitamins will leave you replenished and the spice should open your nasal passages. This will make a great addition to a night of grilled cheese sandwiches too. It's hard not to love dipping crunchy bread into a creamy butternut squash soup that's full of so much flavor!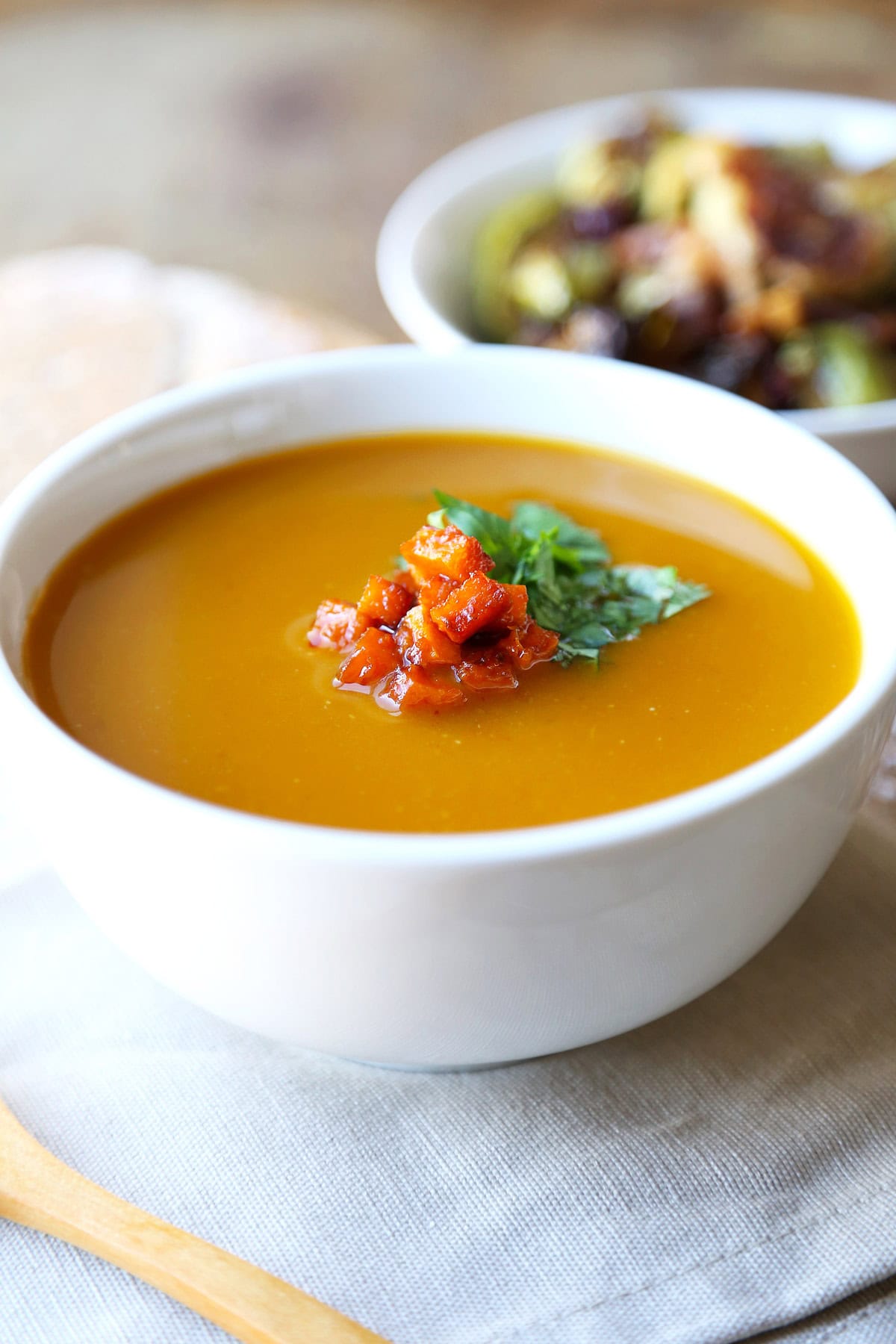 More delicious squash recipes: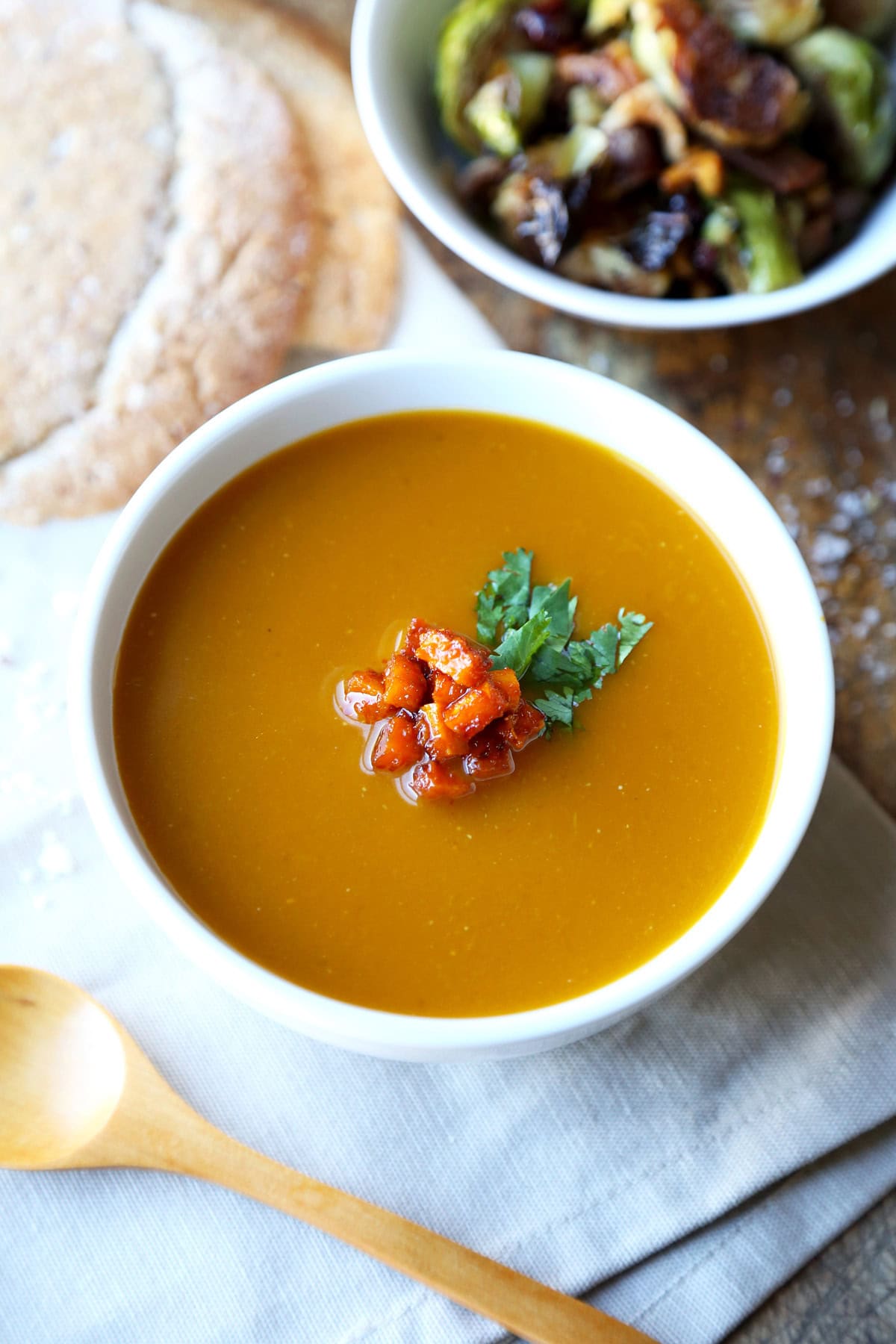 Did you like this Vegan Butternut Squash Soup? Are there changes you made that you would like to share? Share your tips and recommendations in the comments section below!
Print
Vegan Butternut Squash Soup
Topped with diced butternut squash sauteed in sriracha sauce along with some freshly chopped cilantro, this vegan butternut squash soup has a slight pungency and smokiness that's remindful of South East Asian curries.
Author: Caroline Phelps
Prep Time:

10 minutes

Cook Time:

25 minutes

Total Time:

35 minutes

Yield:

6

people

1

x
Category:

Soups

Method:

Stove top

Cuisine:

American
1 tablespoon

+

1 teaspoon

extra virgin olive oil

2

cloves garlic

1

onion

2

stalks celery

2

pounds

butternut squash (save 2 tablespoons finely chopped butternut squash)

5

cups

vegetable stock

1 1/2 tablespoon

white or awase miso paste

1 tablespoon

sriracha sauce

2 tablespoons

cilantro (finely chopped)
Instructions
Peel and slice butternut squash in half lengthwise. Scrape off seeds and slice into 1/2-inch squares.
Grab 4 squares and dice into small pieces. Put in a bowl and set aside.
In a large pot over medium high heat, add 1 tbsp olive oil, garlic, onions and celery and cook for 4-5 minutes, until onions are translucent.
Add butternut squash, vegetable stock and miso paste and bring to a boil. Reduce to a low boiling simmer, cover and cook for 20-30 minutes, until squash is tender.
Meanwhile in a small pan, add remaining olive oil (1 tbsp) and add small diced butternut squash. Cook for 2-3 minutes, until butternut squash is tender, turn off the heat and add sriracha sauce. Transfer to a plate and set aside.
Use a hand mixer or blender and blend soup until smooth. Top with diced sriracha butternut squash and freshly chopped cilantro. Serve immediately.
Notes
This Vegan Butternut Squash Soup Recipe will keep refrigerated for up to 4 days.
Nutrition
Serving Size:

1 bowl

Calories:

136

Sugar:

4.5g

Sodium:

175.9mg

Fat:

4g

Saturated Fat:

0.5g

Unsaturated Fat:

0.4g

Trans Fat:

0.5g

Carbohydrates:

24.1g

Fiber:

3.8g

Protein:

2.4g

Cholesterol:

0mg
Keywords: recipe, appetizer
Recipe Card powered by