This comforting roasted spaghetti squash with mushrooms, garlic, and parmesan, is a quick and easy low carb meal to serve on a busy weeknight, or as part of a festive celebration dinner.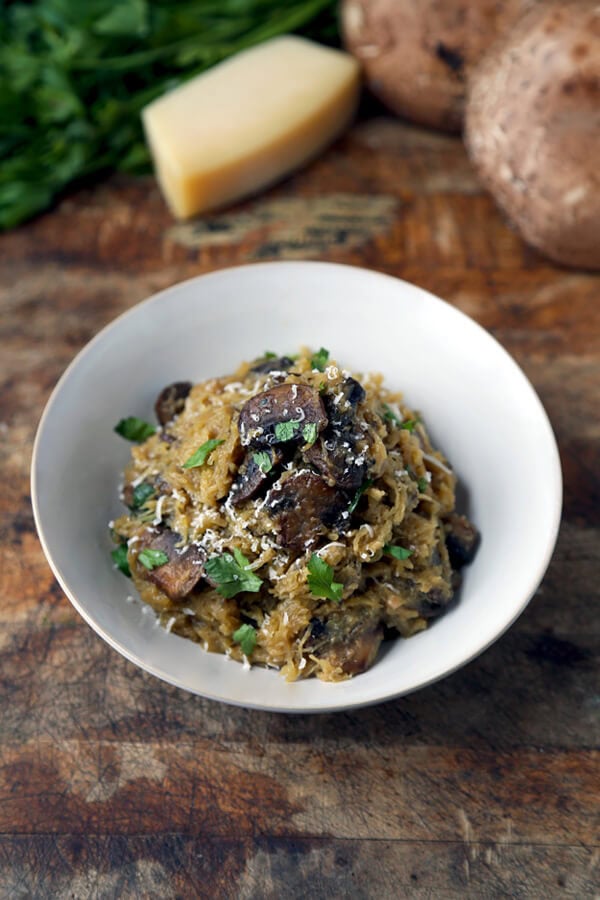 When I created this spaghetti squash recipe, I didn't expect it to become one of the most popular recipes on my blog.
Since its publication it's been shared over 400,000 times and has been featured on big sites like Bon Appetit, Buzzfeed, Lauren Conrad, Prevention, Self, Huffpost Taste, and Today.
It's always a good feeling when one of my recipes is loved by so many people – especially when the level of love for the dish is mutual 🙂
The spaghetti squash is cheesy and earthy, almost like a creamy mushroom risotto, and pairs beautifully with chicken, turkey, or any of protein of your choice. It can be served as a main or a side dish.
What is spaghetti squash?
Spaghetti squash is a winter vegetable that's oval and yellow, with a hard skin and soft flesh that resembles spaghetti strands when scraped once it's cooked.
It's delicate in flavor – a little sweet though much milder than butternut squash and acorn squash – and watery.
The squash flesh is crunchy and stringy which is why it's a popular choice to use as a substitute for pasta or Asian noodle based dishes. An average spaghetti squash measures between 8-14 inches in length and weighs 2-3 pounds.
Spaghetti squash is a great source of vitamin c and manganese (and other vitamins and minerals), is high in fiber, and low in calories, which makes it an excellent choice for a nutritious meal.
How to tell when it's ripe?
Look for a bright yellow color. If it's a little green, it's too young. If it's yellow-orange, it won't keep for very long.
The texture of the skin should be hard enough that you can't push your fingernail through it. If you can it means that the squash is still too young to eat.
The skin should not have any bruises or damage otherwise it's a sign that's it's over-ripe.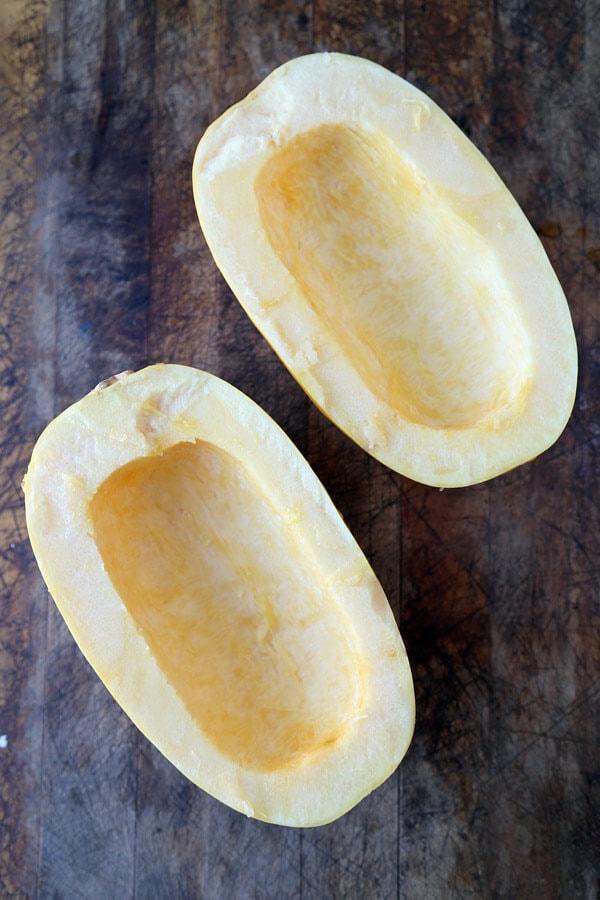 How To Cut Spaghetti Squash
Cutting spaghetti squash raw is doable but I personally prefer to do the slicing once it's partially cooked as the skin becomes easier to cut through. Always use a sharp knife when cutting a spaghetti squash!
Here's how I like to do it:
Microwave the spaghetti squash for 5 minutes. This won't cook the squash throughout, but will soften the skin a little.
Take it out of the microwave using a kitchen towel (it will be very hot!) and lay it on a cutting board with the flattest side down.
In a straight line, poke a few small slits – about 2-3 inches long – through the skin, lengthwise, all across both sides. Think of the dotted lines you see on notepads where you can easily tear off a piece of paper.
Turn it back to its flattest side and start cutting from the stem first. Keep slicing until the spaghetti squash is cut in half.

How to Cook Spaghetti Squash
There are two ways to cook spaghetti squash:
Roasting (baking).
Microwaving.
Below is a quick guide on different ways you can cook it.
Roasted Spaghetti Squash (Whole)
This method is great because it holds a lot of moisture!
Rinse the spaghetti squash and dry it with a kitchen towel or paper towel.
Preheat the oven to 375 degrees F.
Pierce the skin of the spaghetti squash a few times and place it on a baking sheet.
Bake in the oven for about one hour, or until you can pierce through the skin without any resistance.
Take the spaghetti squash out of the oven and let it cool for 15 minutes.
Slice in half, discard of the seeds and use a fork to scrape the insides into think long strands.
*This preparation is for a 3-4 pound spaghetti squash. You may need to bake longer if the squash is bigger.
Roasted Spaghetti Squash Halves
Preheat the oven to 375ºF.
Rinse the spaghetti squash and dry it with a kitchen towel or paper towel.
Cut the spaghetti squash lengthwise and scoop out the seeds.
Cover a baking sheet with parchment paper and brush a little neutral oil (vegetable or grapeseed) on the fleshy part of the spaghetti squash.
Place each half, skin facing down and roast in the oven for about 1 hour.
Take the spaghetti squash out of the oven and let it cool for 15 minutes.
Shred each half using a fork.
Microwaved Spaghetti Squash
Rinse the spaghetti squash and dry it with a kitchen towel or paper towel.

Cut the squash in half lengthwise and scrape the seeds with a spoon.

Cover a plate or a microwave safe container with a damp paper towel and place the spaghetti squash cut side down (skin facing up) on top.
Microwave on high for 10 minutes.
Take the spaghetti squash out of the microwave and let it cool for a few minutes.
Grab a fork and shred the squash flesh into strings and place into a large bowl.

How to Store Spaghetti Squash
Keeping a whole spaghetti squash in a cool, dry place (55 to 60 degrees Fahrenheit) will make it last for up to 3 months, as opposed to 1-2 weeks in a fridge. Cut squash on the other has to be kept refrigerated in an airtight container or plastic bag. It will last 1-2 weeks.
How Long Does Spaghetti Squash Last?
Stored in the fridge or on your counter, a spaghetti squash that's uncut will last between 1 to 3 months.
Cooked and scooped out of its flesh it can keep for 3 to 5 days in the fridge.
You can also freeze it in small portion for a few weeks. However, many people have reported that this method isn't recommended as the squash gets quite watery and mushy once thawed.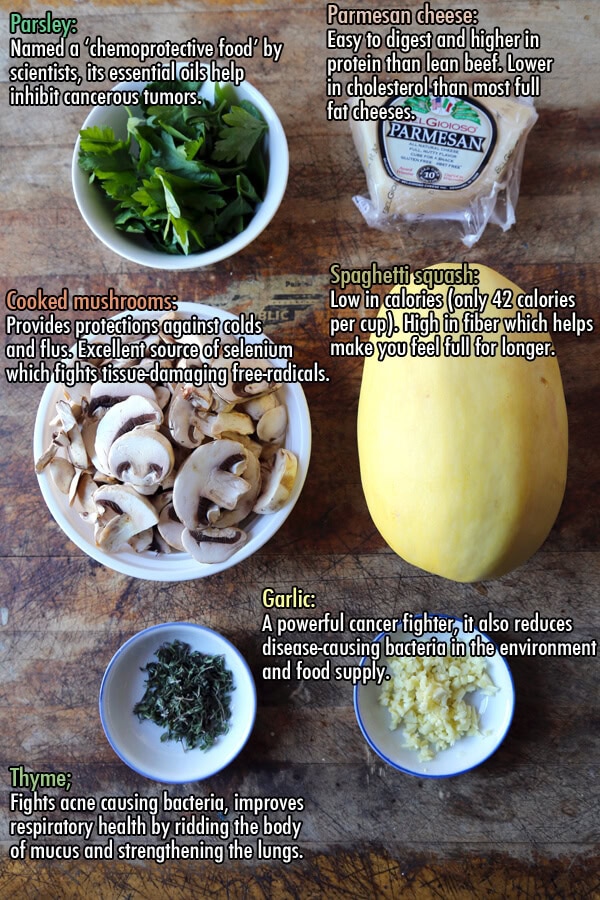 The Best Ways To Eat Spaghetti Squash
Spaghetti squash is an extremely versatile vegetable that pairs well with just about any flavor combination. Some of the most common and popular pairings are:
Drizzled with some olive oil or butter, and topped with a little rock salt and fresh herbs.
With pesto.
Covered with tomato sauce and topped with melted mozzarella cheese.
And here are some of my favorite ways to serve spaghetti squash: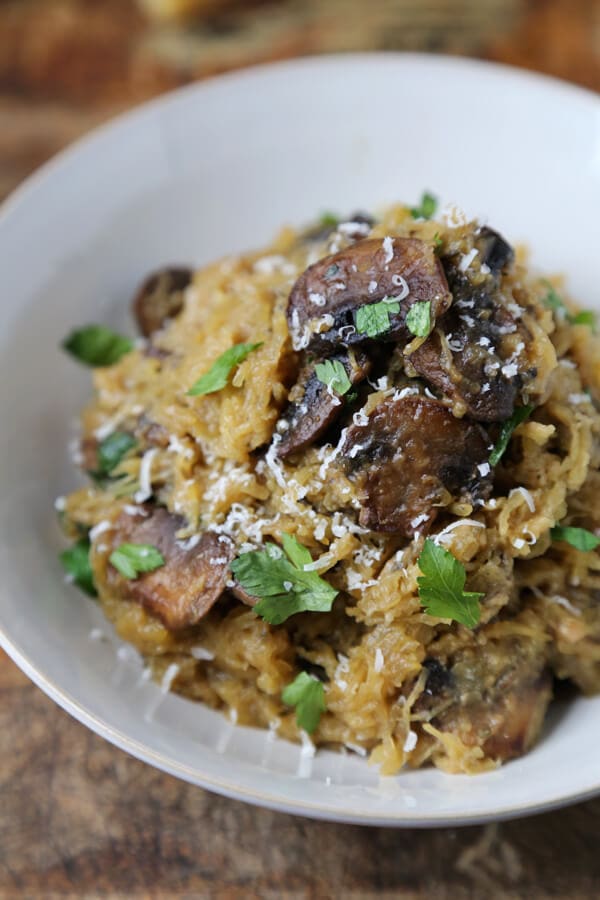 Did you like this roasted spaghetti squash with mushrooms recipe? Are there changes you made that you would like to share? Share your tips and recommendations in the comment section below!
---
Print
Roasted Spaghetti Squash with Mushrooms
Cheesy, earthy and savory, this spaghetti squash recipe is a great way to introduce your kids to veggies!
Author: Caroline Phelps
Prep Time:

10 minutes

Cook Time:

70 minutes

Total Time:

80 minutes

Yield:

4

people

1

x
Category:

Main

Method:

Roasting

Cuisine:

American

Diet:

Gluten Free
2

pounds spaghetti squash

2 tablespoons

extra virgin olive oil

2 cups

button mushrooms (chopped bite size)

2

cloves garlic (finely chopped)

1 tablespoons

fresh thyme

1/4 cup

Parmesan cheese (grated)
handful flat leaf parsley (finely chopped)
salt and pepper (to taste)
Instructions
Preheat oven to 375 degrees F.
In a deep skillet or large pan, add olive oil, garlic, and thyme. Cook for 2 minutes over high heat and add the mushrooms. Cook until the mushrooms are golden brown (about 7-8 minutes). Turn off the heat and set aside.
Wash the spaghetti squash under water and dry it. Put the spaghetti squash on a baking sheet and pierce the skin a few time using a knife. Bake for about 1 hour, until the squash skin is tender and can be pierced with a knife. Alternatively, you can microwave the spaghetti squash. Instructions are at the bottom.
Take the spaghetti squash out of the oven and let it cool to room temperature for about 15 minutes. Cut in half and get rid of the seeds. Use a fork to scrape the squash flesh into strings.
Add the spaghetti squash strings to the skillet and turn the heat to high. Quickly pan fry with the mushrooms and add the parmesan cheese.
Turn the heat off and transfer the dish to a serving plate. Top with parsley and season with salt and pepper if needed.
Instructions for microwaving spaghetti squash:
Place the spaghetti squash on a microwave safe plate or other microwave safe container covered with a damp cloth or paper towel. Place the cut side down (skin facing up). Microwave on high for 10 minutes.
Take the spaghetti squash out of the microwave and shred squash flesh with a fork. If the squash is still hard, microwave for an additional 2-3 minutes, or until tender.
Notes
Store the leftovers in an airtight storage container and refrigerate for up to 3 days.
Nutrition
Serving Size:

4

Calories:

170

Sugar:

8.6g

Sodium:

147.9mg

Fat:

9.8g

Saturated Fat:

2.2g

Unsaturated Fat:

1.4g

Trans Fat:

0g

Carbohydrates:

19.4g

Fiber:

3.9g

Protein:

4.6g

Cholesterol:

3.6mg
Keywords: side, main, vegetarian, Thanksgiving, Christmas, gluten-free
Recipe Card powered by