This kid-friendly and gluten-free spaghetti squash recipe is cheesy, earthy and super healthy. Serve this as a side or a main and watch it disappear before your eyes! This easy spaghetti squash recipe is a favorite among Pickled Plum readers!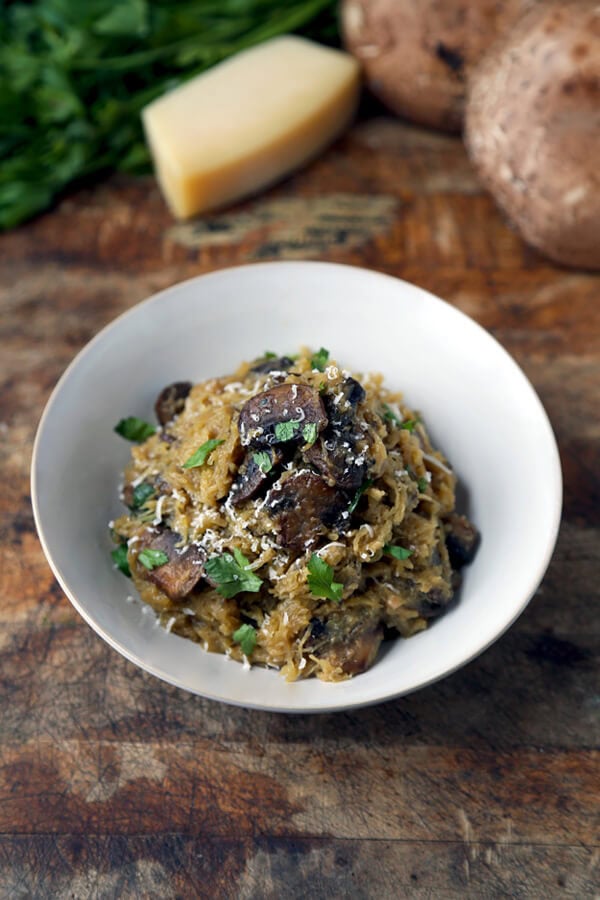 Garlic Parmesan Spaghetti Squash with Mushrooms
'Tis the season folks for some delicious spaghetti squash recipes!
As soon as fall arrives, just like clockwork, my body starts to crave root vegetables. There's something so comforting about eating roasted vegetables that have been caramelizing and bubbling in the oven for long periods of time. I also want as much earthiness as I can put on my plate so mushrooms are my go to flavor boosters.
Speaking of mushrooms – a nice bowl of mushroom risotto would be so nice right now.
Sigh…
Unfortunately, eating risotto means ingesting lots of butter and starches which result in feeling groggy afterward. So I embarked on a mission to capture the flavors of risotto in a vegetable dish. And what better fall vegetable than spaghetti squash to emulate the texture of risotto, minus the extra calories and fat! What's also great about spaghetti squash is that it absorbs flavor in the same way as rice does. What you get is a hearty bowl of veggies topped with plenty of umami!

This garlic parmesan spaghetti squash recipe is one of the most popular recipes on my blog.
It's been shared over 300,000 times across social media channels and has been featured in countless roundups on Bon Appetit, Lauren Conrad, Self, Today, Huffpost Taste, Chowhound and many more! It's always a good feeling when one of my recipes is loved by so many people – especially when the level of love for the dish is mutual 🙂
The flavors in this spaghetti squash dish are savory and very earthy, almost like that much loved mushroom risotto. However, instead of creamy grains of rice, we are using beautiful golden strands of squash which yield a satisfying crunch.
Baking/Roasting Spaghetti Squash
The actual term is roasting because we are cooking from a solid structure. The term baking is used when we put something liquid in the oven that becomes solid afterward. But, for the sake of ease I'll use the term baking. Also because more people search for the words baked spaghetti squash than roasted.
Anyway, let's get back to the recipe!
I'll admit to previously (and laboriously) hacking cutting squash into pieces before throwing them on a sheet tray, making the whole experience much more tiring than it ever needed to be.
Well, never again!
This is how to cook a spaghetti squash whole; roast THEN cut your spaghetti squash to avoid slicing through the hard and waxy raw exterior.
Start by preheating your oven to 380ºF. Put the spaghetti squash on a cooking tray and poke a few hole throughout the spaghetti squash, through the skin, using a knife. Bake in the oven for about 1 hour, until the skin is tender enough to be pierced by a knife.
These directions are for a 2-pound spaghetti squash – you may need to bake for longer or shorter depending on the size and weight.
Everything you need to know about spaghetti squash.
Find out what spaghetti quash is, its nutritional information and its shelf life in this cooking spaghetti squash post!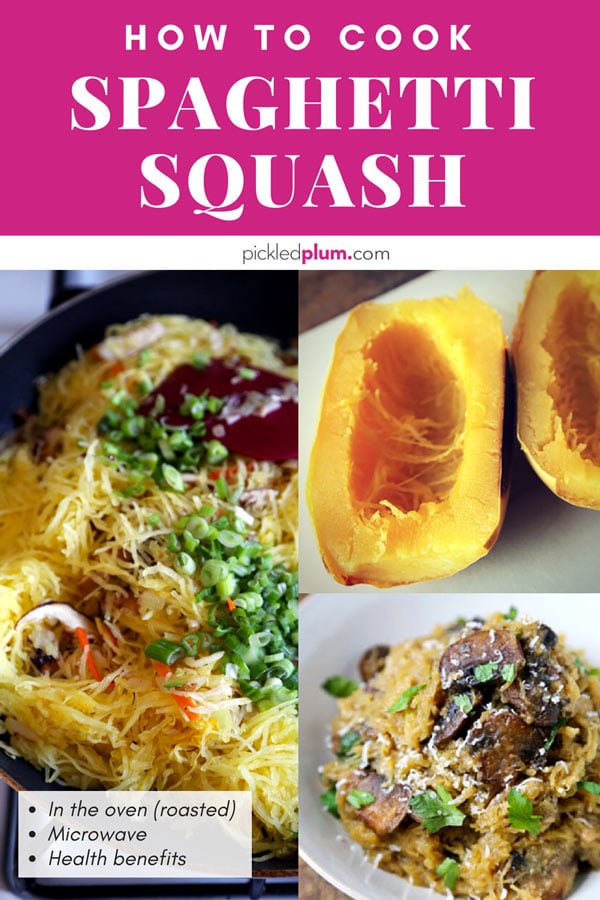 No time to bake? Then microwave your spaghetti squash!
Since I've written this post I've gotten into microwaving spaghetti squash for a faster result.
Let's face it; we don't always have an hour plus to cook in the kitchen and that's a big deal if we want to avoid fast food and consciously eat healthier. That's when the microwave method comes in to save the day!
Not only does it take just 10 minutes, but the texture is just as good and moist!
The steps to microwaving spaghetti squash are very simple:
Slice the spaghetti squash in half lengthwise and scrape off the seeds with a spoon.
Lay a damp paper towel on a microwave safe plate. Place each side facing down on the paper towel and microwave on high for 10 minutes. Microwave the spaghetti squash for an additional 2-3 minutes if the skin is still tough.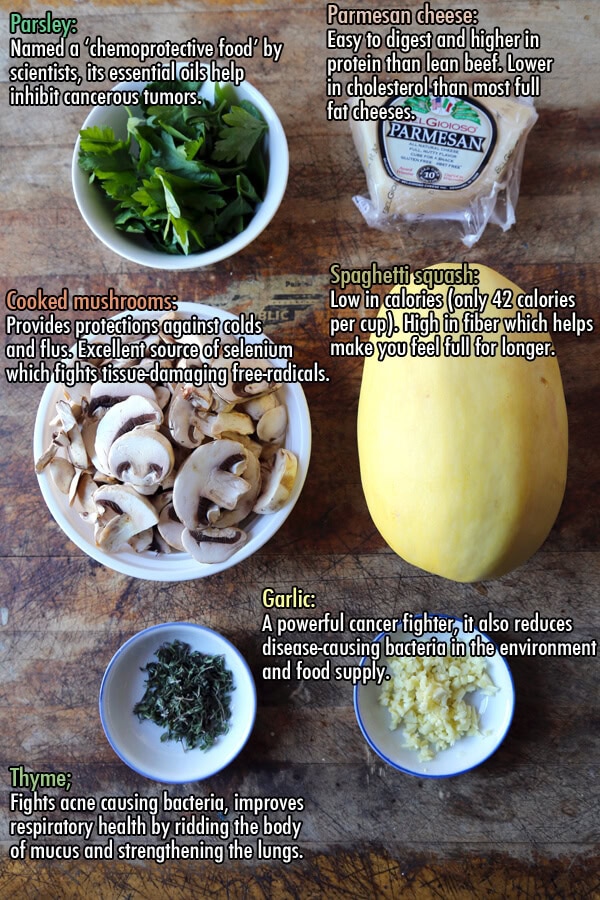 Spaghetti Squash Nutrition
Spaghetti squash is an awesome vegetable to cook with for those looking to lose a few pounds. It's a great alternative to pasta since one cup only contains 10 grams of carbs, 42 calories and less than 0.1 grams of saturated fat. One cup of pasta on the other hand contains 200 calories and 42 grams of carbs (they have the same amount of saturated fat).
How much is one serving of spaghetti squash? 1 cup.
On a nutritional level, spaghetti squash is high in fiber and contains a nice dose of vitamin A, B and C. It's also high in potassium which helps to lower blood pressure and aid in blood circulation.
It's also gluten free which makes it ideal for people suffering from celiac disease.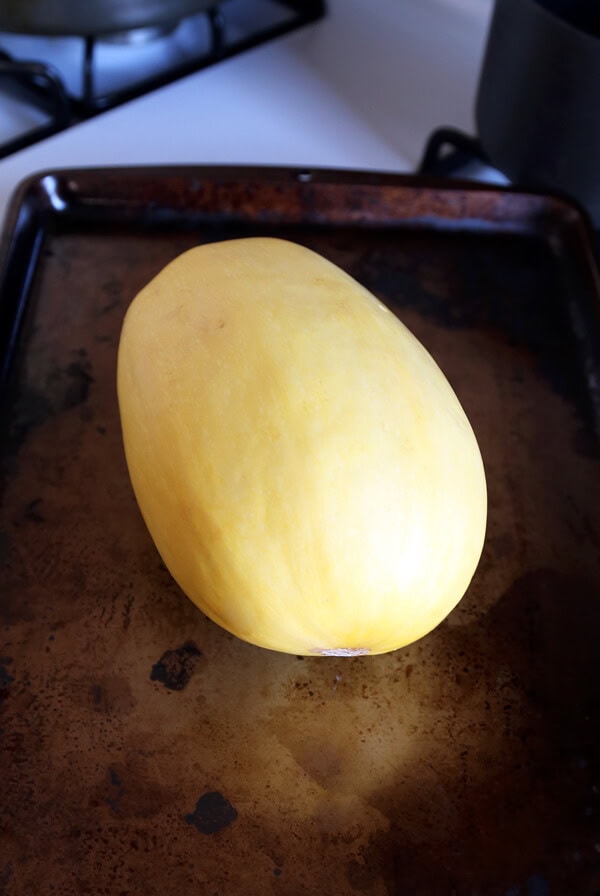 Spaghetti squash may be very low in calories but it's actually quite filling. Especially when prepared with meaty mushrooms and a good dose of Parmesan cheese – call it a spaghetti squash risotto!
It's a side dish that's a little heavy so I would recommend serving your spaghetti squash risotto with a lighter dish.
I've been experiment more often cooking with spaghetti since it's absolutely delicious! The flavors are milder and not quite as sweet as butternut squash, which makes a great vehicle for ingredients that are more savory and umami based. It's a wonderful addition to the menu!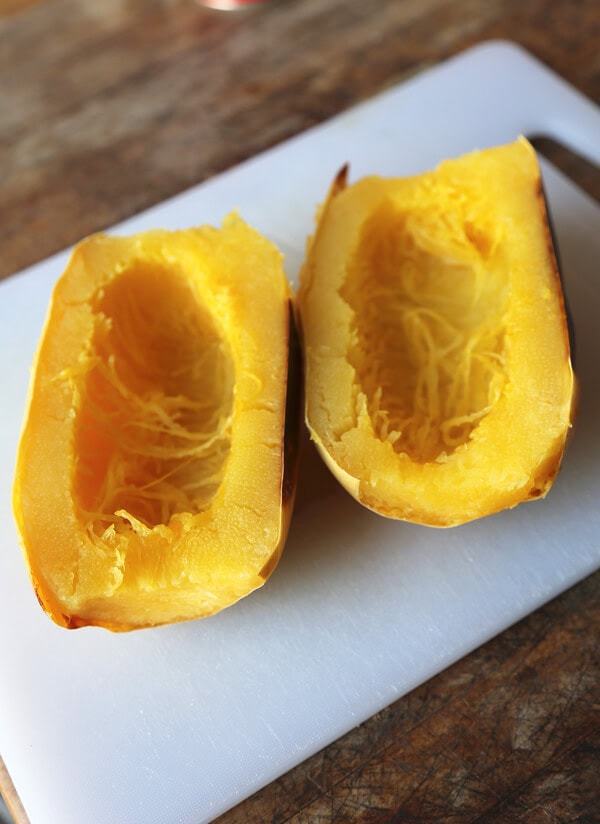 This spaghetti squash with mushrooms and parmesan will keep refrigerated for up to 4-5 days. Just make sure you drain the water that will sit at the bottom of your container. Since spaghetti squash is quite watery, it will keep on releasing water the longer it sits there.
You can eat it as a main or as a side dish to salmon croquettes, a hearty Tuscan soup, Korean sticky chicken or go meatless with honey sriracha tofu!
Other easy spaghetti squash recipes: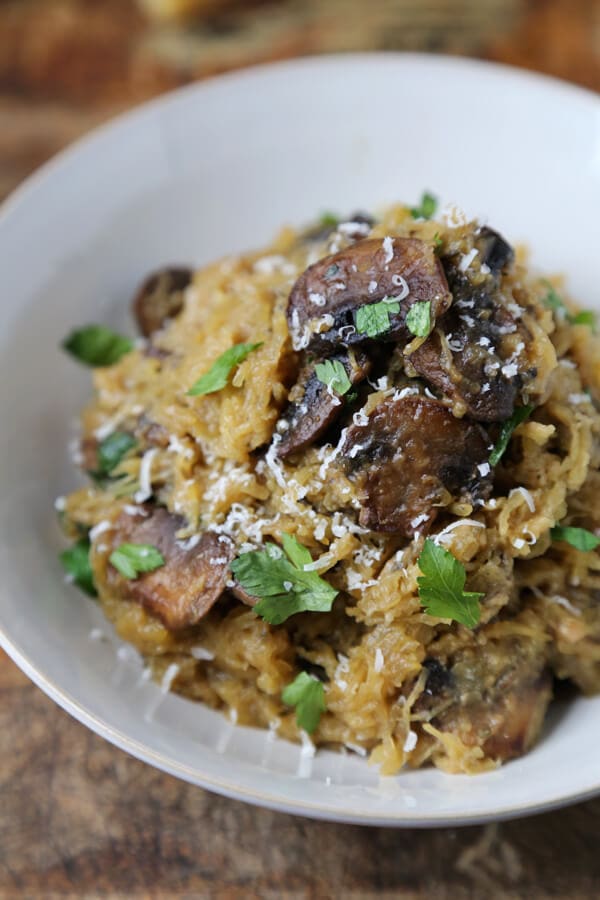 Did you like this Garlic Parmesan Spaghetti Squash With Mushrooms Recipe? Are there changes you made that you would like to share? Share your tips and recommendations in the comment section below!
---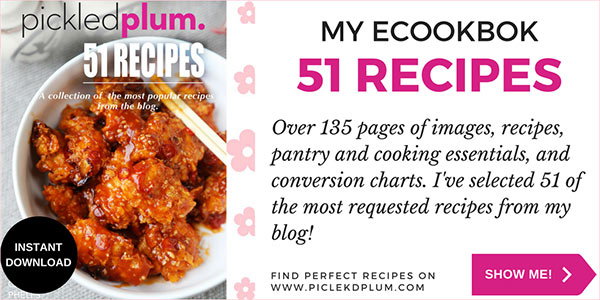 These recipes constantly make "best dish" lists on sites such as Country Living, Self, Shape, Bon Appetit, The Cooking Channel, Men's Fitness and Woman's Day. They are favorites among my readers, friends and family!
51 of the best appetizers, sides, stir fries, main, noodles & rice, desserts & drinks from the blog.
Simple and easy dishes made healthier, with calories and fat content provided. Tried and tested by my readers and loved by everyone!
---
Print
Garlic Parmesan Spaghetti Squash with Mushrooms
Cheesy, earthy and healthy spaghetti squash recipe that's kid friendly and gluten-free!
Author:
Prep Time:

10 minutes

Cook Time:

70 minutes

Total Time:

80 minutes

Yield:

4 people

Category:

Gluten-Free

Method:

Baking, Microwaving

Cuisine:

American
Ingredients
2 pounds spaghetti squash
2 tablespoons extra virgin olive oil
2 cups button mushrooms (chopped bite size)
2 cloves garlic (finely chopped)
1 tablespoons fresh thyme
1/4 cup Parmesan cheese (grated)
handful flat leaf parsley (finely chopped)
salt and pepper (to taste)
Instructions
Preheat oven to 380Fº
In a deep skillet (or large pan), add olive oil, garlic and thyme. Cook for 2 minutes over high heat and add mushrooms. Cook until mushrooms are golden brown (about 7-8 minutes). Turn off the heat and set aside.
Put the spaghetti squash on a baking tray and pierce a the skin a few time using a knife. Bake for about 1 hour, until squash can be pierced with a knife. Alternatively, you can microwave the spaghetti squash. Instructions are at the bottom.
Take squash out of the oven and let cool to room temperature. Cut in half and get rid of the seeds. Use a fork to scrape the squash into strings.
Add squash to the skillet (or pan), turn the heat to high and quickly fry with mushrooms. Sprinkle parmesan while sauteing for a minute.
Turn the heat off, top with parsley and season with salt and pepper. Serve.
Instructions for microwaving spaghetti squash:
Place spaghetti squash on a microwave safe plate or other microwave safe container covered with a damp cloth or paper towel. Place the cut side down (skin facing up). Microwave on high for 10 minutes.
Take the spaghetti squash out of the microwave and shred with a fork. If the squash is still hard, microwave for another 2-3 minutes, or until tender.
Notes
This Spaghetti Squash with Mushrooms and Parmesan will keep refrigerated for 1-2 days.
This Spaghetti Squash Recipe Is:
Low in cholesterol
Low in sugar
High in calcium
High in phosphorus
Very high in vitamin B6
Keywords: side, main, vegetarian, Thanksgiving, Christmas, healthy