Level up your lemon sour with this crisp, citrusy and seriously fizzy recipe. You only need 4 simple ingredients to make this tart and mildly sweet Japanese shōchū highball. Plus, I've got guidance on how to quickly chill any glass – and simple advice on how to keep the carbonation and avoid watery cocktails. Kanpai!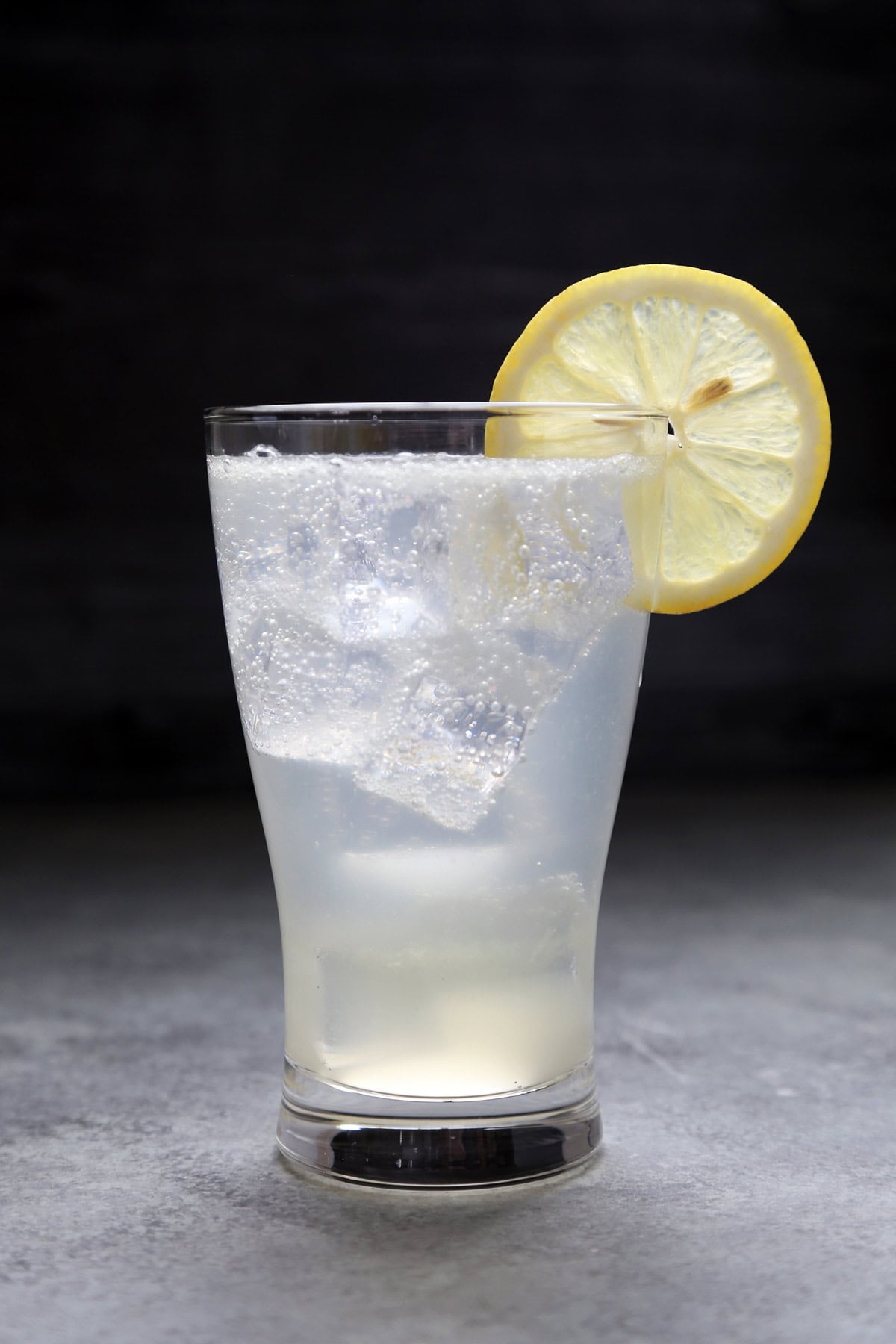 What is a Lemon Sour?
The Japanese lemon sour (レモンサワー) is a refreshing and crisp cocktail made with shochu, fresh lemon juice, soda water and sometimes simple syrup – served on the rocks in a highball glass. This citrusy and fizzy libation is super popular in izakayas and bars throughout Japan.
Canned versions of sour drinks are sometimes branded as Chu-hi (shochu highball) – and are sold at Japanese convenience stores like 7-Eleven, FamilyMart and Lawson. I like to think of these delicious, colorful pop-tops from the konbini as the hard seltzer of Japan.
While neutral spirits like vodka are sometimes used in Japanese sawa drinks, the more traditional option is shochu.
What is Shōchū?
Shochu (焼酎) is a Japanese spirit distilled from rice, barley, sweet potatoes or buckwheat. Less commonly, shochu can be distilled from brown sugar. It is a fairly neutral spirit with a mild sweetness that varies depending on the base ingredients – and is routinely enjoyed on the rocks, neat, in highballs and in cocktails.
Japanese shochu has an ABV (alcohol by volume) that varies from around 25-40% – which is considerably lower than most vodka and Japanese whisky – but higher than most sake.
Soju is a Korean spirit (with a similar ABV) distilled from many of the same base ingredients. You can use either one to make a lemon sour.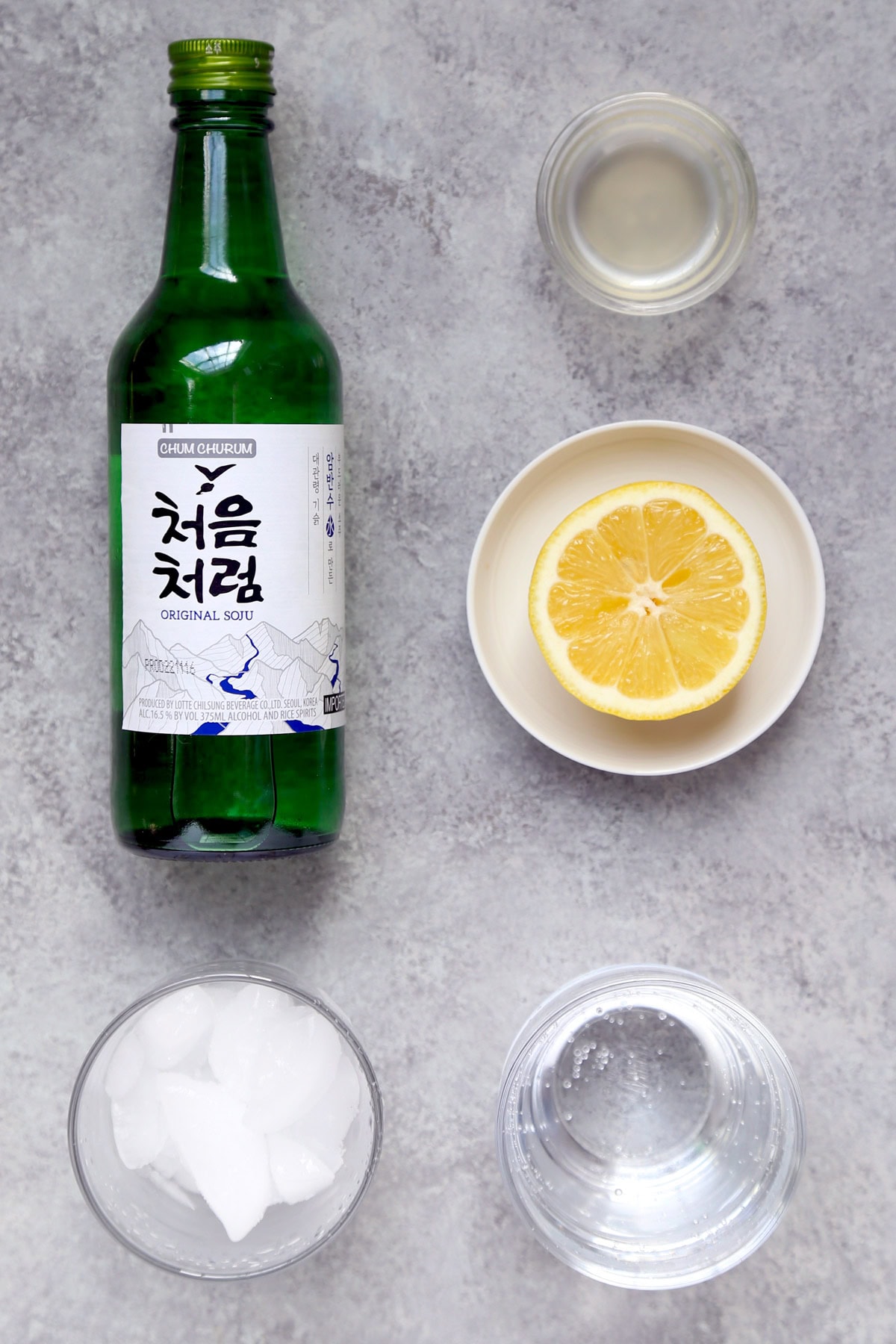 Japanese Lemon Sour Ingredients
Lemon Juice: Use fresh lemon juice. You only need 1/2 a lemon if the lemon is fairly juicy (anywhere between 1-2 tablespoons based on your preference for citrus). Purists may scoff at this, but I've even used fresh lime juice when the lemons at the grocery store were *meh*.
Shōchū

or

Soju: You can use Japanese shochu or Korean soju to make a lemon sour. Grab whatever you prefer – and what's most readily available in your area. Sometimes you'll hear soju referred to as Korean vodka. And while there are some differences in flavor and ABV, it's close enough that you can totally use vodka in a pinch.
Soda Water: Any club soda works. I've used Topo Chico, Schweppes, plain La Croix and seltzer I made using a Soda Stream. If it's got a crisp taste with tight bubbles, it'll do the trick.
Simple Syrup: This is just a solution of 1 part sugar dissolved into 1 part warm or hot water. The problem with adding sugar to a cold cocktail is that it rarely dissolves fully. You can keep a container of simple syrup in the fridge to use in cocktails, iced coffee, lemonade, etc. This works with refined sugar and raw sugar alike. Alternatively, you can use agave syrup.
Ice Cubes: Any ice is fine here. But larger, solid cubes melt more slowly and neutralize the fizziness of your lemon sour less. The ice from our refrigerator at home, for example, produces cloudy weak ice cubes that get slushy quickly. You can make more solid ice cubes by freezing distilled water in silicone molds. But this isn't a deal breaker. Sometimes keeping it simple is the way to go! If you're seriously into fancy 100% clear cocktail ice, you can make it at home with a little work.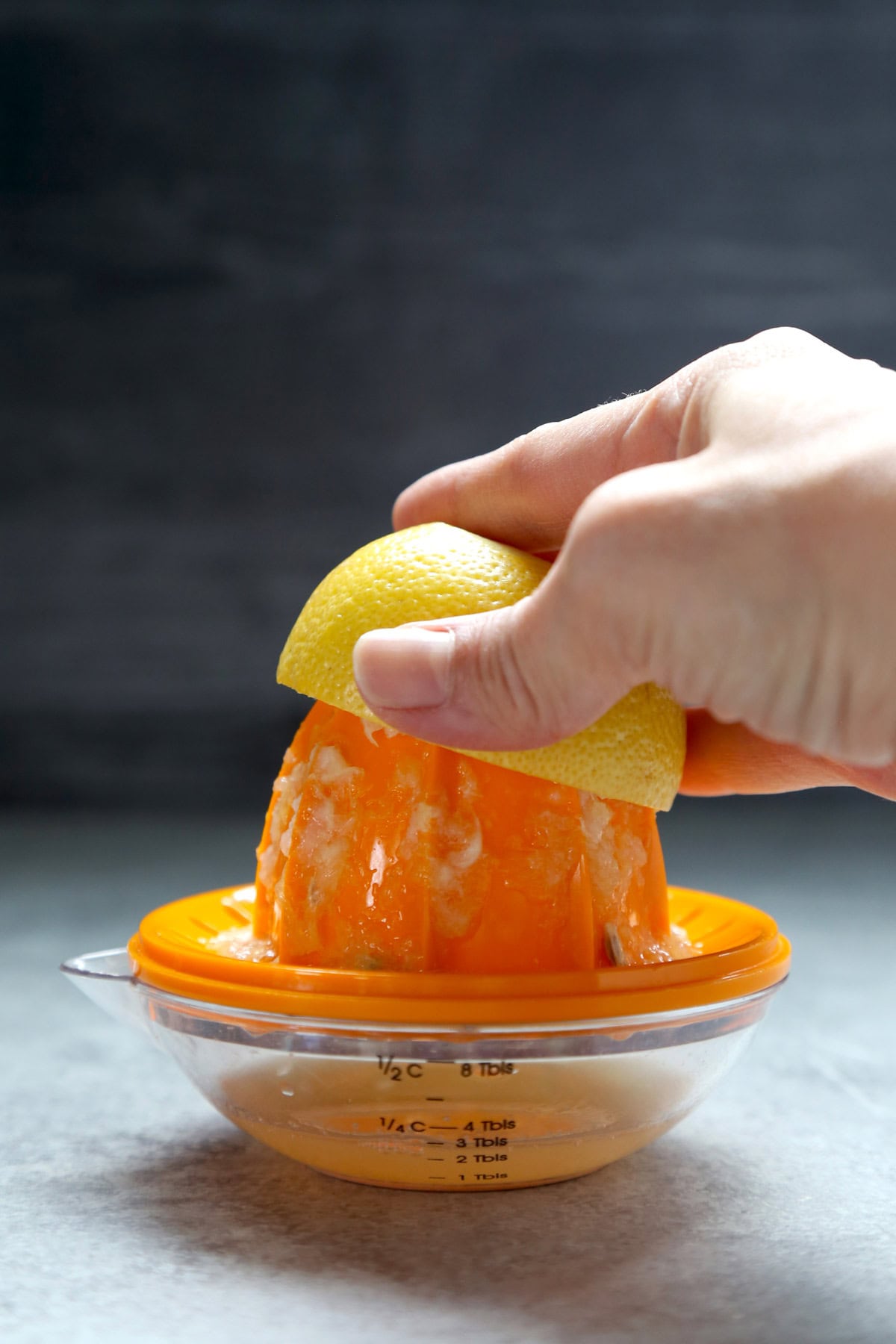 How to Make a Lemon Sour Cocktail
First, add the lemon juice and shochu (or soju) to a tall glass.
Add plenty of ice cubes and stir well.
Then add the soda water. About a cup should do it.
Next, add the simple syrup. If this is the first time you're making a lemon sour at home, add a little bit, taste – then add more until you're satisfied with the sweetness level. If you're watching your sugar intake, feel free to omit.
Finally, stir one to two gentle rotations with a swizzle stick, chopstick or straw – and garnish with a slice of lemon or a lemon twist (a curl from a lemon peel). Serve immediately.
Pro Tips
While there's no need to overcomplicate things, here are a couple extra simple things you can do to make sure your Japanese sawa is as cold, tart and fizzy as possible.
Use a frosted glass. Frosting your glass means that your ice cubes won't melt as quickly and your drink will stay colder longer. To do this, simply wet a clean, room temperature collins glass with a little water and stick it in the freezer for 30-60 minutes. Don't use a hot glass fresh out of the dishwasher – as the quick change in temperature can cause it to crack.
Or chill a room temp glass with ice. Don't want to wait 30 minutes for a frosted glass? Just cool it down with ice cubes. Fill your glass with ice cubes and stir the cubes with a long spoon or chopstick for at least 30 seconds. Make sure to pour out any water that melts prior to assembling your cocktail. Instant cold!
Freeze lemons. If you like a super tart lemon sour that won't get watery, use frozen lemons instead of ice cubes. To do this, segment a lemon (I like to remove the outer skin entirely) and put the juicy flesh in the freezer. Use the frozen lemon bits in lieu of ice. It's super fresh and extremely tart!
Don't overstir or shake your lemon sour. Once the seltzer (soda water) is added to your glass, those bubbles won't stick around forever. And one of the main dangers to your bubbles is stirring too much. One or two rotations of a spoon or straw should be enough to get the job done – while keeping the lion's share of the fizz in your cocktail.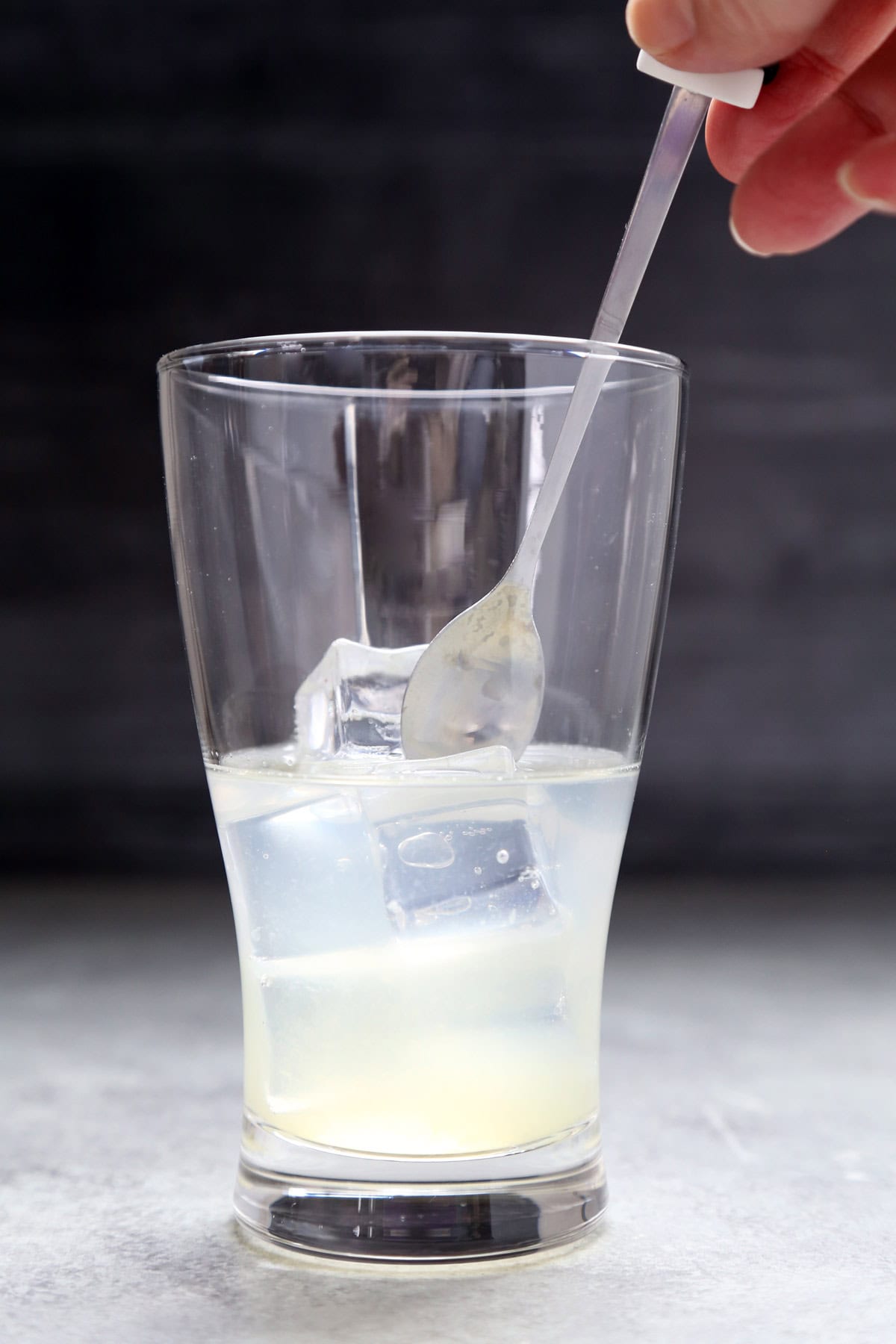 Variations on Sour / Sawa Cocktails in Japan
As I mentioned, chuhai is basically an abbreviation of 'shochu highball'. And there are many sour versions aside from the iconic lemon sour. Here are a few you'll commonly find on bar and izakaya menus in Japan:
Apple Sour
Plum Sour
Calpis Sour
Yuzu Sour
Kabosu Sour
But keep in mind that Japanese sour drinks differ a bit from classic cocktails like a pisco sour, amaretto sour, whiskey sour or a sidecar.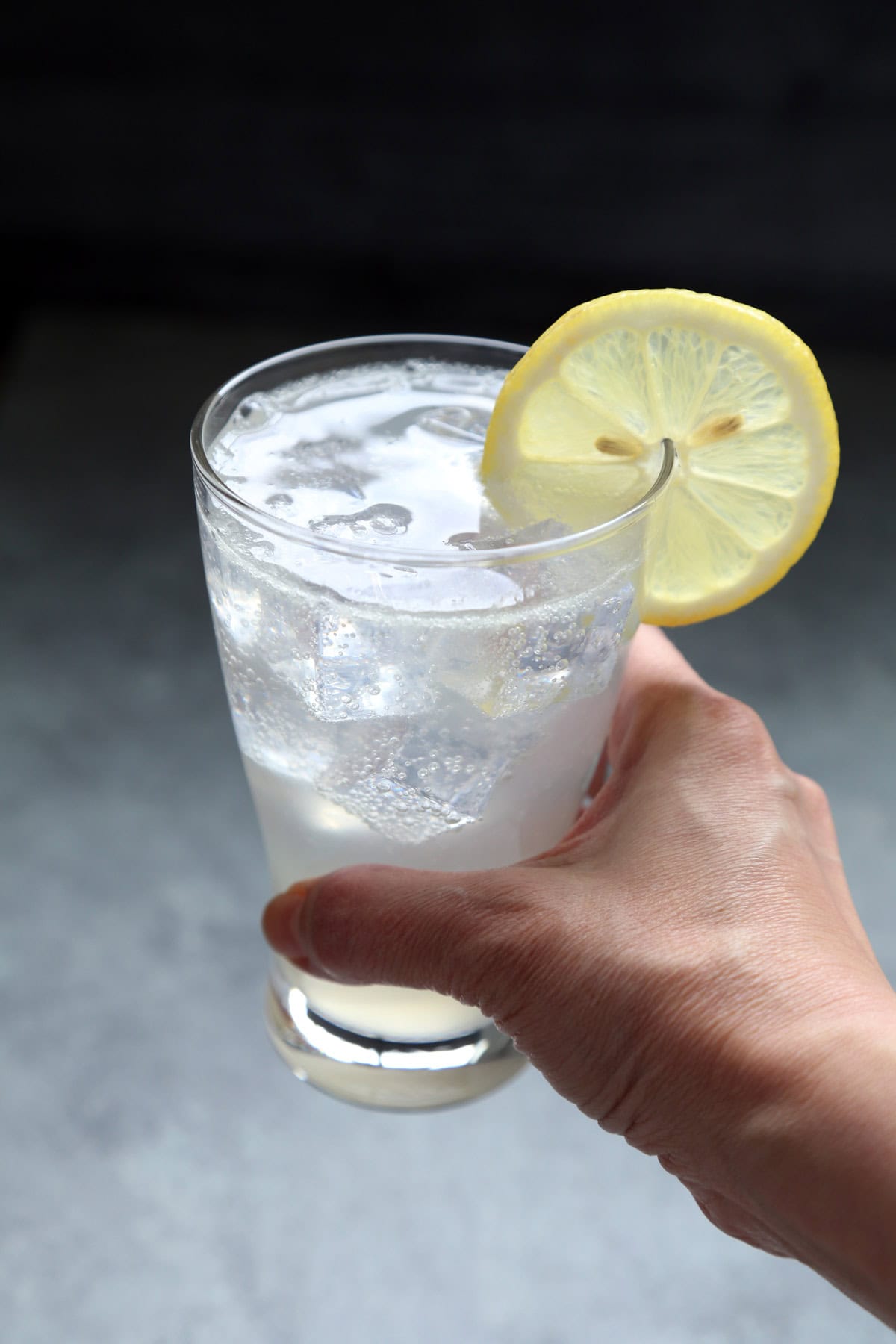 My Favorite Japanese Cocktail
When I was living and working as a model in Japan, I got a side job as a bartender. I probably made thousands of lemon sours in the short time I worked there.
What I loved most – especially when we were busy – was that the formula was super easy: shochu, fresh citrus juice, soda water and (sometimes) a little simple syrup. NO complex recipe including sour mix, garishly red maraschino cherry, cocktail shaker or martini glass required!
And, sure, I drank a few as well – long after I quit the bartending gig and my modeling portfolio grew. I loved the crisp, citrusy, effervescent refreshment at the end of a long day. In fact, that's the exact flavor profile that reminds me most of those carefree years in Tokyo, hanging out with friends at an izakaya into the wee hours.
I hope you love this lemon sour as much as I do. Kanpai!
And Check Out These Other Easy Cocktail Recipes
Did you like this Japanese lemon sour recipe? Are there changes you made that you would like to share? Share your tips and recommendations in the comments section below!
Print
Lemon Sour (Japanese)
Make this classic Japanese lemon sour cocktail with just 4 ingredients!
Author: Caroline Phelps
Prep Time:

5 minutes

Cook Time:

0 minutes

Total Time:

5 minutes

Yield:

1

drink

1

x
Category:

Cocktail

Method:

Mixed

Cuisine:

Japanese
Juice of

1/2

lemon

1/4

cup

shōchū (or soju)

1/2

cup

soda water

1 tablespoon

simple syrup (

1 tablespoon

sugar mixed with

1 tablespoon

water)
Ice cubes
Instructions
Add lemon juice and shōchū to a tall glass.
Then add ice cubes and stir.
Add soda water.
Slowly add the simple syrup and taste as you go. Use more if you prefer a sweeter drink.
Top with a lemon slice and serve.
Notes
You can pre-make the simple syrup and keep it on hand. Just mix 1 part sugar with 1 part hot water and stir until the sugar dissolves. Chill before using.
Large, clear, solid ice cubes will melt more slowly than weak, slushy ice. To further inhibit ice melt, use a frosted or cold glass.
Nutrition
Serving Size:

1 drink

Calories:

146

Sugar:

15.7g

Sodium:

26.8mg

Fat:

0.1g

Saturated Fat:

0g

Unsaturated Fat:

0g

Trans Fat:

0g

Carbohydrates:

21.3g

Fiber:

0.2g

Protein:

0.5g

Cholesterol:

0mg
Recipe Card powered by