This a classy, frothy French martini cocktail made with Chambord, vodka and pineapple juice. The perfect cocktail to celebrate the arrival of the weekend!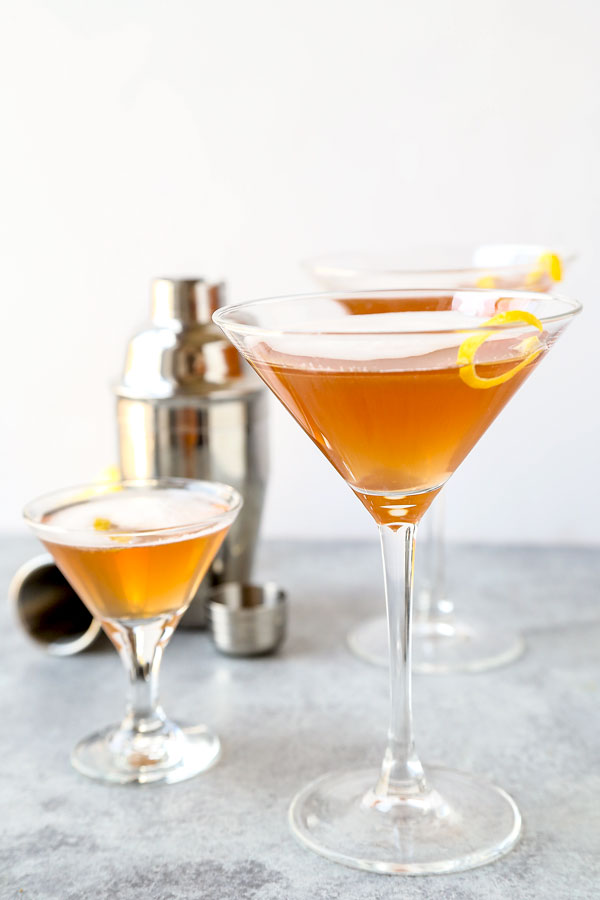 French Martini Cocktail
Every drink has its own setting.
I've always been a wine girl, especially when I'm having dinner at a fancy restaurant.
I've gone through my martini phases – more on that in a second – but wine has been a constant in my life.
If I see a food and wine pairing option on the menu, you can bet your bottom dollar I will take it. Wine enhances food in ways no other drinks can, making flavors pop and dance all over my tastebuds.
I love dry whites and rosés because they counterbalance rich foods and complement lighter ones. And I love a bold glass of red to pair with tomato-based dishes, spicy dishes and even ones cooked in soy sauce.
I also love having a chilled glass of rosé at home after work, I find it so relaxing!
If you are a wine enthusiast but don't understand wine terms – that's me – you might be interested in Winc, a personalized wine club that delivers wine to your door at no extra cost (delivery is included in the price and you get $20 off your first order). I've recently started using them because I'm terrible at picking wines. All I know is I like dry wines but don't ask me about floral notes and citrus, berry tones.
Is there bark in there too? I HAVE NO IDEA. Just give me something that tastes dry and good please.
The cool thing about Winc is that they ask a few questions (do you like salt? Citrus? Do you drink your coffee black?) to understand the kind of palate you have. Then they give you a few options to choose from and ship them to you. It's cool because this way I get to try new wines every month instead of being stuck buying the same bottles all the time – makes life a little more interesting 🙂
But enough about wine, I'm here to talk to you about the almighty martini!
There used to be a time when martinis were my weakness. One look at a sexy V-shaped glass and I would find myself dreaming about a classy affair in a smoky bar, back in the prohibition era.
For years my favorite was the dirty martini. The taste of pure vodka mixed with olive juice was simply intoxicating! I always asked to have mine "very dirty" – the saltier the better, which couldn't have been good for my sodium intake.
Eventually my love for it tapered off and I moved on to cosmopolitans. That was when Sex & The City was the number one show and I copied everything Carrie, Samantha, Charlotte and Miranda did.
I was so obsessed with the program that I threw a martini party at my place for the series finale. We had the best time, some of us even cried (the end of an era)!
But then the cosmopolitan lost its edge and became uncool and it was time to look through the martini menu once more. Flipping through the pages of a martini menu is exciting as there are so many flavors to choose from. You have this mixture between the old classics and the new ones made with trendy ingredients. Recipes like appletini (love the tartness), lychee martini (too sweet), chocolate martini (rich and so yummy) and of course, the classic straight up gin martini (refreshing).
I even had a curry flavored martini at PDT (a speakeasy in Manhattan that's hidden behind and old phone booth inside Crif Dogs) that was sublime – curry powder with lemongrass and tamarind, if I remember correctly. One of the best cocktails I have ever had.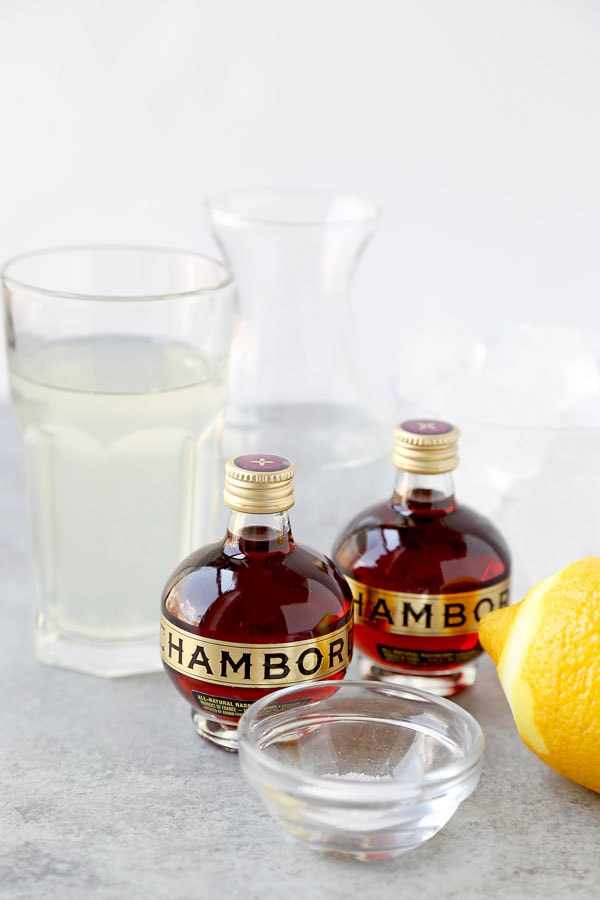 Another martini I really liked was the French martini. Fruity but not too sweet and light enough to make me go aaaah! after the first sip.
That's the cocktail I want to talk to you about today.
Why?
Because it's clean, refreshing, classy and super easy to make. Perfect for warmer temperatures!
French Martini History
The French martini was invented in New York city during the 1980s in one of Keith McNally's bars, who is a well known restaurateur. It then reappeared in 1996 on the menu at McNally's Balthazar, a French brasserie in Soho, and has since become available worldwide.
How to Make a French Martini
The recipe for a French martini is very simple – 3 parts pineapple juice, 2 parts vodka, 1 part Chambord.
What makes this martini "French" is the use of Chambord, a French raspberry liqueur produced in the Loire Valley in central France. The martini part is because of the V-shaped martini cocktail glass the drink is served in.
The ingredients are poured into a shaker with ice, shaken and strained into a chilled cocktail glass garnished with a lemon peel.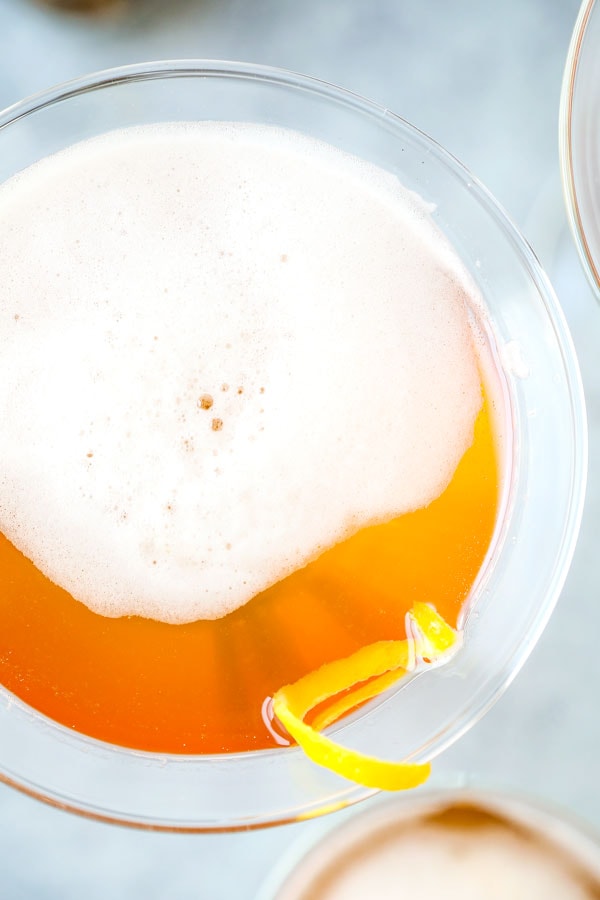 How to Make a French Martini Frothy
It's actually quite easy. Fill your shaker with ice, add all the ingredients – except the garnish – and close tightly.
Shake vigorously for a good 8-10 seconds.
Strain the mixture into a Martini glass and serve!
The froth will be at the bottom of the shaker, it will come out once the liquid has been poured.
Classic Martini Recipe VS Newer Martini Recipes
A classic martini consists of gin and vermouth and is garnished with an olive or a lemon twist.
No one knows exactly where the first martini was invented but some believe it was in Italy, circa 1863. An Italian vermouth maker started marketing their product under the brand name of Martini, after its director Alessandro Martini, and that's where the name came from.
Another popular belief is that it was created at the Occidental Hotel in San Francisco in the early 1860s by a bartender who created a "Martinez Cocktail". The cocktail was named after the patrons who often frequented the hotel before taking the ferry back to Martinez, a nearby town.
The cocktail consisted of 1 dash  bitters, 2 dashes of Maraschino, 1 fl oz of Old Tom gin, 2 fl oz of sweet/Italian vermouth and a few ice cubes.
Now that doesn't sound anything like a French martini recipe, wouldn't you agree?
That's because the newer martinis (appletini, gummy bear martini, key lime pie martini), the ones invented after the 1980s are named not after the actual drink but after the martini V-shaped glass. They also generally contain vodka, not gin. So other than the glass itself, they have little in common with the classic martini recipe.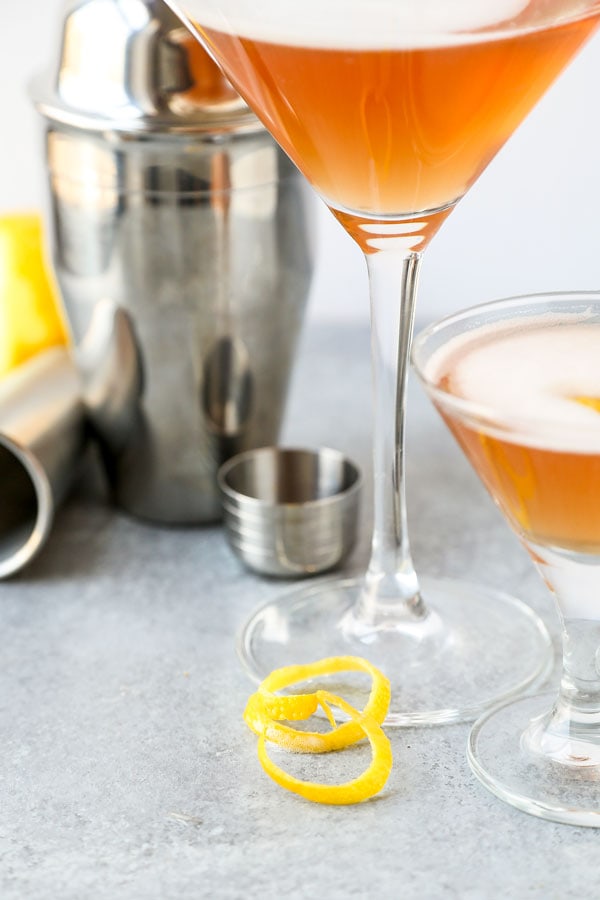 French Martini With Champagne
Yes, why not!
If you like bubbly as much as I do, you probably enjoy a bottle of prosecco or cava on a regular basis. Heck, I like bubbles so much that I look for bottles of sauvignon blanc, vinho verde and txakolina that have fizz!
So why not add a dash of Champagne to your French martini cocktail if it's going to taste good!
There is only one rule to follow – make the martini in the shaker first. Then once it's poured in a glass you can top it off with a splash of Champagne – about 1-2 ounces.
Other French Martini Variations
If you don't have all the ingredients at home or would like to add a little more zing to your French martini rendition, here are some ideas.
Use vanilla flavored vodka instead of plain.
Use the syrup from a can of pineapples if you cannot find fresh pineapple juice (I used syrup to shoot the images for this post and it tasted really good). It won't be as bright and fruity but delicious nonetheless.
Squeeze a little lemon juice to add tartness.
Squeeze oil from a lemon peel onto the drink or run it around the glass rim.
Add a few raspberries to brighten up the cocktail.
Other light and fruity cocktails: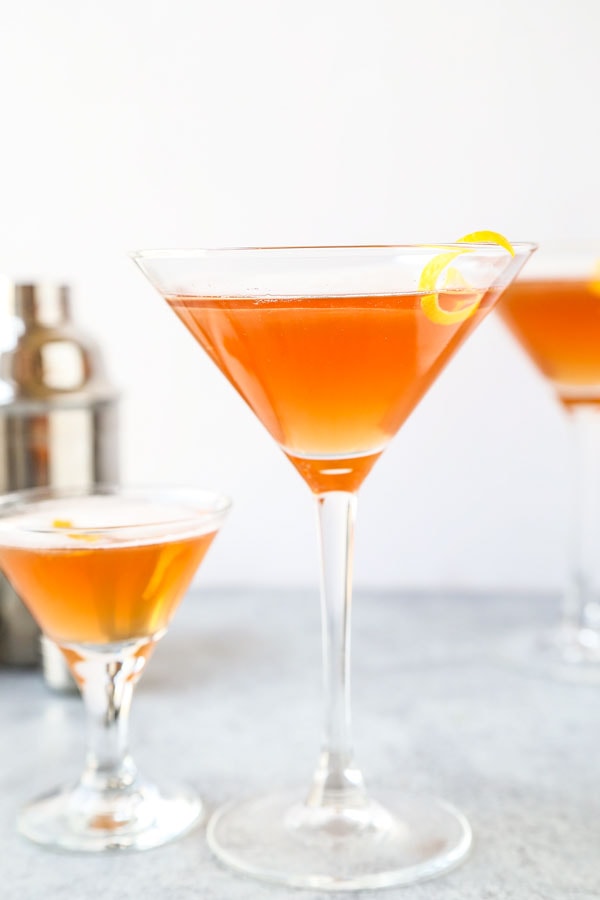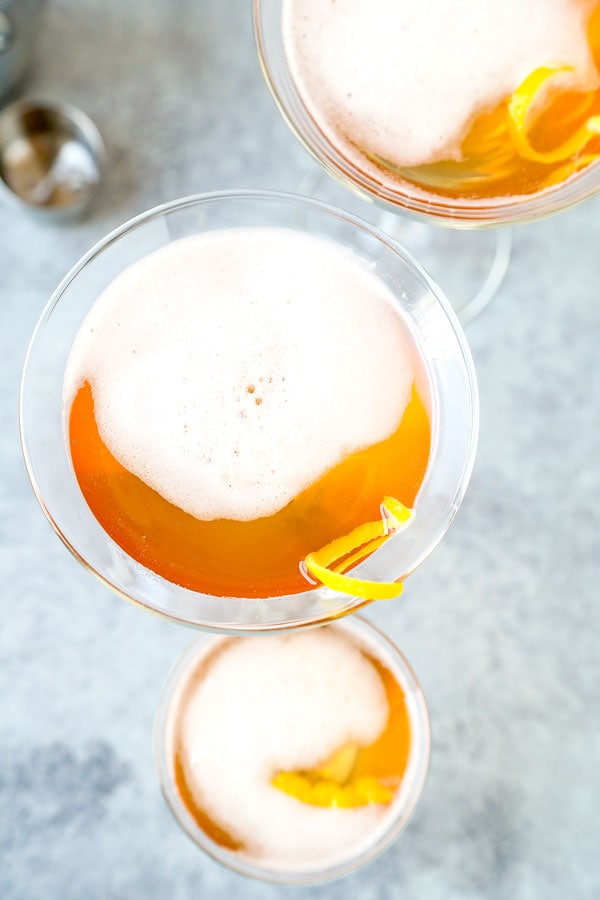 Did you like this French Martini Cocktail Recipe? Are there changes you made that you would like to share? Share your tips and recommendations in the comments section below!
Print
French Martini Cocktail
A fruity and refreshing French martini cocktail ready in just 3 minutes!
Author: Caroline Phelps
Prep Time:

3 minutes

Total Time:

3 minutes

Yield:

2

martinis

1

x
Category:

Drinks

Cuisine:

French
1 ounce

Charmbord liqueur (or other raspberry liqueur)

3 ounces

vodka

4 ounces

pineapple juice or syrup from canned pineapples
pinch of salt
ice
lemon twist (for garnish)
Instructions
Put all the ingredients – except for lemon twist – in a shaker and shake vigorously for a few seconds.
Strain into a martini glass and top with lemon twist. Serve.
Keywords: recipe, cocktail, vodka
Recipe Card powered by