Get into the holiday spirit with this fresh Christmas Kentucky Buck Recipe. Boozy holiday fortifications never looked more festive or tasted quite so bright! A delicious bourbon cocktail – ready in 5 minutes from start to finish.

Christmas Kentucky Buck
There's just something about a cocktail with fresh cranberries inside that screams holidays for me!
Not many food items are as visually evocative of time spent with family and friends as the humble cranberry.  It could be a reminder of the Christmas decorations we made with cranberries when I was a little girl. Or, more likely, it's a nod to the sweet and tart cranberry jelly served with a Thanksgiving turkey. [Confession: I love that stuff!]
Whatever it is, I just feel warm inside when I see cranberries. In the case of this holiday Kentucky buck cocktail, some of that warmth might be due to the bourbon. OK – likely a significant portion of warmth!
However, mixing these light, sweet and tart ingredients with one of Kentucky's finest exports has shown me how to drink bourbon without making a pinched up face 🙂
You see – most bourbons (and mixed drinks containing bourbon) have the tendency to come on a little strong for my taste. Don't get me wrong… I like a bit of a burn when I take a sip at a holiday get together! I'm just not a fan of complete fire.
This Kentucky buck cocktail hits the sweet spot – and manages to finesse the line between potent and perfectly nuanced.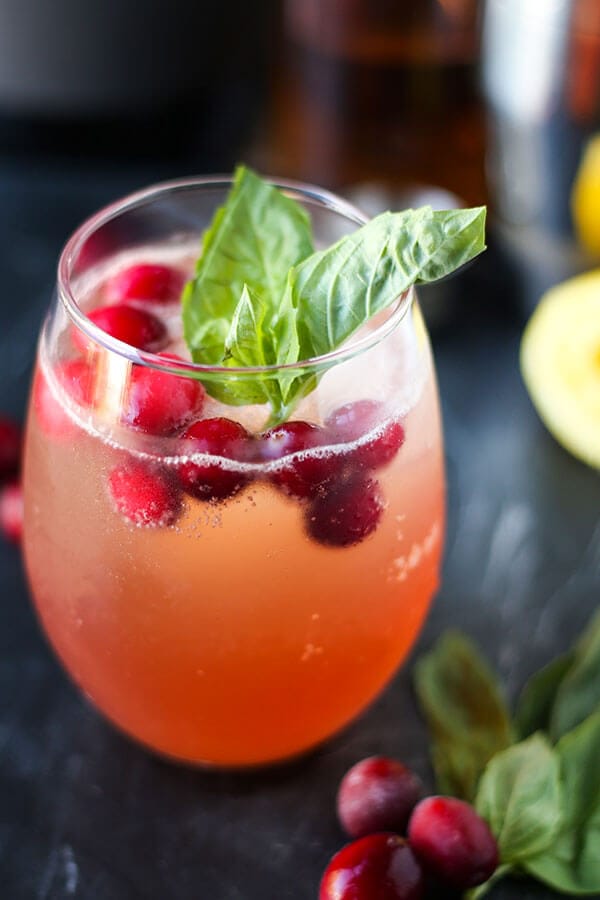 What is a Buck (cocktail)?
To put it simply, bucks are cocktails that combine a spirit with citrus and ginger beer or ginger ale.
And much like it's sister cocktail, the Moscow mule, this bourbon buck recipe gets a major boost from the citrus element in the shaker. In the case of this Kentucky buck, I'm using lemon juice to provide a tart counterpoint to the natural sweetness from the bourbon and ginger beer.
However, instead of going with a canned ginger ale, I made my Christmas inspired Kentucky buck cocktail with a ginger simple syrup and added soda water at the end.
The brightness of the lemon juice plays off the sweet and spicy kick of the ginger simple syrup – and pairs perfectly with the warm and soothing finish of a good bourbon.
Ooohhh… And if you happen to chew down on one of the fresh cranberries – pow! The rising tartness of the unsweetened cranberry is like a palate cleanser for the next luscious sip!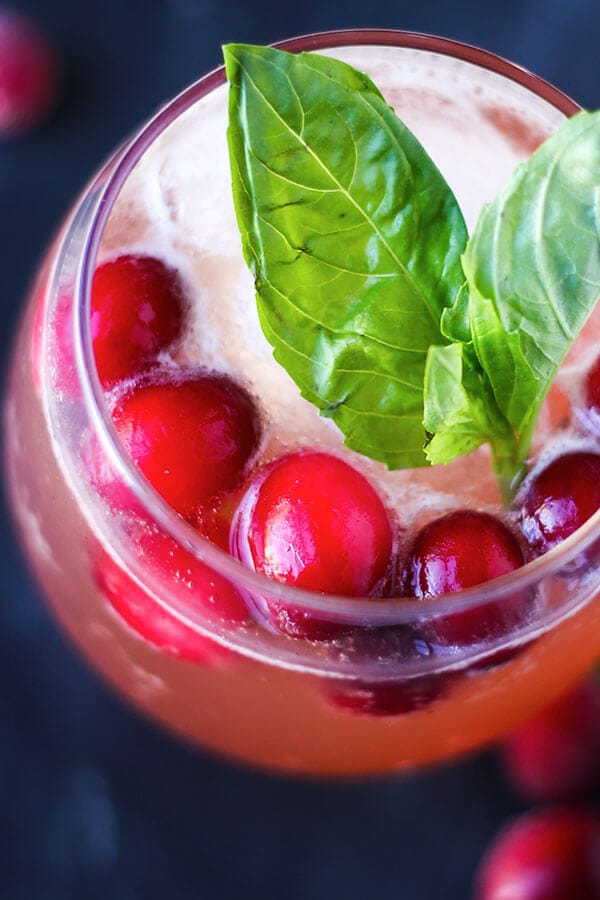 How to make ginger simple syrup
Now, simple syrup is just a combination of sugar dissolved in equal parts water. And, as the name suggests, it's suuuuper easy. Basically if you can boil water, you can make simple syrup, ha!
Simple syrup is a wonderful way to introduce sweetness to cold drinks without having to resort to weird, science-project artificial sweeteners. Since sugar tends to have a hard time dissolving in cold liquid, we'll just heat it up so it dissolves into a liquid state!
To make a regular simple syrup, boil one cup of water in a small saucepan – and then add one cup of white sugar. Stir until the sugar has dissolved. Then simply refrigerate until you're ready to use it. It's the perfect pre-dissolved natural sweetener for cocktails, iced coffee and iced tea.
But for this bourbon and ginger loaded Kentucky buck, we're going to create a simple syrup with a bit more gingery kick!
Simply peel about a thumb-sized piece of fresh ginger and cut into smaller chunks. Boil the ginger pieces in 1⅓ cups of water in a small pot with the lid on for about 20 minutes. Then, remove the ginger, and stir in one cup of sugar until completely dissolved.
Presto! Your sweet simple syrup will have a bit of a fiery bite from the ginger. Of course, you could always use a can of ginger ale – but I find this ginger simple syrup delivers just a bit more in the way of true ginger flavor. Perfect for this bourbon and ginger loaded Kentucky Buck recipe!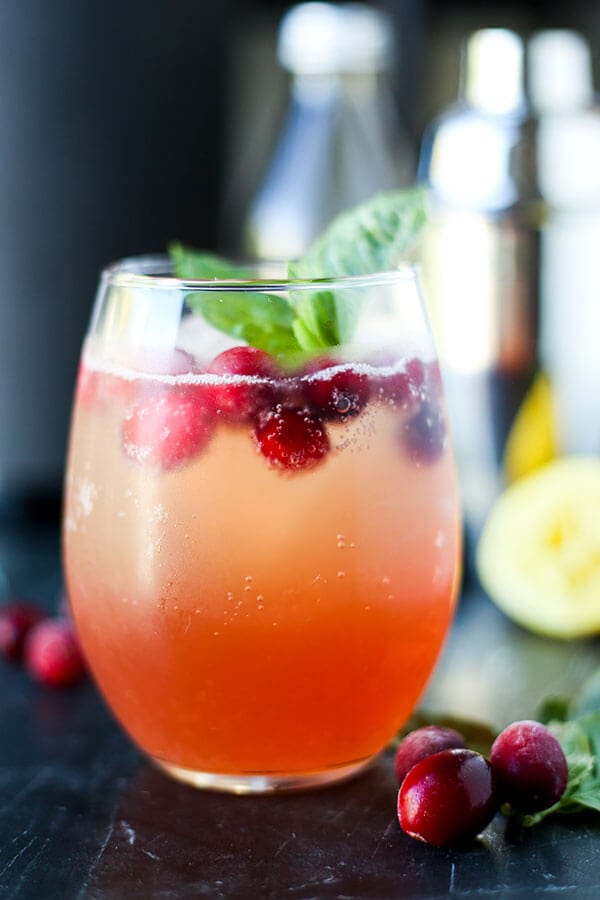 So, What is Bourbon?
Just as true Champagne has a set of qualifications to live up to to be considered anything other than sparkling wine – bourbon has a set of rules manufacturers must follow for their spirit to be classified as anything other than whiskey.
Confused about the bourbon vs whiskey thing? Let's dive in!
Now, while all bourbon is whiskey, not all whiskey is bourbon.
Yep – I know that sounds confusing, but hold tight. You see, whiskey comes in all shapes and sizes. Whiskey is distilled from grain mash (which can be comprised of wheat, rye, corn and barley). Whiskey is produced all over the world. There's Irish whiskey, Scotch whisky and American whiskey. And the most popular American whiskey just happens to be bourbon.
So, just as Scotch whisky must be produced in Scotland, bourbon follows geographical borders as well. You see, to be a true bourbon, it must be made in the United States.
Bourbon mash must contain at least 51% corn. The rest can be wheat, rye or barley.
To qualify as bourbon, it must be aged in charred, new oak barrels – and when you pour it into a glass, it better have a proof of 80 or higher. Oh – and it can't contain any additives or coloring. I like that!
Then, what's the best bourbon for this Christmas Kentucky buck recipe?
Well, I'll leave that up to you to decide! Calling all bourbon connoisseurs… What bourbon do you like best? Let's hear about it in the comments!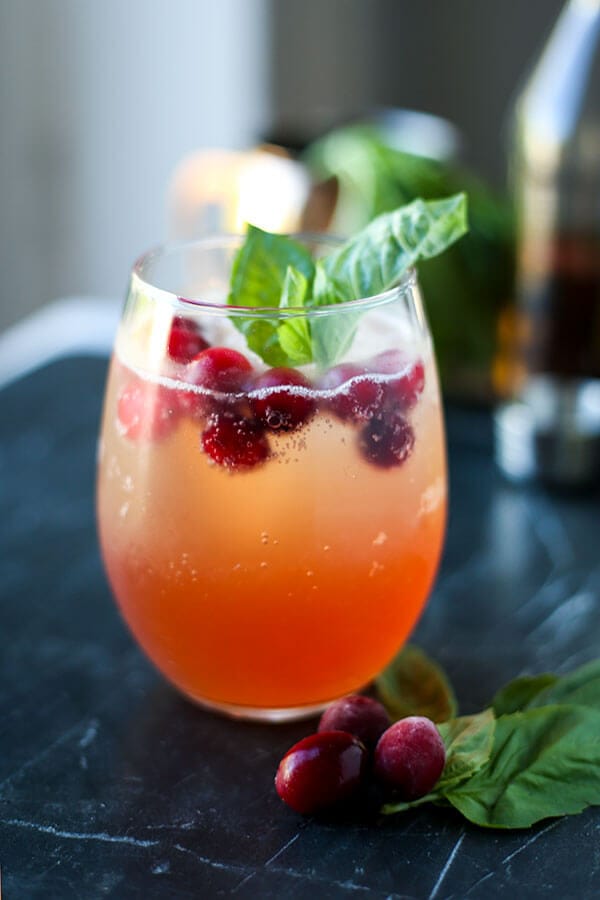 Kentucky Buck: A Drink That Pulls Double Duty
Last weekend, I whipped a few of these delicious Kentucky buck cocktails up to go with an early-holiday dinner party I threw for friends.
You might call it a trial run at a holiday feast.
On the menu were smashed red potatoes, spaghetti squash with mushrooms and parmesan, turkey breast and green beans almondine – all enveloped by a savory blanket of gravy.
Not only did the bright and festive cocktails introduce a little merriment to the group, by the end of the evening it really did feel like we were celebrating a holiday together!
I love it when a cocktail can pull double duty and reinforce a little holiday cheer on a random Saturday. This bourbon buck recipe will definitely make an appearance at holiday celebrations (and random Saturdays) in the years to come!
Other simple, delicious cocktail recipes:
Also:
Did you like this Christmas Kentucky Buck Recipe? Are there changes you made that you would like to share? Share your tips and recommendations in the comments section below!
Print
Christmas Kentucky Buck
A festive and vibrant drink made with bourbon and cranberry juice.
Author: Caroline Phelps
Prep Time:

5 minutes

Total Time:

5 minutes

Yield:

1

drink

1

x
Category:

Drinks

Cuisine:

American
2

ounces

bourbon

1

ounce

lemon juice

1

ounce

simple syrup or ginger syrup

2

ounces

cranberry juice

2

ounces

club soda
fresh cranberries (for garnish)
Instructions
Cocktail
Combine bourbon, juice, and syrup in a cocktail shaker filled with ice. Shake and strain into an old fashioned glass with crushed ice. Top with soda, and garnish with fresh cranberries.
Ginger Simple Syrup
Place 1 + 1/3 cups water in a small pot and bring to a boil. Peel thumb-sized piece of fresh ginger and cut into smaller chunks. Add ginger to water and turn the heat down to low. Cover with a lid and simmer for 20 minutes. Then remove ginger and stir in 1 cup of white sugar until completely dissolved. Refrigerate simple syrup and use as needed.
Nutrition
Serving Size:
Calories:

275

Sugar:

36.7 g

Sodium:

2.4 mg

Fat:

0.2 g

Saturated Fat:

0 g

Carbohydrates:

38.2 g

Fiber:

0.2 g

Protein:

0.4 g

Cholesterol:

0 mg
Keywords: recipe, alcohol, cocktail, Christmas, Thanksgiving
Recipe Card powered by