Sipping on infused water isn't just refreshing – it's also great for your skin! Make this Cucumber Water Recipe in 2 minutes. So fresh – so clean – so easy!
Have you tried infused water before?
It's pretty eye opening how something like simple chilled tap water can be transformed by the effortless addition of fruit or veggies.
Well, today I'm excited to focus some attention on one of the easiest to make – yet most iconic – of them all: cucumber water.
With a jar of this cold, crisp invigorating elixir in the fridge you're never more than a moment away from freshness!
What is cucumber water?
While it may sound almost too simple to mention, cucumber water is water that has been infused with the flavor of fresh cucumber.
However, there is no magic or food-additive science required to get the garden fresh essence imbued into the H2O.
Call it what you will: infused water, detox water – or (my favorite) spa water – cucumber water is created by soaking cucumber slices in fresh water. As it steeps in the refrigerator, the cucumber essence grows.
Once infused, the water takes on a light, crisp and verdant quality that is wholly refreshing and invigorating.
At the end of the day, it's still water. But we can maybe think of it as Water 2.0 or something, ha!
And, much like this fruity detox water recipe, there are no hard and fast rules when it comes to making infused water at home. Like lemon? Well, add some! Lemon cucumber water is delicious.
Heck, just try putting refreshing things that you like in water and see what happens. You may come upon a combination that you LOVE.
Hey, it even works with ice cubes!
But for now, let's take a closer look at making crisp, clean cucumber water at home for those hot summer days to come.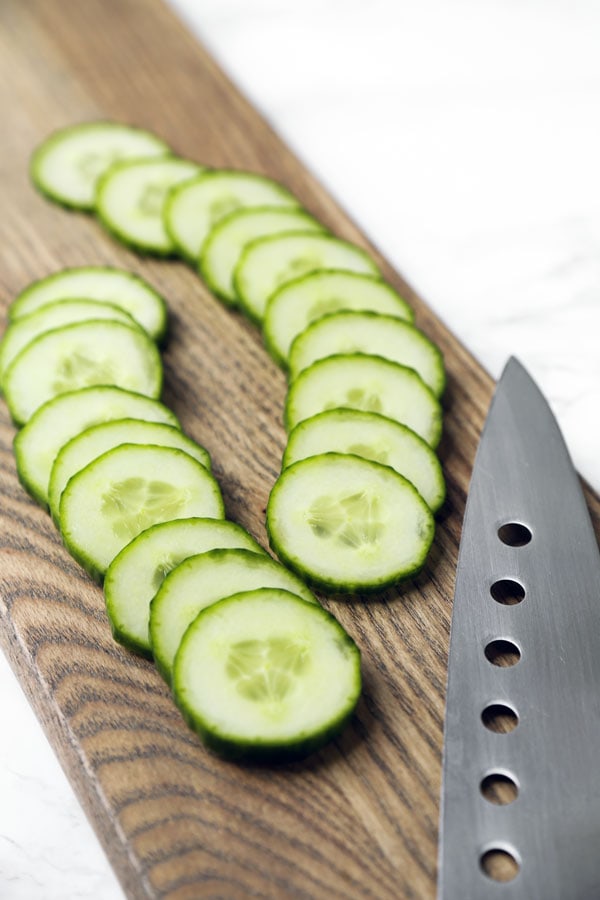 How to make cucumber water
Now, calling this a recipe is kind of a stretch. It's more of a suggestion of quantities.
Since you can make a refreshing cucumber infused water with a bunch of cucumber slices – or just a few – I'll leave it up to you to decide your own ratios.
Take the following as a general guideline that works for me, meant to be tweaked in your kitchen as you see fit.
For my own cucumber water recipe, I use about 25 cucumber slices (about ⅛-inch thick) for every liter of water.
I toss the cucumbers and water in an infuser – or a large jar. Then, I just cover it and place it in the fridge.
Of course, the longer you let the water sit, the more cucumber flavor you'll notice when pouring a tall glass for yourself.
That said, I'd recommend soaking for at least two hours. If you steep it overnight, all the better!
TL;DR version:
~25 cucumber slices (⅛" thick) for every liter of water.

Cover and let sit for at least two hours. Or a maximum of 12 hours.
What kind of cucumbers work best? 
I'm a big fan of English cucumbers. Those are the long and thin cucumbers you'll often times see at the grocery store shrink-wrapped in plastic. That plastic protects their naturally thin skin.
They impart such a light essence to my cucumber infused water that I rarely buy anything else when I'm at the store.
That said, you can totally use Persian and Kirby cucumbers if that's what you have handy. Solid choices.
Now, you can always use basic garden cucumbers if that's all you can find. (Those are the huge, yellow/green cucumbers that have their skin often times coated in wax). I've found the skin to be too bitter and… you know, WAX COVERED, to ever use them in much of anything. However, since we're infusing water here – and not making a salad – they'd work in a pinch.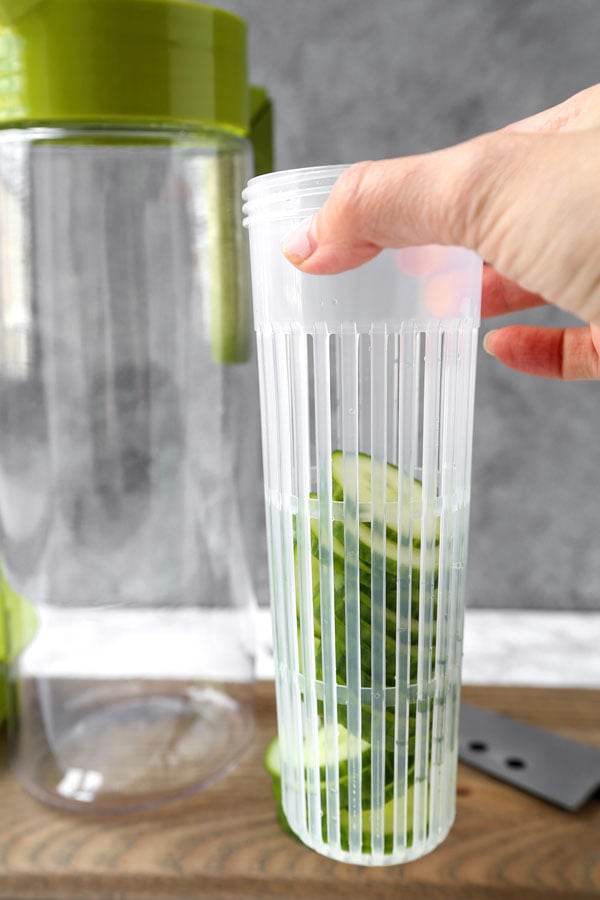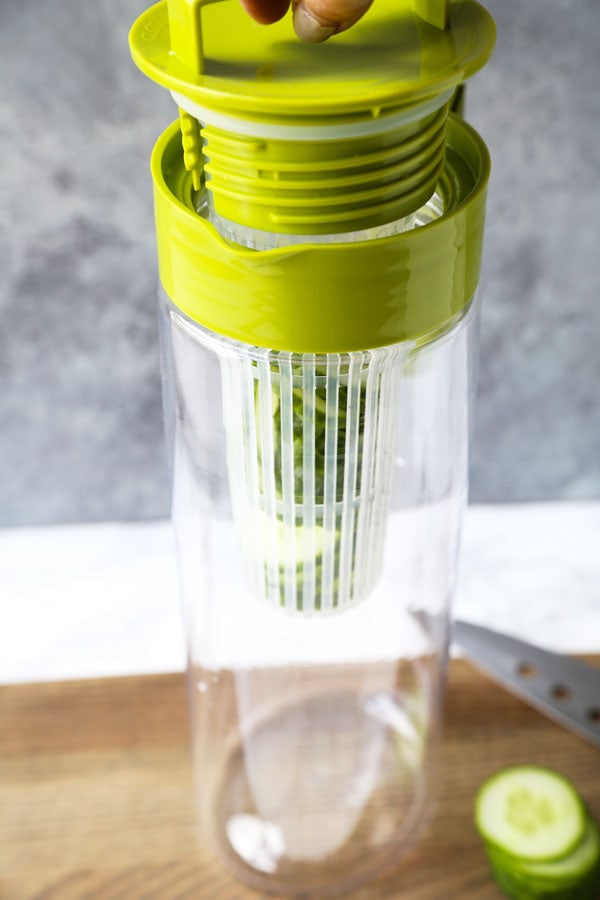 Benefits of cucumber water 
Cucumbers are comprised of about 95% water already. Therefore they're a natural fit when whipping up a beverage that is said to be a great detox tool.
Many of the benefits you get from cucumber water can be seen when you consume it in place of high sugar beverages like soda. You see, since there's no sugar in this crisp and cold drink, there's no increase in caloric intake. Plus there's no sugar crash later on!
Staying hydrated with drinks that compel us to drink them because they taste great can even keep hunger between meal times at bay.
But perhaps the most substantial benefit to drinking cucumber water is that you're drinking water.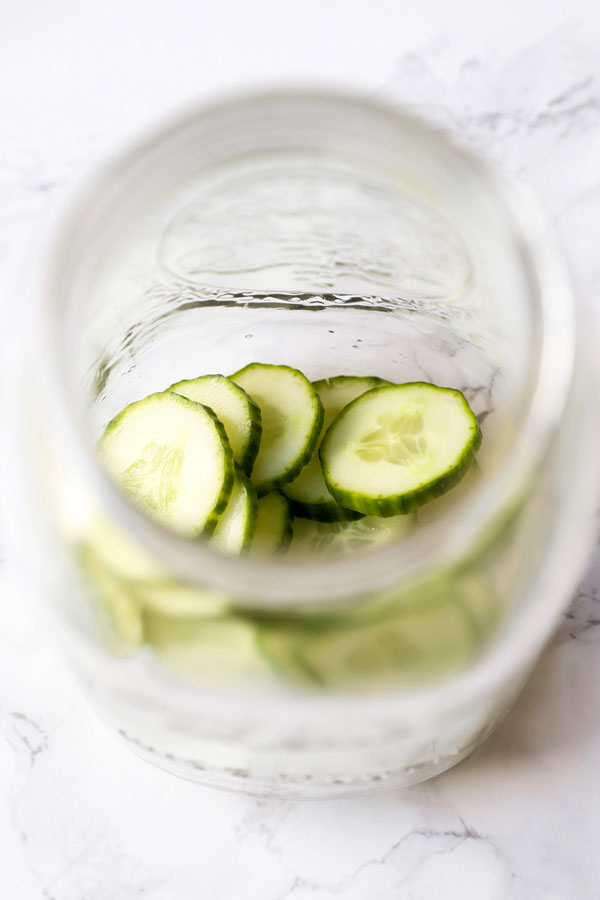 Benefits of drinking water
By now, pretty much everyone has heard the suggestion stating that you should drink around 8 glasses of water per day.
Being properly hydrated helps your kidneys filter, process and excrete waste – and can be beneficial for things like clear skin and sharp reaction times.
In short, it helps keep our bodies primed and minds sharp.
Being properly hydrated may even help us snack less between meals and avoid overeating in general. When I'm hungry in the middle of the day, I drink a glass of water first. If I'm still craving a snack 15 minutes later, then I go for it.
Long story short: water is good. (Although drinking too much is not.) 
Keeping a pitcher of fresh cucumber water handy might just prompt you to keep properly hydrated all day long!
How long does cucumber water last?
Chances are, if you have a pitcher of this cold, crisp goodness in the fridge, it'll go pretty quickly.
I usually remove the cucumber slices from the pitcher after about 10-12 hours.
After that amount of time, you're not going to get much more flavor from them. And, if they sit too long (like, for a couple of days), the cucumber flesh can start to break into bits in your water.
As a rule of thumb, I'll keep the water in the fridge for 3-4 days before discarding any leftovers.
However, with a thirst quencher that refreshing in the refrigerator, it's usually gone in an afternoon!
If you try this at home, I think you're gonna love it 🙂
What about you? What's your favorite summer drink? I'd love to hear about it in the comments!
And as always, happy cooking!
Other refreshing and easy drink recipes:
Did you like this Cucumber Water Recipe? Are there changes you made that you would like to share? Share your tips and recommendations in the comments section below!
Print
Refreshing Cucumber Water
Cucumber infused water is the best! Chances are, if you have a pitcher of this cold, crisp goodness in the fridge, it'll go pretty quickly.
Author: Caroline Phelps
Prep Time:

2 minutes

Total Time:

2 minutes

Yield:

1

liter

1

x
Category:

Drinks

Method:

Steeping

Cuisine:

American
25

cucumber slices (⅛" thick)

1

liter of water
Instructions
Place water and cucumber slices in a jar or infuser 

Cover and refrigerate for at least 2 hours (up to 12 hours)
Notes
I use about 25 cucumber slices (about ⅛-inch thick) for every liter of water. If you like it stronger, just use more cucumber. Like it more diluted? Just use less 🙂
Nutrition
Serving Size:

1 cup

Calories:

2

Sugar:

0.2 g

Sodium:

10.3 mg

Fat:

0 g

Saturated Fat:

0 g

Carbohydrates:

0.5 g

Fiber:

0.1 g

Protein:

0.1 g

Cholesterol:

0 mg
Keywords: detox, hydration, vegan, vegetarian, drink
Recipe Card powered by