If you are looking for a delicious way to enjoy konjac, look no further than this konnyaku karaage recipe! Konnyaku is a healthy vegetable that is low in calories and full of fiber, making it a great choice for those on a weight loss program or simply looking to eat lighter. This recipe is easy to follow and results in crispy, delicious konnyaku that will have you coming back for more!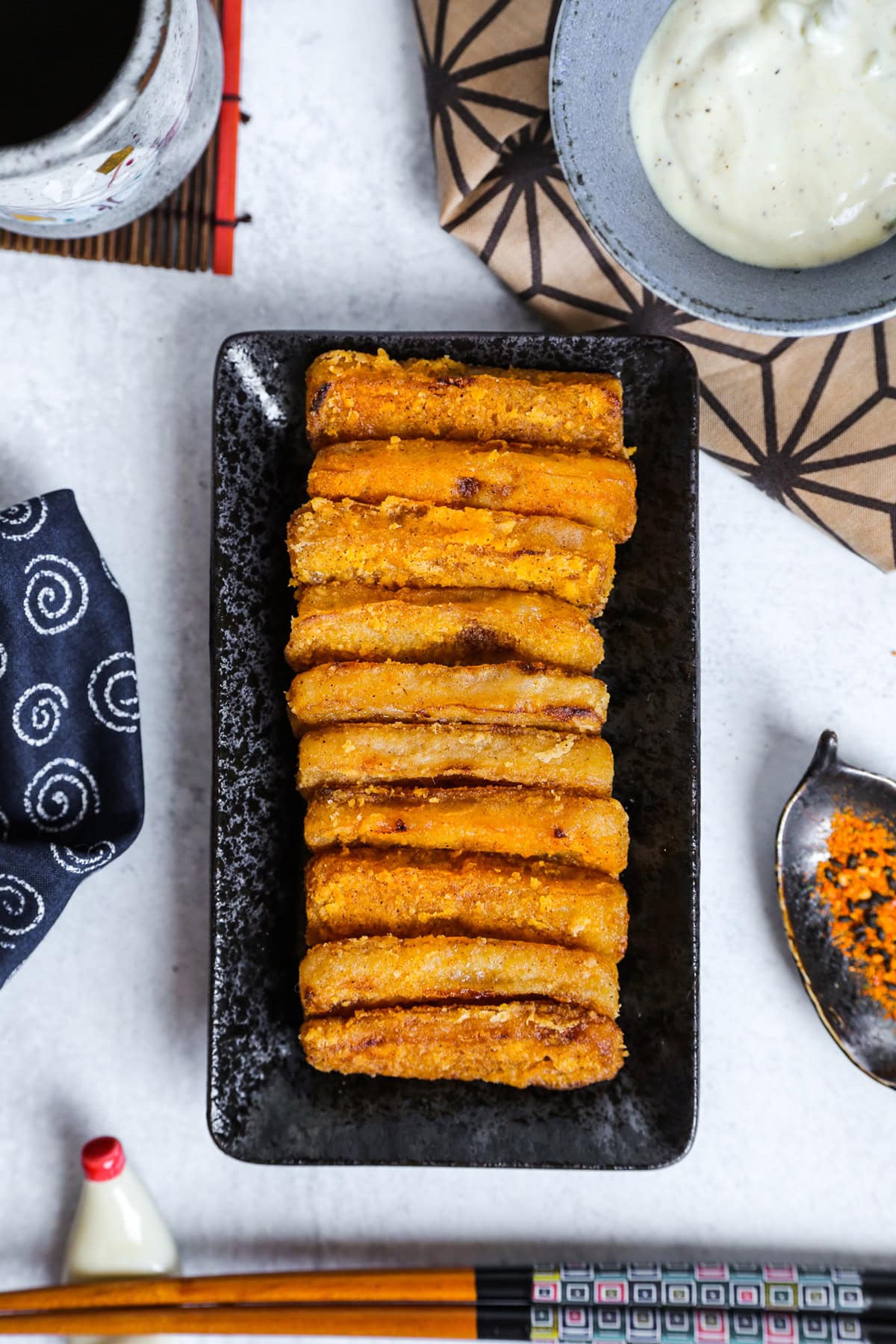 What is Konnyaku (Konjac)?
Konnyaku, also known as konjac or devil's tongue, is a type of yam cake originating from Yunnan, China, that's mostly used in Japanese cooking. It's made from the konjac plant's edible corm and has a bouncy texture, almost jelly-like. It's used in dishes for its texture rather than its flavor and for its health properties. Some of the most popular Japanese dishes using konnyaku are oden, sukiyaki, gyudon, soups and stews.
Konnyaku is a medicinal food that is low in calories and high in dietary fiber. It is also a good source of resistant starch, which is a type of fiber that has been shown to have health benefits including improved blood sugar control and gut health. Konnyaku may also help with weight loss by helping you feel full after eating.
A 2008 study showed that adding glucomannan to a low fiber diet increased bowel movement function by 30 percent. Eating it regularly helps keep you fuller longer, so you're less likely to overeat or snack between meals. Konjac also expands in the stomach to help keep you full.

healthline.com
It can be purchased in most Asian markets and comes in different shapes. You can find konnyaku noodles (shirataki noodles or ito konnyaku) often used in chilled summer dishes or as as a replacement for egg noodles in ramen, in block form like we are using in this recipe, as a jelly powder (konjac powder) to make desserts, as jelly drinks, and much more.
In Japan, it's also sold pre-sliced and served with sweet miso (called sashimi konnyaku) and shaped into balls in the Yamagata region (called tamakon).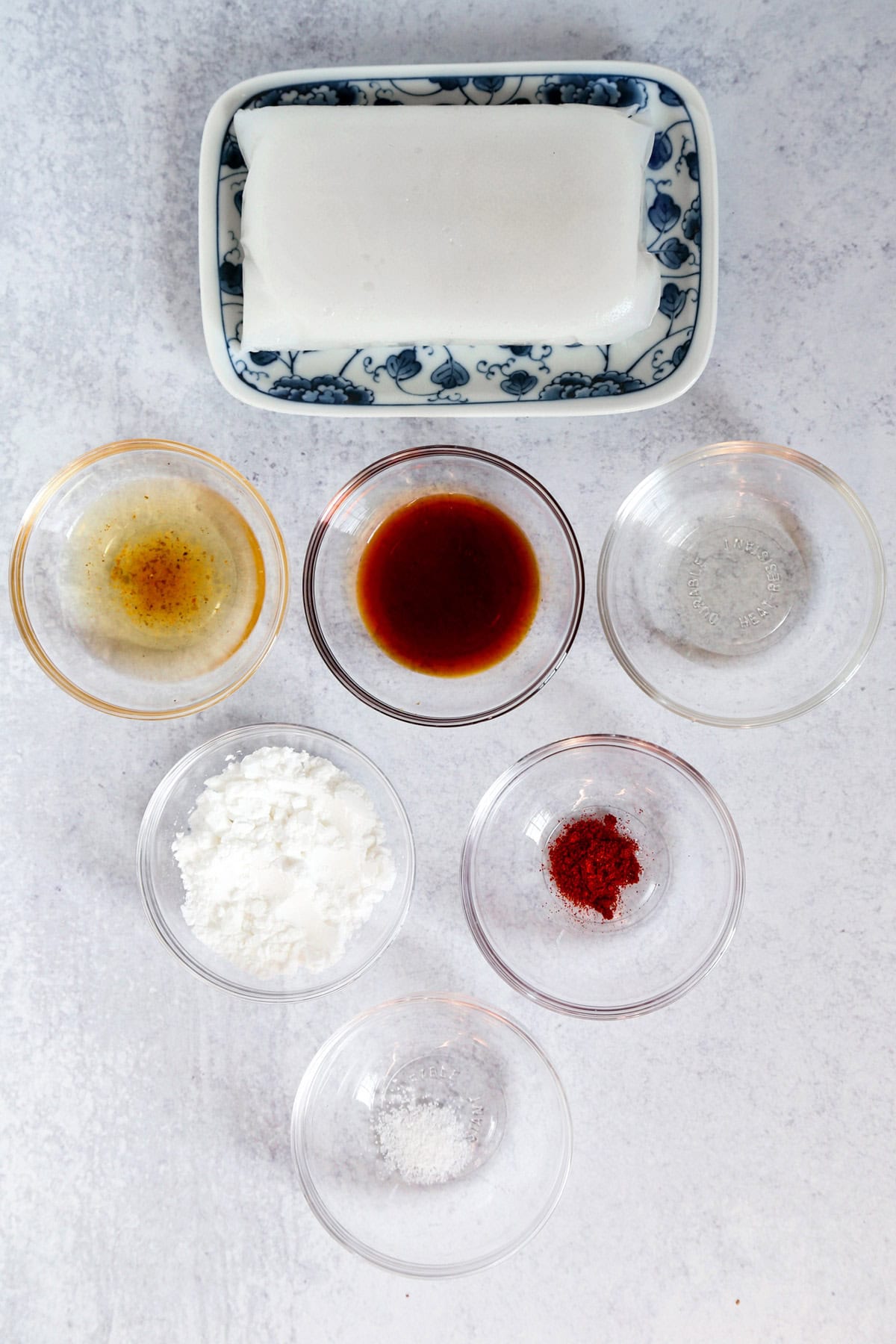 What Does Konnyaku Taste Like?
Konnyaku has a neutral taste that's accompanied by a strong fishy smell. The reason why Konjac has such an unpleasant odor is due to the solution, made of calcium hydroxide aqueous, used during the manufacturing process, which acts as a thickening agent.
The good news is you can get rid of the smell by boiling the konnyaku in a mixture of water and salt for about 5 to 7 minutes.
Start by draining and rinsing the konnyaku under water. Drain well.
Add two cups of water and 2 tablespoons of salt to a small pot and bring it to boil. This should be enough water to submerge a block of konjac that's about 250g in weight. Add more water and salt if you are making a bigger batch.
Boil for 5 to 7 minutes and drain. Rinse the konjac under water and drain again.
This method has worked really well for me, it's a trick I learned while visiting my aunt in Japan. The measurements of water and salt are an approximate (my aunt never measures anything!).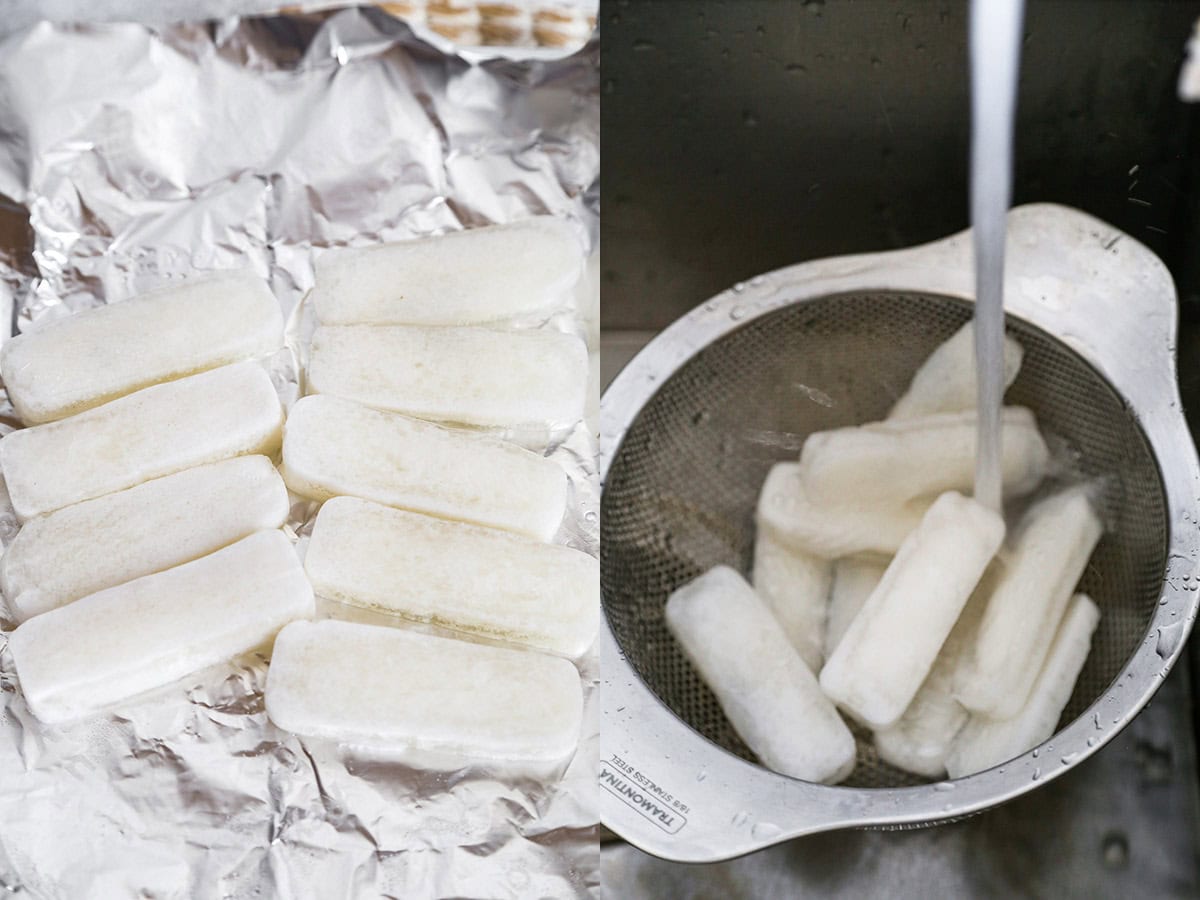 Konnyaku Karaage Ingredients
Konnyaku: As you can see from the pictures, I'm using white konnyaku for this karaage dish. But that's simply because the color is more attractive. You can use grey or green konnyaku as well, the color doesn't matter.
Soy sauce: Soy sauce is a common ingredient in Japanese cuisine and works well with karaage as it's both salty and full of umami.
Sake: You can use any type of sake (I use cooking sake) for this recipe. Only a small amount is used to add a little sweetness to the overall taste of the sauce.
Dashi stock: Dashi stock is made from dried bonito flakes and kelp and adds umami and richness to the sauce. You can use kombu dashi to make this dish vegan.
Kosher salt: Kosher salt is my go to salt when I am cooking. But feel free to use any type of salt you already have in your pantry.
Smoked paprika: Smoked paprika is a type of paprika that has been smoked over an open fire. It has a sweet and smoky flavor which gives the coating a fried chicken-like taste.
Cornstarch: Cornstarch is a type of starch that is derived from corn. It is used as a coating for the konnyaku in this recipe, which helps to create a crispy exterior.
Dipping sauce: The acidity and sweetness of the cornichon and honey help to cut through the richness of the mayonnaise (or vegan mayonnaise) and makes a delicious dipping sauce for the konnyaku karaage.
Unfortunately, there is no good substitute for konnyaku because it has such a unique texture. If you cannot find any at your local Asian supermarket, you can purchase it online here, from Amazon.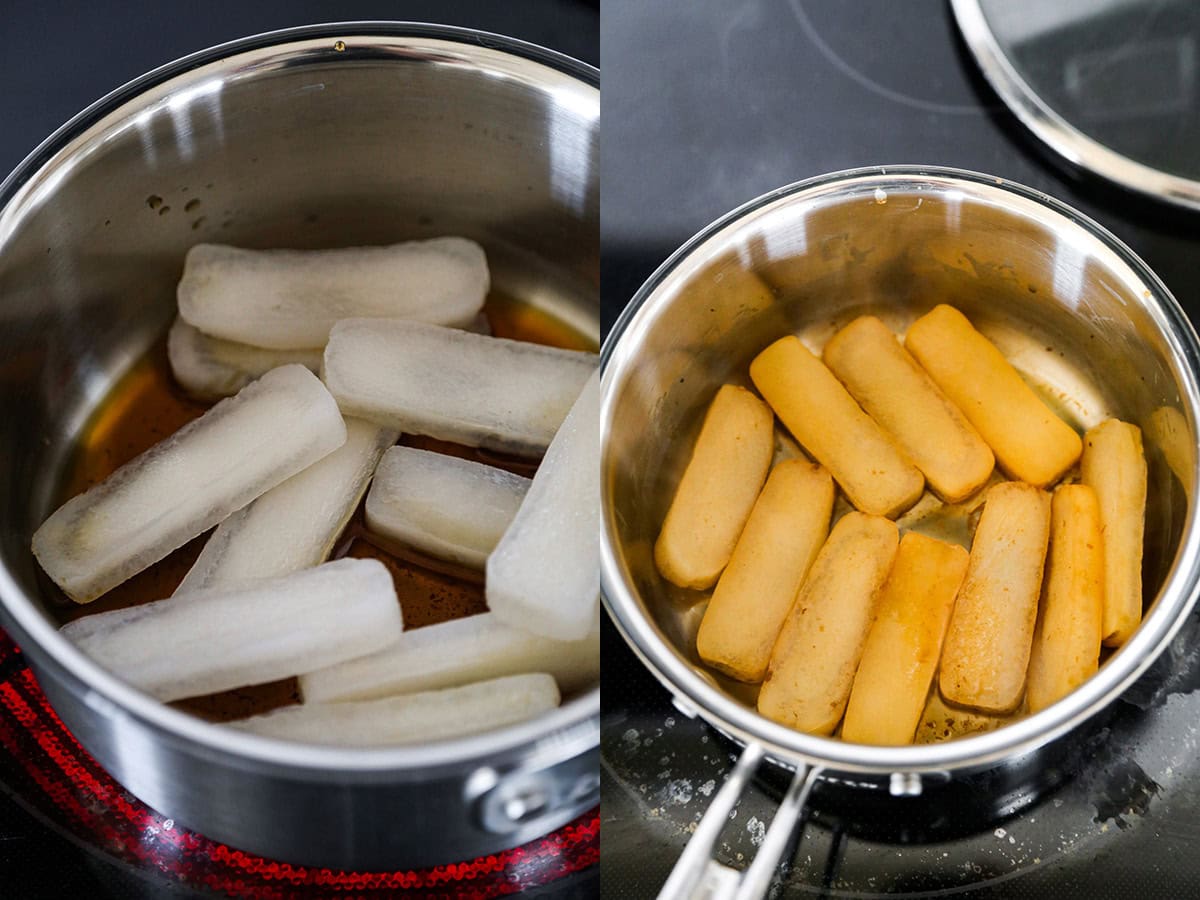 How To Make Konnyaku Karaage
Scroll all the way down to the recipe card for the full recipe.
Cut the konnyaku and place in a single layer on a baking sheet. Freeze for at least 2 hours.
Take the konnyaku out of the freezer and rinse it to get rid of the icy bits. Drain and set aside.
Whisk together the soy sauce, sake, and dashi stock, and add it to a small pot.
Add the konnyaku and boil on low until all the liquid has evaporated.
Combine the salt, smoked paprika, and cornstarch.
Dust the konnyaku with the smoked paprika seasoning and add it to a hot skillet coated with oil. Cook for 3 to 5 minutes per side, or until golden brown and crispy.
Serve it with dipping sauce and enjoy!
Freezing Konnyaku
The reason why we are putting the konnyaku in the freezer is to change its texture. Just like with tofu, konnyaku is mostly made of water. By freezing it for a few hours we are taking out some of the moisture and making the konnyaku less bouncy and more chewy.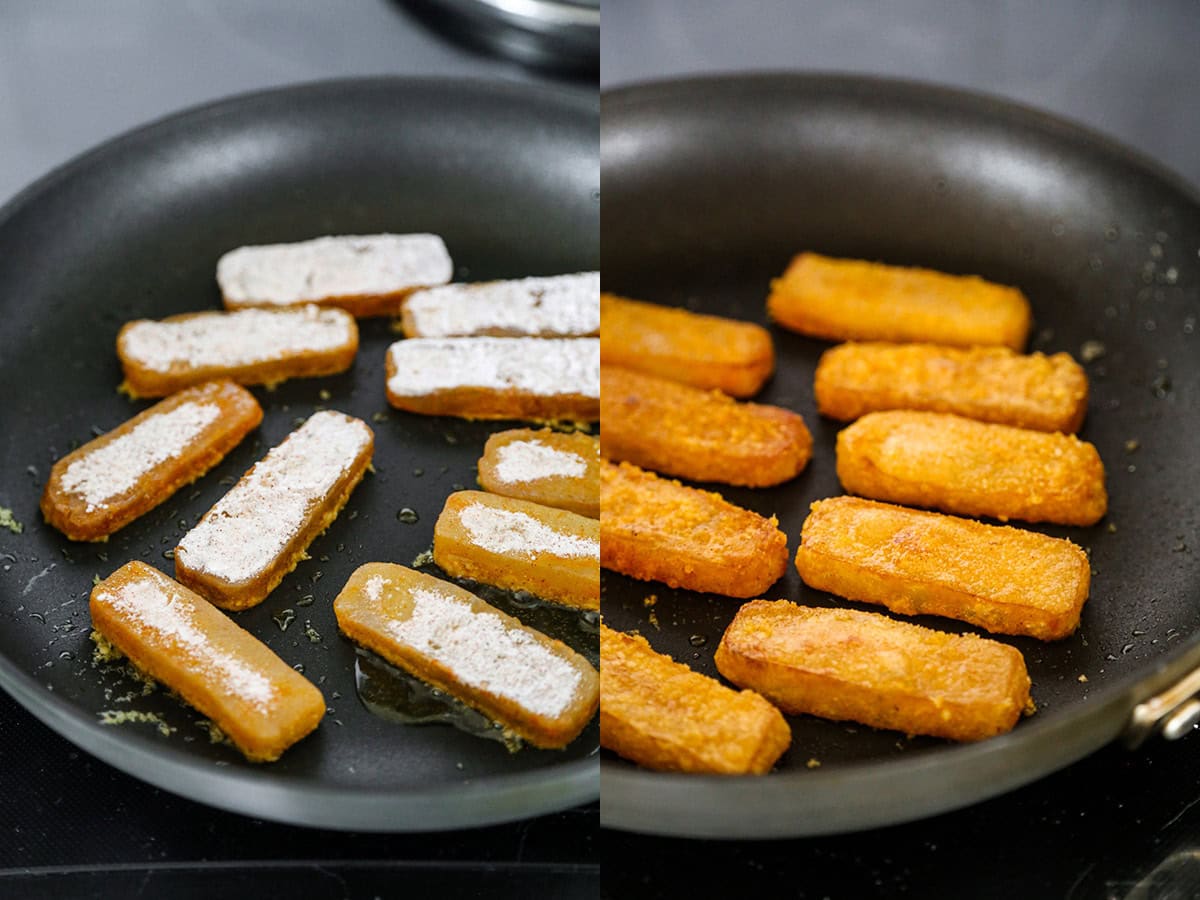 How To Store Konnyaku
Konnyaku should be stored in a cool, dry place.
Unopened it should keep in the fridge for up to 3 months (always look at the expiration date).
If you open it and only need to use a little bit, keep the liquid the konnyaku came with. The high PH in the alkaline water will prevent any bacteria from forming on the konnyaku and you should be able to store it in the fridge for about a month. You can easily tell when konnyaku goes bad because it will develop a terrible smell and the texture will either harden or get mushy.
If you accidentally threw away the alkaline water, submerge the konjac in water in an airtight container, refrigerate, and change the water every 2 days, for up to 10 days.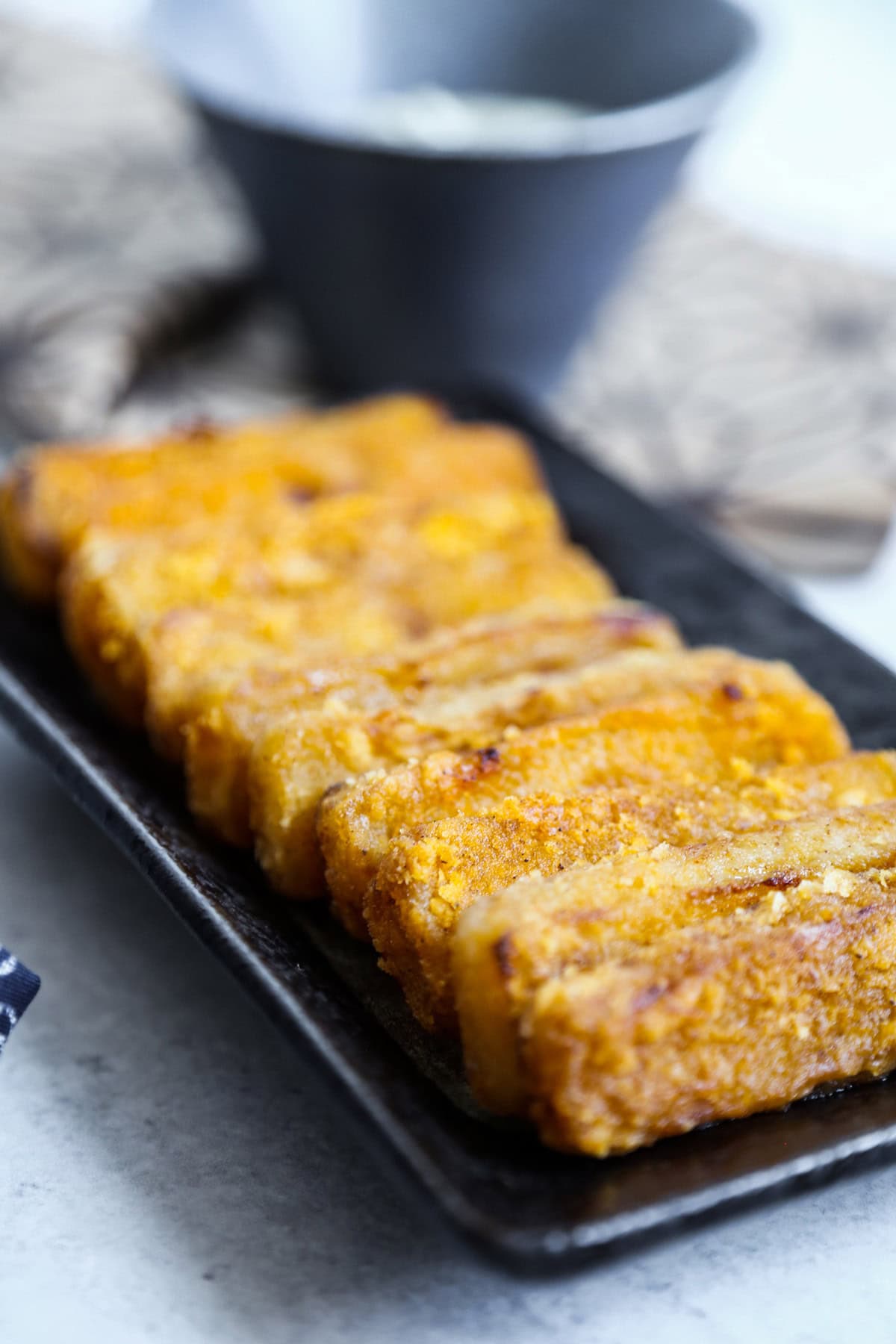 Recipes Using Konnyaku
I use konjac in my dishes as a way to keep the calorie count low while still providing my body with plenty of fiber and keep my tummy full. It's one of the easiest ingredients to work with as it doesn't require any cooking.
But, as I previously mentioned, it can smell pretty bad upon opening so make sure you follow my tips on how to remove the smell!
Here are some of my favorite konnyaku recipes: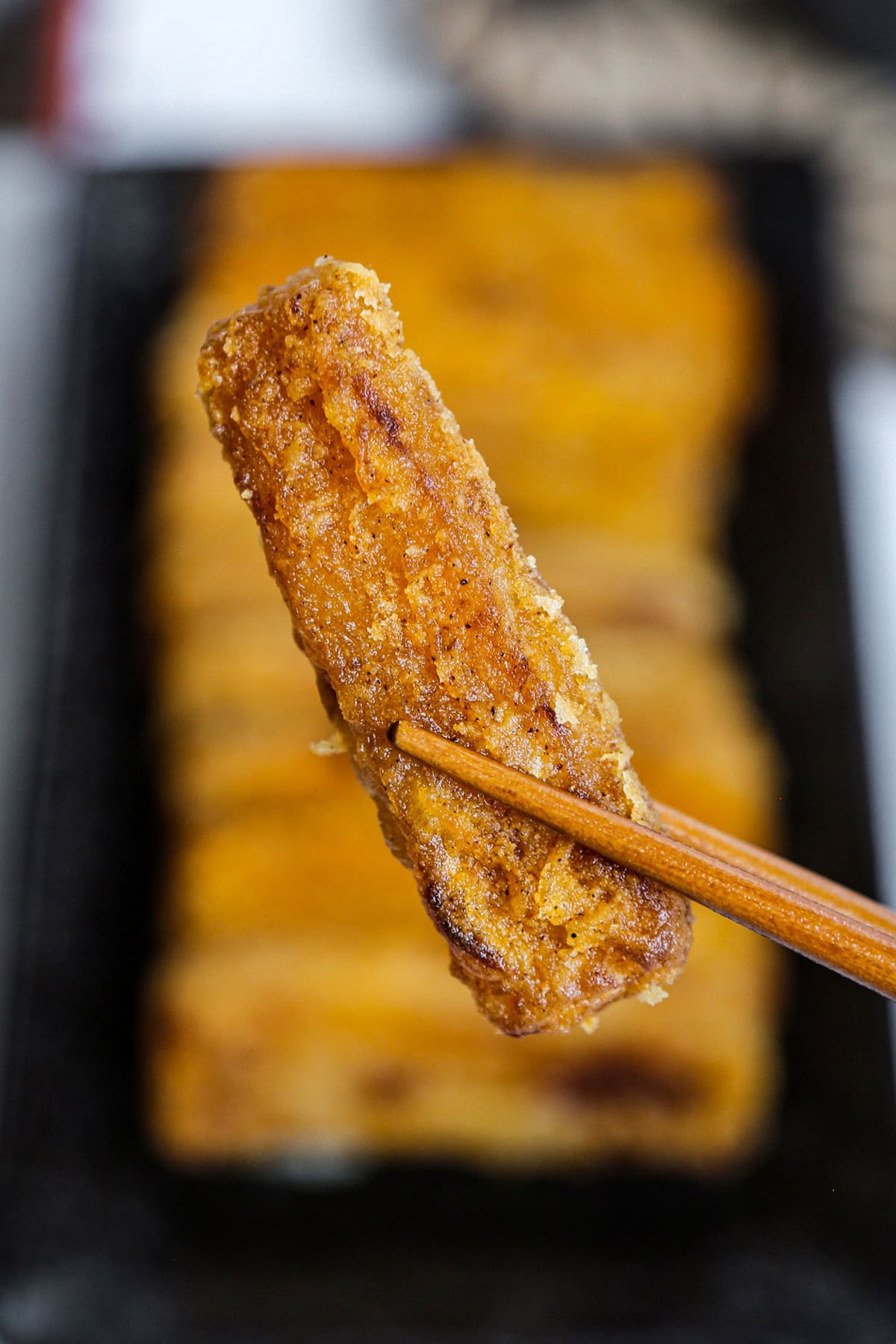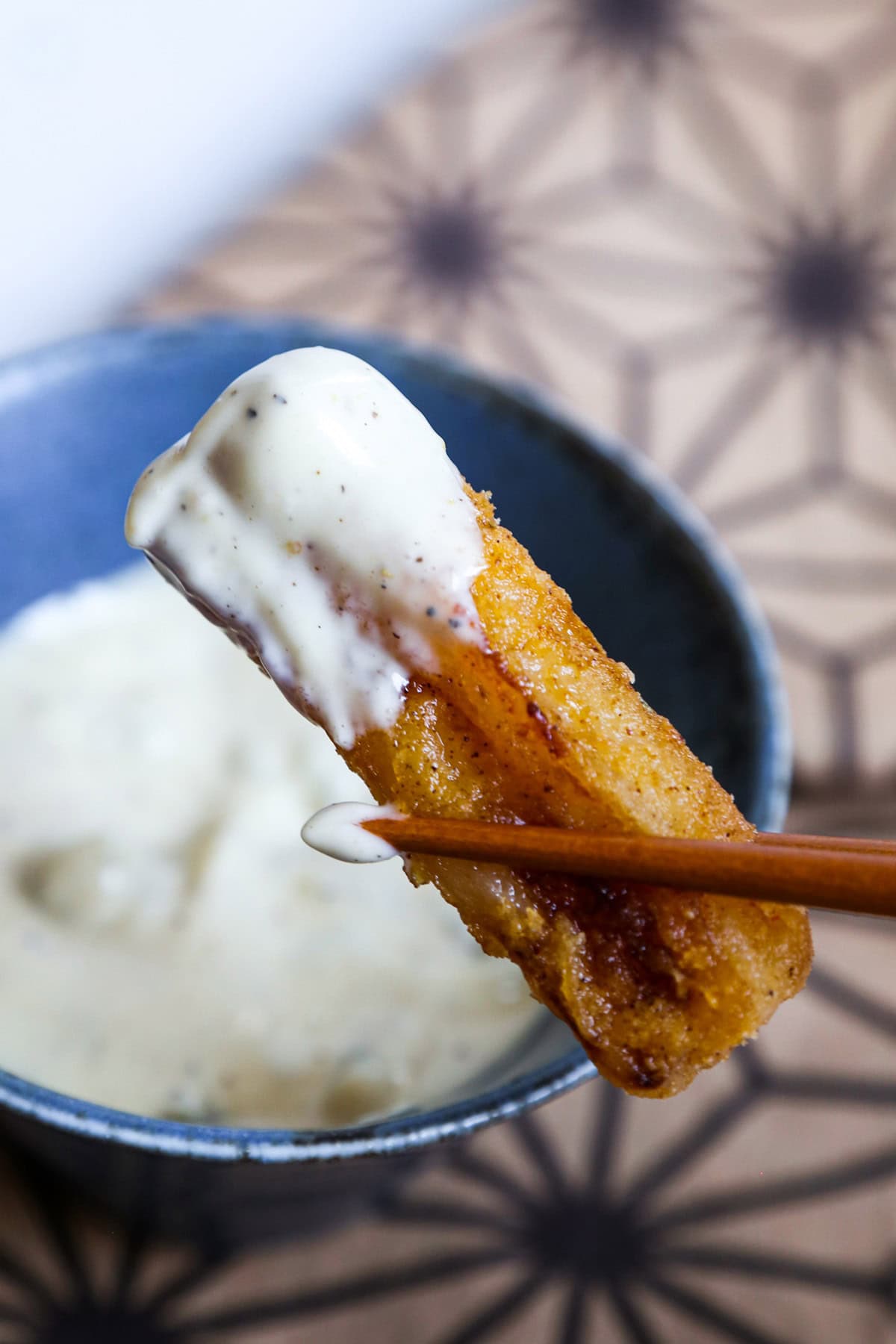 Did you try this karaage style konnyaku recipe? Are there changes you made that you would like to share? Share your tips and recommendations in the comments section below!
Print
Konnyaku (Karaage Style)
This is a delicious konnyaku karaage recipe that will remind you of Japanese fried chicken or fried squid.
Author: Caroline Phelps
Prep Time:

10 minutes

Cook Time:

2 hours passive time + 10 minutes

Total Time:

2 hours 20 minutes

Yield:

2

servings

1

x
Category:

Side

Method:

Pan frying

Cuisine:

Japanese

Diet:

Vegetarian
250g

block of konnyaku, white color preferably

1 tablespoon

soy sauce

1 tablespoon

sake

2 tablespoon

dashi stock or kombu dashi stock for vegan

1/8 teaspoon

kosher salt

1/4 teaspoon

smoked paprika

3 tablespoons

cornstarch or potato starch

3 tablespoons

vegetable oil or grapeseed oil
Dipping sauce
1/4

cup

mayonnaise or vegan mayonnaise

1/4 teaspoon

dijon mustard

1/4 teaspoon

honey, optional

1

cornichon, finely chopped
Ground black pepper, to taste
Instructions
Drain the konnyaku block and rinse under water. Pat dry and transfer to a cutting board.
Slice the konnyaku into ½-inch thick pieces and place them on a tray covered with non-stick foil or parchment paper, one next to another, leaving a little space between them so they don't touch. Freeze for 2 hours.
Meanwhile, mix all the ingredients for the dipping sauce in a bowl, cover, and refrigerate.
Take the konnyaku out of the freezer and rinse the pieces under water to remove the layer of ice. Drain well and pat dry.
Add the soy sauce, sake, and dashi stock to a pot, stir, and turn the heat to low.
Add the konnyaku slices and simmer until the liquid has evaporated. Transfer the konnyaku to a plate.
Mix the kosher salt, smoked paprika and cornstarch in a bowl and set aside.
Add the oil to a deep skillet and turn the heat to medium-high.
When the oil is hot (wait about 2 minutes), dip each konnyaku slice in the cornstarch and smoked paprika mixture and add it to the skillet. Cook on each side for 2 to 3 minutes, until golden brown.
Transfer the fried konnyaku to a plate covered with paper towel and let cool for a minute.
Serve with dipping sauce.
Notes
This recipe is best enjoyed as soon as it comes out of the pan. The coating will lose its crispiness after a couple of hours so I don't recommend saving it for later.
Nutrition
Serving Size:

1 serving (with dipping sauce)

Calories:

286

Sugar:

0.7g

Sodium:

567.4mg

Fat:

24.3g

Saturated Fat:

12.6g

Unsaturated Fat:

1.4g

Trans Fat:

0g

Carbohydrates:

13.1g

Fiber:

2g

Protein:

1.2g

Cholesterol:

9.6mg
Keywords: konjac, devil's tongue, konyaku
Recipe Card powered by
Other Japanese Recipes You Might Like