Oden is a delicious Japanese winter stew made of vegetables, eggs, Japanese fishcakes, konjac, and simmered in a soy sauce and dashi broth. It's a traditional Japanese meal served in the colder months because of its comforting properties. And it's surprisingly filling and very easy to make!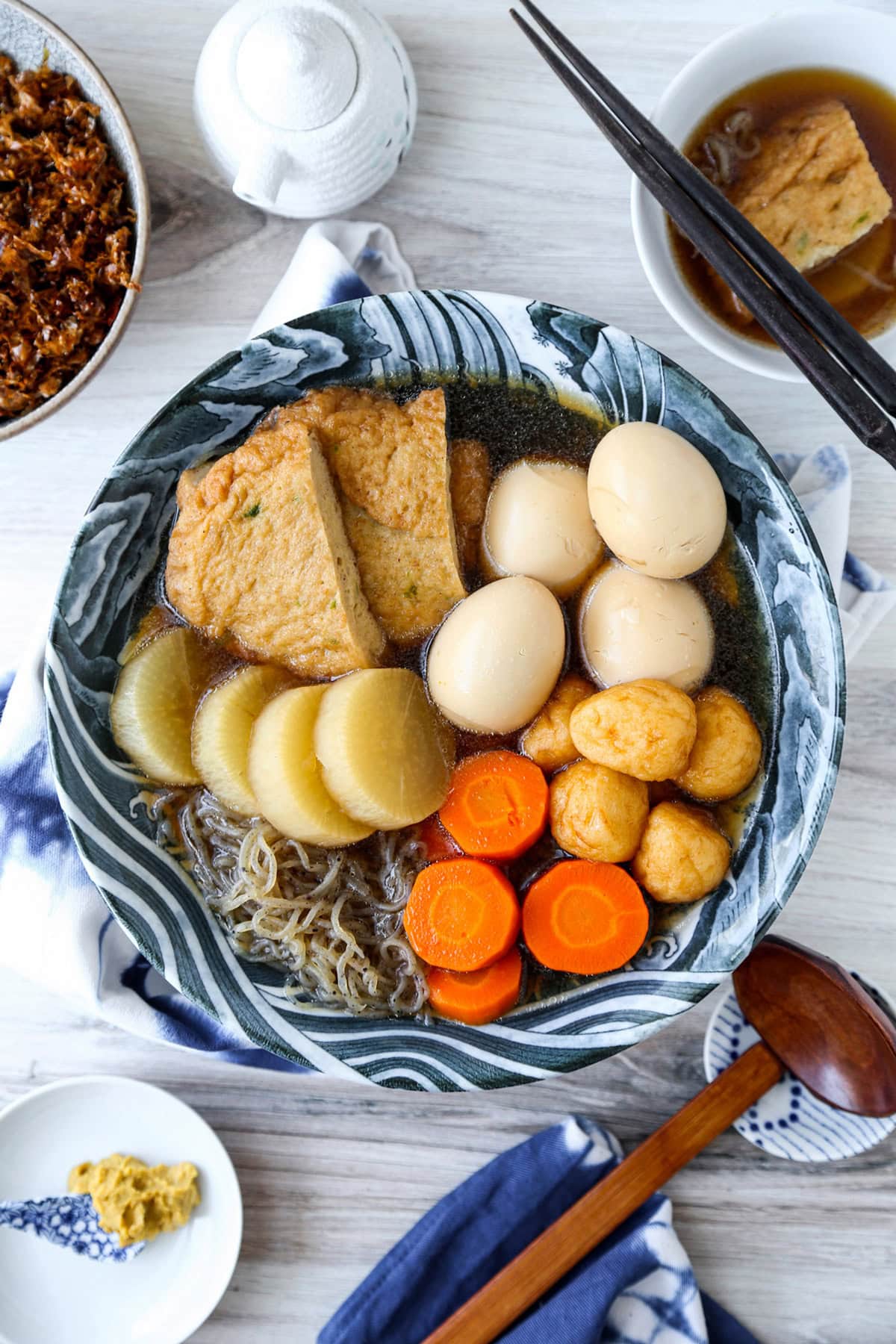 Oden is one of those dishes you might turn your nose up to at first because it looks so unfamiliar – you've got fishcakes and fish balls, boiled eggs, daikon, and konjac (konnyaku), all simmering in a brown soup. I get it, it looks unappetizing because the colors are the opposite of vibrant and fresh.
But oden is actually delicious!
What is Oden?
Oden (おでん) is one of Japan's most popular winter stews that's served in a donabe (Japanese earthenware pot), and with a side of karashi mustard (Japanese hot mustard). It's a type of nabemono – a soup or a stew containing several ingredients and served hot – with fishcakes, boiled eggs, daikon, konnyaku, and kombu knots, simmered in a soy sauce and dashi based broth.
It can sometimes be made with a kombu based broth and contain ingredients such as mochi stuffed in a fried tofu pocket (called kinchaku), atsuage (deep fried tofu), potatoes, chicken wings, cabbage rolls, pork, ganmodoki (tofu fritters) and so much more.
Oden is sold at food stalls, izakaya, and convenience stores (called "konbini" in Japanese) such as Seven Eleven and Family Mart, in metal containers located next to the cash registers. All you have to do is grab a styrofoam bowl, scoop up however many items you like, and ladle some of the broth. It's an inexpensive food that's mostly enjoyed during the fall and winter, although it can now be found everywhere all year long.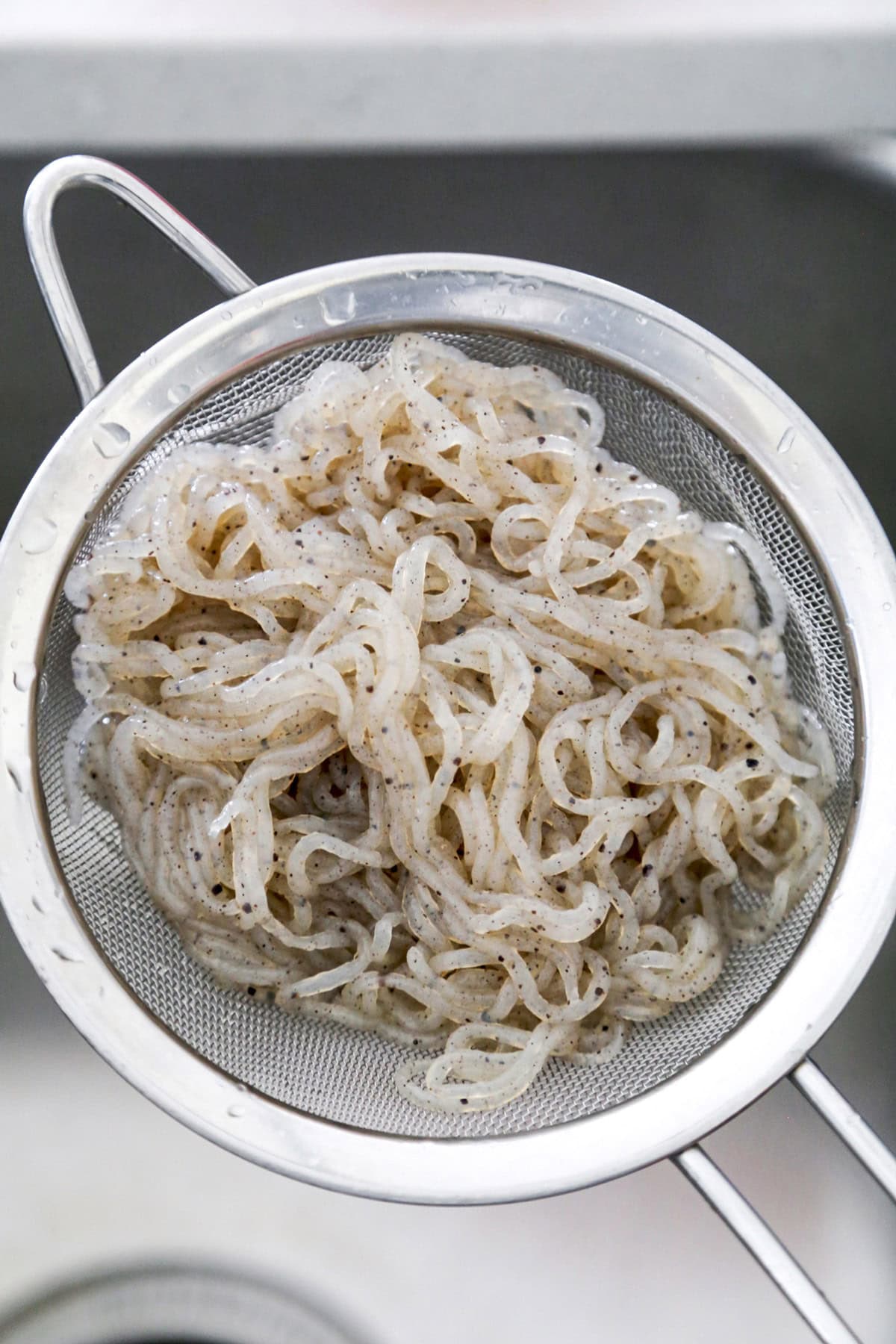 Tokyo Style Oden vs Other Regions
Tokyo, located in the Kantō region, is the original home of oden. It used to be called misodengaku because only tofu and konjac were boiled in miso soup and served with a miso sauce. Since then, dashi has become the primary ingredient in most oden recipes, including Tokyo's. The dashi based broth is seasoned with a light soy sauce that has a sweet taste, and relies heavily on fishcakes.
Chubu Region (Nagoya, Shizuoka)
In Nagoya, hatcho miso, which is dark red in color, is the base of the oden broth. This broth is quite rich and packed with umami and a little sweetness. It comes with a side of soy sauce to use as a dipping sauce. It is known to be the best oden to complement a cold glass of sake!
In Shizuoka, all the oden ingredients are skewered and simmered in beef broth and soy sauce, giving the soup a very dark color. Despite its dark hue, the broth is actually mild, not overpowering or too salty. Black hanpen (tofu fritters) can be found in the Shizuoka oden.
Kansai Region (Kyoto)
In the Kansai region, oden, also called Kanto-ni (Kanto-cooked), uses a light and soy sauce and is mildly sweet. The main flavor of the broth comes from the dashi which is made from a combination of kelp, mackerel flakes, and bonito flakes. Mountain yam, octopus, and burdock root can often be found in this oden.
Hokuriku Region (Hokkaido, Kanazawa)
Oden from the northern regions are heavy on seafood and mountain vegetables. The broth is kelp based and the oden is served the traditional way – with a side of miso sauce.
Okinawa
Okinaway oden has a pork and salt based broth and comes with sausages, bok choi, and mustard greens. It can also be served cold at times.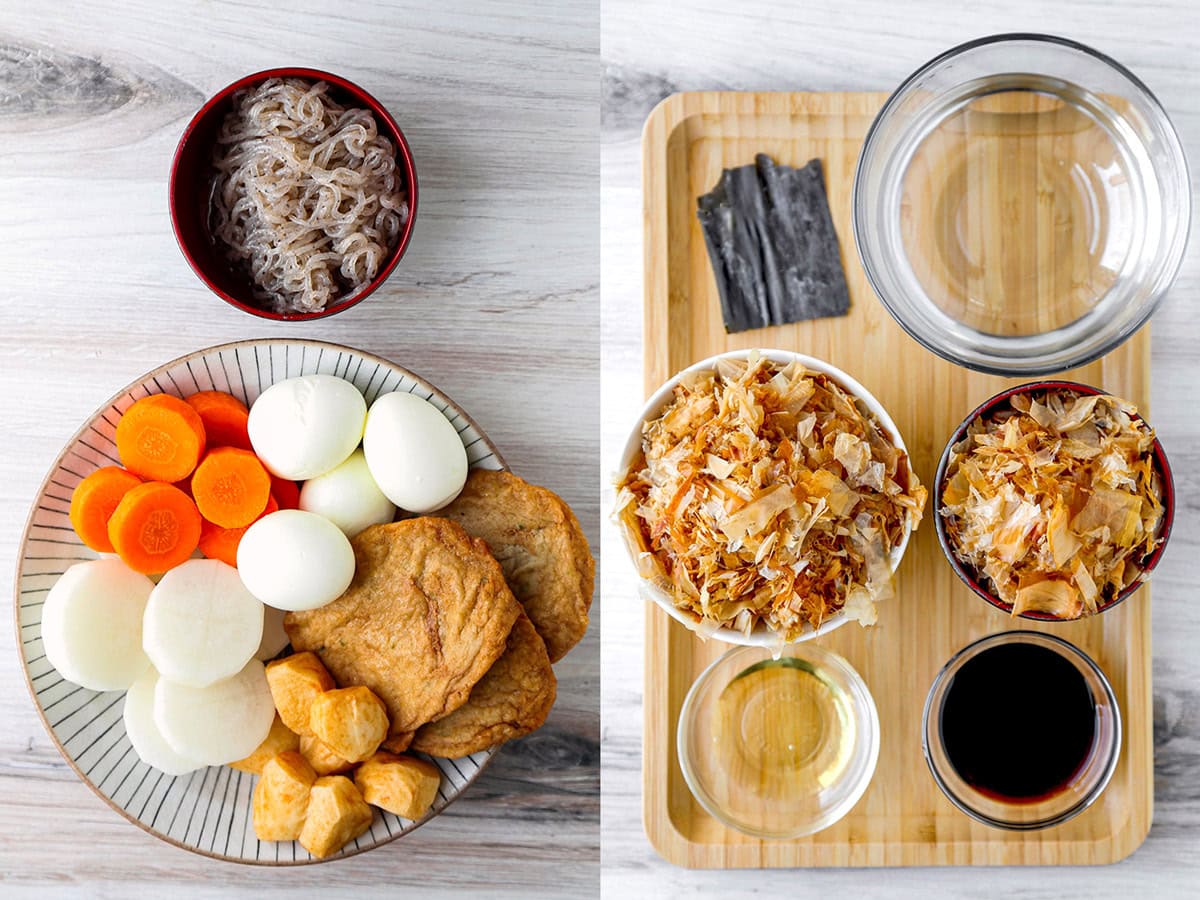 What is Konnyaku?
Konnyaku, konjac, yam cake, or shirataki (this term is only used for the noodles), is a Japanese food made from the bulb of the konjac plant. The bulb is dried, ground into a flour, and mixed with calcium hydroxide, and water. This is what gives konjac its rubbery texture. The mixture is then boiled into blocks and shaped into noodles, triangles, and various other shapes once it's cooled.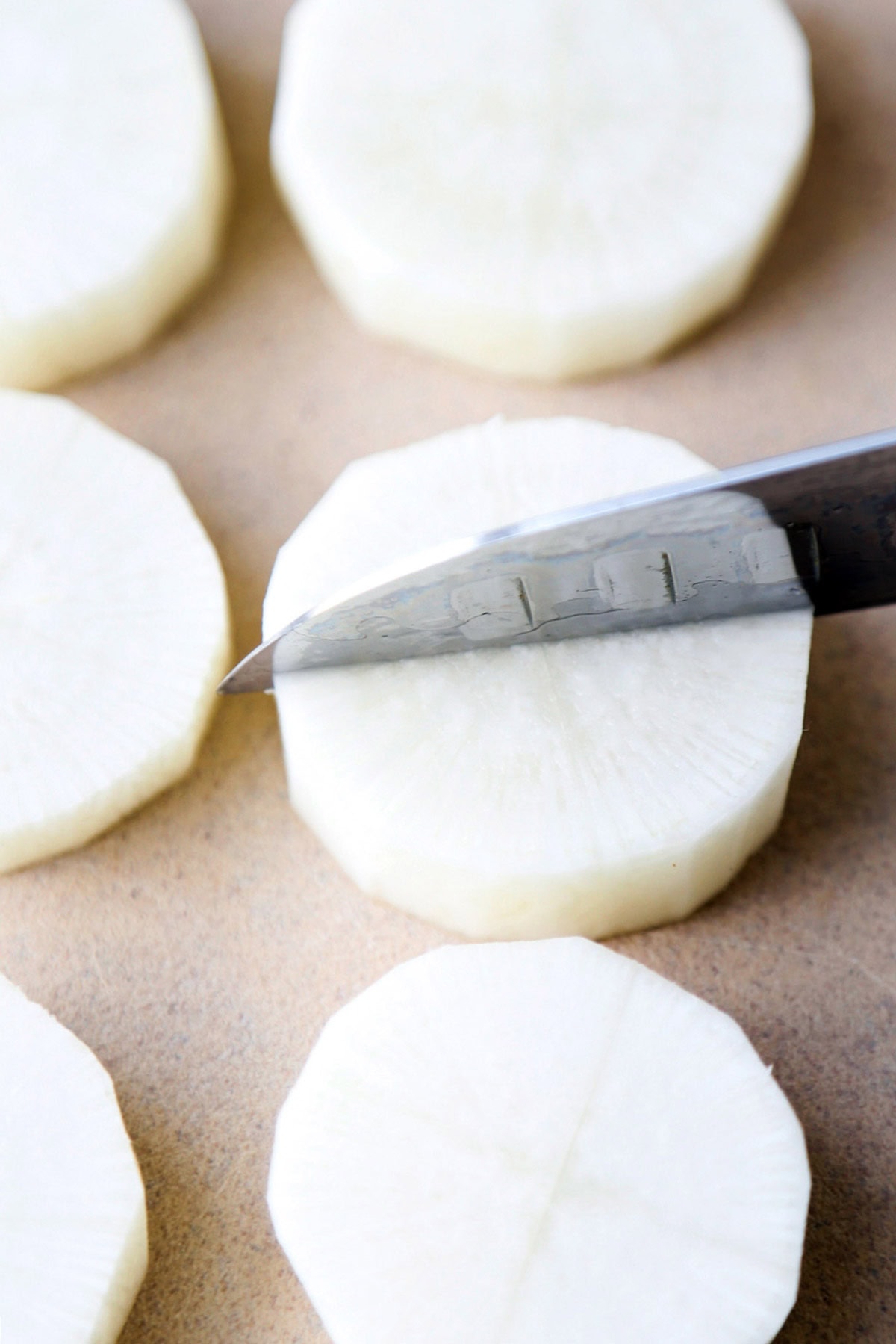 What Are Japanese Fishcakes?
Japanese fishcakes, called chikuwa (竹輪) , are a popular food made of surimi, which is a mixture of fish or other seafood pounded into a paste, combined with flour or some other type of starch, monosodium glutamate, egg, salt, and water. They are often shaped into long tubes called chikuwa, that are cut to mimic bamboo stalks, or into triangles called hanpen. They are either fried or boiled.
It should be noted that every fishcake recipe is unique and may be come in different shapes and colors, or contain other ingredients than the ones listed above.
Fishcakes are a staple not only in Japan but all over Asia. They are used in soups stews, salads, stir fries, or can be served as an appetizer or a side with a dipping sauce.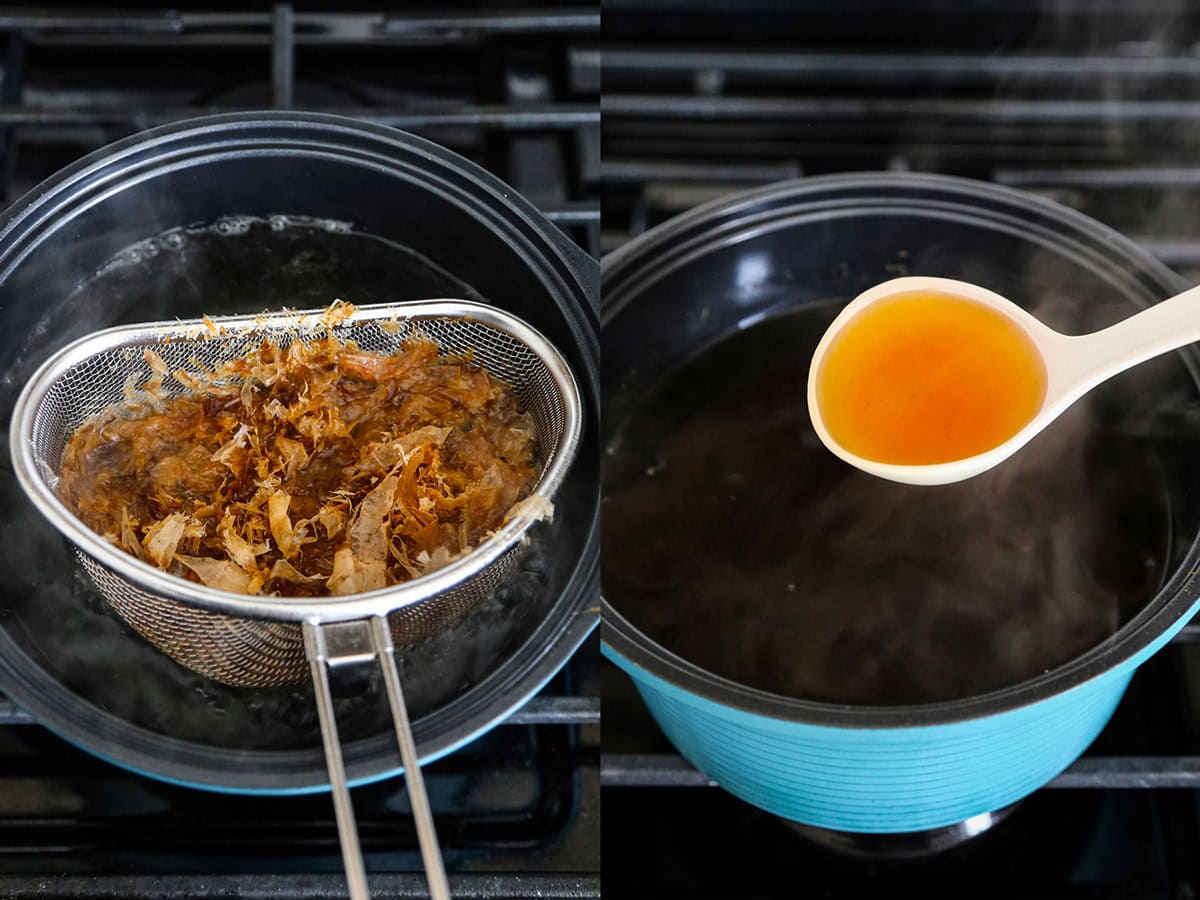 Ingredients for Oden (おでん)
Oden broth: A mixture of water, kelp, soy sauce, mirin, and bonito flakes.
Eggs: I'm using large eggs but feel free to use any type of egg for this recipe.
Daikon: When purchasing daikon, get one that feels firm and heavy, with a white exterior. A heavy daikon means that it's fresh since it's high in water content.
Carrot: Find a big carrot, one that is thick in diameter. Japanese carrots are much more thick than the North American ones, which makes them better for stewing since they take longer to cook, and don't get as mushy.
Konjac (konnyaku): You can use any type of konjac for this recipe, including shirataki noodles, which is what I'm using.
Fishcakes: This dish is all about fishcakes so make sure to use good ones! If you are not too familiar with fishcakes, ask someone at your nearest Asian grocery store for recommendations, or if you live near a Japanese supermarket, look for an oden fishcake set in the frozen section.
Karashi mustard: Using mustard is optional but highly recommended! Karashi mustard has a very distinct taste that doesn't resemble any other yellow mustard. It's made with mustard green seeds that have been crushed and sometimes mixed with horseradish. It's sold in paste or powder form.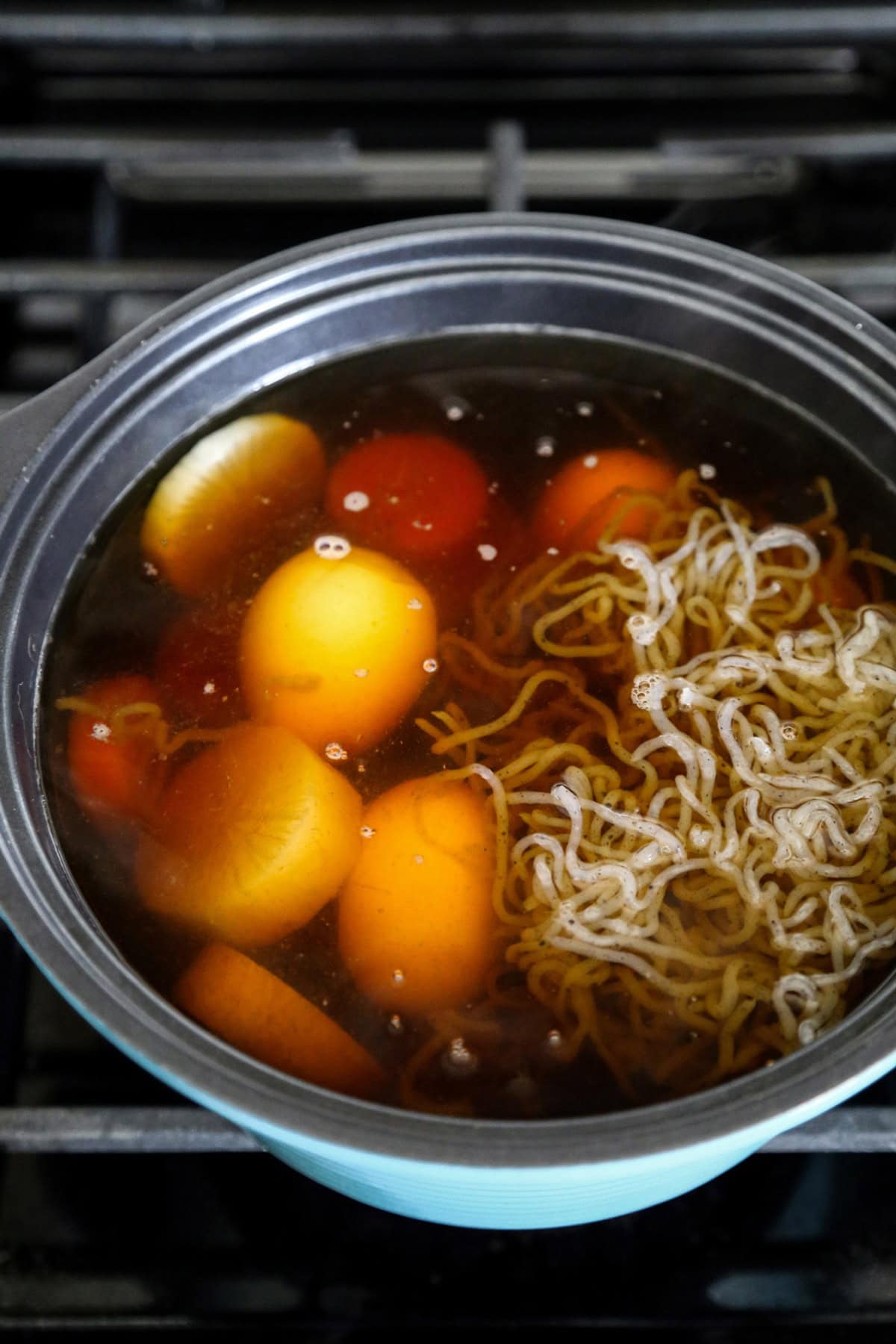 How to Make Oden
Gather all of your kitchen tools and ingredients.
Peel the daikon and the carrot and slice them into 2-inch thick rounds. Set aside.
Slice the konnyaku into small triangles and the fishcakes in half, if the patties are big.
Pour the water in a pot and add the piece of kelp. Turn the heat on and bring to a boil.
When the water starts to boil, immediately remove the kelp and set it aside. You won't need it for this dish anymore but it makes a delicious rice topping. Just slice the kelp into thin strips and fry in a pan with a little soy sauce sauce and sugar. Super yummy!
Add the soy sauce and mirin and stir. Add the bonito flakes and let them sink to the bottom. Remove the flakes with a strainer. You won't need the flakes again for this recipe but instead of throwing them away (such a waste!), use them to make an easy furikake or read this post on what to do with used bonito flakes.
Bring the broth to a boil and add the eggs, daikon, carrot, and konjac. Lower the heat to a bubbling simmer, cover, and cook for 45 minutes.
Add the fishcakes and cook for an additional 10-15 minutes. Serve with karashi mustard. Itadakimasu!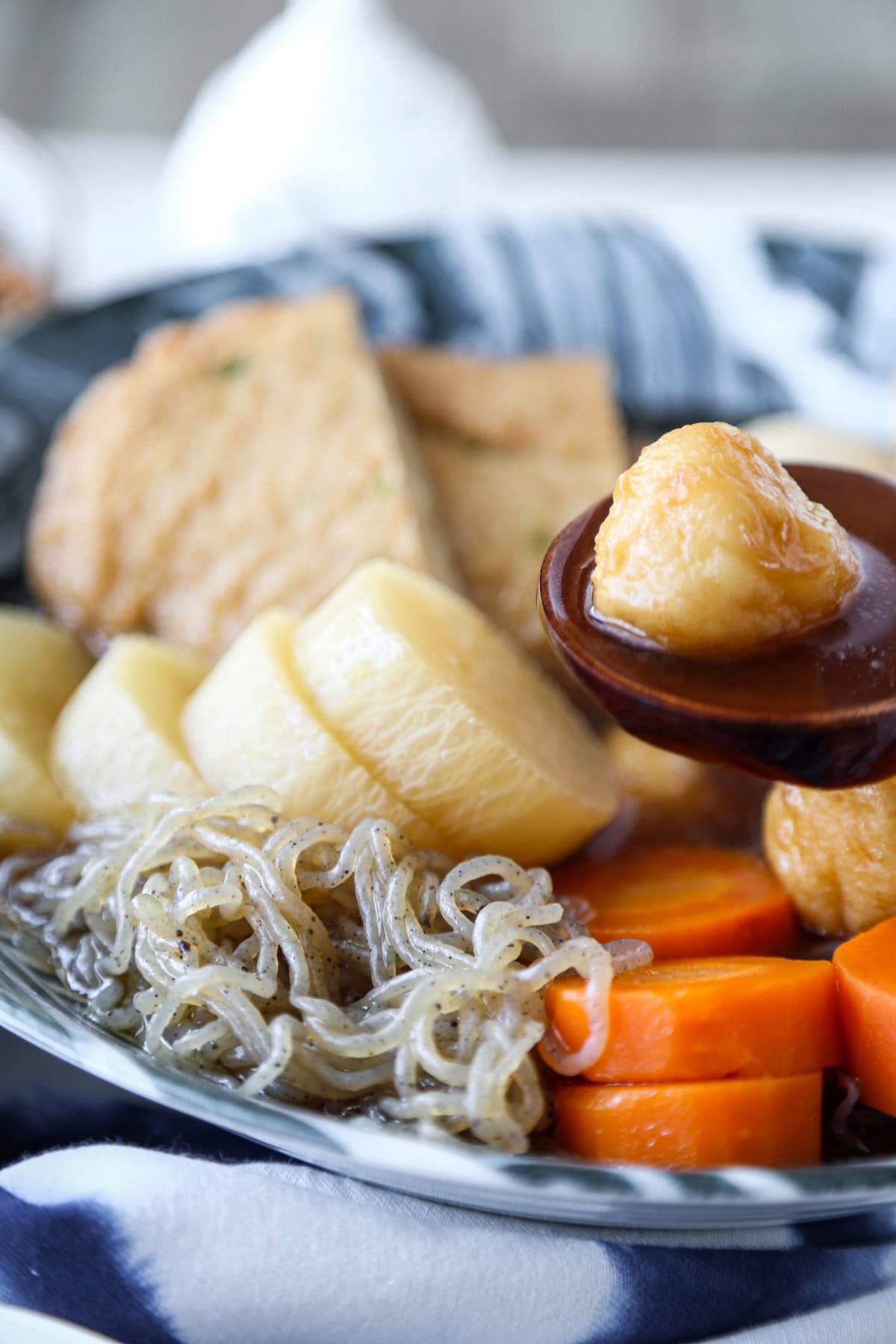 What to Serve with Oden
While oden can be served as a side, I prefer to serve it as a main because it's surprisingly filling! I like to pair this one-pot dish with smaller, lighter ones that are cleansing and refreshing. Some of my favorites are: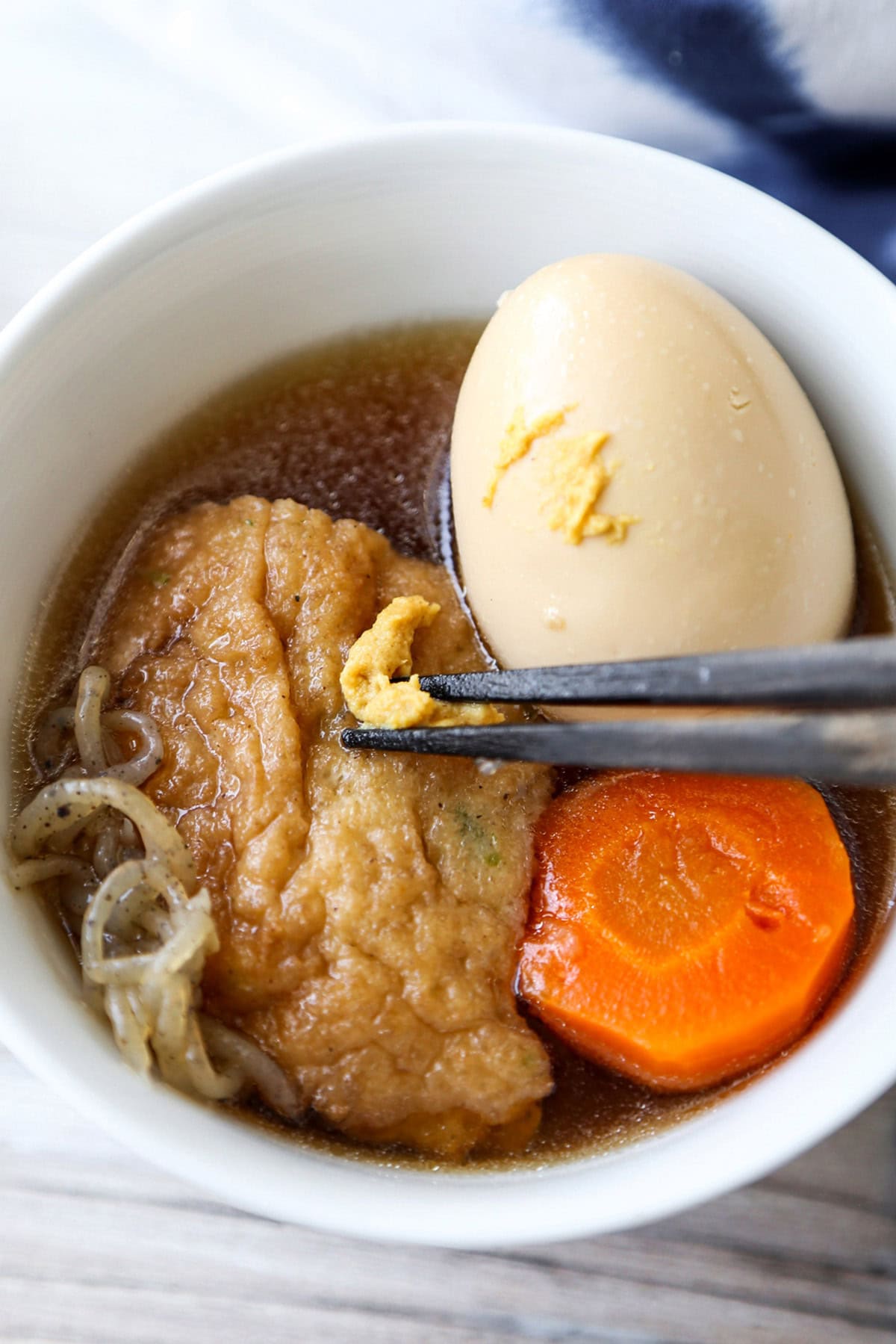 Did you like this Oden Recipe? Are there changes you made that you would like to share? Share your tips and recommendations in the comments section below!
Print
Oden (Japanese Fish Cake Stew)
Oden is a delicious a Japanese winter stew filled with vegetables, eggs, fishcakes, and konjac. 
Author: Caroline Phelps
Prep Time:

15 minutes

Cook Time:

1 hour

Total Time:

1 hour 15 minutes

Yield:

4

people

1

x
Category:

Stew

Method:

Boiling

Cuisine:

Japanese

Diet:

Low Calorie
Ingredients
4

medium or hard boiled eggs

300

g

daikon radish

100

g

carrot

7

oz

konjac, konnyaku (shirataki) noodles or block

15

oz

mix of fishcakes and fish balls
Karashi mustard (optional but recommended)
Broth
6 1/2

cups

water

4

x 4 inch square kelp

1/4

cup

soy sauce

2 1/2 tablespoons

mirin

45

g

bonito flakes
Instructions
Peel the daikon until you get to the transparent part. The skin is quite thick so if you are using a peeler you may need to go over the same area 3-4 times. Slice the daikon into 2-inch thick rounds and cut a shallow x across one side of each round. This is to help the daikon absorb the broth flavor. Set aside.
Peel and cut the carrot into 2-inch thick rounds. Set aside.
Drain the konjac and rinse under cold water. Drain again. If you are using a block, slice the konjac into bite size triangles. Set aside.
Put the water and kelp in a pot and bring to a boil. As soon as the water starts to boil, remove the kelp.
Stir in the soy sauce and mirin and lower the heat to a simmer.
Add the bonito flakes to the pot and leave until all of the flakes have sunk to the bottom. Remove the bonito flakes with a strainer and set aside. Don't throw it away! There are a couple of easy recipes you can make with the used flakes, scroll down to the notes to see.
Add the eggs, daikon, carrot, and konjak to the broth and bring to a boil. Lower the heat to a bubbling simmer and put the lid on. Cook for 45 minutes.
Add the fish cakes and fish balls and cook for an additional 10-15 minutes.
Serve oden in bowls and with a little karashi mustard for some heat.
Notes
To store: Transfer the oden to an airtight storage container and refrigerate for up to 3 days.
Nutrition
Serving Size:

1 serving

Calories:

289

Sugar:

6.2g

Sodium:

1456.3mg

Fat:

7.8g

Saturated Fat:

1.6g

Unsaturated Fat:

1g

Trans Fat:

0g

Carbohydrates:

29.8g

Fiber:

2.7g

Protein:

9.1g

Cholesterol:

200.6mg
Keywords: hot pot, nabemono
Recipe Card powered by