Healthy, refreshing and good for your bikini body! This ice cold shirataki noodle soup topped with sweet pear and spicy kimchi is only 222 calories per servings and filling enough to be served as a main!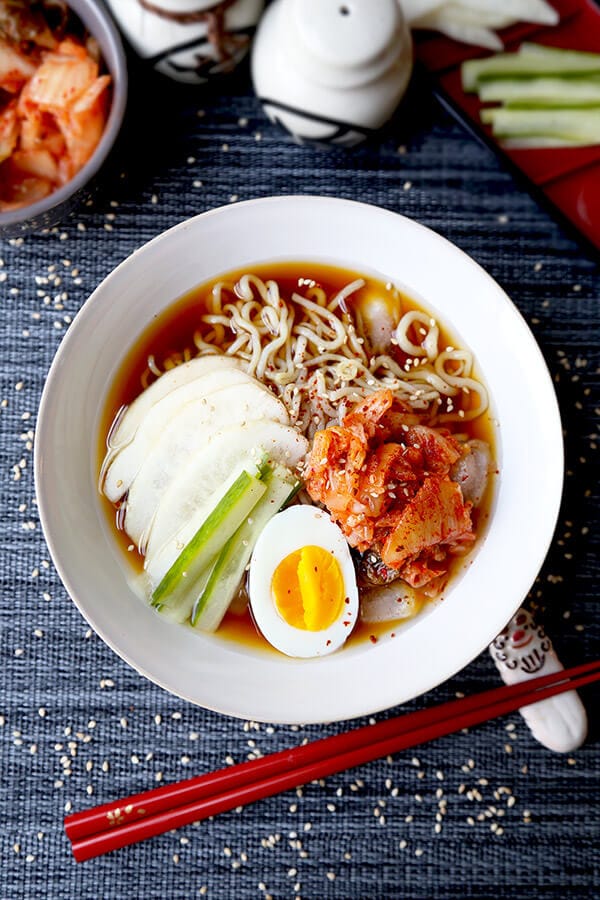 This Cold Shirataki Noodle Soup post is sponsored by House Foods.
Cold Shirataki Noodle Soup (Naengmyeon)
These past couple of weeks have been hot and humid. It's the ideal weather for plopping my butt somewhere on a white sandy beach while drinking lemonade and dozing off to the sound of the gentle ocean breeze. But the reality is I am idly slouching on the couch wearing short shorts, with nary a desire to cook hot food in a hot kitchen. Beside, I've been craving cold noodles almost every day: udon, soba, somen or ramen served with a sweet and savory tare sauce with ice cubes, scallions and shredded nori. So satisfying!
And lately I have become addicted to a Korean cold noodle soup called naengmyeon. It's a traditional Korean dish made of sweet potato noodles and beef briskets served in a cold beef broth. I know, the thought of having cold beef broth and briskets doesn't sound very refreshing. But top them with slices of Asian pear and cucumber, a few drizzles of white vinegar and some ice cubes and you have a dish that screams summer in a bowl! It feels so cleansing and the tart and sweet flavor combo is something I could drink all day long.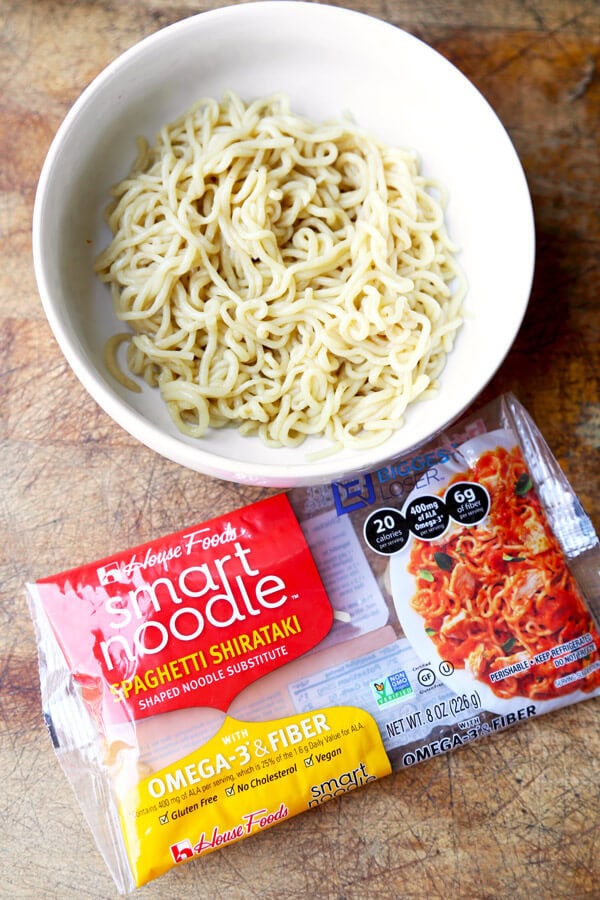 My recipe is a slight departure from the original as I am using vegetable broth instead of beef, and substituting sweet potato noodles for Smart Noodles. Smart noodles are House Foods' newest type of shirataki noodles made with the classic yam flour and with added milled flaxseed, oat and rice bran fiber. They are packed with Omega-3 and fiber and contain only 20 calories per serving. They are also vegan, gluten free and have a texture very similar to whole wheat pasta. And yes, they taste great!
If you cannot find Smart Noodles, that's not a problem: swap them for House Foods Tofu Shirataki Noodles. They are just as good, have even less calories per serving (10 calories) and are widely available.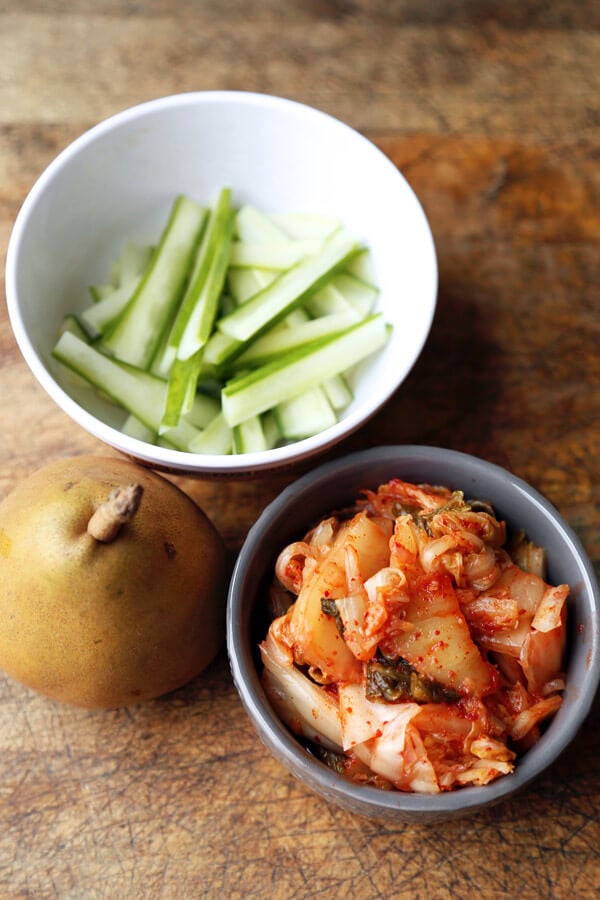 There is one more bonus to using shirataki noodles as opposed to regular noodles in soups; they never get soggy. There's been instances when I made myself too big a bowl of pasta and ended up having to throw away good food because the texture had gone all mushy. Well, that never happens with shirataki noodles. Last week, while I was happily slurping on this yummy naengmyeon soup, I received a last minute audition I had to attend. I left my half eaten dish on the table, took the train into the city and came back to it an hour and half later. Okay, so the pears had absorbed the flavor of the broth, but that was actually a good thing. The noodles? Strong, chewy and bouncy!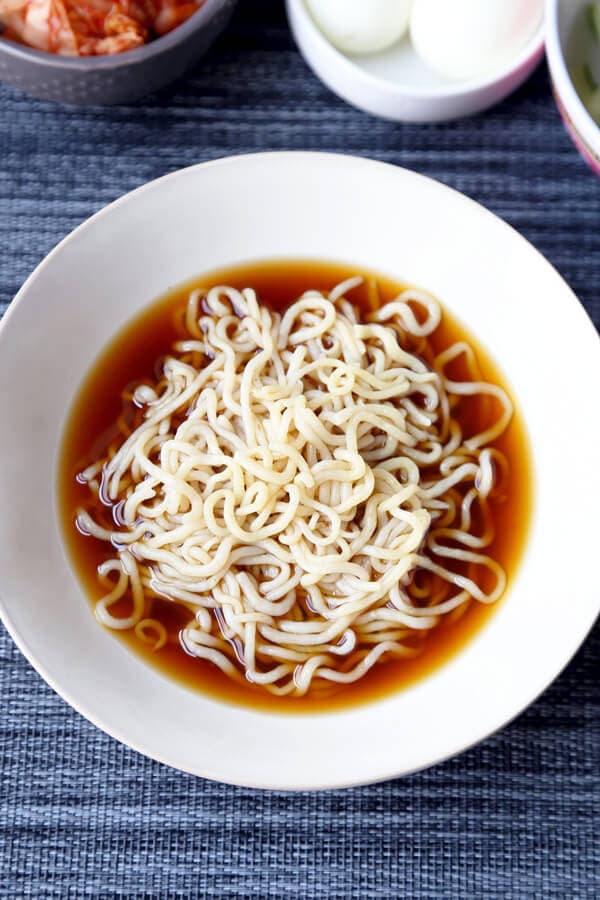 This cold shirataki noodle soup takes less than 20 minutes to make and you won't believe how flavorful the broth is. It's sweet, tart, ice cold and unbelievably cleansing. It's the Korean equivalent of gazpacho soup. With less than 222 calories per serving, this bowl of shirataki naengmyeon soup will become your go-to meal to keep you cool this summer!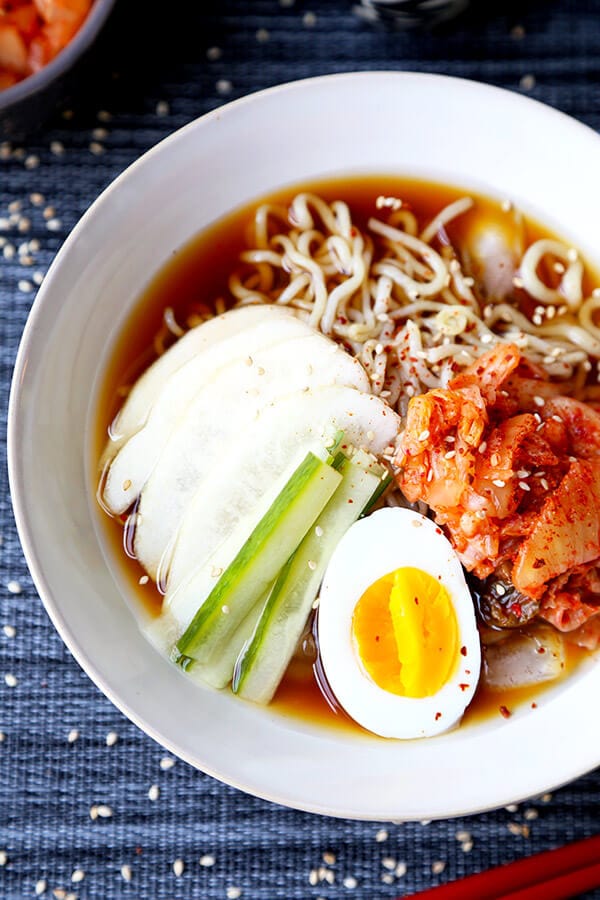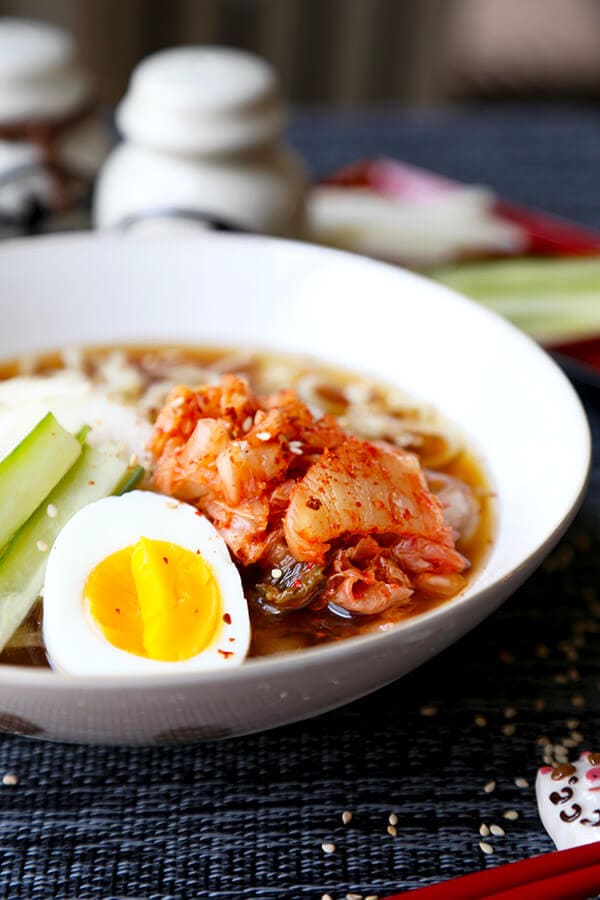 Did you like this Cold Shirataki Noodle Soup Recipe? Are there changes you made that you would like to share? Share your tips and recommendations in the comments section below!
Print
Cold Shirataki Noodle Soup (Naengmyeon)
This ice cold shirataki noodle soup topped with sweet pear and spicy kimchi is only 222 calories per servings and filling enough to be served as a main!
Prep Time:

10 minutes

Total Time:

10 minutes

Yield:

2

people

1

x
Category:

Healthy, Noodles, Soup

Cuisine:

Korean
4 cups

vegetable broth

2 teaspoons

granulated sugar

2 teaspoons

kosher salt

1

package shirataki smart noodles spaghetti or regular shirataki noodles

1 cup

kimchi (chopped)

1/2 cup

cucumber (peeled, seeded and sliced into sticks)

1

Asian pear (peeled and sliced into thin slices)

2

eggs (boiled and sliced in half)

2 teaspoons

rice vinegar (or cider vinegar)

2 teaspoons

white vinegar
Ice cubes
sesame seeds (optional)
chopped scallions (optional)
Instructions
Put vegetable broth, sugar and salt in a pot and bring to a boil. Lower heat and simmer for 15 minutes, uncovered. Turn the heat off, transfer the broth to a bowl and refrigerate until cold (about an hour).
Drain shirataki noodles and rinse a few times to remove the odor. Drain and set aside.
Put Asian pear in a bowl of water with a little salt to prevent the slices from browning. Drain right before using.
When the broth has cooled down, divide it among two bowl and add shirataki noodles.
Top with cucumber, Asian pear and boiled eggs.
Add 2 teaspoon white vinegar to each bowl and sprinkle with sesame seeds and scallions.
Stir and serve immediately.
Recipe Card powered by