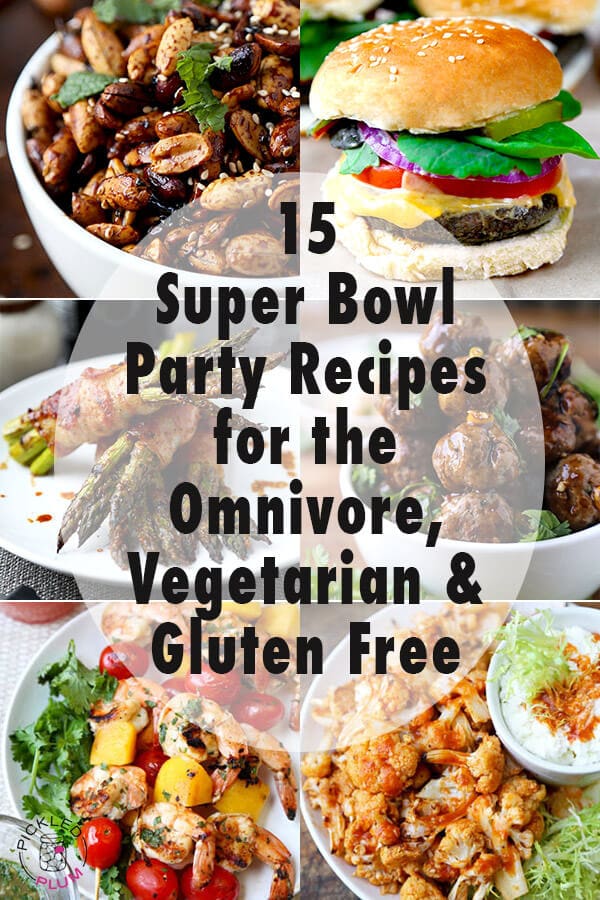 15 Easy Super Bowl Party Recipes
Super Bowl Sunday is kind of a big deal! And if your team is in it this year – congratulations! For a die-hard fan with a head full of stats, a sweet vintage jersey from the 80s and a war-painted face, it's like church. For many others, it's the one game a year they watch. Whether it's the big game itself, the hilarious and irreverent commercials or the bombastic halftime show, people are gonna tune in (likely at your friend's place who happens to have the bazillion-inch TV, right?). Well… what are you gonna eat?
Now, there's absolutely no shame in dipping tortilla chips into a gallon of jarred queso dip all day. It's delicious. But it used to be difficult to stay vegetarian on Super Bowl Sunday. Don't worry, I've got you. It can be tough to stick to a gluten-free diet on game day as well. Got that too! And – of course I've got snacks for the omnivores! Think of this as your one-stop-shop for your upcoming Super Bowl game day feast.
Omnivore Super Bowl Recipes
1.VIETNAMESE BEEF BALLS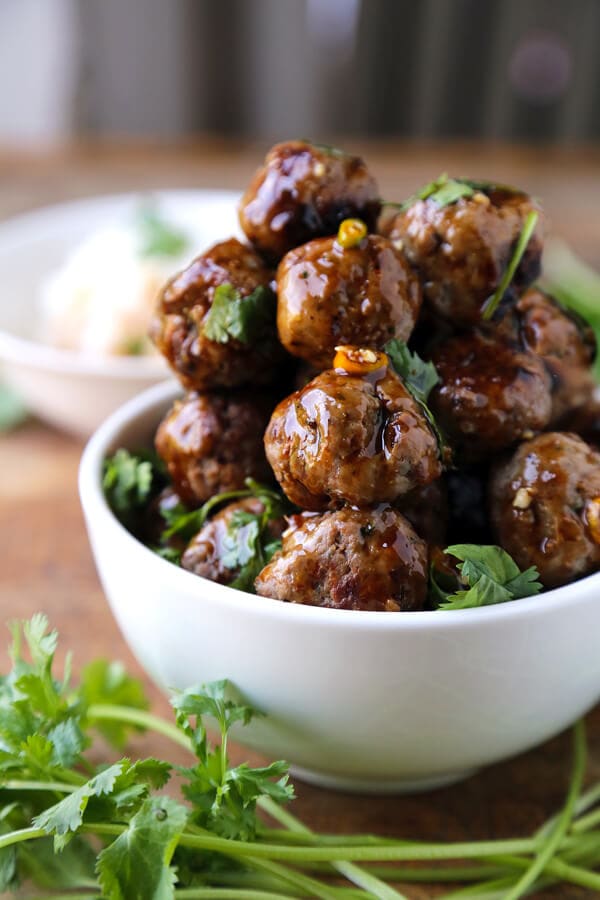 Quick, get the toothpicks! These Vietnamese meatballs are super easy to make, loaded with flavor and tailor-made for a big get-together in front of a huge TV. The meatballs are moist and flavorful – and the hoisin dipping sauce is equal parts sweet, savory and spicy! GET THE RECIPE
2. Thai Pork Chop Crackers with Chili-Lime Mayonnaise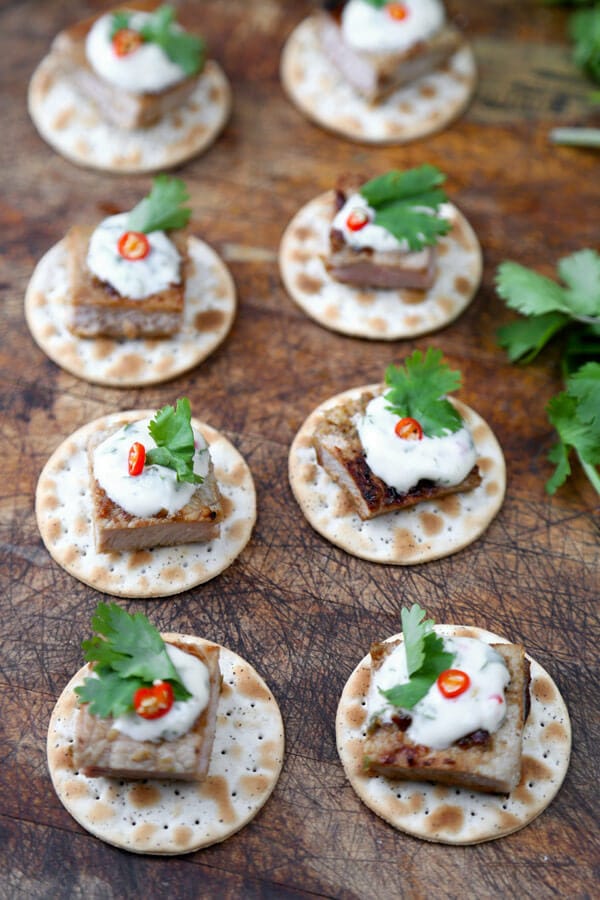 Digging in to a Thai pork chop can be a transformative experience. Slicing it thinly, putting it on a cracker and topping it with a creamy chili-lime-mayo, a bit of cilantro and fiery Thai chili is a flavor bomb that might have your guests paying more attention to the food than the game. GET THE RECIPE
3. Bacon Wrapped Asparagus with Honey Miso Glaze
There is nothing subtle about the flavor profile of these bacon wrapped asparagus bunches. Bacon is already smoky, salty and umami. But brush a glaze of honey, miso and black pepper on top of everything and you've got a charred asparagus dish with so much flavor that there may just end up being a flag on the play! GET THE RECIPE
4. Bisquick Sausage Balls with Thyme and Parmesan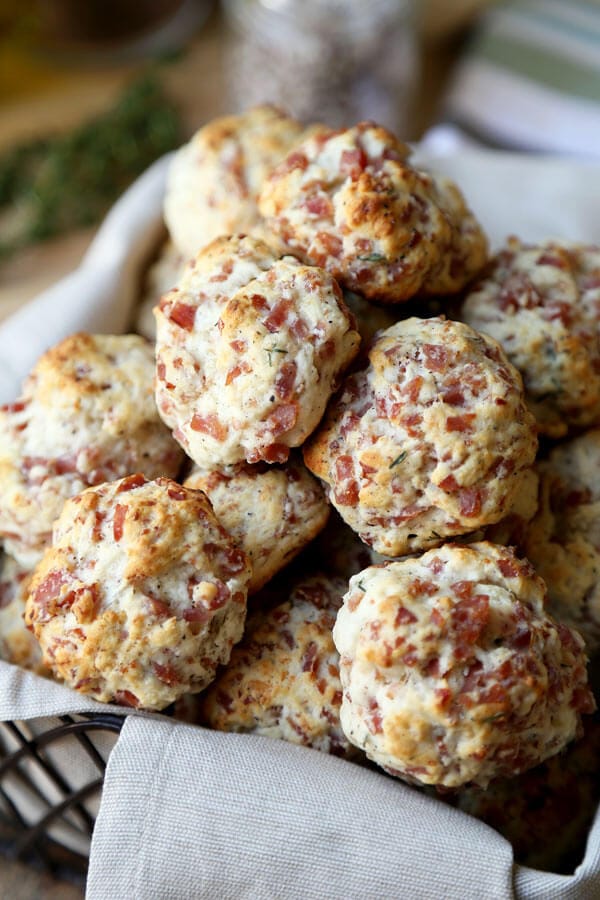 I'm a sucker for biscuits. The addition of sausage, thyme, parmesan and maple syrup (yes, you read that right!) to the mix creates a savory, smoky and sweet biscuit that is greater than the sum of its parts. Careful, these will be gone before halftime! GET THE RECIPE 
5. Baby Back Ribs (Japanese Style)
If you plan to have ribs at your Super Bowl blowout, these Japanese style ribs will surely be a hit! Tender, but not fall-off-the-bone (think Chinese spare ribs in terms of texture), these pan-fried ribs make the perfect portable finger food. Things are bound to get crazy when touchdowns are scored and penalties are called, so… stay well clear of the cream-colored sofa! GET THE RECIPE 
Vegetarian Super Bowl Recipes
1. Healthy Red Potato Salad
My Canadian roots have me craving poutine on a regular basis. This healthy red potato salad is what I make when I need potatoes but don't really want to ingest a gut-bomb. Mustard and sun-dried tomatoes bring a real zing, and the freshness of the peas makes the whole thing pop. GET THE RECIPE
2. Mushroom Barley Burger with Sriracha-Miso-Mayo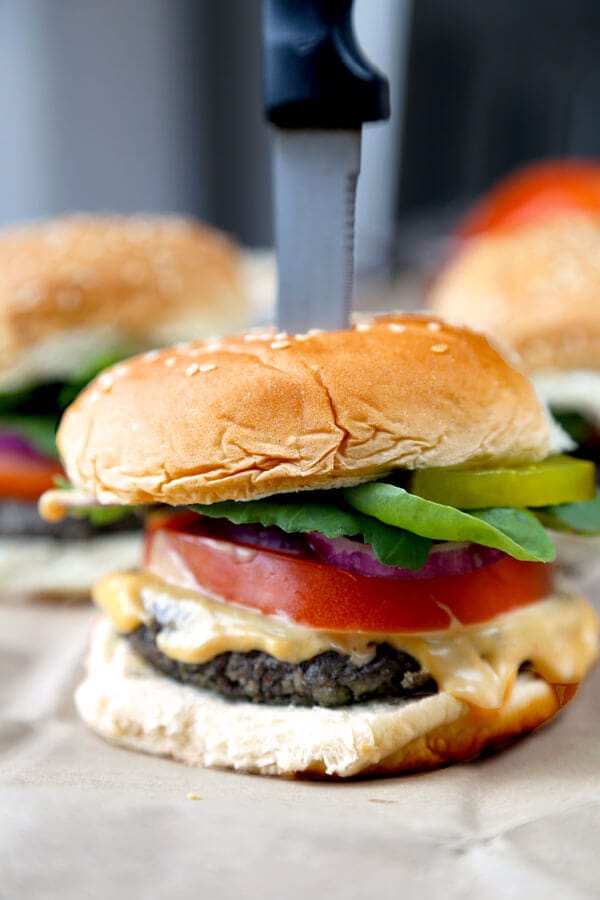 What would a proper Super Bowl party be without a burger of some type? Answer: sad-face. But who says those burgers have to be meat based? Answer: no one said that! Mushrooms and barley form the rich, umami basis of the patty – and then everyone gets to go wild with the toppings! Sriracha mayo with miso is the final touch that elevates these burgers to true game-day brilliance. GET THE RECIPE 
3. Simple Fresh Salsa Recipe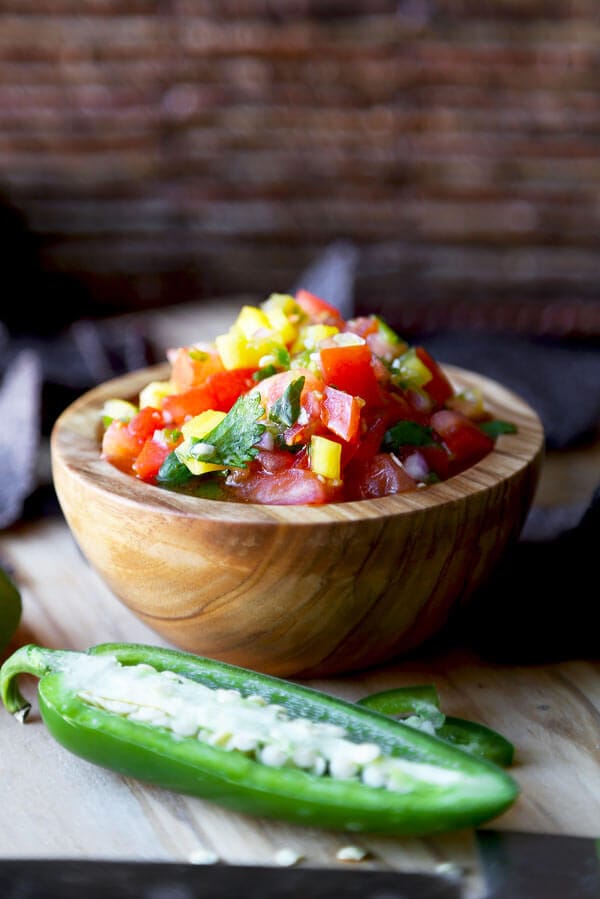 There are sure to be chips in various forms at your Super Bowl bash. What are you gonna scoop with those eight bags of tortilla chips your friends brought? This super fresh, bright salsa is crazy simple to make (only 15 minutes of prep) and much better than the store-bought version! GET THE RECIPE 
4. Edamame Hummus with Cilantro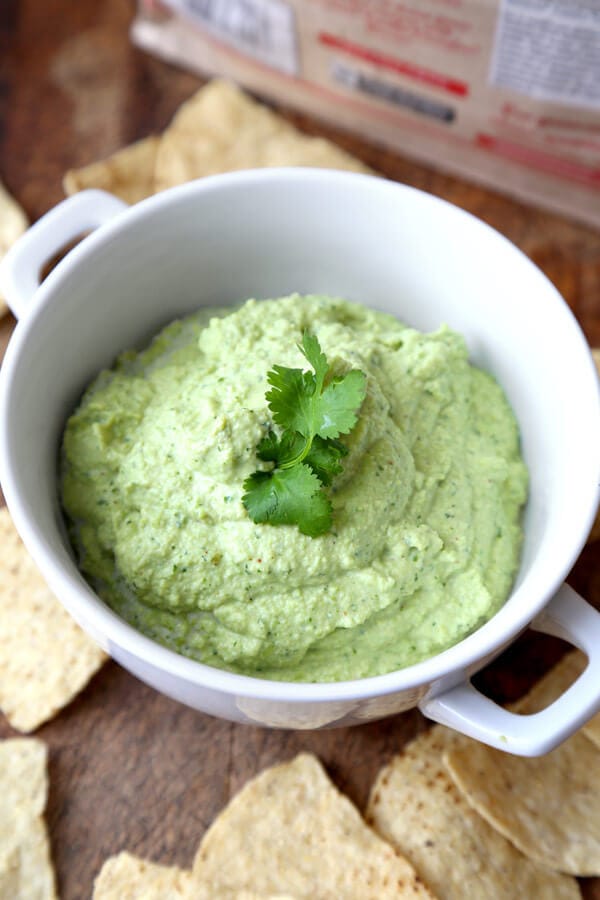 This green variation of hummus gets its color from edamame beans! Not only is it packed with nutrition, it tastes delicious. My hubby calls this stuff hummus guacamole because of the color – but don't be fooled! Switching out chickpeas for edamame is sort of like bringing special teams out to punt on 4th down – but then passing for a 30 yard TD! GET THE RECIPE
5. Salt and Vinegar Kale Chips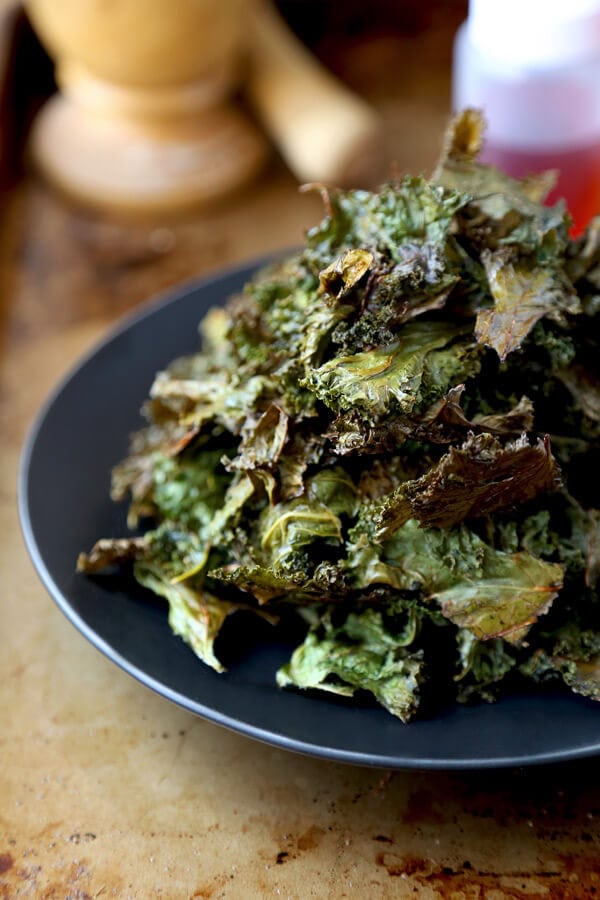 Nothing will ever truly replace a bag of salt + vinegar flavor Lay's potato chips. But trust me when I tell you that these Salt and Vinegar Kale Chips do an insanely good job of trying. The light, crispy texture is complimented by a punch of flavor that is right in line with what you're looking for when you open a bag of chips. In fact, if you aren't looking, you could easily be fooled into thinking that you're eating a bag of the good stuff. Added bonus: these kale chips are mega healthy! GET THE RECIPE
Gluten Free Super Bowl Recipes
1. Baked Potato Chips with Paprika and Salt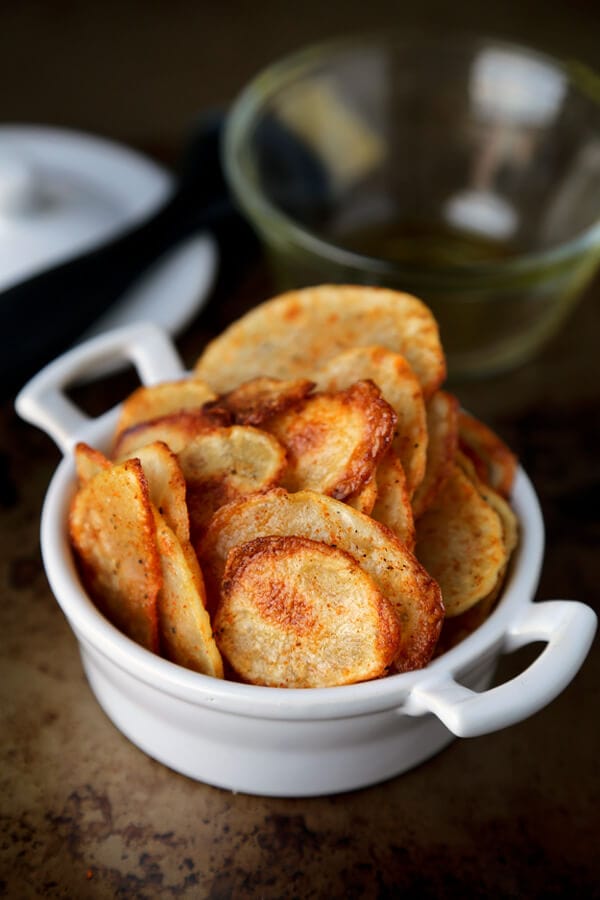 Do you have a mandolin? Get that bad boy out of storage! Everyone knows baked chips are way better for you than the fried variety – but they also happen to be incredibly delicious. Dusted in plenty of salt and paprika (you can use Old Bay as well if you like), these chips have a great crunch and flavor to them. What's more Super Bowl party ready than a big serving of chips anyway?! GET THE RECIPE 
2. Sweet Vinegar Peanuts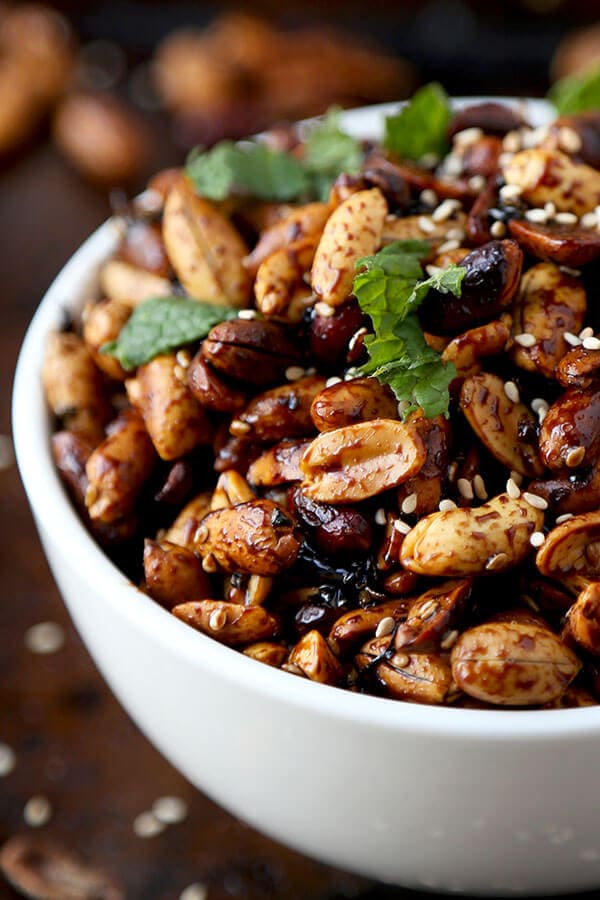 Running late and your guests are arriving soon? These addictive sweet, sour and salty peanuts take 15 minutes from start to finish. This recipe is based on the candied walnuts you get at the end of your meal at Chinese restaurants. Cilantro and mint bring a brightness to the peanuts and elevate the flavor profile. Total win! GET THE RECIPE 
3. Honey Sriracha Deviled Eggs with Bacon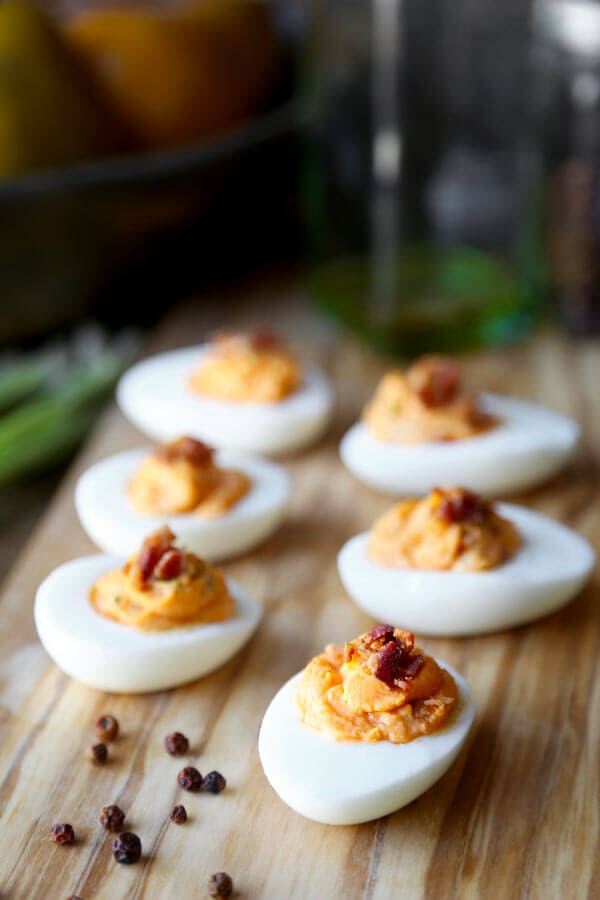 Watch out for my husband! At social gatherings he has been known to camp out right by the tray of deviled eggs. When he's around, these things disappear FAST. The sriracha and honey bring a sweet heat – and bacon does what it does best and imparts an unreal salty smokiness to the mix. GET THE RECIPE
4. Sriracha Buffalo Sauce with Grilled Cauliflower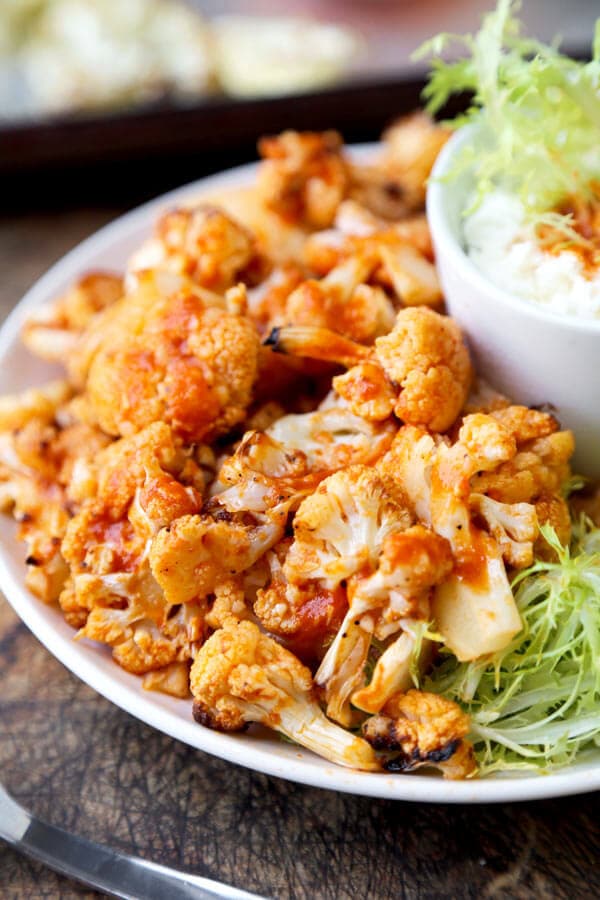 Nothing says Super Bowl Sunday like a plate of Buffalo wings. And you can totally use this sauce on wings if you prefer. I've used charred cauliflower for this recipe because I love the flavor (and health benefits) – and the veggie's texture pairs perfectly with the spicy, vinegary blast from the piquant Buffalo sauce. GET THE RECIPE
5. Vietnamese Grilled Shrimp Marinade Recipe
If you plan to fire up the grill on Sunday (or at least have a grill pan) your guests will love you! Kebabs are a perfect vehicle for food when people plan to be staring – and shouting – at the TV. The options for what you put on your skewers are endless, but this awesome Vietnamese marinade pairs perfectly with shrimp. The fish sauce (use Red Boat to keep it gluten free), brings a deep, salty, complex flavor which is slightly tempered and brightened by the lime. Total homerun… um, I mean touchdown! GET THE RECIPE