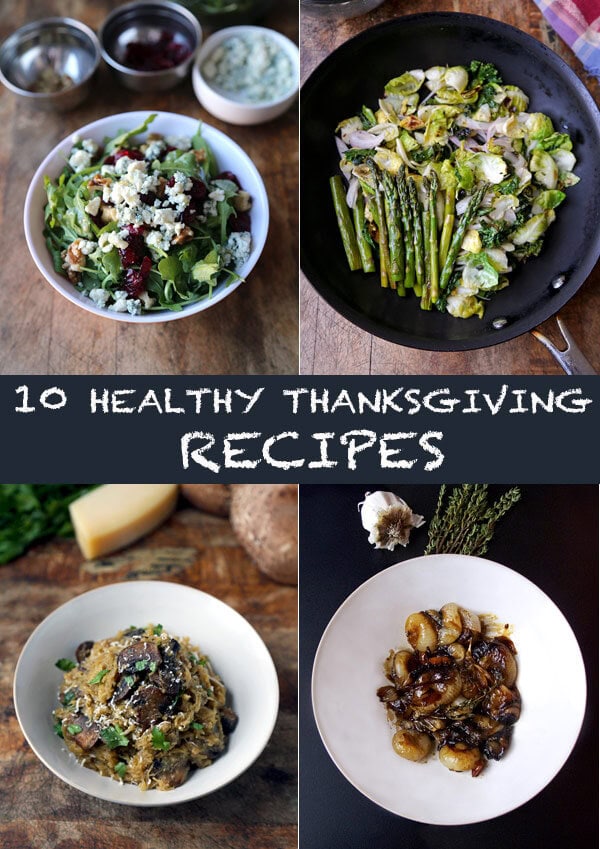 10 Healthy Thanksgiving Recipes
Thanksgiving will soon be upon us and while we all look forward to spending time with our families and friends, we will also be feasting on high caloric foods and fatty desserts that will in turn make us feel guilty – way too guilty! So why not add a few healthy options as part of your Thanksgiving spread this year? And you don't have to worry about your guests turning their noses up either – Here are 10 healthy Thanksgiving recipes so flavorful and hearty, no one will know the difference!

When I think about healthy Thanksgiving recipes, I think of root vegetables. These fall vegetables are baked in the oven, topped with crumbled goat cheese and dressed in a simple vinaigrette of olive oil, balsamic vinegar and red wine vinegar. The natural sweetness of the parsnips and leeks really shine through here and pair extremely with the acidic notes of the dressing.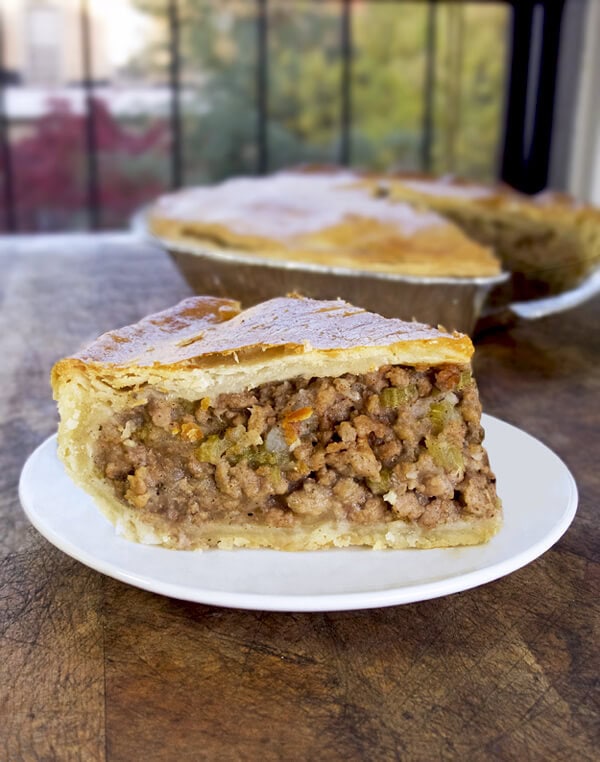 Meat pies are one of my favorite Thanksgiving dishes! I dream about flaky golden crust, savory ground meat and gravy, plenty of gravy… Drool! For this meat pie I am using lean ground turkey and adding more veggies to the filling. The result is absolutely delicious! The flavors are pretty much the same as if you used beef or a mixture of beef and pork but with less fat. This recipe proves that healthy thanksgiving recipes can be just as delicious as decadent ones!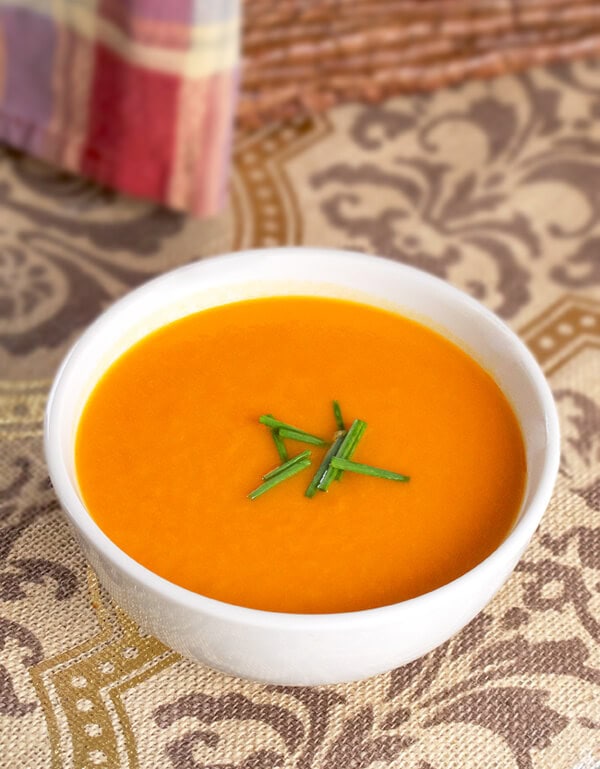 No Thanksgiving dinner is complete without sweet potatoes! Sweet potatoes are packed, and I mean jam-packed with vitamins and nutrients so it's good to eat them as often as we can. But if like me, you don't like the taste of these orange tubers, disguising their sweetness can make the world a difference! This soup is more savory than sweet and the hint of heat adds even more depth of flavor. I'm not big on sweet potatoes but I love this soup.

Many people complain about how stinky, bland and mushy Brussels sprouts can be. Why not re-introduce your family to Brussels sprouts that have plenty of flavor and crunch? This is one of those healthy Thanksgiving recipes you can make all year round and never get tired of. The cooking process is simple; the vegetables are briefly baked in the oven and finished in the pan with a drizzle of olive oil and a dash of white wine vinegar. Simply spectacular.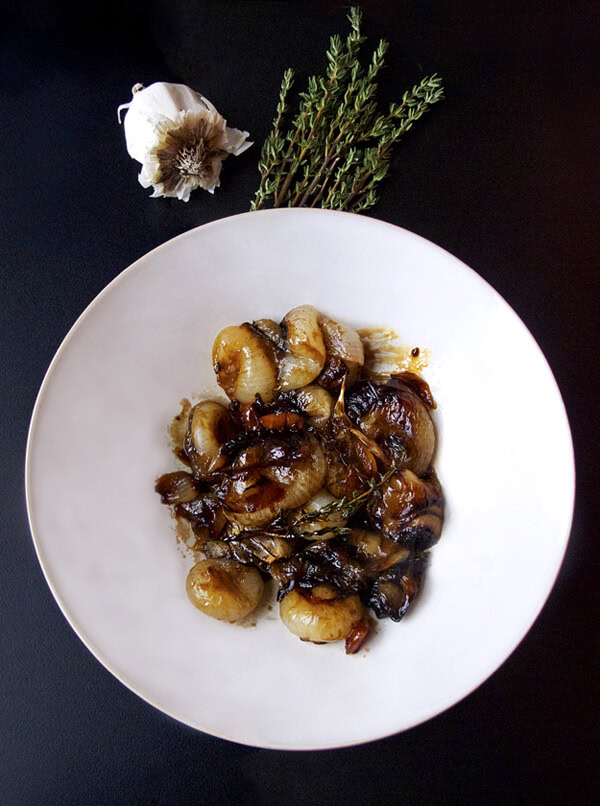 Not only are these cipollini onions delicious but look at them! They are gorgeous too! Taken from Thomas Keller's Ad Hoc cookbook, these onions are very easy to make and will compliment any turkey or other main protein to a tee. These onions are sweet and so tender they almost melt in your mouth.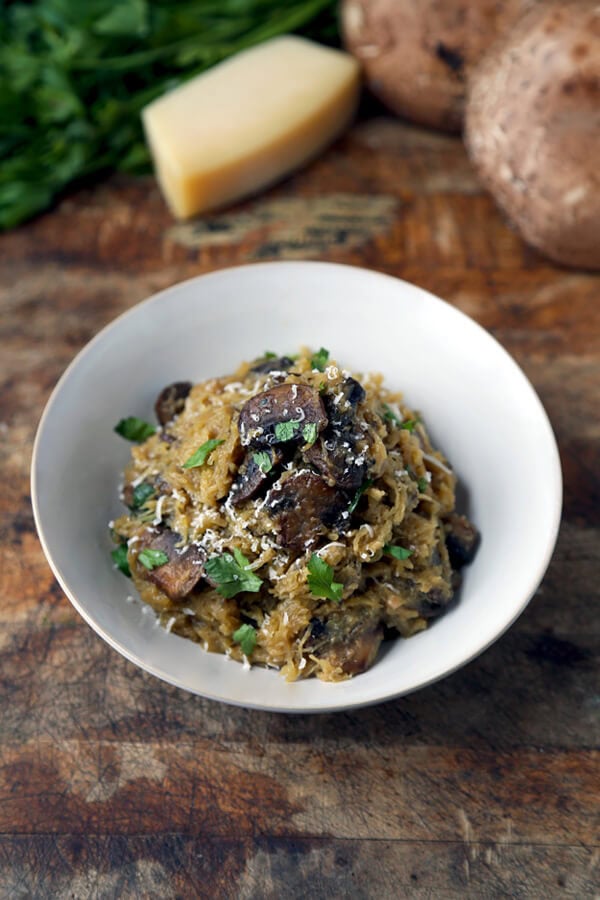 This recipe is a winner among the Pinterest crowd (pinned over 23,000 times)! It is also one of the most popular posts on Pickled Plum and one of my favorite spaghetti squash recipes. The dish is very simple but so tasty! I baked the spaghetti squash, scraped it with a fork and mixed it with parmesan cheese, fresh thyme and parsley. Lastly, I topped the squash with fried mushrooms. The result is a side dish that's very earthy, savory and hearty to the core.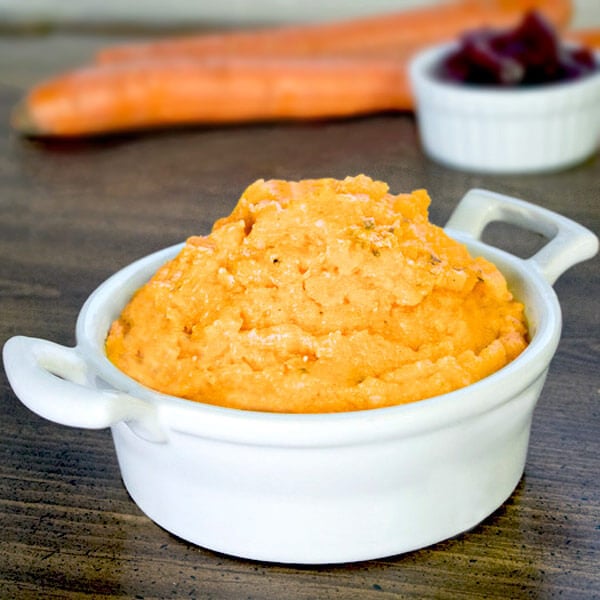 Creamy mashed potatoes are great but most often they are ladened with butter and cream which makes for a heavy side dish. This sweet potato and squash puree is the healthy alternative to buttery mashed potatoes. No cream or butter is used for this recipe – Only chicken broth and plenty of love. 🙂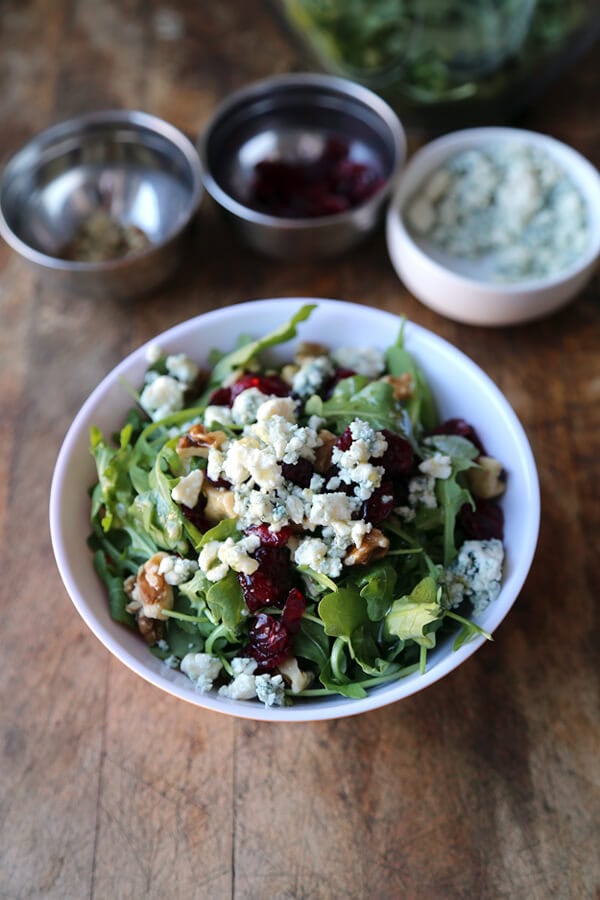 Peppery arugula pairs so well with pungent blue cheese don't you think? To offset the strong flavor of these two ingredients I've added some sweet dried cranberries and a few chopped walnut for crunch. And there you have it; a salad that's both festive and healthy!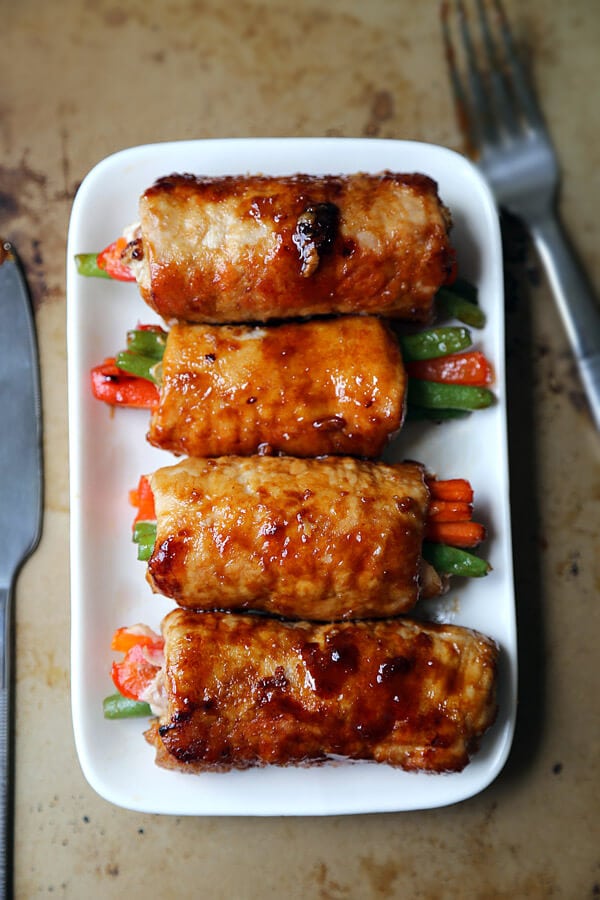 Crunchy red bell peppers, green beans and carrots are wrapped in lean pork cutlets and cooked in teriyaki sauce for this dish. All the healthy Thanksgiving recipes on this list have been quite rustic and Western so I thought adding one with a Japanese twist would be fun! And it comes with a video tutorial too!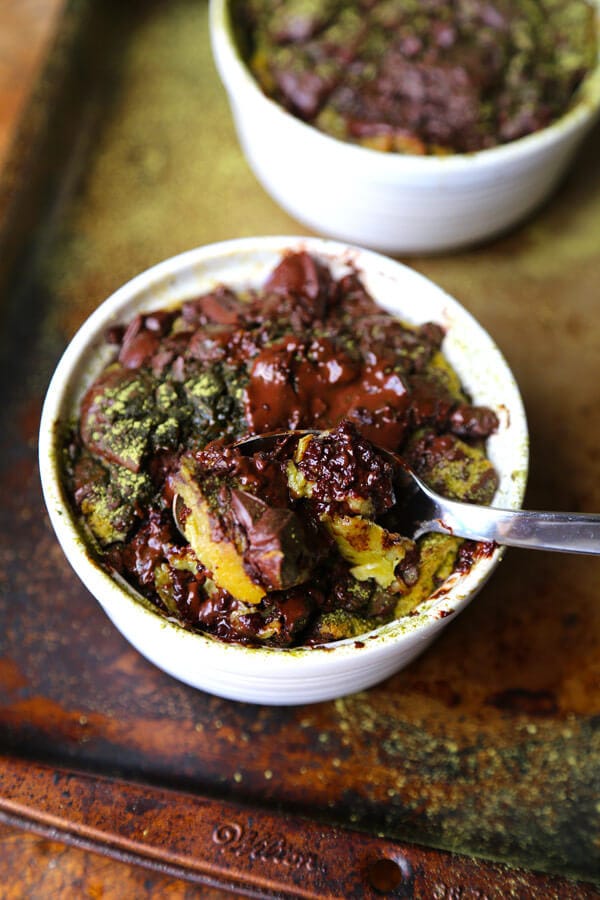 My list of 10 healthy Thanksgiving recipes couldn't end without a dessert of course! This is one of my husband's favorite since he isn't big on sweets. I would call this an adult and fancy version of the classic bread pudding. Only a little butter is used in this dessert and I'm using dark chocolate instead of milk chocolate to keep the sugar content low. The green tea powder looks stunning while adding a grassy and floral element to the dish.