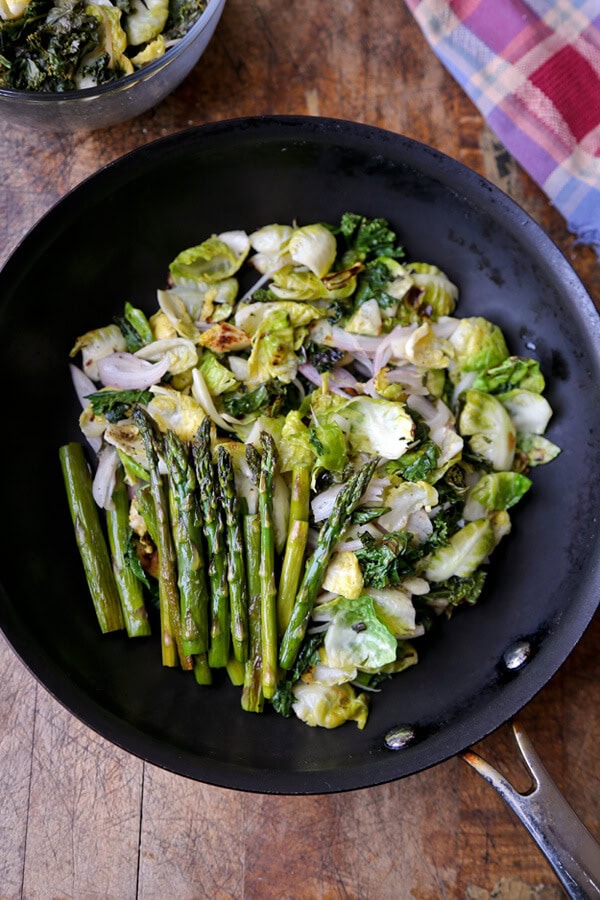 Brussels sprouts salad with kale and asparagus recipe
After months of brutally cold weather, the warmth of the sun is finally back to kiss my cheeks and lift up my spirits. This also signifies a year since we have moved to Brooklyn and I cannot tell you enough how much I am in love with our neighborhood! I am giddy with excitement at the thought of being able to take longs walks and explore all the new spots that have opened since fall. Not only does it smell like spring time, it feels and looks like it too.
When the weather is this perfect, Ben and I enjoy going out for lunch at one of our favorite laid back joint, Flatbush Farm. It's there that I developed an obsession for warm brussels sprouts salad drizzled with vinegar. I fell so deeply in love that I started making weekly visits to satiate my craving for it.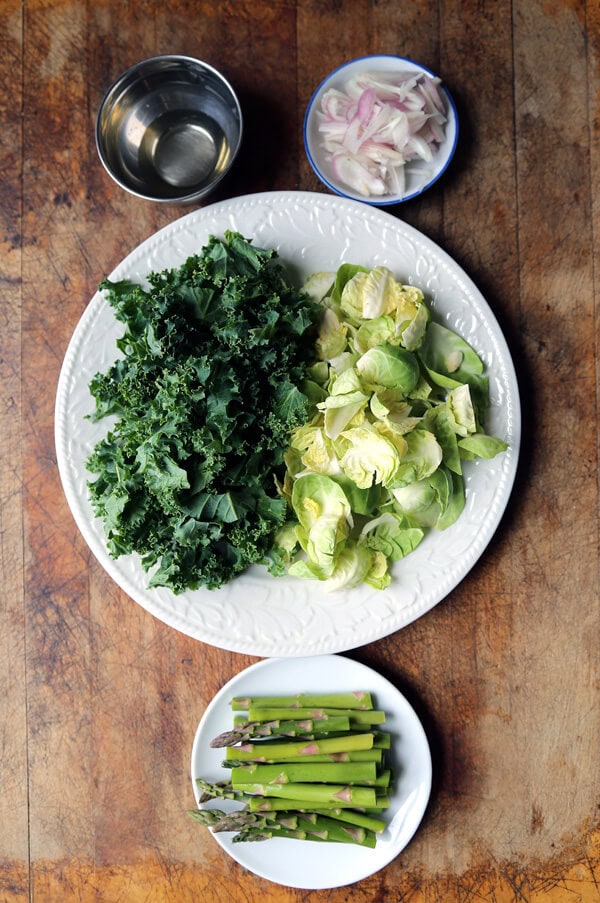 Then one day, as I  sat in the restaurant slowly chewing on a leaf, I thought I would attempt to recreate the recipe at home. I  figured as long as I refrained from using too many ingredients as the simplicity of the dish is what makes it stand out so much, I should be fine. And that's how this brussels sprouts salad with kale and asparagus recipe was born.
Yummy, crunchy brussels sprouts so salty and acidic they make the perfect side to burgers or meats. I stir fried the kale and brussels sprouts for a few minutes and finished them with a little salt and white wine vinegar. I then baked the asparagus spears in extra virgin olive oil and salt and kept the shallots raw, to preserve their beautiful pinkish purple color. The result, although not exactly the same as what I eat at Flatbush Farm, is very satisfying nonetheless.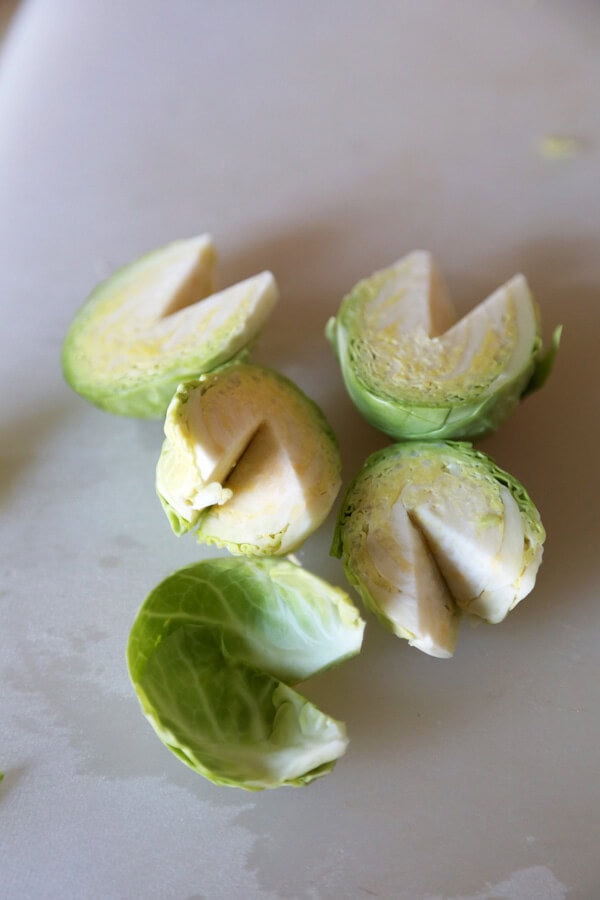 Bright and summery, this is a gorgeous plate of vegetables filled with ingredients that look like they were picked from a garden or bought at a farmer's market. Very little tweaking is done to alter the flavor, the vinegar is only there to feature and elevate the vegetables in their natural state.
Dishes I recommended serving this brussels sprouts salad with: topped with a barely boiled eggs (give me a runny yolk any day), next to quinoa stuffed peppers for a completely vegetarian meal or fall off the bone pork ribs for a cookout style dinner.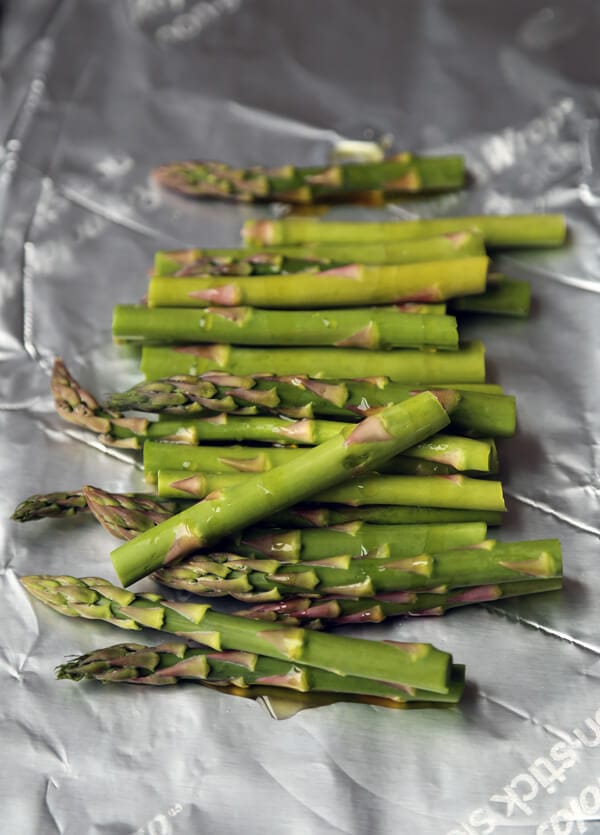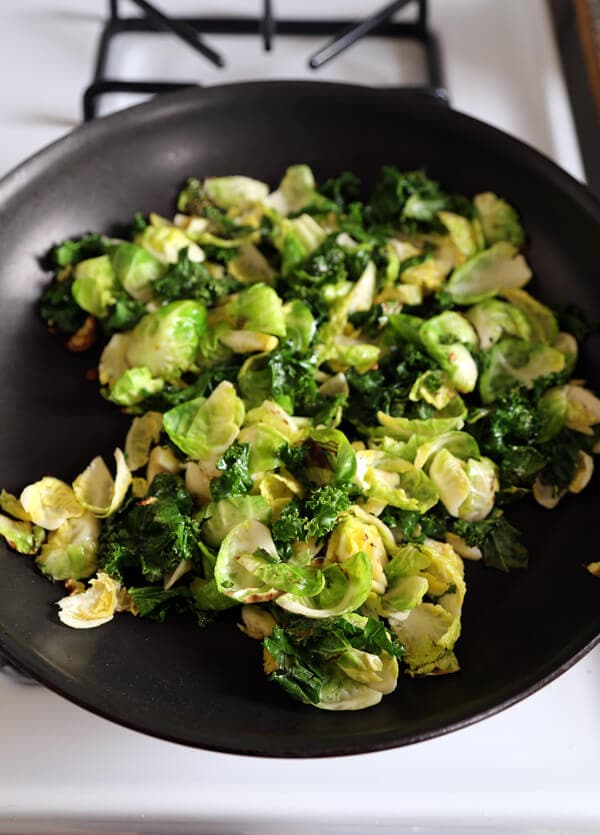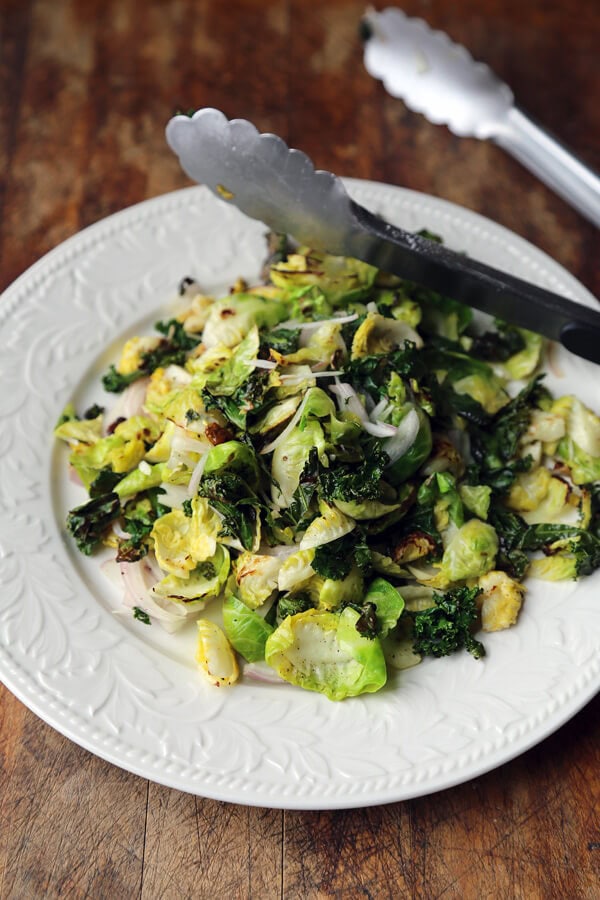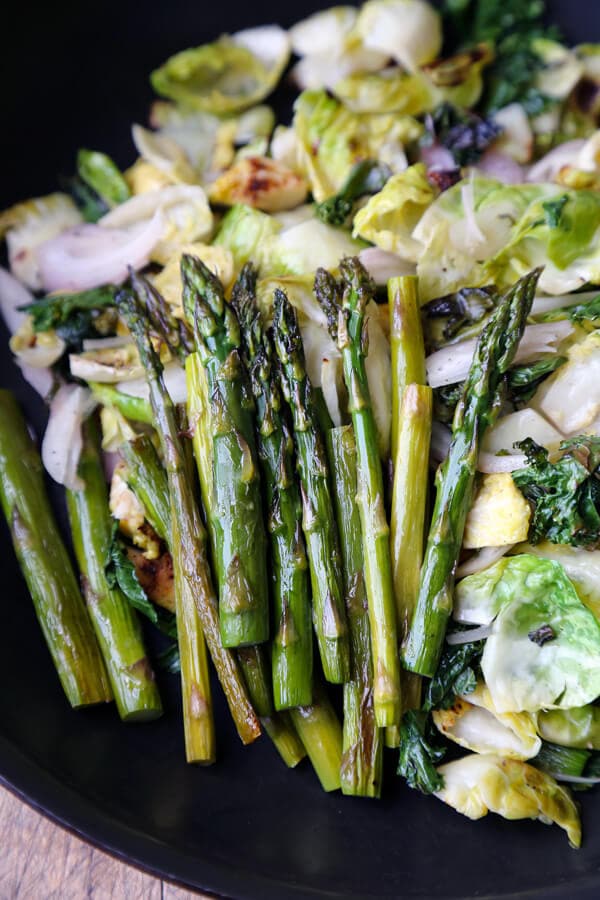 Print
Brussels Sprouts Salad with Kale and Asparagus
Prep Time:

15 minutes

Cook Time:

5 minutes

Total Time:

20 minutes

Yield:

2

people

1

x
Cuisine:

Vegetarian
Scale
Ingredients
10

stalks asparagus (ends trimmed)

8

Brussels sprouts (sliced in half)

2 cup

s kale (ribs removed and finely chopped)

1

medium shallot (thinly sliced)

1 1/2 tablespoon

extra virgin olive oil

1 tablespoon

white wine vinegar

1/2 teaspoon

kosher salt
Instructions
Preheat oven to 375Fº.
Put asparagus on a cooking sheet, drizzle 1/2 tablespoon olive oil and toss to coat, using your fingers.
Roast for 10 minutes.
Cut ends of Brussels sprouts and slice in half. Remove the core by making two diagonal cuts (make a V shaped cut). The wedge should come out easily. Separate the leaves.
In a large pan over high heat, add remaining 1 tablespoon olive oil, kale and Brussels sprouts. Toss and cook 5 minutes.
Turn the heat off, add shallots and white wine vinegar. Toss a few times, sprinkle salt and toss again. Transfer to a plate.
Take asparagus out of the oven and add to the plate. Season with salt and pepper and serve warm.
Recipe Card powered by