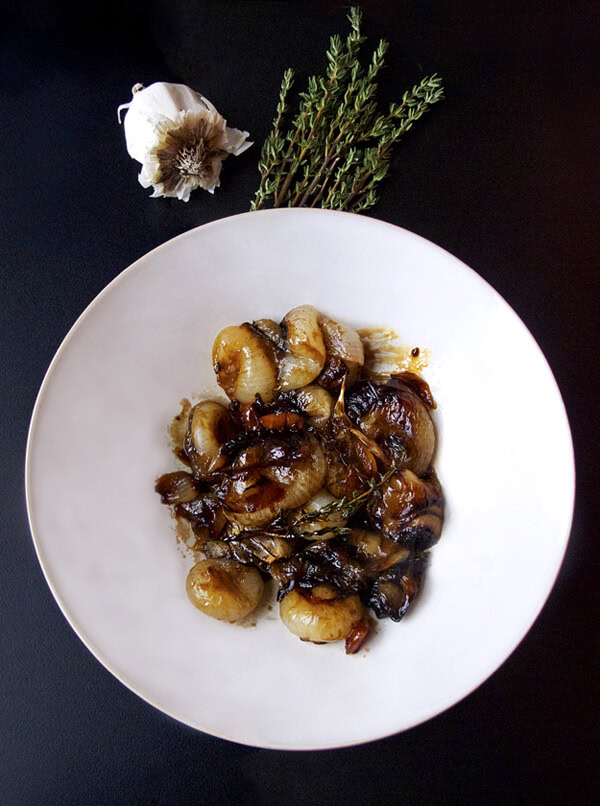 Honey-glazed cipollini onions
Whenever I cook a nice piece of steak, I like to serve it with lots of roasted vegetables as the smokiness they bring out is a very good combination to any types of meat. Pan fried cipollini onions finished in the oven with sprigs of thyme and honey are a pure delight! Thomas Keller's simple recipe features this little onion by enhancing its natural sweetness and cooking it until it almost melts in your mouth. It also looks very pretty!
I have a lot of cookbooks but few I use on a regular basis. Thomas Keller's Ad Hoc at Home is one I enjoy looking at to get ideas but rarely follow to a tee since the recipes can get a little complicated and expensive in groceries. However, this one hasn't been changed except I swapped canola for vegetable oil because I already had some in my pantry.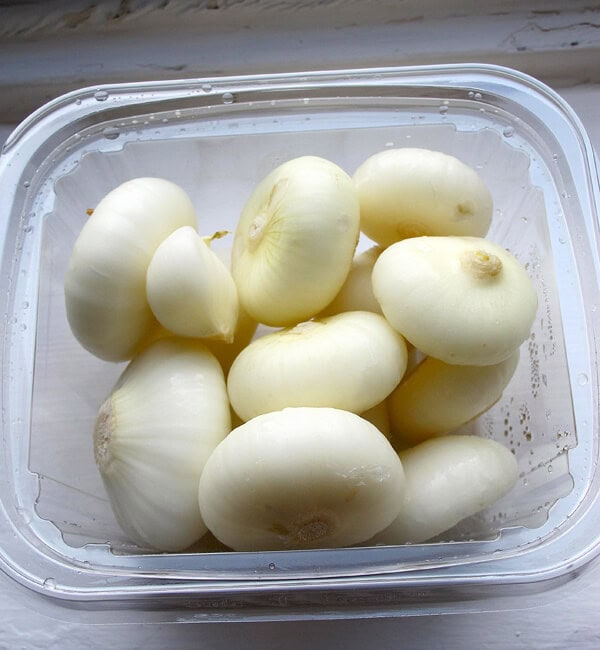 I was also lucky enough to find peeled cipollini onions at the supermarket, saving me on prep time, which can be a nice thing once in a while. Pan roasting is a method I've been using these past few months that's yielded great results, as long as I can remind myself not to touch the handle for at least half an hour after it's come out of the oven. I've come close to seriously burning my hand a couple of times (I like to do dishes as soon as I'm done cooking).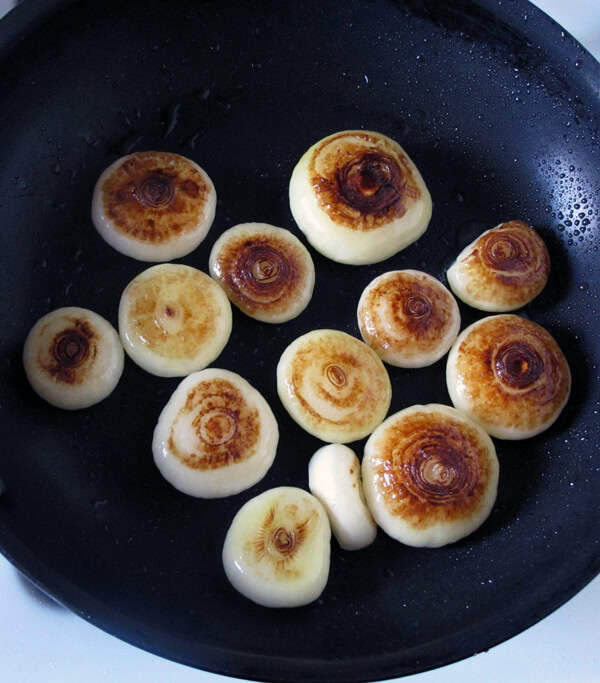 Pan roasting is especially good for caramelizing, giving meats and veggies a really gorgeous dark brown, almost barbecued look. This recipe can be re-used for mushrooms, carrots and potatoes as the flavor combination works well with almost all vegetables.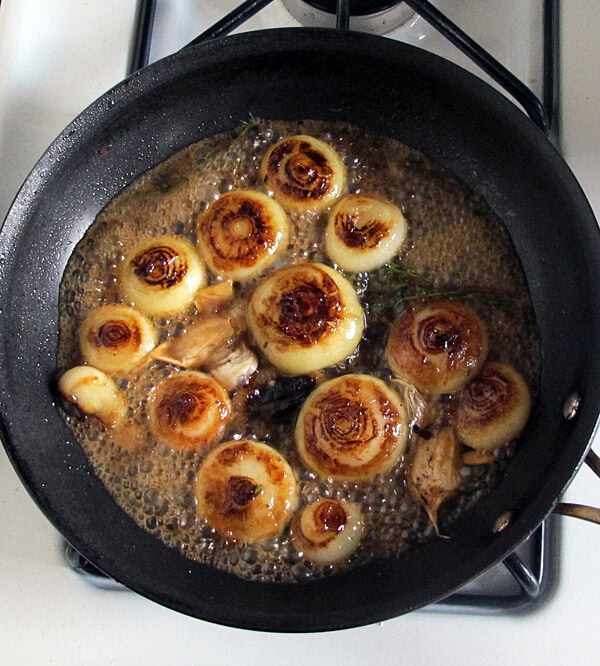 Before making this recipe, make sure that you own an oven proof/oven safe frying pan (if you're not sure and still have the box it came in with, it should be mentioned under its features).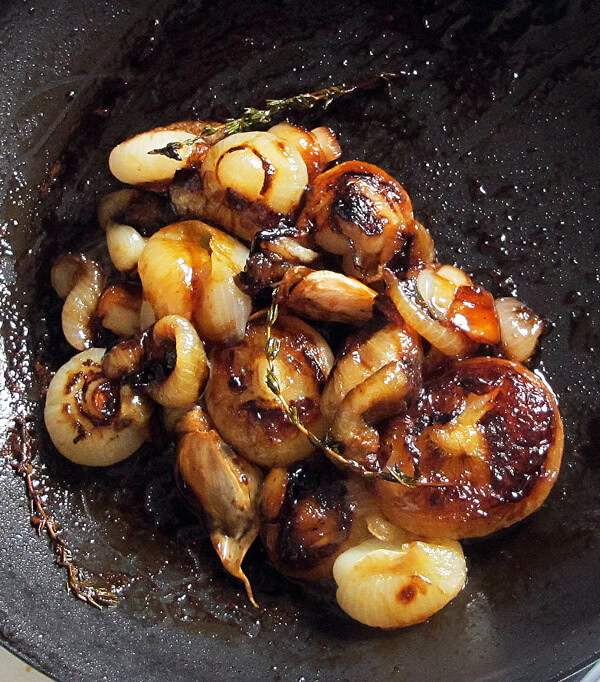 Print
Honey-Glazed Cipollini Onions
Prep Time:

10 minutes

Cook Time:

25 minutes

Total Time:

35 minutes

Yield:

6

people

1

x
Category:

Side

Cuisine:

French, Vegetarian
1 1/4

pound cipollini onions ((about

14

onions))

1 tablespoon

vegetable oil

2

cloves garlic (lightly crushed, skin left on)

4

sprigs thyme

1 tablespoon

honey

1/2 cup

chicken stock
kosher salt and freshly ground black pepper
Instructions
Preheat oven to 400ºF.
Peel the onions. Cut off the top of each onion to create a flat surface for browning. Trim the root ends. If any of the onions are noticeably larger than the rest, peel off an outer layer so that they are closer in size.
Heat an ovenproof frying pan large enough to hold the onions in a single layer over medium heat.
Add the vegetable oil and heat until warm. Add the onions and cook until browned, swirling the pan from time to time for even browning, about 5 minutes.
Turn the onions over and cook for another 5 minutes. Add garlic, thyme, and honey to the pan. The honey will bubble up. Once it stops, ad the chicken stock and swirl the pan to incorporate. Increase the heat to medium-high and bring just to a boil.
Transfer to the oven and cook for 15 minutes, or until the onions are tender and the liquid has reduced to a thick glaze. Season to taste with salt and pepper. Transfer the onions to a serving dish and spoon the glaze over the top.
Recipe Card powered by