This week's meal plan is all about Korean and Japanese flavors! Bring the taste of Korea to your kitchen with a smoky and savory donburi bowl, followed by the popular tofu stew – doenjang jjigae. You will then make your way to Japan and enjoy the most tender and moist piece of miso salmon you have ever tasted. A cozy bowl of the traditional kitsune udon is also on the menu and you will end the week with a meat-free meal with another Japanese classic – oyakodon.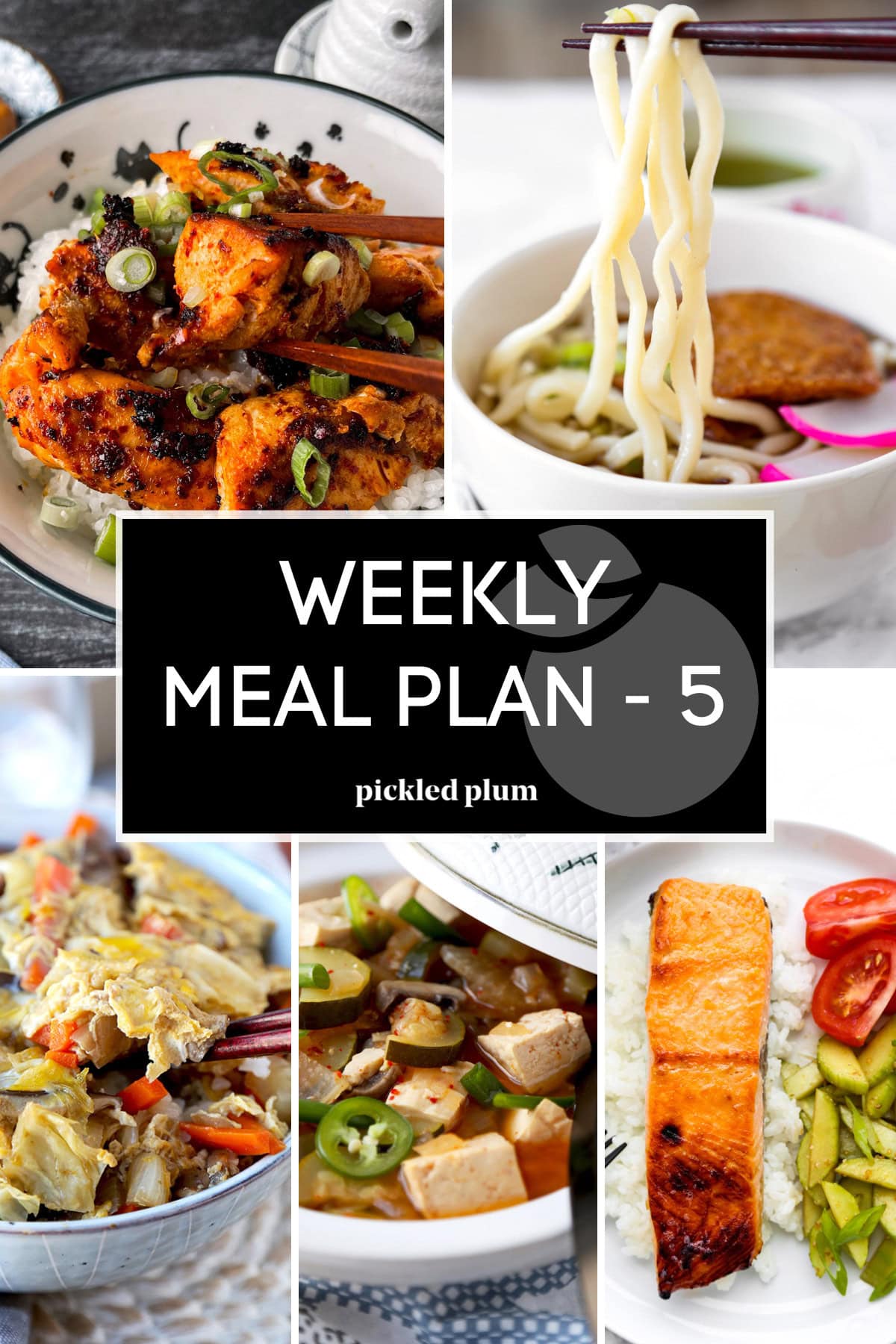 Every week I will be providing a meal plan for you and your family to enjoy.
My husband and I like to spend a couple of hours every Sunday, in the kitchen, chopping and prepping meals for the week ahead. The main reason is because it helps us to eat better and more wholesome meals. It also saves us a lot of money as we tend to eat out or get food delivered when we are tired after a work day and don't feel like cooking from scratch.
Not only is it tiring to think about what to cook, it can also be stressful to try to get something on the table as quickly as possible.
But that can all be resolved easily when there's food prepped in the fridge, ready to be cooked! Suddenly it becomes easy to cook dinner in under 30 minutes since everything is ready to go and little brain power is needed.
The Complete Digital Meal Planner
Click on the image to see how it works!
Stay organized with The Complete Digital Meal Planner. Create a weekly meal schedule, plan meals, save your favorite recipes, and shop smarter. Reduce stress and enjoy delicious meals with this easy-to-use meal planner. Meal planning made simple!
Every week I will be providing a meal plan in pdf format that you can print or save on an electronic device. Each meal plan will include 5 main dishes with their individual total cooking time and flavor profile, a grocery shopping list, and a link to those recipes. The plan also includes lunch, side, and snack ideas for the week.
Meal Plan – Menu 5
Monday:
Korean Fish Donburi – A delicious rice bowl topped with fish that has been seasoned with a mix of garlic, ginger, gochugaru, soy sauce, mirin, and sesame oil. Not too spicy but nice and smoky!
Tuesday:
Kitsune Udon – One of the easiest meals you can make! This is a simple udon noodle dish that's very popular in Japan because of its delicate taste and sweet inari age (seasoned deep fried tofu pockets).
Wednesday:
Miso Salmon – Marinating salmon in miso paste gives the fish a very tender and moist texture. Serve it over rice and with a side salad or vegetable of your choice.
Thursday:
Doenjang Jjigae – If you are in the mood for something light yet filling, try this doenjang jjigae recipe a try. What you get are classic Korean flavors – smoky, pungent, briny, and savory. The tofu stew can also be made spicy by adding Korean chili peppers or a jalapeno pepper.
Friday:
Vegetable Oyakodon – A meatless oyakodon everyone loves! Made with lots of veggies, eggs, and seasoned with a sweet and savory tare style sauce, this rice bowl is kid friendly and very easy to make.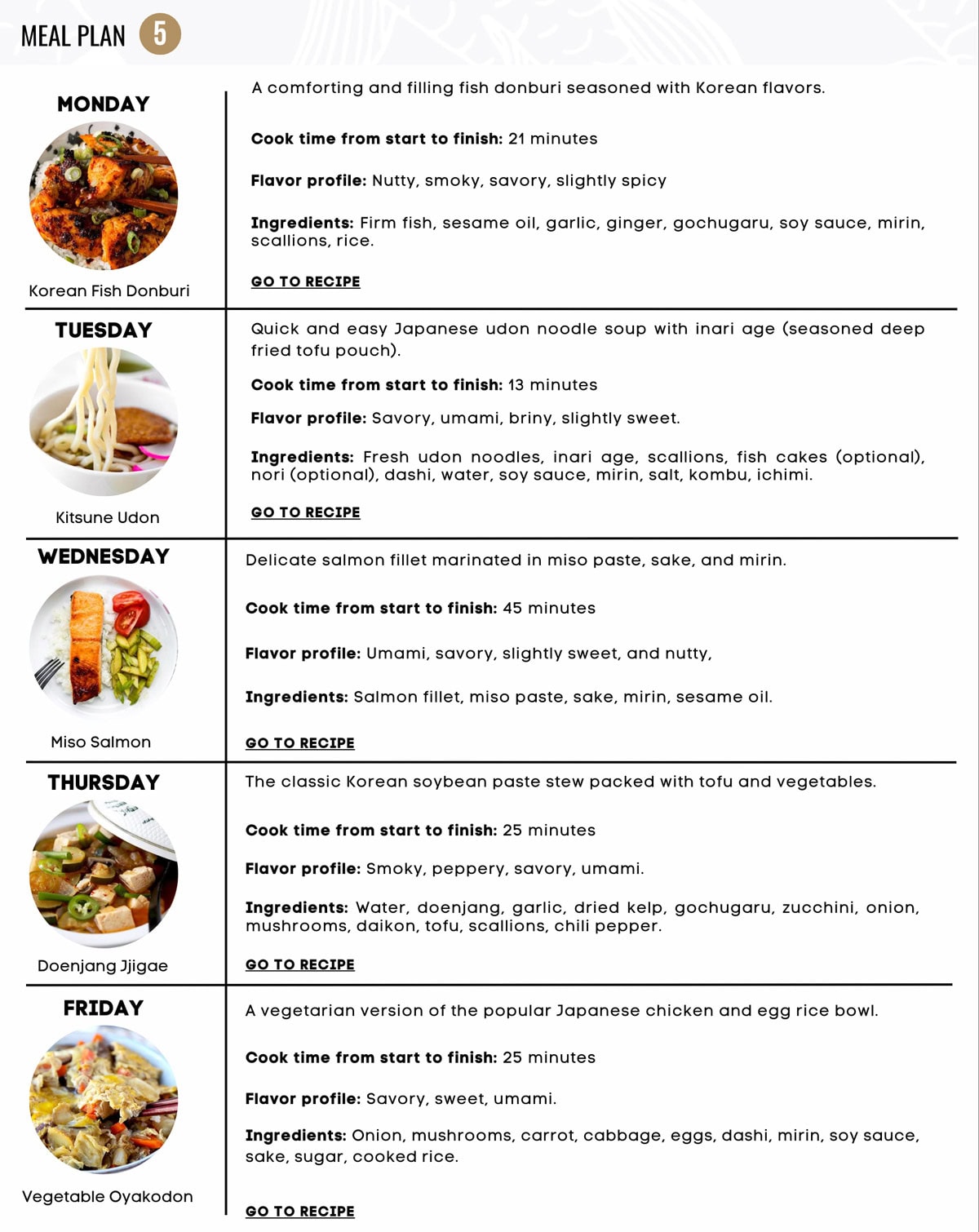 Prepping Ingredients Ahead of Time
Doing a little prep before the work week begins is always a great way to save time in the kitchen after a long day. I do mine on Sundays while listening to my favorites tunes or putting on one of my favorite reality tv shows (a guilty pleasure). This way cooking doesn't feel like work but more like a relaxing meditation.
Here is how I do my own prep at home:
I make a list of all the vegetables that need chopping and do as much chopping ahead of time. Especially garlic and onions since many of my recipes use them and they are my least favorite ingredients to chop. I save them separately in storage containers and arrange them neatly in my fridge.
My husband and I prep all of our morning green juice ingredients and save them in storage containers. This way we can grab a container, dump it in the blender and add water and juice. Quick, easy, and healthy!
I always have a container of cooked brown rice in the fridge since we eat it so frequently.
I make salad dressings and stir fry sauces ahead of time, even if they are very simple and quick to make. I never buy store bought since they contain too much sugar and are generally unhealthy.
Once every other week I make a pot of soup and tell myself there cannot be any leftovers. This forces me to eat healthier and it also saves me time and money (making soup is cheap!).
I have a weekly menu I refer to so I don't forget about ingredients that need to be thawed or purchased at the grocery store.
Speaking of groceries, I like to do mine on a Tuesday or a Wednesday so I can get the freshest ingredients.
Tips For Successful Meal Planning
Prep your least favorite part of the meal ahead of time. If it's chopping onion like it is for me, do it ahead so it doesn't deter you from cooking dinner. If it's boiling eggs, boil them ahead for the same reason.
Pay attention to what makes you not want to cook or what makes you say "let's just order takeout". Is it a specific part of cooking – chopping onions, having to cook rice, etc… – or is it simply because you are too exhausted? Say you already have cooked rice and prepped veggies in your fridge and all you had to do was cook a protein and saute some veggies, would you still avoid cooking or would the process look more appealing?
Keep an inventory of what's about to go bad in your fridge and freezer. This will save you a ton of money! Make two inventory lists: one for the fridge and one for the freezer. The ingredients that are about to expire should be placed at the front of your fridge and freezer – just like grocery stores do! – so they can be used as soon as possible.
Try to do to keep your visits to the grocery store to a minimum. Once you have your meal plan for the week ready, make a grocery list of all the ingredients you need. This way you greatly minimize trips to the grocery store (I only need to go once or twice per week).
Keep your kitchen clean. This is so important! My husband hated cooking until I showed him that keeping his work area and kitchen sink clean made the world a difference. It creates less chaos around you which in turn creates less chaos in your head. It's also very easy to keep your counters clean – as soon as you are done using a pot, plate, or bowl, wash it! This way your kitchen sink will remain empty and you won't feel overwhelmed by the amount of cleaning left to do once you are done cooking. I learned that trick by working in professional kitchens. This is the only way restaurant kitchens can function successfully – by being as tidy as possible.