Bring this traditional Japanese dish to your kitchen – minus the chicken! This oyakodon recipe is packed with vegetables and light enough that you can go for seconds without piling on calories!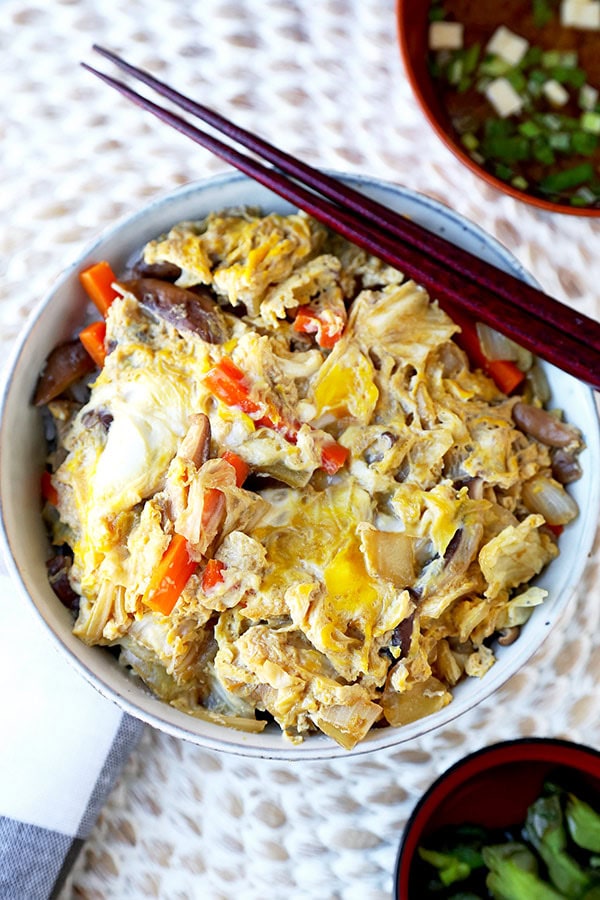 Vegetable Oyakodon – 野菜 たっぷり親子丼
Rice, as you know, is the main dietary staple in Japanese cuisine. It's served as a side dish with traditional Japanese meals or as a main, tossed and seasoned with various ingredients.
In my house, Japanese rice was the equivalent of a potato in that it acted as a side dish to most of our evening meals. In fact, it made its appearance on my plate so often that I developed a dislike for it. What's for dinner? Chicken or some other protein with a side of vegetable and some Japanese rice. "Not again", I would find myself thinking as I used my best Kubrick stare to show how displeased I was.
I had such a strong reaction against Japanese rice that when I moved to Japan at the age of 20, I didn't touch it for a whole year. Okay, I still had sushi (I'm not that crazy!) but other than that, no rice for me. The next few years weren't as grainless but I still avoided the white fluffy pile whenever I could.
And then, about four years ago something happened during lunch at one of my favorite Japanese spots in Manhattan. I ordered a bowl of oyakodon and for the first time in my life, I was able to appreciate the role that rice played in the dish. Maybe I had grown out of my life is better without rice phase, but all I remember was how good the rice tasted! It was a little sweet, not too chewy and acted as the perfect vehicle to the delicate flavors of oyakodon. It was super yummy!
All of a sudden I found myself craving Japanese rice and ordering rice bowls of all kinds. It was like realizing all these years later that the fight you had with your friend was based on a misunderstanding. A little time apart was necessary to give me some perspective. And now that rice is back into my life, we are tighter than ever!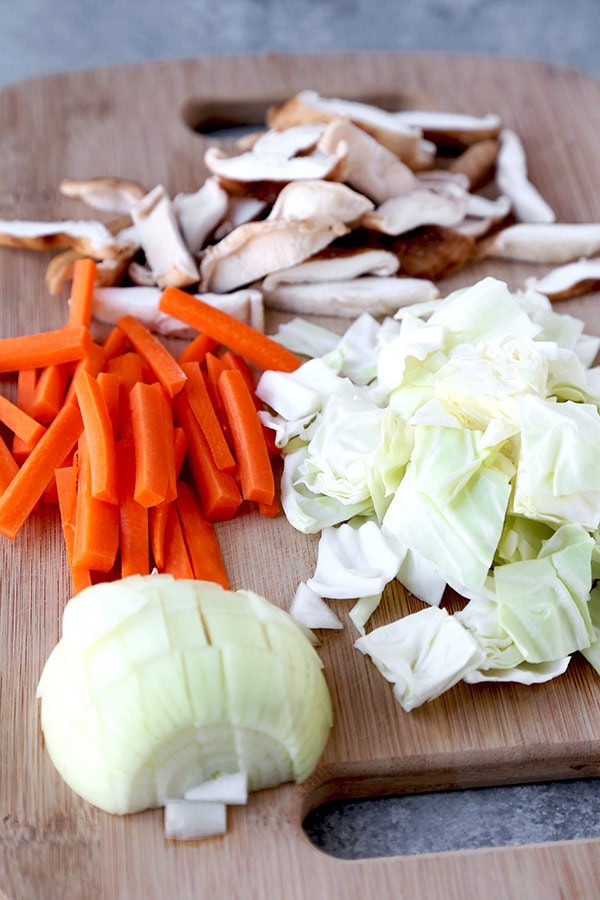 What is oyakodon?
Oyakodon is a simple, home style Japanese dish made of chicken, eggs and onion cooked in mirin, soy sauce, dashi, sake and sugar. The dish is cooked in a pan and then served on a bed of rice. The literal translation for oyakodon is "parent-and-child rice bowl" (chicken and egg).
Oyakodon without chicken?
That's correct!
This is the meatless version of oyakodon (with eggs).
For this recipe I didn't stray too far from the original list of ingredients. Everything is pretty much the same as a traditional oyakodon except for the substitution of chicken for vegetables.
I thought about using tofu but came to the conclusion that its silky texture would make the dish too mushy. I wanted the dish to have a nice crunch to offset the fluffiness of the rice which is why I chose cabbage and carrots.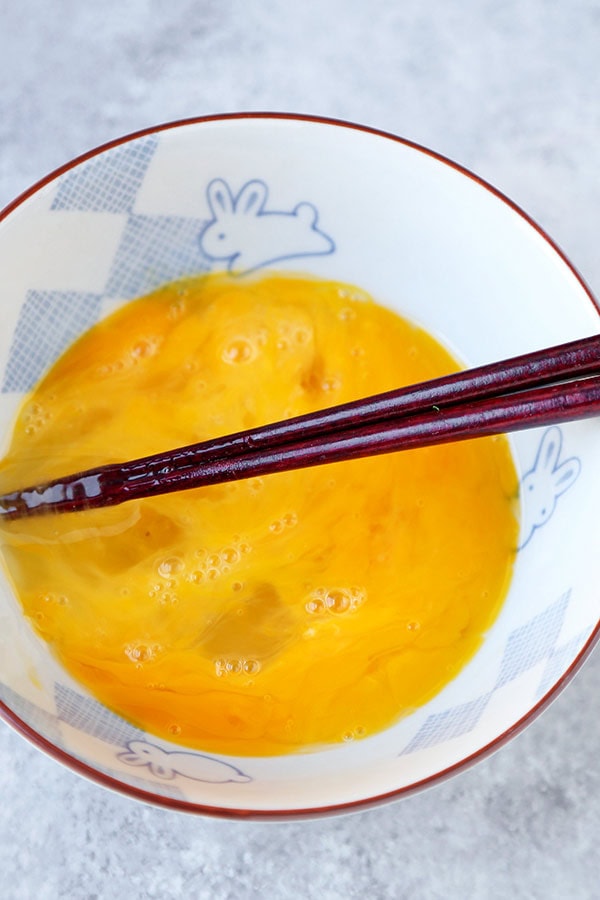 The flavors are classically Japanese – gentle with plenty of umami mixed with savory and a touch of sweetness. It's light, healthy and takes less than 25 minutes to make.
This is an excellent recipe to add to your weekly rotation when you don't want to spend too much time in the kitchen. You can prep the veggies and sauce in advance and keep them refrigerated until dinnertime. Then all you have to do is cook the veggies with the sauce, whisk in the eggs and dinner will be ready in under 10 minutes!
Does oyakodon make good leftover food?
It does as long as the cooked veggies and eggs are saved separately from the rice, otherwise the rice will soak up the sauce and get soggy.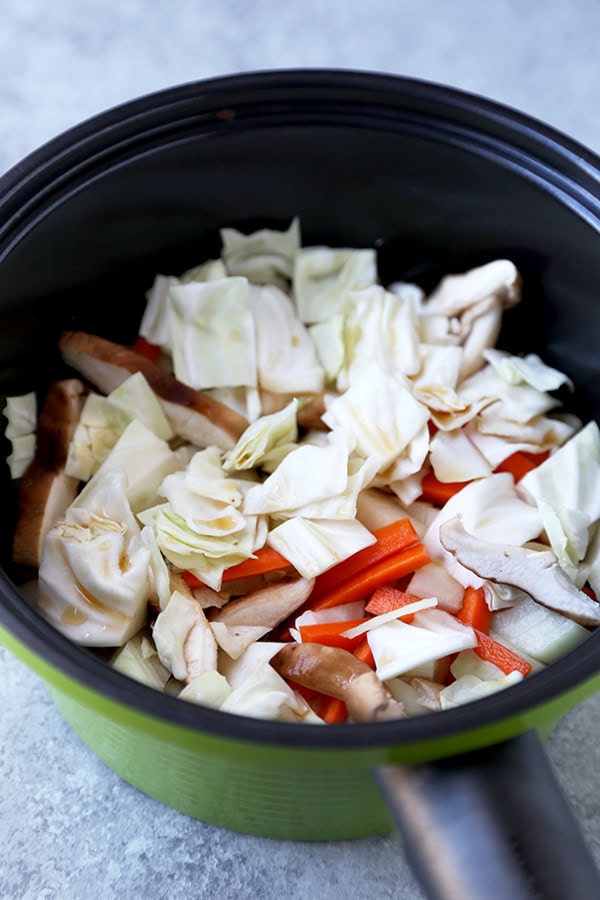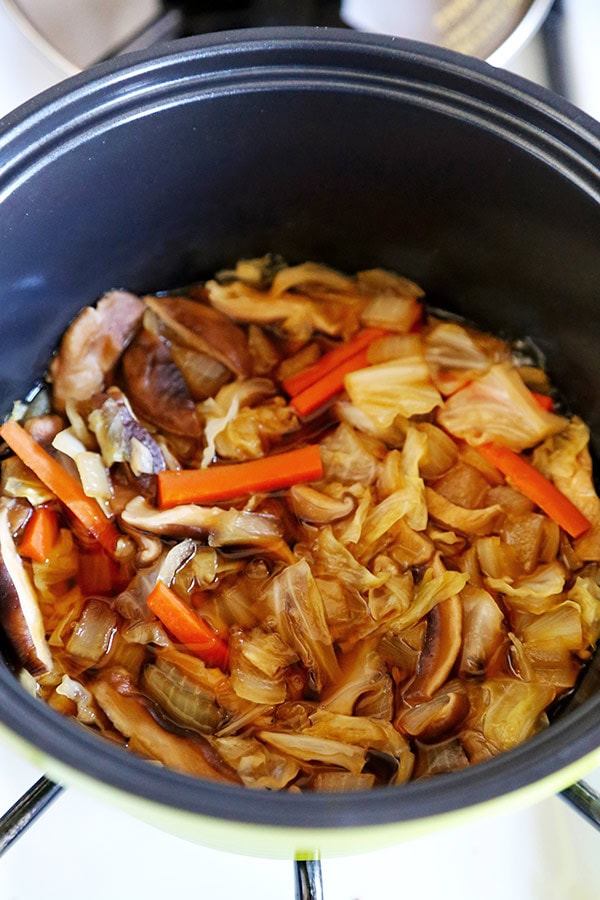 What's the best rice to use for oyakodon?
Japanese short grain rice.
My two favorite brands are Tamanishiki Super Premium Short Grain Rice and Koshihikari Premium Short Grain Rice, which you can buy on Amazon. They can also be found in Japanese super markets.
Brands like Nishiki, Kokuho Rose and Botan are medium grain. They are easier to find and cheaper than short grain but nowhere near as good.
Other yummy meatless Japanese recipes: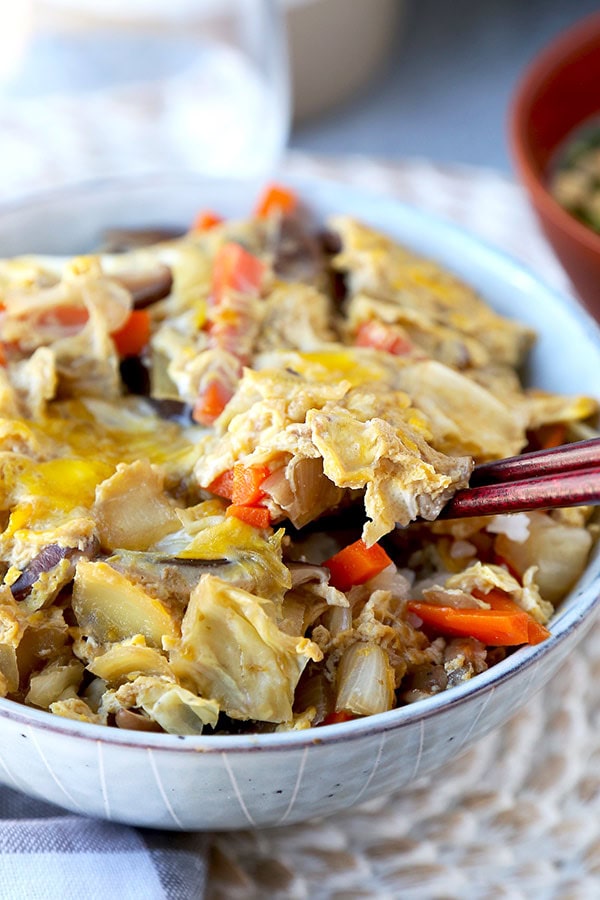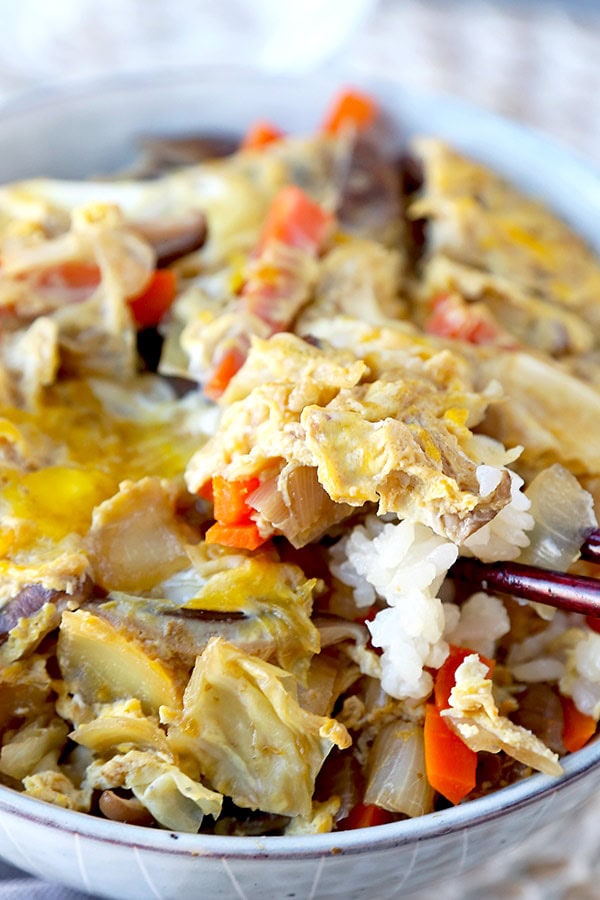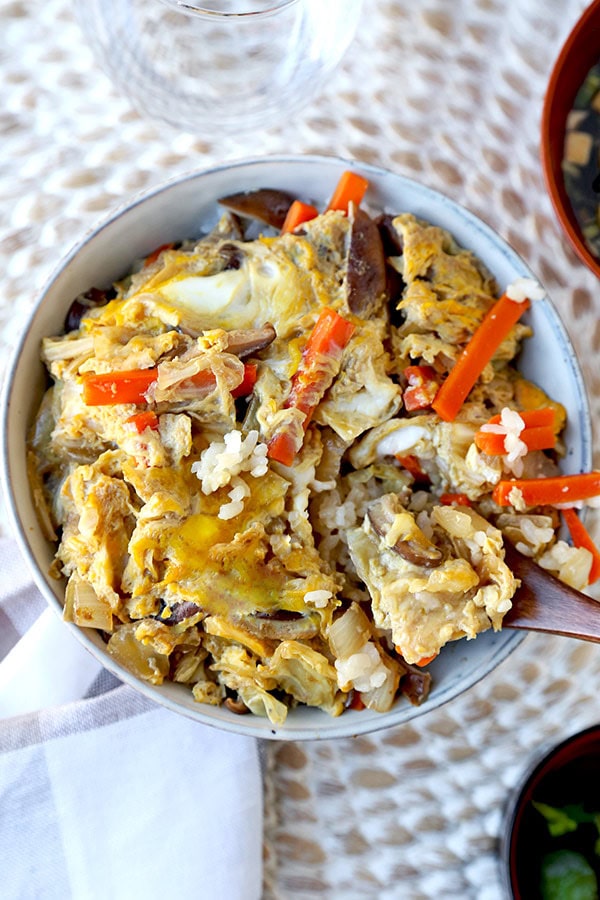 Did you like this Vegetable Oyakodon Recipe? Are there changes you made that you would like to share? Share your tips and recommendations in the comments section below!
Print
Vegetable Oyakodon – 野菜 たっぷり親子丼
Oyakodon is Japanese comfort food at its best! We've made this one healthier!
Author: Caroline Phelps
Prep Time:

12 minutes

Cook Time:

13 minutes

Total Time:

25 minutes

Yield:

2

people

1

x
Category:

Main

Method:

Stove top

Cuisine:

Japanese
1

onion (thinly sliced)

5

shiitake mushrooms (sliced)

1

small carrot (sliced into stripped)

1 cup

cabbage (chopped)

2

large eggs
For the sauce
1/2 cup

dashi

2 tablespoons

mirin

1 tablespoon

sake

2 tablespoons

soy sauce

1/2 teaspoon

granulated sugar
Instructions
Add all the ingredients for the sauce in a bowl and stir until the sugar has dissolved.
In a medium sauce pan over medium high heat, add the sauce, onions, shiitake mushrooms, carrots and cabbage and lower the heat to a simmer.
Simmer for 10 minutes, until vegetables are cooked but still yielding a little crunch. This dish is good when the veggies aren't overcooked since it will be served over rice. The balance of slightly crunchy and soft will pair well together.
Briefly beat the eggs using chopsticks and slowly drizzle evenly into the sauce pan. Cover and cook for a couple of minutes until the eggs are almost cooked, slightly runny. There should also be some soup left.
Fill two bowls with warm Japanese rice and top them with the vegetable oyakodon.
Top with extra sauce if you want more flavor, mitsuba and a little shichimi togarashi.
Nutrition
Serving Size:
Calories:

403

Sugar:

28 g

Sodium:

1256.7 mg

Fat:

10.4 g

Saturated Fat:

3.2 g

Carbohydrates:

48.4 g

Fiber:

7.9 g

Protein:

20.4 g

Cholesterol:

372 mg
Keywords: recipe, rice bowl, eggs
Recipe Card powered by