This planner is designed for iPads
It is designed to be used with an annotated hyperlinks app such as GoodNotes or Notability, which are both free to use.
WHY MEAL PLANNING?
When there is no planning involved, it's easy to default to eating out or ordering take out. Or we can reluctantly put something together quickly, but let's face it – it may not necessarily be the healthiest.
By implementing weekly meal planning we simplify weekday cooking, cut down on last minute grocery shopping trips, and serve dishes that are healthier and more delicious. Not only do you save time in the kitchen, you also save a lot of money.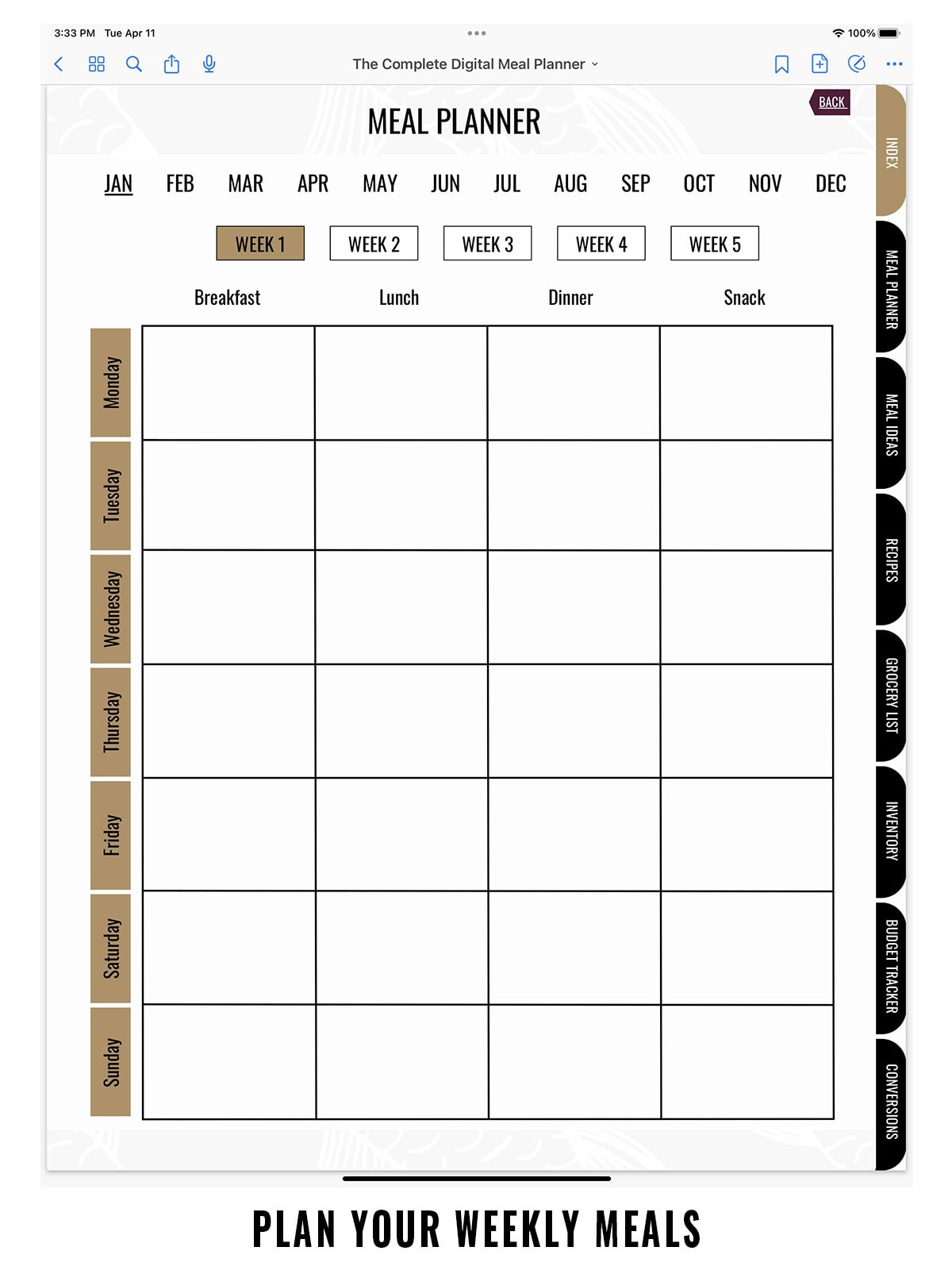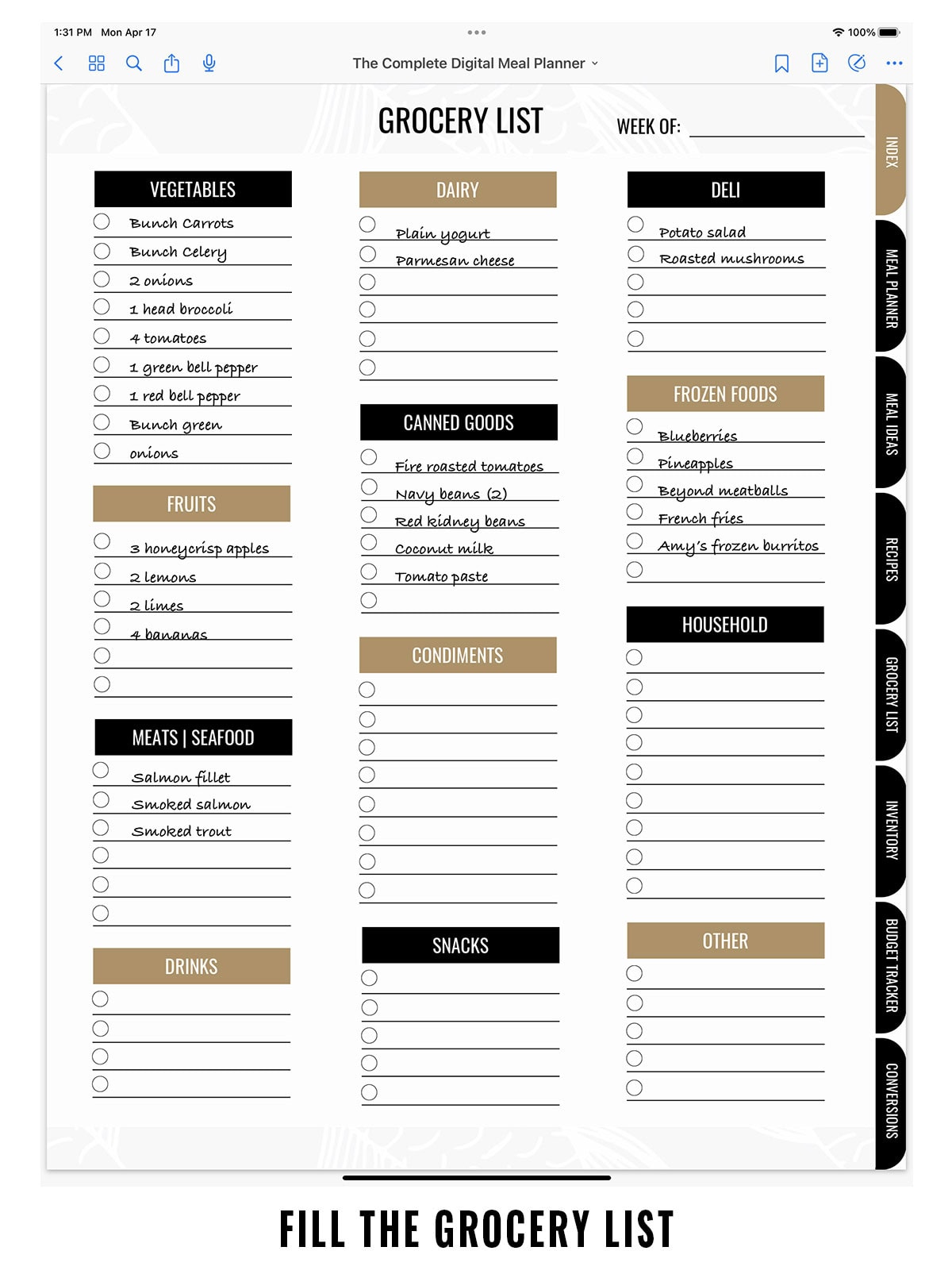 Those last minute food decisions can really put a dent in your wallet. I know that because I used to order from Grubhub too often when I lived in Brooklyn. One month I decided to look at how much my husband and I were spending on delivery and my jaw dropped when the total came to almost $600! That didn't sit well with me at all.
I couldn't believe we were spending this much on food all the while still spending a decent amount on groceries. That explained why we were throwing away so much food every week – expensive organic fruits and vegetables, expired tofu, moldy bread, etc… My pantry and freezer were full and only seemed to get fuller as the months went by.
Being unprepared and tired after a long workday is what caused bad decision making in my own kitchen. Maybe you know what I'm talking about:
Your willpower is low
You are tired
You are starving
You just want to relax!
Simply thinking about what to cook for dinner can be overwhelming when we are running low on energy.
But with a little preparation and a plan of attack, cooking during the week can be pleasurable and virtually pain-free!
Click the play button to see some of the planner's features.
All the pages are hyperlinked which makes navigating the planner easy and fun!
WHAT'S INCLUDED
Meal Planner | Recipe Book | Budget Tracker | Grocery List | Conversion Charts | Inventory Lists | For a Total of 838 Pages
WEEKLY MEAL PLANNING IS EASY!
That's when using a meal planner comes in handy.
There is already so much to think about and remember in our daily lives that using a device such as a digital planner to stay organize can really make a big difference in the long run.
Planning your meals for the week and what to buy at the supermarket ahead of time means your brain gets to relax when your workday is done. All that's left to do is to look at your meal plan and start cooking. All the ingredients will already be available in your fridge and pantry. Some might even be prepped and ready to cook.
No more brain power needed.
Enjoy an iced tea or a chilled glass of wine and discover the joy of cooking without feeling the pressure. This is your time to relax!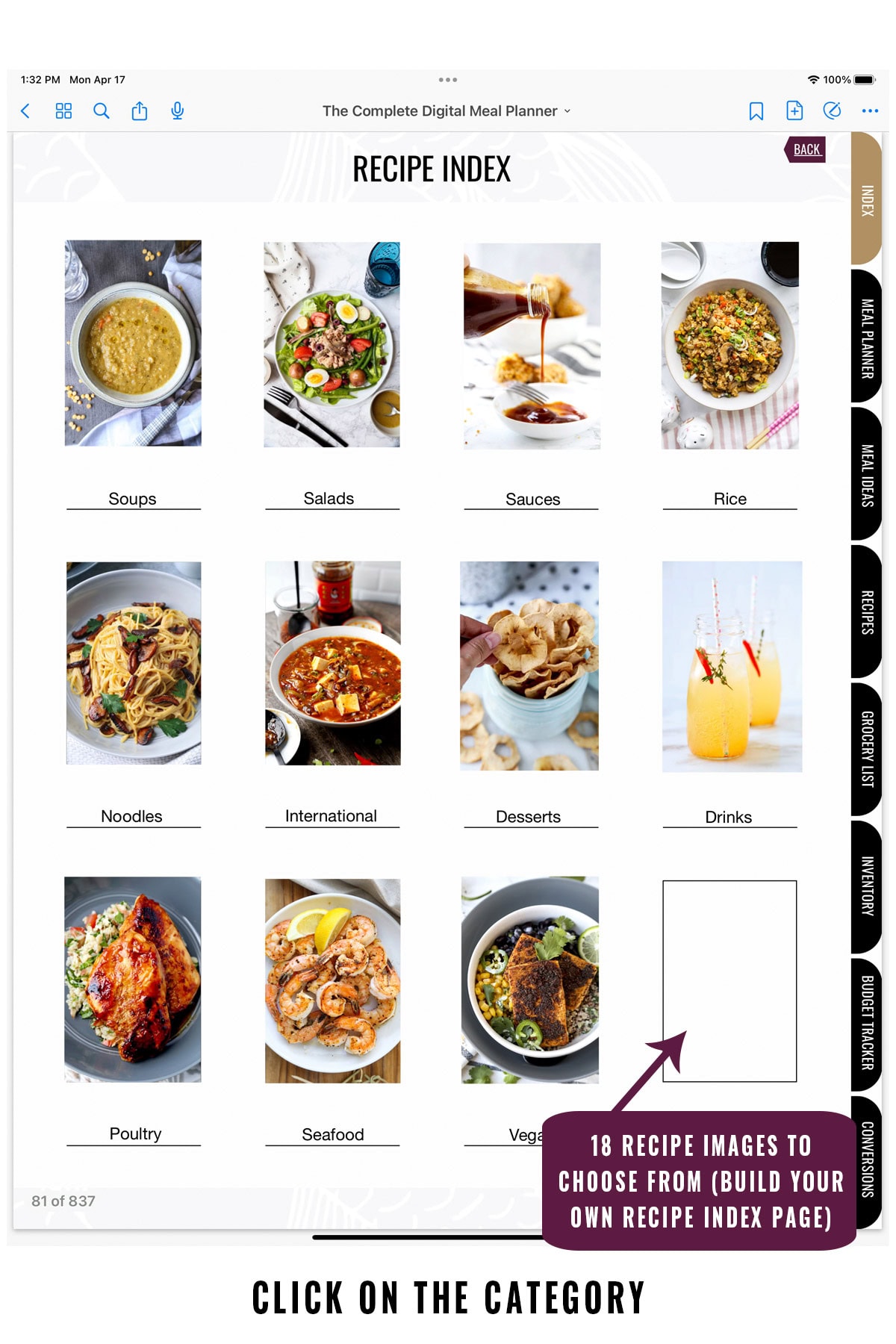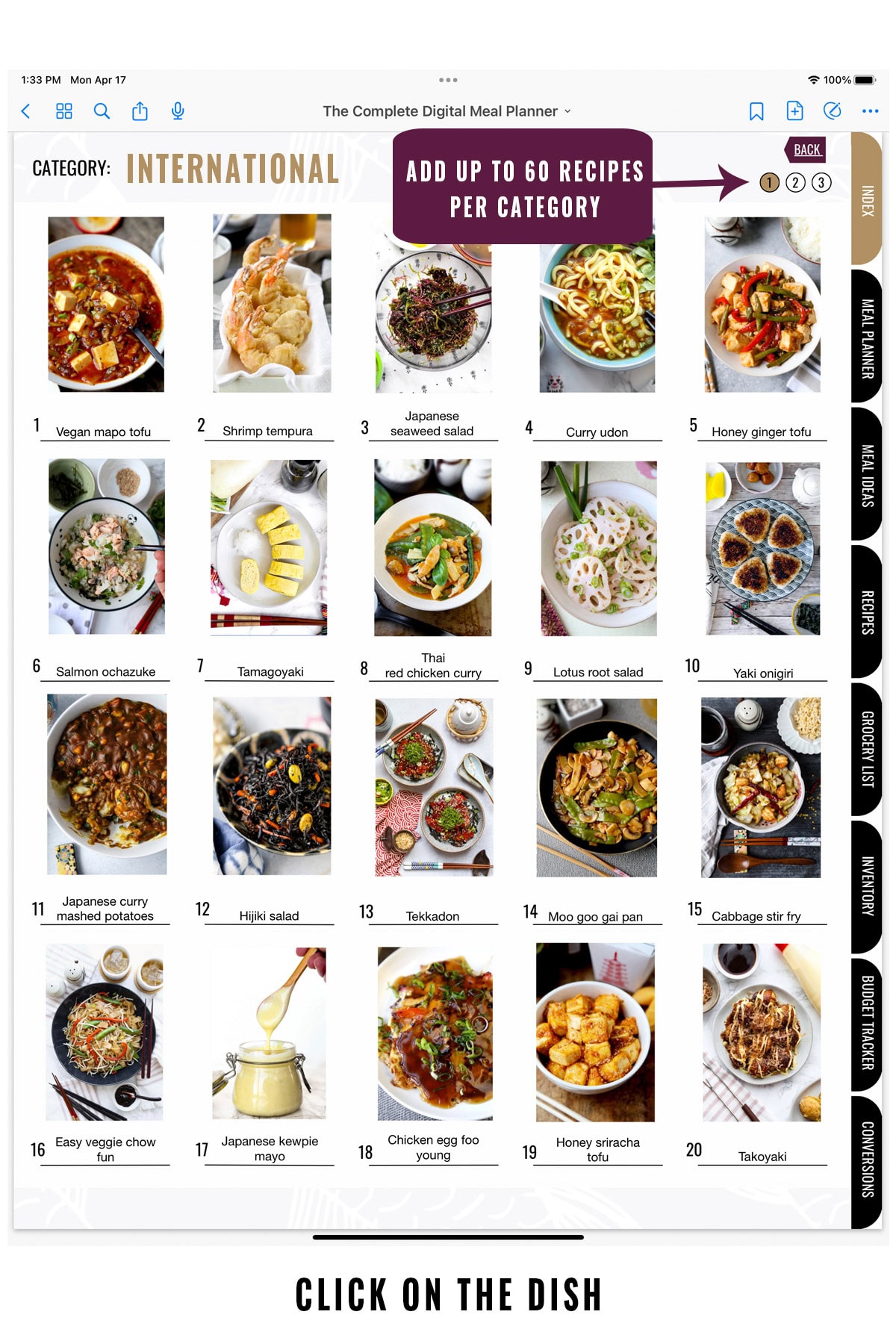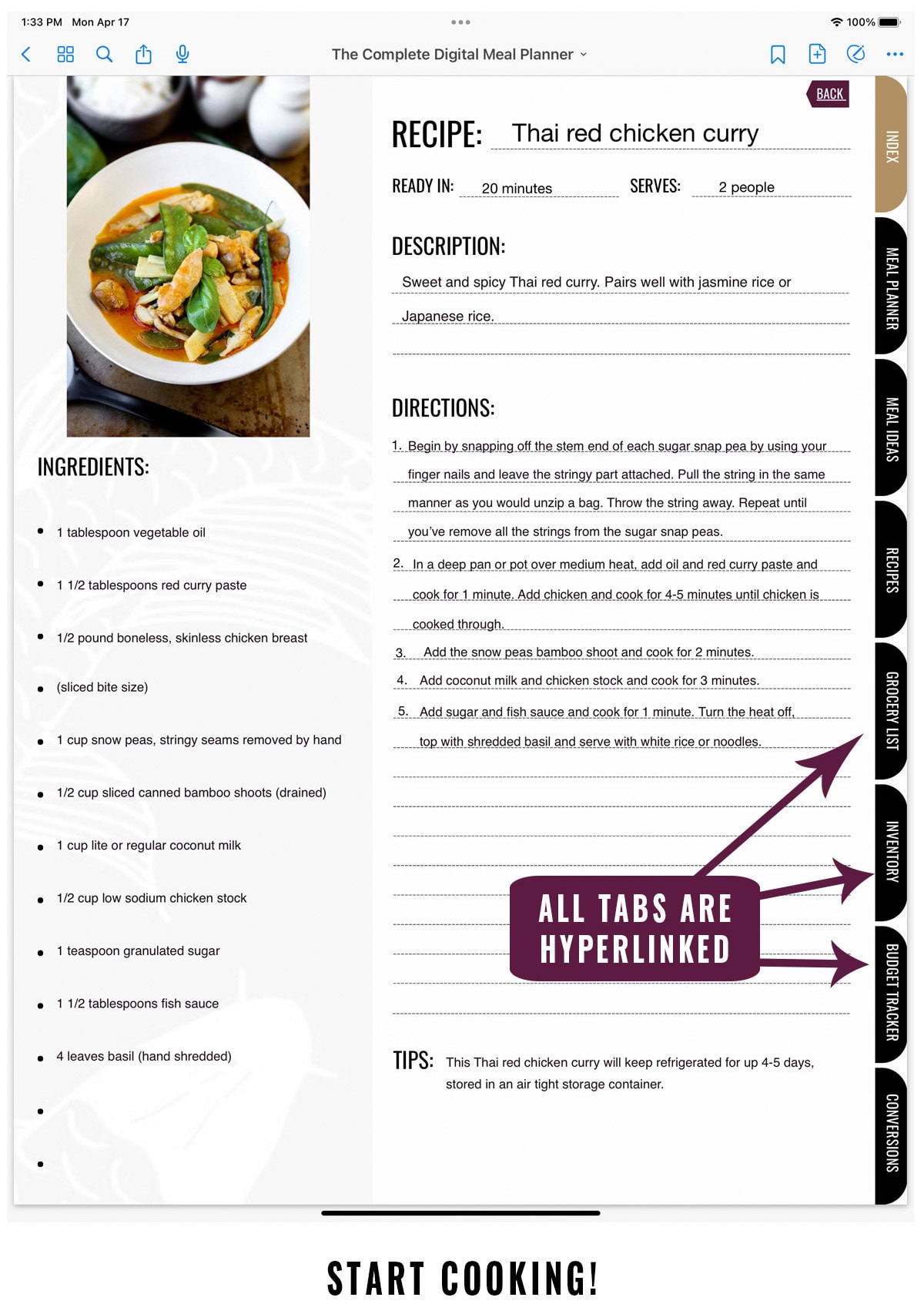 What's Included
The Complete Digital Meal Planner includes:
838 pages.
Weekly meal planner (59 pages).
12 recipe category options with 18 category images (such as appetizers, mains, desserts) to choose from. This means you get to choose which category to add to your recipe book and truly make it your own!
Space for 480 recipes (60 recipes per category), all hyperlinked.
Meal inspiration board to collect images and ideas for future recipes.
Meal ideas list separated into categories (3 pages).
Meal rotation favorites – a simple page, which you can easily duplicate to keep track of your favorite meals.
Grocery list, which you can easily duplicate for each shopping trip.
Prioritize which foods and ingredients to use first, based on their expiration dates, with a fridge inventory list and a freezer inventory list.
Stay on top of your finances with a weekly expense tracker and a monthly budget tracker.
4 pages of popular measurement and ingredient conversions.
50 stickers in Goodnotes and PNG files.
Not Sure On What To Cook This Week?
You will never run out of ideas on what to cook this week!
Save your meal ideas and favorites and quickly access them with your digital meal planner. Create a beautiful meal inspiration board to collect dishes you would like to cook in the future.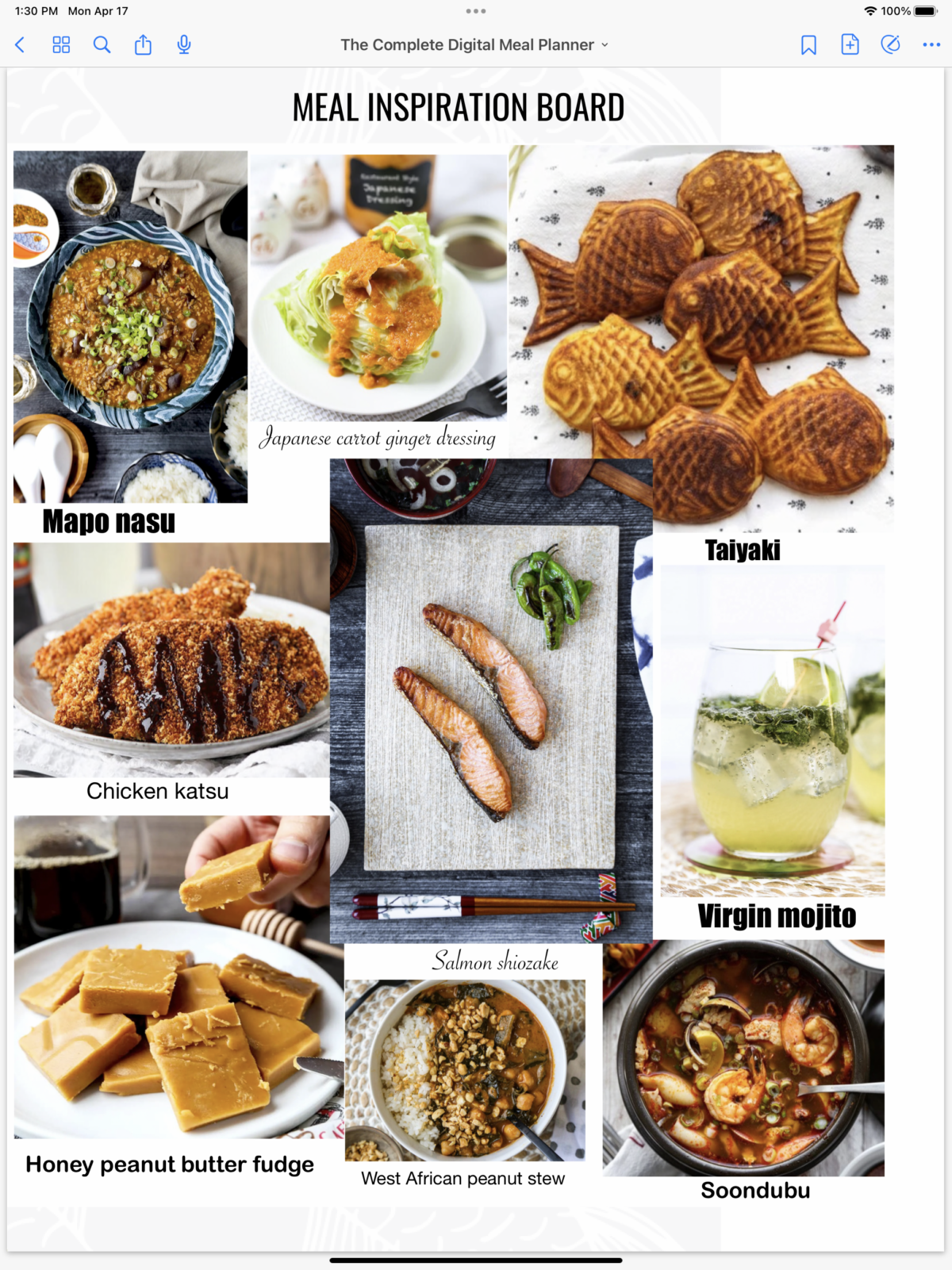 Look at Your Inspiration Board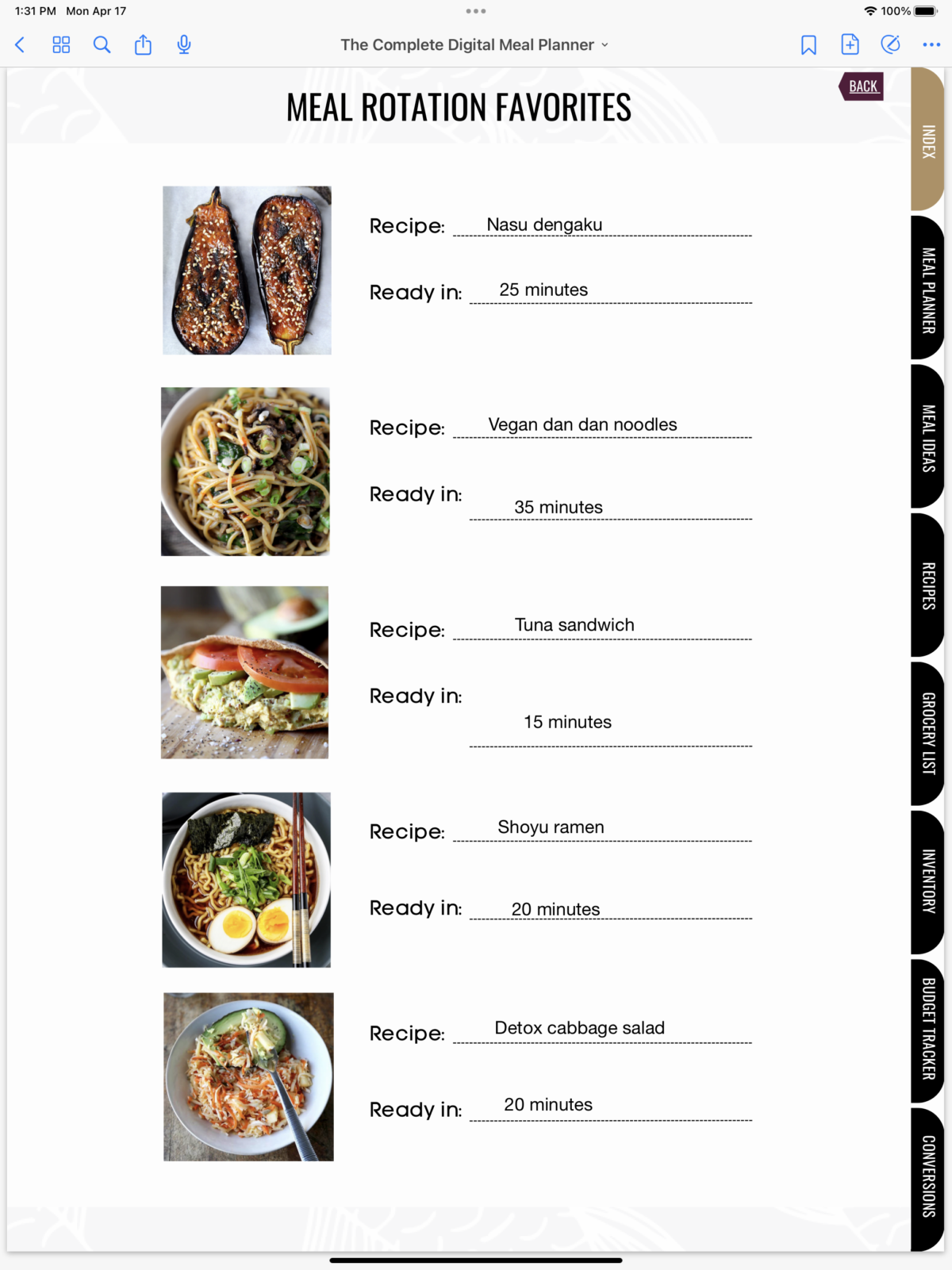 Refer to Your Meal Rotation Favorites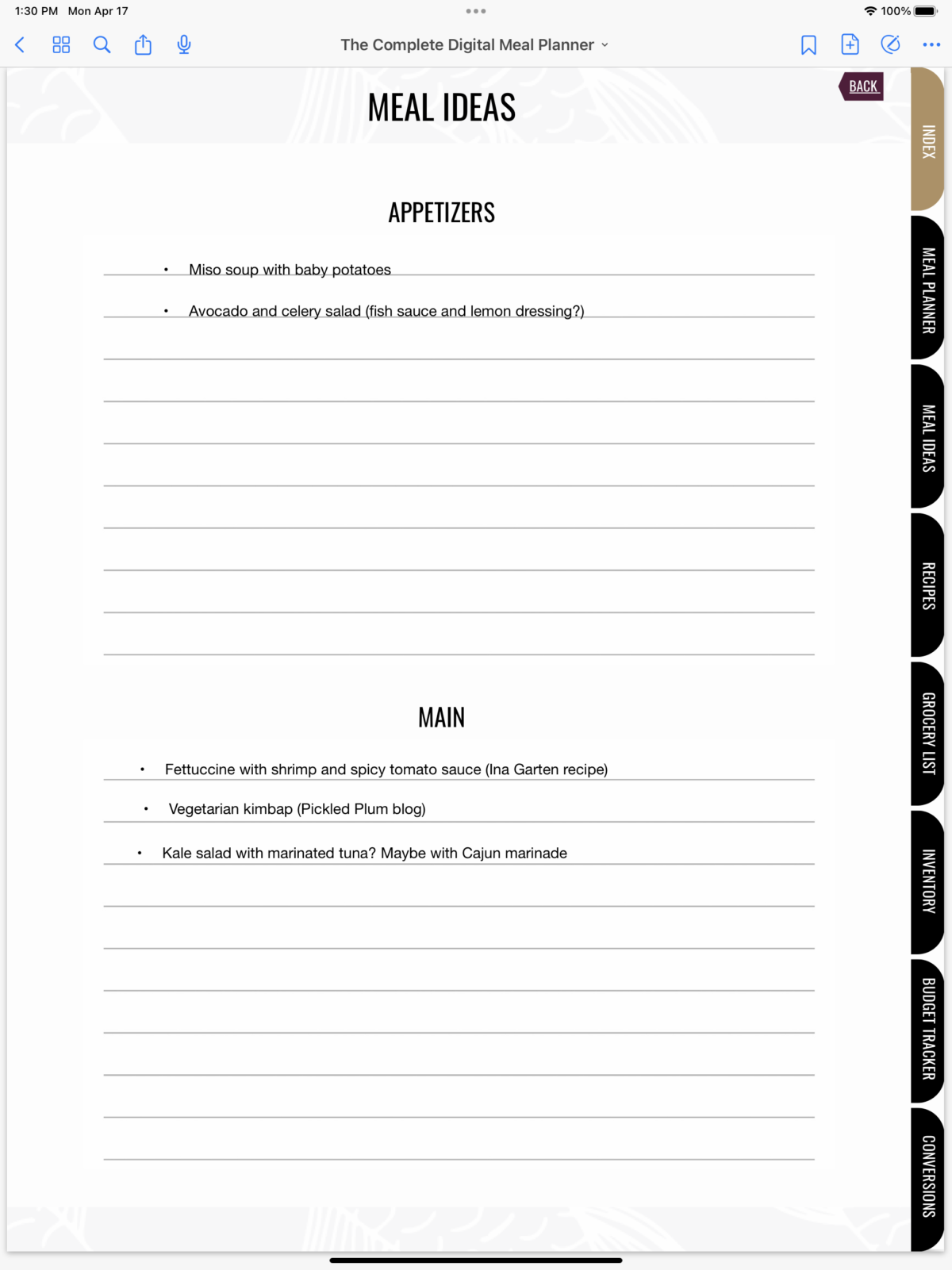 Scan Through Your Meal Ideas Lists
Add as Many Pages as You'd Like with Goodnotes!
Yes, this planner already contains a whopping 838 pages but that doesn't mean you can't add more! With Goodnotes, you can easily add more pages to any category you want. To keep the file size of the planner as small as possible, I've only included one page from these following categories:
Meal rotation favorites
Meal inspiration board
Grocery list
Fridge inventory
Freezer inventory
Weekly budget tracker
Monthly expense tracker
Blank notebook
Lined notebook
Those pages can be duplicated as many times as you'd like which means you have full control over the size of your planner. Staying organized as never been this easy!
Frequently Asked Questions
A digital product is an intangible product that exists in digital form. This planner is just like a regular planner but in digital format. Once you purchase this product you will receive an email with a link to download the pdf file.
No physical product will be shipped.
Goodnotes is a free application that is needed in order to be able to use this product. This app allows you to plan your meals, write down recipes, tips, and recommendations, using a digital pen (just like you would for a physical notebook), or a keyboard.
Other note taking applications such as Notability can also be used.
Unfortunately, this planner is NOT compatible with mobile devices.
This planner works best with an iPad as it was designed for it.
It may be used with an android tablet but keep in mind that the dimensions and colors may look different as this was designed for an iPad.
This planner can be printed although it wasn't intended for it. I personally don't recommend it.
Each page is hyperlinked to make the navigation process easy. If you print it you will lose that important feature. The tabs will also print out on every page which will look a bit strange. You could cut out the tabs and add your own but I personally haven't tried it.
838 pages.
And you can add as many as you want with GoodNotes!
Yes!
Only a one-time payment is needed for this product.
Since this is a digital product, we do not offer any REFUNDS or accept any RETURNS.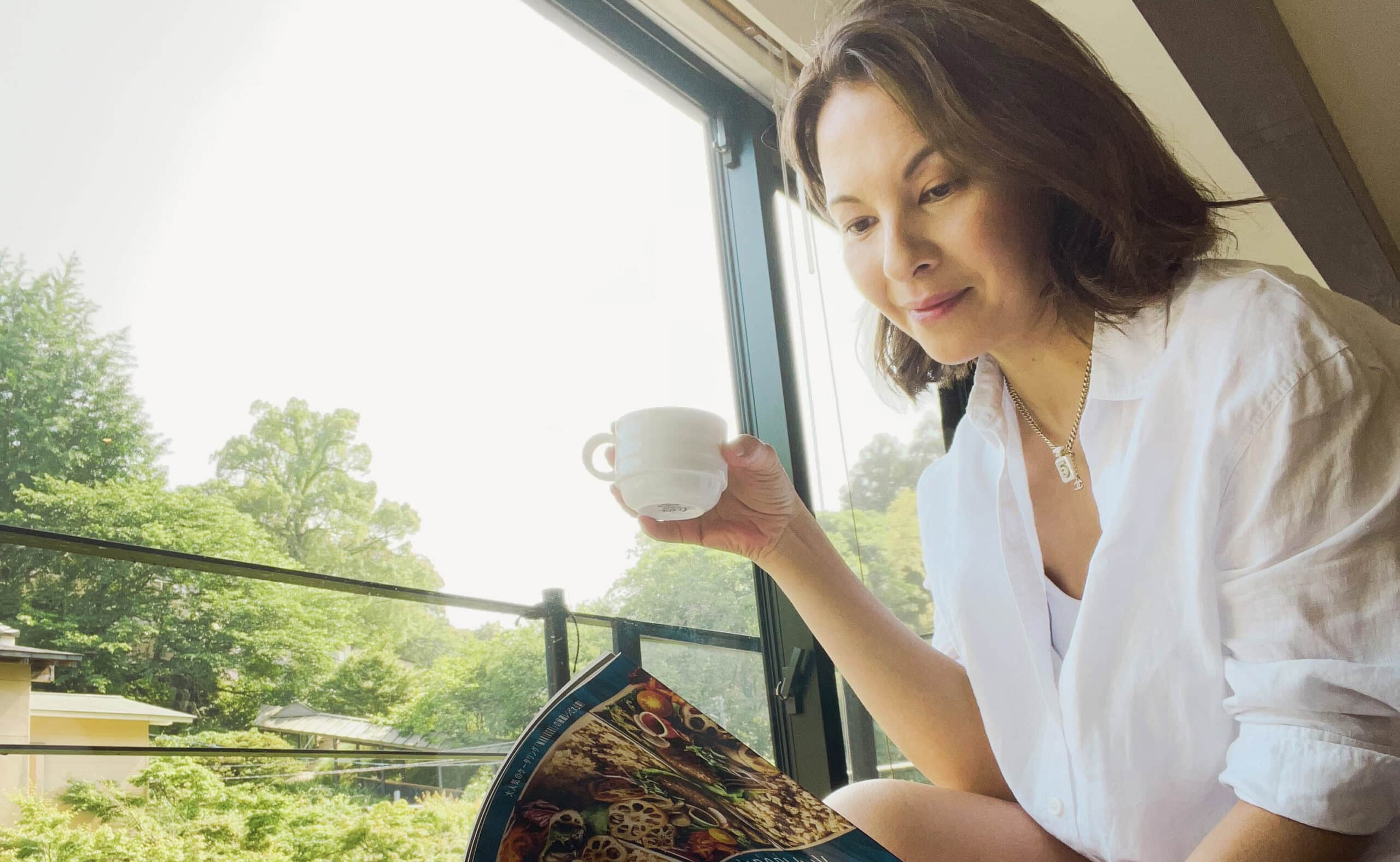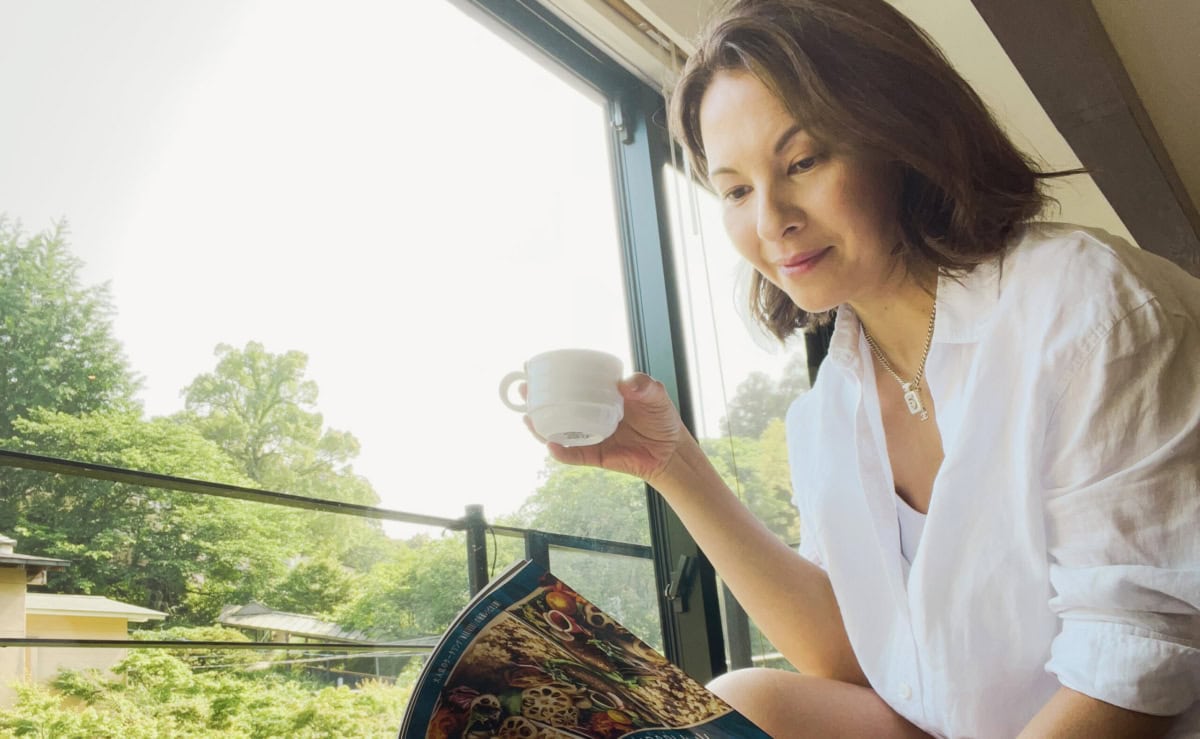 About The Author
Caroline Caron-Phelps is a Japanese/French Canadian recipe creator, food blogger, and photographer. She showcases delicious, authentic Asian recipes, especially Japanese, vegan, and vegetarian, with beautiful photography, easy-to-follow instructions, videos, and practical recipe variations. Caroline has been featured on digital publications such as Bon Appetit, Shape, Self, Women's Health, Today, and Elle. She has created recipes for Saveur, Clean Eating Magazine, Plant Based Magazine, and Vegan Food and Living Magazine.
ALSO AVAILABLE IN DIGITAL FORMAT
51 RECIPES
Pickled Plum's Digital Cookbook with 51 of the blog's most popular recipes!
Bold flavors minus the extra fat and calories. This is my favorite way to cook because it's guilt free!
Notes
This is an instant digital download (nothing will be shipped). Due to the nature of the products, no refunds or returns can be made at this time.