I'm celebrating World Tuna Day with a quick and delicious recipe for tuna and sesame omusubi. Savory, sweet and nutty rice balls filled with crunchy and meaty ingredients – it's simply delicious! Submit your recipe to win a VISA card or a trip to Fiji – read the post for more info.

This post is sponsored by Chicken of the Sea. Chicken of the Sea provided me with EZ-Open cans for the purpose of this post, as well as compensation for my time. As always, all opinions expressed in this post are mine. 
Tuna And Sesame Omusubi (Rice Balls)
One of my favorite snacks of all time is omusubi, aka onigiri, nigirimeshi or rice balls. I can't get enough of these tasty rice balls and always take several trips to the convenience store whenever I'm in Japan to try their latest flavor.
Traditional omusubi is made with white rice and comes with a filling in the center such as pickled plum, salmon, bonito flakes, kombu or pickles. It's then wrapped in nori and served in the shape of a triangle or cylinder. Nowadays you can find many different flavors of omusubi – I've tried salmon roe, tuna mayonnaise, natto, mushrooms, even Spam!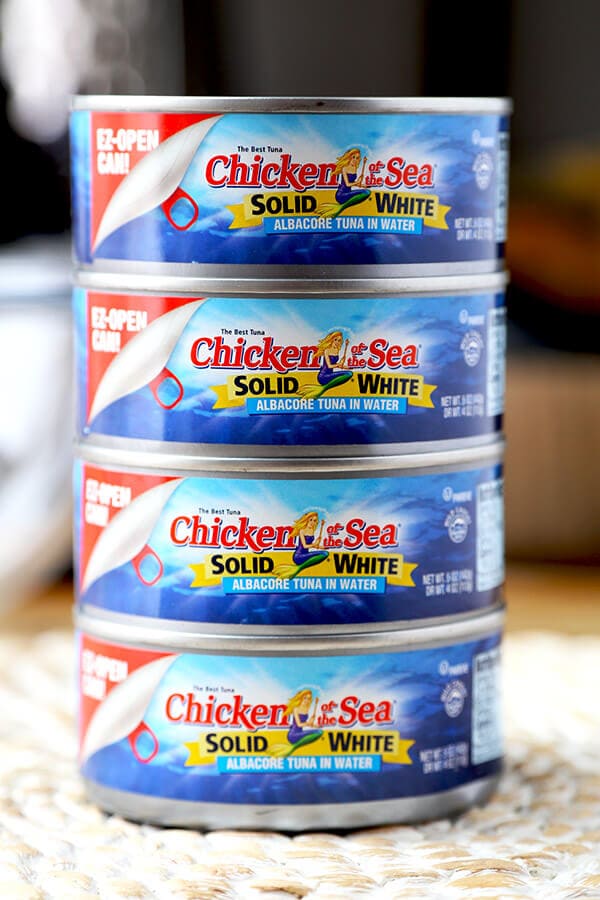 The main difference between sushi and omusubi is the way the rice is seasoned. Sushi rice contains a mix of rice vinegar, sugar and salt while omusubi is either plain or lightly salted. I've also seen omusubi made with a mix of white and brown rice as a healthier option, which is what I've decided to make for you today! My recipe is super easy and flavored with a mix of canned tuna, bonito flakes, crunchy scallions and sesame seeds tossed in soy sauce, mirin and sesame oil. Instead of using nori to wrap the rice, I'm shredding it into the mixture so the toasted flavor is in every bite. Not only are they quick to make, they are also fun to eat and super yummy!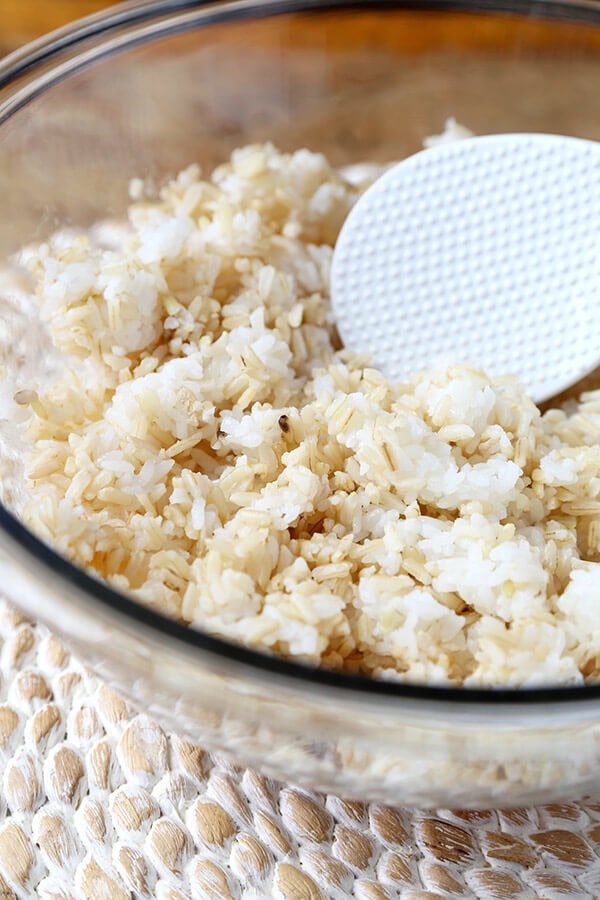 You're probably thinking that adding canned tuna and a seasoning sauce might make the omusubi soggy. The secret is in draining the canned tuna properly by putting it into a strainer and lightly pressing on the flakes to remove excess water. I'm using Chicken of the Sea EZ-Open can because the lid is really easy to pull off and makes dealing with canned tuna a mess-free experience. Plus, I love the texture of the solid white albacore tuna and slightly briny taste. What I love best about the Chicken of the Sea tuna is that it's not floating in water and retains the flakiness I'm looking for when I want to make a tuna sandwich or in this case, omusubi. With the EZ-Open can I don't have to worry about the tab breaking or cutting myself when pulling off the lid which is an added bonus!
A good rice ball should be condensed enough so it doesn't fall apart when you take a bite while keeping each rice grain intact, as opposed to mashed. If you're not comfortable handling a rice ball in your bare hands, a good trick is to use plastic wrap. Add about 3/4 cup of rice mix into the center of a plastic wrap and twist the ends to seal. Then you can start molding your omusubi until you get a nice triangular shape. Don't be intimidated by this, the process is very straight forward and yes I'm going to say this because I can't resist – it's easy peasy Japanesy!
You can make these ahead of time and keep them refrigerated. Before eating, you can zap them in the microwave for 20-30 seconds to soften the crunchy-chalkiness rice takes on when it's cold. It makes a healthy and fun snack to take to work or for your kids to take to school.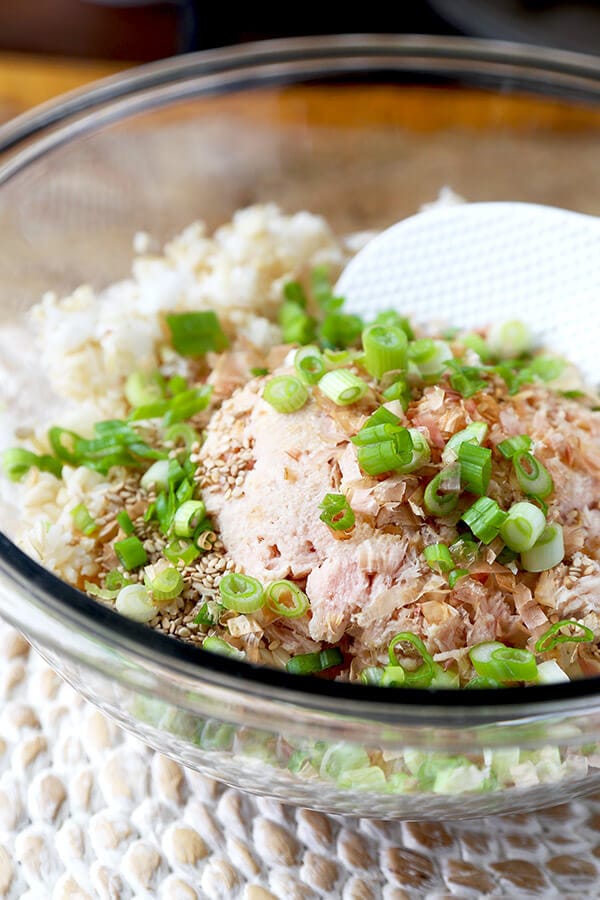 It's now time to talk about this exciting contest!
Chicken of the Sea is hosting The Best of the Sea Challenge: A World Tuna Day Recipe Contest where eight winners will win VISA gift cards and one grand prize winner will win a trip for two to Fiji! The winners recipes will also be featured on the Official World Tuna Day Menu.
All you have to do is submit your best tuna recipe and fans will vote for their favorites. The winners will be announced via a Facebook live event May 2nd, on the Chicken of the Sea Facebook page. The deadline for submissions is April 21st, so don't waste any time and get cooking chefs!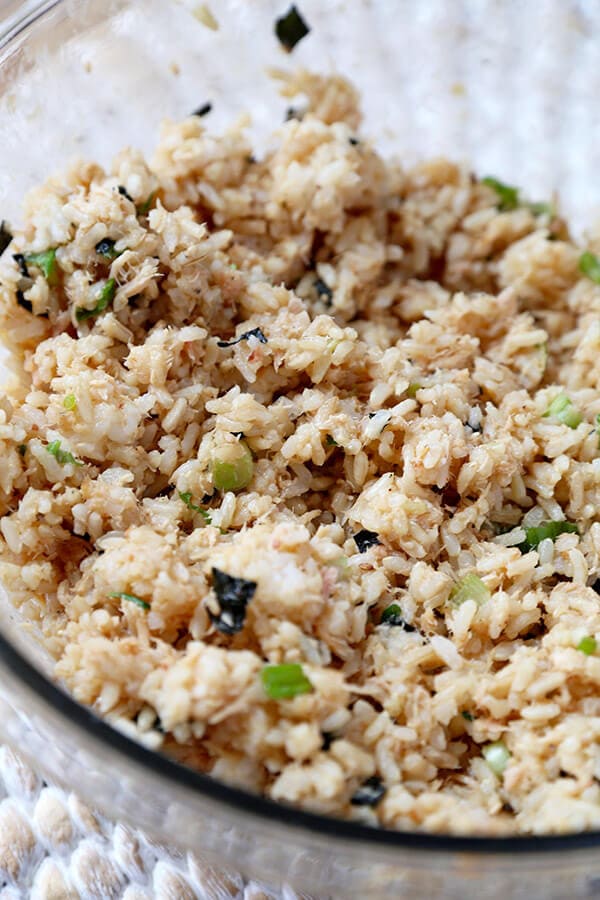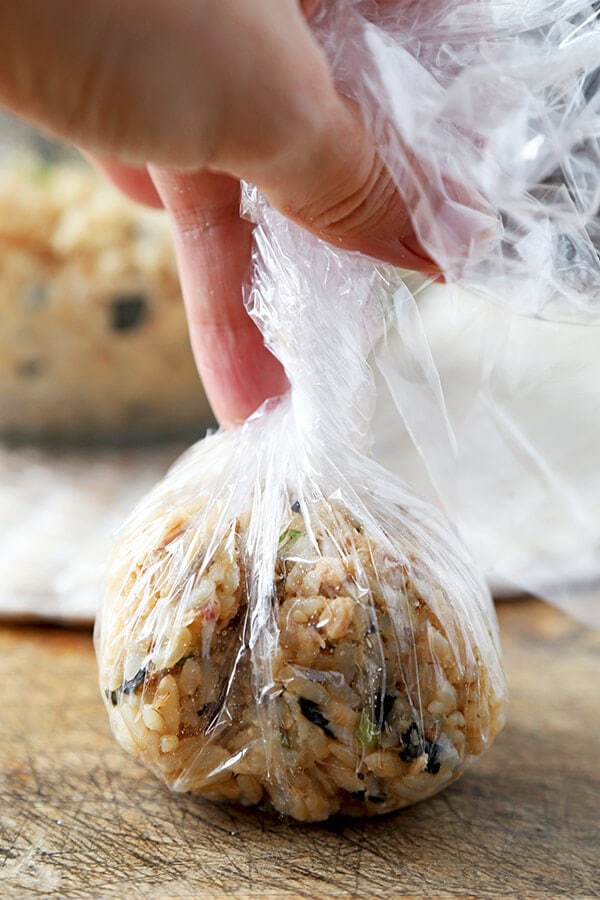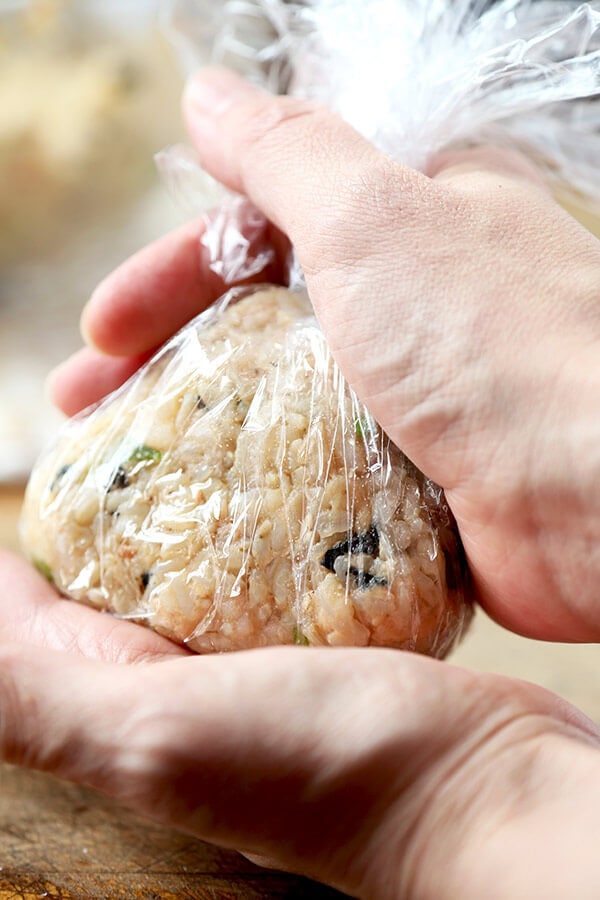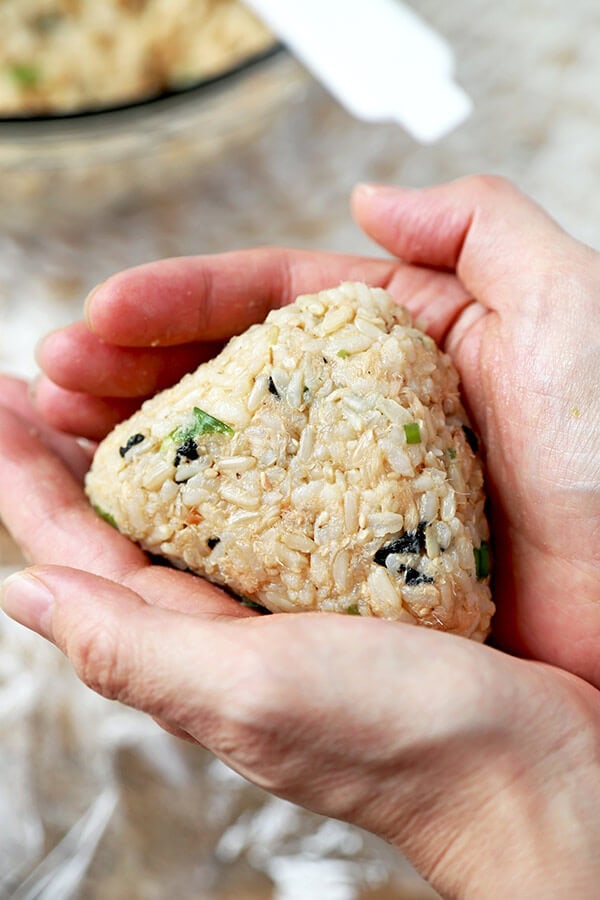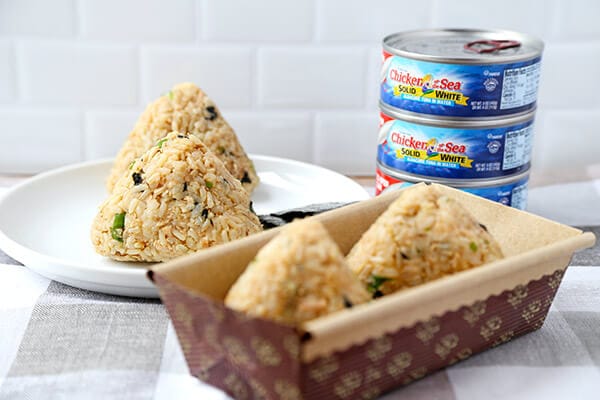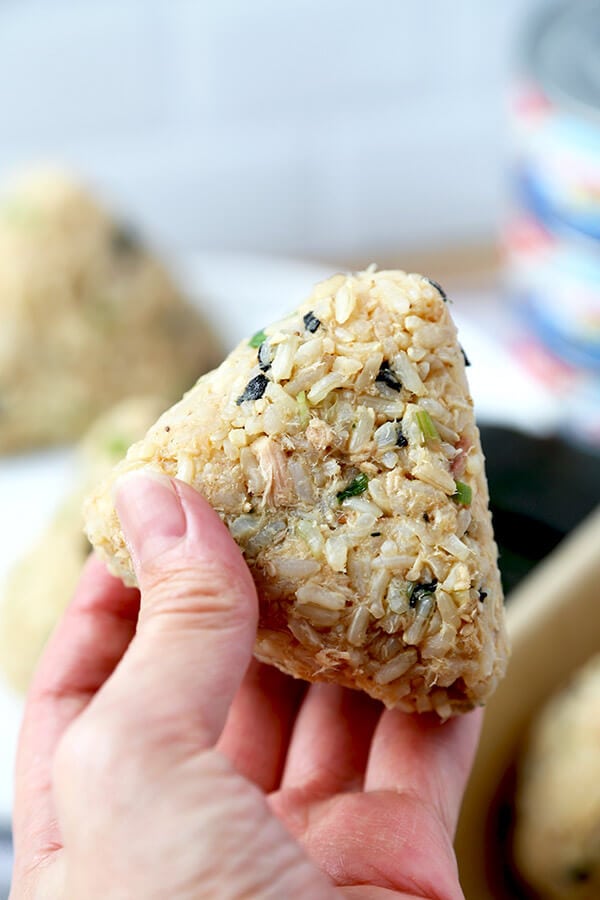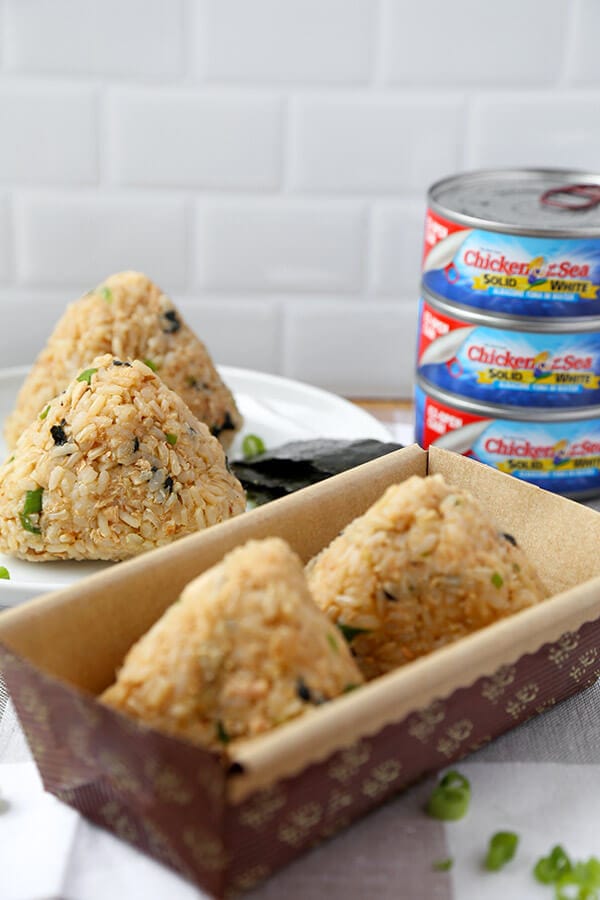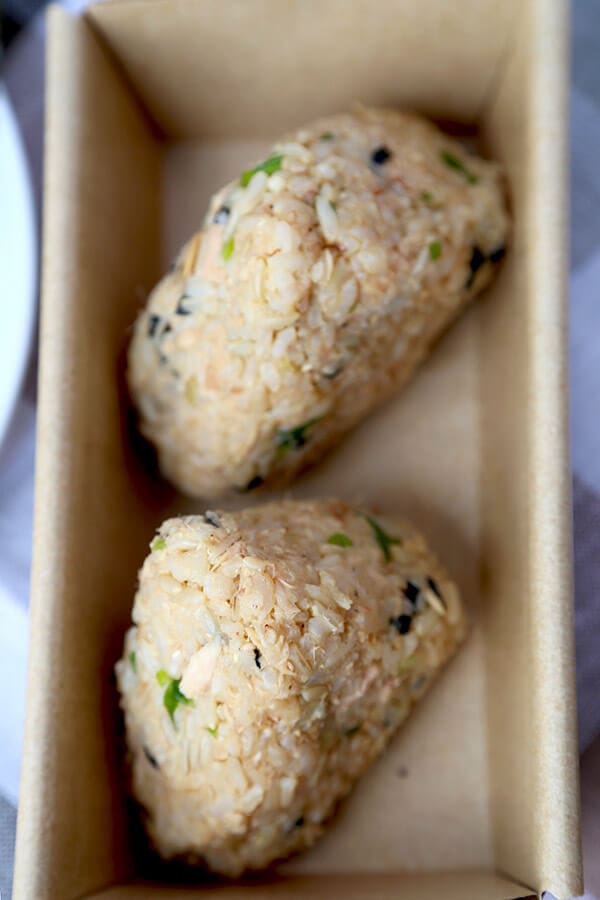 Did you like this Tuna and Sesame Omusubi Recipe? Are there changes you made that you would like to share?
Print
Tuna And Sesame Omusubi (Rice Balls)
A traditional Japanese snack kids and adults love!
Author: Caroline Phelps
Prep Time:

20 minutes

Total Time:

20 minutes

Yield:

6

omusubi

1

x
Category:

Snacks

Cuisine:

Japanese
1 1/2

cup

cooked Japanese rice

1 1/2

cup

brown rice

5

ounces

Chicken of the Sea Solid White Albacore in Water EZ-Open can

2 tablespoons

bonito flakes (katsuobushi)

1 1/2 tablespoons

sesame seeds

2

stalks scallions (finely chopped)

3 tablespoons

shredded nori
For the sauce:
1 1/2 teaspoons

sesame oil

2 1/2 tablespoons

soy sauce

1 1/2 tablespoons

mirin
Instructions
Put the canned tuna in a strainer and drain well. You can use a fork to gently press the tuna flakes and get rid of excess liquid. Set aside.
Put white and brown rice in a bowl and using a rice paddle or spatula, fold the rice a few times until well mixed.
Add tuna, bonito flakes, sesame seeds, scallions and shredded nori to the rice and mix well. Be careful not to mash the rice – folding the rice works best for this step.
Add sauce and fold again until the rice is evenly coated and the liquid has been absorbed.
Put about 3/4 cup of tuna and sesame rice on a piece of plastic wrap and twist the top. Slowly create a triangle shape by pressing the mixture from side to side. The omusubi should be packed enough not to crumble upon eating, with the rice intact (not mashed).
Unwrap and finish shaping the omusubi in your hands. Alternatively, you can leave the omusubi wrapped and save it for later or to take to work the next day.
Repeat this step until all the rice has been used.
Different ways to eat omusubi:
Just like that, bare and delicious!
With a sheet of nori wrapped around.
Grilled on one side.
Brush a little soy sauce on one of the flat sides of the omusubi and grill until the outer layer is golden brown and the rice almost crispy.
Notes
These tuna omusubi will keep refrigerated for up to 2 days.
Nutrition
Serving Size:

1 omusubi

Calories:

340

Sugar:

2.1 g

Sodium:

292.7 mg

Fat:

7.1 g

Saturated Fat:

1.6 g

Carbohydrates:

28.8 g

Fiber:

0.9 g

Protein:

37.2 g

Cholesterol:

60.6 mg
Keywords: recipe, onigiri, rice balls, lunch, healthy
Recipe Card powered by