A deliciously bright and fruity smoothie packed with ingredients to soothe and strengthen your gut! Drink it every morning for regularity and to reduce inflammation. And don't be nervous about the bitter melon taste – it's hidden so well you can barely taste it!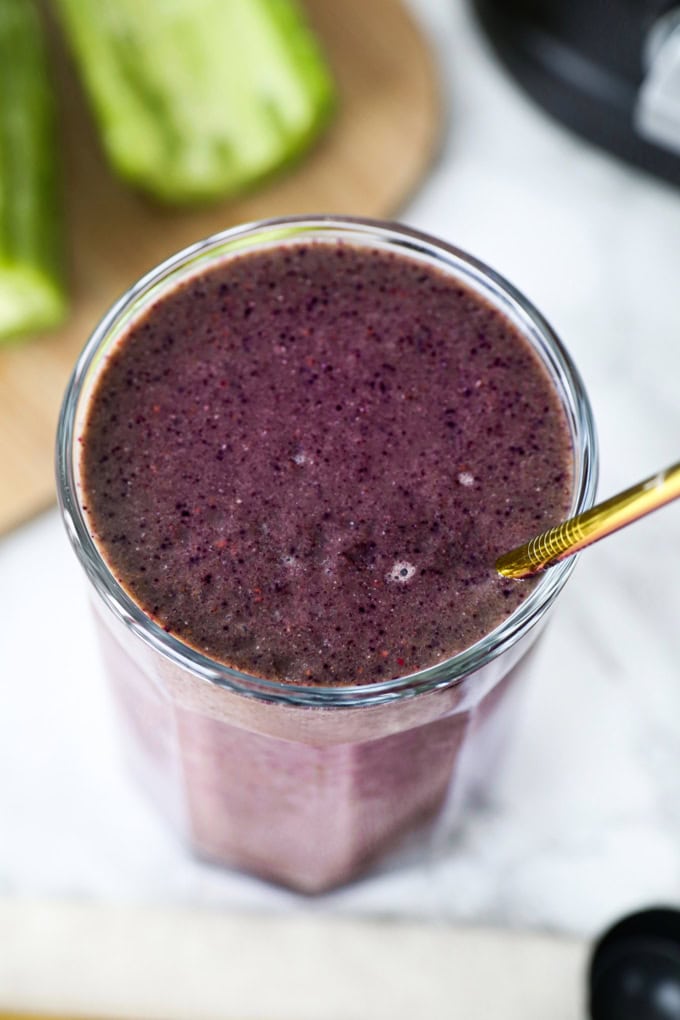 What better way to start the new year than to give your gut a good cleansing. I know,  it sounds kind of gross but I think many of us need to detox a bit after all of last month's festivities!
As for myself, it was a necessity more than just a desire to nurse myself back to health.
Normally I would favor a diet of leafy greens and lots of warm water and teas, but this year I've taken a different route after reading Gut Bliss, a book that has helped me tremendously on my journey to digestive recovery.
Between having to deal with a difficult neighbor, suffering from a work related burnout, and packing to move cross-country in a short amount of time, my anxiety was at an all time high. I developed insomnia and put tremendous stress on my digestive system. I won't go into details but it got so bad that I ended up at the health clinic twice because I thought something was seriously wrong with me.
During my second visit, the doctor recommended that I read Gut Bliss, a book about how to restore balance in your GI tract. In it, Dr. Robynne Chutkan, an integrative gastroenterologist, talks about the main causes behind bloating and indigestion for women. She shares stories of her patients and how she was able to help them get better, all without the use of drugs.
It's an insightful book full of great tips that's also fun and easy to read. I didn't follow her 10-day diet plan to a tee but I did make her smoothie every morning for 30 days straight.
And guess what happened? I got better, a whole lot better. Gone are the sleepless nights and urgent bathroom runs. Gone is the fatigue I felt all day long because my body wasn't absorbing any nutrients. I was finally back to feeling like my old self.
That's why I'm sharing this smoothie recipe with you today. Maybe you also suffer from the same discomfort I went through these past few months and feel helpless. If this can bring you a little comfort then I will be happy to have published this post.
This smoothie recipe is a little different than Mrs. Chutkan's, I've added a couple of ingredients to increase the benefits, but it works all the same. I recommend prepping all the ingredients ahead of time so that all you have left to do in the morning is to pack your blender and press start.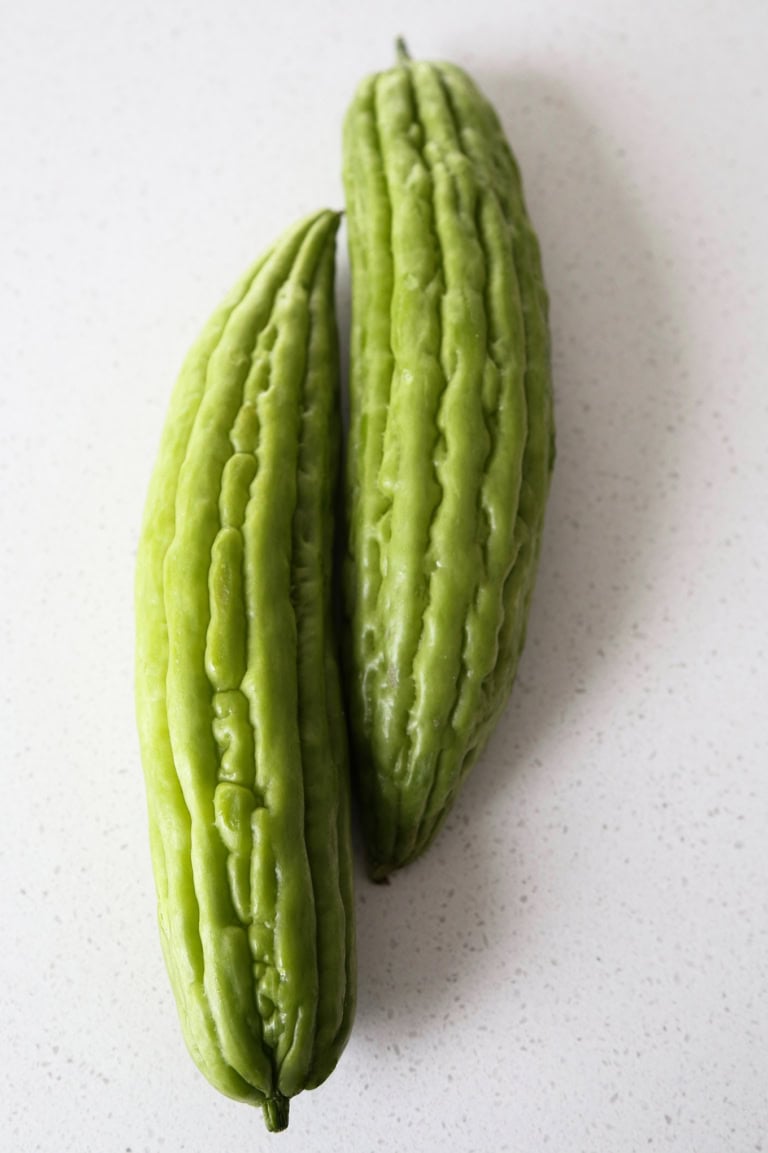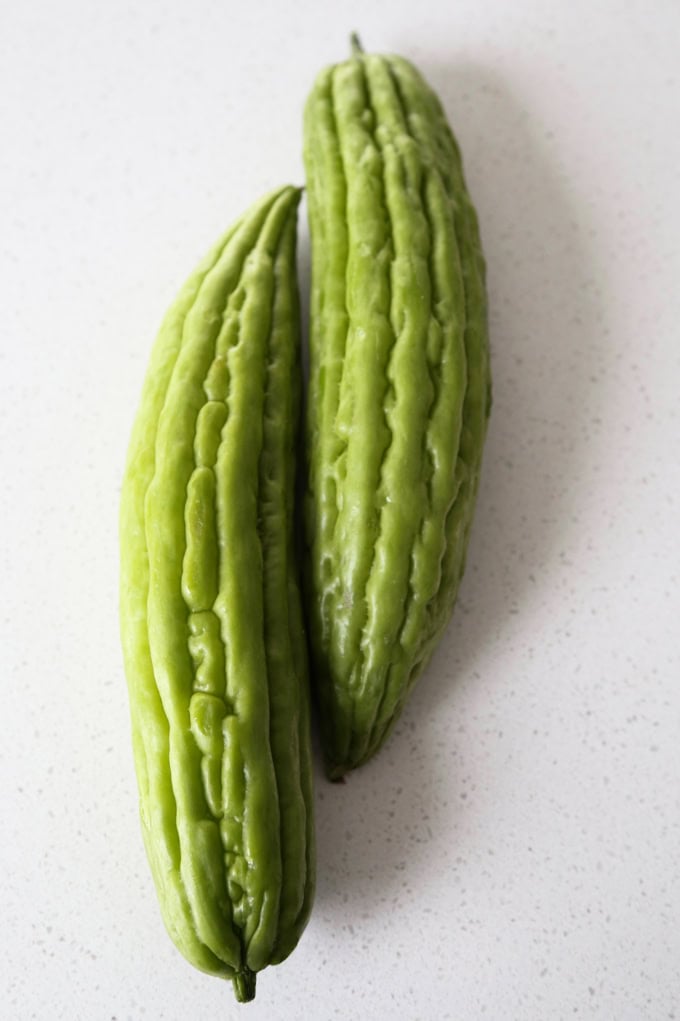 What is bitter melon?
Bitter melon, or bitter gourd, is a tropical plant that originated from Kerala, a state from Southern India. It was introduced to China during the 14th century and has since made its way through most of East Asia, South Asia, Africa, the Caribbean and South America. As a result, bitter melon is used in many dishes from the aforementioned regions, mostly appearing in stir fries, curries, soups, and stews.
Bitter melon is oblong shaped and comes in different shades of green and sizes, depending on where it comes from. The one you see in the picture above is from Taiwan.
What does it taste like?
It's very bitter and gets even more bitter as it ripens. On its own, bitter melon is pretty awful which is why it's soaked in salt water to remove the excessive bitterness.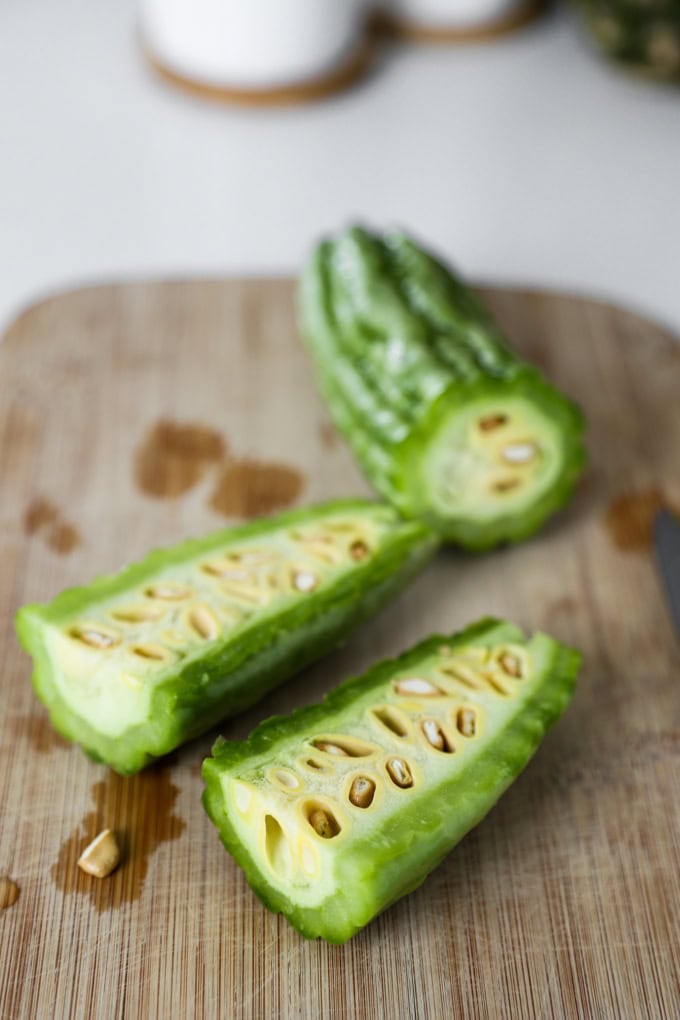 How to cook (prepare) bitter melon
Rinse the bitter melon under cold water and pat dry.
Place it on a cutting board and slice the bitter melon in half, lengthwise.
Scoop out the seeds and white foamy part by using a spoon, or cut it out with a paring knife. If the bitter melon is super bumpy like the Indian type (called karela), scrape off the rugged surface with a vegetable peeler.
Slice the bitter melon into half moons and soak in water for 15 minutes. You can also add salt here to remove even more bitterness. Drain, pat dry and use.
Those taking medication that could lower blood sugar should consult their doctor before using bitter melon since it could cause your blood sugar to drop dramatically. 
Where to buy bitter melon
You can find bitter melon in Chinese and Vietnamese grocery stores. You might also be able to find it in specialty natural stores.
Can I still make this smoothie if I don't like bitter melon or can't find it?
Of course! The bitter melon is optional and only a little is being used. No need to substitute it with something else, just take it out and proceed with the recipe.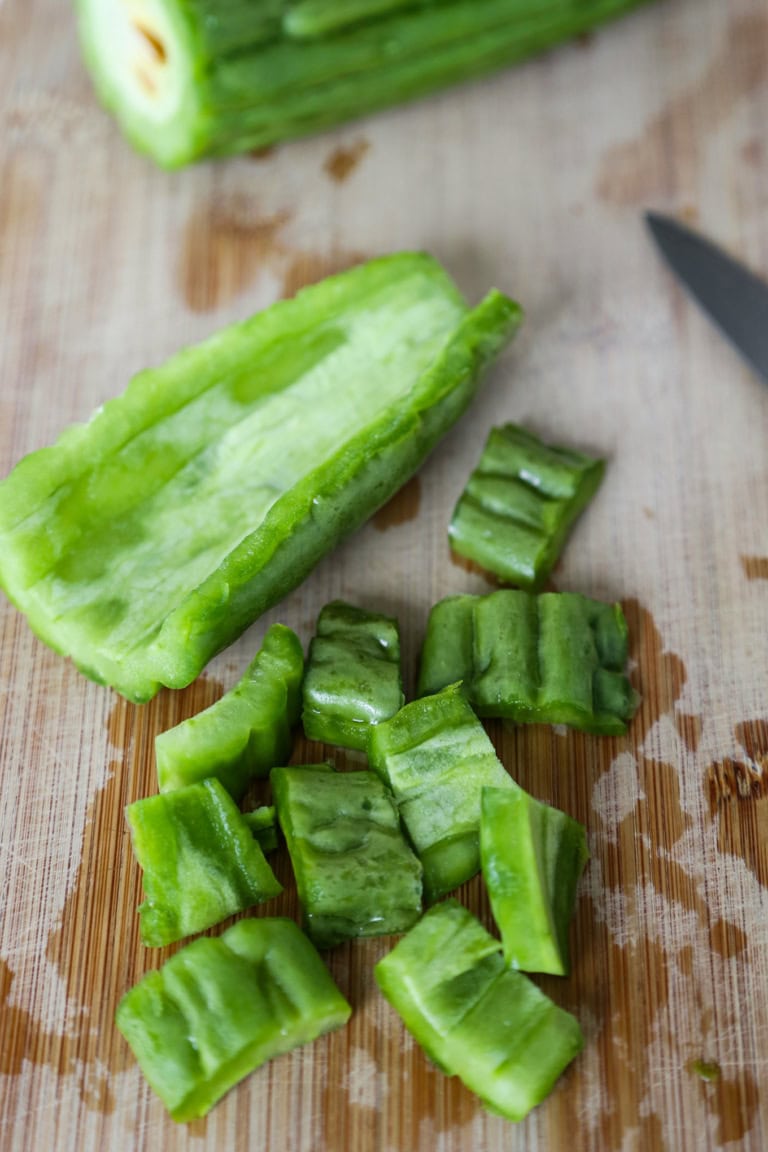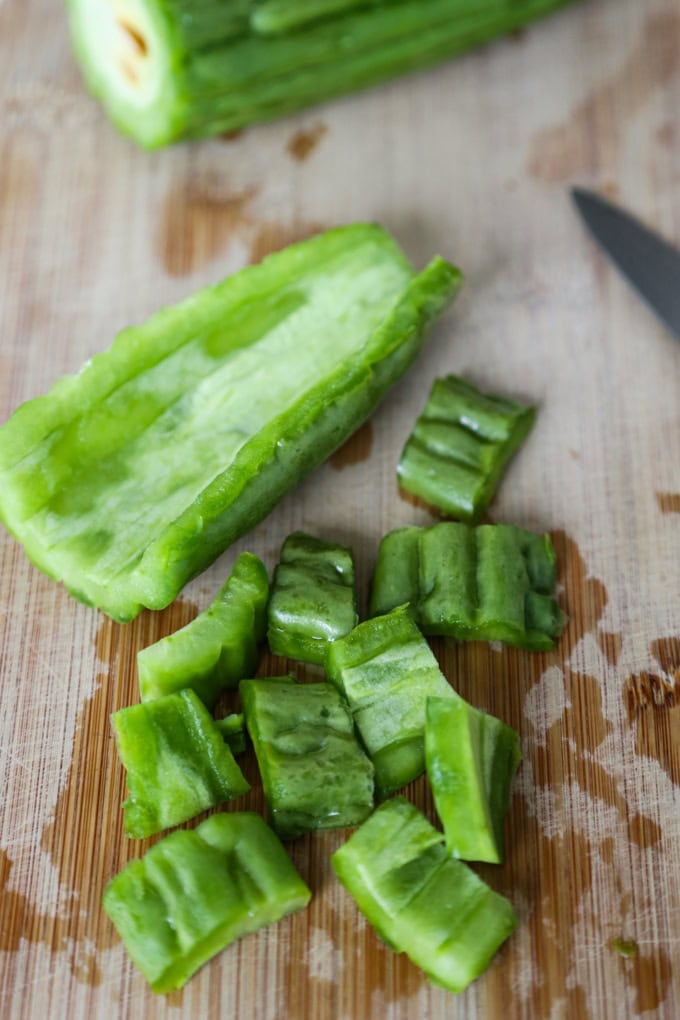 Ingredients for Gut Soothing Bitter Melon Smoothie
Banana – Small to medium size is good and the sweeter the better!
Pineapple – I prefer using fresh pineapple for their sweeter taste but using frozen chunks work just as well.
Frozen Berries – A mix of your favorite berries. I use Target's Triple Berry Blend.
Spinach – baby spinach is easier to handle but regular spinach is good too. Make sure to pack your measuring cup well, you can never eat too much spinach!
Bitter Melon – the Taiwanese type (the one in the pictures) is what I prefer because it's easier to find and to handle (no need to grate the surface). Only use 4 to 6 bite size pieces, don't go overboard here! A little goes a long way to reap the benefits. Use too much and the reverse could happen – diarrhea and abdominal pain can ensue. You would have to eat quite a bit of bitter melon to get sick but just to be on the safe side… This is a gut soothing smoothie recipe after all!
Unsweetened Almond Milk – You can use oatmeal, coconut milk, or soy milk as well.
Psyllium Husk – Make sure you get the organic kind that's 100% pure. The one I use is Organic India Whole Husk Psyllium. Popular brands like Metamucil are high in sugar, which is why it's best to avoid using.
Ground Flaxseed – 1 tablespoon per smoothie is what I'm using but you can add a little more if you like the nutty taste. Just beware that the texture of the smoothie will thicken and get mealy if you add too much.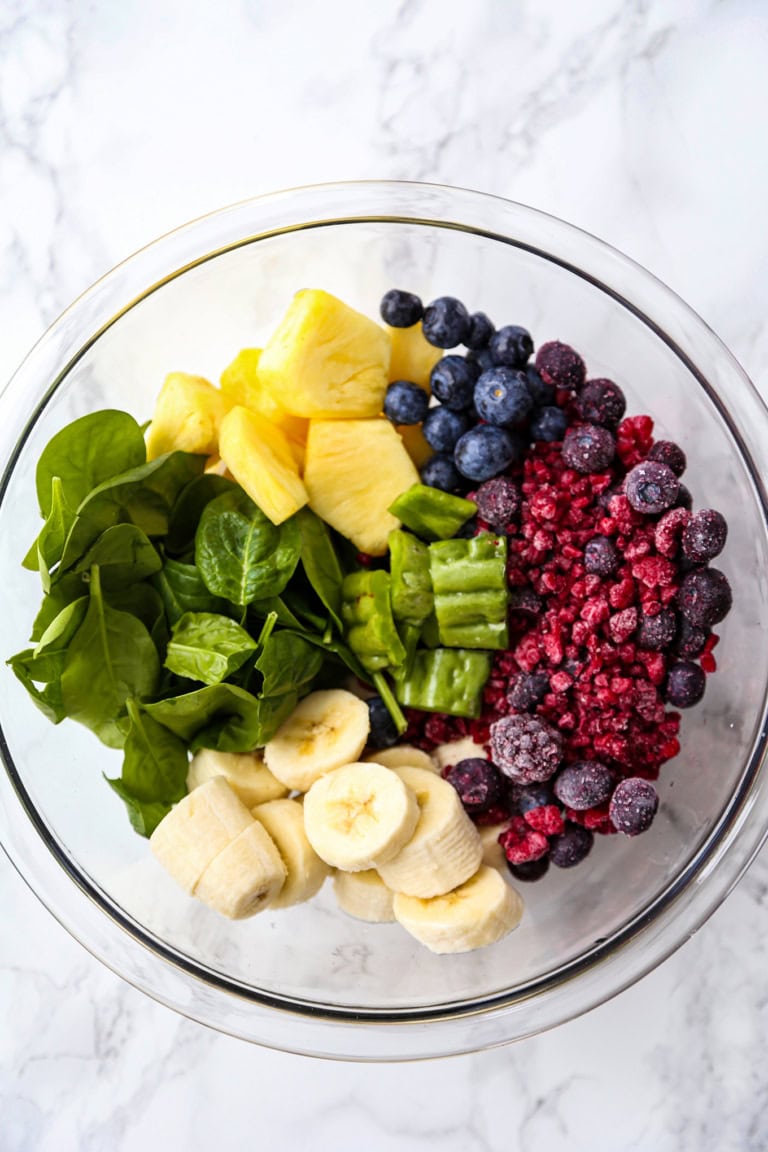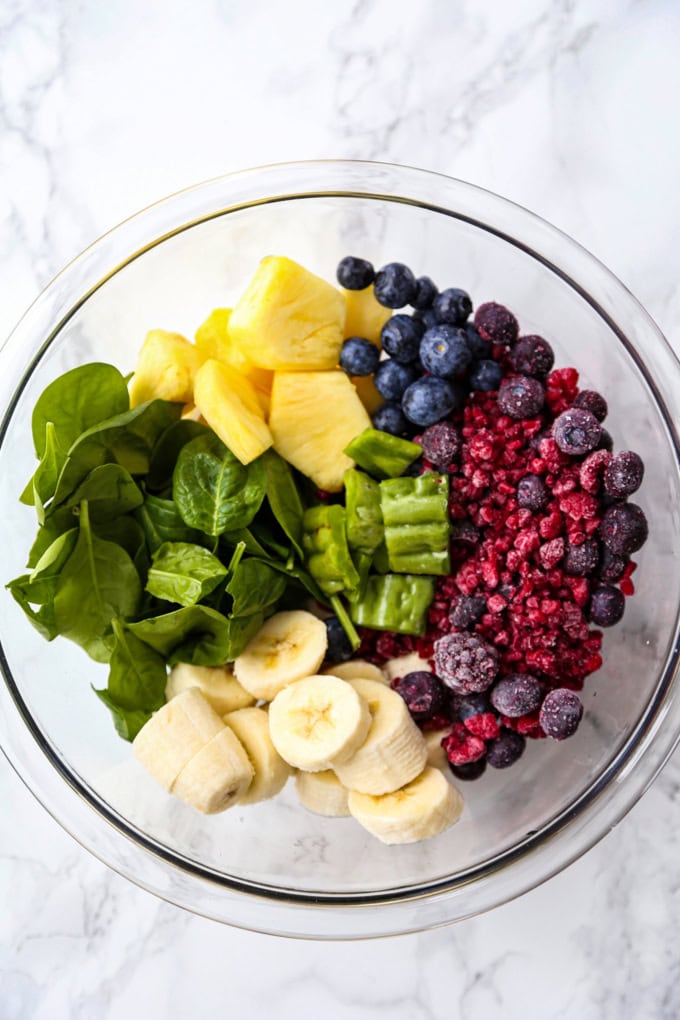 How to make this Gut Soothing Bitter Melon Smoothie
Put the bananas at the bottom of the blender and add your frozen fruit.
Add the spinach and top with the remaining ingredients.
Blend on high until smooth. Drink cold (it's so much better!).
The reason why I'm adding the ingredients in a specific order is because of trial and error. Put the frozen berries at the bottom and the blades sometimes don't move. Put the spinach at the top and some might get stuck between the pitcher and the lid. Put those two things in the middle and voilà – perfection!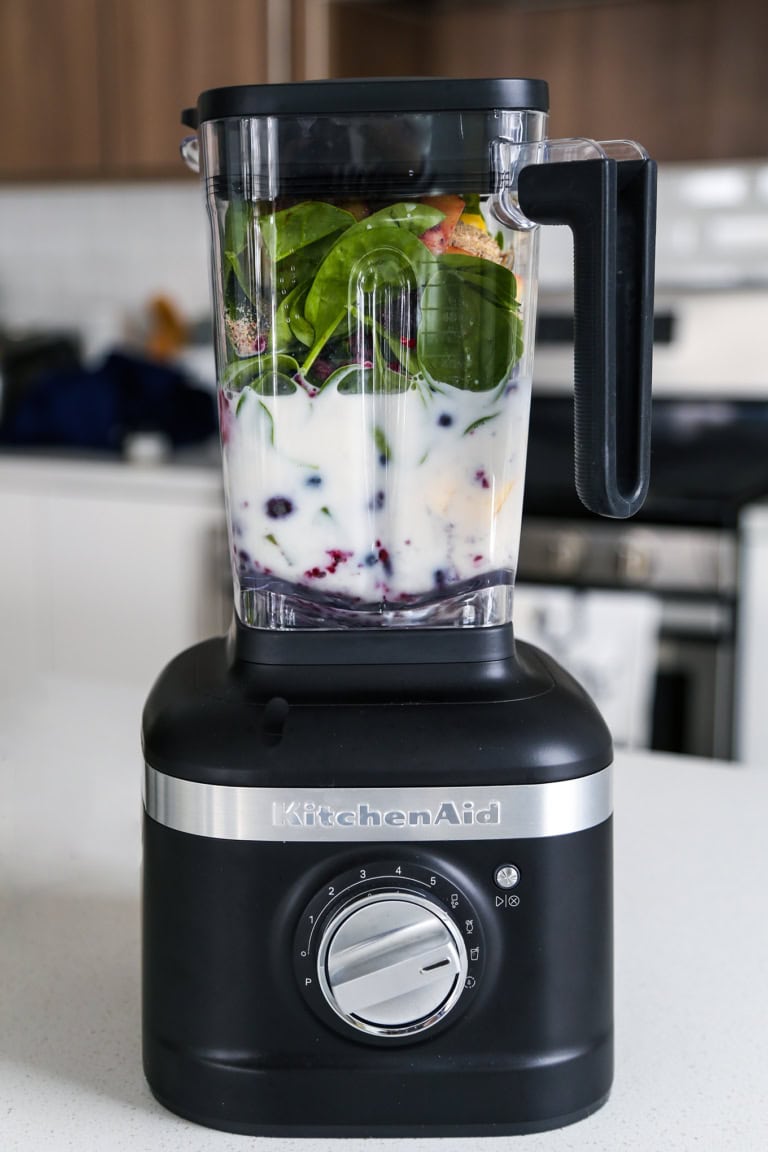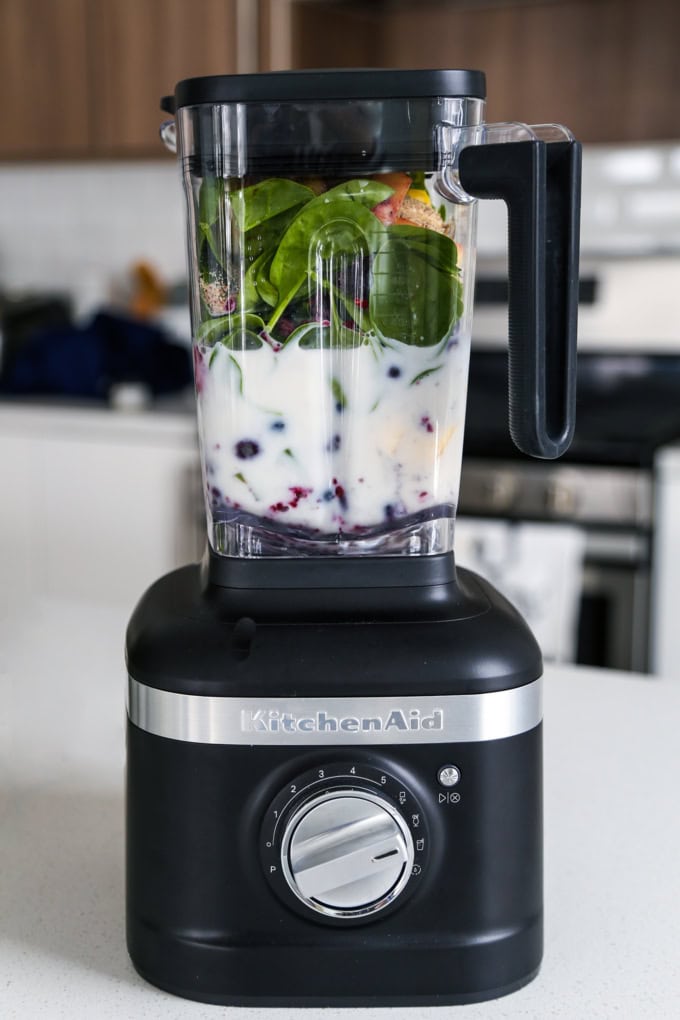 Other Delicious Smoothie Recipes:
Since I get a lot of questions on the type of kitchen equipment I use, here's a link to the Kitchenaid blender pictured above. I'm not getting paid to share this information, I just really like my blender ❤️.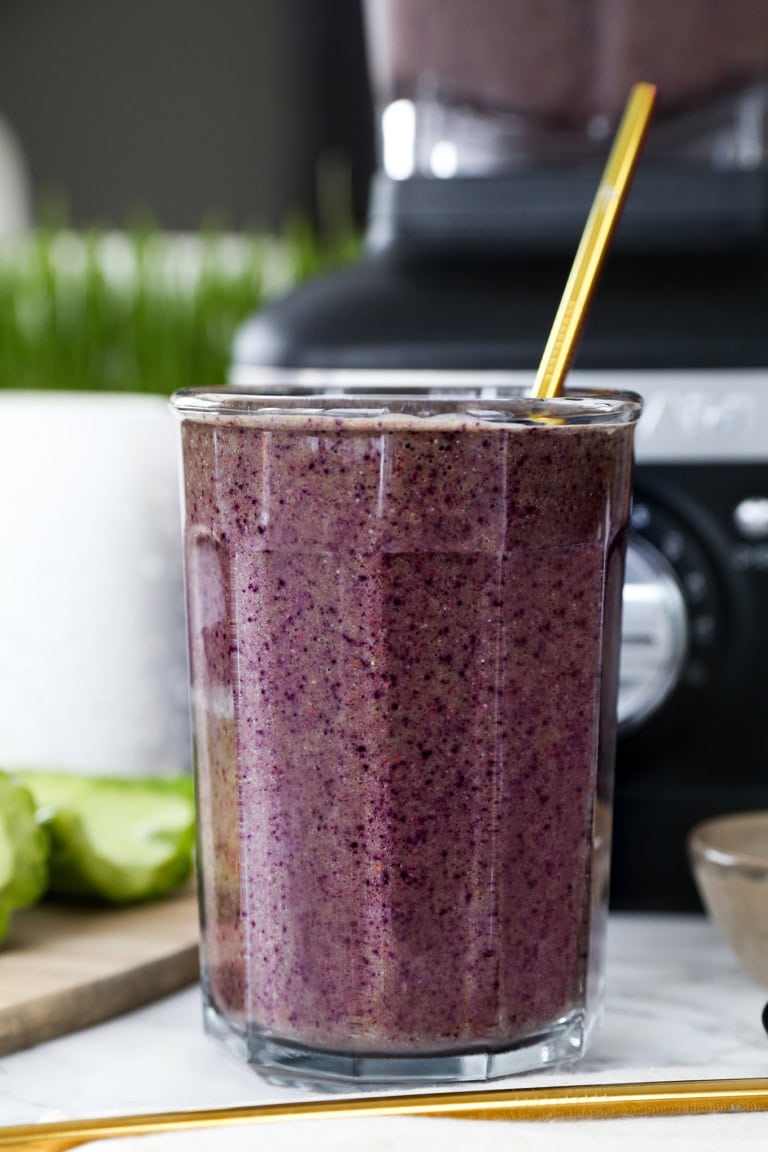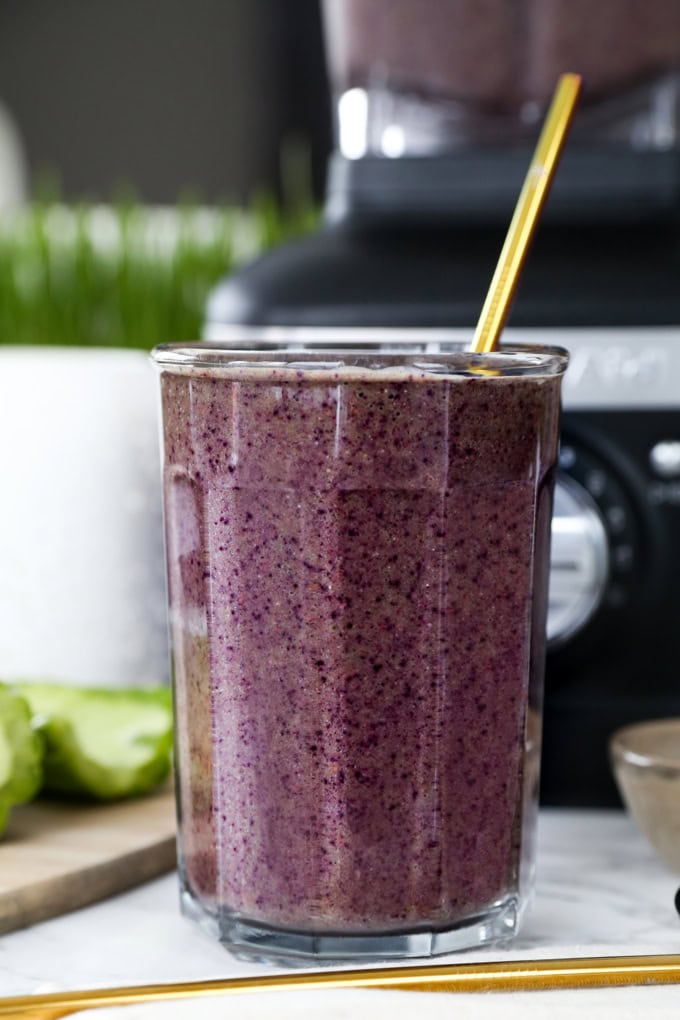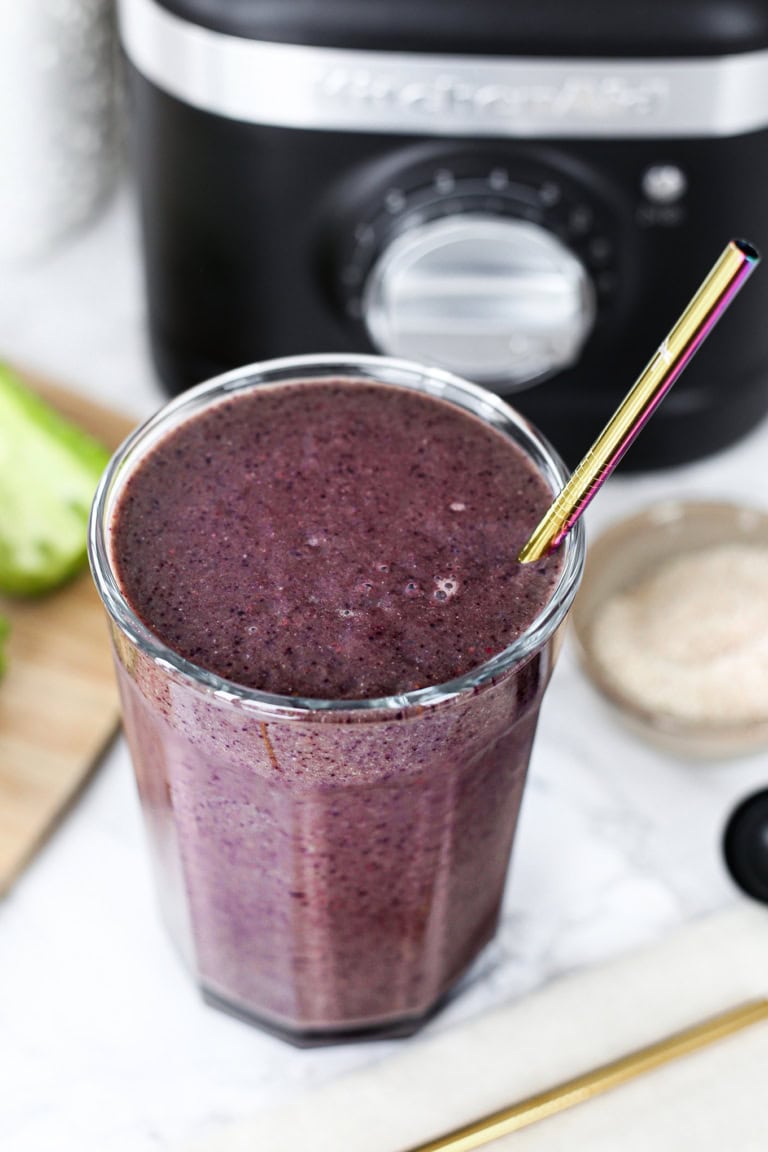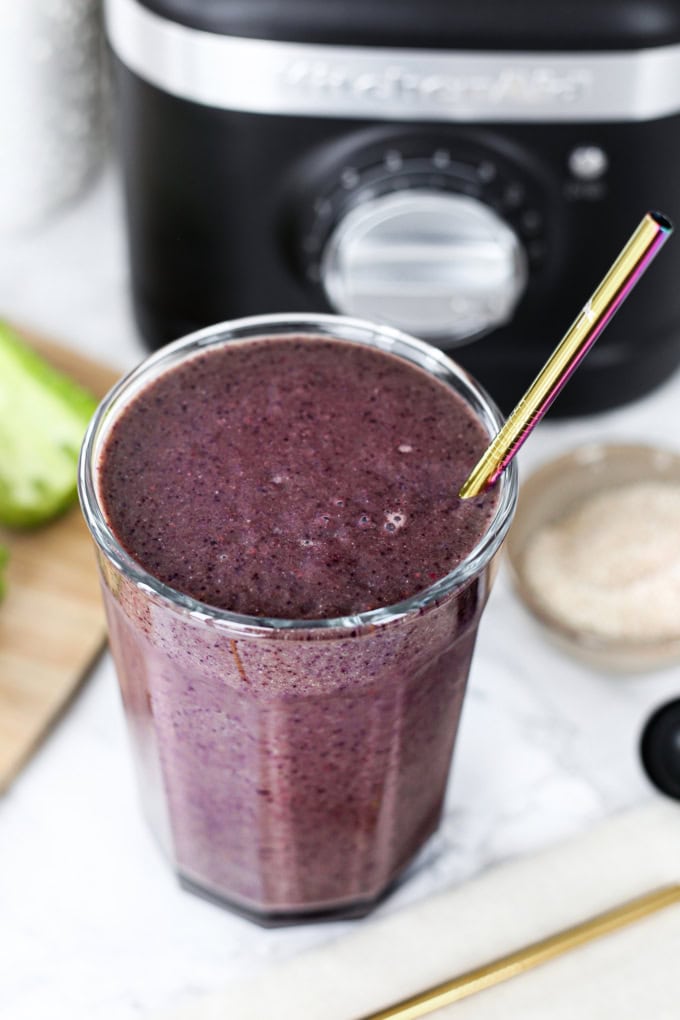 Did you like this Gut Soothing Bitter Melon Smoothie Recipe? Are there changes you made that you would like to share? Share your tips and recommendations in the comments section below!
Print
Gut Soothing Bitter Melon Smoothie
A deliciously bright and fruity smoothie packed with ingredients to soothe and strengthen your gut.
Author: Caroline Phelps
Prep Time:

5 minutes

Total Time:

5 minutes

Yield:

2

1

x
Category:

Drinks / Smoothies

Method:

Blended

Cuisine:

American
2

bananas, peeled

1/2 cup

fresh pineapple cut to bite size pieces, or frozen pineapple pieces

2 1/2 cups

frozen berry mix

2 cups

spinach

2 tablespoons

bitter melon (about

4

–

6

small pieces

maximum

), center and seeds scooped and discarded, chopped bite size.

2 cups

unsweetened almond milk

2 tablespoons

organic psyllium husk

2 tablespoons

ground flaxseed
Instructions
Put the banana at the bottom of the blender and add the frozen berries on top.
Add the spinach and top with the remaining ingredients.
Blend on high until smooth and serve immediately.
Notes
You can freeze bitter melon in an airtight storage container. It will keep for up to 2 weeks.
Don't use more bitter melon than the recipe calls for as too much can cause an upset stomach.
Nutrition
Serving Size:

1 smoothie

Calories:

338

Sugar:

32.9 g

Sodium:

219.2 mg

Fat:

8.1 g

Saturated Fat:

0.5 g

Carbohydrates:

68.9 g

Fiber:

17 g

Protein:

7.2 g

Cholesterol:

0 mg
Keywords: Breakfast, cleansing, detox
Recipe Card powered by