Peanut Butter Banana Smoothie
*This post may contain affiliate links. Read my disclaimer here.
Who wants a creamy smoothie that tastes just like a peanut butter milkshake? Yes please! This peanut butter banana smoothie is ready in just 5 minutes. Breakfast will never be the same!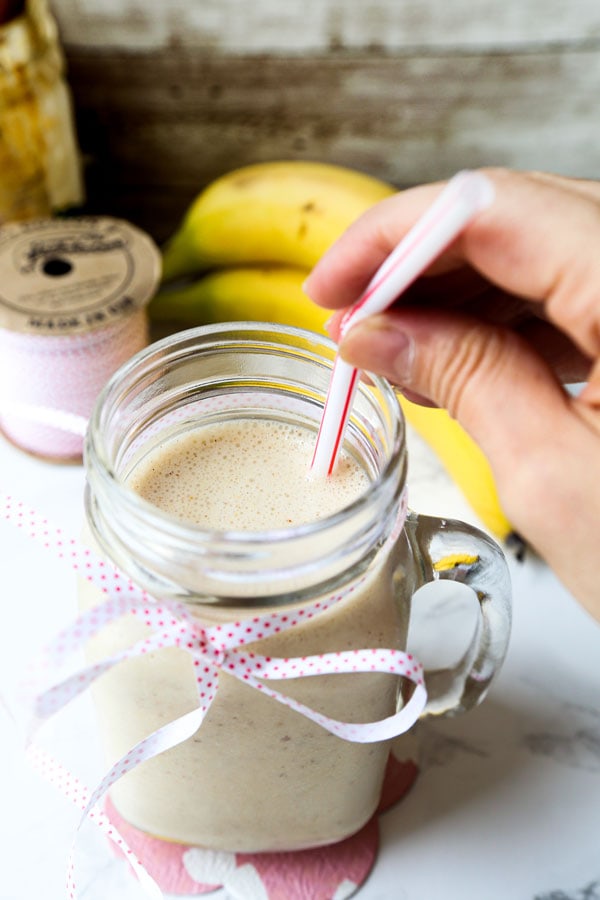 We're a smoothie loving household!
There's nothing better than setting ourselves up for a day full of success than drinking down a healthy, delicious and easy smoothie recipe first thing in the morning.
And whether it's a strawberry banana smoothie with matcha – or a caffeine fortified coffee, flaxseed and banana smoothie we just can't get enough.
So when I handed Ben a glass filled with this peanut butter banana smoothie the other day (I'm pretty sure the PB lover in him only heard the words peanut butter smoothie), he didn't hesitate to gulp it down with gusto.
He looked up with a milk-mustache and said, it tastes like a peanut butter milkshake.
Well, I gotta tell you… those words made me pretty darn happy!
Because, aside from being one of the most decadent tasting blender recipes I've ever whipped up, it's packed with some really excellent ingredients – sure to boost your morning mood AND prime your body for the day to come.
Oh, and this peanut butter banana smoothie is also super easy to make. Let me show you how to do it in your own home kitchen in less than 5 minutes!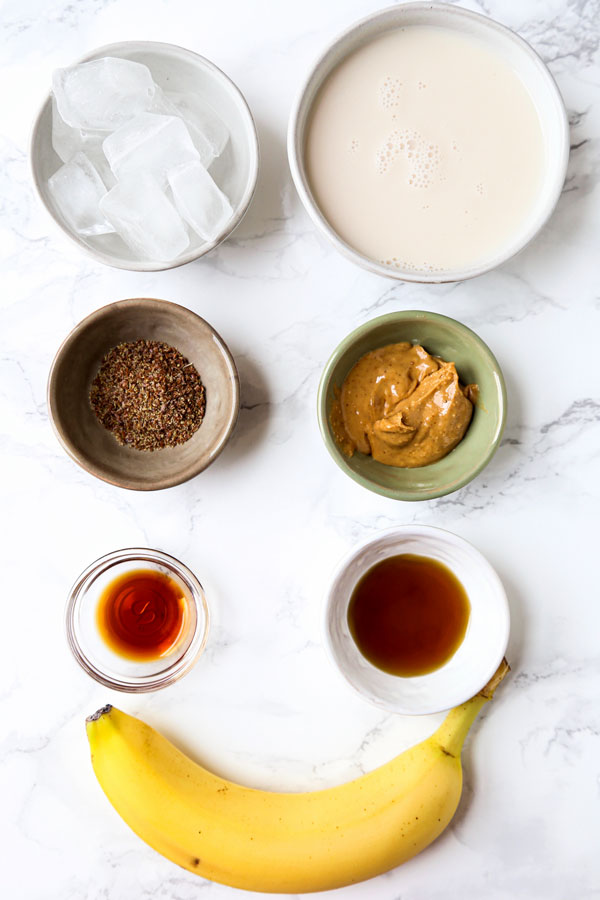 How to make a peanut butter banana smoothie 
Place the following ingredients in a blender or food processor: banana, natural peanut butter, ice cubes, ground flaxseed, unsweetened almond milk, vanilla extract and maple syrup (or honey).

Blend until smooth.

Serve immediately, or keep covered in the refrigerator for up to one day.

Now it's likely that, if you've ever Googled how to make smoothies, some form or another of the preceding steps was listed. But that's what's great about making simple smoothie recipes at home. It really is just a matter of blending and serving. No fuss. Perfection!
Bananas are naturally sweet – and since we're using maple syrup or honey, there's no need to add granulated sugar (or lab-created artificial sweeteners) to the mix.
Furthermore, this easy to make peanut butter banana smoothie has a couple of things under the hood that are just above and beyond great for you.
Flaxseed benefits
I like adding a half-tablespoon of ground flaxseed to this delicious smoothie recipe. Not only is the flavor slightly toasted and nutty, it's makes a pretty wonderful smoothie ingredient.
Loaded with omega-3 fatty acids, flax seeds are an excellent source of antioxidants, fiber and healthy fats. And, if you're looking for a good source of B vitamins, you've come to the right place.
So if you're wondering what is flaxseed good for? – and thinking about how to use flaxseed in your kitchen, check out my post here. 
Let's just say it's a powerful ingredient you can add to your smoothie that tastes great and will start your day off right!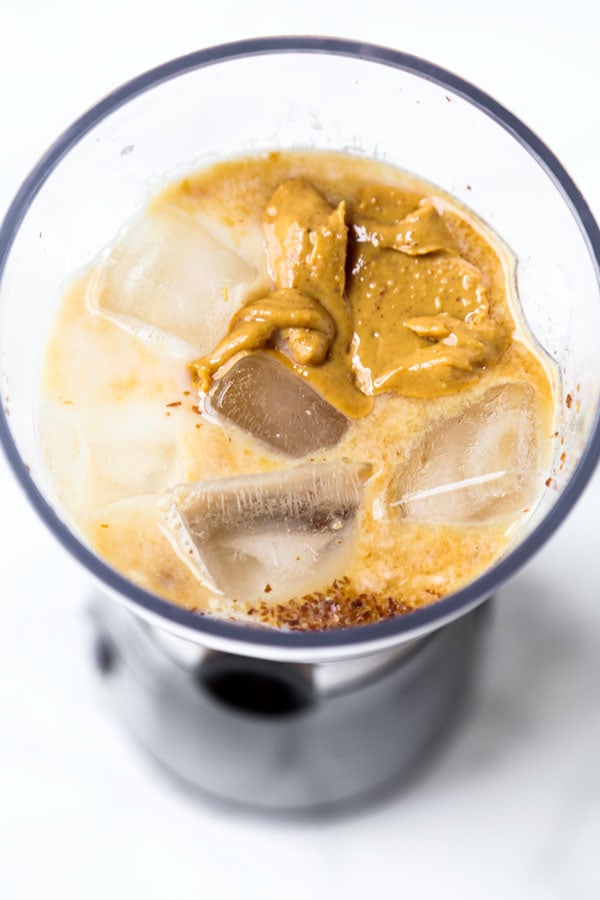 Peanut butter nutrition
Wondering what the best peanut butter is to use when making this peanut butter banana smoothie?
Well, I'd say go natural!
Regardless of the branding, what you're looking for when buying natural peanut butter is an ingredients list that is as long as the words peanuts and salt.
Yes, commercially produced peanut butter is delicious – and I'll pick it up from the grocery store from time to time as a treat. But it's often loaded with sweeteners, hydrogenated oils and all kinds of wonky sounding stabilizers.
So I'll usually roll my sleeves up and do my best to mix up a jar of the natural stuff without spilling the oil that separates from the peanut butter everywhere, ha! Bonus: it's a pretty decent workout 🙂
Anyway, peanut butter is relatively high in fat and calories – but the good news is that you get a ton of protein, vitamins and fiber in the process. And the fats in question are actually mono- and polyunsaturated fats which – in moderation – are said to help lower cholesterol levels and reduce your chances of developing heart disease.
Nothing wrong with that, right?!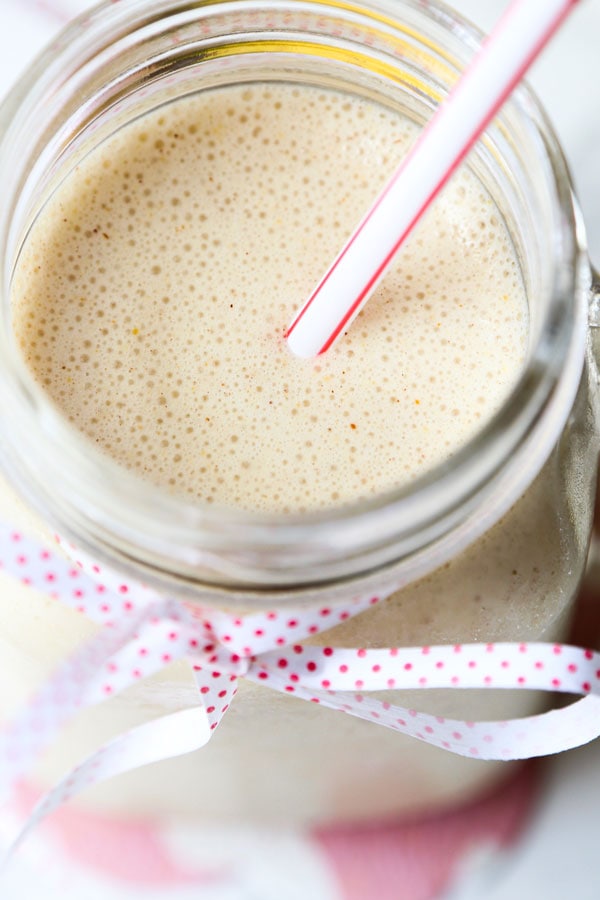 Because peanut butter + banana is the best flavor combination
Sometimes I have the tendency to dive headfirst into facts about food. And while that's all well and good, it can periodically overshadow what's great about food in the first place.
And that's the taste!
Is there any food combination more evocative of youth than peanut butter and banana?
My mom used to make peanut butter, banana and honey sandwiches when I was a little girl – and that indulgent compound STILL sends my taste buds into the ether.
Therefore, it stands to reason that mixing those elements into a morning smoothie was a culinary inevitability. That this peanut butter banana smoothie happens to be on the healthy side of things should be secondary. The primary takeaway is (and always should be) that it tastes like a peanut butter milkshake!
What about you? Is there a smoothie recipe in your arsenal that you can't start the day without? I'd love to hear about it in the comments!
Happy cooking, friends!
Other delicious infusions and easy drink recipes:
Plus: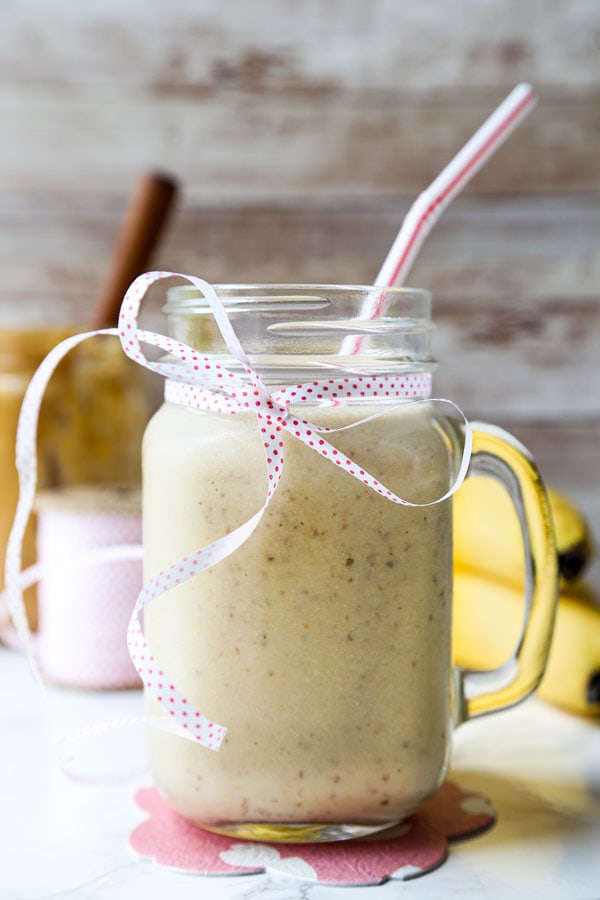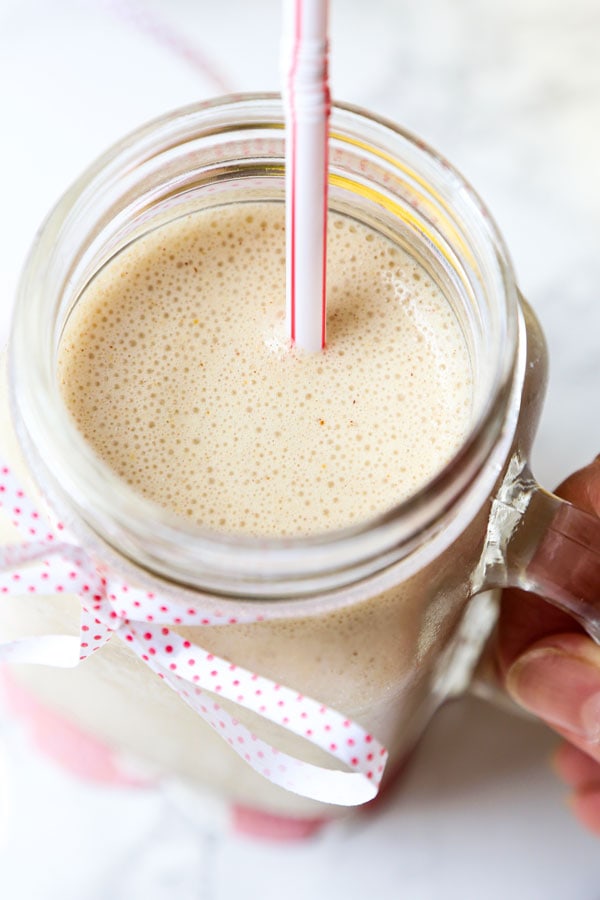 Did you like this Peanut Butter Banana Smoothie Recipe? Are there changes you made that you would like to share? Share your tips and recommendations in the comments section below!
Print
Peanut Butter Banana Smoothie
A healthy flaxseed peanut butter banana smoothie that just happens to taste like a peanut butter milkshake!
Author: Caroline Phelps
Prep Time:

5 minutes

Total Time:

5 minutes

Yield: makes

1

smoothie

1

x
Category:

Smoothie

Method:

Blended

Cuisine:

American
Instructions
Put all the ingredients in a blender and blend until smooth.
Notes
This smoothie will keep refrigerated for up to 1 day.
Keywords: vegetarian, healthy, snack, breakfast, blender recipe
Recipe Card powered by
Pickled Plum is a participant in the Amazon Services LLC Associates Program, an affiliate advertising program designed to provide a means for sites to earn advertising fees by advertising and linking to amazon.com.