A morning pick me up with only three ingredients needed! This strawberry pineapple coconut smoothie is bright, refreshing and contains enough vitamin C to meet your daily RDA!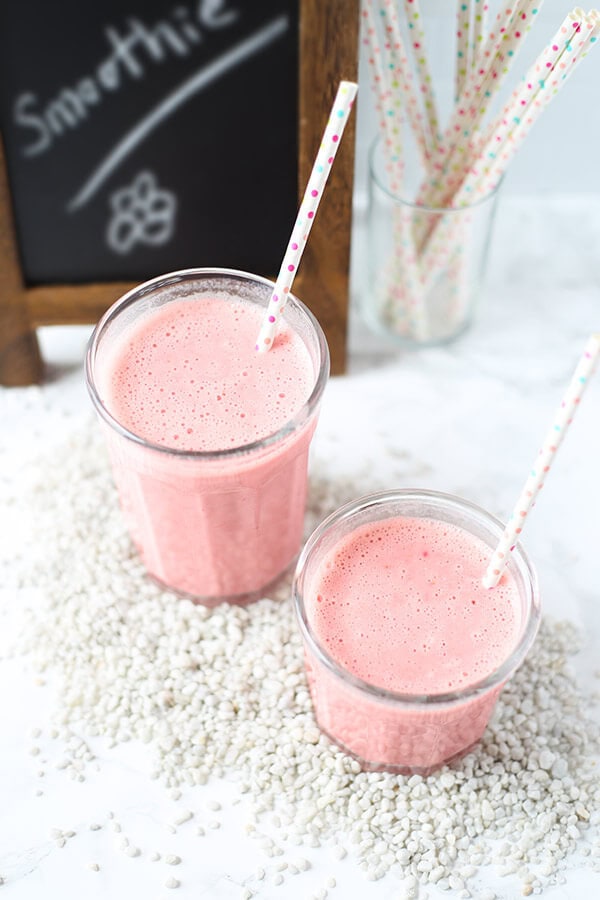 Strawberry Pineapple Coconut Smoothie
I have a weakness for Thai desserts. I love the sweet and creamy taste of coconut found in their puddings, tarts, jellies and custards. Whether I'm on a beach somewhere in Phuket or walking the streets of Bangkok, it doesn't take long before I find myself craving the flavor of coconut.
I spent six months in Thailand long before the MRT was built. Back then, the streets of Bangkok were jammed with cars, tuk tuks and motorbikes emitting grey clouds of exhaust smoke as far as the eye could see. Driving a mile could take up to half an hour which meant I had to allot extra time to go from one casting to another, and often had to eat my lunch in a cab while listening to Thai radio. Five castings could take anywhere from five hours to an entire day! I always looked forward to scratching off the last location on my map (this was long before cell phones too!) so I could go to my favorite mall, relax and eat like a queen.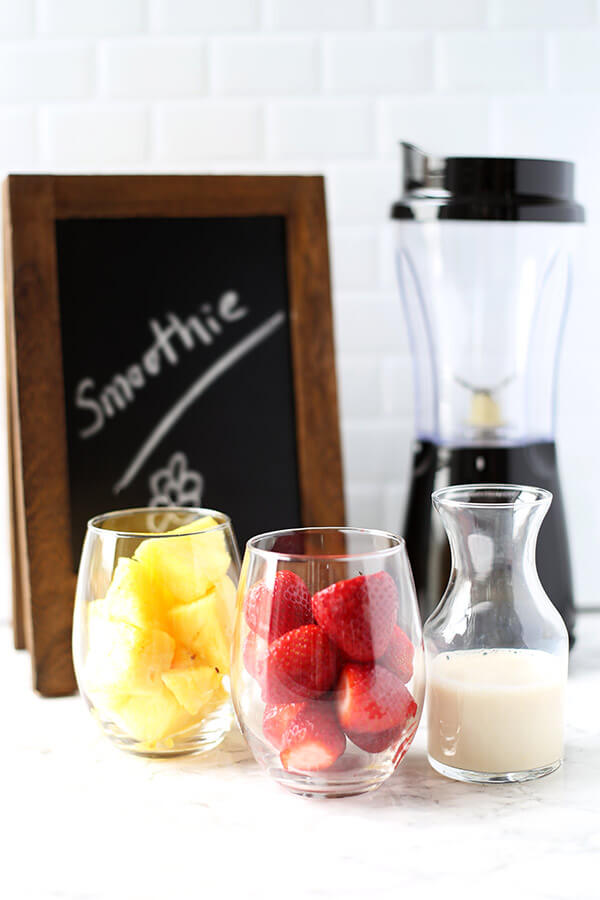 The top floor of the Emporium shopping complex is where I ate most of my meals. That's because I lived walking distance from there and the food was cheap and delicious. It's where I went to relax and absorb all the things that were happening in my life. Life as a model can be quite hectic and tiring on an emotional level. Having to adjust to working and getting along with new people every day, getting used to new cultures, different time zones, new foods and new lodging throws any form of comfort out the window. It makes it difficult to feel grounded and can create anxiety if you don't make time for yourself. Since I shared an apartment with two other models, I didn't have the luxury of privacy between the very thin four walls of my bedroom. The Emporium was always relatively quiet so it became a haven for my thoughts to roam freely and undisturbed.
I also looked forward to the food I was about to eat! Pad Thai with lots of fish sauce, pickled peppers and fresh lime juice, green papaya salad that was so spicy it made my lips turn bright red, basil chicken that was unbelievably fragrant and pungent, lime soda that quenches thirst like nothing else can, and of course; coconut desserts. Yum. Yes!
My favorite was ruam mit thai, a sweet iced coconut soup to which a variety of tidbits such as jackfruit, green noodles, young coconut meat, water chestnut and mung beans have been added. Not a day went by when I didn't order ruam mit thai – I had gone from being someone who didn't think much of coconut to the biggest coconut lover! To this day, I miss the taste of ruam mi thai whenever it gets really hot outside. Living in Bangkok was such an extraordinary experience that it changed me forever. Each country I've lived in has taught me something new. Thailand taught me that there are no boundaries when it comes to mixing flavors and ingredients. Food should be bold, colorful, crazy – and every bite should be unforgettable!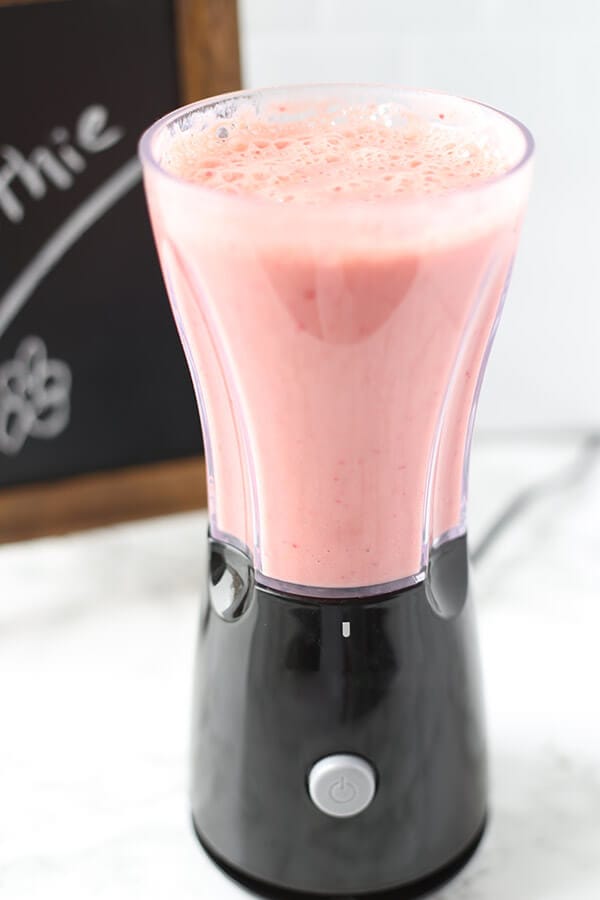 Nowadays I use coconut milk regularly in my cooking. I use it in curries, soups, dipping sauces and smoothies. It's easy to use and adds a creaminess to dishes and drinks that isn't heavy. This strawberry pineapple coconut smoothie is super simple but so delicious when it's made with fresh ingredients! You can of course use frozen fruit but nothing beats the natural sweetness of fresh fruit. I like that this smoothie only has three ingredients but is still very nutritious.
There are so many health benefits to eating coconut it's easy to see why Thai people are in such good shape. It's high in calcium, potassium and magnesium and is packed with electrolytes. It's also a great source of fiber, vitamins and minerals – basically you can't go wrong with coconut!
Other yummy coconut recipes: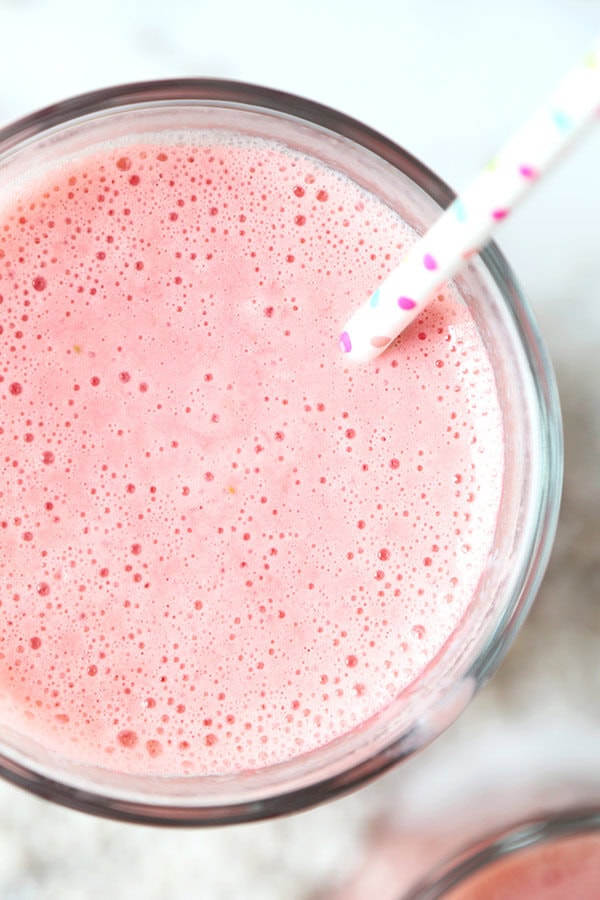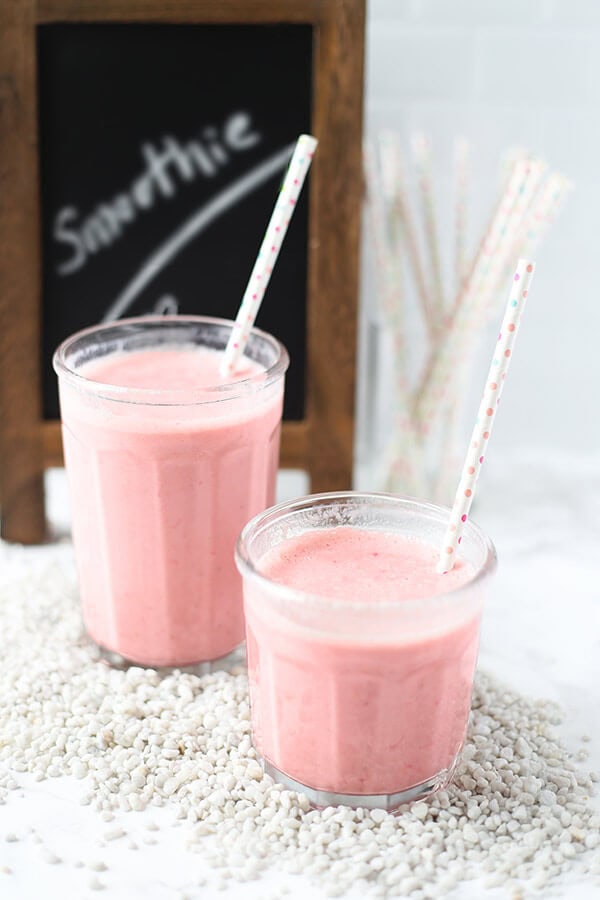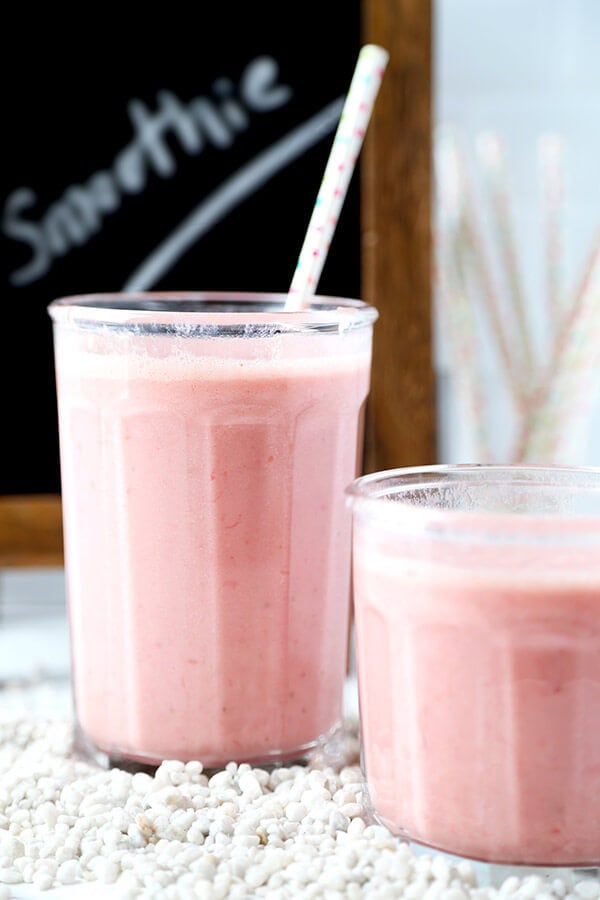 Did you like this Strawberry Pineapple Smoothie Recipe? Are there changes you made that you would like to share?
Print
Strawberry Pineapple Coconut Smoothie
A morning energy boost packed with fruity flavors!
Author: Caroline Phelps
Prep Time:

5 minutes

Total Time:

5 minutes

Yield:

2

people

1

x
Category:

Drinks

Method:

Blending

Cuisine:

American
20

strawberries (hulled and chopped)

400 grams

pineapple (chopped)

200

ml coconut milk
Instructions
Put all the ingredients in a blender and blender until smooth. Serve cold.
Notes
This strawberry pineapple coconut smoothie will keep in the fridge for up to 2 days.
Nutrition
Serving Size:
Calories:

147

Sugar:

22.9 g

Sodium:

18 mg

Fat:

2.3 g

Saturated Fat:

1.5 g

Carbohydrates:

33.3 g

Fiber:

2.4 g

Protein:

1.9 g

Cholesterol:

0 mg
Keywords: recipe, shake, breakfast, snack, vegan, vegetarian, gluten-free
Recipe Card powered by